I Gen eh See How It Is
Genesee Trails, Guilford & Madison
January 2021
All Regional Water Authority (RWA) properties require a purchased permit to access.
Hot on the heels of my very first RWA hike down the coast at Maltby Lakes, I was all jazzed up for a dawn hike here, at the Genesee Property. I'd learned about the Regional Water Authority already and had an idea of what to expect: wide forest roads instead of footpaths, pristine woods, solitude due to the permitting process, and if Maltby was any indication, surprising beauty.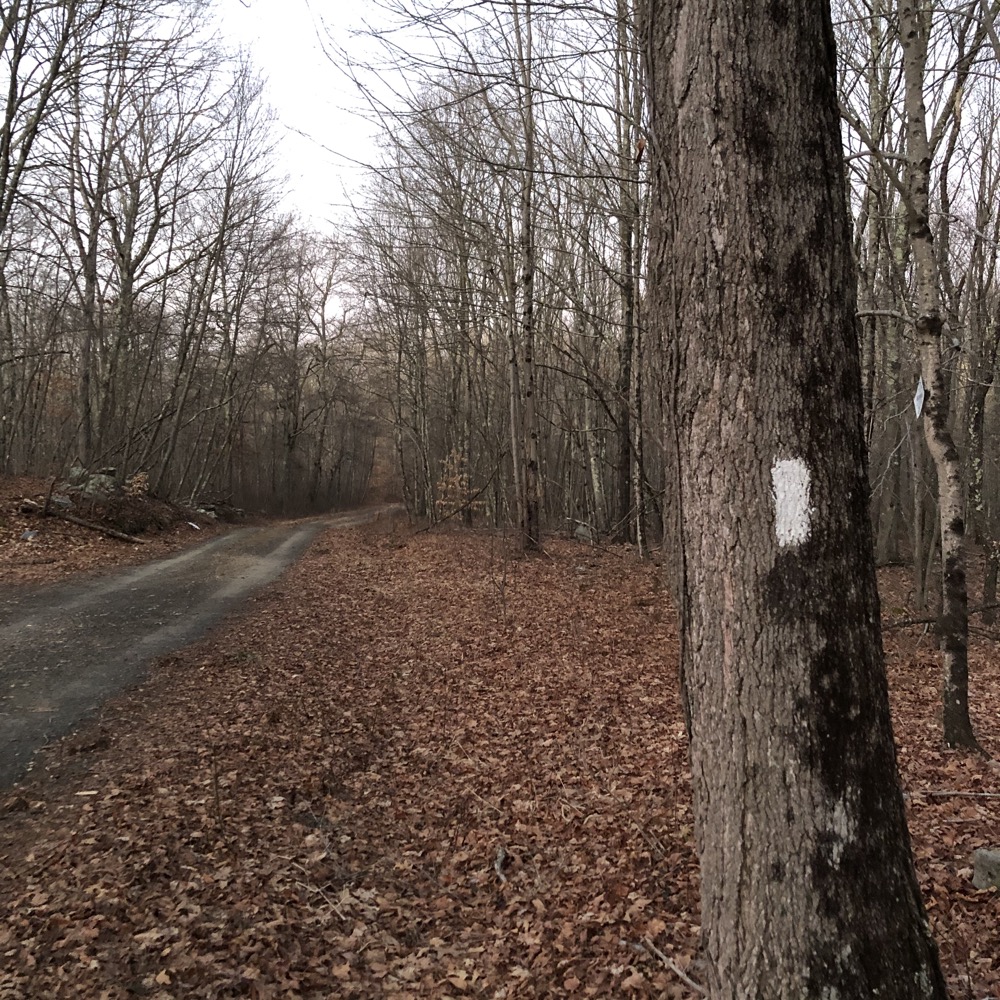 And Genesee promised some history as well. I found the now-familiar locked gate to the hiker's lot, entered the combination and began my trek. There are a nearly 12 miles of trails here, but I've come to learn that the RWA stretches that a bit. By that I mean that there are lots of woods roads that they include in their mileage, and some of those roads are simply not worth the effort, as they are merely out and back affairs to public roads.
The CFPA's Menunkatuck courses through Genesee and I'll be considering that a wholly separate thing for CTMQ purposes. (Menunkatuck hikers don't need an RWA permit to hike here… which, of course, exposes the fact that anyone can access the property that way should they choose. I'm not sure that happens very often at all, however.)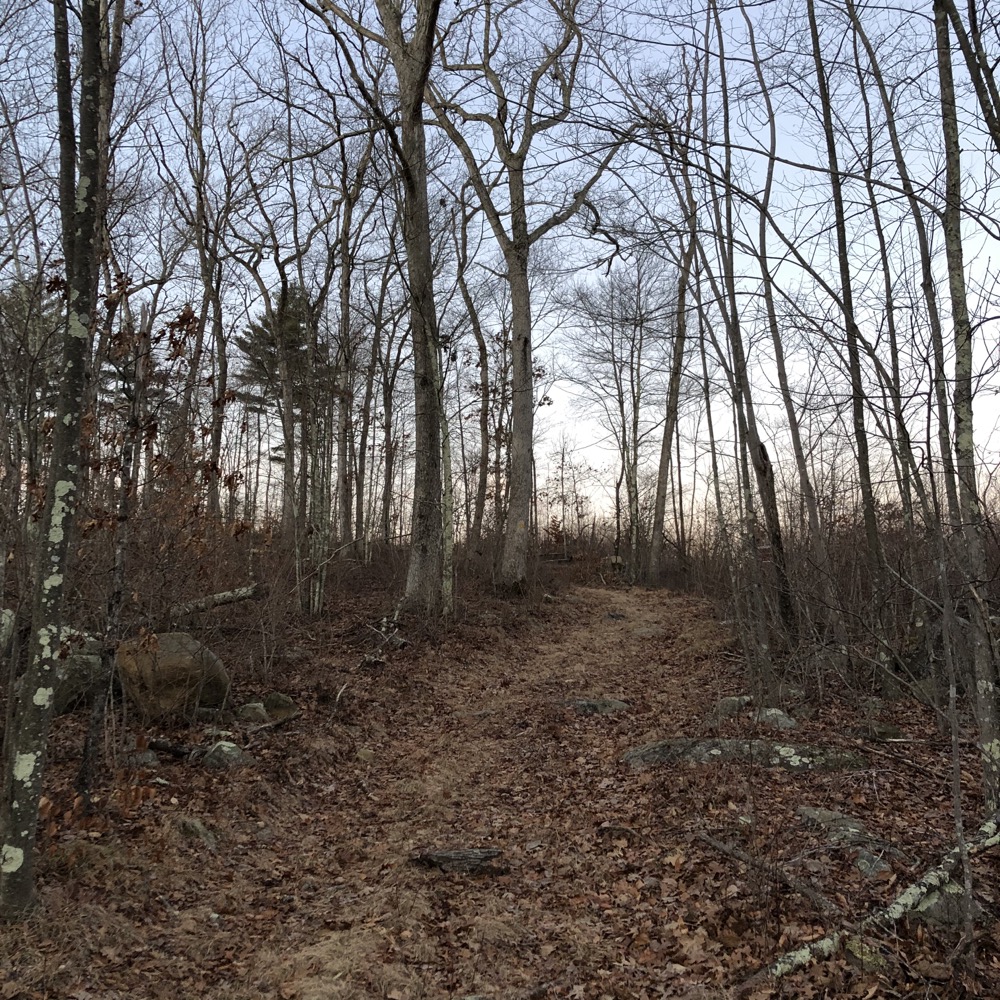 I wound up hiking about nine miles or so through the rolling woods of Genesee. And yes, there was a settlement here at one time called the "Little Genesee Settlement." According to folklore, the families who settled in this area were originally headed to the Genesee Valley in New York, but they broke a wagon wheel and decided to stay and farm the land.
Sounds like something I would do. "Guys… I know we're tough colonialists and all, and I know we had plans to go another four hundred miles west and all… but that wheel is broken and there doesn't seem to be anyone around, so let's just chill and live here instead."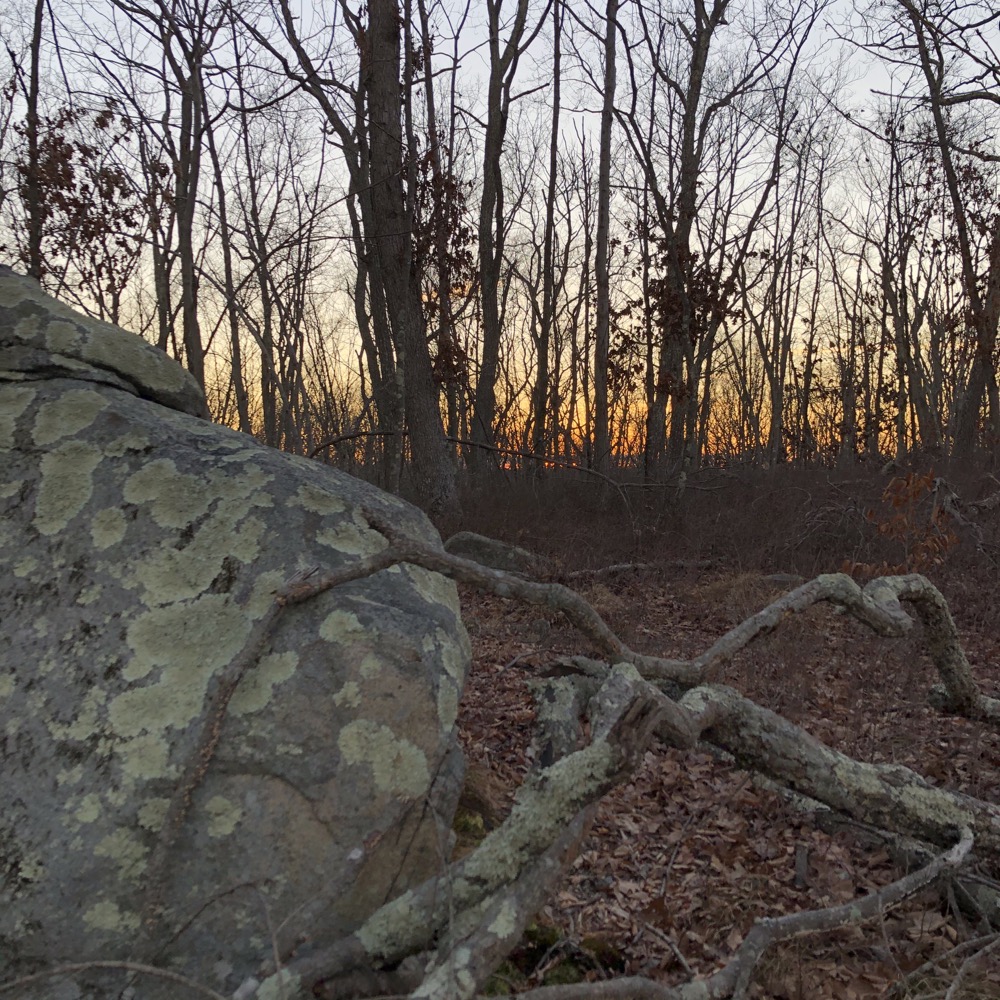 The RWA property is split evenly between Madison and Guilford and to be honest, the settlers chose two very nice town in which to squat.
The white-blazed Goat Lot Trail (as with all RWA properties, I'll use their naming conventions even though the "trails" are very often roads) connects Durham Road in Madison to Rockland Road and Quonnipaug Lake in Guilford. Several trails spoke off of this main trail. I first did the yellow-blazed Cooper Lot Trail.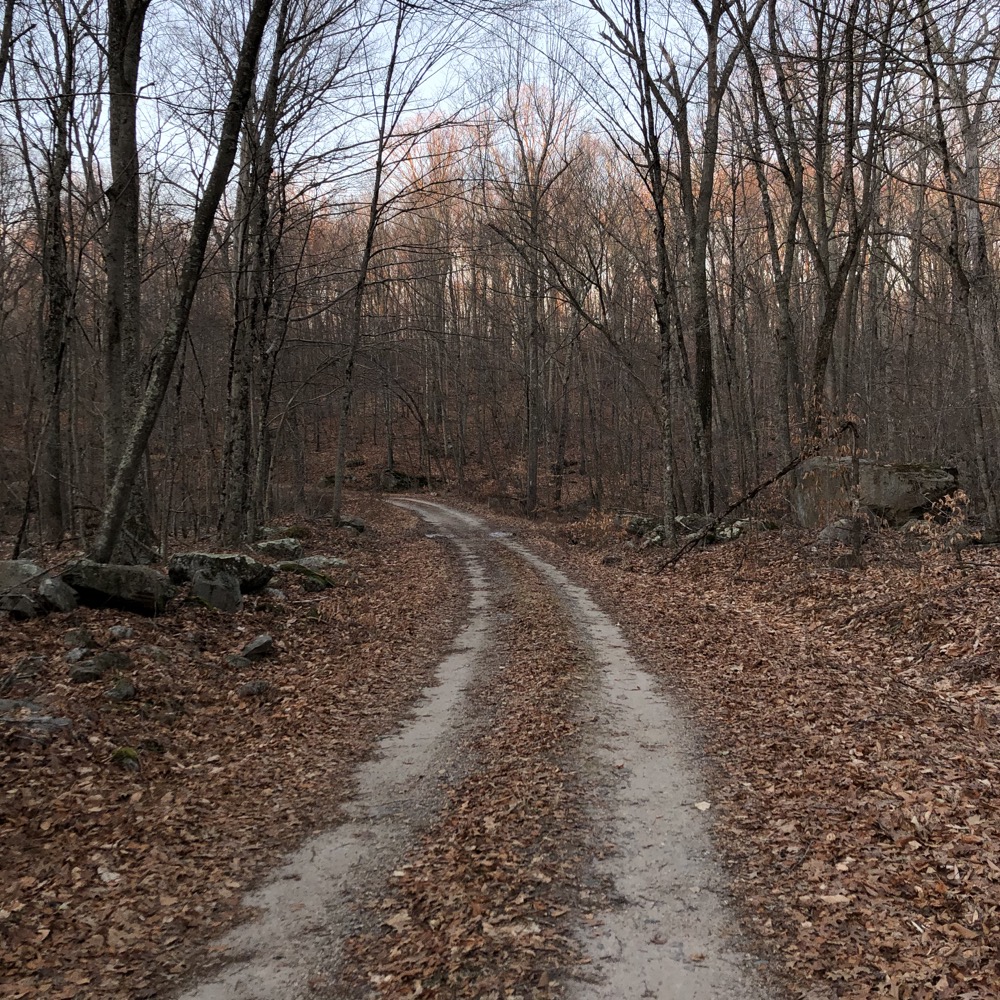 It's a nice little loop up to a hillside stream and then up to the top of that hill. Remnants of the Genesee settlement remain along the stream: old stone walls, what appeared to be some millraces and such… that type of thing. Red and white pines here are subtle reminders that this was once open pasture and crop land less than a century ago. The RWA says that anyway. And I choose to believe them.
The sun peeked over the horizon just as I peaked over the hilltop. A large herd of deer scattered through the thickets and brambles, shattering my me moment. Stupid deer.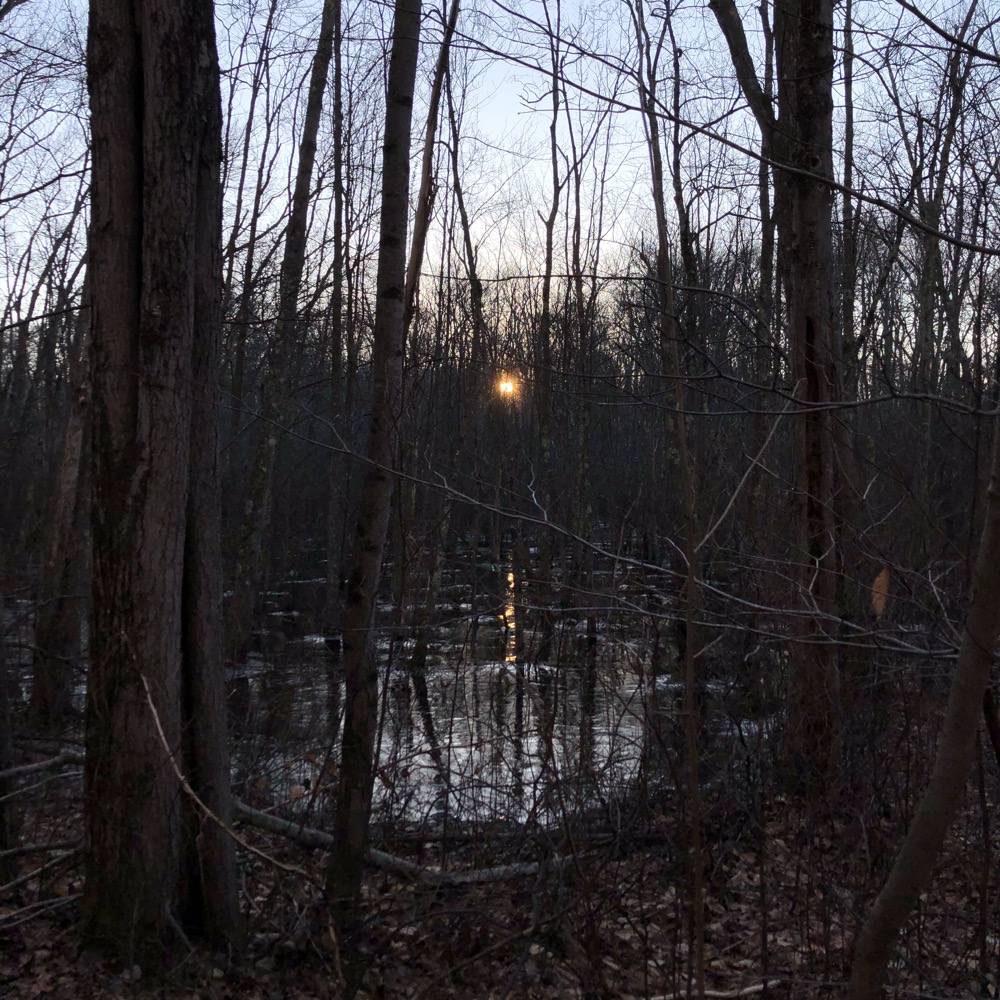 Back on the Goat Lot Trail and west towards the red-blazed Durham Trail, which according to the RWA, was once an important highway linking the docks on the Connecticut River in Haddam with inland areas stretching as far west as North Branford.
I must admit, at this point in my trek I was beginning to feel a little disappointed by Genesee. I guess I expected more "cool stuff" than it offers. It's still a nice walk through the woods, and with the sun now risen, the orange winter's glow made for some nice moments.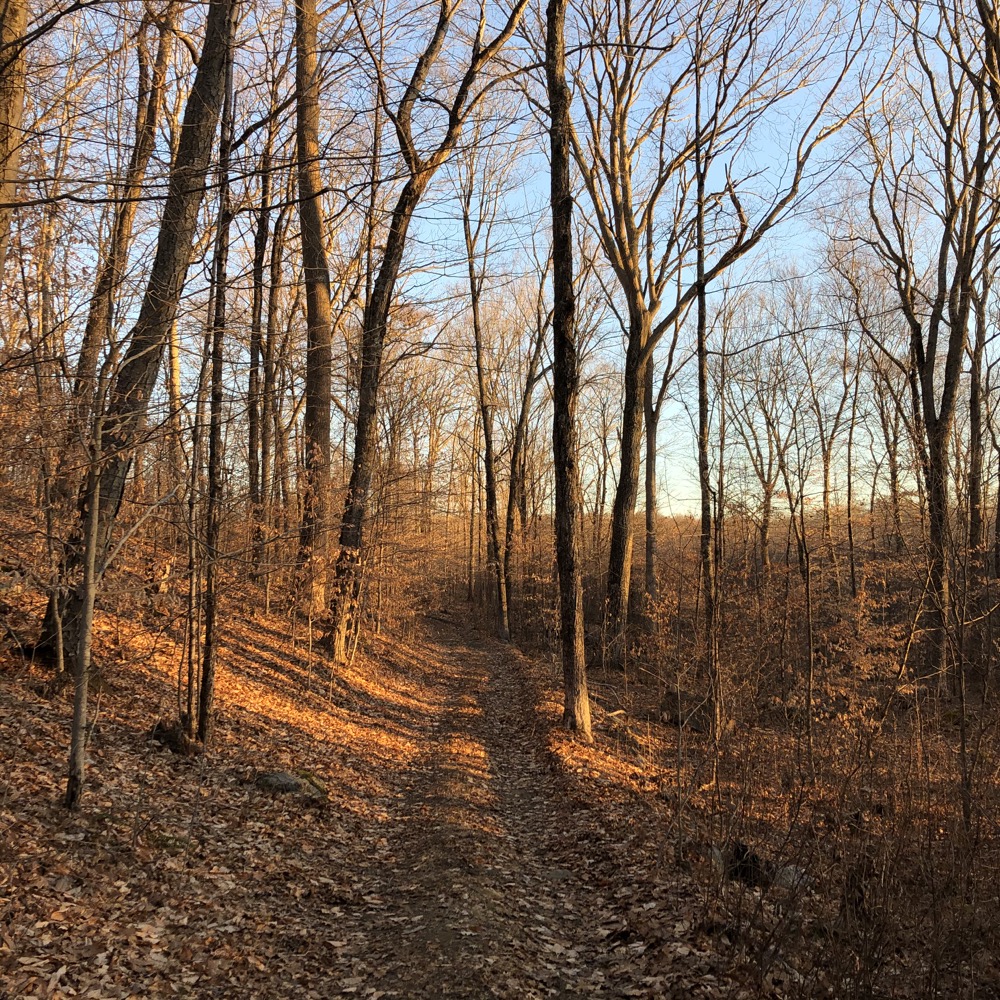 But as the Durham Trail turned back towards the main Goat Lot Trail again, it traversed some low-lying areas and became a bit of a mess. So I left it and began the green-blazed Grandma Hall Trail. This is another old logging road named after an early resident of the area, a great-grandmother of an RWA employee. This took me to the far northwestern reaches of the Genesee property, and over the town line into Guilford.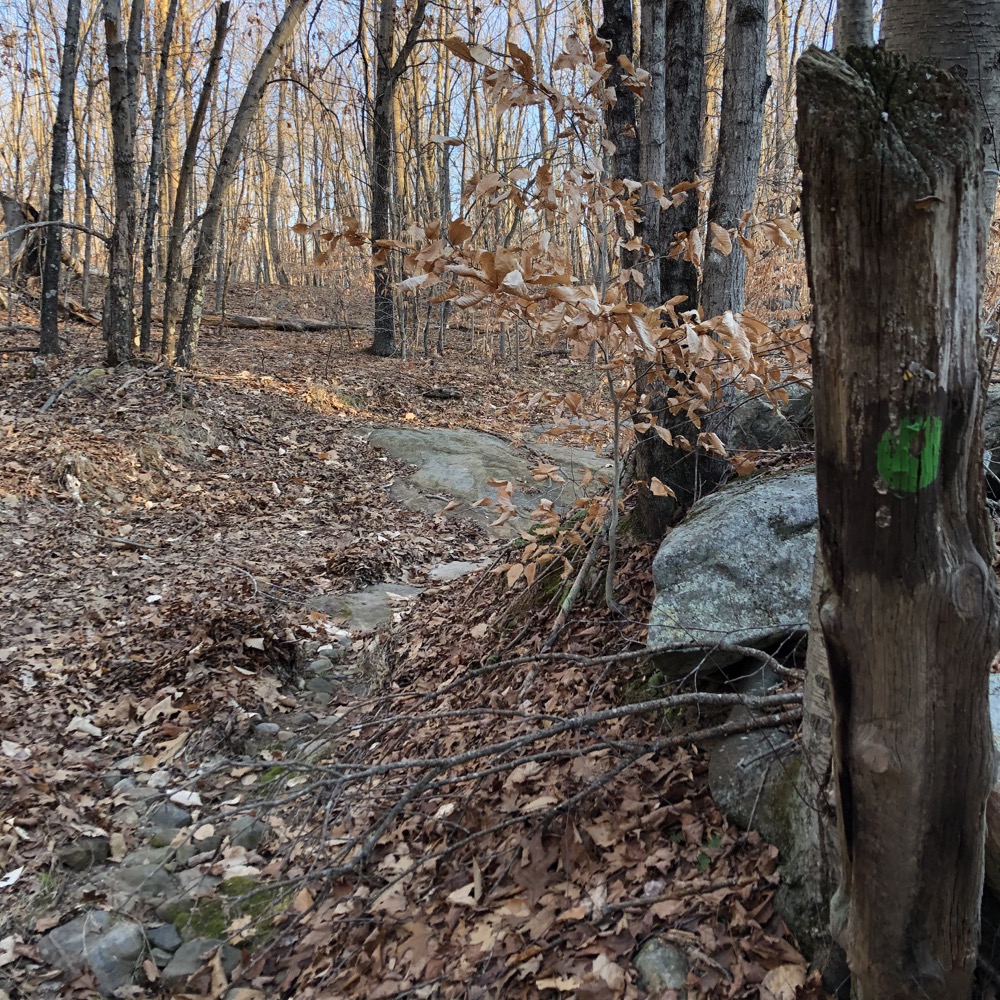 It's also where the blue-blazed Menunkatuck Trail joins up. As part of the New England National Scenic Trail, this section of my hike took me through some of the most interesting geology of the day. Some unexpected rock outcroppings and bare rock hiking. The RWA notes that 20,000 years ago, a glacier scraped off most of the topsoil here. As a result, the trees grow slowly and are a bit stunted in relation to other areas I'd already walked through.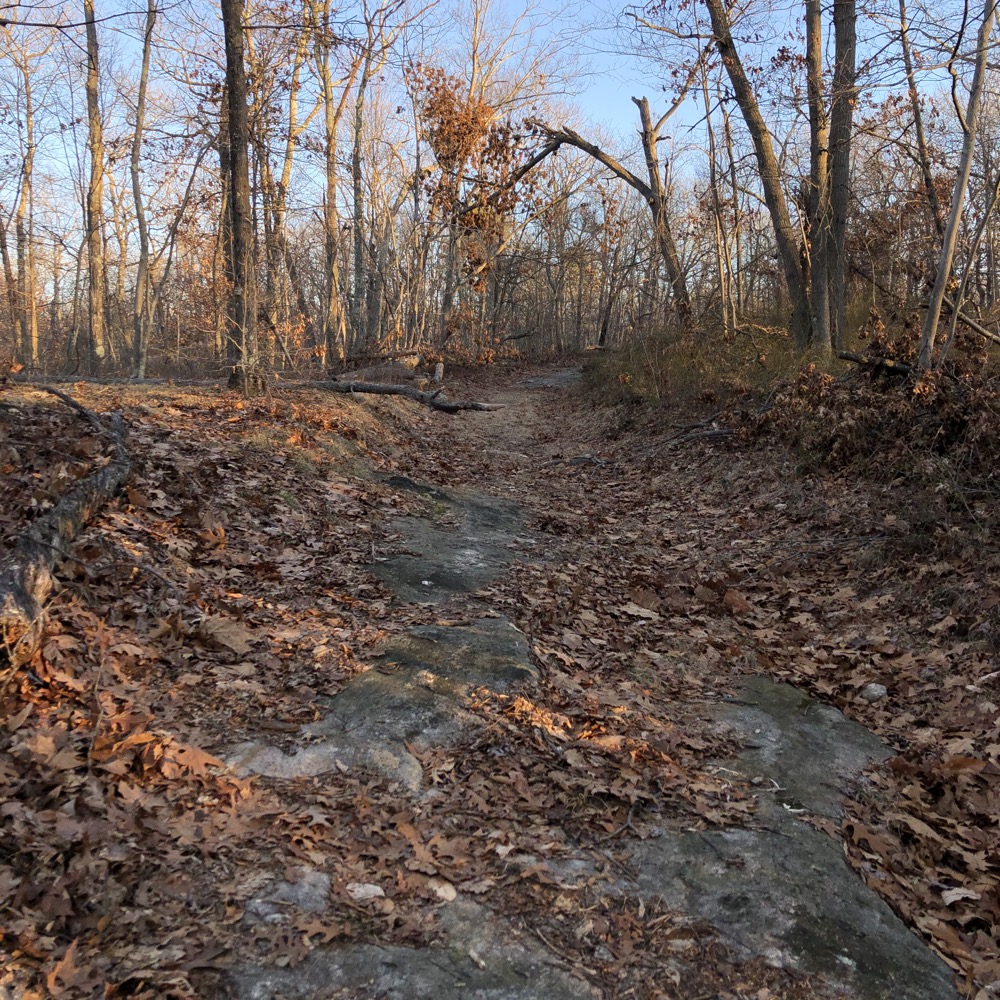 Once I'd reached the Durham Trail again and a massive party/dump/fire pit, the trails become a bit confusing. I decided to stick with the RWA's red blazes, leaving the Menunkatuck. The funny thing is, the two trails parallel each other, almost within sight. The Menunkatuck takes the ridgeline, and the Durham Trail takes the nondescript lowlands to the east.
This section of the Durham Trail was faint and I lost it a couple times in the thick laurel. I can only guess the reason is because almost everyone sticks to the Menunkatuck, since it goes to the same place – and is simply a better section.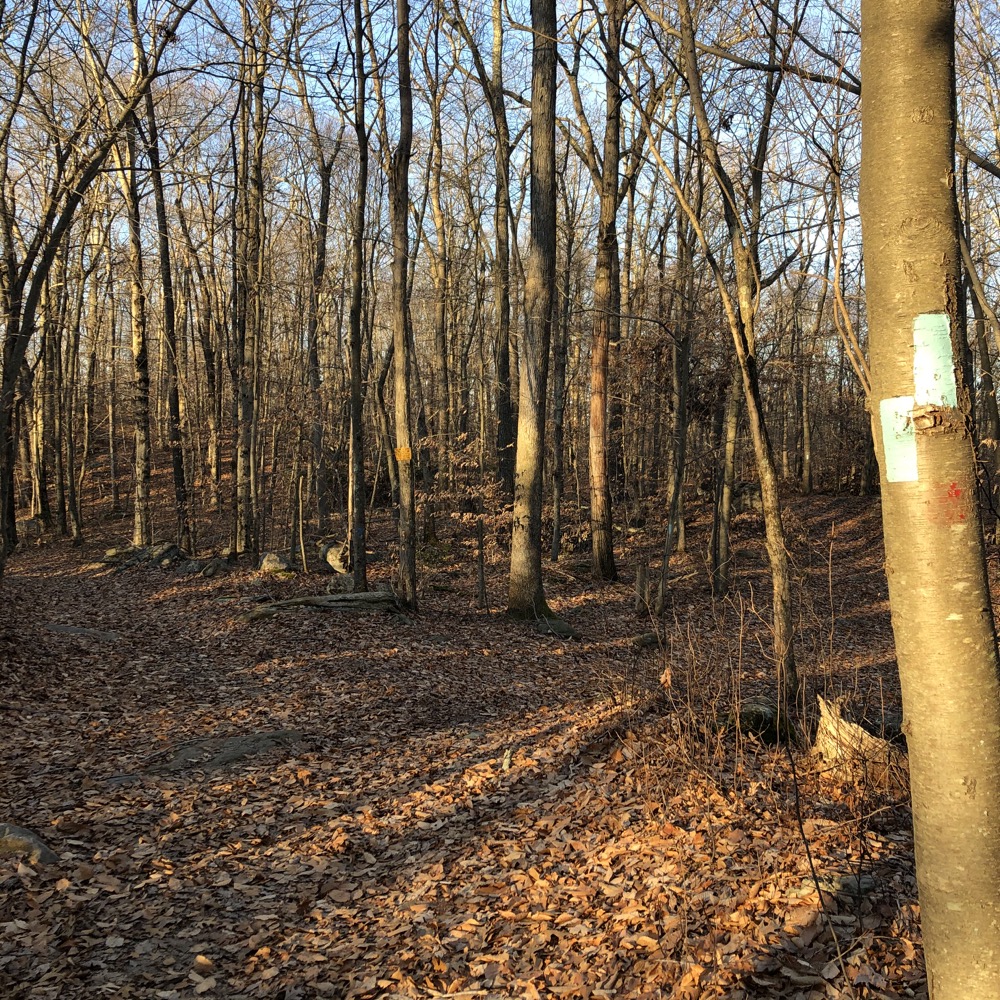 And that "same place" is the western end of the Goat Lot Trail. Once I reached it, I began trudging east back towards my car, all the way across the property. There was some active logging going on here, making for some messy areas. I had one more trail to hike, once I'd crossed over back into Madison.
It's called the Bushwhack Trail. Unlike the origin of most of the trails in this system, the Bushwhack Trail was blazed specifically as a hiking trail. And it is blazed very strangely; orange on one side of the trees, and white on the other.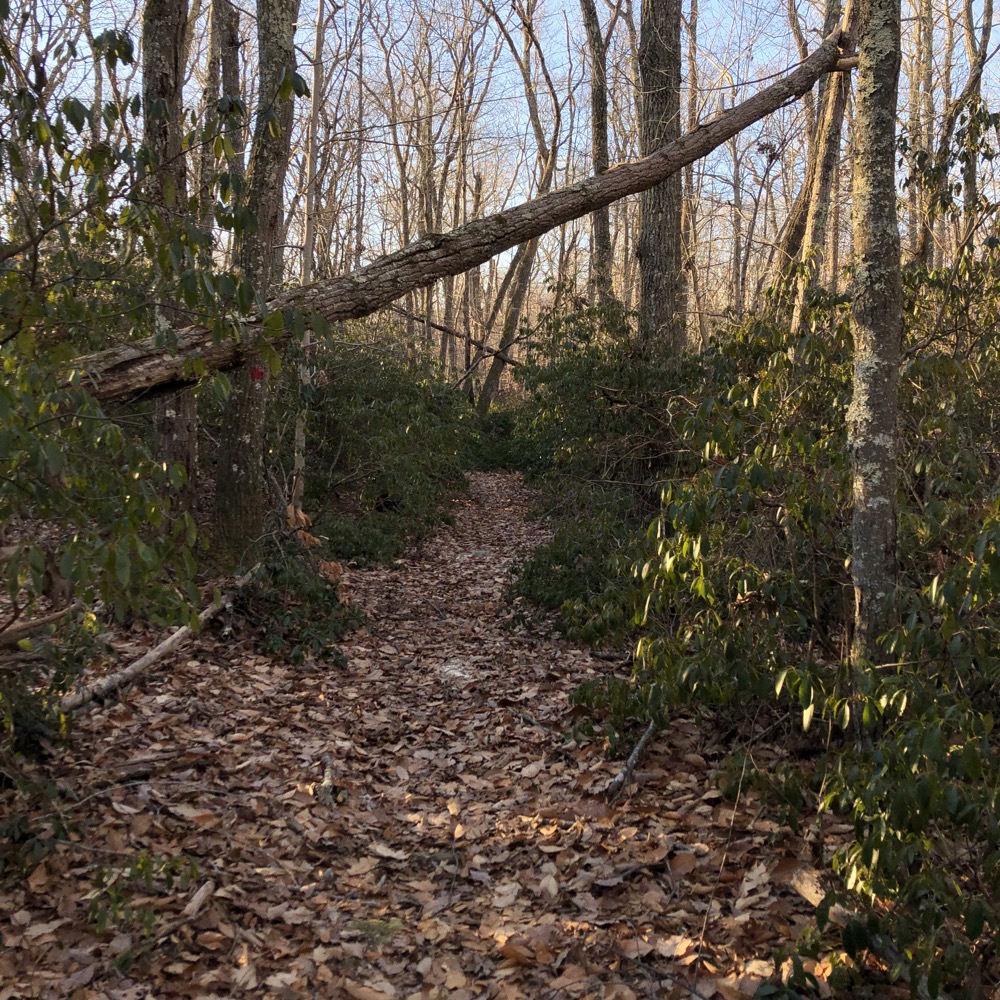 The logging efforts have created havoc in this area, as the trail had all but disappeared at both ends of it. And in between? It was sometimes difficult to follow and there wasn't anything too interesting along it. But it was still more interesting than simply sticking to the main trail (road).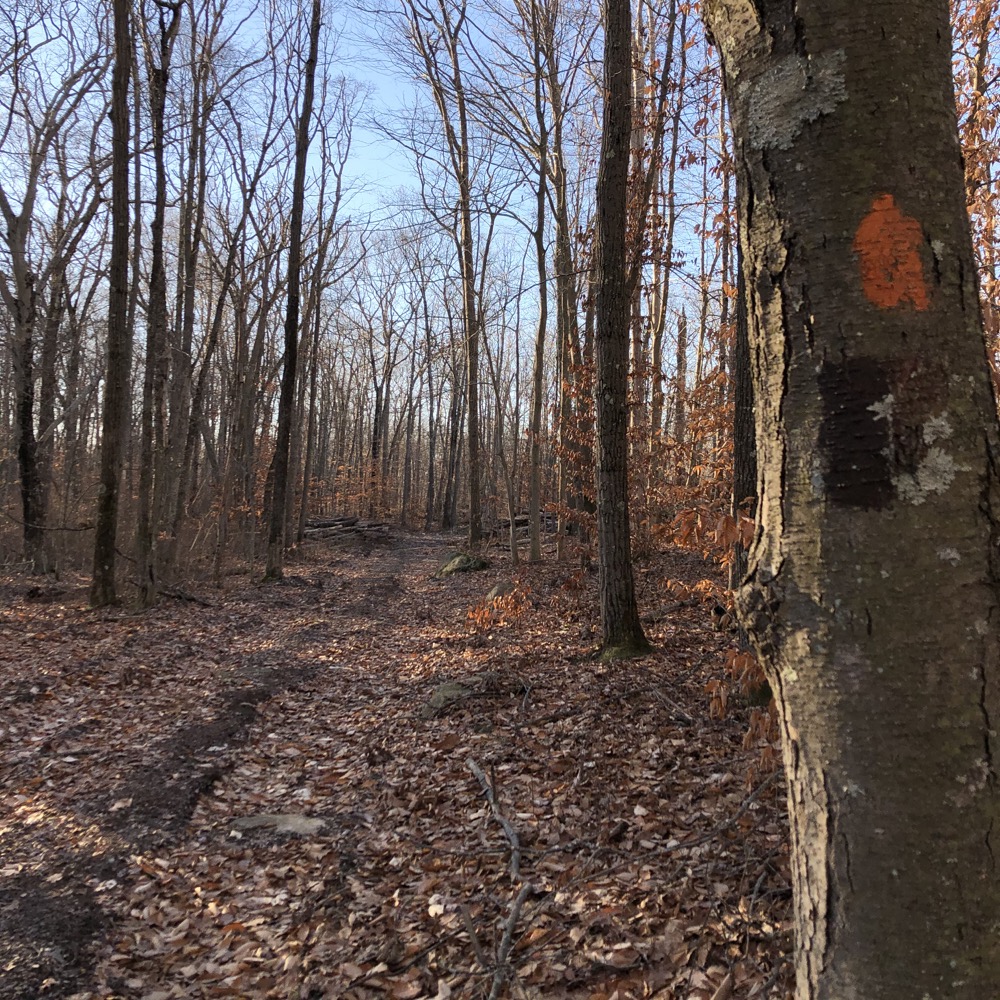 I reached another woods road, trekked north back to the Goat Lot Road, and made my way back to my car. Two guys were gathering firewood (the RWA sells lots for such purposes) who had a splitter running with their backs facing me. When I walked past them, I scared the bejesus out of one guy who jumped about a foot. Fortunately, he laughed about it and gave me a friendly wave instead of blindly throwing an axe at me.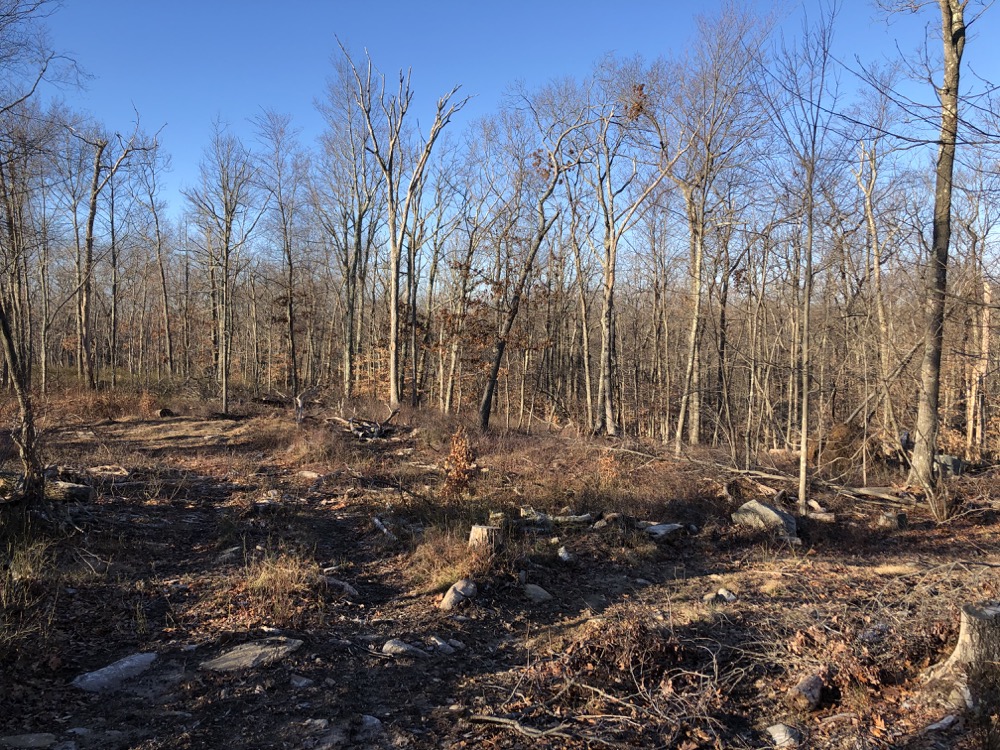 There were some old root cellars and other structures that were one or two-hundred years old throughout the property. But without any true hill tops or water features, Genesee isn't the RWA property I'd send someone to hike to get a flavor of what RWA properties are all about.