Hit the Road(food), Jack
When I finish a list for CTMQ, I must admit, it is often with a mixture of joy, relief, and sadness. I think the reasons for all three are pretty easily sorted in this case. When I first took on the challenge of tracking down and eating all 68 items/meals that the author Sterns decided were the best "roadfood" items in the state, it was exciting.
I cobbled together the list from their 2009 book, 500 Things to Eat Before it's Too Late. Much of the Connecticut listings were available via Google Reader view, and Amazon preview, but not all of it.
So I went to a bookstore (remember them?) and literally transcribed the bits and pieces I was missing. I didn't buy the book. And now in 2015, perhaps if I had, and Mr. Stern had earned another few bucks from me in 2009, he wouldn't be so bitter towards his home state… but more on that in a bit.
I very much enjoyed the Sterns. I always thought it was cool that a nationally known fun food writer lived in Connecticut; the main reason I gave so much credence to his book. (He's since divorced his wife, by the way.)
In fact, Stern claimed that Pepe's in New Haven is his "absolute favorite restaurant in America," and that their pies would be his last meal on earth if he had to choose. Seriously. The dude has eaten at 50-billion places and his favorite is in our very own New Haven. Watch for yourself.
See? How could I not love the guy?
Once I sorted out the list, the first thing that jumped out at me was the sheer number of hot dogs. Sixteen of them to be exact. Really? Sixteen? That's a lot of hot dogs for a guy (me) who stopped eating pork and beef in 2000.
But I'm thorough, so I ate the pork and the beef for the list, including the burgers. (At least I kinda actually sorta really like a good hot dog. Okay, I even like bad hot dogs. Shhhhh.)
To put this in perspective, there are only six pizzas on the list… despite the fact that Connecticut is home to the best pizza on earth.
But that's not to say it's not a good list. It is! In fact, there are a few items that have become staples when we drive anywhere near them. I thank the Sterns for bringing them to my attention. (Including the good hot dogs, pretending I eat them on the regular.)
Here are my favoritest favorites:
Cinnamon donuts at Dottie's Diner in Woodbury
Hot dogs at Rawley's in Fairfield
Hot dogs (with sauce) at Capitol Lunch in New Britain
Clam pizza at Pepe's in New Haven
Pizza at Sally's in New Haven
Lobster Roll at Westbrook Lobster in Clinton/Wallingford
Chicken Pot Pie at Dottie's Diner in Woodbury
Pain de Campagne at Wave Hill Breads in Wilton
Dirt Bombs at Bantam Bread Company in Litchfield
Ice Cream at We-Li-Kit in Pomfret
And on the flipside…
The biggest misses (for me):
Burger at Louis' Lunch in New Haven
Ted's steamed burgers in Meriden
French Fries at Swanky Franks in Norwalk
Hot Dog at Chez Lenard in Ridgefield
Hot Oil Pizza at Colony Grill in Stamford
Fried Clams at Sea Swirl in Mystic
Crumb Top Apple Pie at Beardsley Cider Mill in Shelton
I had fun completing this list (perhaps the only person to do so?) and I thank the Sterns for their passion about all things low-end food. (The only expensive things are the lobster items.) Even though I've traveled across Connecticut a billion times, I couldn't have come up with a better list. Props.
But then, one week before I finished the Roadfood list at Sally's in New Haven, Mr. Stern wrote an op-ed published in the Courant that bummed me out. He's leaving his beloved home state of Connecticut, for what he views as greener pastures in… Aiken, South Carolina.
[Eater has a lengthy and very good essay on the Sterns, which includes the South Carolina move.]
I hate to get too political on CTMQ, but come on Michael. You lived in Weston and Redding and then Bethel. All are in Fairfield County and are extremely expensive and safe places to live. There aren't many suburban/borderline rural towns in the entire country as safe and wealthy as Weston, Redding, and Bethel.
But whatever, Michael, you need yer gunz! Guns, guns, guns! You wrote a few paragraphs pretending there are other reasons for your moving to South Carolina (and yes, our taxes are ridiculous), but then you gave it up: For you, it's all about the guns and conservatism, baby. (Guns that are all quite readily available in Connecticut, by the way. Guns you never had need for in Weston, of all places, Michael. Weston suffers through one or two violent crimes per year. It is safer than 96% of towns across America. And that's not because its residents are all armed to the teeth either.)
He also likes horses. But not parades.
To quote the Eater article:
I'd never been to suburban Connecticut before, and my bank account is definitely not dressed for the occasion. It's peak summertime. Everything is lush, green, and quaint, oozing old money. The leaves on the trees might as well be made out of hundred-dollar bills. Coming from my home in New Orleans, all parts of this state seem phenomenally clean — maybe even suspiciously so.
How does your surrounding area in South Carolina compare to your former digs in Connecticut?
Anyway, yeah, this whole thing bummed me out. Yes, our state's history is drenched in gun history. And it is an important part of Connecticut's story, no doubt about that. For the record, I have no issue with legal gun ownership, hunting, or even with people that just like shooting at paper at the range. I grew up in a hunting family and participated in shooting many rabbits and groundhogs at my grandfather's gardens. (My aversion to eating certain meats has nothing in the world to do with being against the killing of animals.)
I do have an issue with a guy who equates sensible gun laws to the Nazi regime. Who claims that the 20 dead kids in Newtown are no reason to examine how unstable loners can legally obtain high powered tools of death. So good luck in South Carolina, and I'm glad I didn't know your thoughts on guns until I was done with your list.
I'm glad I never actually purchased the book. Just out of principle. So there.
Good luck in South Carolina. Thanks for your fun food list, but good riddance. Please be safe with your arsenal and I'm sorry that you'll never eat good pizza again.
Oh yeah, and about Aiken…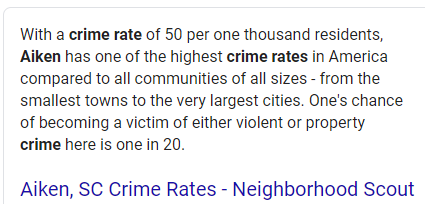 Roadfood's Eat Before You Die List