A Truffle not to be Trifled With
Bridgewater Chocolates, Bridgewater (Brookfield and West Hartford retail stores)
I found out the coolest thing this year; our year of frugality. The traditional sixth wedding anniversary gift is something steel and the modern gift is, get this, candy. Now, we're not a couple who cares a whit about those traditional anniversary gift list things, but I decided to stick to it this year. Candy? So easy!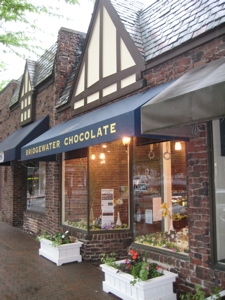 And since I gave Hoang the greatest Christmas present ever – an awesome trashcan made of stainless steel – seriously, the girl loves the thing. Unparalleled design. Anyway, I took care of steel, so for our anniversary, it would be candy.
But not just any candy. Without knowing it at the time, I scored her the best chocolate truffles one can buy IN THE ENTIRE COUNTRY! So says Roadfood. And since I'm now working my way through their list of Connecticut "road foods" they think are the best, I might as well write about the experience.
Bridgewater is one of the towns with only a few things of interest to me for CTMQ. The chocolate factory used to offer tours, but that stopped a few years ago. Oh, and was Connecticut's last remaining dry town, which was certainly an interesting quirk until they finally changed that law.
The world of chocolate reviewers does not agree with the Roadfood conclusion. Not at all. While they have been featured on the Food Network and in the New York Times, it appears no one loves them as much as Roadfood does. Reviews are mixed.
Roadfood says:
Of all the taste tests we've ever done, none was so debilitating as the time we set out to determine which chocolatier made the best chocolate truffles…

After we sampled over a dozen of the nation's best, there was no question which was the creme de la cocoa. The unequivocal winner: Bridgewater Chocolate. Its hand-rolled truffles' chocolate skin, dusted with fine cocoa powder, offers just the faintest resistance, and inside is silky filling that is unbelievably fresh, indescribably chocolaty, and richer than Croesus." [Huh? – CTMQ]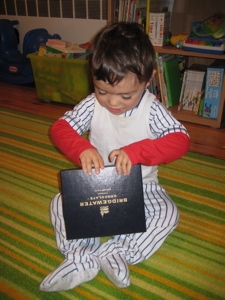 The CTMQ Experience:
Disclosure: I didn't go out to Bridgewater to buy my love her chocolates. I went a couple miles to West Hartford Center, where they've recently opened up a shop. The saleswomen wore expensive dresses and the store had the ambiance of a Tiffany's. Damian, amazingly, was well-behaved and aside from leaving his nose prints on the glass cases, didn't destroy anything.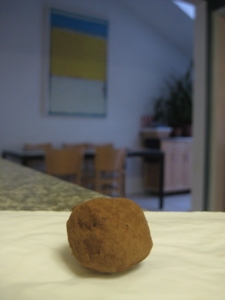 My box of pure chocolate truffles was $17 bucks, but I think I got charged extra for the bow Damian wanted on his gift for his mama. By the way, if you're looking for a bulk discount, I liked this FAQ from their website:
9. Do I get discount if I spend a certain amount?
A: Our discounts begin when spending over $1000.00.
Sure. The Bridgewater box is of the highest quality, so that's a nice touch. The verdict? I rather enjoyed the truffles – bittersweet and a perfect texture. Hoang, although she loved the gift from Damian, wasn't so high on them. She was (and still is) perplexed how these are "the best in the country." I hesitate at that as well, but enjoyed a few all the same.
Another Roadfood best down, and perhaps one of the most enjoyable. But methinks the Roadfood author's home – about 10 miles from Bridgewater Chocolates – may have colored their review.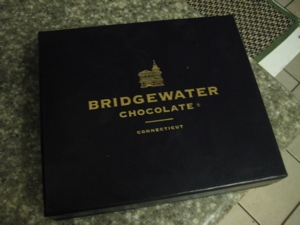 Bridgewater Chocolate
CTMQ's Best, Unique, & Historic Restaurants & Foods
Homemade Ice Cream, Cheese, & Chocolate Trails