The Sky's the Limit 2017 Hiking Challenge #14
Putnam Memorial State Park, Redding/Bethel
September 2017
Do you want to know something crazy? With this, our 14th and final Sky's the Limit Challenge hike of 2017, Damian and I have now gone to ALL 42 TSTL challenge points over the last few years.
Every. Single. One.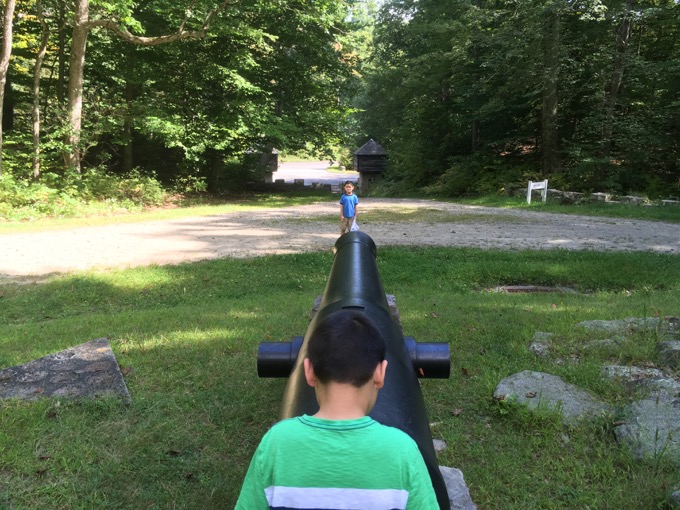 It has been quite a ride. (Calvin missed out on 3 in 2015 because, well, because he was three… but I still find it annoying.) If you are so inclined, feel free to click the TSTL tag and go all the way back to the beginning.
Damian has come a loooooong way in the intervening time. But he certainly still presents challenges nearly every time we begin a walk. I don't write about that stuff much anymore; it's just so ingrained into our lives.
But I would be curious to know how many others have done all 42. I know of a few personally. I'd guess there are maybe a hundred? No matter the number, I'm 100% confident none are kids with profound special needs.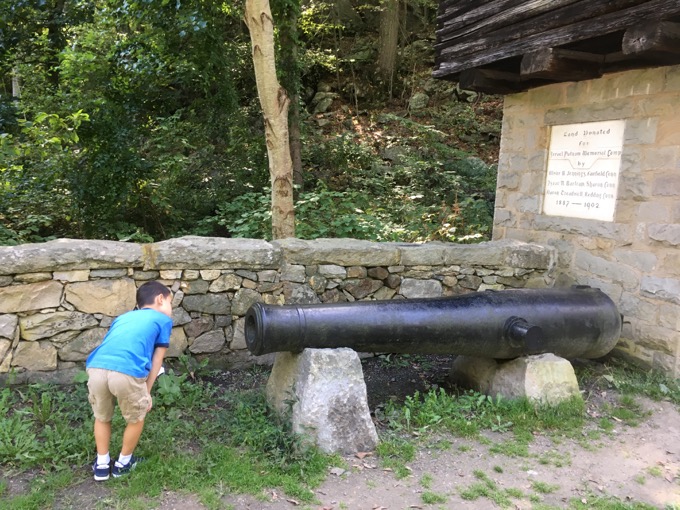 Way to go, Damian!
I just wish he could feel a sense of accomplishment. Sigh.
The drive out to Putnam Memorial State Park is a long one for us, and includes a crazy drive through Bethel. I guess that's why I've never been here before – which is really only surprising when you realize that there are museums here. And you know me and my museums.
The park has everything. It's very pretty, it's free, it has as much history and as many historic sites as any other in the state. and frankly, it's just darn cool.
I'll be back in the future to spend time in the museum and (very, very nice visitor center), but for now, we'll just concentrate on the TSTL hike.
We parked at the main lot, which is the one nearest the visitor center on route 107. The park is divided into a "Historic Section" and a "Recreational Section." We spent our time in the Historic section.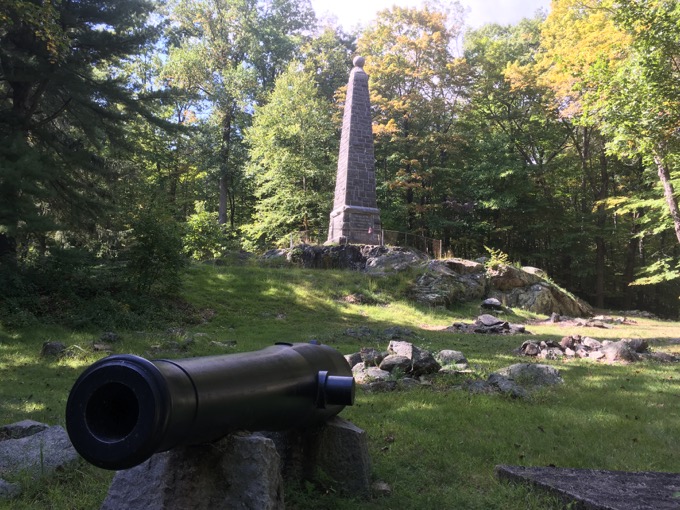 This area is known as "Connecticut's Valley Forge." It was the site of the Continental Army's 1779 winter encampment under the command of General Israel Putnam. The site consists of remains of the encampment, reconstructed log buildings, and a bunch of other cool stuff.
There is a lot going on here. You can read all about it here – and I recommend you do so.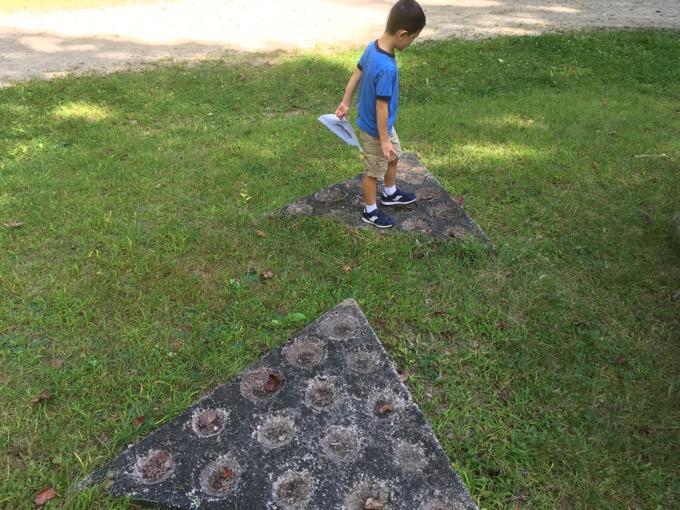 Putnam! Aaron Burr! George Washington! They all played a role here. As for us, we walked past the miniature blockhouses and cannons to enter the park. Note: little kids love cannons.
Up a short hill stands the 1888 Memorial Monument which commemorates the men who spent the winter of 1778-79 at the camp under Major General Putnam's command.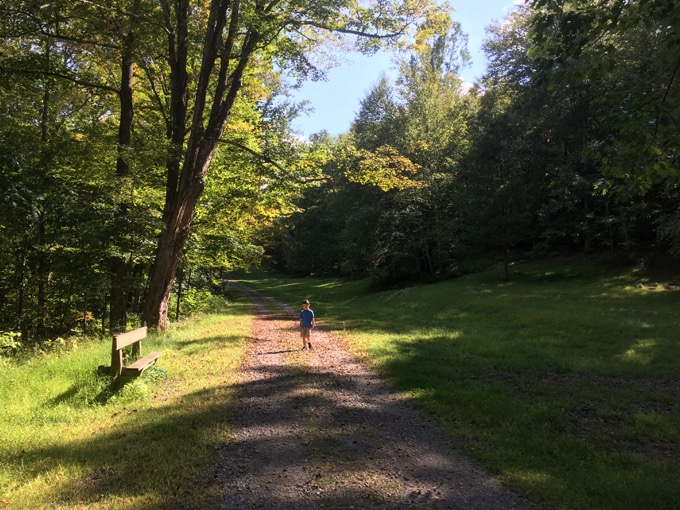 After that, we walked through history down "Company Street." Here, the soldiers constructed 12-man huts – for a quarter of a mile. The only remnants from these huts are the rock piles, called "firebacks." These were the chimneys built from local stone and it is pretty crazy to see them still lined up, one right after another.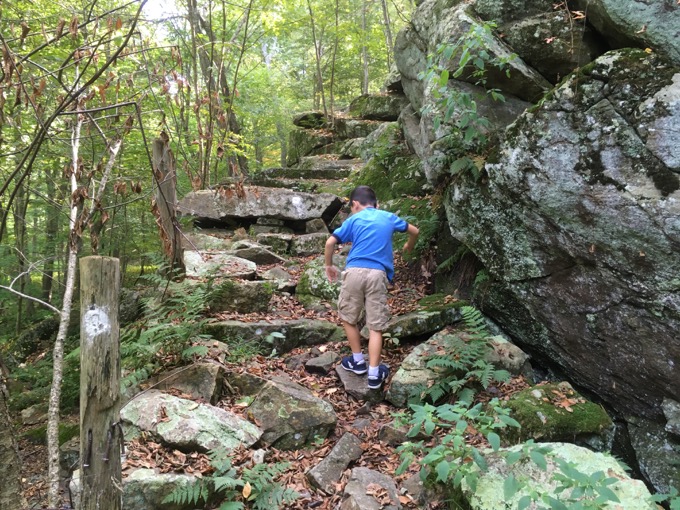 Calvin seemed more interested than usual in all this stuff, but I realized that this was because it involved guns and cannons and war. He was concerned with the war and wondered if "we won." I explained that our lack of a monarch and British accent tells me that yes, we did.
He didn't quite understand, but we kept walking.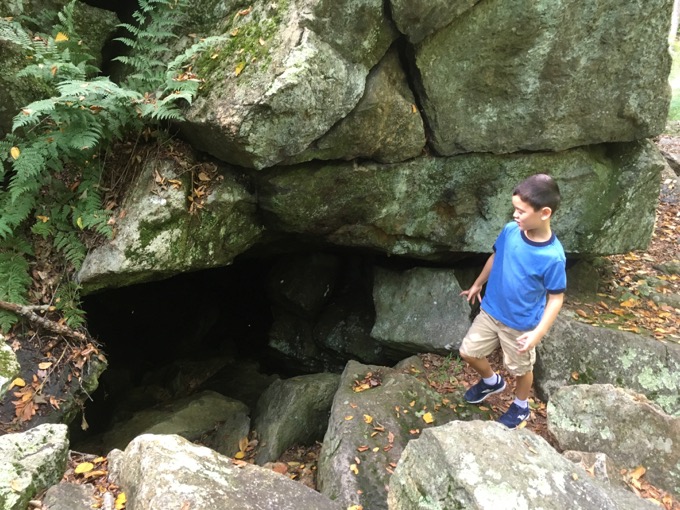 Near the goal for the day, we reached the short side trail to Phillips Cave. No, it's not an actual cave but a "Connecticut cave." No matter, Calvin was very excited to go check it out – giving Damian some time to rest in the shade.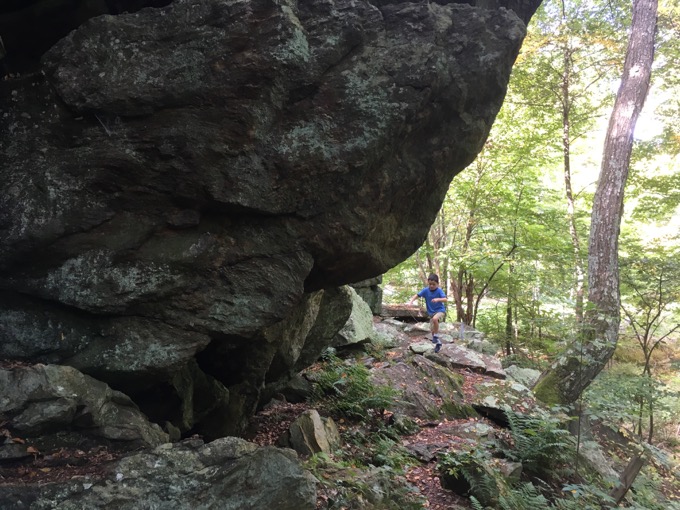 Local legend claims that some guy named Mr. Phillips came to live in this cave after the Revolutionary War and that he was kind of a thieving jerk. So the locals "removed" him. I'm not sure what that means, but let's assume it means they killed him.
Anyway, we poked around and Calvin recreated one of our favorite videos of all time (his idea). Here's the original and here's the one he performed at Putnam State Park.
Love that kid.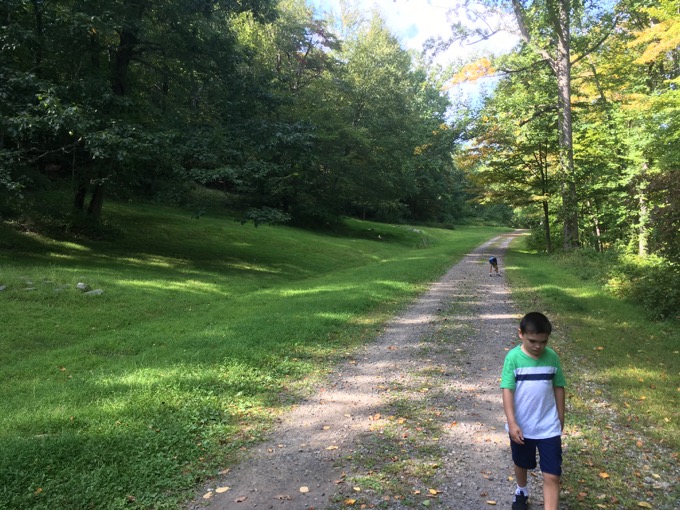 We had hiked into Bethel by the way.
Just beyond the cave is the Officer's Quarters/Magazine – our final TSTL challenge point! Woo hoo! For a century, this recreated building was thought to be an officer's quarters, but now historians believe it was a magazine storage building. (That's kegs of gunpowder and such, kids.)
I was pretty darn happy to complete this year's challenge, but I don't think either boy gave it much thought.
But then, Calvin piped up and said that he was happy because he'll be getting another medallion. I beamed from ear to ear; I can't believe he remembered!
Awesome.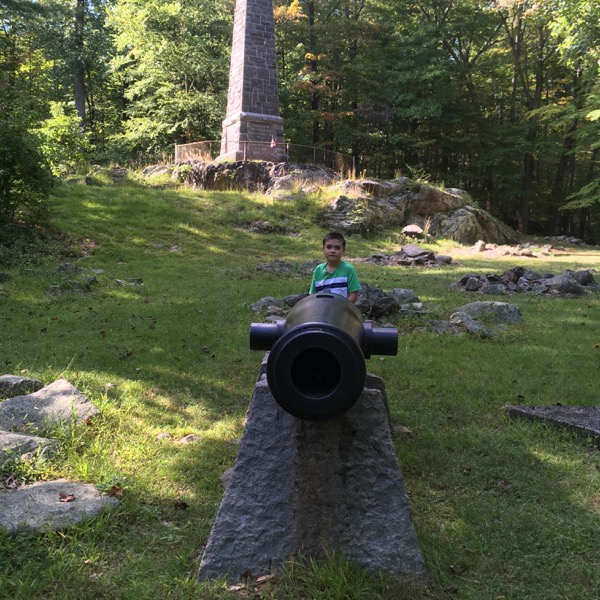 Putnam Memorial State Park map
CTMQ's 2017 The Sky's the Limit Challenge
DEEP's 2017 The Sky's the Limit Challenge
CTMQ's Hiking Challenges Main Page