The Sky's the Limit 2017 Hiking Challenge #4
Topsmead State Forest, Litchfield
February 26, 2017
Something has occurred to me. Since this year's 14 TSTL Challenge points are almost all very short/easy walks (with much longer excursions encouraged, of course), perhaps I'm subconsciously making them more challenging by doing them in difficult weather.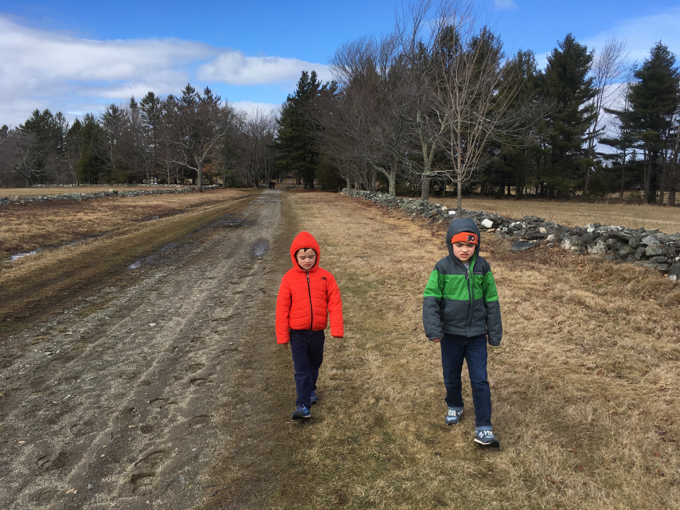 Hm. I kind of like that idea. After all, this was our fourth challenge point and it's still February. And while we hit a weekend with no snow, it was cold. And blustery. Traipsing across the former farmland hills of Topsmead with 30 mph gusts coming down from Canada made for a bit more of a challenge than my boys would have preferred.
Oh well.
Topsmead is beautiful. The historic house museum here has always been one of my favorites in the state, ever since we first visited the somewhat secretive property in 2009. It was then that I first learned all about Edith Morton Chase and the Chase empire.
Anyone who has been around Waterbury has seen the Chase family name. A highway, a hospital, some prominent buildings in that city. The Chase family was a big part of Waterbury's brass empire that lasted through WWII. And every magnate family needs summer retreats in the countryside.
Enter: Topsmead.
Upon her death in 1972, Edith Chase left her beloved country estate to the people of Connecticut and to be known as Topsmead State Forest. In her will, Miss Chase requested that Topsmead State Forest "be kept in a state of natural beauty". To ensure that Topsmead would remain undisturbed, Miss Chase left an endowment to be used toward maintaining and operating the buildings and grounds as they were upon her death.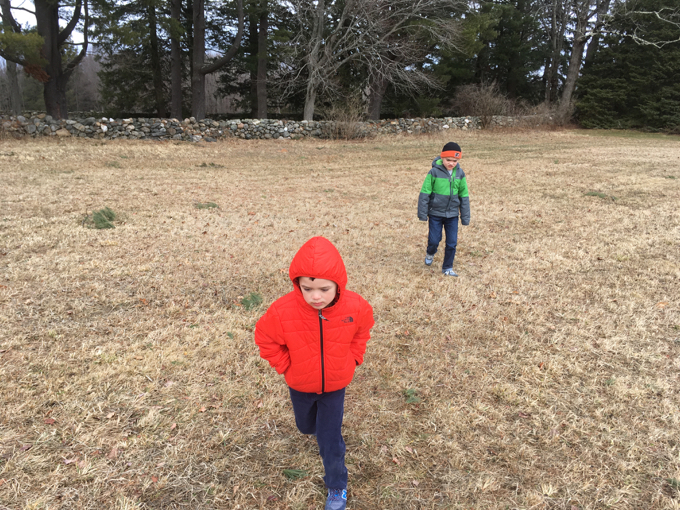 Miss Chase made several brilliant financial decisions in her life. One of her most significant acquisitions was the 1927 purchase of the Buell Farm which was renamed Topsmead Farm to reflect its location at the "top of the meadow". The farm produced food used on the estate. In addition to vegetable and flower gardens there were beef cattle, poultry, sheep, pigs, and at one time, draft horses.
The dirt road into Topsmead had seen better days. In fact, it was disturbingly rutted from the winter. We parked, exited the car, and were greeted with an arctic blast. The late afternoon winter sun was doing us no favors, but the boys were game and so was I.
We had a barbecue pit to find! (I keep saying barbecue pit because that's what the DEEP calls it on the official TSTL page and I may be crazy, but Miss Chase doesn't look like a big barbecuer.)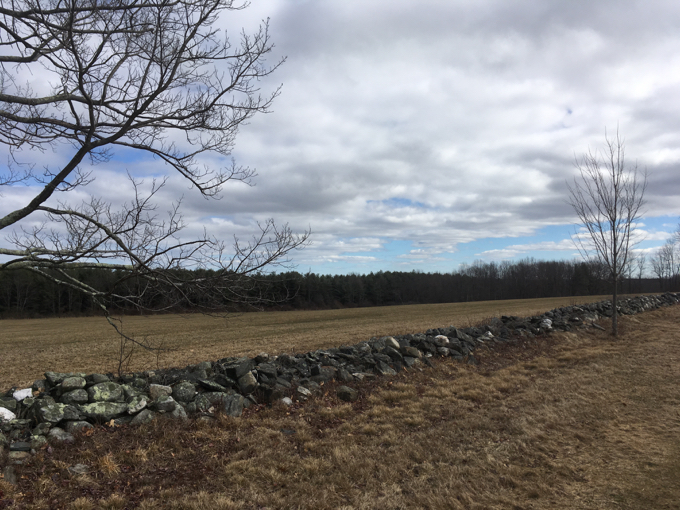 As we reached the long straight woods road to the goal, the wind was blasting us face-on from the open fields. I must admit, it was pretty darn cold. Tears streamed down our frozen cheeks as we pressed onward. There was no turning back now!
Calvin entertained himself by searching for horse droppings and horse chestnuts. Both can be found here.
There! just past a copse! the barbecue pit!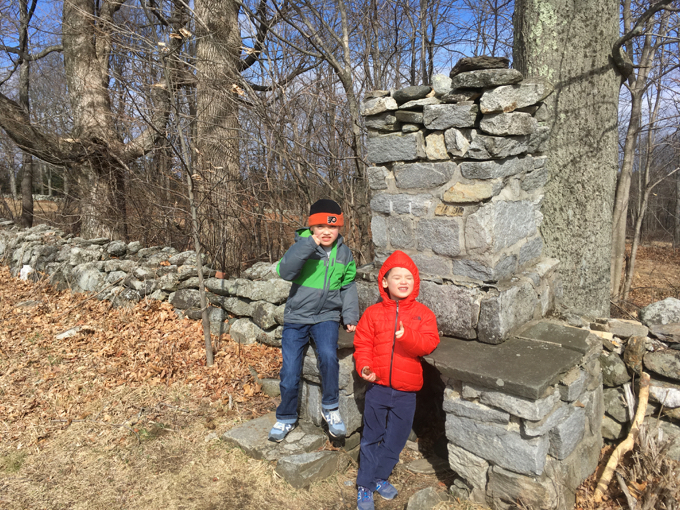 Yes, we'd made it. Good job, boys. Now let's go home. I'm going to try my hand at Hemingway…
Dark clouds had gathered in the western expanse. An icy wind turned cheeks crimson. "I'm cold," said Damian. We walked onward. There was no choice. Warmth awaited us in the blue Impreza and the mere thought of it impelled us forward. The sun, fading to memory, offered no friendship.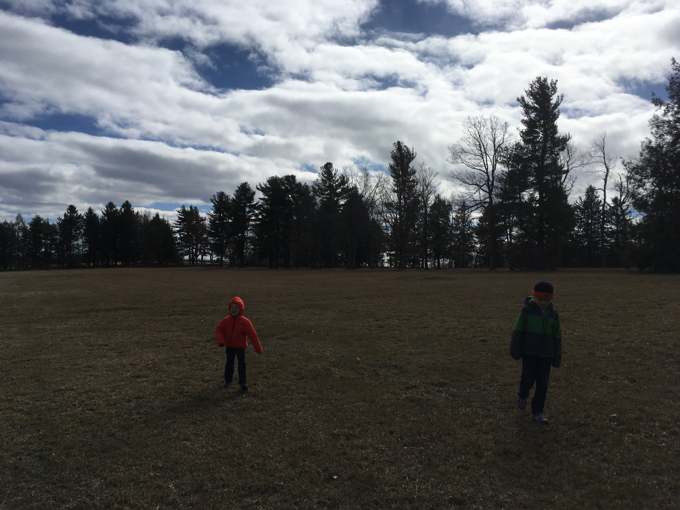 The farm roads were built when English blood ran red in the valleys. The stone walls during the War to End All Wars. And when we finally reached the tarmac, which was laid during the war after the War to End All Wars, the last flicker of life from the western fireball found an opening in the gunmetal slurry above. It hadn't been a joyous outing, but young Calvin found it within himself to execute a brief, if exuberant, leap.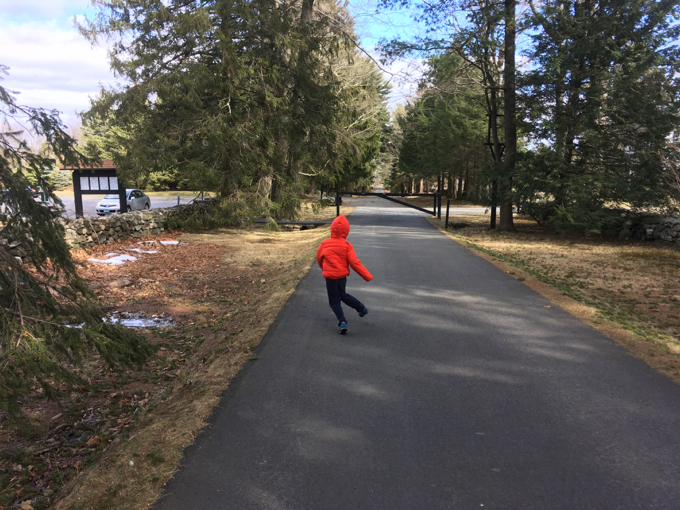 "Love that boy," I said, but no one was listening. "Good hike, boys. As we watch the Sun set, remember, it Also Rises."
The boys stared at me with their wind scarred cheeks; "Warmer? tomorrow?" asked Damian.
"Yes," I said. "Isn't it pretty to think so?"
CTMQ's 2017 The Sky's the Limit Challenge
DEEP's 2017 The Sky's the Limit Challenge
CTMQ's Hiking Challenges Main Page