Route Canal
Windsor Locks Canal Trail State Park, Suffield
November 2017
This path follows the route of the canal and… route canal?! C'mon, give me some love for the title above. Although a walk or ride along the full length of this state park trail isn't quite as painful as the dental procedure, it's had its difficulties over the years.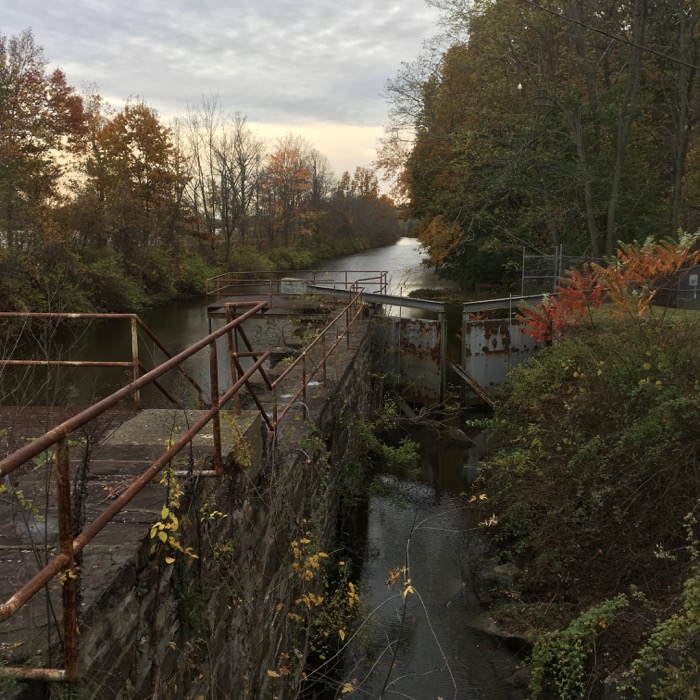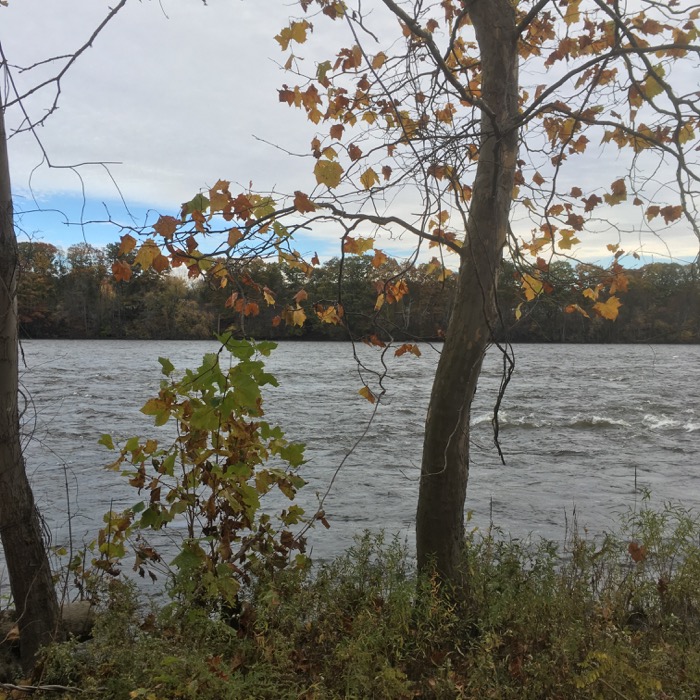 The boys and I walked north from the southern entrance in 2016 and it was a bit of a slog. The urban decay at the outset in Windsor Locks was just depressing and not really befitting of a state park.
I'm happy to report that those dilapidated old factory buildings have been fixed up and some even converted into apartments. The northern end of the park is decidedly less developed, although you do have to drive near some condos to get to the park itself.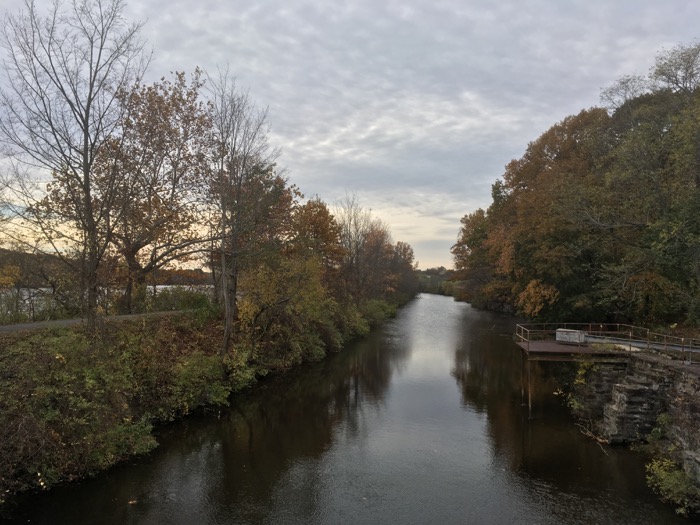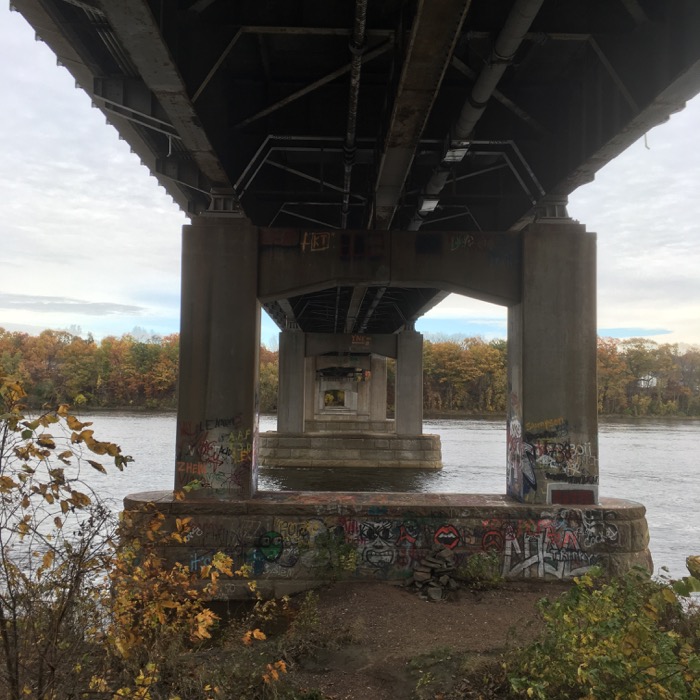 My visit with Calvin was merely to satisfy my completist bug. There's really no reason why walking through this state park deserves two separate pages on CTMQ, but that's just the way it's worked out. I've written before that canals and old locks are pretty cool things to explain to curious little kids, and WLCSP is a great place to start.
The canal still exists and is as canally as is possible in the 21st-century. An active rail line parallels it for the whole of the park's southern half, which lends to the explanation as to why canals mostly died a quick death. And there are some locks here as well! (And lots of lock evidence here and there.)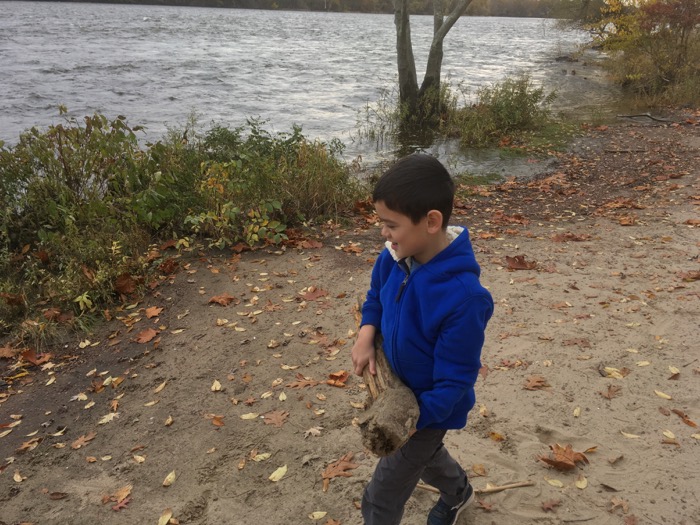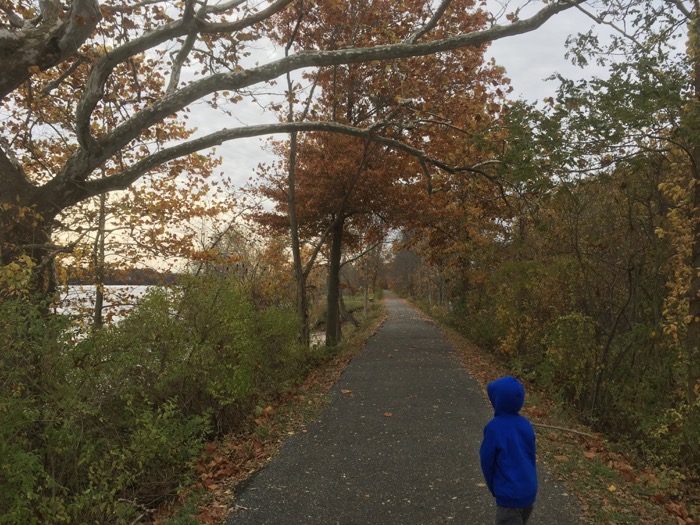 The fact that the canal is right next to the rather large Connecticut River might seem strange to a seven-year-old, but all that means is you get to explain things even more! Here, I'll help. A cheat sheet of sorts:
The Windsor Locks Canal was constructed between June, 1827 and November, 1829 to skirt the Enfield rapids in the Connecticut River. The continuous water connection from the Connecticut River valley farmlands above the rapids through to Hartford and points south provided farmers with expanded markets and investors with freight fees in this business venture. Today's paved surface lies atop the towpath, the actual walkway which animals, often mules, hauled the freight barges by rope north and south along the water way. Author Charles Dickens was a notable visitor who passed through the canal on February 7, 1842.
I'm not sure seven-year-olds care about Charles Dickens, but go ahead and give it a shot. As you can see, the path here is more of a multi-use trail; for walking, cycling, rollerblading, running… and it's pancake flat and rather straight. Not exactly what my son thinks of when he thinks of a hiking trail.
All this is fine because again… this is a history of transportation and industry trail! Woo-hoo!
As with all of Connecticut's canals, the coming of the railroads in the late 1840s spelled doom to the waterways for freighting. However, with a captive and consistent water source, the canal was well positioned to supply water for mill power, and factories sprang up along the canal banks. But as time, progress, and efficiencies of business marched on, even this use ultimately met its match. In recent decades the recreating public is the largest user of this historic remnant of Connecticut's commercial and industrial past.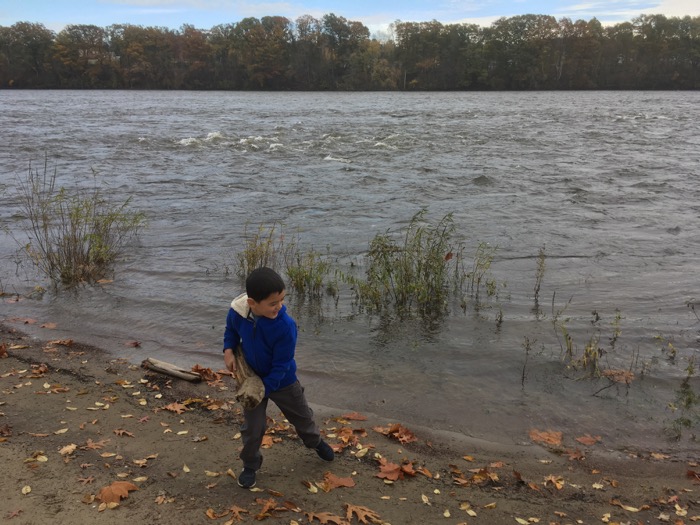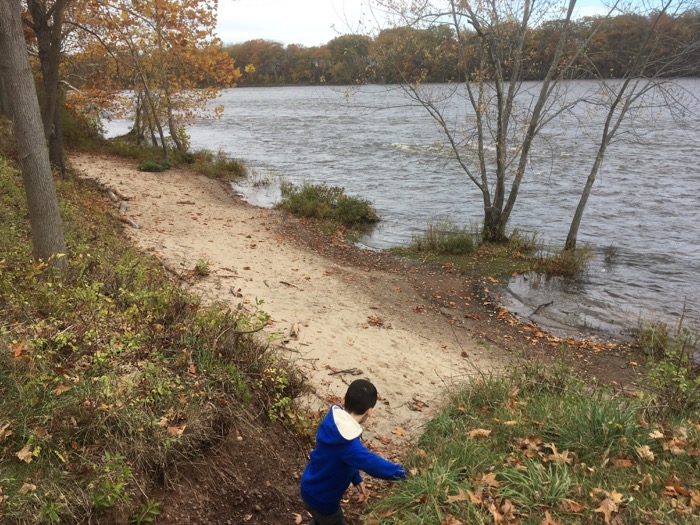 It's kind of neat that enterprising residents were able to repurpose the canal for other, more profitable uses. Did that happen everywhere? I don't know. I don't think so. To me, the coolest part of WLCSP isn't in WLCSP at all. It's Kings Island out in the Connecticut about halfway down the park.
It's an easy canoe or kayak paddle (or in serious drought, you can almost walk to it from the Enfield side) and is only interesting because a religious sect called the Millerites awaited the Second Coming there. Several times. I love apocalyptic cults. Love 'em silly. Of course, Jesus never returned to a small random island in the Connecticut River, but someone thinks well enough of his father to leave these stones at WLCSP.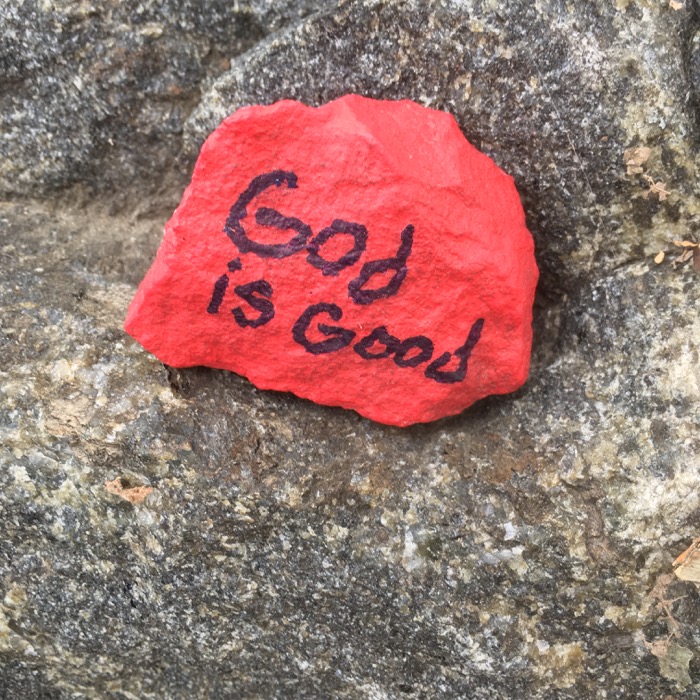 Calvin and I walked down to where we'd walked up to a year prior. He played around at the lapping shore of the river and had to get his rock and log tosses in for the day. This is an interesting and well-preserved piece of history that I've probably enjoyed way more than a normal person.
Sorry.
WLCSP closes in the winter in an effort to protect a bald eagle population.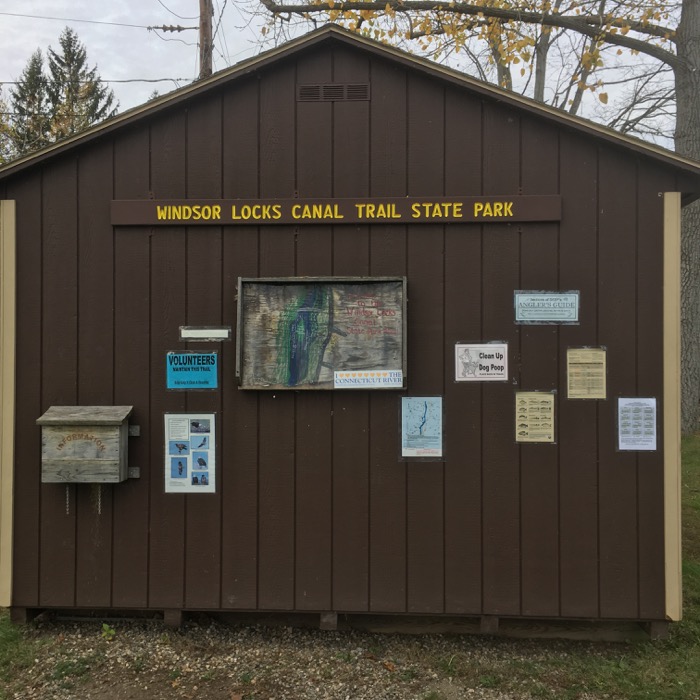 DEEP's Windsor Locks Canal Trail State Park
CTMQ's Windsor Locks Canal Trail State Park
2016 TSTL Hike with my Boys (Southern half)
CTMQ's State Parks, Forests, Reserves, & Preserves