Getting One Over on Westover
Middlebury (Google Maps location)
June 3, 2019
I won't lie. I was more interested in visiting the Schumacher Gallery at Westover School in Middlebury because the school was designed by Connecticut architectural superhero Theodate Riddle Pope than for any art gallery hidden away within. I was on a bit of a Pope Riddle kick; having relatively recently visited the Hill-Stead Museum in Farmington (her childhood home and now a museum) and Avon Old Farms, a beautiful campus she designed in Avon.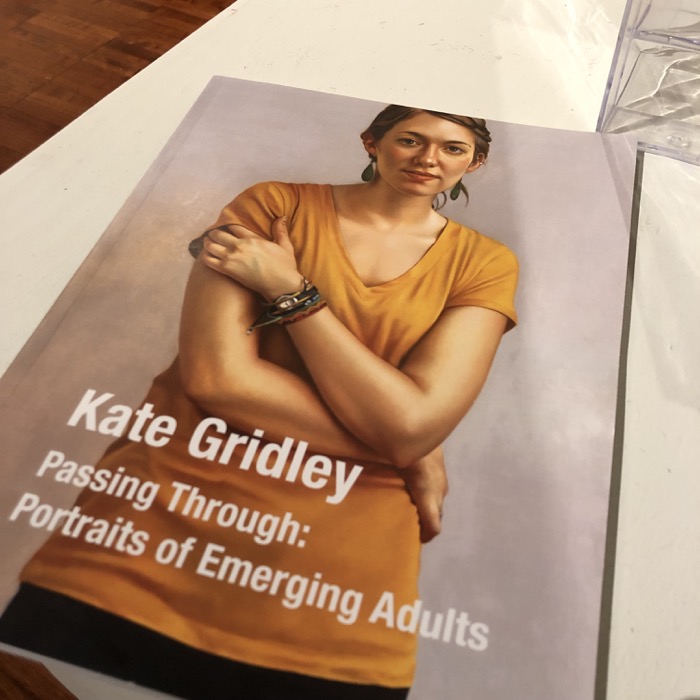 Theodate Riddle Pope was one of the more impressive architects in the northeast in the early part of the 20th century… and she just happened to be a woman. Westover was one of her first commissions and while it follows a pretty standard template, it's still a rather stunning campus.
And it better be… for this is (yet another) one of Connecticut's boarding schools with an annual tuition just south of $70,000 in 2020. Westover is an all-girls school and seems to focus pretty sharply on academics. Good for Westover. But… odd for me.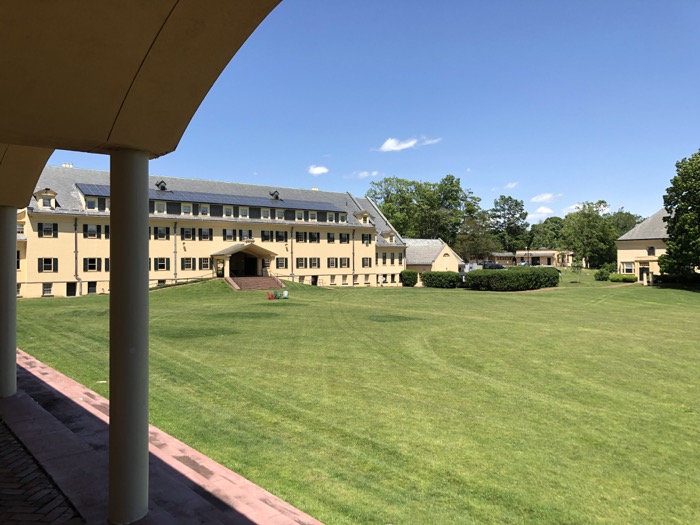 What I mean is that I was tooling around out in Middlebury one random Monday during the two weeks I gave myself between leaving my job at LEGO and beginning a new career elsewhere and found myself in front of the striking yellow school. Why Middlebury of all places? Because the Middlebury History Museum is only open on "most" Mondays from 2-5. My hobby is not easy at times.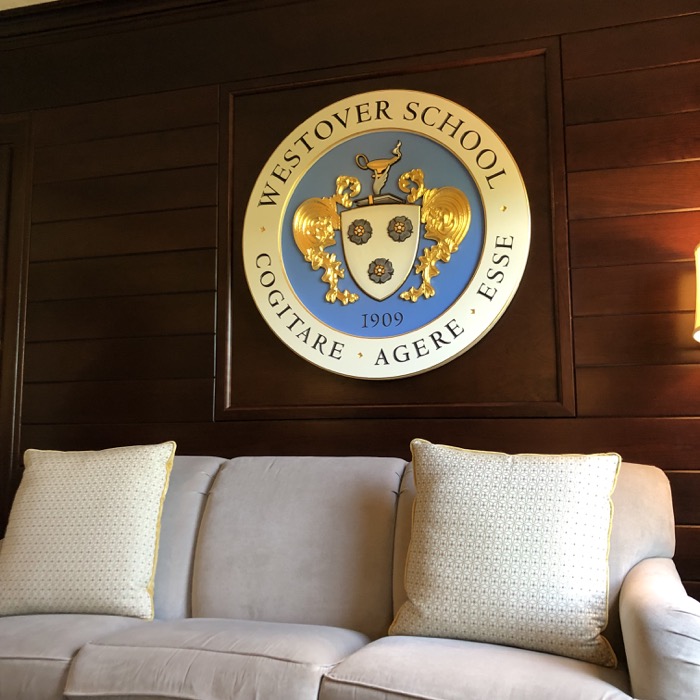 So there I was… a 40-something apparently unemployed guy with absolutely no ties to Westover School, creeping around its perimeter trying to work up the courage to just walk right in there and ask to see the art gallery. And to do it with confidence and panache; as if this was a totally normal thing for a guy off the streets to do.
I walked right in there into the main office and demanded to see the headmaster. Or, more accurately, slunk into a cushy chair and waited for the elderly couple to finish reminiscing with the receptionist lady about their daughter's halcyon Westover days… I caught their names and they were something like Thorton and Beatrix Winthropple. I'm serious. Anyway, I was up.
"Hi. I'd like to see the art gallery if possible."
Blank stare.
"I am out here in Middlebury seeing a friend on a day off from my high profile job and had recently been at Avon Old Farms where I learned that Theodate Pope Riddle also designed this campus and I'm a huge fan of her work, and, really, of all impressive women throughout history. Then I looked up the school online and saw that your current exhibition features someone I know."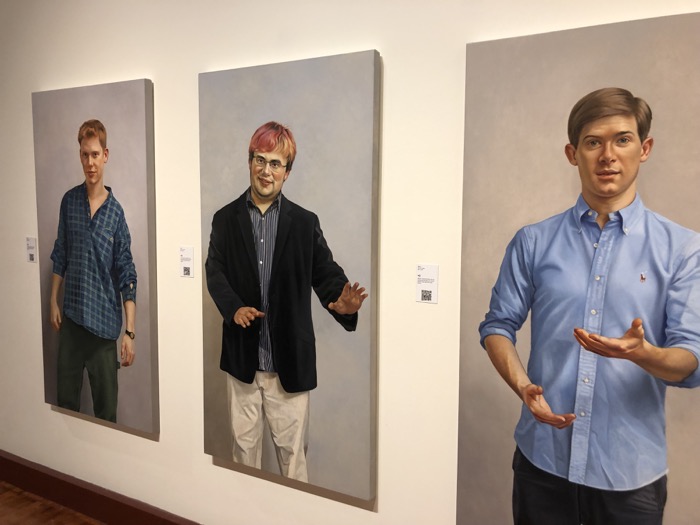 Double blink. Could she tell I was lying?
The woman picked up the phone and said that someone would show me to the gallery shortly. Holy cow, I was in. (Let it be known that I was told via email that there would be no way I, a random guy, would ever get in to see the art gallery at Farmington's similar Miss Porter's School. So these places are somewhat difficult to see. Shout out to Westover.)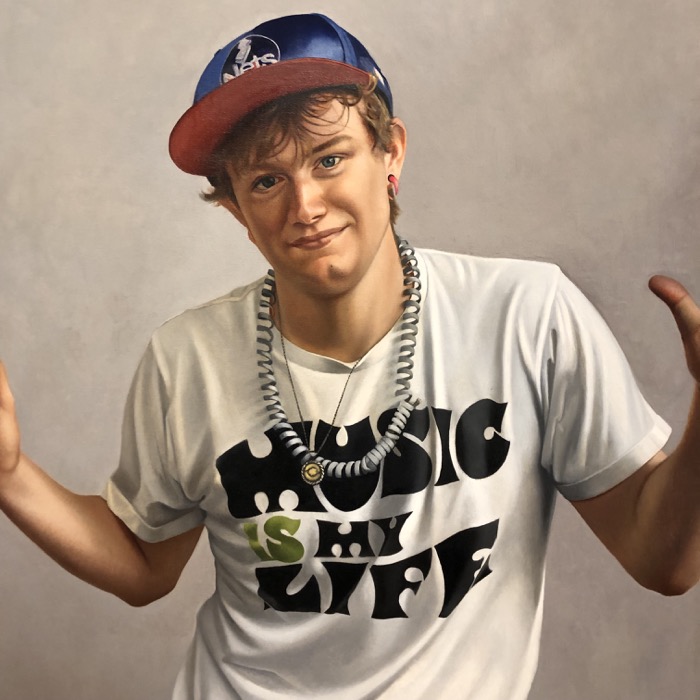 I was accompanied by an older gentleman who had great difficulty walking. This made me feel a bit guilty, especially as the Schumacher Gallery was quite a ways away. But I pretended to be nice and had a very pleasant talk with the man all about Pope Riddle and her accomplishments. For his part, he regaled me about the theater and the art gallery and all the recent expansion and improvements that had been made. We were fast friends.
And we became best friends when he turned on the gallery lights, showed me how the exhibit worked, and left me alone. Love that guy. The official end date of the installation was the day before, so it was actually closed… but hadn't been dismantled yet. In fact, my host wasn't even sure it would still be intact for me to enjoy but – glory be! – it was.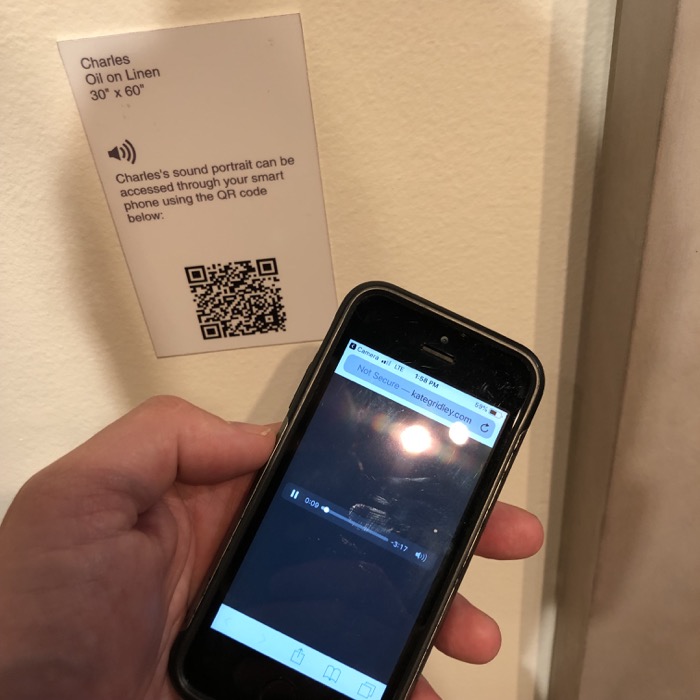 The Schumacher Gallery has five to six rotating exhibitions each year featuring professional and student artists in varying media. (The gallery is actually open to the public every afternoon that the school is in session, so my visit wasn't that weird. It just felt weird to me.
Also weird? The co-director of the gallery is named Caleb Portfolio.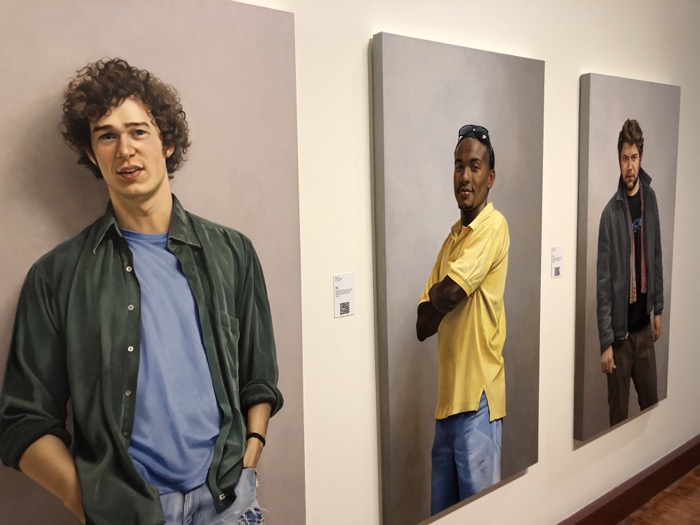 The exhibition I saw, where I did not know anyone involved, was called "Passing Through: Portraits of Emerging Adults" by Kate Gridley. Large portraits of young Americans would have been good enough, but Ms. Gridley has also recorded each of them. The idea here is that you have your phone on and operational… and then each portrait "speaks" to you via the subjects own words about their place in the world.
Kate Gridley sees a world in which emerging adults (the phase of life between adolescence and full fledged adulthood) from all walks of life are recognized, honored and supported to fulfill their human potential. Using painted canvasses, each 30″ x 60″, and sound portraits, audible through cell phone technology, Passing Through marks moments in which emerging adults transition to realizing their selves and claim their voices.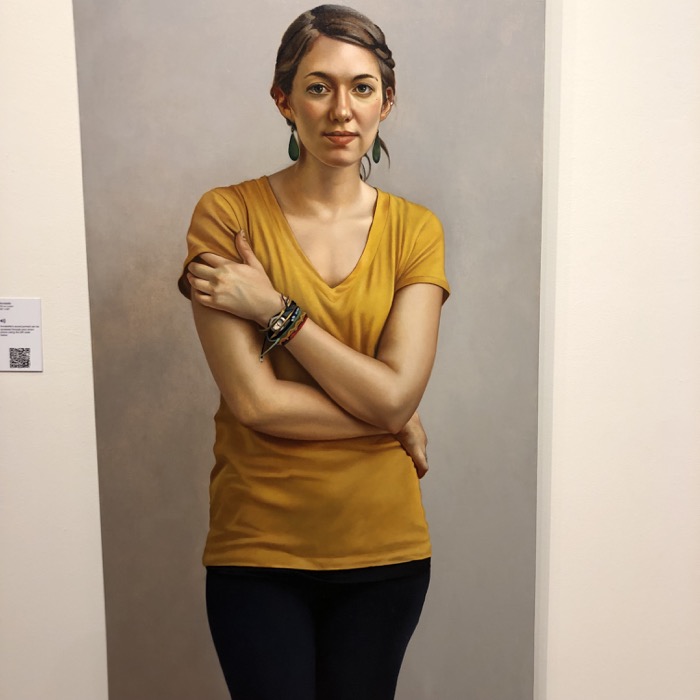 It's a cool idea. And it helps that Gridley is a talented artist. On top of that, I've always been a sucker for large pieces. In this case, the paintings are essentially life sized.
A small New England village in Vermont links subjects and artist. For some, it is their birthplace; for others it became home; others came to visit and continue to return because it is home away from home.

Different religious and cultural beliefs, a range of sexual identities and orientations, socioeconomic status, work and travel experiences, failures and successes, family structures and health issues are represented across the seventeen subjects.
I quickly learned why my guide took off. If I was to take in the entire exhibit as the artist would like, he'd have had to stand there staring at me for an hour or so. Which, to be clear, would be an interesting hour of my life for sure. But… that wasn't going to happen.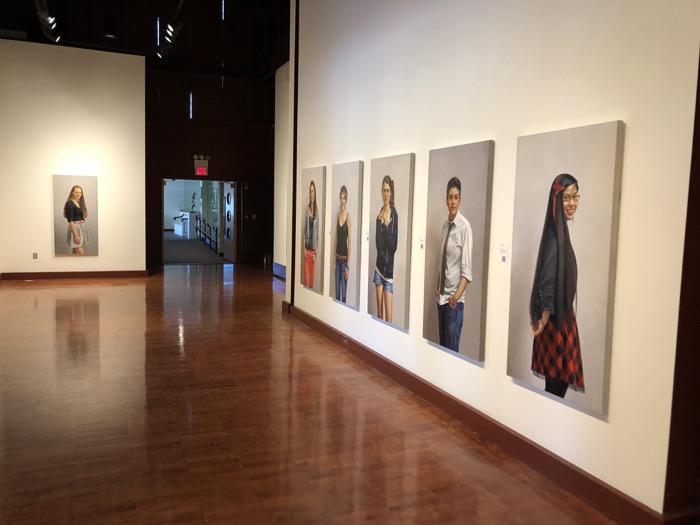 My first thought was… I wonder if the artist has compiled stats of which subjects were listened to the most? Like, are we drawn towards the more attractive portraits? Or the most eccentric looking? Do black visitors gravitate towards the black portraits (there were two, from this small Vermont town!)? Or am I the only one that would be interested in this aspect of the exhibition?
The paintings are excellent and the soundbites were a neat complement. Each young adult chose his or her music bed and the diversity among them was impressive – not just in how they looked, but in their hopes and dreams. Some were happy staying in rural Vermont, others were itching to get out.
I enjoyed the show and wound up staying and listening to more of the recordings than I thought I would. Gridley's style appeals to me and her incorporation of new technology wasn't as intrusive as it often is. In short, I liked this show.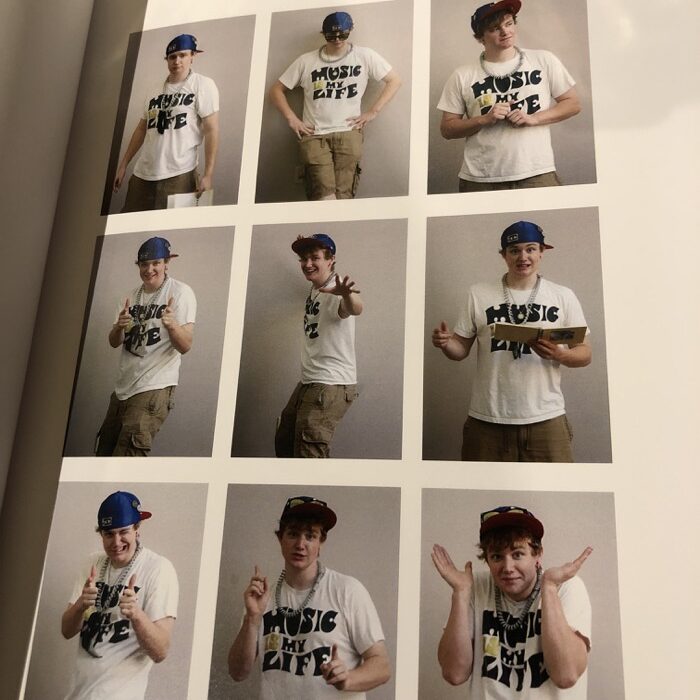 Once I was satisfied, I had to find my way out of Westover. Now I was a random 40-something dude wandering around an all-girls campus by myself. I was given instruction to exit via some side gate, but it was locked. Just as I was about to scale the walls to escape, my friend appeared out of nowhere to unlock the gate to the street. I figured that this wasn't exactly fortuitous, but rather he had been watching me on some security camera feed for the last 40 minutes. Which… I can understand.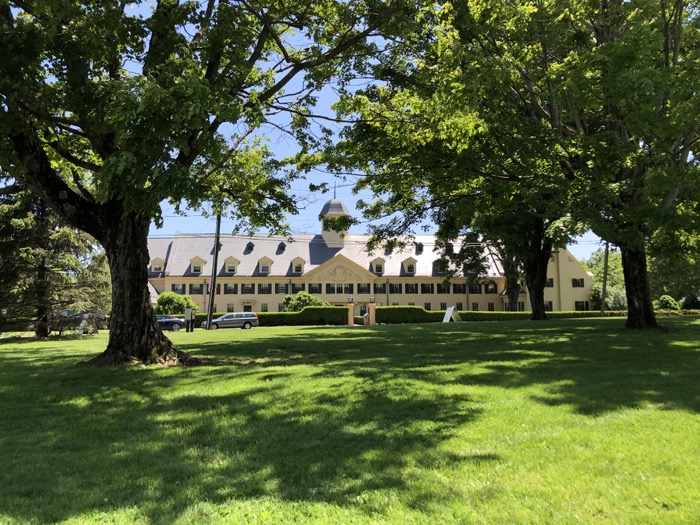 Westover is rather different than Avon Old Farms in design. It reminds me of a rural farm with very large buildings. I like that it's yellow. I like that it's shaped almost like a compound to protect the young women who attend. And I like that it was designed by a woman.
If you find yourself in Middlebury and you see that school's in session at Westover, go ahead. Just walk right in and ask to see the Schumacher Art Gallery. Tell 'em CTMQ sent you.
(Please don't do that. That won't help you.)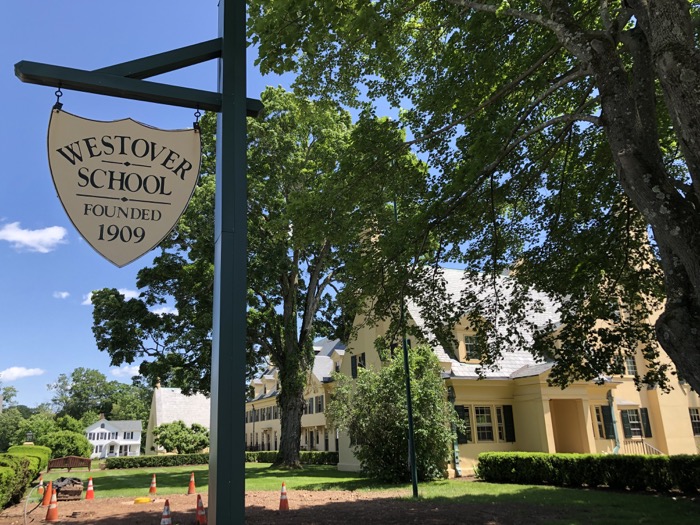 CTMQ's Museum Visits
CTMQ's CT Museums List