Union Jacked
Union (Google Maps location)
August 2019
Union, Connecticut. You know, that town name on the last Connecticut exit sign on I-84 East that you pass on your way to Boston? The town that you've never been sure is a real town? Union.
First inhabited by Nipmucks, and later, in 1727, settled by Presbyterians from Massachusetts, the town was incorporated in October of 1734 and is the least-populated town in Connecticut. As of the 2020 census, a scant 785 people lived in Union.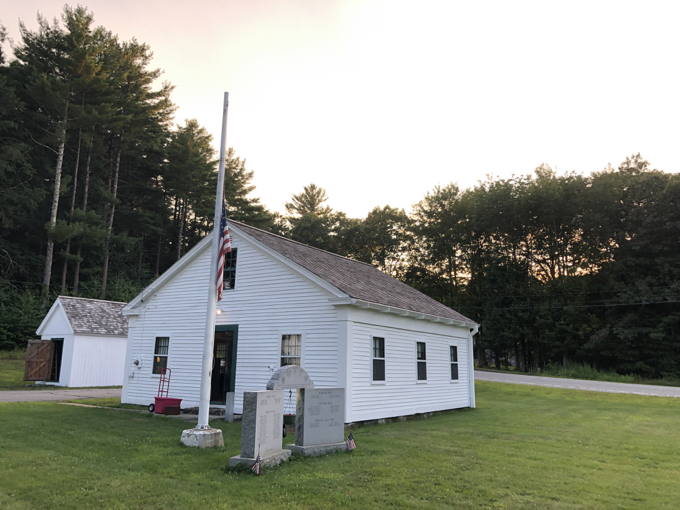 One reason for the low population is that a third of the town is set aside as park and forest land, including Bigelow Hollow State Park which is pretty darn huge when combined with the surrounding Nipmuck State Forest. I would guess that on beautiful summer weekends, the town's population increases by 50% due to Bigelow Hollow visitors.
As you can imagine, I love Union for these things. Exiting the interstate up there in Willington, Ashford, and Union and heading east is an almost otherworldly experience. Otherstately for sure. There are no gas stations or businesses or even houses off of these exits, and drivers are immediately enveloped by forested hills that can be a bit daunting to first time travelers.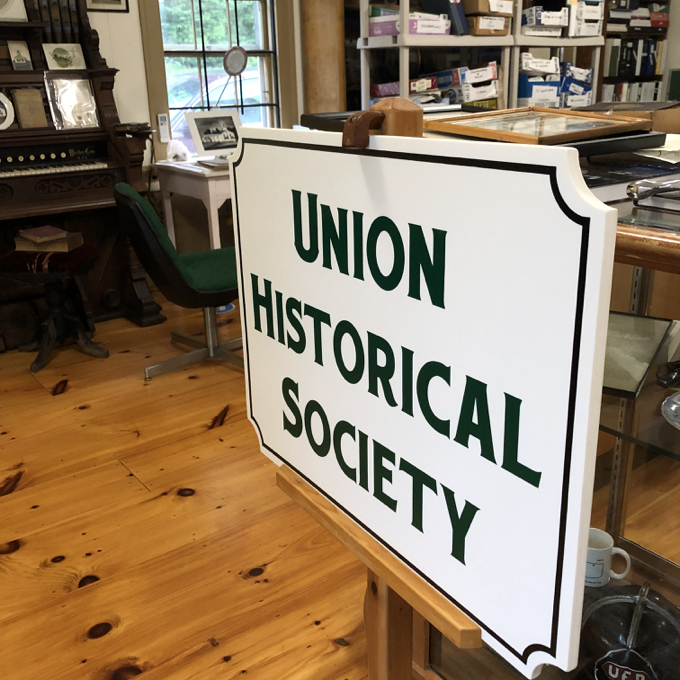 Exits 73 and 74 are foreign to most people, but they both can take you to the magical world of downtown Union… err, Center City Union? How about, "that part of Union where there are 3 buildings in close proximity?" Yeah, that works.
Located on the Town Green, The Union Historical Society is dedicated to the preservation of Union's rich history. It houses an extensive collection of photos and other historical artifacts from both Union's past and present.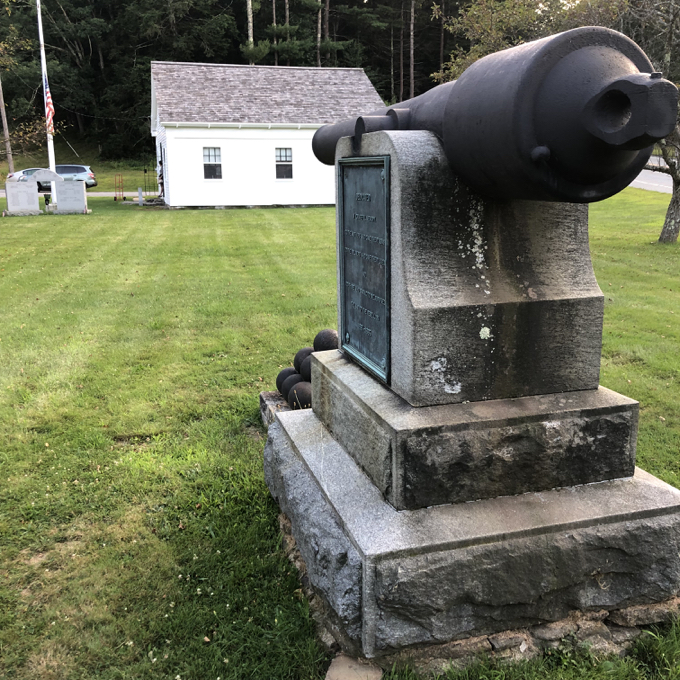 The little museum has was a bit of a Unicorn for me, as it is not exactly easy to get to for me and is only open Tuesday evenings from 7:00pm – 9:00pm in the summer. A special trip out here was needed… and planned.
And with these types of tiny museums with little to no visitation, one can never know if it will actually be open when one visits during supposed open hours. I took the risk one Tuesday evening in early August – after I got some hiking in down in the comparatively cosmopolitan Ashford and Willington.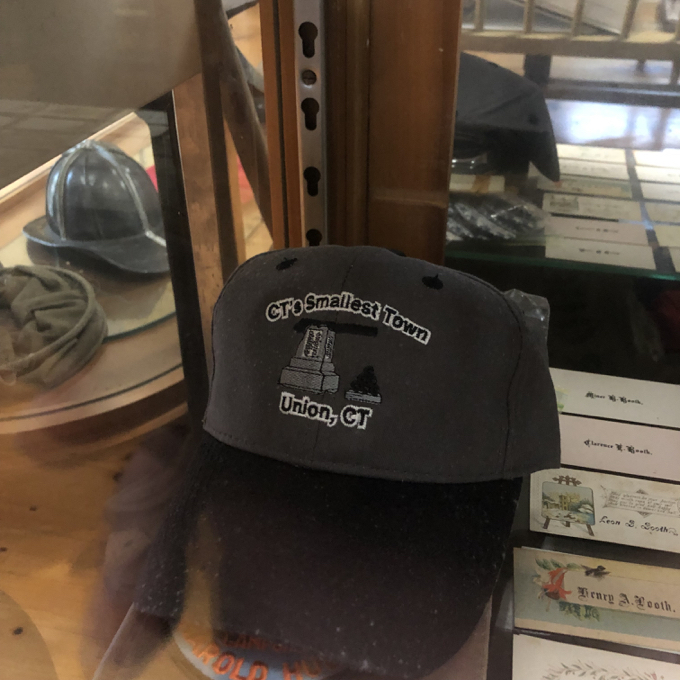 As I neared the handsome little building, a smile crept across my face as I saw that there were cars! I was going to finally visit the Union Historical Society Museum! (Funny enough, most of the cars had Massachusetts plates… such is life along the northern border I suppose.)
I first walked the grounds and checked out the cannon – which is aimed right at the museum. There's also a time capsule buried here; put in place in 1984, to be opened in 2034. I imagine that will be a HUGE day for Unionites.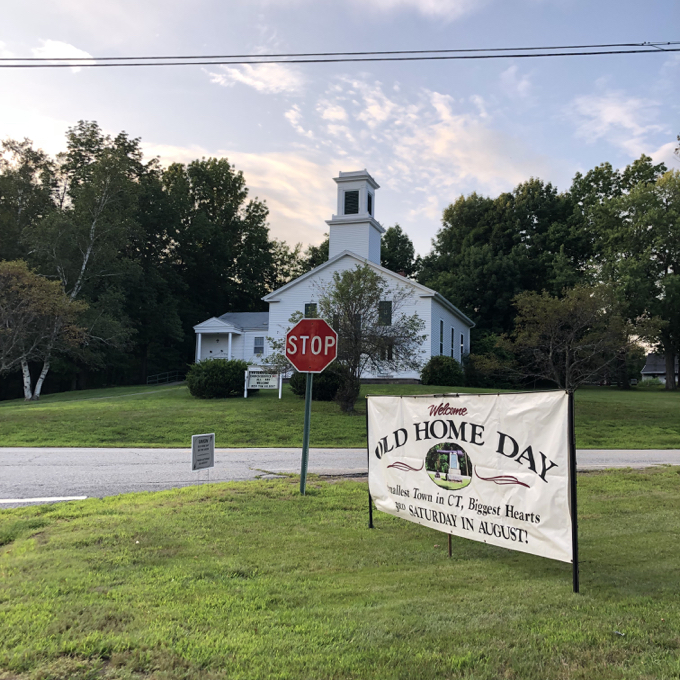 Speaking of huge days in Union, my visit was mere days before the town's Old Home Day! That's why the historical society was a hive of activity during my visit! From what I gathered, Union's Old Home Day is their (teeny weeny) annual town fair thing. As a result, the museum was a bit of a messy jumble, as retired volunteers were boxing up and moving all sorts of who-knows-what for the big day.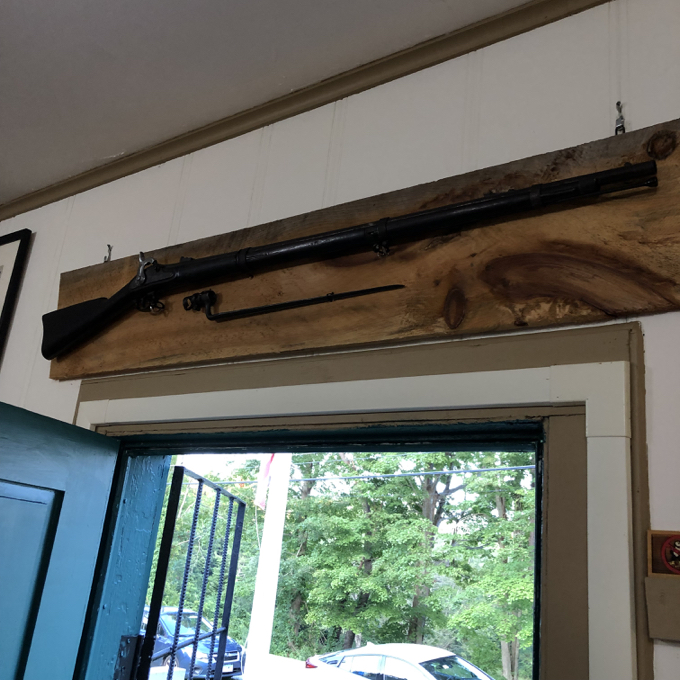 I was greeted as you'd expect – a curiosity. An interloper. Everyone knew immediately I wasn't a Union resident. (All Union residents know all Union residents, you see. As a native Delawarean, I know how that goes.) Several ignored me and kept to their work. One woman welcomed me, apologized for the mess, and basically asked me what the heck I was doing there.
(Fair question, really.)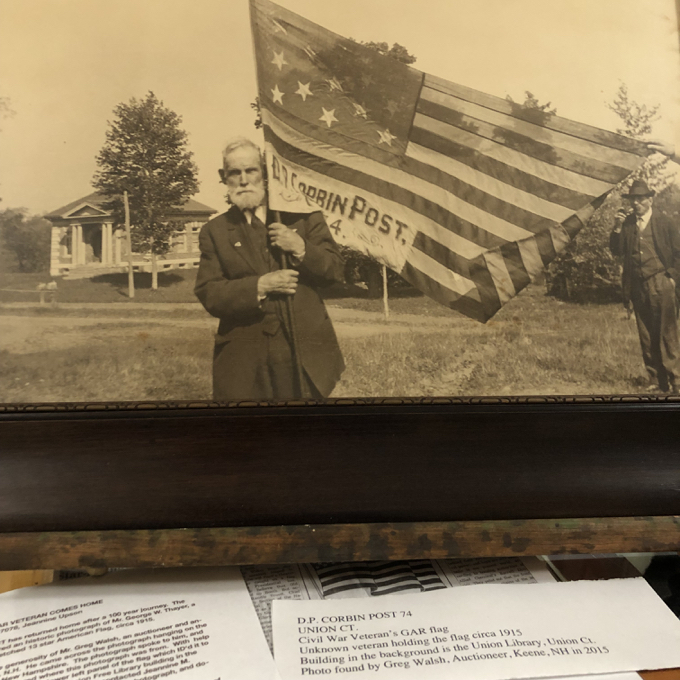 I helpfully explained that I'd been hiking "in the area" and had often passed the building and always wondering about it. And lo, I saw cars here tonight so I decided to check it out. I batted my eyelashes and fanned myself.
No one really cared, as they had more important things to worry about. And no one, apparently, found it odd that this random hiker guy who just so happened to be driving by at just the right time was taking so many pictures of fairly mundane artifacts that no 40-something from a far off town should be interested in.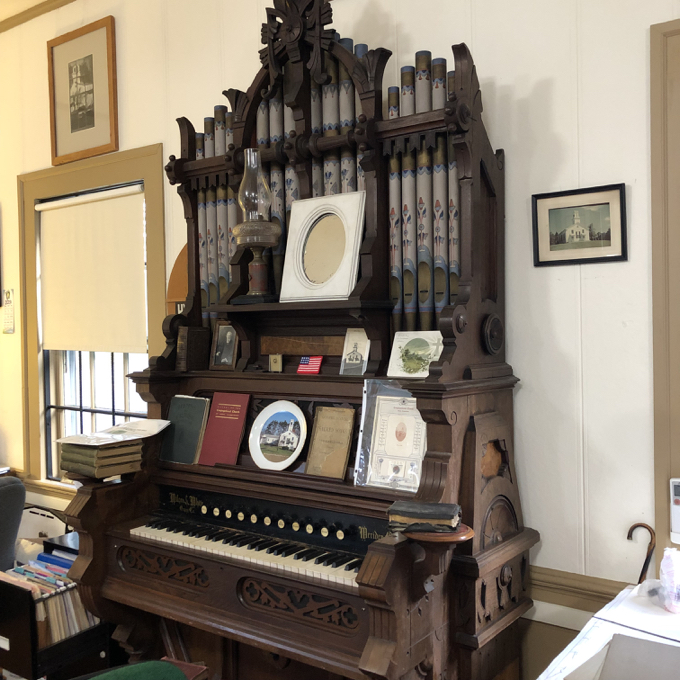 Which was nice.
I got in the way of people. I looked for interesting stuff. I found… stuff. (In fairness, perhaps the most interesting stuff was in those boxes in cars and trucks outside.) There's an 1862 Civil War rifle hanging over the door. An antique water cooler from a hotel that used to stand at Mashapaug Lake (now partly in Bigelow Hollow State Park). Oddly, there was a little sign on the water cooler…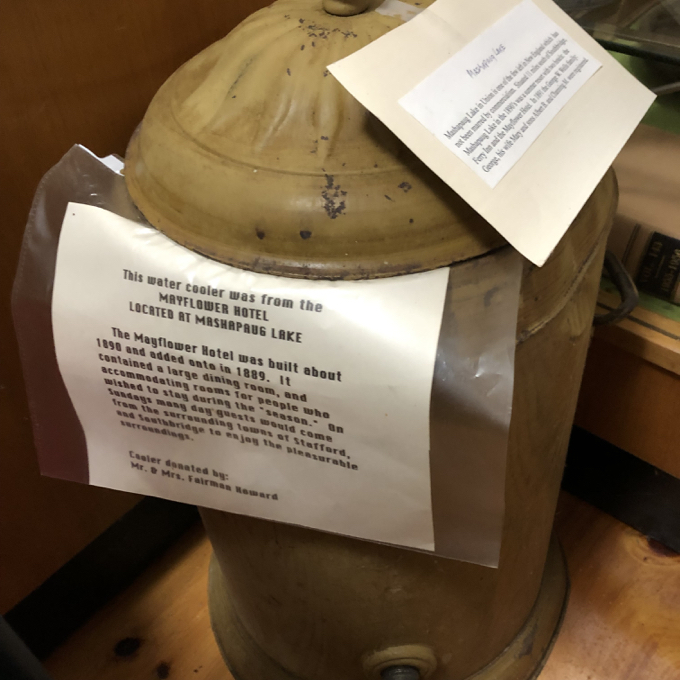 Explaining that the lake is "one of the few left in New England not marred by commercialism," before explaining how it was marred by the commercialism of two hotels 100 years ago.
There's an old pipe organ here, made and kept (not) in Union. A photo of a Civil War veteran from town that was lost for a hundred years before "returning home." Goggles issued to a WWII veteran from town to watch Nagasaki get incinerated. A blurb about a guy, Jesse Olney, who wrote a popular Geography textbook in… checks notes… 1798.
You've seen pictures of those things sprinkled throughout above. What you haven't seen yet is this: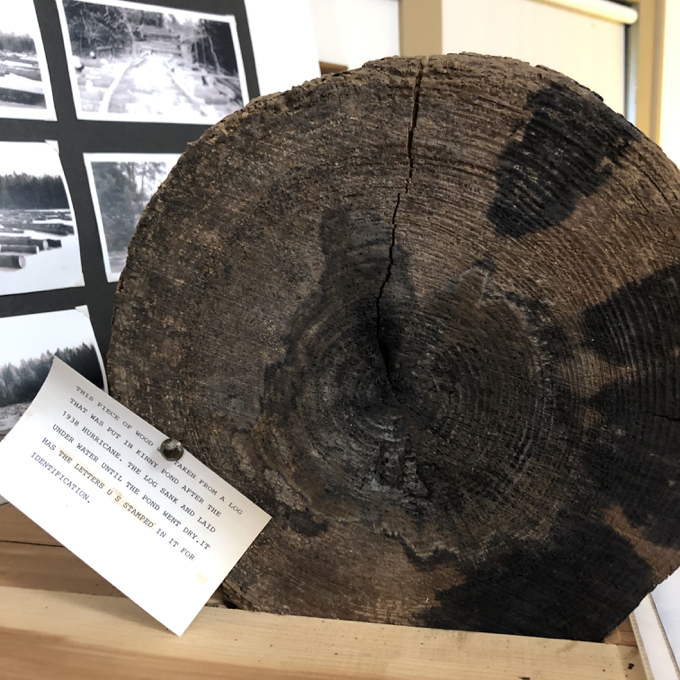 That, my friends, is – are you sitting down? – "a piece of wood taken from a log that was put in Kinny Pond after the 1938 hurricane. The log sank and laid under water until the pond went dry. It has the letters U S stamped in it for identification."
That is… something.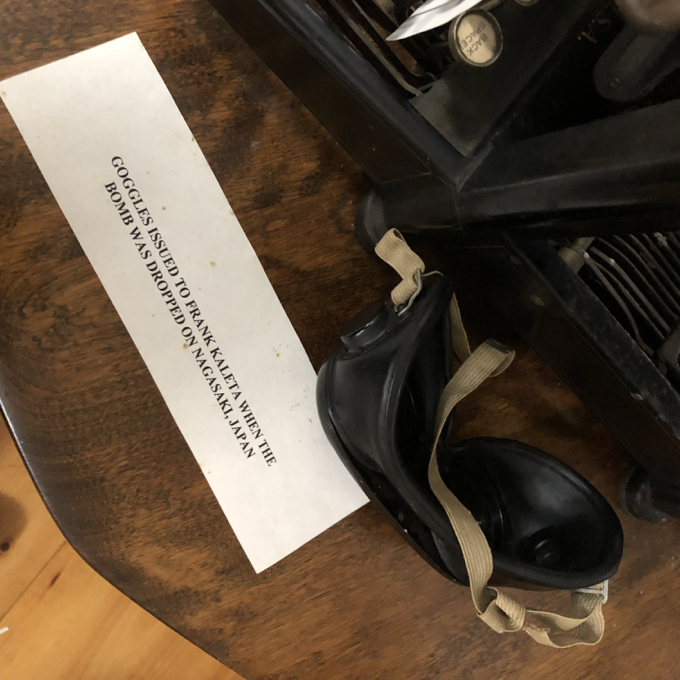 Look, the purpose of this place and others like it isn't for out-of-towners to visit and write about it. It's for locals to gather and share stories and collect archives of the town's history. And that's a very valuable thing, especially for a town as unique as Union. I happen to love these tiny little town history museums; I love that they exist and that interested locals are doing some amateur historian work from Union to Voluntown to Bridgewater.
And again, I'm sure whatever artifacts they showed off at Old Home Day were really cool; after all, this is Connecticut's least populous town and that alone makes it worthy of anyone's attention.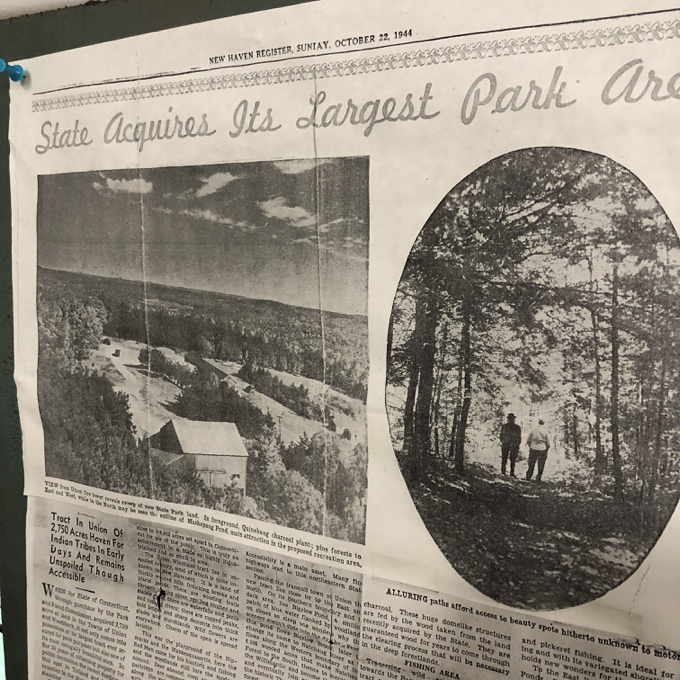 Union Historical Society Facebook page
CTMQ's Museum Visits