What The Floc?
Coastline Brewing Company, Westbrook
September 2022
2022 was interesting beer in the world of Connecticut craft beer brewing. The industry had exploded between 2013 and 2020, all the way up to the pandemic. But still, through 2020 and 2021, new breweries kept opening with relative few closing.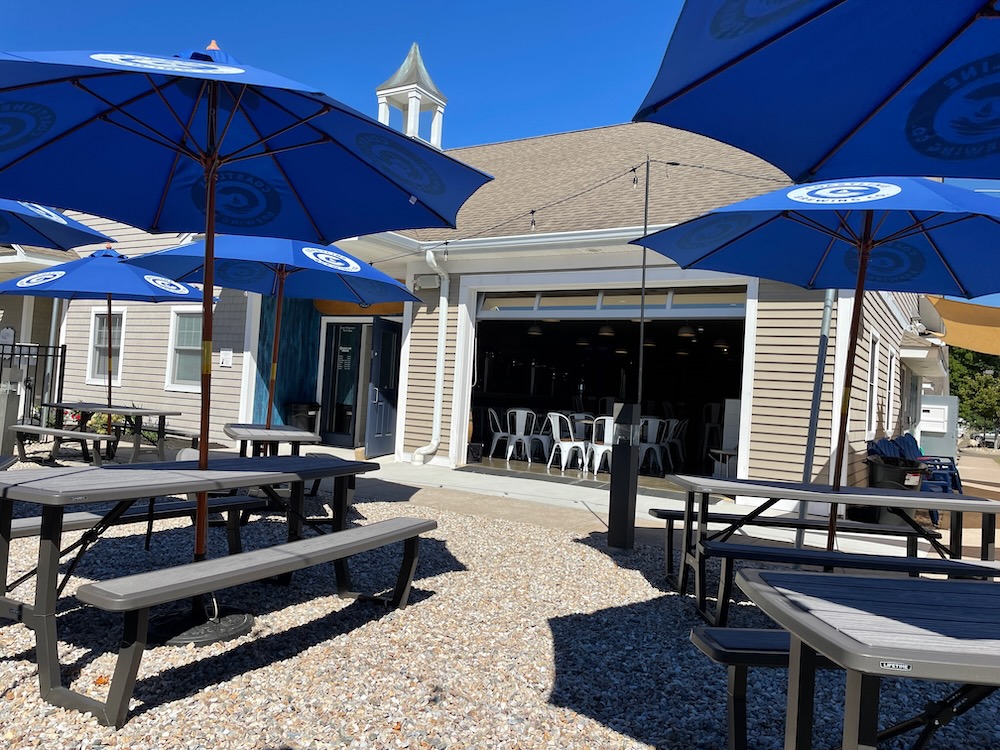 But 2022? 2022 was weird. Staffing for the service industry became incredibly difficult, craft beer drinking as a share of the market declined, and, well, the Connecticut brewery count remained at 110 pretty much the entire year.
A few breweries opened and a few breweries closed. One could argue that as a state, we had hit our plateau.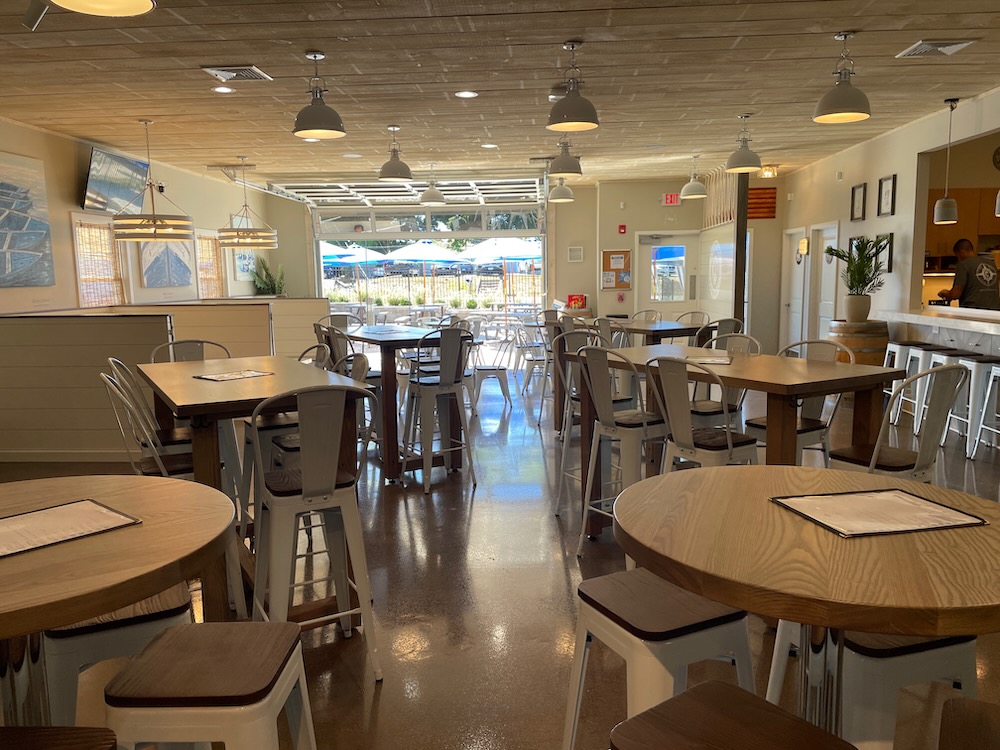 One could also argue that it's about time we hit that plateau.
And then others could argue that that plateau should be in the double digits. After visiting Coastline Brewing in Westbrook, I became firmly entrenched in that last camp.
Look, Westbrook is a lovely town. It has a lot of nice things. Coastline Brewing, at least in its first few months, was not a nice thing. Actually, it is a nice place. As nice as a formerly vacant medical office on a busy street, a few blocks off the beach, could be anyway.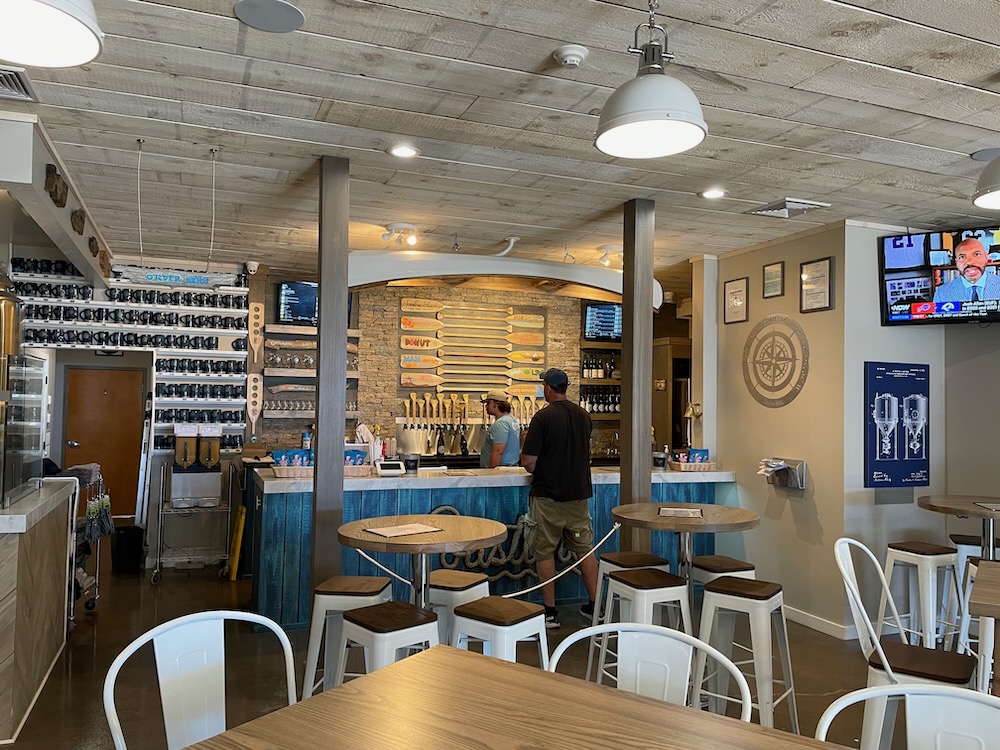 The brewery opened in June of 2022 to absolutely no fanfare (not a knock on them, can't really remember the last brewery that had fanfare). I popped in, knowing absolutely nothing of the owners or brewer(s). I've since learned that two of the partners are from Bristol and Plainville. The brewer is an experienced pro who worked somewhere else before being hired on at Coastline.
One of them works in interior construction, and that shows here. The seating, bar, and whole set up is very nice indeed. Clean, beachy, and bright.
At Coastline Brewing Co. we love trying great beer, so we decided to create some of our own. We have offerings for all tastes whether you love hoppy IPAs, rich stouts, or refreshing sours. We are devoted to crafting our brews with innovative, locally sourced ingredients.

After visits to multiple craft breweries in New England and beyond stirred their interest in the process, Rich and Phil became homebrew hobbyists. Inspired by their love of the fun, family-friendly, relaxed vibe at independent local craft breweries, Rich, Phil, and Jay decided to take the plunge and open a brewery of their own. Avid boater Rich spotted the perfect opportunity just up the road from the beach in Westbrook and Coastline Brewing Co. was launched.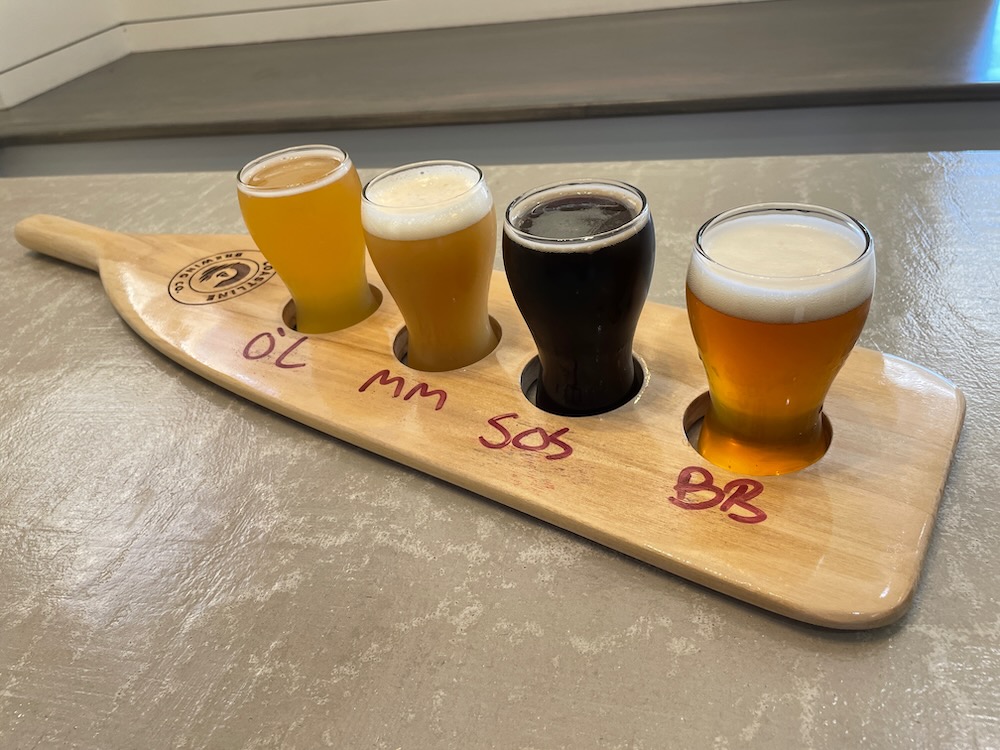 Okay. That sounds fine. Typical even. But… but isn't that how breweries came to be a decade prior and not now? Like, back then, dudes who liked beer were like, "we like beer. Let's open a brewery" and it was awesome. Now? Now you kind of need to know what you're doing a little bit more. With 100+ other breweries in our little state, and certainly no distribution available of any impact, it's not guaranteed you'll succeed anymore.
And I wouldn't play country music at a Westbook, Connecticut brewery either. But that's just me.
I ordered a flight and looked around at the other patrons. Random Boomers that didn't look too happy. No matter. I took a seat in one of the surprisingly uncomfortable booths and set to tasting.
Coastline had eight beers, two ciders, and two hard seltzers on tap. Ambitious for a new operation. I chose four beers. The guy poured them. I paid for them. Let's do this.
Splash O'Lyme… cute name! Lyme proper is only a couple towns away, and no one associates the town's name with a tick borne disease or anything. This is a wheat pale ale… with Cascade hops… and what I can only guess was a metric ton of lime concentrate. No.
Beach Bum Amber… cute name! The beer tasted of wood and leather. Those are words that oenophiles use to describe some red wines, but not something I want in a classic straightforward amber ale. No.
S.O.S. Stout… cute name! Because at this point I was asking for help. Please, let me make a gracious exit from this place somehow. Aha! I wandered outside with my paddle flight board to be alone in my misery. The outdoor space is really nice and more expansive than I'd have guessed. A young couple was canoodling across the yard and we were both annoyed at each others' presence.
The coffee stout had an astringent smell and was thin and medicinal. Oof. Props to Coastline for noting that it contains lactose on the menu, something I know lactose intolerant people appreciate.
My last beer was the Man-Mosa IIPA… not a cute name. In fact, that's a stupid name. After three rather terrible beers, I was hoping for salvation here. The Man-Mosa is an 8% IPA with "a brunch mimosa twist." Okaayyy… potentially interesssstingggg… The brewer himself loves it:
Asked his favorite beer that the brewery makes, Magisano said, "My personal favorite right now is the Man-Mosa DIPA. It tastes exactly like a mimosa with a slight hop flavor…"

… Mimosa IPA that we used medusa hops, so the hops are a little bit stronger," Maginsao said. "We added some orange puree, so you get a very mimosa-like flavor, so that's why we named it Mimosa, and it feels like you're at brunch in the morning."
What. The. Flocc.
While I didn't finish any of my beers, I couldn't so much as take two sips of this mess. We have all sorts of hops now that provide amazing citrusy aroma and flavor. The king of these types of beers is Julius from Tree House. It's called Julius because its taste os reminiscent of an Orange Julius… without the freaking orange puree.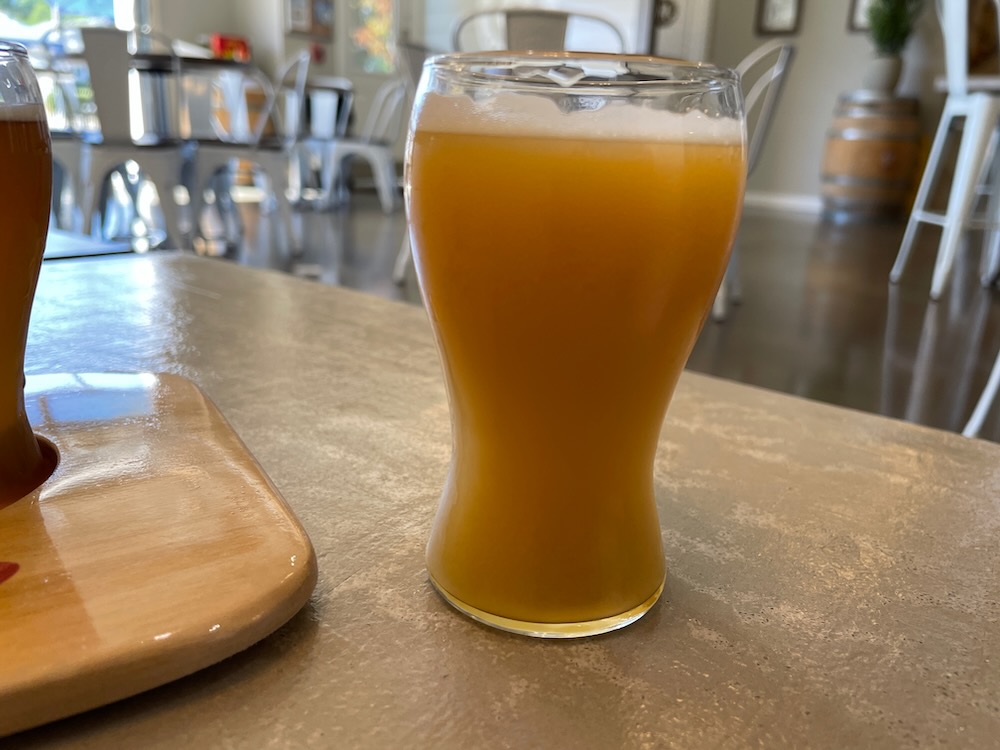 The beer was as thick as porridge and coated my tongue and throat with a burning orange/hop acid that stuck with me for hours – even though I'd only had a couple swigs of the stuff.
I'm sure there are people in this world who like man-mosa. And that's awesome. For me, it was one of the worst beers I've ever had.
I'd look at the canoodlers and then I'd look at my flight in various stages of consumption. When they'd canoodle, I'd slyly pour the liquid out under that table. I had this nagging suspicion that the guy was watching me and that he was tight with the brewer or something. Then I realized I was going to get up and leave and never come back here again in my life, so I did what I had to do and hit the road.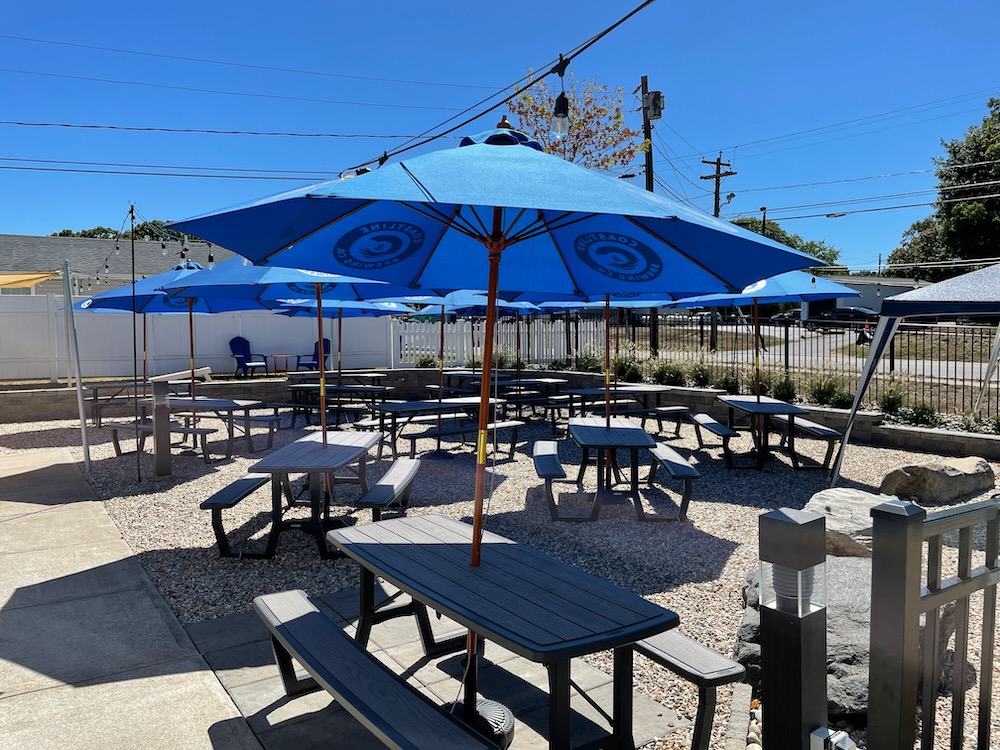 Coastline can, of course, improve. In fact, I'm sure it has improved by the time you read this. They have the equipment and the space and are located in a nice town in a decent location. The above is the opinion of one grumpy old man who doesn't like orange puree in his beer… who purposely chose a beer with orange puree. I hope Coastline becomes the destination brewery of coastal Middlesex County and they laugh at me and this page for the rest of eternity.
I can live with that.

Coastline Brewing Company
CTMQ's Breweries and Brewpubs