This is Happening Happened
August 4, 2012
In 2011, we put together our first fundraiser for the Smith-Magenis Research Foundation. One of the items up for auction was spending an entire day with me trying to hit all of Connecticut's extreme geographic points. Seriously.
TWO guys (neither from Connecticut!) won with generous donations and I was then on the hook to sort out how the heck to make this crazy idea a reality. There were no promises of completion – only a promise of giving it our best shot.
Tom from Virginia, author of the incomparable Twelve Mile Circle geography website, and Scott from Rhode Island, who used to keep up with The Scenic Drive back in the day, met up with me well before sunrise to begin our very long day.
Tom created this map of our once-in-a-lifetime experience below, and he also chronicled the whole thing here, on his site. I highly recommend you read his accounting as well.
Lastly, to any of you who want to replicate this feat, I must tell you that I take no responsibility for your trespassing, speeding, and/or illegal parking. Ok, let's get to it.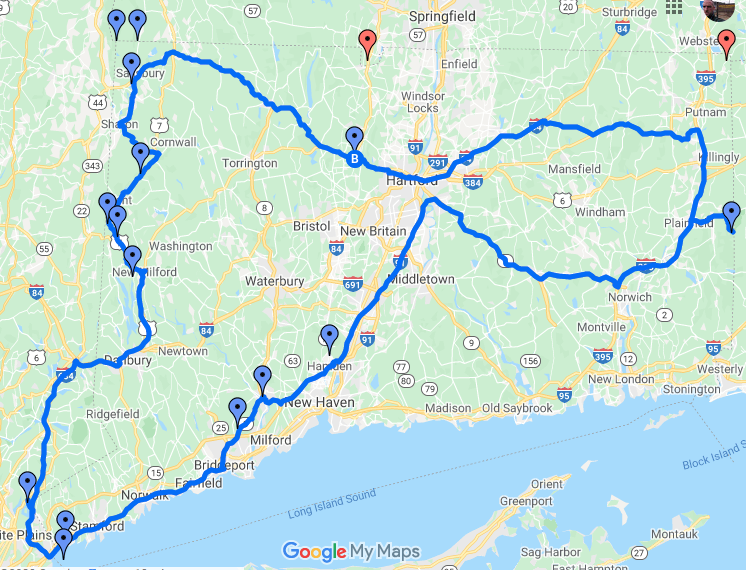 Extreme CT Geo-Tour 2012
The following is a list of everything we did/saw/passed through. It's a mix of older pages and ones written as a result of our day. We met Tom at his hotel in Avon and headed west…
Drove through Satan's Kingdom, New Hartford
Drove through the coldest town in Connecticut, Norfolk
Hiked in to the Northernmost point in Connecticut, Salisbury
Hiked to the highest point in Connecticut, Salisbury
Continued hiking to the CT-MA-NY Tri-Point
Checked out the highest elevation pond in Connecticut, Bingham Pond, Salisbury
Dipped our toes in the deepest natural lake in Connecticut , Lake Wononscopomuc, Salisbury
Peeked at the largest waterfall in Connecticut, Kent Falls, Kent
Drove through the largest town in Connecticut, New Milford
Marveled at the largest lake in Connecticut, Candlewood Lake, New Milford
Stood at the westernmost point in Connecticut, Greenwich
Drove along NY Route 120A, CT's "stolen road," Greenwich
Ferried and ran to the southernmost point in Connecticut, Great Captain Island, Greenwich
Drove through the most populous town in Connecticut, Bridgeport
Slowed to look at the smallest Indian Reservation in the nation, Golden Hill Paugussetts, Trumbull
Blinked and made it through the smallest town in Connecticut, Derby
Noted our trips over the Connecticut, the longest River in Connecticut
Survived Hell Hollow Lake and Road, Voluntown
Bushwhacked our way to the easternmost point in Connecticut, Sterling
We didn't get to the CT-MA-RI tri-point for very valid reasons, but it was still an incredible day.

CTMQ's Geography Page
Twelve Mile Circle's Accounting