A Real Gem
Fenton-Ruby Park and Wildlife Preserve, Willington
August 2019
I've written before that Connecticut's northern towns contain secrets. Not quite "Twin Peaks" level secrets, but something along those lines. I'm talking about things like how there was a point at which I thought I had hiked every trail in Ashford. Then I learned about the Langhammer Trail there and its strange stone monuments.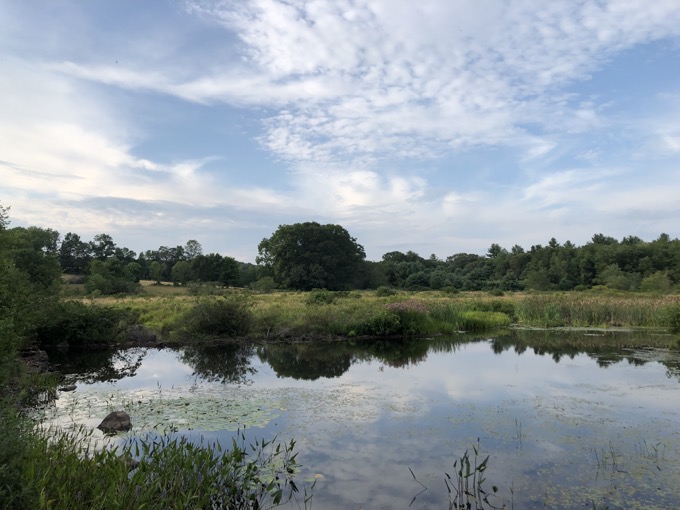 As I was completing the Langhammer loop, I came upon a red and white blazed side trail. I followed it down to the dirt Lustig Road and noticed it continued east across the road and into Willington. So I did what anyone in my situation with a few more hours of sunlight would do: finished up over at Langhammer and drove the back roads to Willington's Fenton-Ruby Park.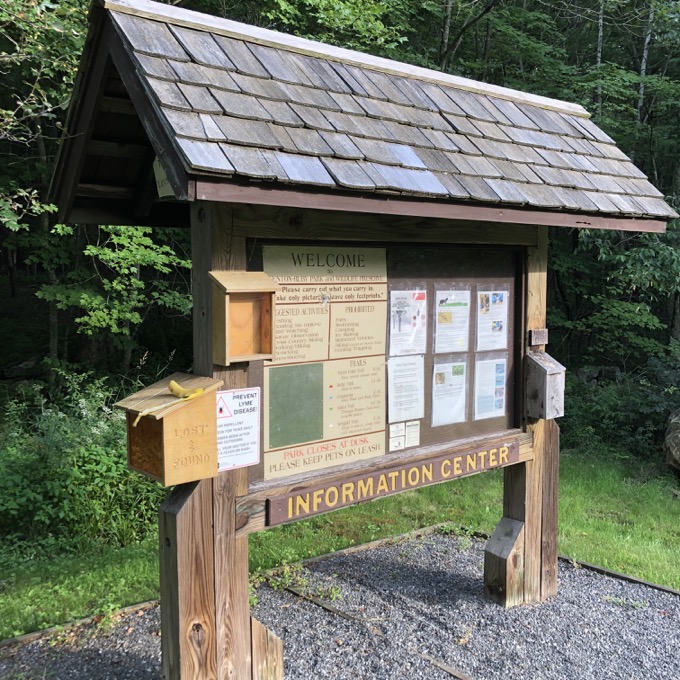 Heck, I'd sort of started in on the place by accident already, right? I might as well hike the whole dang joint now. The names Fenton and Ruby are well known in Tolland County. And the woman who sold this property to Willington in 1994 was the daughter of the founder of Ruby Lumber who had Fenton as her maiden name. The property expanded in 2001 with the addition of the Drobney Sanctuary.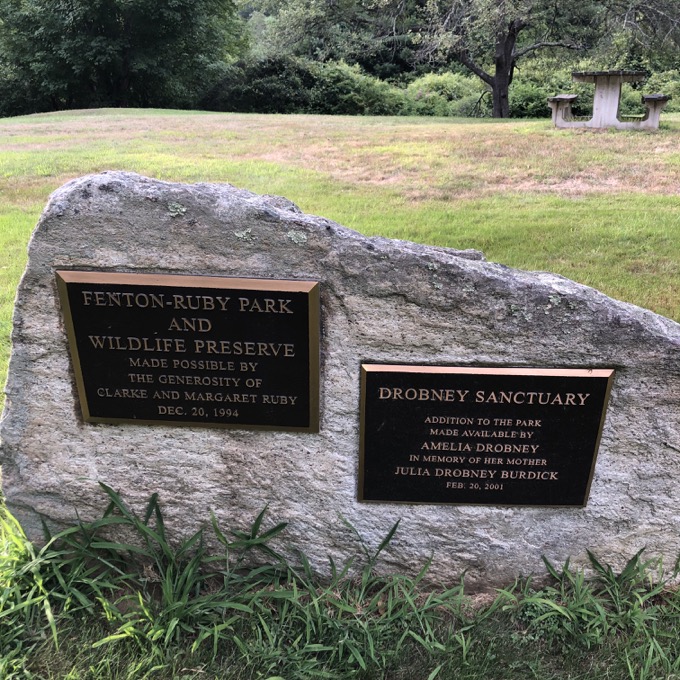 I found the fairly large parking area off at the intersection of Moose Meadow and Burma Roads. (I just wanted to note that there's a Moose Meadow Road in Willington.) There are several trails here and they are generally very well cleared, signed, and blazed. This is clearly Willington's natural gem, and they take very good care of it. Let's hike!
Weigold Trail (0.9 Miles)
While this part of the state can be hilly, there's really only one hill at Fenton-Ruby – and the Weigold Trail summits it. This is a white-blazed loop trail, beginning right at the parking area and it's pretty fun. Heck, you can pretend you're hiking the Appalachian trail with white-blazed scenes like this: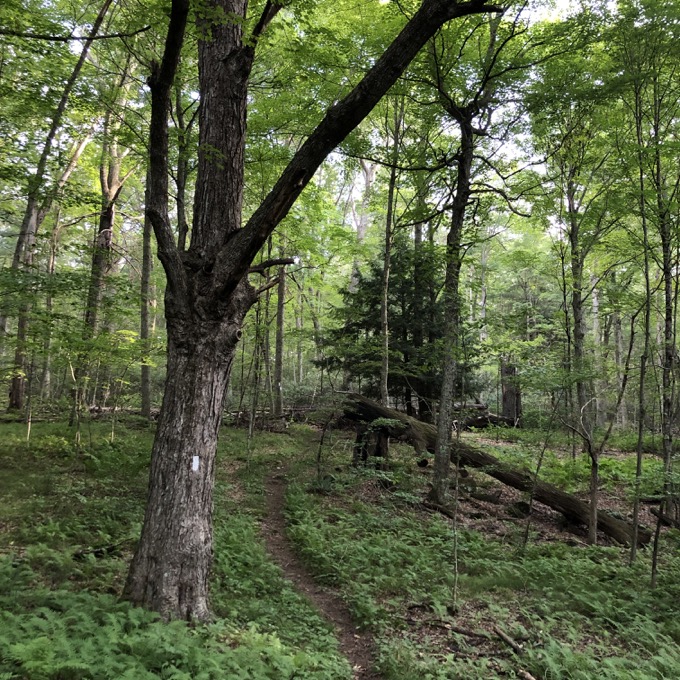 Ah, yes… unfortunately, the town's Blazeman (wouldn't that be a cool title?) got a little excited along the Weigold and started over-blazing all over the place. I used to get annoyed by this practice, but now I view it as kind of cute.
It's just someone who isn't trained in the fine art of trail blazing thinking he or she is just being thorough. But there's thorough and then there's this: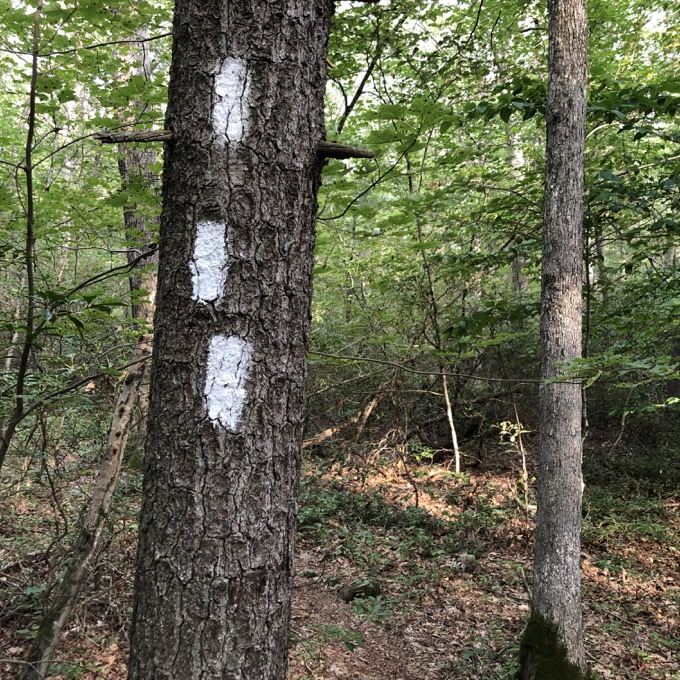 I don't even know what that's supposed to mean. Anyway, the trail took me up to a ridge and at one point I overlooked a large field which was somewhat nice. As I was in a bit of a hurry, I found myself a bit out of breath once I reached the ridgeline, so this is a decent little hill.
There's lots of mountain laurel along this path and it feels quite remote despite the house and farm overlook. It's a fun little loop and a fine introduction to the park.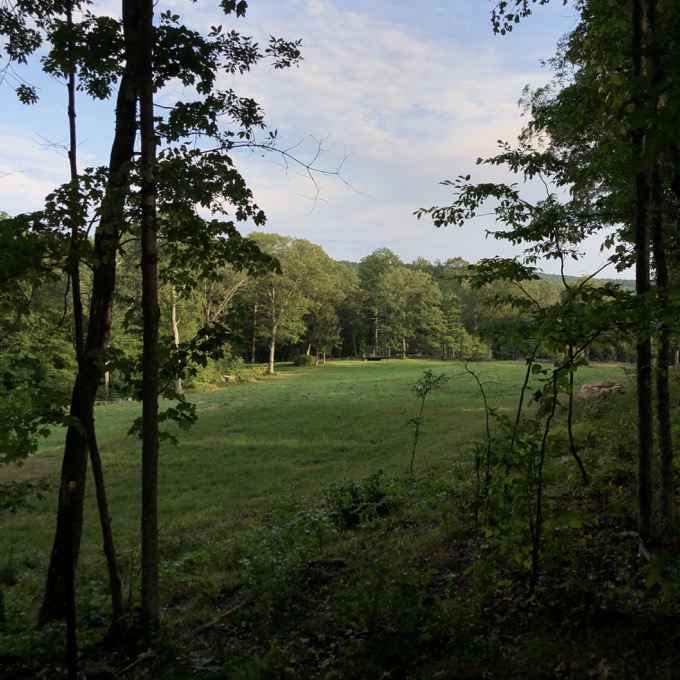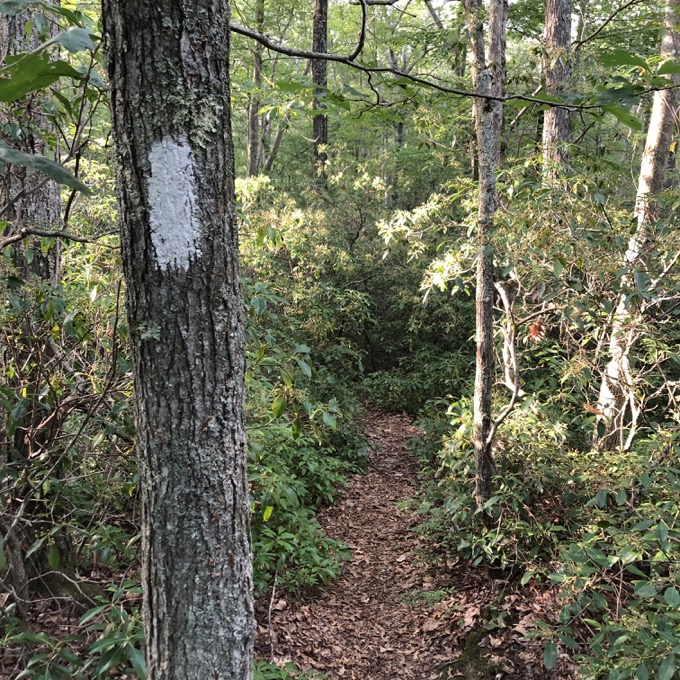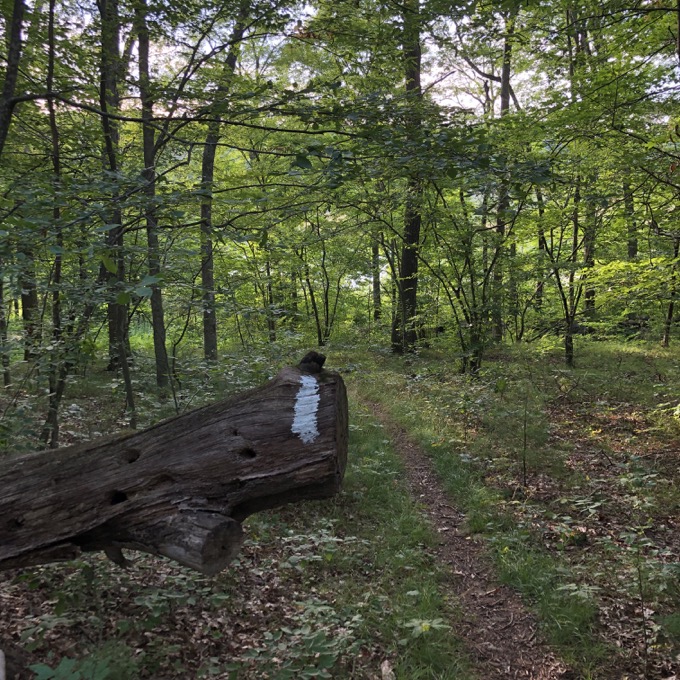 Taylor Pond & Julia's Trails (1.9 miles total)
Burma Road cleaves the park but is closed to traffic. I've never been to Myanmar/Burma, but I don't imagine there are roads there that remind people of eastern Willington, Connecticut.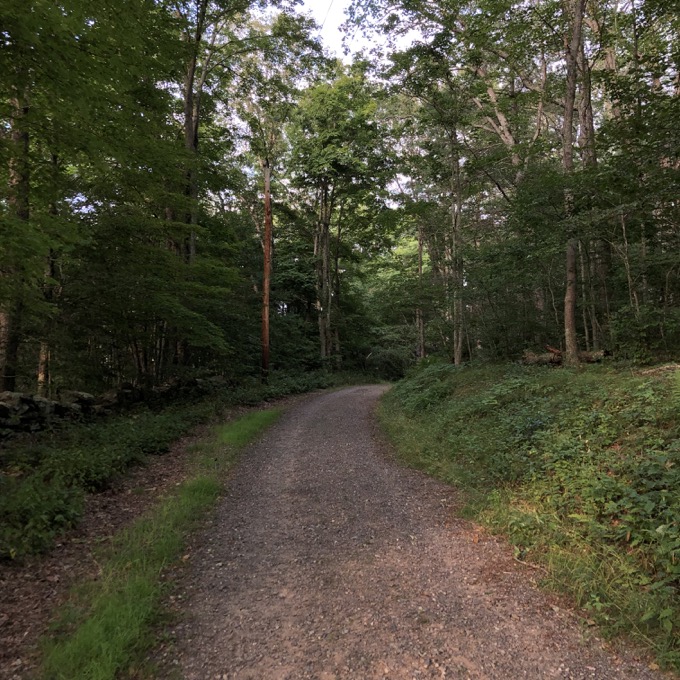 Burma Road is part of the Old Connecticut Path, an obsessive passion for some people… just an old path for others. Like me. Sorry OCP fanatics. I walked along the road until reaching the western trailhead for the Taylor Pond Trail and began my journey along it north.
There's a large bridge here and even a trail register.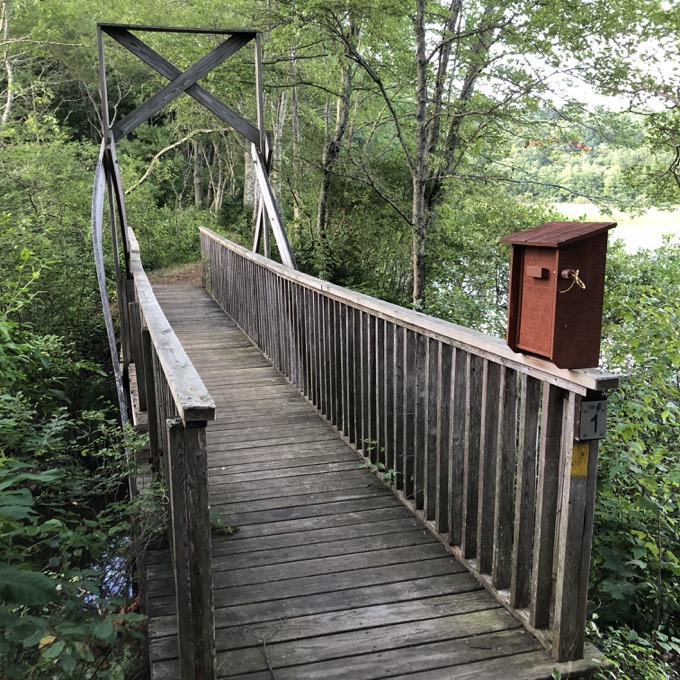 It's nice to sign these things in order for Willington to know how many people are utilizing their trails. Perhaps they get some funding if they hit a certain target; I have no idea but it's always a good idea to sign them as they aren't always for safety reasons.
I mean, you're pretty safe here. It's not like you're going to stumble across a bunch of large snakes or anything… Just across the bridge a massive black ratsnake slithered out of my way before I could snap a picture. Which was fine because by the time I got my phone out, two massive watersnakes made their presence known ten feet up the trail.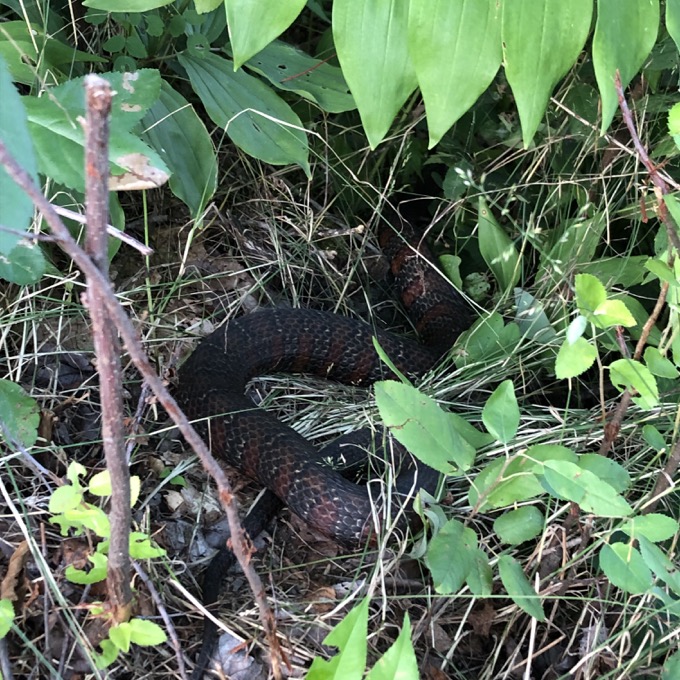 Three very large (and rather harmless) snakes just chilling out in the middle of the Taylor Pond Trail. Cool. Figuring that would be the highlight of my day, I began chugging north up to Julia's Trail.
The path around Taylor Pond is really nice and features a large pine forest and, as you'd assume, lakeside views.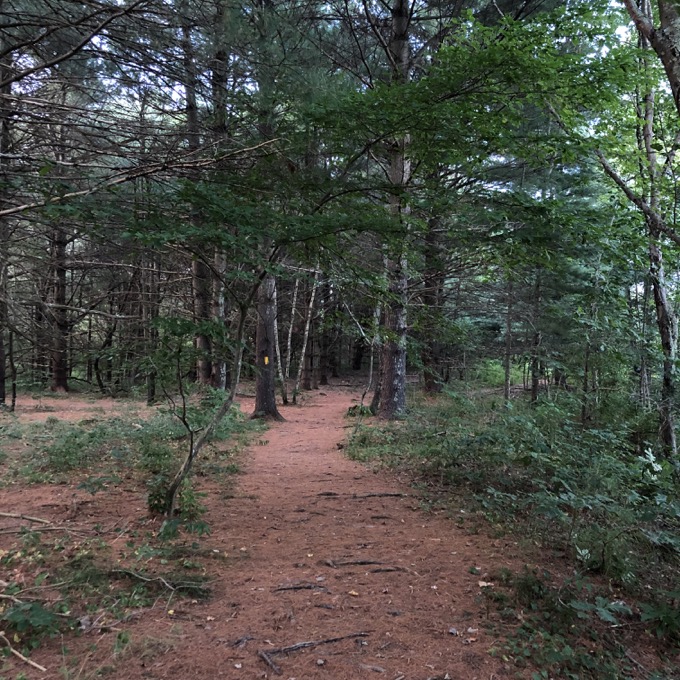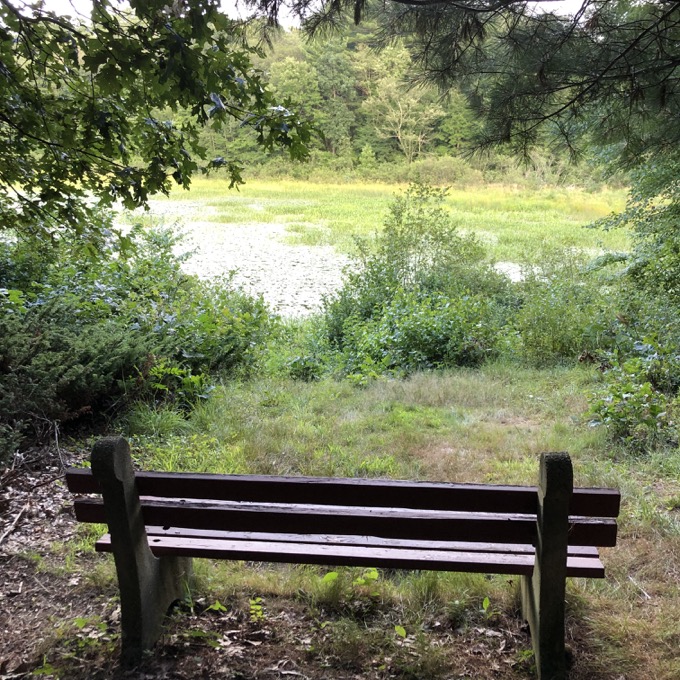 I reached the 1-mile Julia's Trail and headed further north. The scenery abruptly changed and now featured grassy woods along the Fenton River. I love grassy woods along a river. There's just something about them… they're so… Hobbitty. Or something.
There were wet spots along the way – and my hike was in August at the end of a dry summer. Fortunately, Willington has installed some bridges but I think you're going to get wet here in anything less than near-drought conditions.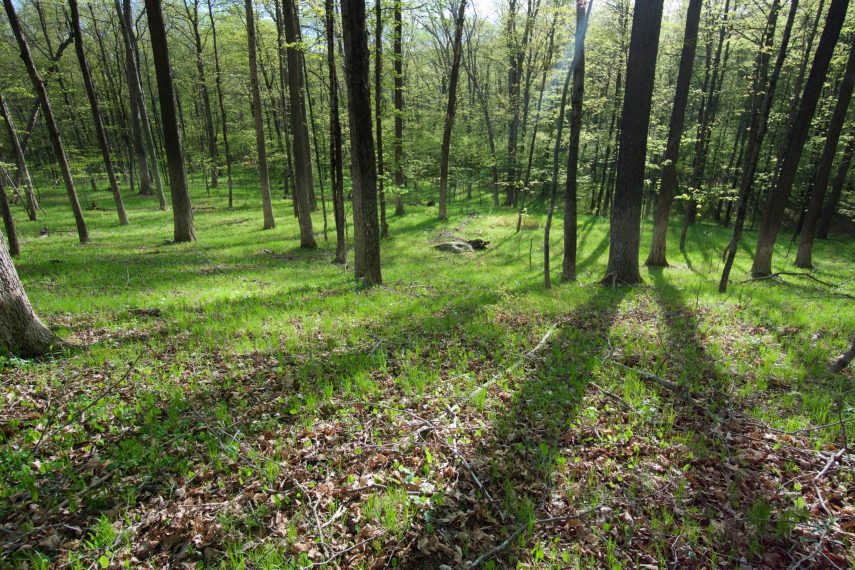 I really enjoyed Julia's Trail which took me to the northernmost reaches of the park. It seemed to me that very few people make their way up here and that's a double-edged sword. It's great that people like me can find solitude in Connecticut… but more people should get out here and experience this stuff.
After all… it's hobbitty!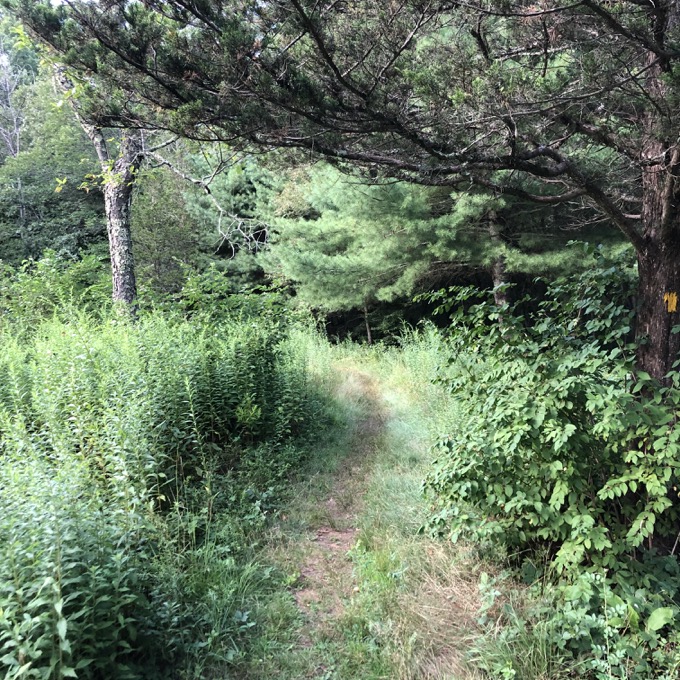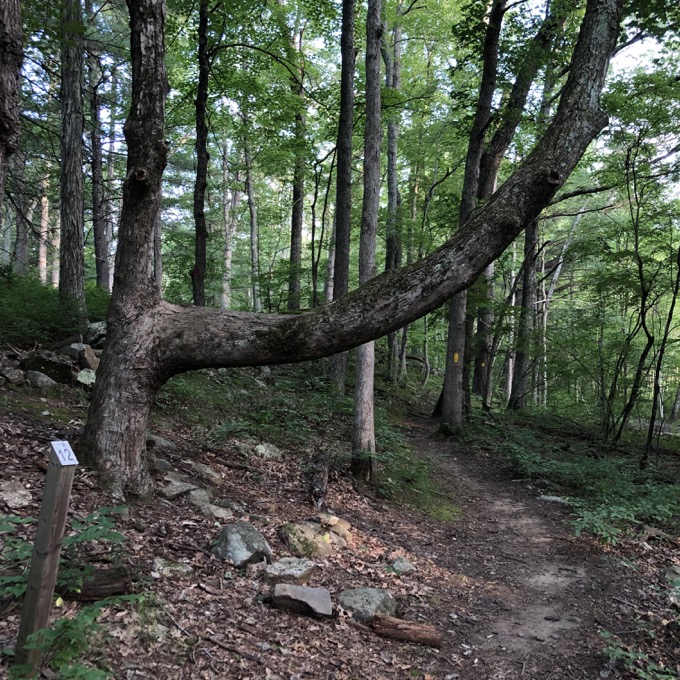 Back down to the Taylor Pond Trail and some more pondside hiking. Some more puncheons and small bridges where necessary. Man, this is a really nice, and nicely maintained, place. After a while, I reached a connector trail that took me over to the Ruby Trail.
Ruby & Langhammer Connector Trails (2 Miles total)
All the trails here are loops, which is always nice for solo hikers like me. The Ruby loop took me to the eastern reaches of the park and ultimately to the Langhammer "Ashford Link" connector trail – the thing that brought me here in the first place.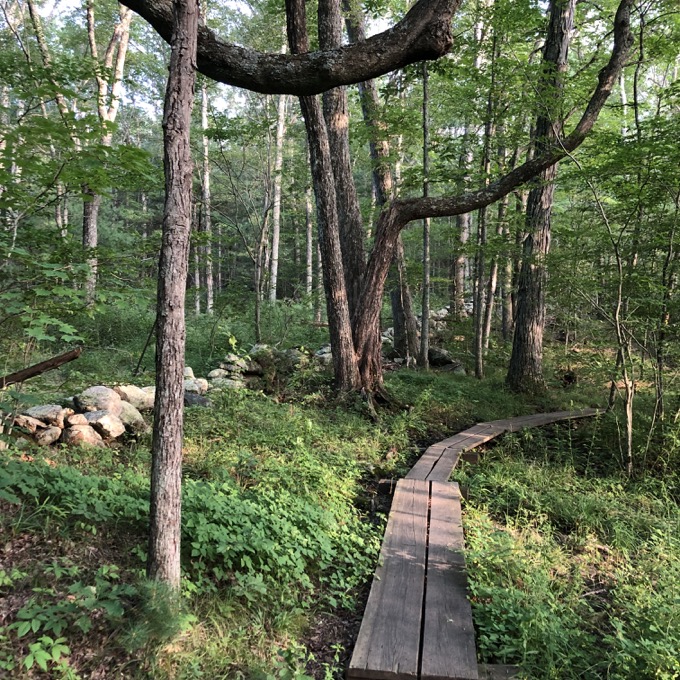 Now, you may think this is just some little trail connecting to another trail (which, by the way, is also a loop so you can do the Langhammer loop with your car parked at Fenton-Ruby) but this is Connecticut.
What I mean is that Fenton-Ruby is a Willington property and Langhammer is an Ashford property and Connecticut towns don't always play nicely with each other. It's nice that these two towns with tiny populations do – at least in this one regard. The connector trail heads due east from the Ruby Trail out across Lustig Road and into Ashford.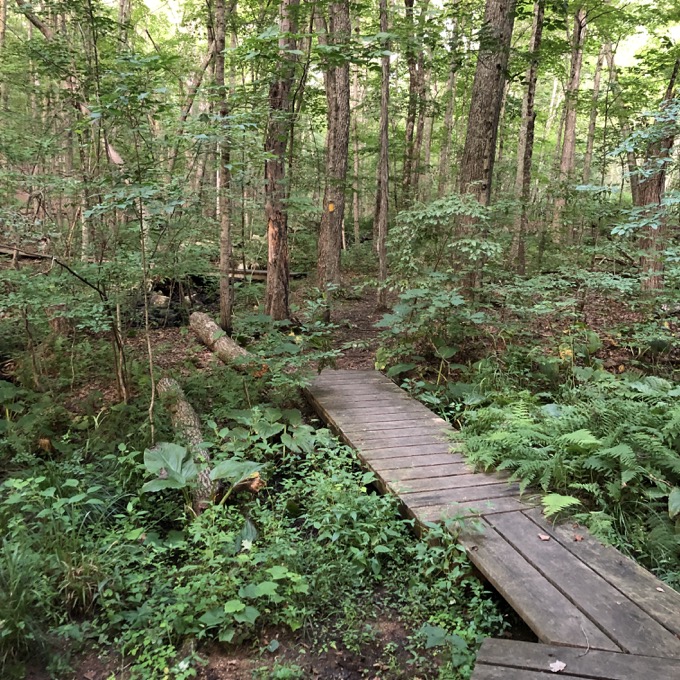 Back to the Ruby loop and it is just okay. If you've no interest in Langhammer, this would be the trail to skip as you've already seen the best stuff of the park and this trail is one of those that exists because it can. It is also the only one that seemed somewhat poorly maintained as well – probably because Willington doesn't want people crossing over into Ashford!
You see! That's how these things go!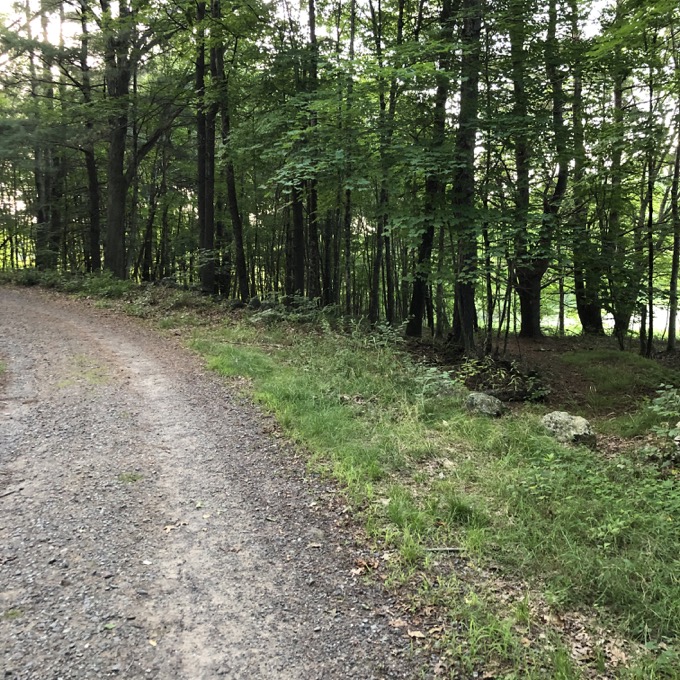 I looped back around and down to Burma Road again, making my way back past the Taylor Pond trailheads to my car. I was really hustling over these last couple of miles, as I had a date with the Union Historical Society and their tiny museum that's only open a few hours per year.
I'm happy to report I made it up there and all was well with the world.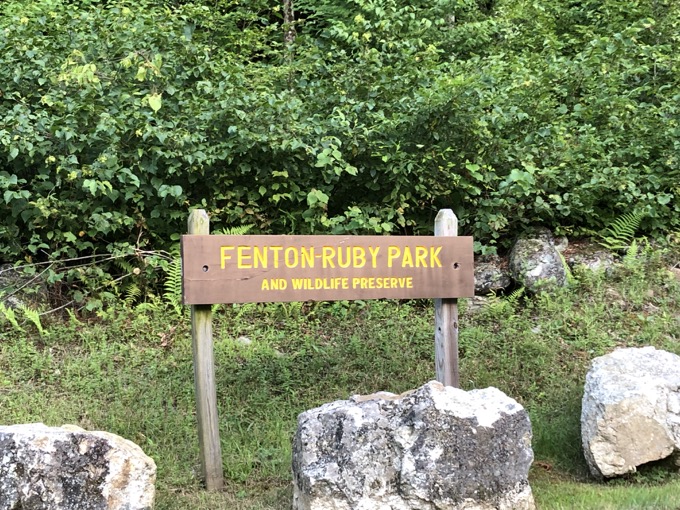 Willington's Fenton-Ruby Park
CTMQ's Willington's Town Trails