I've Got a Bridge to Sell You
Hockanum River Trail: Oakland, Manchester & Vernon
2 miles, December 2016
If you are reading my thru-hike of the Hockanum River Trail in order (generally south to north), you have already read the Union Pond Trail page. If you haven't, it's a fun one and you should. Better yet, start at the beginning with the HRT introduction and catch up.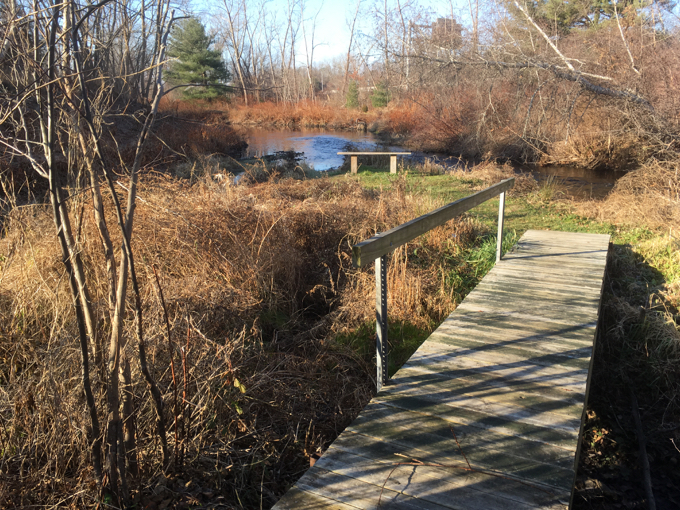 This is it! The final Manchester Hockanum River Trail (heading north)! When I set out to do this trail I had an idea of what they had in store, but I couldn't have known all they had in store.
I wrote my "Hockanum Manifesto" after completing the sections in Manchester. It's a beautiful thing. And I stand by my words. I truly love this trail, which extends from the Connecticut River in East Hartford up into Ellington, for all of its craziness.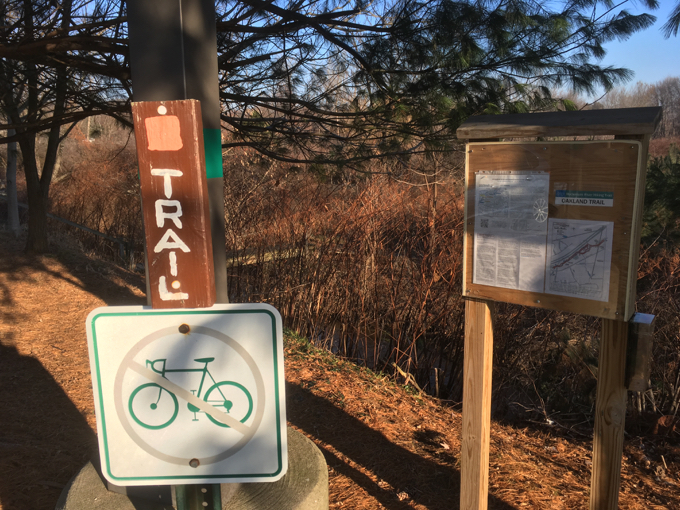 The trail has pluck and a certain gritty charm. Take this section for example. From the official description:
… then proceeds around a chain-link fence, down a slope, through a meadow-and-forest area, behind various industrial and auto dealer sites seen off (through the woods) to the side, and eventually out to the Motel 6 vehicle bridge.
You don't get that type of hiking in the northwest hills.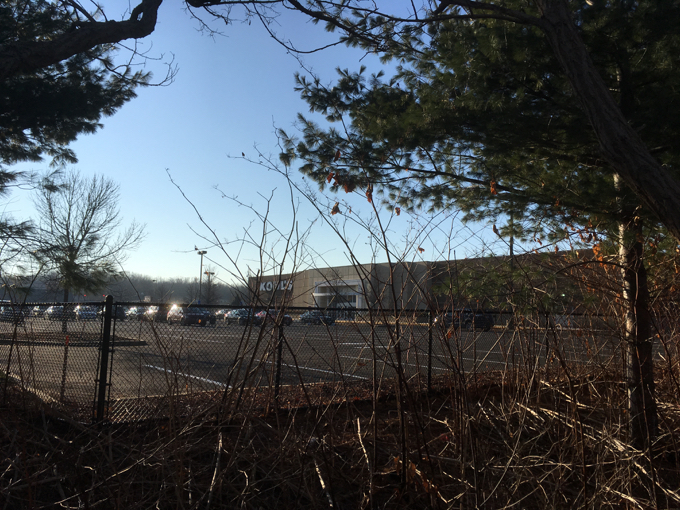 The best place to park for this hike is at Kohl's. That's right. Kohl's on the Tolland Turnpike. Drive all the way to the back and you'll find the usual HRLPC trailhead signage. I chose to hike this one clockwise.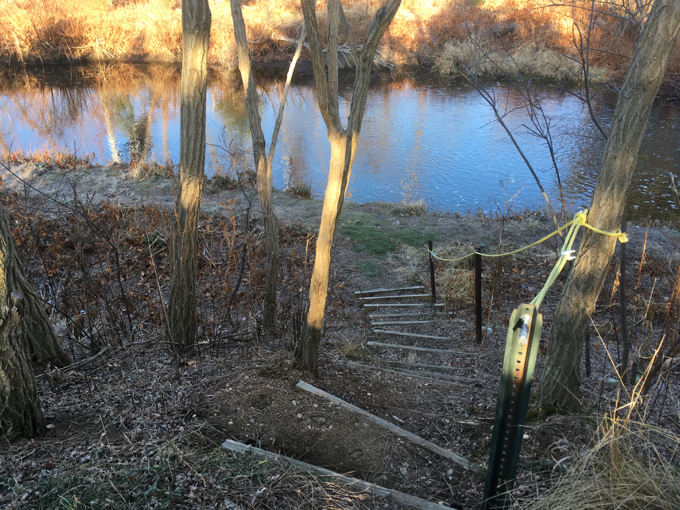 The challenge here for the trail planners is, as you may have already figured, slotting a trail in between I-84 and the Tolland Turnpike businesses. They've done an excellent job of that, but it is impossible hide the fact that you are hiking so near both.
At one point, you can see the backside of Kohl's, the interstate, and a nice set of lovely benches along the pristine Hockanum. Like an oasis.
Now that I think about it, this entire trail system is an oasis of sorts.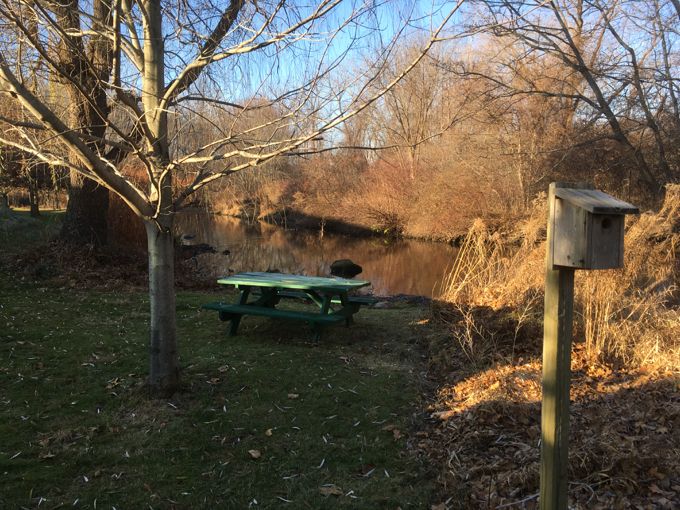 Like the nice picnic table behind the Toyota dealership.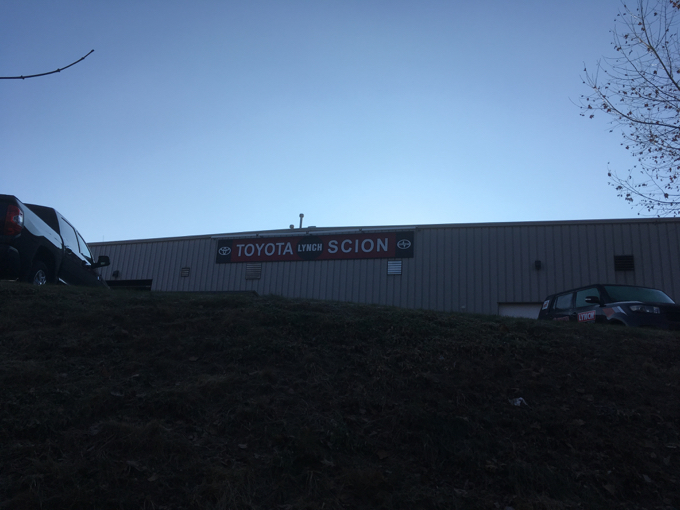 After walking behind businesses (yet still along the river), it was time to once again pass underneath some bridges. I once again marveled at how well the trail is "cleared" through these places. I haven't counted, but I'd guess the Hockanum Trail goes under maybe a dozen roads in Manchester alone. (These are the exit 63 on and off ramps if you're curious.)
Up, around, through the same construction site I walked through along the Union Pond hike, across the nice bridge, and down to the other side of the river to head back north. This bridge, which is solid as heck, was constructed in Minnesota and installed here in 2006 to replace an old bridge erected by the Connecticut State DOT in 1951.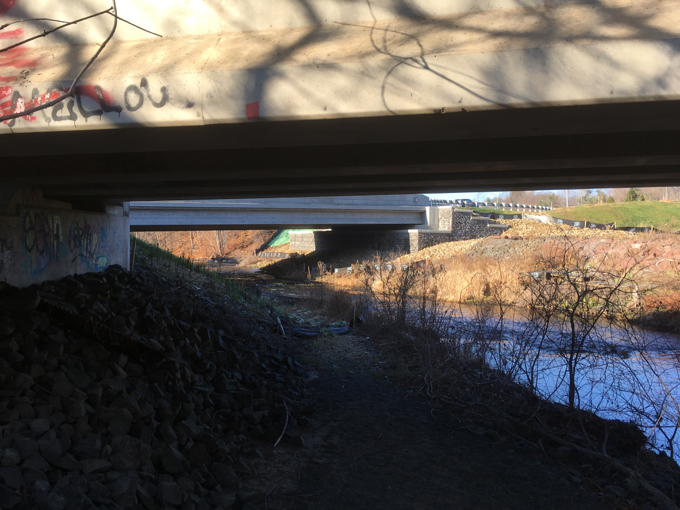 The trail up the other side of the river is interesting for other reasons. I'm able to ignore I-84 and enjoy the hike, so I may be unique in that.
But this trail is maintained and utilized. Clearing a trail like this along a river is not easy. Invasives usually dominate these places, but as you can see, the volunteers have done an amazing job here.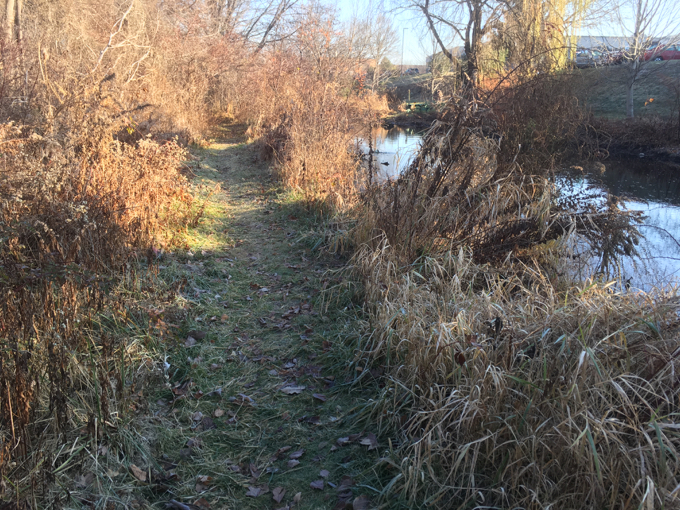 Heck, there were fresh brush cuts. In mid-December! I hope the trail builders has received awards.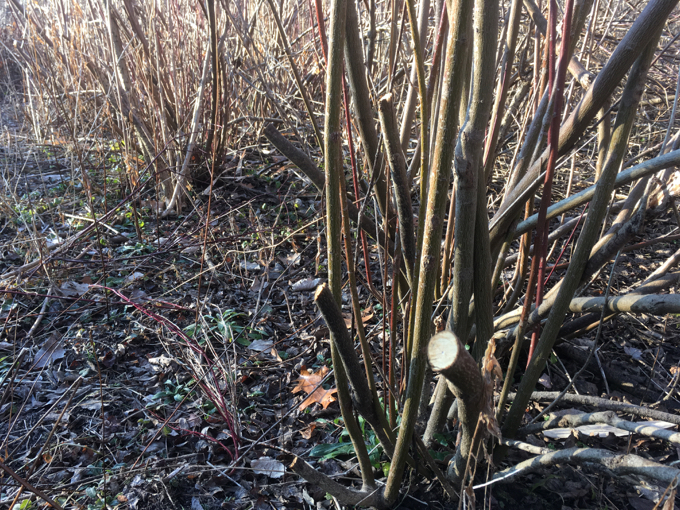 Not only that, there are (of course) more than enough boardwalks and footbridges through this section. And look at this!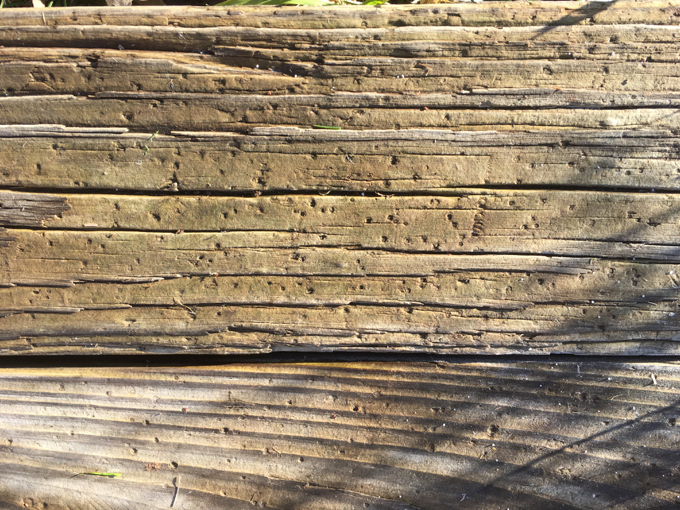 Snowshoers hike this trail! It made me happy to see that I'm not alone in my Hockanum hiking.
I was so blown away by this that I had to take a break. Ahhhh, a nice relaxing sit on a bench with nothing around to distract me…
… Just me and the sounds of … Freedom.
A bit more up the river, across a very odd (for these trails) bridge: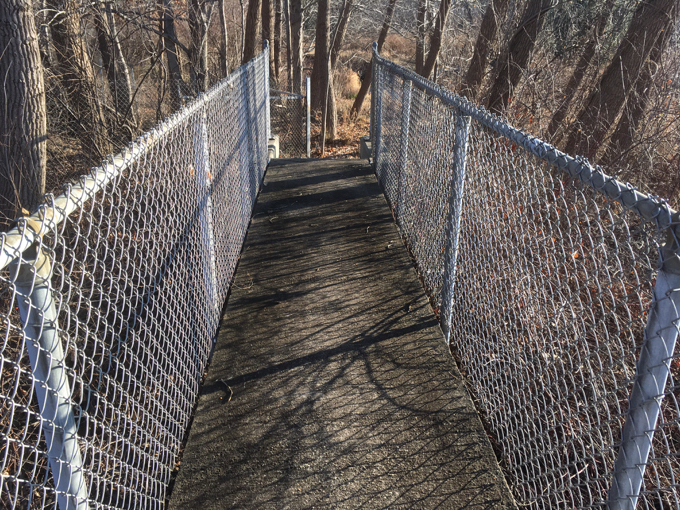 And then to the northernmost reaches of the trail in Manchester. The trail veers near the parking lot of a Motel 6 here and it was then I realized the true genius behind the Hockanum Trails. It literally connects a strip club in East Hartford (ok, it's closed, but go with me here), a cruising spot (here), an adult super store (VIP), and now a cheap motel.
You can put the pieces together.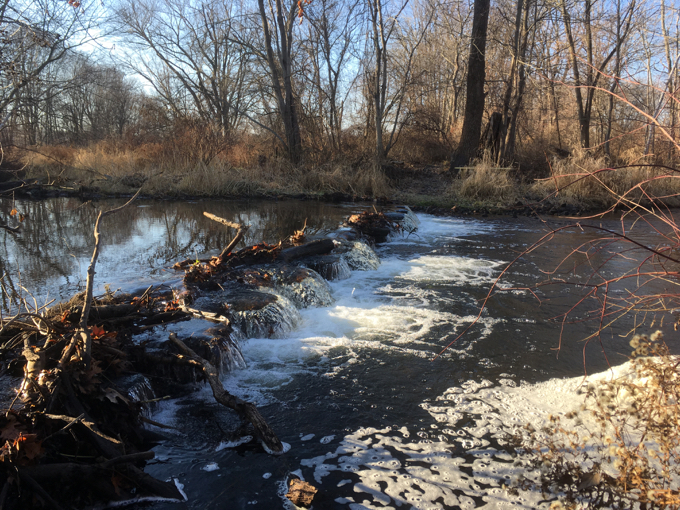 That was easy to figure out. What's not always so easy to sort is the trail's overabundance of trail structures. Bridges, decking, and the like. An absolutely stunning amount of woodwork has gone into the Hockanum Trails and while many of them are justified, every once in a while I was left scratching my head.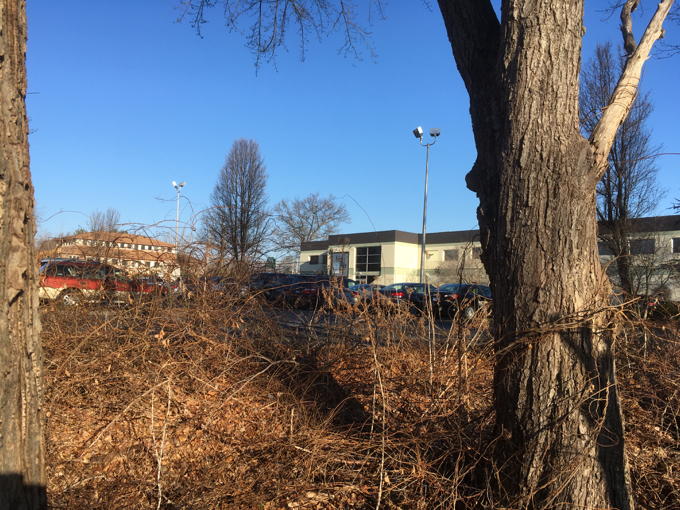 The ultimate "Why in the world" bridge is at the northern tip of the Oakland Trail near the driveway/parking lot for the Motel 6 and the Big Sky gym:
Note that it takes hikers over a cement culvert that is dry 99% of the year. Note that there is pavement literally five feet away from the bridge. Note the amount of work that went into this bridge. An entirely unnecessary bridge.
In fact, wouldn't you feel like a dingus walking up and over this thing on a day like I had? Or any day, really?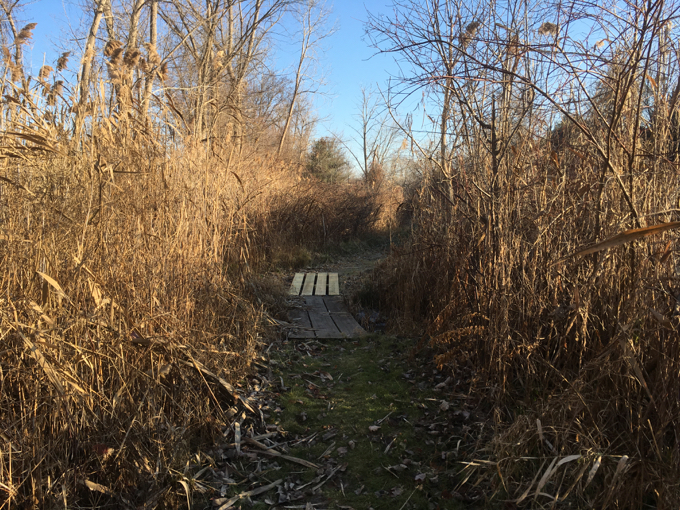 In all my years of hiking I have never seen such an enormous effort put into a trail structure for absolutely no reason. (It's officially in Vernon, so we can blame another town here.)
On the other hand, isn't this bridge sort of symbolic of the entire Hockanum River Trail system? Defying convention, standing proud and tall in the face of urbanization, commercialism, and traffic?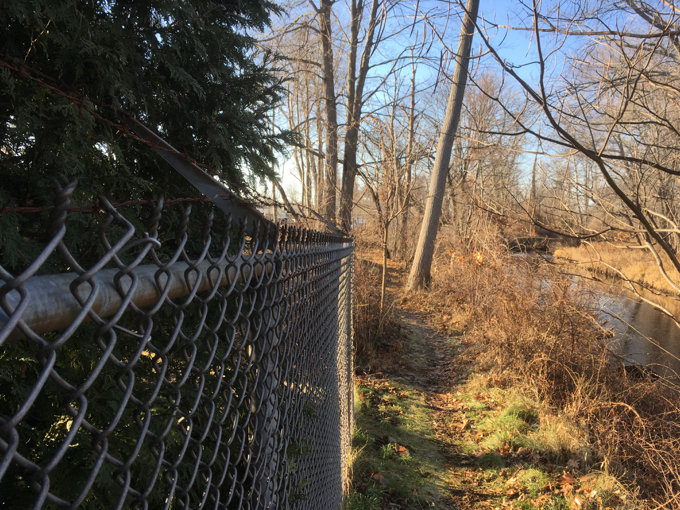 Don't it always seem to go
That you don't know what you've got til its gone
They paved paradise
And put up a parking lot…
And the Hockanum prevails. I now love this bridge.
Heading back down the trail towards the Kohl's lot, the trail continues its noble fight against humanity. Along chain link fences, through back lots, past some sketchy looking dump sites. It's inspiring in its own way.
Back to the trail head, there is actually another little 0.4 mile loop trail here. It travels over to something called Bryan Island, which is a 4 acre island in the river. There are lots of benches here and it is a really nice little patch of land.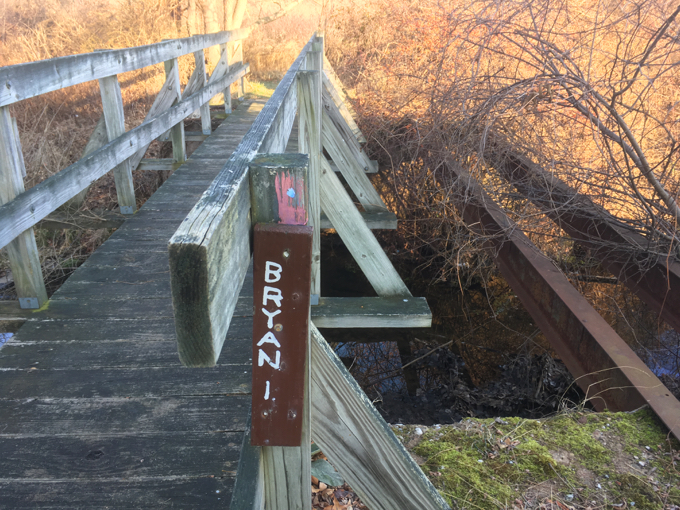 Some weird plantings, some trees decorated for Christmas, and… OTHER HIKERS! Wow.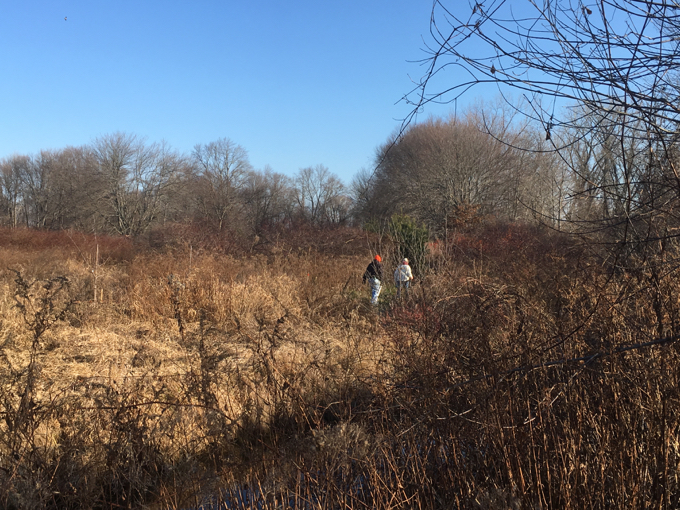 In my very last minutes on the Hockanum in Manchester I saw my very first fellow hikers! Right here on Bryan Island, behind Kohl's, in the shadow of I-84. I never spoke with them and actually actively avoided them. I wanted them to remain special in my imagination.
Just like the Hockanum.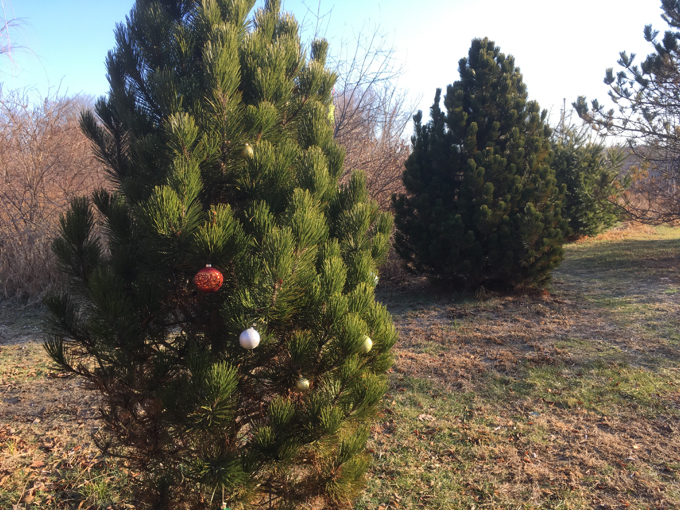 And because I care so deeply about this trail, I must alert you to a change that occurred after my hike here.
On June 1, 2018, Bryan Island was formally renamed to "Doug Smith Island", in a ceremony on the island. Who was Doug Smith? Dr. Douglas H. Smith was the founder of the Hockanum River Linear Park Committee and he passed away on March 28, 2017. RIP Dr. Smith. I never met you, but I love you.
HRLPC's Union Pond Trail Description
Continue on to Section 24, Pleasantview Marsh (Despite the numbering, it's next. Trust me.)

CTMQ's Hockanum River Trails Main Page
CTMQ's Land Trusts Main Page
Hockanum River Watershed Association