Son of a Fitch
John Fitch Distilling Company, South Windsor
October 2022
I can't decide what the most interesting thing about this new-in-'22 distillery is. There are at least five competing ideas in my head. Most of them could be made far less interesting if the owners of this joint would spend a day beefing up their website. In lieu of that, you're left with me filling in the blanks. Oof.
Where to start, where to start…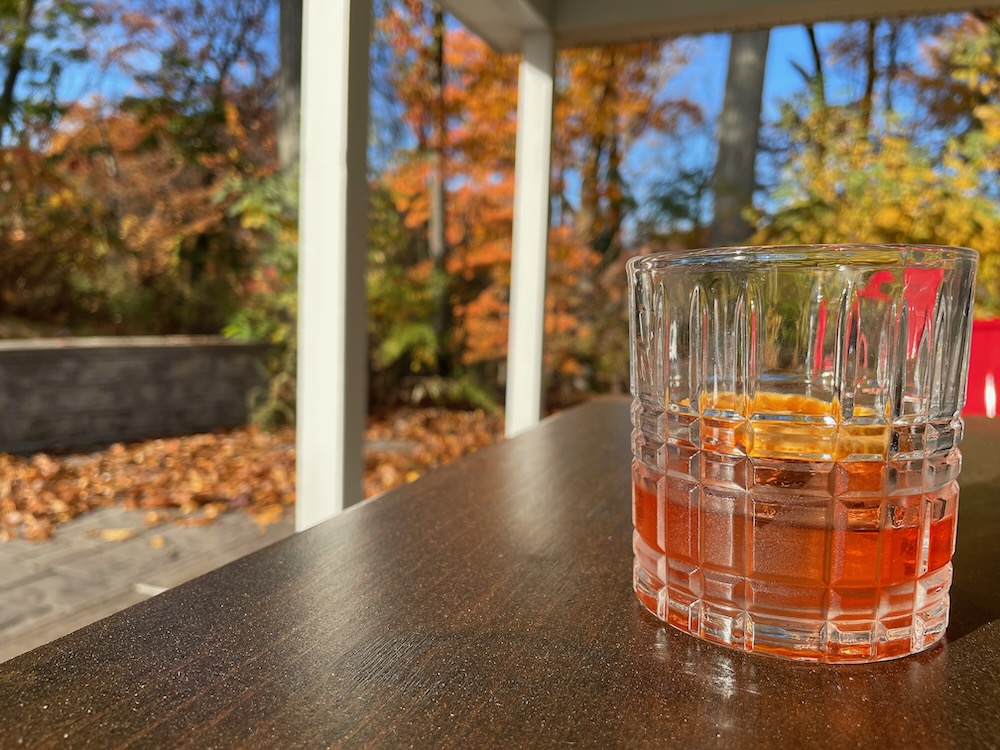 How about with the distillery's name, since I believe that came first many years before any spirits were distilled.
John Fitch was an 18th-century American inventor, clockmaker, entrepreneur, and engineer. He was most famous for operating the first steamboat service in the United States. The first boat, 45 feet long, was tested on the Delaware River by Fitch.
Say what? How can a guy be "most famous" for something you didn't know and for something that a different guy, Robert Fulton, is way more famous for?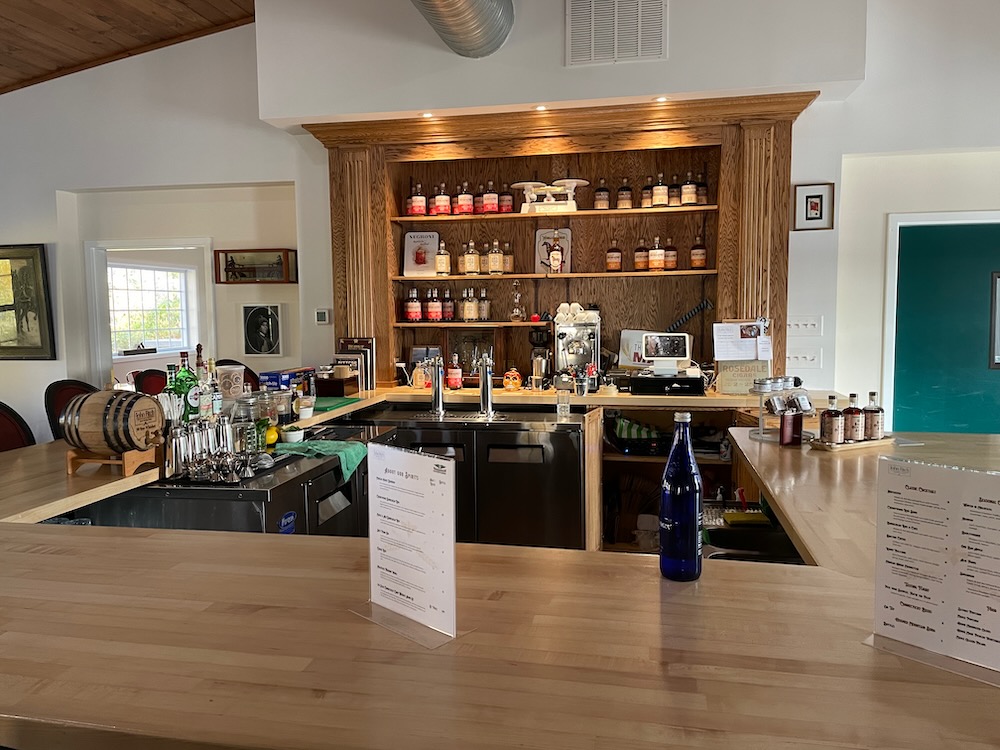 It's true. John Fitch went on to improve his design and even hold the patent for the steamboat. He just never saw the economic viability of the invention and basically lived out his years tinkering with his – actually viable – invention. Robert Fulton's infamous/famous exploits didn't happen until after Fitch died. Crazy, right?
At least he has John Fitch Boulevard (Route 5) memorializing him today. Oh, and this distillery.
The John Fitch Distilling Company's bar/lounge area is called The Flying Canoe. The guy who owns this joint is French Canadian and the "The Flying Canoe" is a popular French-Canadian tale of lumberjacks from camps working around the Gatineau River who make a deal with the devil in order to fly a giant felled tree out of the forest, only to disappear. Something like that. A hint about the name is on their website:
At the Flying Canoe, you don't have to sell your soul to get amazing New England products. We make maple syrup, hot sauces, cask smoked finishing salts, and many more unique products that are made better from a whiskey barrel! If you like specialty food and drink then you'll want to discover our tasting shed.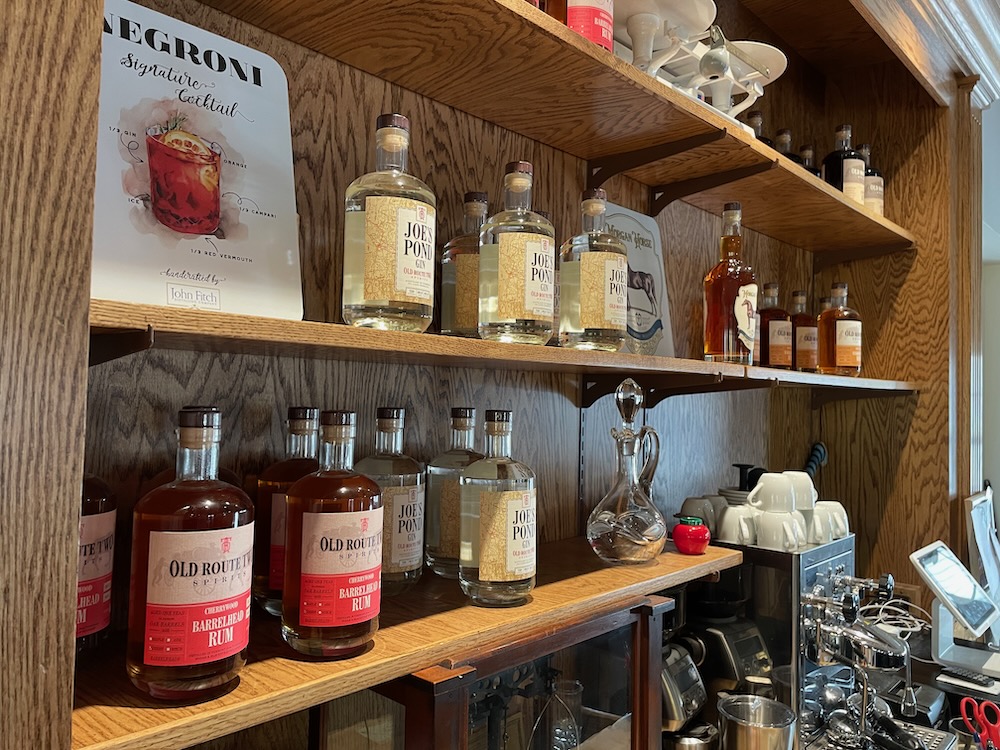 So okay, John Fitch Distilling Company has its Flying Canoe "tasting shed". The Flying Canoe features John Fitch spirits, but it also feature Old Route Two Spirits from Vermont. That's because John Fitch acquired Old Route Two in 2020… and apparently kept the name.
Got all that? Good. How about this:
John Fitch Distilling specializes in traditional New England small batch artisanal spirits. "It's Connecticut's first ground up built distillery since the repeal of prohibition in 1933″ and is arguably the first distillery to be anointed " a legal bootlegging operation."
Hm. I have no idea what that means. I can name a whole bunch of "ground up" distilleries but don't really know how they're defining that. I do know that places like Westford Hill Distillers in Ashford and Mine Hill Distillery in Roxbury have infinitely more attractive buildings in way more appealing surroundings, but maybe because their buildings already existed and John Fitch's corrugated steel rectangle didn't; that's the distinction? I have no idea.
Nor does it matter. John Fitch! Old Route Two! Flying Canoes! Let's check this place out!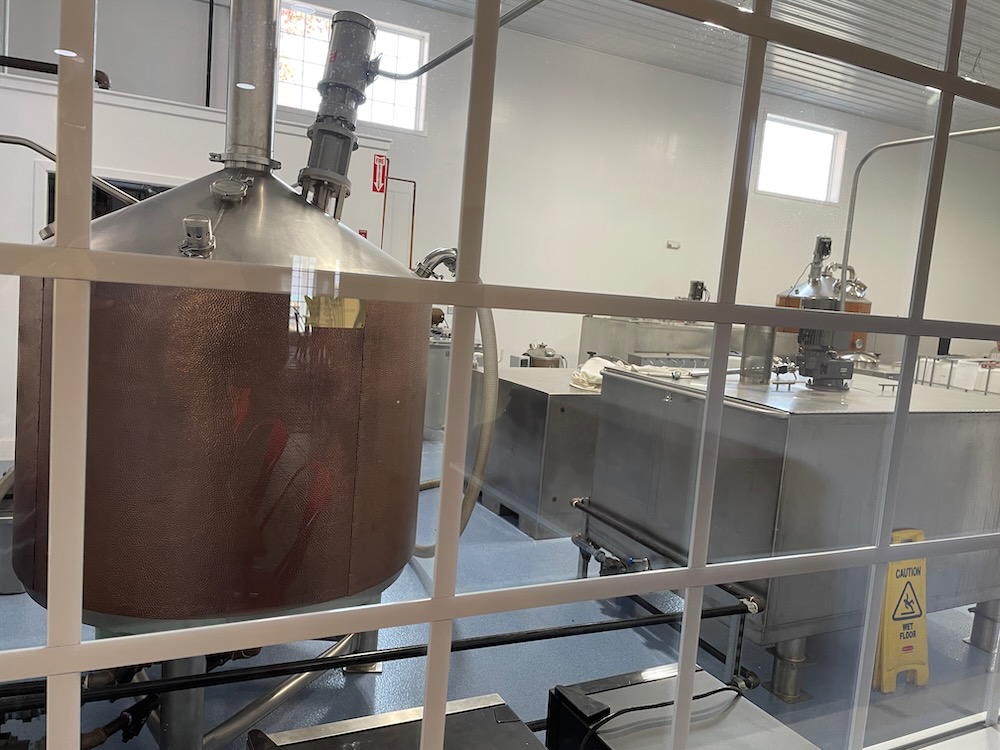 Although distilling began here in peak pandemic 2020, it didn't open to visitors until 2022. By fall 2020, the distillery was making its first batches of whiskey. Besides whiskey, bourbon and a specialty vodka to help Ukraine, the distillery also makes and sells gin and flavored vodkas (In Vermont. I think).
They do the whole "localvore" thing and the distillery gets the corn used to make their spirits from South Windsor farms. And not just any old field corn apparently. The distillery uses sweet corn. Just so you know.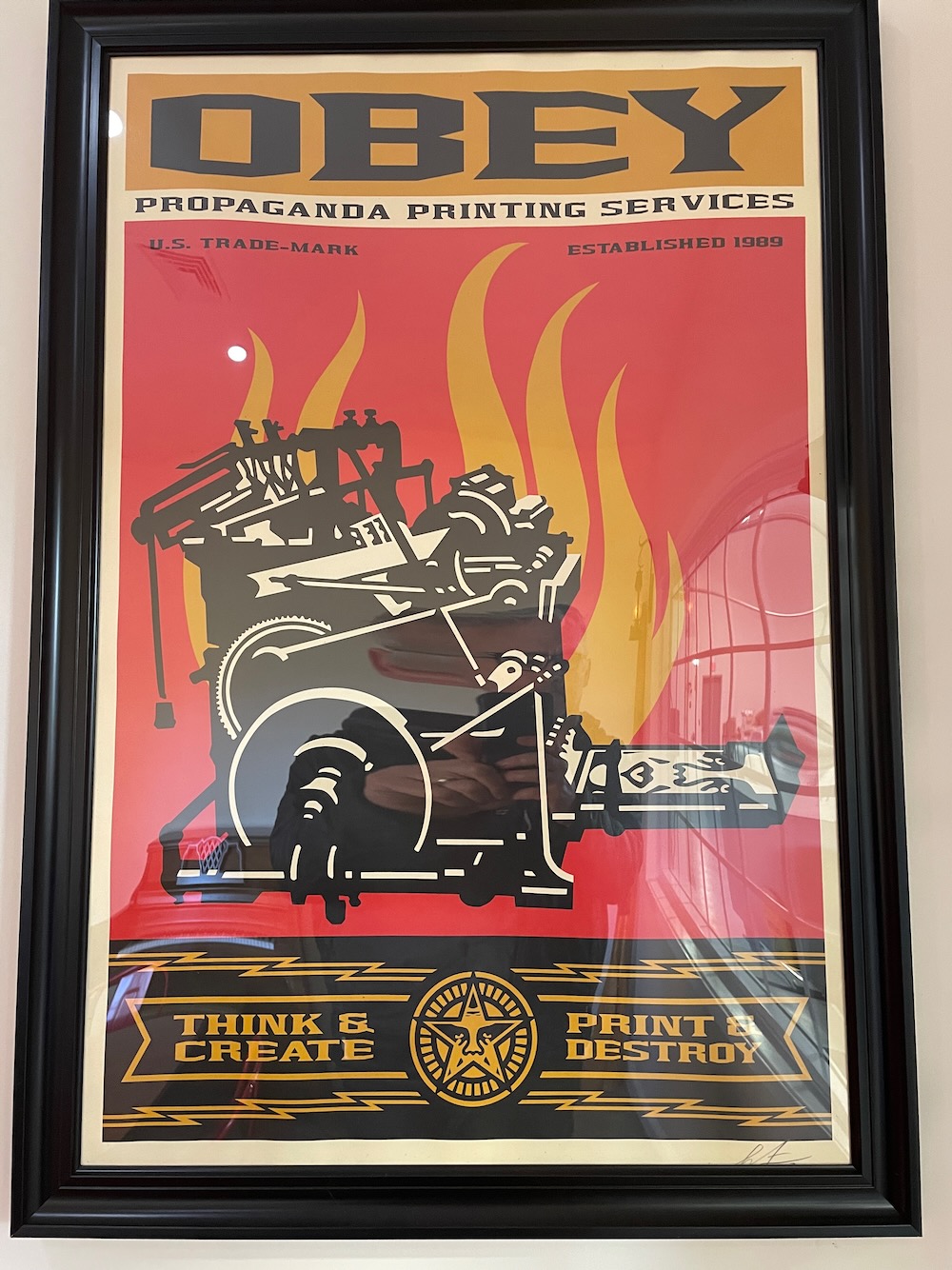 They make and sell a vodka called Molotova Freedom Vodka and send all the proceeds from it to the International Red Cross to aid efforts in Ukraine. So if you like vodka and want to support that cause, that's the vodka for you. It has a cool Banksy piece on the label which I'm most fascinated by… how does that work? You can't pay a guy royalties or buy his art for your label because, well, he's Banksy… or can you? I wonder how that works. Another John Fitch Flying Canoe Old Route Two Sweet Corn Mystery!
We offer finely crafted, small batch American spirits. Our unique and tailored New England products are perfect for the mixing of cocktails or enjoyed simply on their own. We source our grains and fruit locally; we actually know our farmers personally and work with them both in the field and around the still!
Cool. That "finely crafted artisanal local tailored" thing is why my Negroni was fifteen bucks I guess. They have a barrel program. They are very proud of their Morgan Horse Bourbon which is made with "fresh local corn." I'll have to trust them that it's good.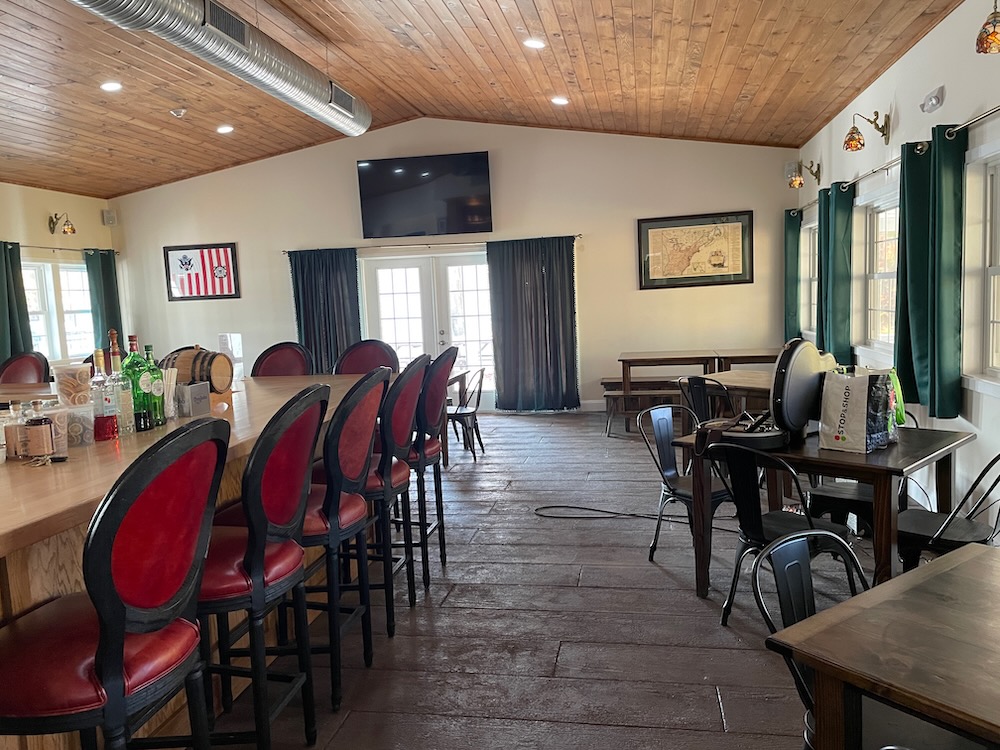 The gin in my Negroni and the rums are made up in Vermont. A whole slew of cane sugar rums. I don't drink rum either. God, I'm such a buzzkill. I like gin. That's pretty much it. Joe's Pond Gin, the base of my fifteen dollar Negroni, also uses a cane sugar base which I think is unique? I don't know… it sounds unique to me.
I arrived shortly after opening on a weekday. The Flying Canoe is on a dead-end amidst a bunch of indistinct lawn care company, HVAC, and sheet metal concerns. But the tasting room is nice. They have live music here all the time. It's as good as you're going to get on this stretch of Route 5. There's been a local meadery attached to this space for years (Mad Moose Mead) which, as of 2023, hasn't actually existed here as far as I know. (It took John Fitch years to become a real thing, so I'm being patient with the meadery.)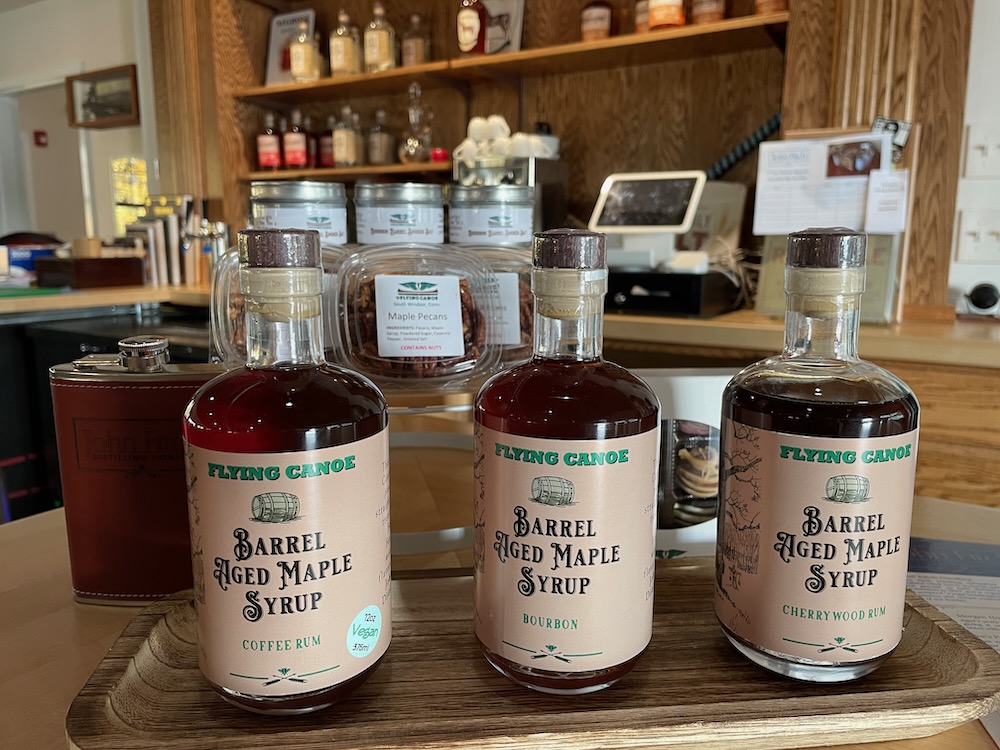 I'm just confused about how this business model is viable though. It seems very niche to me and I would guess that half the profits are intended to come through distribution, but I just don't see too many people going out of their way to come to this place. Of course, I'll be happy to be proven wrong. My visit on a Thursday at noon is no indication of what kind of crowds they draw. They do carry some beers on tap as well as Hosmer Mountain Soda, which is always a winner in my book.
My drink was quite good and the guy who made it took his time and used care and skill. I'm sure the gin is fine, and I can't vouch for the whiskeys or rums coming out of this operation. (I'm sure the vodka is… vodka, since all vodka is the same.)
Travel Old Route 2 in your Flying Canoe to drink some John Fitch spirits in South Windsor. Drink enough, and perhaps it'll feel like you're flying in a canoe.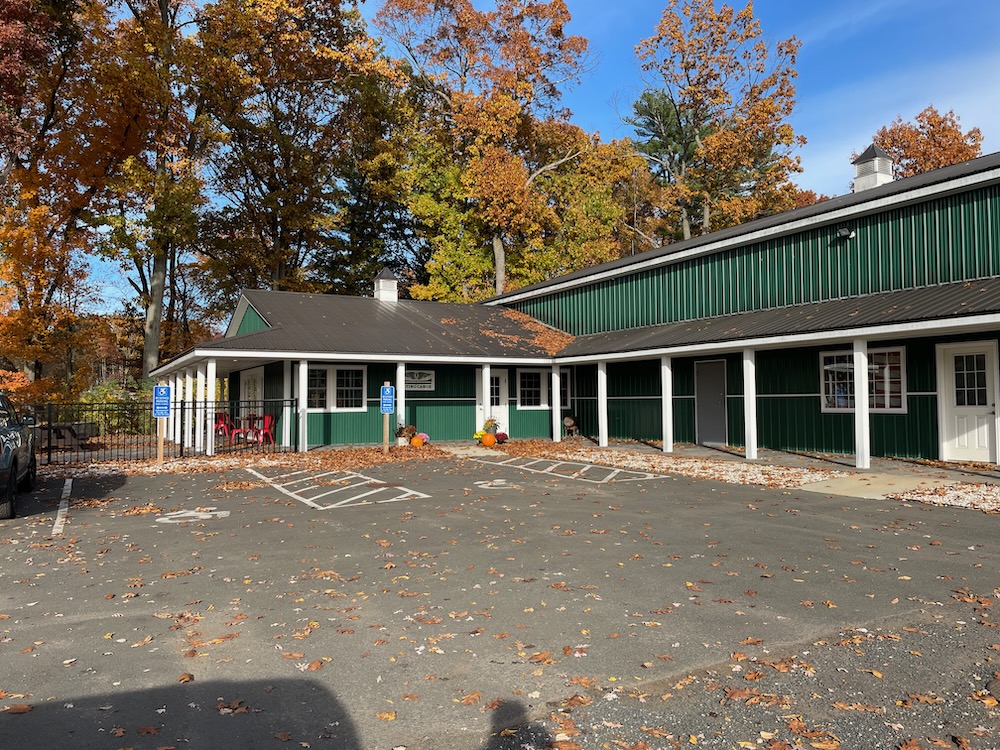 John Fitch Distilling Company
The Flying Canoe
CTMQ's CT Distilleries