Makris Diner
Wethersfield
December 2019
As I pulled into the parking lot along the busy Berlin Turnpike, Calvin said, "didn't we just go here?" Chuckling, I replied, "Sorta. But that was a different diner on the same road that serves the same food."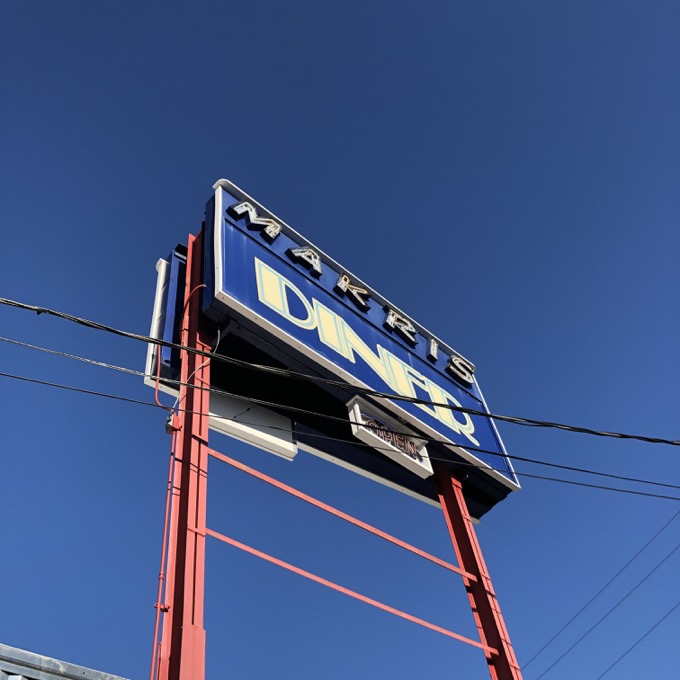 Calvin knows by now that I bring him to repetitive museums and to hike trails that seem like lots of other trails he's hiked. So he was cool with this diner being very similar to the last diner – especially if that meant he got to eat the same meal for lunch again: chocolate chip pancakes.
The other diner he referenced was the Olympia Diner a couple miles south in Newington. While the Olympia allows for many more patrons, the bones of both places are the same. Both of them were crafted by the Jerry O'Mahony Diner Company who was said to have produced 2,000 diners from 1917 to 1941. These roadside diners were primarily metal buildings, prefabricated in a factory, and trucked to the location.
The Makris has stayed truer to its roots, with no fancy dining room additions. Keeping it classic – I like that. We took a seat in a booth and I immediately noticed the tabletop jukebox thing was trolling: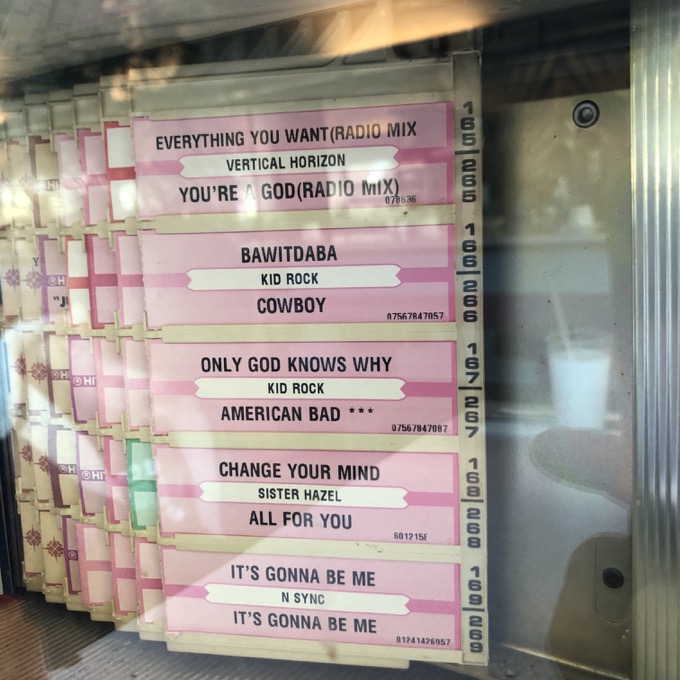 Yes, yes… Only God Knows Why Kid Rock, who is American and Bad, has had a career in music. Since Calvin already knew what he was having, I decided to replicate my Olympia meal as well. We both delighted in this bit of silliness and our server took our order to the kitchen. She was very friendly and seemed to have that innate quality of knowing how much banter different customers wanted to engage in. This is a quality I very much appreciate, so props to her for not hassling us.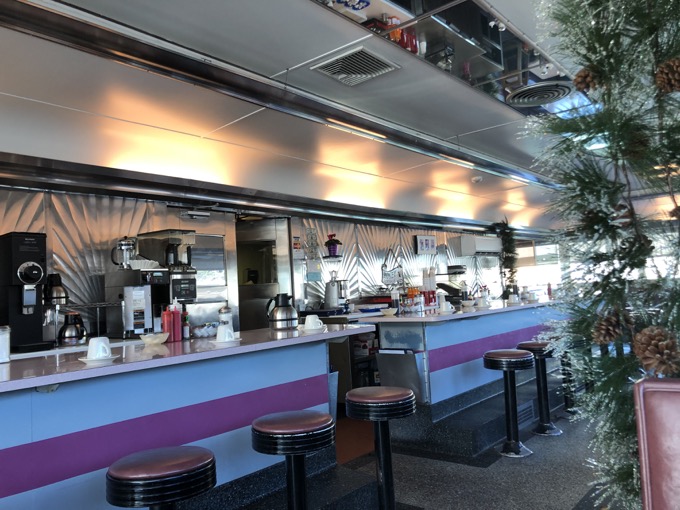 Welcome to Makris Diner; we hope you will enjoy the visit. Our goal is for you to feel at home in our clean and comfortable atmosphere. You can rely on our friendly wait staff to pour a great cup of coffee or drink of your choice to accompany a variety of delicious meals.

As you walk in you may notice that this diner is a classic one designed by Jerry O'Mahony in 1951. Then you may notice the smiling faces and relaxing atmosphere as you choose a seat of you liking. Finally we hope you enjoy the meal experience.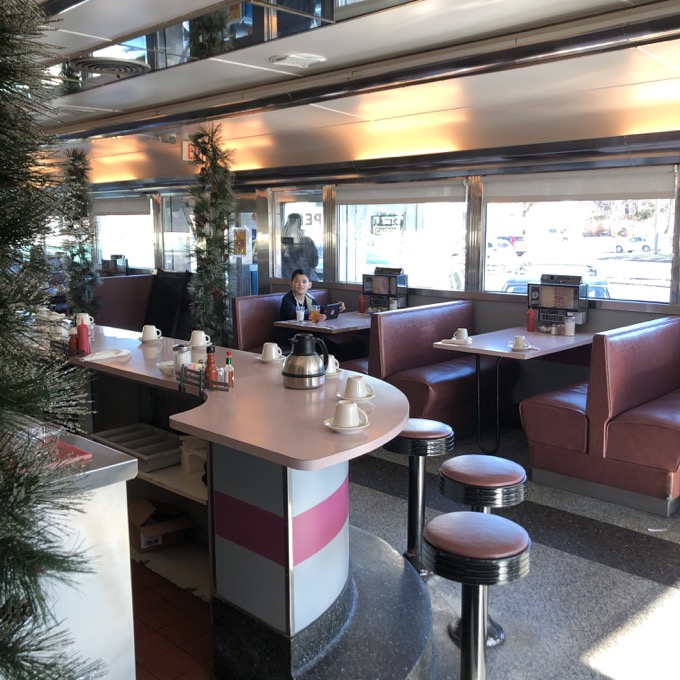 See what I mean? Straight and the to point, typo and all. But there are things that sets the Makris apart from The Olympia and most other Greek diners:
Our menu includes classic breakfast and lunch fare; it also includes a small polish menu. We are open from 6 am until 3 pm every day of the year except Thanksgiving, Christmas, & Easter.
Polish? And closes at 3? Hm. I wouldn't have expected either.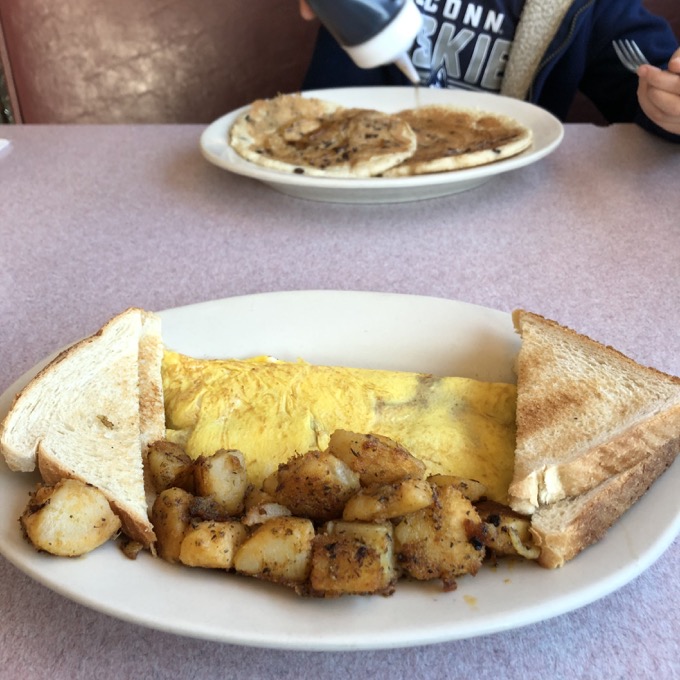 Our meals arrived quickly and now it was time to put the Makris to the test. I'll go first with my "Ragin Cajun" omelette. Stuffed with Makris's jambalaya sauce, I was comparing it to the Olympia's "Cajun Touch" omelette. It was 15 cents more at the Makris and… it was worth the 15 extra cents.
Definitely 15 cents-worth more flavor here, that's for sure. Also, the home fries were very good and not too heavy and greasy. Let's see how Calvin is doing…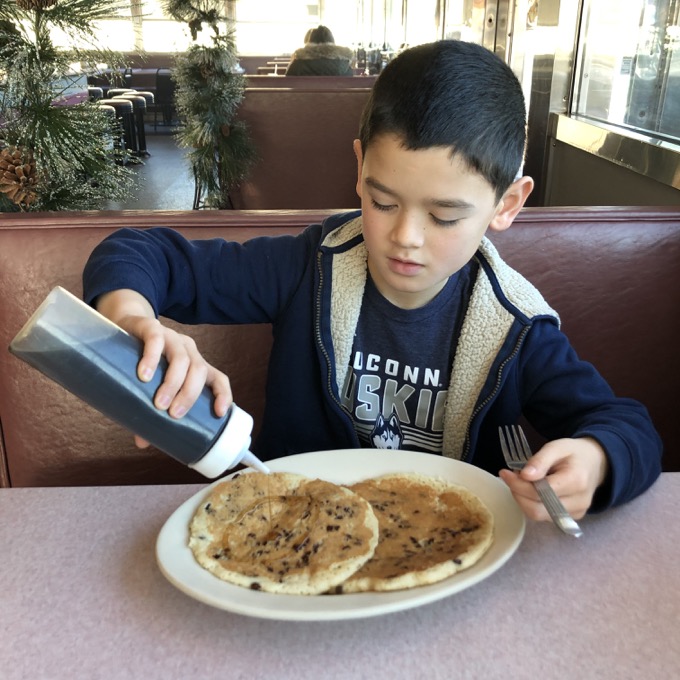 The boy loves his chocolate chip pancakes. I asked him how they compared to the ones he'd eaten so recently down the road, and… with drama and flair he paused, chewed some, looked skyward with a pensive finger on his temple and declared…
"They're the same."
So diplomatic, my son. He proceeded to polish of the – HOW DOES HE EAT THESE MASSIVE PANCAKE MEALS? – plate and told the server that they were delicious.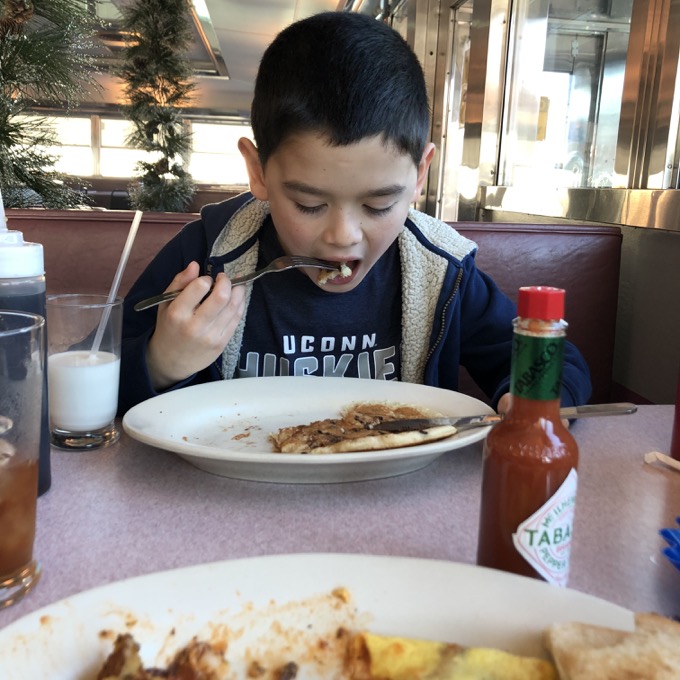 I realize it's a bit ridiculous for me to even write about diners as I'm hardly a food critic of any import. And it's all the more ridiculous when my son and I order the same exact darn thing at these places that were built by the same company and are located along the same stretch of the same road.
But hey, that's what I do. I think our Makris meal wound up being a smidge more expensive than the Olympia meal, but not by any noticeable amount. Both are fine examples for their genre, but I'm going to give the nod to the Makris, even though it's smaller, it also has a more authentic feel to it.
And for some reason, that matters to me.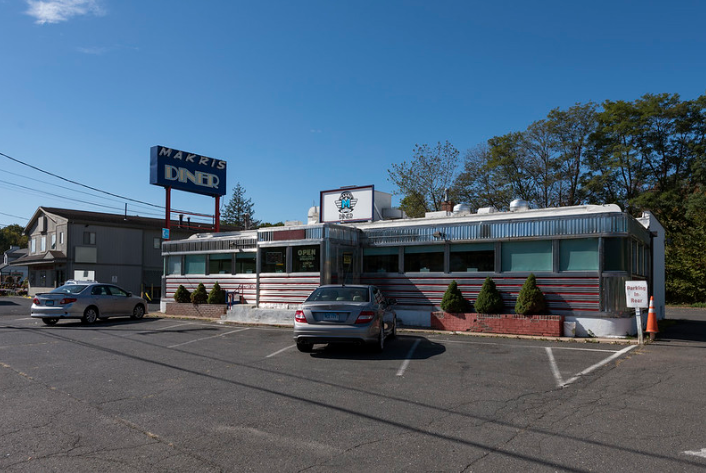 Makris Diner
CTMQ's Classic Diners & True Taverns