Olympian
Olympia Diner, Newington
October 2019
When I first put together my list of "Classic Diners" on this website, the list consisted only of actual classic diners. For some reason, I've expanded that original idea to include a bunch of decidedly non-classic dinners in the years since. It sort of bothers me, but I've gone too far down the non-classic road to change it back now.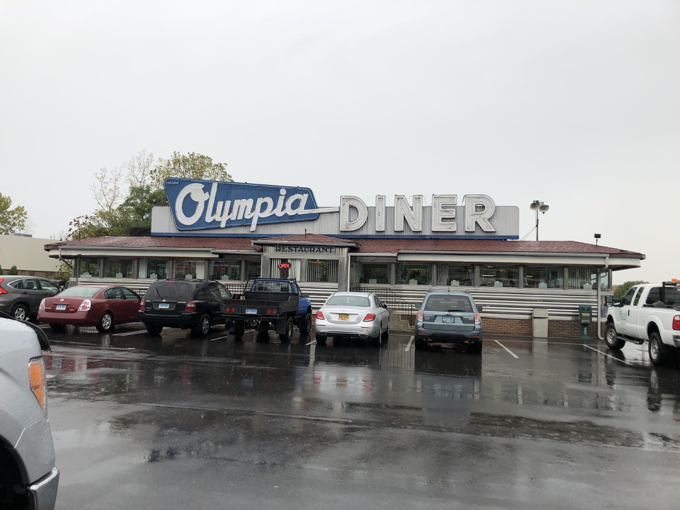 It goes without saying that the Olympia Diner, situated along one of Connecticut's classic roadways, was certainly on that original list.
The Berlin Turnpike was one of those roads that celebrated America's burgeoning car culture in the 1940's, 50's, and 60's. "American Graffiti" stuff. Drive-In's, car-hops, and diners like the Olympia Diner, which was brought to the Pike in 1954 from Massachusetts.
The Olympia Diner was crafted by the Jerry O'Mahony Diner Company, of New Jersey, who was said to have produced 2,000 diners from 1917 to 1941. These roadside diners were primarily metal buildings, prefabricated in a factory, and trucked to the location. The three sections were set atop a waiting foundation and the terrazzo floor was poured on site. The "OD" as the locals refer to it, has been owned by 3 families. The Kritikos and Goulias families respectively for 10 years each, and the current owners, the Gavrilis family, since 1974.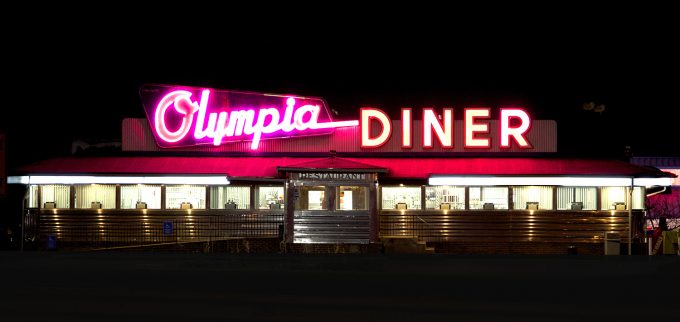 A weird claim the diner makes is that it is the "longest stainless steel diner in the country." As with almost all of these claims, I'm in no position to confirm or deny. But that makes three weird superlatives for Newington: The Smallest Waterfall in the US, the World's Largest Dairy Store, and this one about the diner.
None of the three make much sense to me. But hey, shout out to Newington for getting over with this stuff.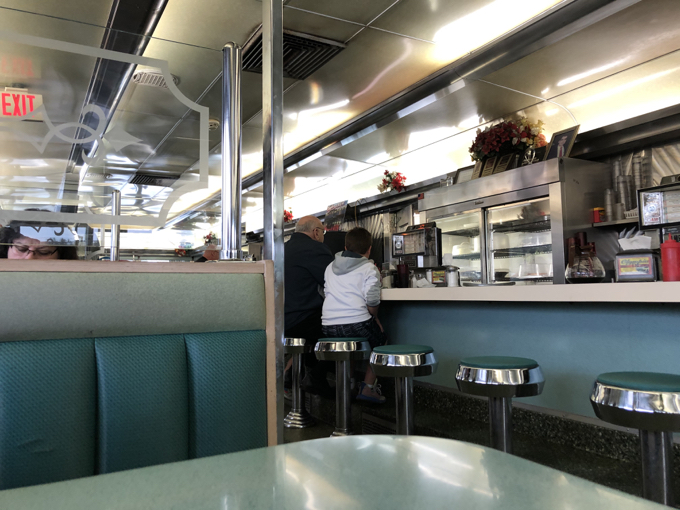 Calvin and I went to lunch at the OD in a driving rain. I can report that the old O'Mahoney diner is sturdy and does not leak. We took a seat in a booth, checked out the tabletop jukebox, and perused the menu.
It was there, on the menu, that I learned the OD is no longer a 24-hour joint. It's open until midnight at least, but losing those 6 overnight hours sort of takes away a bit of cache for me.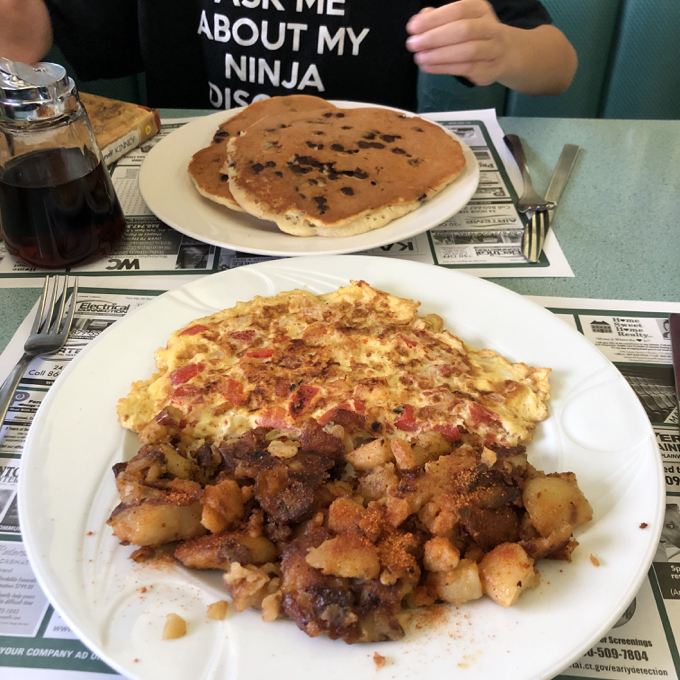 Although it was lunchtime, we were both in the mood for breakfast items. Ahhh, that's what's great about diners. Calvin's new thing is chocolate chip pancakes and my new thing is allowing him to order them.
He ordered two of them and I went with the "Cajun Touch" omelette. I love a good omelette and I love a good cajun, whatever that means: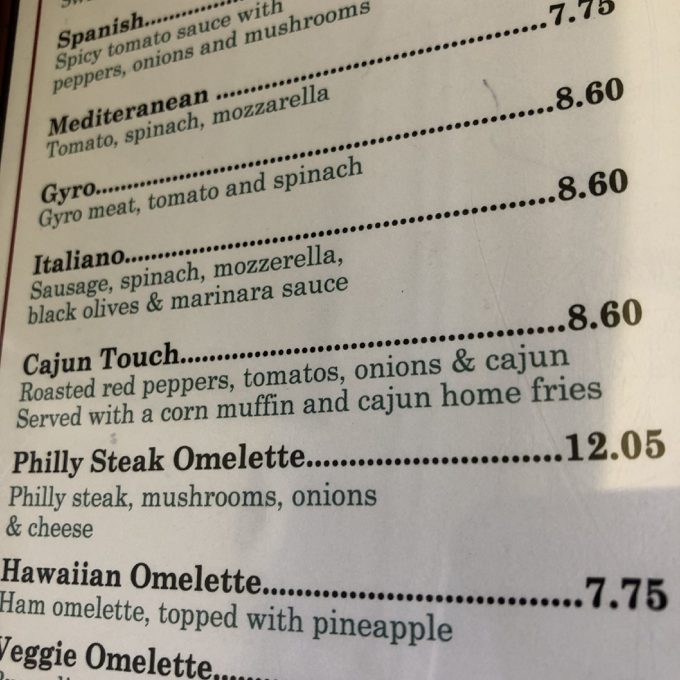 For the record, it did not come with a cajun person… and "tomatos" has probably been incorrect here for 70 years.
The Olympia Diner has survived the ups and downs of the past 60 years and continues to stand the test of time. Throughout the years, many customers have become like family to the diner's employees and owners. Some patrons have met their spouses here. Deals have been made, contracts have been signed, a marriage proposal accepted and divorce papers served. Families with newborn babies and elderly grandparents have shared booths and created memories. Traditions were started. Truckers from near and far have rested, digested and fueled up on coffee before heading back on the road. Travelers from the US and abroad have posed in front of the neon sign and bought post cards to mail home.
All true, I'm sure. Also probably true at literally every 50+ -year-old restaurant.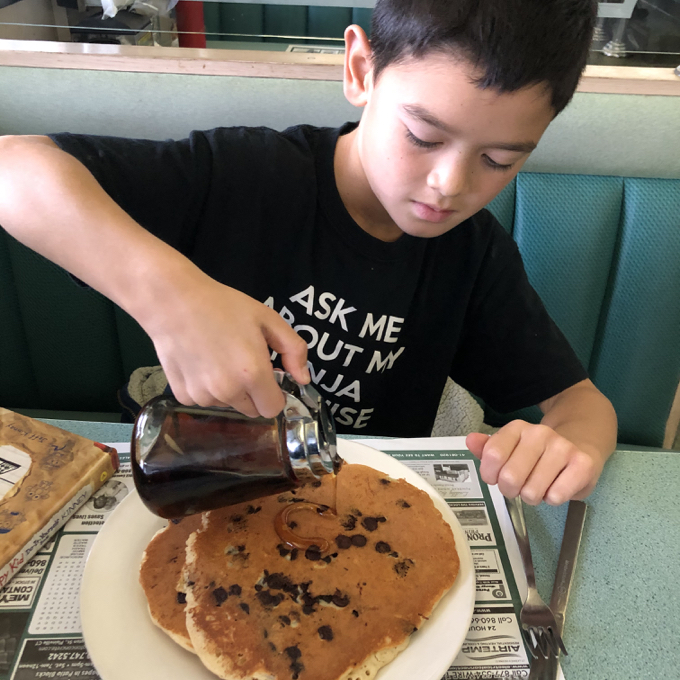 Calvin's giant sugarbomb pancakes arrived and as he poured more sugar on them, my cajun omelette was served. It just occurred to me that I didn't have the OD's coffee; something I always like to critique. Oh well… the unsweetened ice tea was good and Calvin liked his lemonade I think.
The omelette was pretty good, but the "cajun" home fries were a bit lacking. They could have used more "cajun" or just something more than potato and "cajun." Some more onions perhaps. I had to add Tabasco to my meal, which I'm not sure should be the case with a proper cajun dish?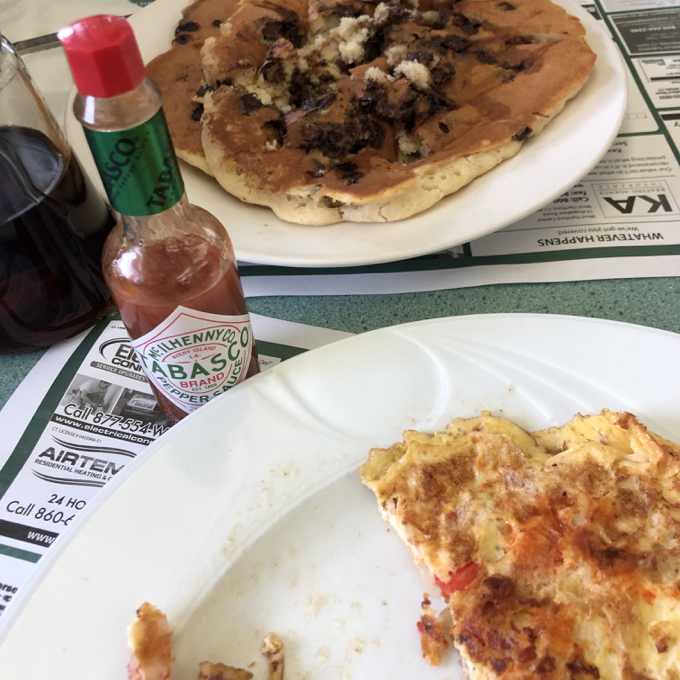 Calvin loved his pancakes and goshdarnit if that boy can't pack 'em away.
Professional photographers and Instagrammers alike have shot countless photos of the diner, inside and out. Artists of all types have painted, sketched and drawn the diner. Each has captured the stainless and neon structure and brought it to life in their own unique way. Some of these works of art are on display in the dining room. Many commercials & public service announcements have been filmed on the premises as well as scenes from the movies Jacknife starring Robert De Niro in 1989 and Promises in the Dark starring Marcia Mason in 1979…
They go on, but you get the point. (Although I did watch and review Jacknife.) The Olympia Diner is an icon on an iconic strip of traffic-choked highway in central Connecticut. They added a dining room in 1986 which is more of a restaurant than diner, but no one goes for a quick meal and sits in there.
(A couple months later, we visited the Makris Diner a couple miles away and had the same exact meal.)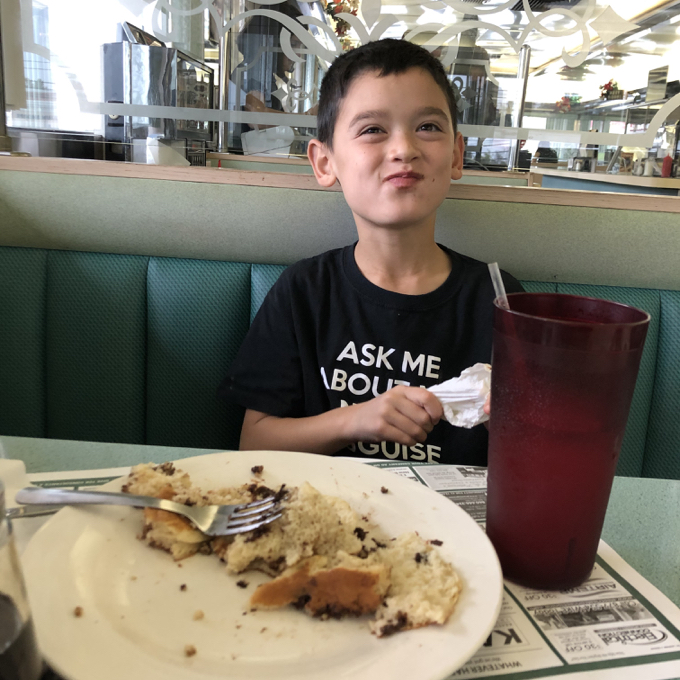 Olympia Diner
CTMQ's Classic Diners & True Taverns
CTMQ's US & World Largests, Longests, Tallests, Mosts, Worsts, & Smallests