Another Feather in My Cap
Mansfield (Google Maps location)
July 22, 2018
This little town little town history museum is quite nice. But I've got to tell you, before visiting, I think the most "exciting" part of it for me was that CFPA's Nipmuck Trail goes right through it. Just like along the Appalachian Trail in northern Georgia where the trail goes through an outfitter's shop/hostel!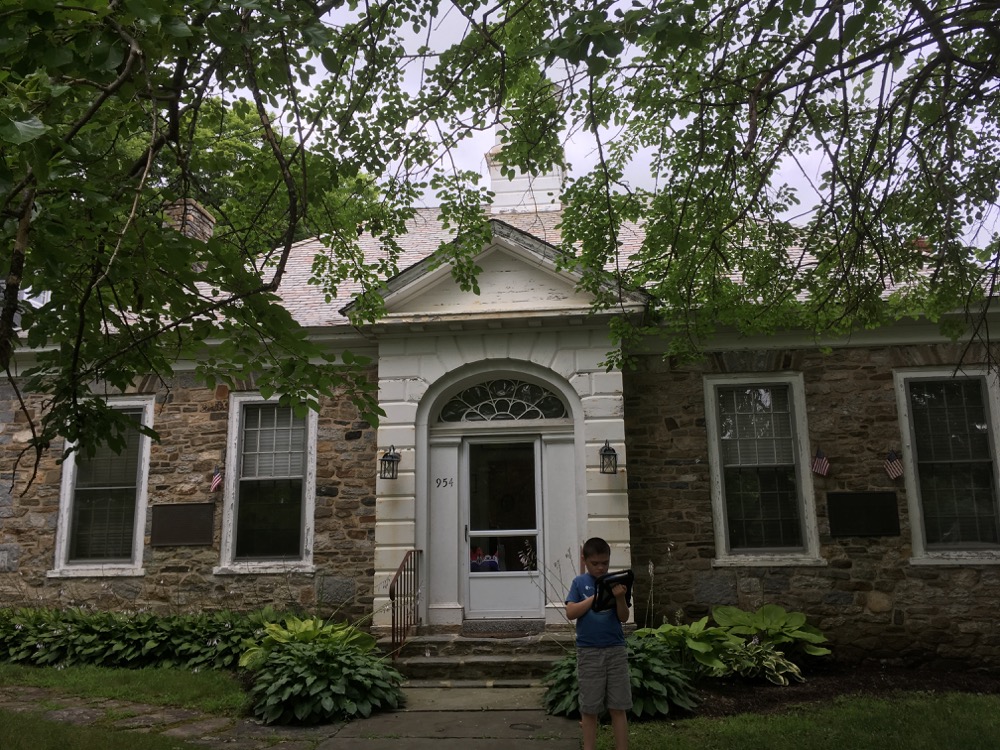 (Okay, it's not actually "just like that" since the Nipmuck Trail goes around the Mansfield Historical Museum, but blue blazes ARE painted ON the downspount on the corner of the building and that's close enough for me.)
As everyone knows, UConn is in Mansfield, but disassociates itself from the rural community by identifying its location as Storrs. Storrs is part of Mansfield, but once you're outside of the campus, you'd be hard-pressed to convince anyone that UConn even exists "just over that hill" or through those woods or whatever.
The relationship between Mansfield and the University has always been dicey. Strained. Difficult. I'm sure this situation exists in thousands of "college towns" that never really signed up to be college towns all over the country.
My point in bringing this up is that Mansfield has its own non-UConn history, and the museum here seems to focus entirely on that. The first silk mill in the United States was constructed in Mansfield! The town's fully intact Gurleyville Gristmill is the only one of its kind in Connecticut! The adjacent miller's house is the birthplace of former Connecticut governor Wilbur L. Cross! The Mansfield Drive-in still exists! Lucky Strike Lanes, a duckpin bowling alley, still exists! Mansfield has beautiful trails and rivers and hills and dales.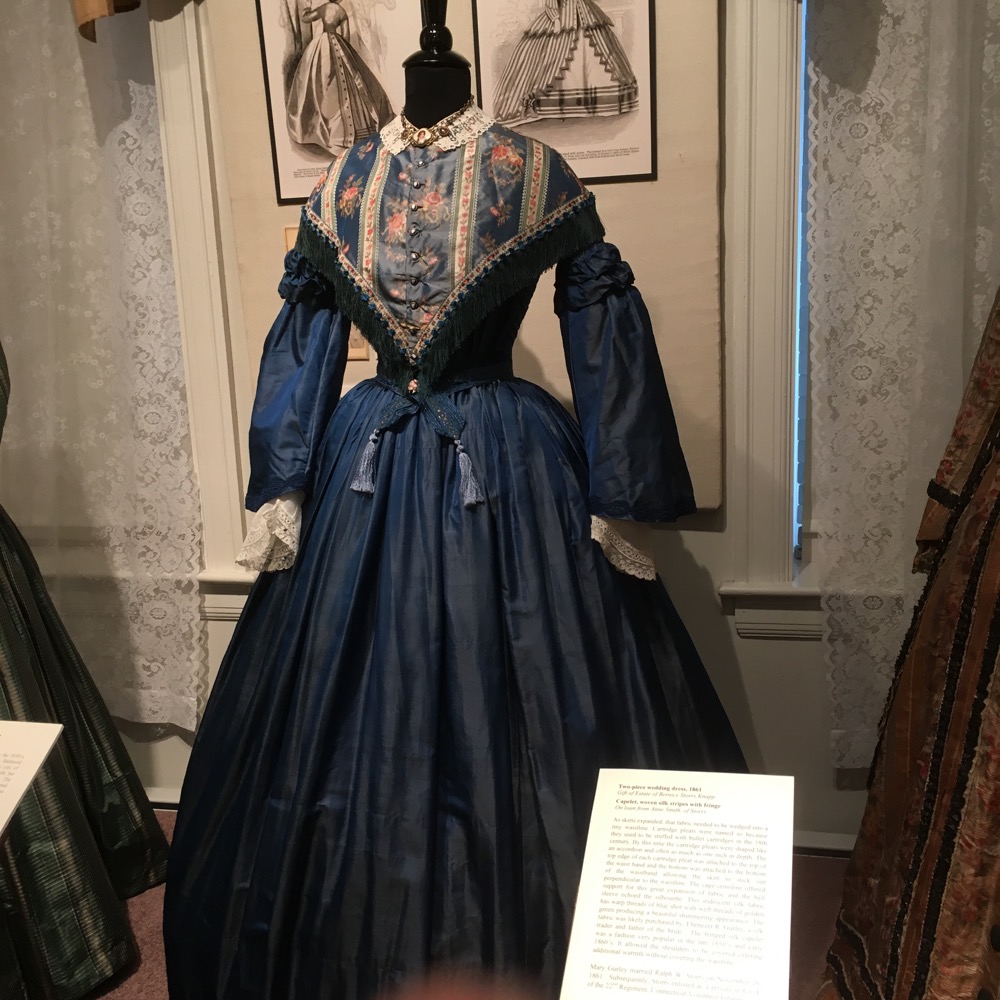 And a little history museum.
The Mansfield Historical Society, founded in 1957, preserves and interprets over 300 years of Mansfield history through exhibits, programs, research and publications. The Society maintains a museum and research library in the former Town Office Building and the adjacent Old Town Hall, built in 1843. The museum presents annually changing exhibits and has an active educational outreach program. The collection is comprised of over 7,000 artifacts — including some 3,000 photographs, furniture, decorative arts, costumes, tools, and materials relating to local industries and agriculture.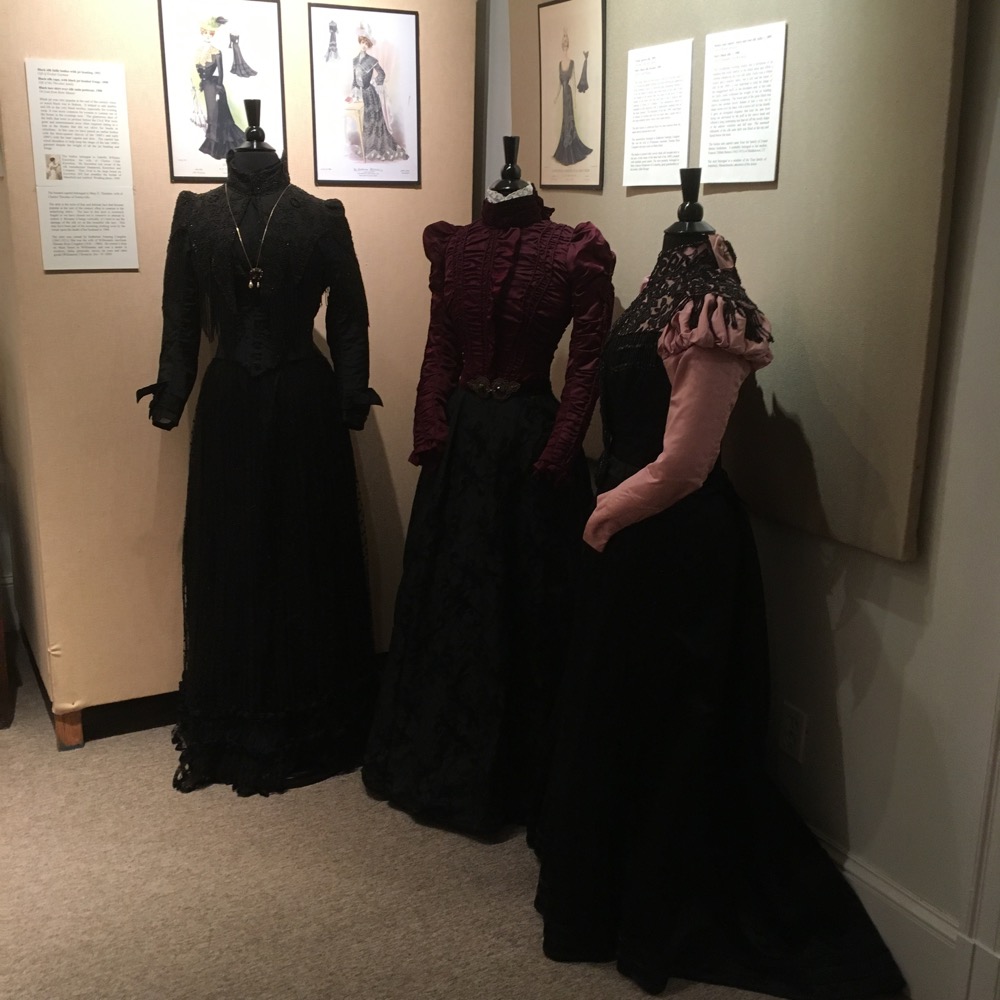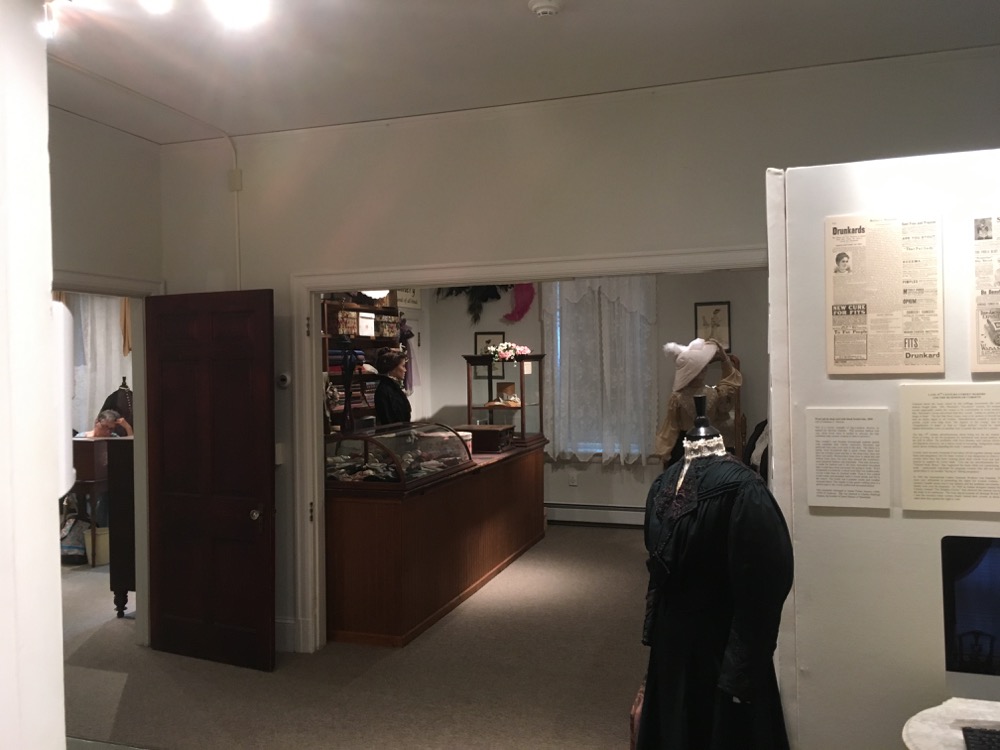 I'll start with what I assume are some of the more permanent exhibits. You may be surprised that Mansfield's museum has multiple rooms. There was a handsome old bed with some incredibly intricate woodwork. I must've liked it because I took a bunch of pictures of it, but I don't know anything more about it. I seem to have been particularly enamored with the bed post that had a hidden chamber of sorts.
An exhibit about Obadiah Wheeler, a local stone carver who is featured in cemeteries. He was apparently the top of his trade back in the day.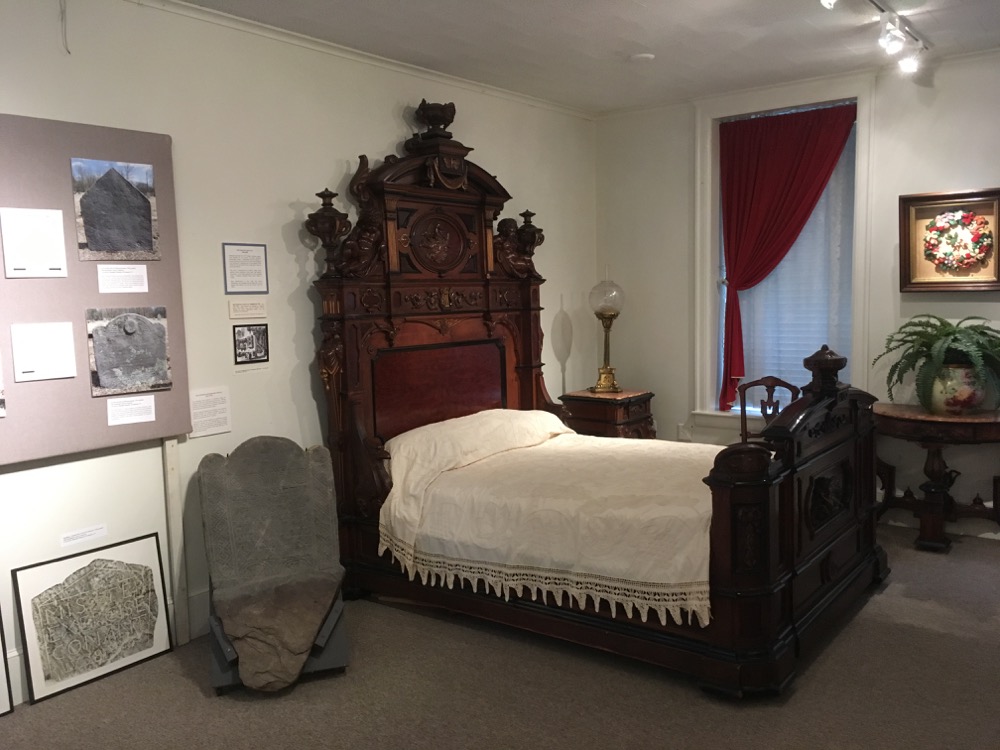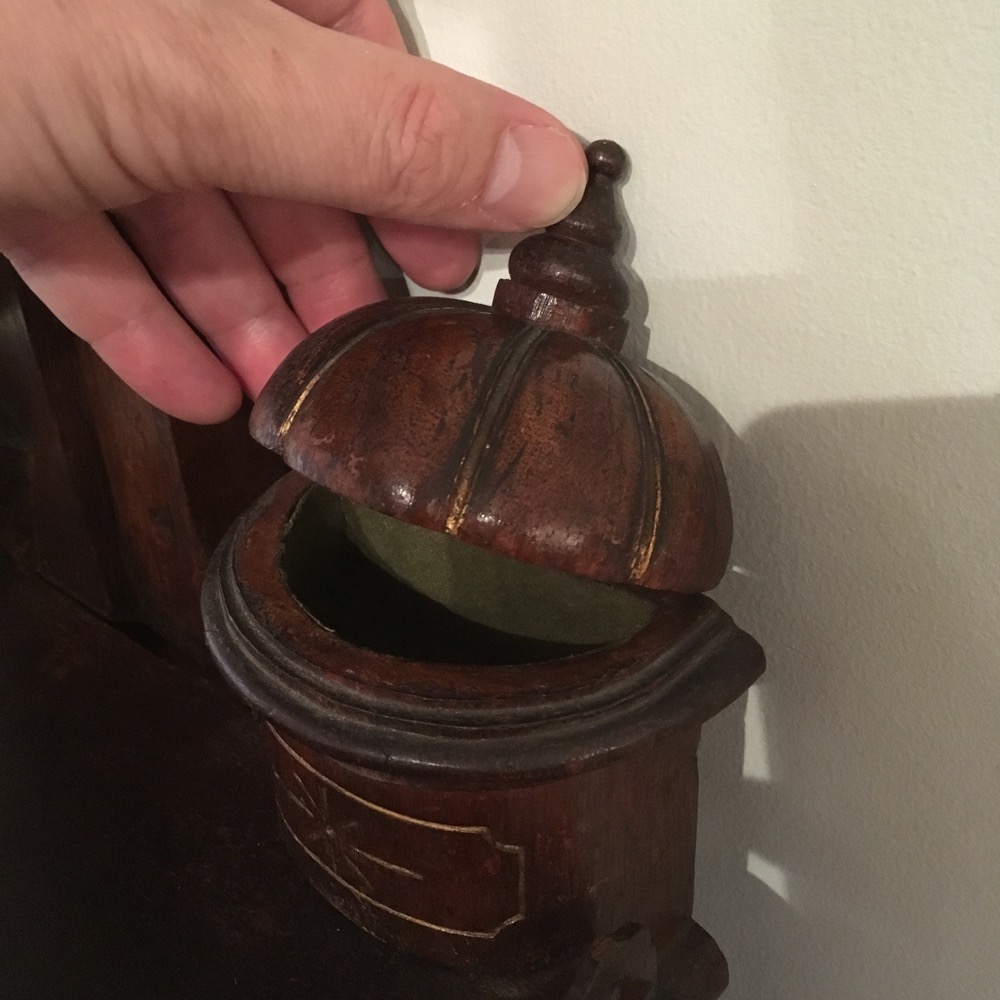 Okay. The bulk of my visit was spent learning about women's fashion and in particular, hats and corsets. And more specifically, feathered fashion hats and painful corsets. The exhibit was extremely well done and thorough.
I think the "Milleners and Milleneries" exhibit might be more permanent? I'm not sure, but the Society had a lot of 19th century dresses on display from local makers. During my visit, there were several women visitors who were super into it. As you'd assume, this isn't my bailiwick, but I was impressed with the depth and breadth of the collection just the same.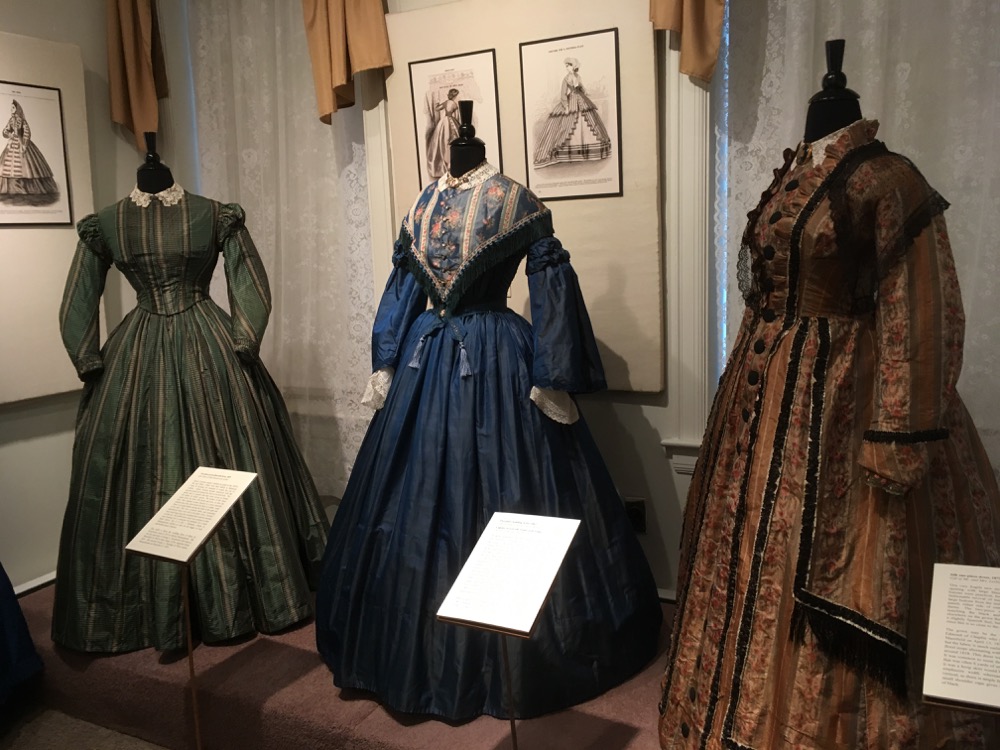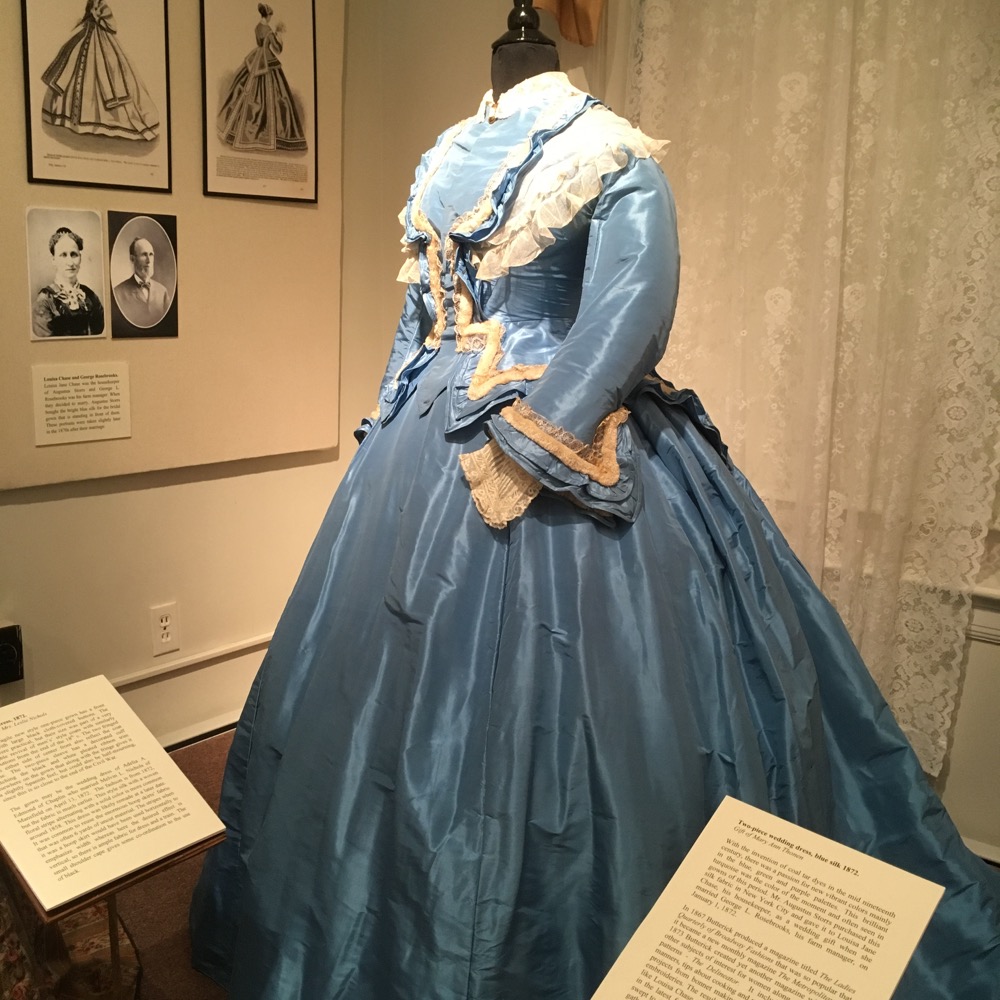 (One of my fellow visitors was some woman that used to work with my wife who recognized me and/or my son Damian somehow. It was a whole thing – even though we actually didn't know each other at all. But there I was, with my special needs son, taking pictures of corsets and dresses. Totally normal thing for us to be doing on a Saturday afternoon.)
Other visitors included…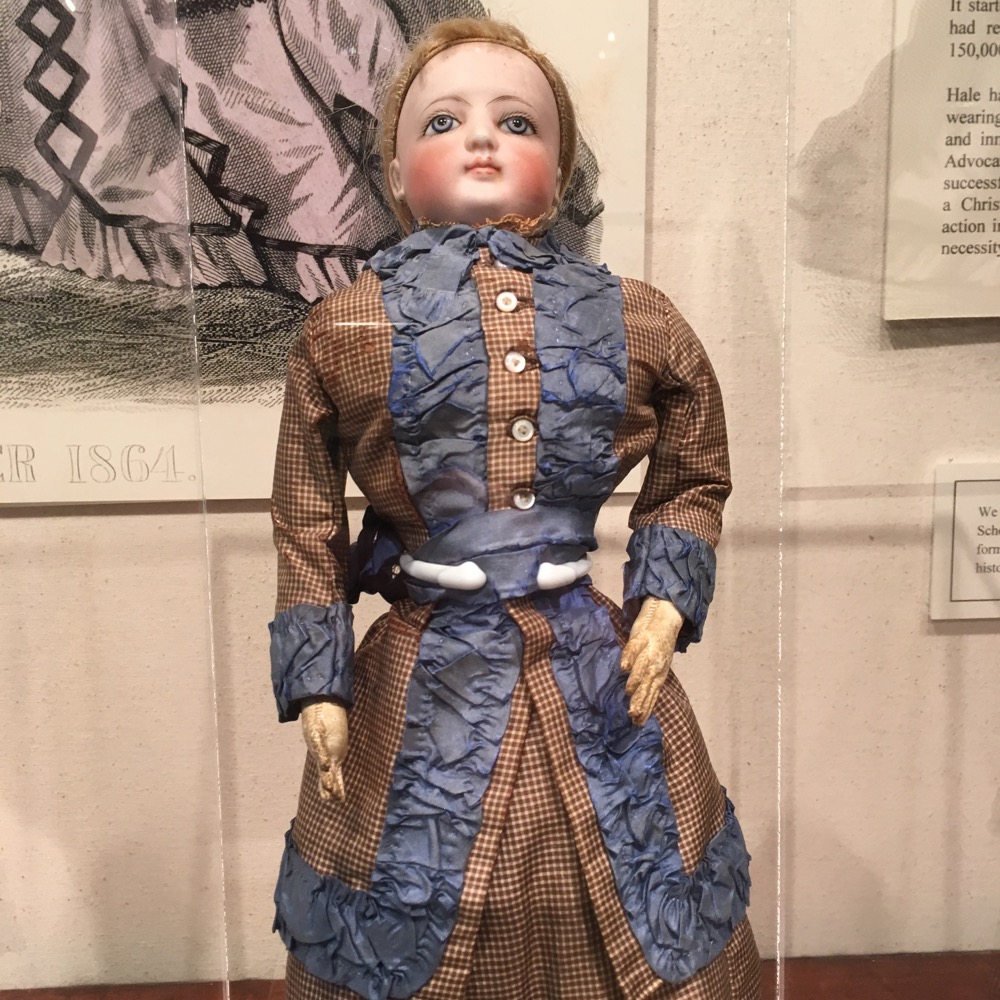 Creepy dolls!
I digress. There were lots of dresses and lots of painful corsets and a sort of transition from women hurting themselves for fashion to women hurting the environment and destroying entire species of birds for fashion. Well done, Mansfield Historical Society!
2018 marked the centennial of the landmark Migratory Bird Act legislation and this little museum went all in with an exhibition exploring the history of the ground-breaking legislation of 1918. The exhibit is long gone now as you read this, but it examined the circumstances that inspired early environmentalists — many of them women — to champion the protection of endangered birds.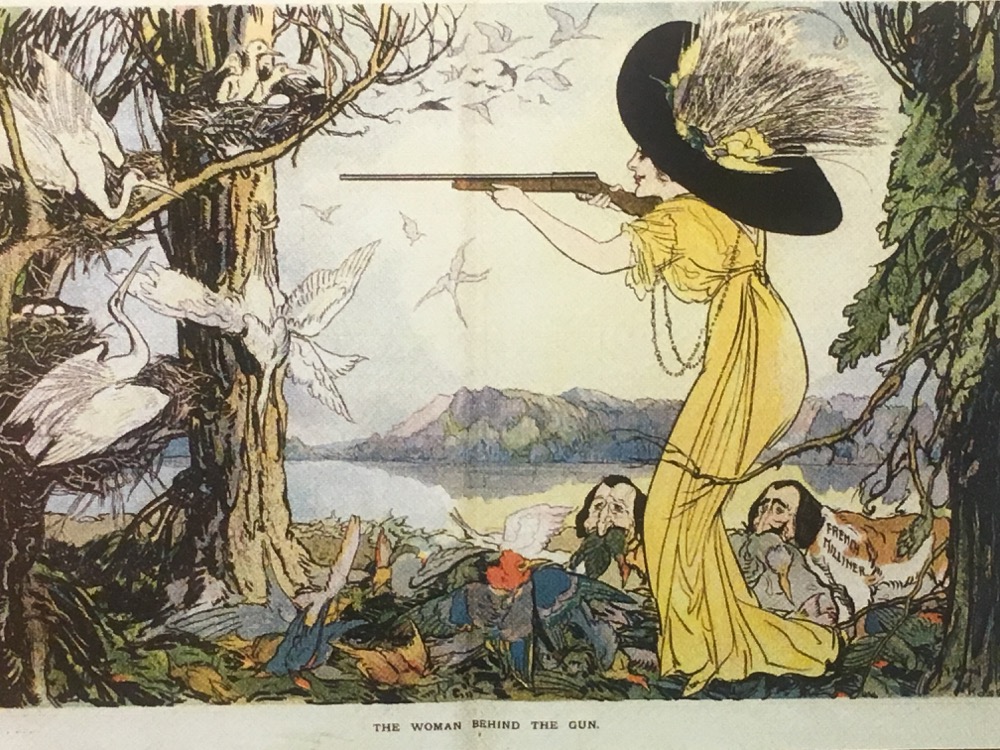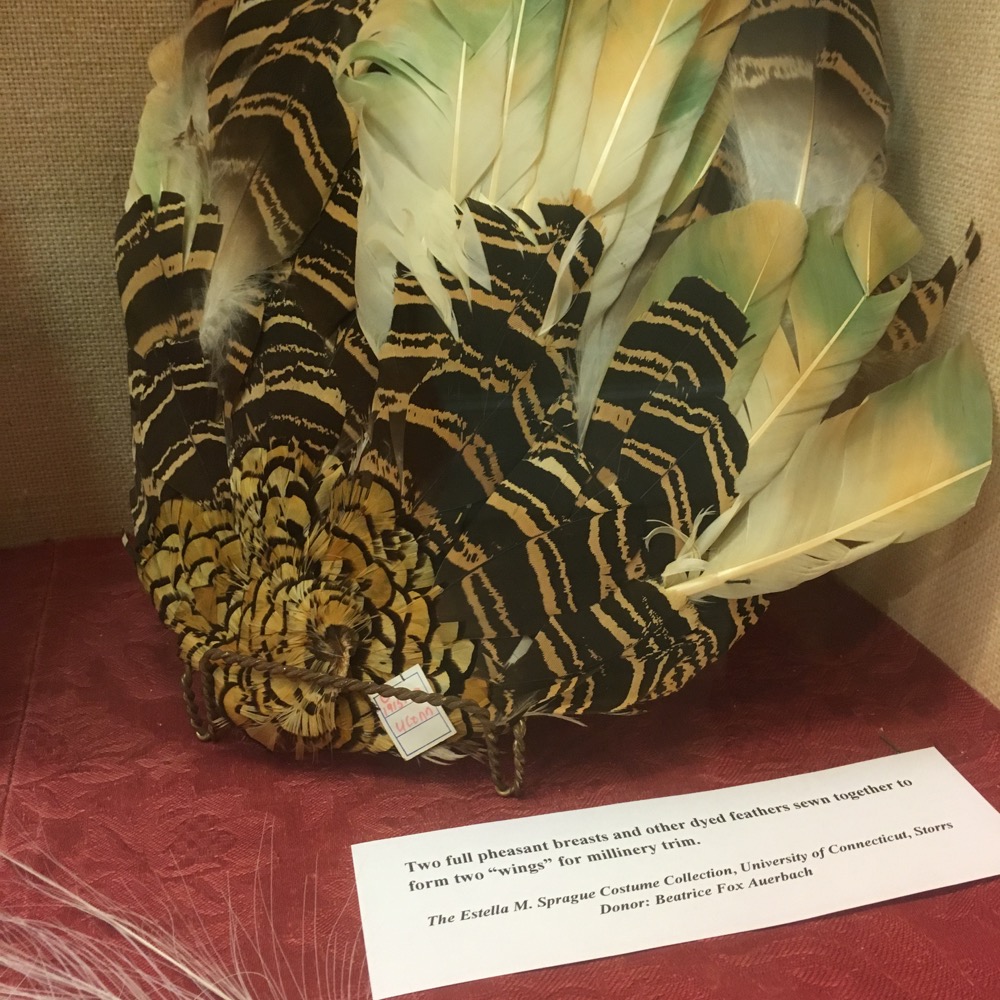 Administered by the U.S. Fish and Wildlife Service, the Migratory Bird Act prohibited the hunting, killing, trading, and shipping of migratory birds. It also regulated the nation's commercial plume trade, which had decimated many American bird species to the point of near extinction.
The museum delved into the history of the Act by examining the economic and social circumstances that inspired the early environmentalists and activists who lobbied for the precedent-setting legislation. New York was the center of the US feather trade, and Connecticut was therefore close to it. The Act affected feather importers, hat manufacturers, retailers, and fashion consumers. (And birds.)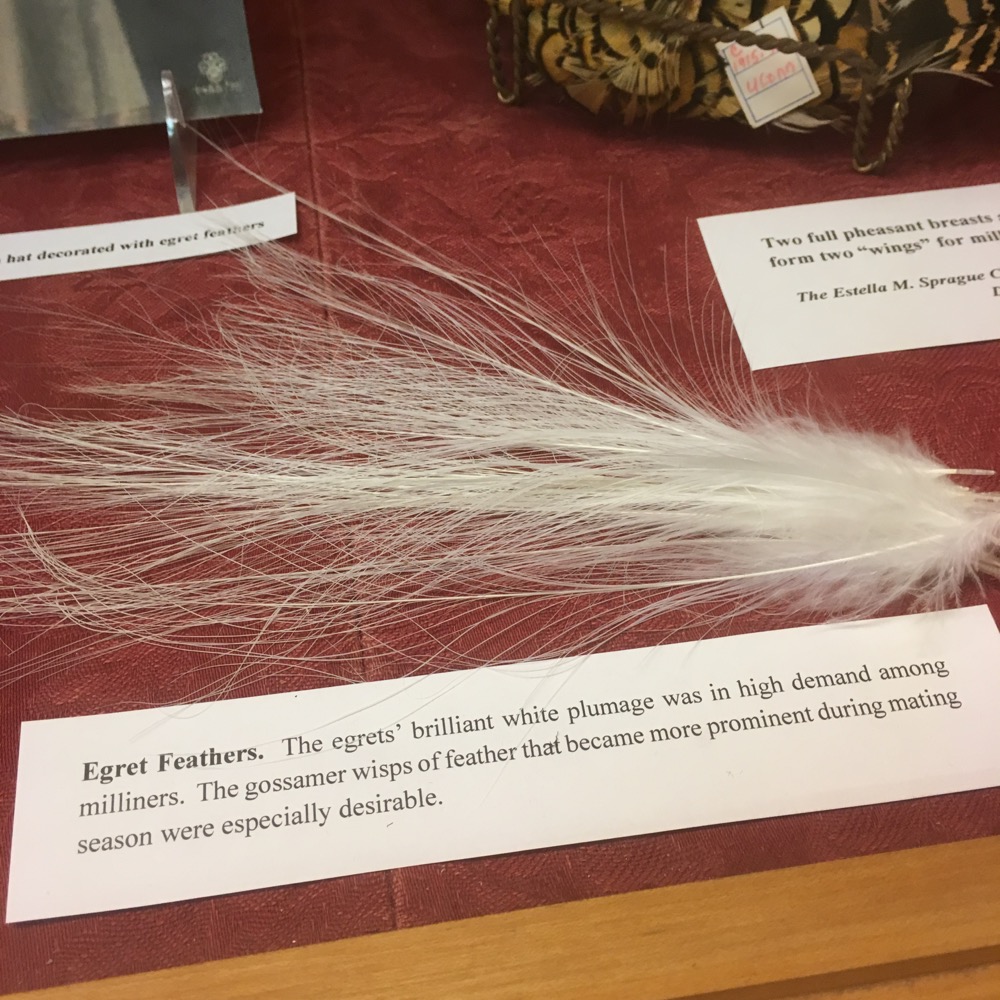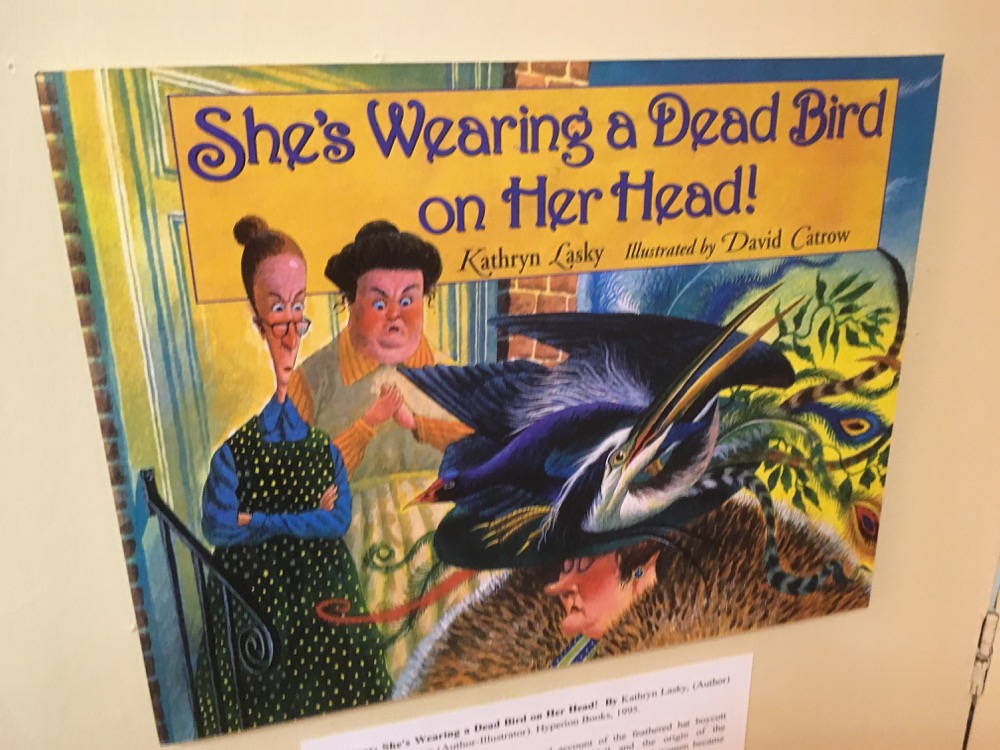 The story was told through clothing and accessories, books, ephemera, photographs, art, and prints. The museum had examples of late 19th- and early 20th-century feathered fashions including hats, boas, fans, aigrettes, jewelry, and clothing. Some of it was pretty bonkers.
Man, we humans almost killed off so many bird species so urbane women could wear them. They made earrings of hummingbird heads! Whole snowy egret necks and heads were worn as boas. Massive peacock sized plumes for hats and accessories.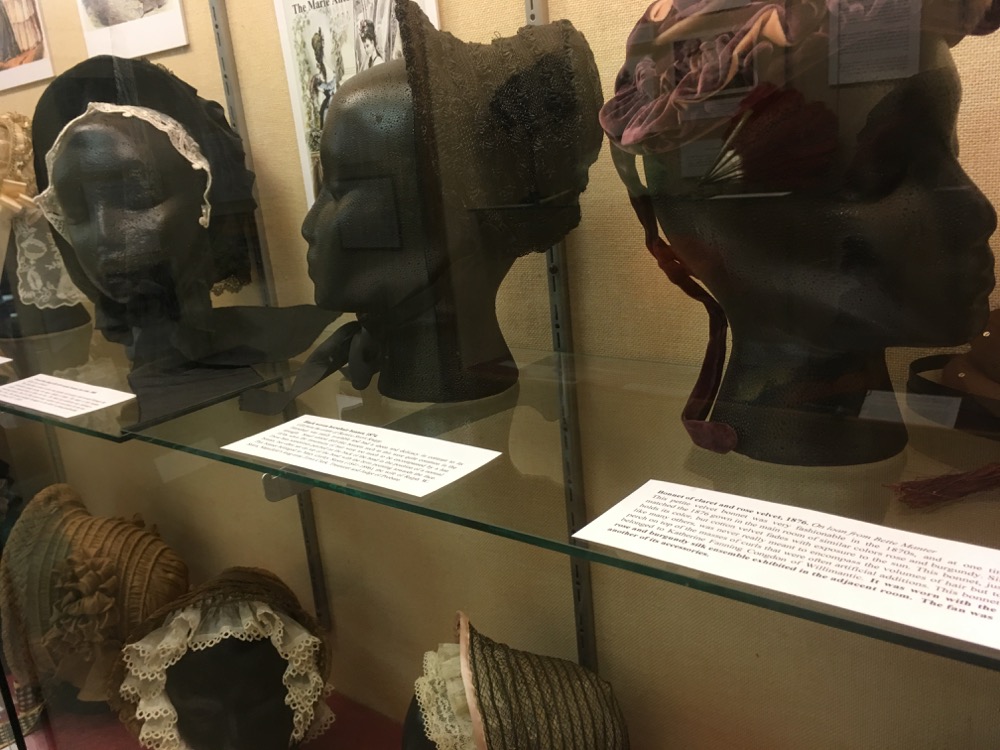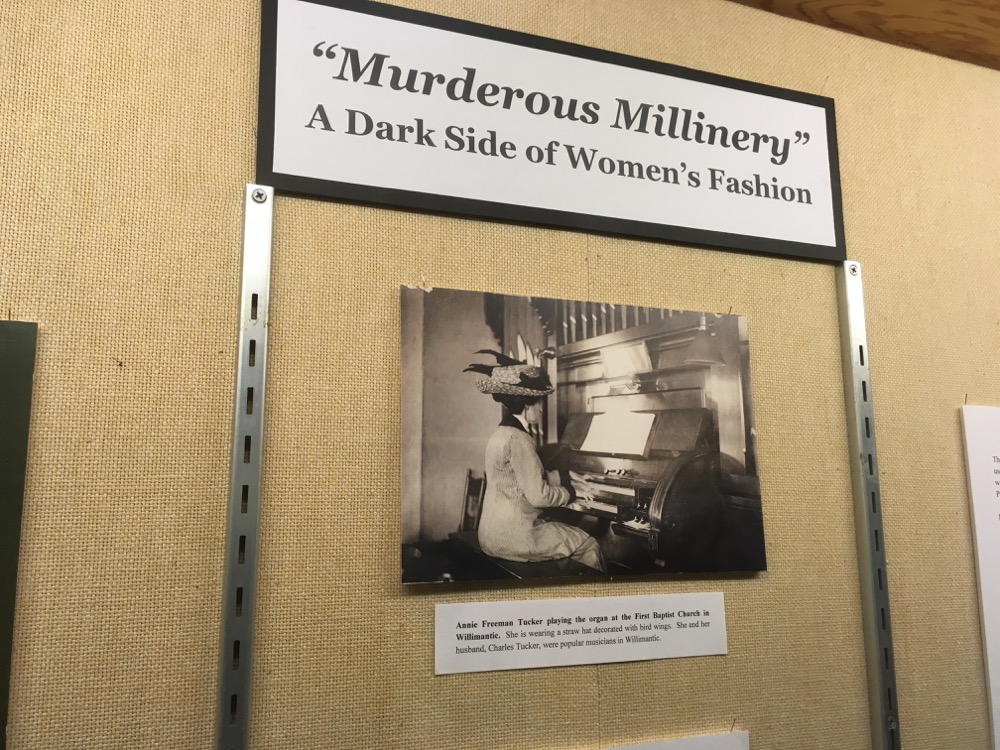 The protests and movement against this profligate killing of birds became the chief concern of the nascent Audubon Society, which incorporated in 1905 – and the snowy egret became its symbol because of these efforts against the plume trade and the millenaries that were exploiting it. Activists courted many famous women to join the fight and as a result, conservation groups were formed that exist to this day.
The whole thing was really well done, and I can only assume that future exhibitions on other topics were equally researched and presented.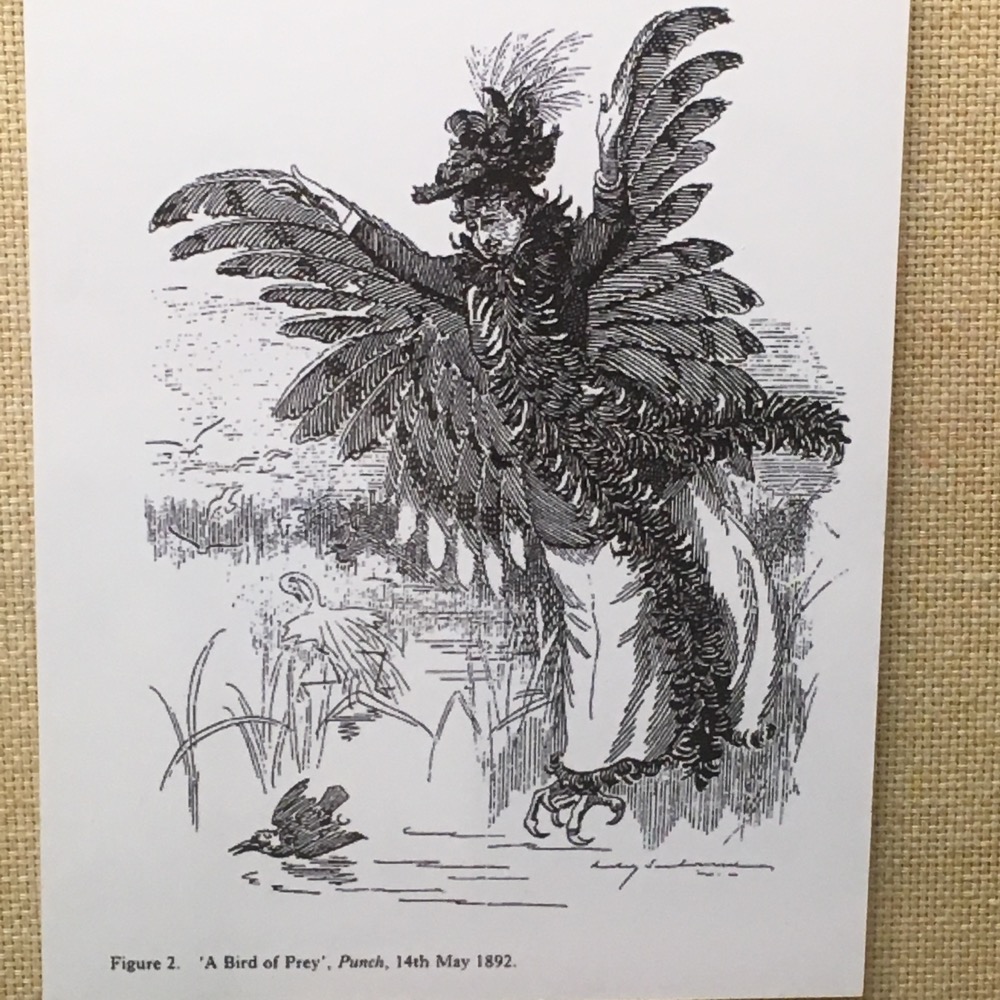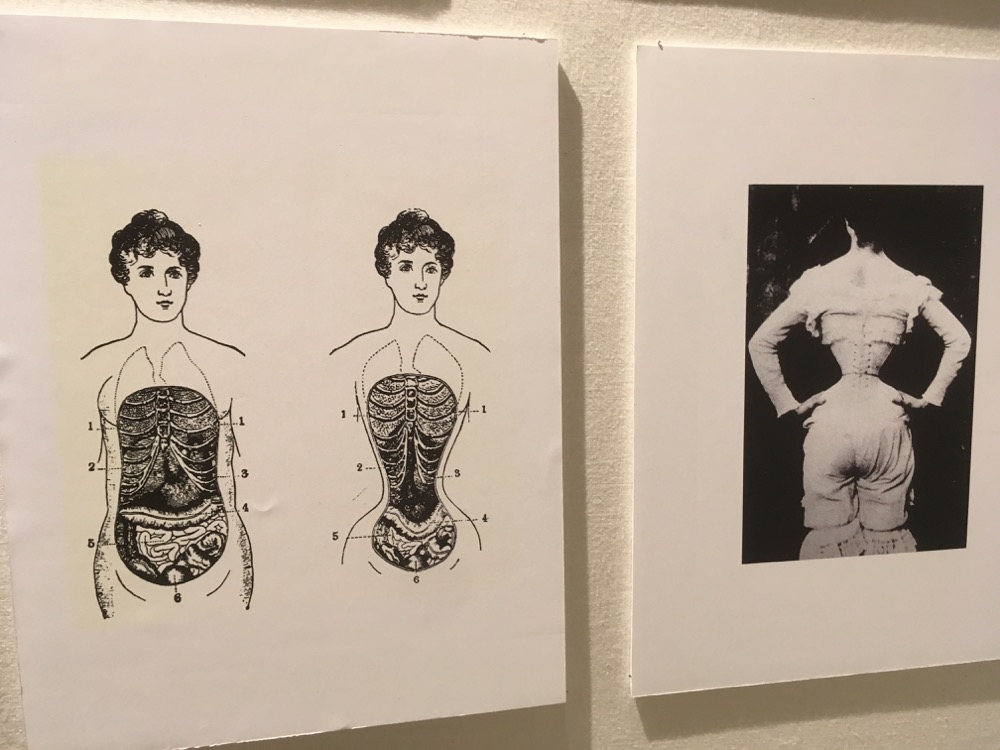 Once again I've been reminded, that no matter how many "little" or "boring" museums I visit on this multi-decade journey across Connecticut, there is a lot to learn and see – much of it entirely unexpected and fascinating.
Thanks Mansfield Historical Society!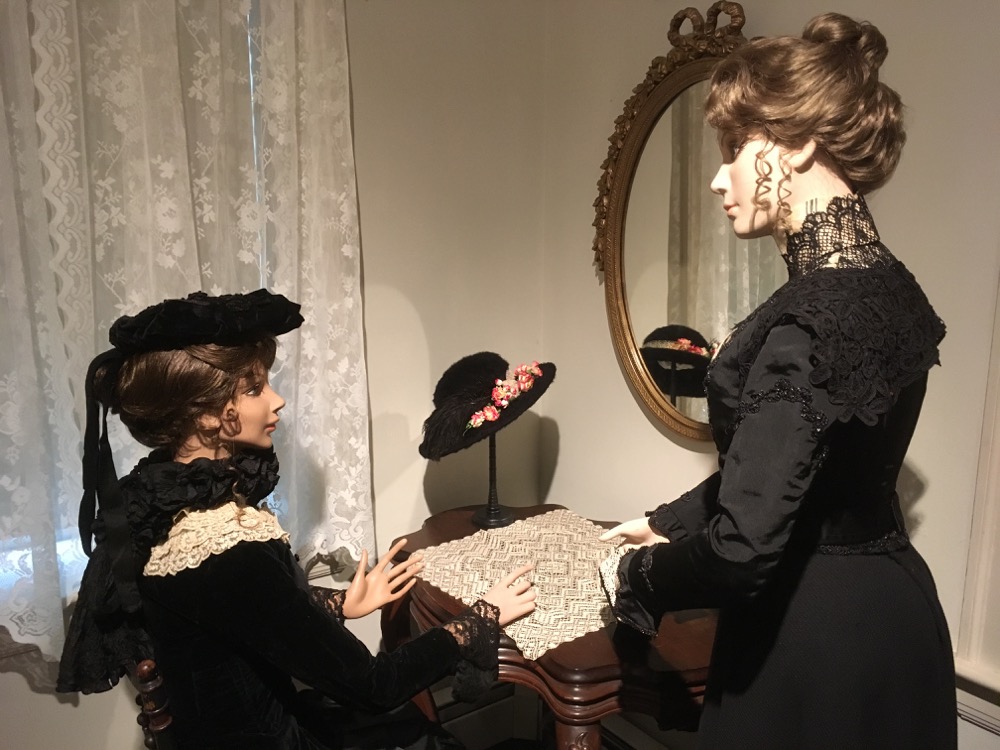 Mansfield Historical Society
CTMQ's Museum Visits