Everything Mansfield
I've been exploring and writing about Connecticut since 2006. After a decade, I began compiling CTMQ guides for each town in the state. I plan on "completing" Mansfield CTMQ-style… as well as the other 168 towns, cities, and boroughs in Connecticut. That is the ultimate goal of CTMQ.
If I've missed anything in town or if anything has closed or changed, please let me know.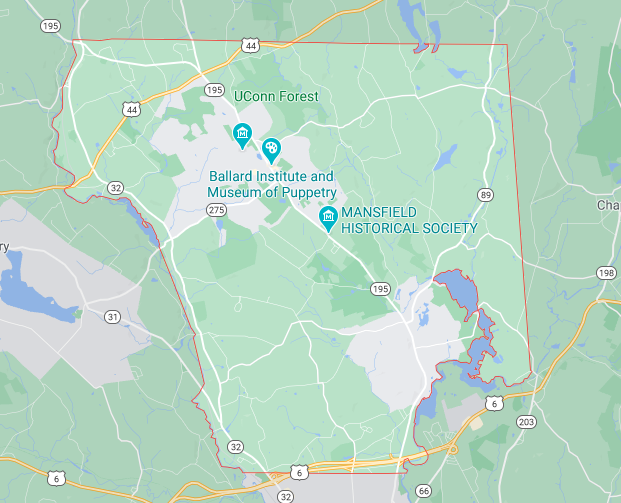 Museums
Atwood Farm Museum
Gurleyville Grist Mill
Mansfield Historical Society Museum
UConn
Ballard Institute and Museum of Puppetry
Brückner Periodic Table Mini-Museum
Connecticut State Museum of Natural History (Closed)
Dodd Center & Homer Babbidge Library Exhibits
UConn EEB Greenhouses & Collections
UConn EEB Collection of Preserved Specimens
Hellenic Museum & Macedonia Building
J. Robert Donnelly Husky Heritage Sports Museum
Jorgensen Gallery
Josephine A. Dolan Nursing Museum
Rettenmeyer Army Ant Guest Collection
Uconn Animal Barns
UConn Contemporary Art Gallery
UConn Observatory and Planetarium
UConn Public Art Collection
Wilbur Cross Gallery (Gone)
William Benton Museum of Art
Hikes & Paddles
Mansfield Hollow State Park & Wildlife Area – Intro
CFPA's Nipmuck Trail – Intro
Joshua's Trust Trails – Intro
The Atwood Farm
Bradley-Buchanan Woods
Church Farm Preserve
Coney Rock/Proposal Rock Preserve
Dorothy Goodwin Reserve
Dunham Woods
Gurleyville Gristmill and Barn (Museum)
Harriet E. Babcock Preserve
Holt-Kinney Woods
Knowlton Hill Preserve
Löf Woodlands
Owen's Mere
Pond Lot
Whetten Woods
Wolf Rock Nature Preserve
Willimantic River Alliance Trails – Intro
"Their" Mansfield trails are all listed below.
Mansfield's Town Trails – Intro
Commonfields
Coney Rock Preserve
Dorwart Preserve/Lions Memorial Park
Dunhamtown Forest
Eagleville Preserve
Echo Woods Beach & Echo Woods
Fifty-Foot Cliff Preserve
Lynch Landing
Merrow Meadow Park
Moss Sanctuary
Mt. Hope Park
Proposal Rock/Coney Rock
River Park
Sawmill Brook Preserve
Schoolhouse Brook Park
Shelter Falls Park
Simpson-Wood Preserve
Southworth Preserve
Spring Manor Farm
Torrey Preserve
UConn Hillside Environmental Education Park
UConn Forest – Fenton Tract
Water Trails
Shetucket River Water Trail
Willimantic River Water Trail
Food & Drink
CT Cheese Trail: Stearns Farm
CT Cheese Trail: UConn Dairy Bar
CT Ice Cream Trail: Farmer's Cow Calfé & Creamery
CT Ice Cream Trail: Red Barn Creamery
CT Ice Cream Trail: UConn Dairy Bar
Looking for your favorite restaurant? Here is an explanation as to why it's not here.
Everything Else
US Only: Greek Orthodox Chapel on an American State University Campus
US First: Silk Mill
CT Art Trail: William Benton Museum of Art
The Corpse Flower
Codfish Falls
Mansfield Hollow Cascades
Shelter Falls
The Little Stone House
Mansfield Hollow Dam
Alexander the Great Theatre
AntU Day at UConn
UConn Huskies game at Gampel
UConn Men's Soccer while #1
Mansfield Drive-In
The Adventure Park at Storrs
UConn Basketball Book Collection
Brush with Fame: Jim Calhoun
Mansfield Wrap-Up
Completion Celebration at TBD