Ice Cream with Calfvin
Farmer's Cow Calfé & Creamery, Mansfield
March 2021
Just another typical 75-degree March day in Connecticut. After some hiking up in Chaplin, I rewarded my son with some ice cream. That's just how these outings have to work sometimes. Fortunately, there's often a new-to-me homemade ice cream joint to check off the list.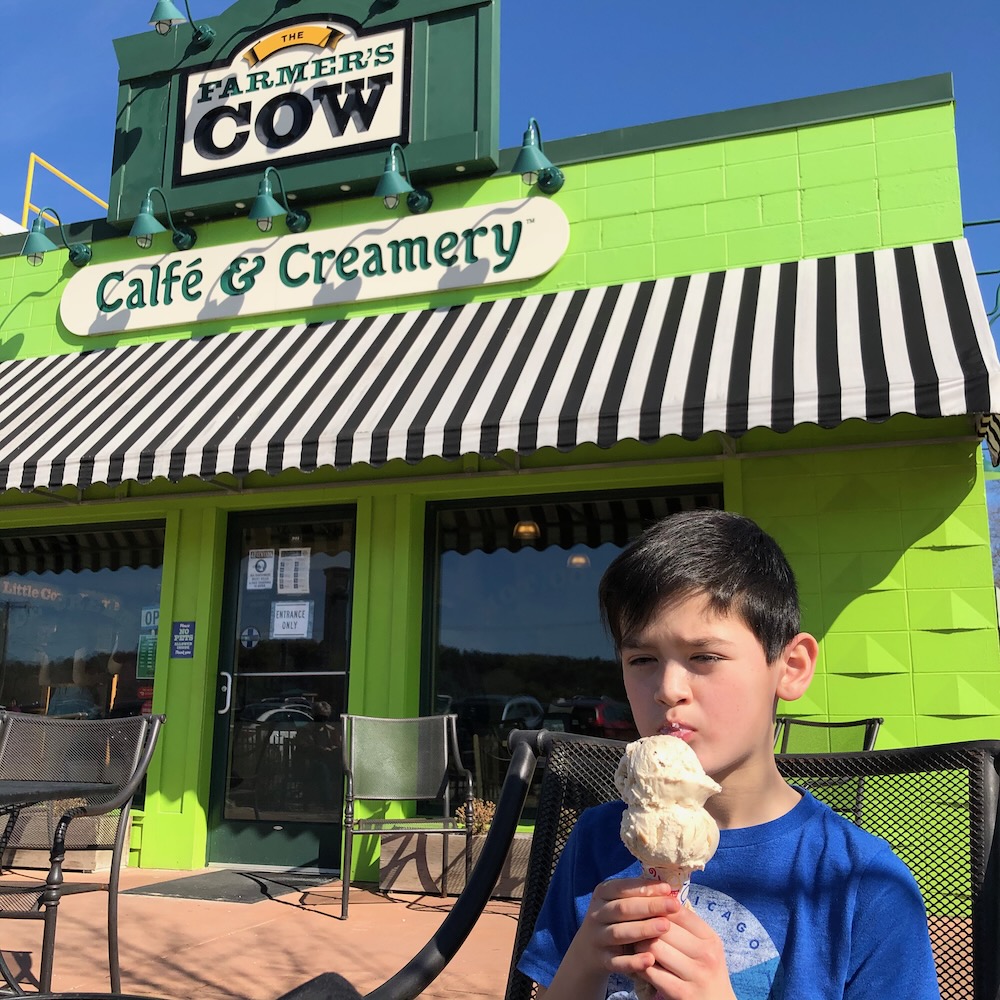 We've had lots of great Farmer's Cow experiences over the years. The various farms that make up the grassroots collective have (had?) some pretty cool "open farm" days that we traipsed all over the state to attend when the boys were young – or not even yet born in some cases.
You can purchase Farmer's Cow milk and ice cream at various stores around the state, but in 2012 they entered the world of brick and mortar in Mansfield across from the legendary East Brook Mall just off of Route 6 near the Windham line. I won't quibble too much with the "Calfé" in the name, and just go on record as saying it's really dumb…
…I could buy it if it was "Farmer's Calfé & Creamery" but with Cow and the play on calf following each other, it makes no sense. Okay, apparently this is more than a minor quibble with me. Let it go, Wood, let it go.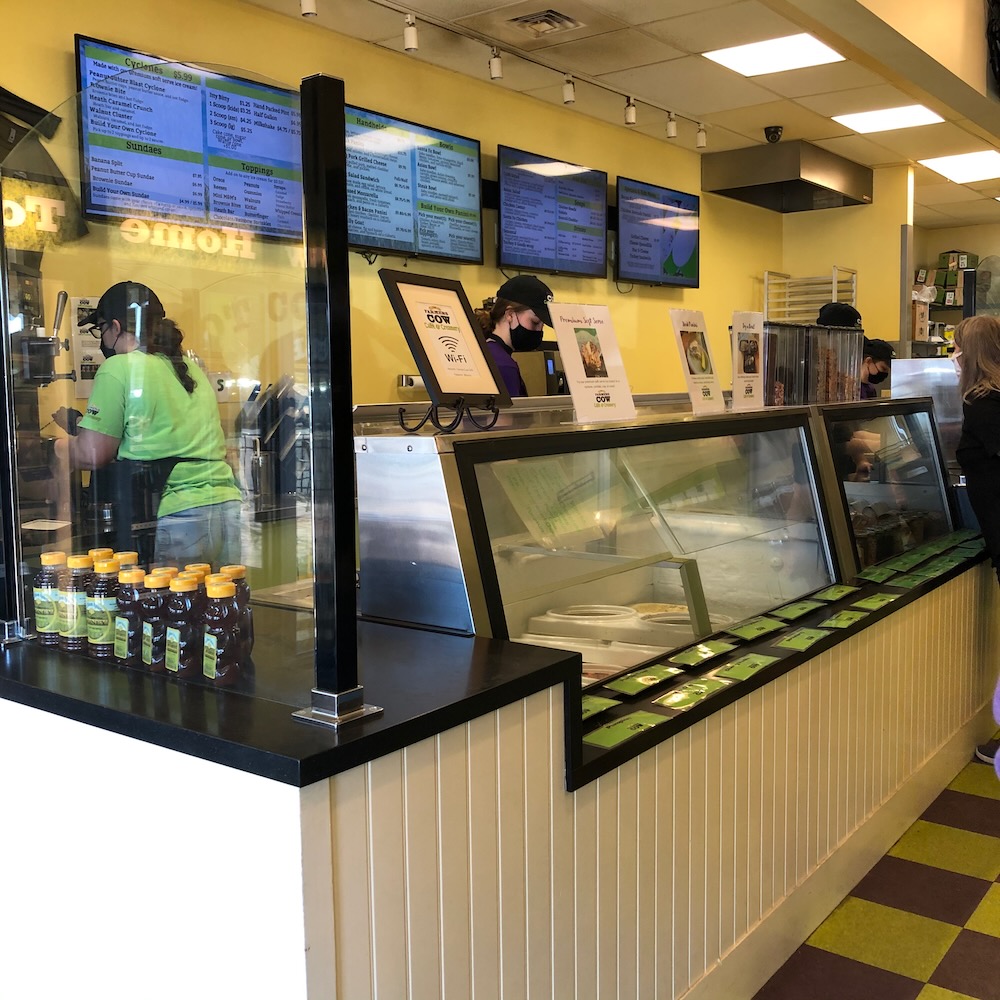 Calvin… or should I say "Calfvin"… I said let it go! Calvin and I partook in the cafe portion of the menu first and – actually, no. Only I did that. Calvin just had a massive serving of ice cream for lunch. He'd just hiked maybe 10 or 12 total miles so I'll allow it.
The seating area is pretty tight here, but I imagine half of their business is takeout. And during warmer days, most people opt for the ample outdoor seating area. Everything is cow-centric as far as the décor an it's all very cutesy.
My sandwich was really not very good, and it took forever. I'll chalk it up to the pandemic and the fact that if you're going to a Farmer's Cow establishment for anything but ice cream, that's on you. Or in this case, on me. Calvin proved the smarter of the two of us.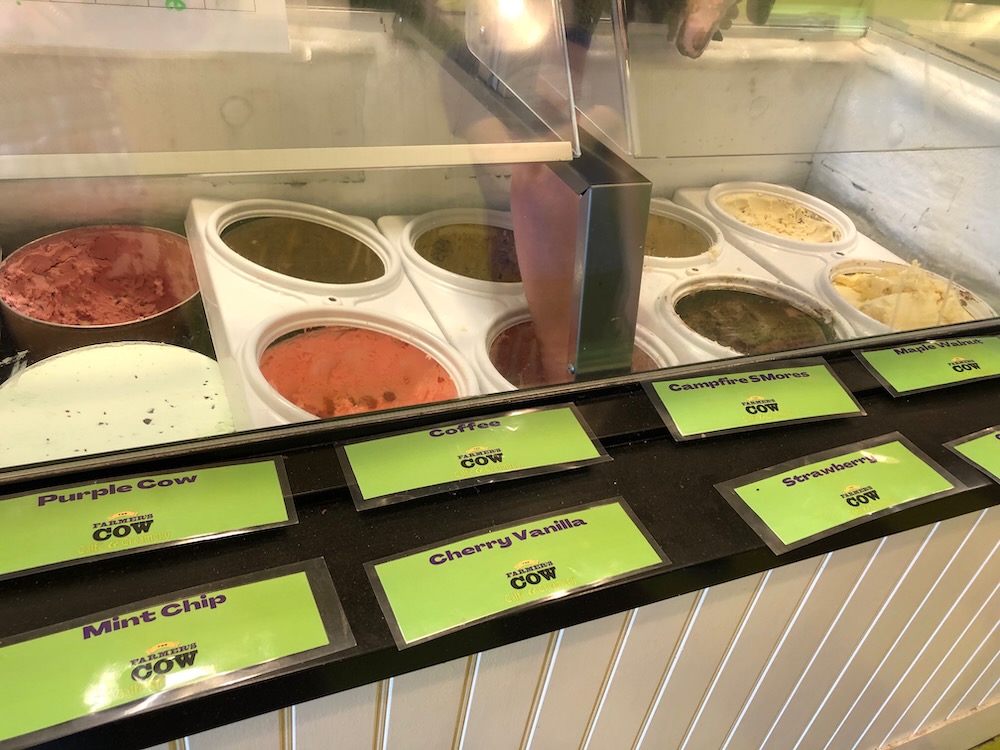 He got a medium cookie dough cone and I had a kiddie cup of mint chocolate chip. Since most of us are familiar with Farmer's Cow ice cream, let's learn a little bit about this whole business model and their future plans.
In 2003, six Connecticut, family-owned dairy farms started The Farmer's Cow to bring our products to the public, to educate people about local farming and to ensure farmland preservation. Although we host farm tours each year, we needed a place for people to visit us everyday! So we decided to open a café. But, it couldn't just be a café, we're dairy farmers, it needed to be a Calfé.
Farmers love their commas, tortured syntax, and nonsensical puns. But again… who cares about their sandwiches and writing abilities. We only care about their dairy products. The collective also sells locally-sourced eggs, apple cider, lemonades, and locally roasted coffee. The Calfé apparently has what they call their "milk bar" which features a rotating menu of flavored milks. Furthermore, they offer various flavored whipped creams as well. I do not know why these things exist, but they do.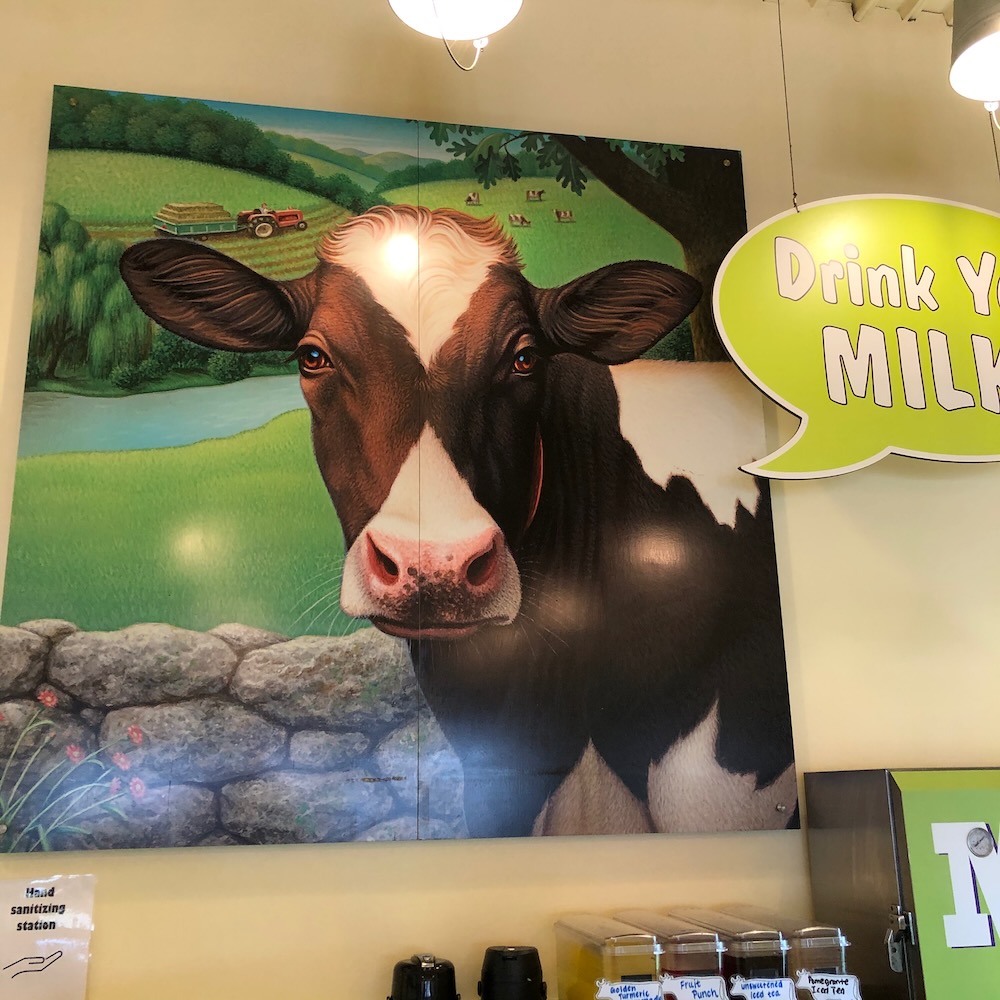 I plowed through half of my wrap while Calvin set to work on his massive "medium." His cone was priced only one dollar more than my kiddie cup, but he got double the ice cream. The child did not complain.
Farmer's Cow has been doing their thing for a couple decades now and with the success of this one storefront, they're looking to expand. In 2022, they're eyeing properties in Waterford and Avon for two more Calfés. And that's great. I get a little scared for them though when I read things like:
And though The Farmer's Cow is currently focused on getting the Avon and Waterford locations off the ground, its staff has plans to expand further throughout the state — from Glastonbury, Simsbury and Newington to parts of Fairfield County. In the future, the restaurant hopes to expand with locations all over New England and further out west.
Dear Farmer's Cow: please do this slowly and smartly. Please. I like you, I really do. I love supporting local dairy farming and know that it's a tough, tough business these days. Your products are great, the people I've met through the Open Farm Days have been wonderful. But when you're crowdsourcing for an Avon location, let's chill with the out of state expansion talk.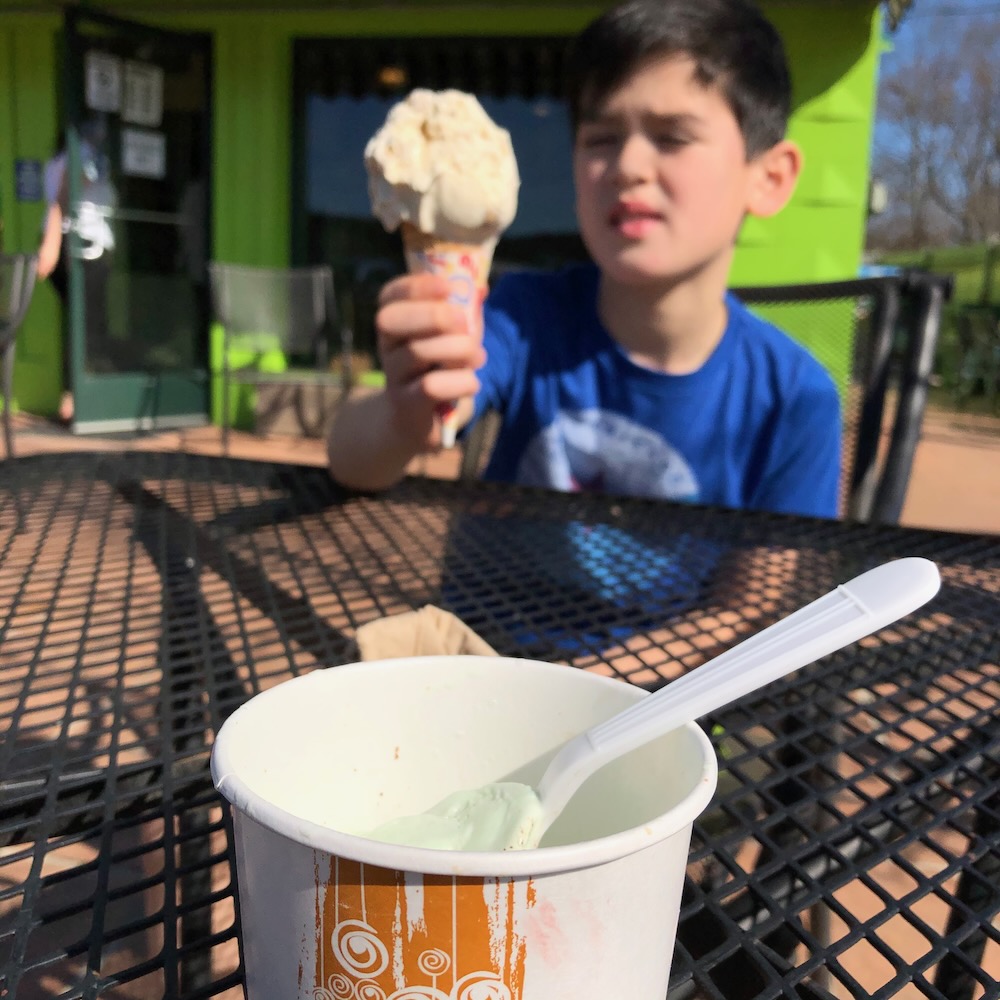 Or, perhaps, ignore me. I don't have an MBA and know nothing about such things beyond watching small Connecticut restaurants expand too quickly and fail. I don't want Farmer's Cow to fail.
Calvin and I finished up our ice creams and hit the road. Farmer's Cow ice cream is always good, though it's not quite at the level of the nearby UConn Dairy Bar or The Red Barn, both also in Mansfield but both in very different parts of the town.
Good luck, Farmer's Cow. Moo.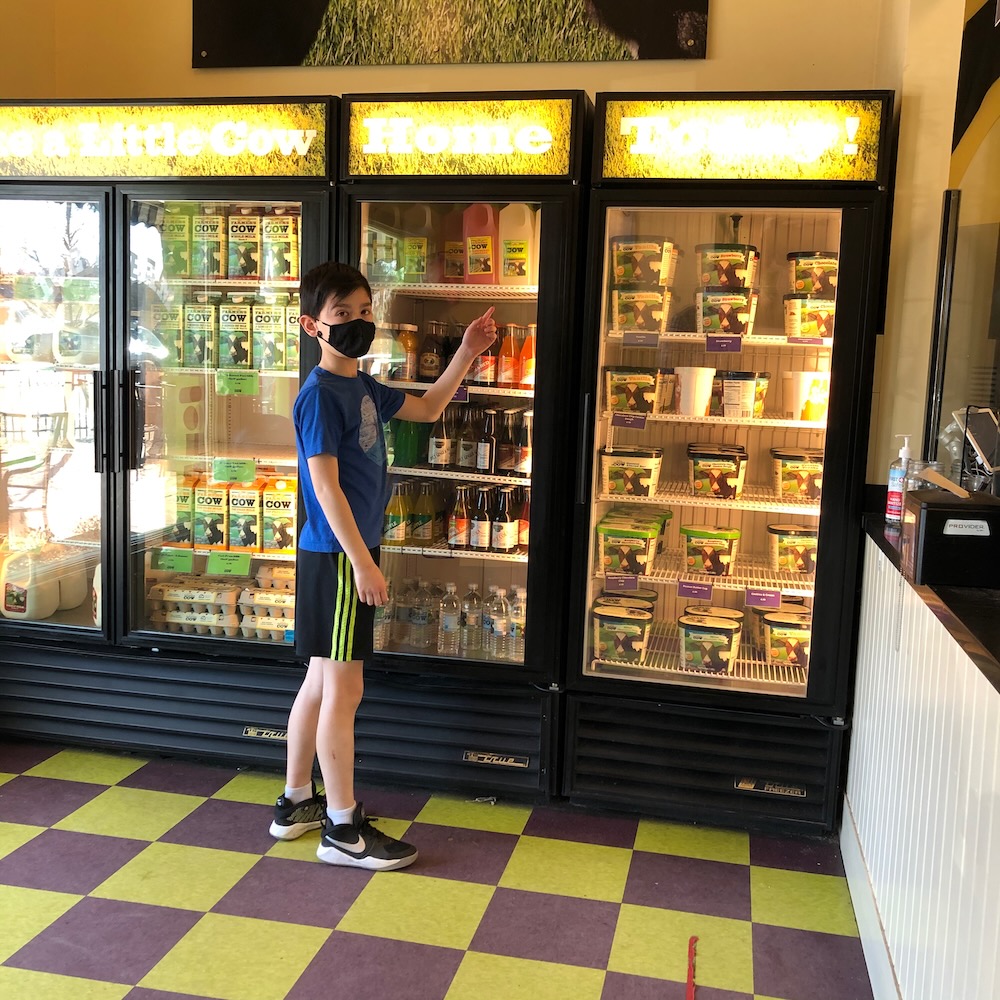 Farmer's Cow Calfé & Creamery
CTMQ's Homemade Ice Cream Trail