Trees, Glorious Trees!
National Champion Trees of Connecticut
Go straight to the National Champions
I first put this page together in 2010 and since then I've learned a lot about this National Champion tree thing works. The lists are constantly in flux. Tree lovers from all over the country never stop measuring and checking up on their particular champions. Trees die or suffer storm damage, or, in the case of Connecticut's former National Champion Texas Redbud pictured here, dug up and thrown away.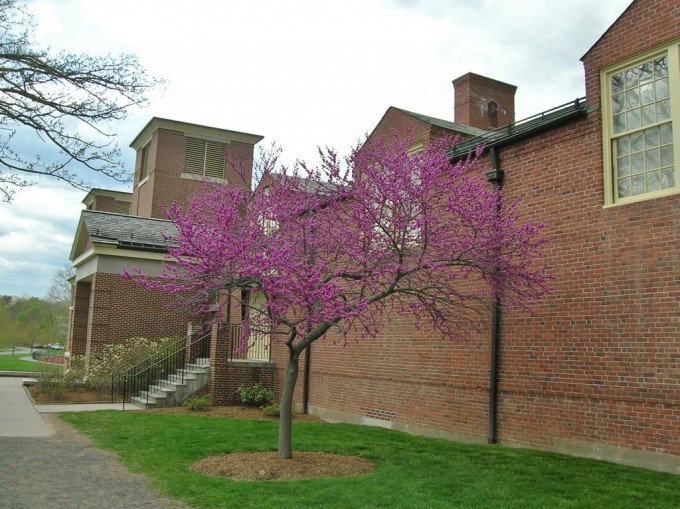 The Halloween ice storm of 2011 in north central Connecticut wiped out a few champions. Champions are often old and prone to disease and death. And through it all the folks at Connecticut Notable Trees keep plugging along, week in and week out. Men like Glenn Dreyer, Frank Kaputa, and Ed Richardson who passed away in 2019.
Their list of Connecticut Notable Trees is massive, and also tracks all Connecticut State Champion trees. Interestingly, our largest tree, the Pinchot Sycamore in Simsbury, is not a National Champion. I'll revisit the list below every so often, but it's one of the most changeable lists on the entirely of CTMQ. Exact locations of those on private property are not generally advertised.

So, UConn basketball, Trinity Squash and… the following trees. National Champions all.
Current National Champions
Umbrella Magnolia, Branford
Black Oak, East Granby
European Larch, Greenwich
Red Maple, Guilford
Sugar Maple, Lyme
Oneseed Hawthorn, Old Saybrook
Norway Spruce, Salisbury
Northern Bayberry, Westport
American Smoketree, Windham
Bear Oak, Windsor
Former National Champions
If still alive, several of these may become champions again so I will try to visit. If dead and never visited, they don't appear on my list.
Poison Sumac, Glastonbury
Serviceberry, Glastonbury
Striped Maple, Glastonbury (Dead)
Paper Birch, Hartford (Dead)
Pawpaw, Hartford
Noble Fir, Pomfret
Sugar Maple, Stamford
Hardy Orange, Stonington
Texas Redbud, Windsor (Dead)

CT's Notable Trees Project
CTMQ's Trees, Arboretums, & Pinetums