Ratchet Rachel
Rachel, Rachel, 1968
I really didn't expect this to be such a weird movie.
It's a pretty weird movie. But it was nominated for a Best Picture Oscar, so once again I'm forced to admit I don't know much about film-making or movies in general. It was a small budget independent film; a rarity for a "real" movie in the 1960's. Of course, there were some rather huge names attached to it…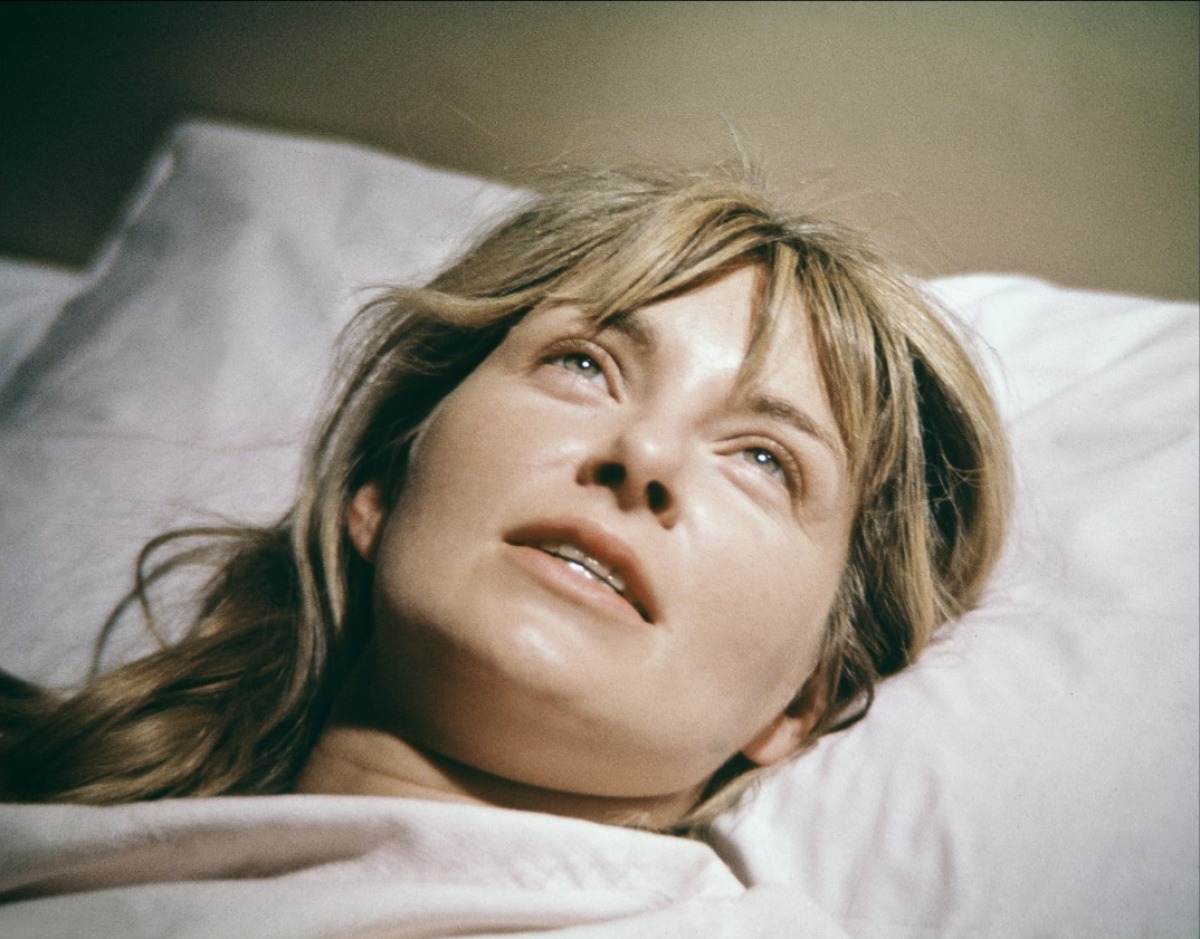 The biggest "thing" with Rachel, Rachel is that it marked Paul Newman's directorial debut – and starred his wife Joanne Woodward. She was fantastic. As for his directing? I dunno… it was okay I guess?
The biggest "thing" with Rachel, Rachel for CTMQ purposes is that it was filmed entirely in southwest Connecticut. For much of the summer of filming, Newman and Woodward were regulars in and around Danbury. Outside of the city, sets were built and scenes were filmed at Grassy Plain School in Bethel, at the Bouton Funeral Home in the Georgetown section of Wilton, on Main Street in the Redding section of Georgetown, and at Danbury Hospital.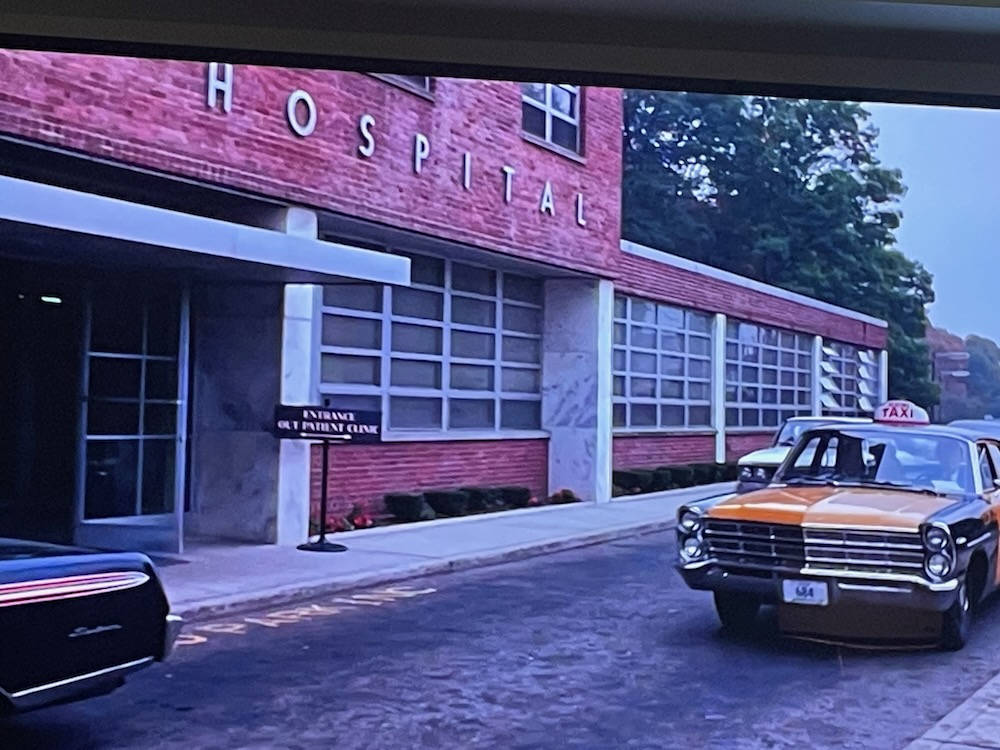 (Reminder that Georgetown is the most ridiculous fake Connecticut town, as it includes parts of four towns. True story: In the Ridgefield section of Georgetown there exists Branchville. So yeah, Branchville is a section of Georgetown which is a fake town that has a part of it in Ridgefield. Connecticut is fun.)
Rachel is a coming of age film, but the protagonist is 35. I guess, in a sense, I can identify more with a 35 year old woman "coming of age" than a 15 year old girl these days, but perhaps the fact that I can't really identify with her issues was part of my problem. And Newman's.
The summer after playing Cool Hand Luke and a year before becoming Butch Cassidy, Newman directed this film. This movie is nothing like those he was associated with at the time; a sensitive drama about the belated sexual awakening of a small-town schoolteacher. What a cool way to spend time with your wife I guess. Woodward had been absent from the screen for several years as she was raising their children. Filming in their backyard in Fairfield County was the solution to everything – at least one of their children was in the movie. Smart.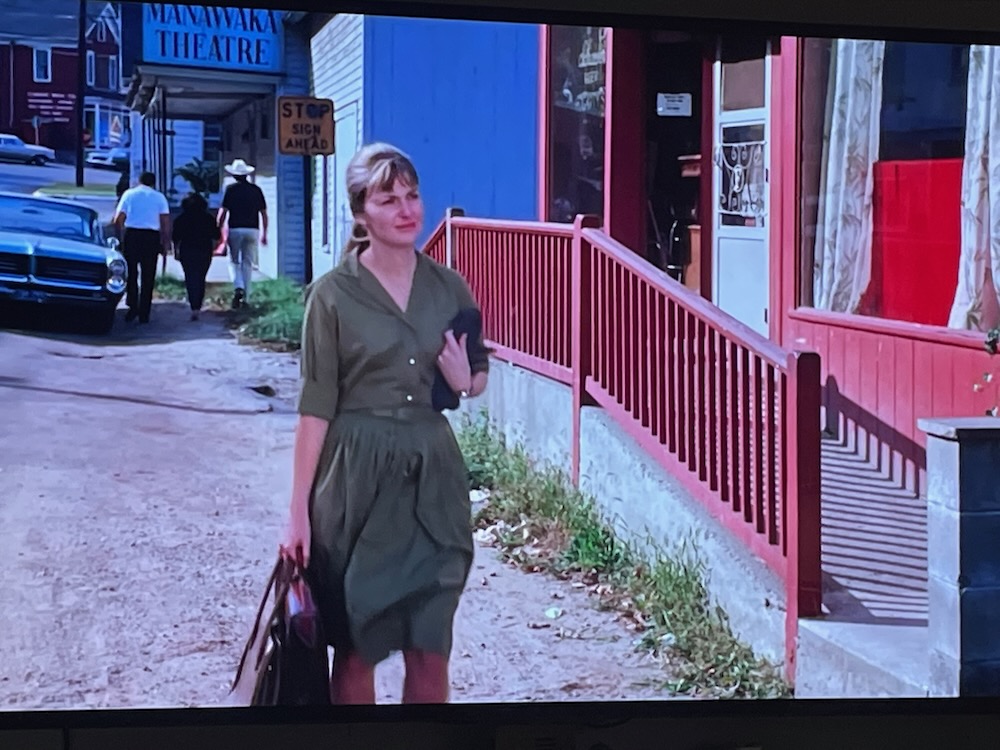 And Joanne Woodward could act. She'd won a Best Actress Oscar a decade earlier. And Newman did go to Yale for film directing. So they made this movie that no one else wanted to make.
Rachel's life is depressing. She is on the cusp of spinsterhood; living with her overbearing and infirm mother, teaching rugrats at the local school, and a virgin with no prospects. She lived next to a funeral home and was maid, chef, and hostess to an old lady bridge club every week. She appears to have only one friend and no real goals in life.
On the face of things, she's doing alright. Pretty and well-liked as a teacher, everyone just seems to accept her lot in life. Except her inner dialog tells us otherwise – loudly and often. It jarring and disturbing and depressing.
There are flashbacks to Rachel's childhood; same house, same mother, long-dead father. There are 1960's psychedelic fantasy sequences with extreme close-ups and swirly camera angles that are as dumb as they are unnecessary.
She's a good teacher and people enjoy her company, especially her classroom colleague Calla and her stupid parrots – the the creeper principal. Newman loved extreme close-ups of his wife. Which is sweet in a way, of course, but dude… chill. The absolute best part of Rachel is when Calla, a Jesus Freak, finally convinces her to come to one of her Jesus Freak revival meetings.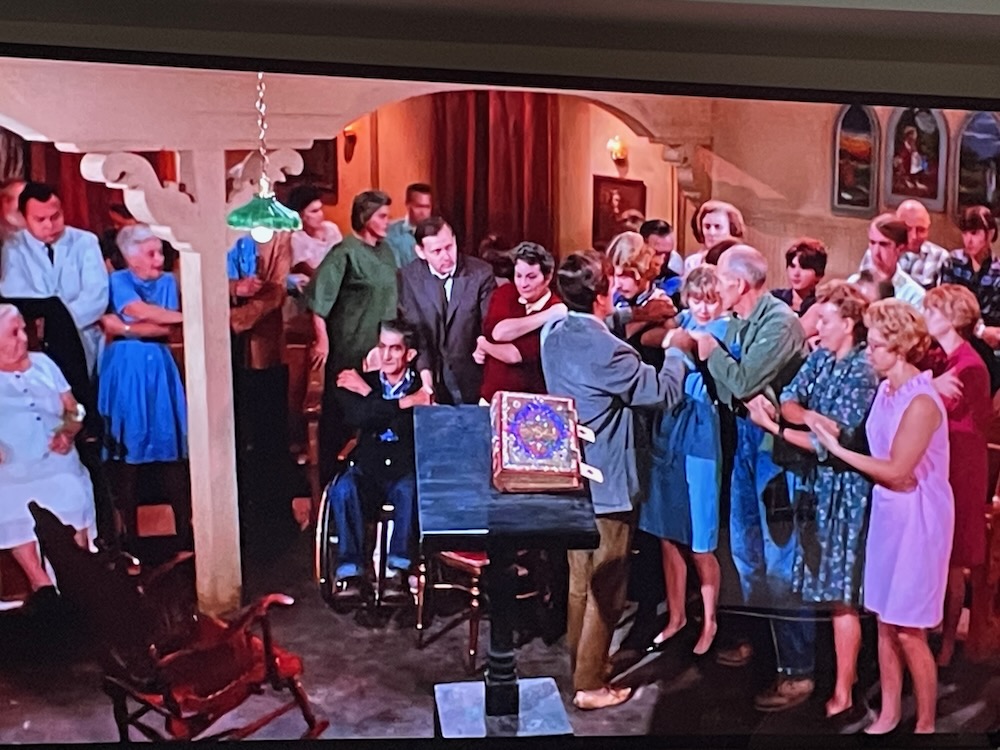 I have no idea if these types of things happened in artsy liberal Fairfield County in 1968, but if so… wow. Part acid-trip, part Tennessee tent revival, it was so odd and out of place I can't properly describe it. Rachel freaked out just as I would have and seemed to have a bit of a mental break. Then her schoolteacher friend tried to make out with her.
I don't know why any of this happened, other than to tell us her single teacher friend was filling her lonliness with trippy Hippie Jesus and suppressed lesbian fantasies.
Meanwhile, Rachel was courted by a guy from her high school who was visiting his parents. He straight up told her he just wanted to "get some action" and nothing more, but she wasn't understanding. Rachel wanted love, children, and a husband.
Rachel falls into a brief affair with him. He's a beery, loutish jerk, waving all sorts of red flags to which our naïve schoolteacher is heartbreakingly oblivious. They go on a date, a pretext for him to take Rachel's virginity and nothing more. Ten minutes after that happens, she's straight up telling him that she loves him and wants a child.
Annnnnnd with that, he's gone from town.
Oh, Rachel. There's a whole thing where she "knows" she's pregnant but is not. But she does have a cyst that is removed without incident – other than her mother being awful about the whole thing.
In the end, Rachel leaves town for Oregon. With her reluctant mother. She has no plan, no goal, nothing. In fact, her inner-voice narrates, "what will happen will happen." It's ambiguous, woozy, and unrepentant. She is highly aware of her loneliness and alienation, but Rachel seems happy with her decision and I guess we're to be happy for her. She found and lost Hippie Jesus, got kissed by a girl, lost her virginity, helped a neglected student heal, and had a cyst removed.
In real life Woodward got a proper nomination for Best Actress that year (but lost to fellow Connecticut resident Katherine Hepburn, who starred in the infinitely better The Lion in Winter that year). Racchel, Rachel is an interesting, well-acted movie this is just too dated and unrelatable for me in 2023.
CTMQ Rating: 3 out of 5 thumbs up
Connecticutness: 168 out of 169 Nutmegs
Filmed in Connecticut? Yes
Wealthy Caucasian with a Big House? Not really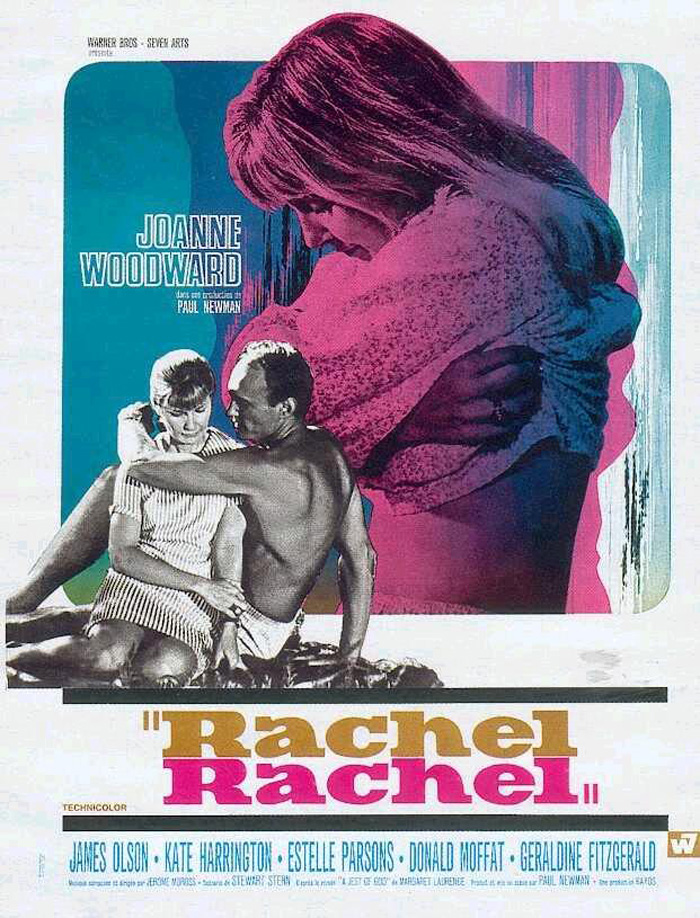 Connecticut Movies
The CTMQ Oscar Project