Everything Ridgefield
I've been exploring and writing about Connecticut since 2006. After a decade, I began compiling CTMQ guides for each town in the state. I plan on "completing" Ridgefield CTMQ-style… as well as the other 168 towns, cities, and boroughs in Connecticut. After all, that is the ultimate goal of CTMQ.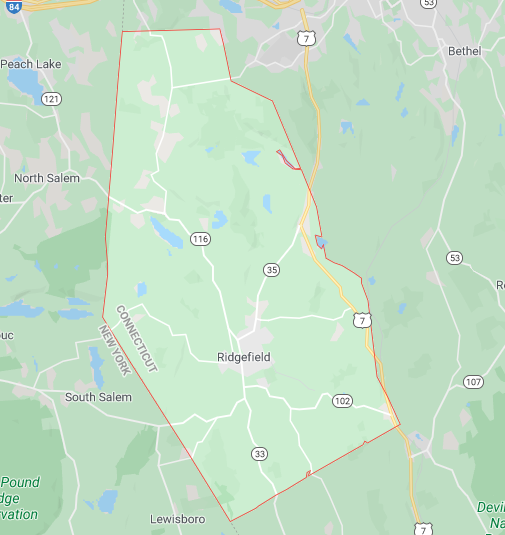 What do you know about Martha Stewart's favorite Connecticut town? You can scroll down for my list of things to do in town. Or, as always, you can click on the town's tag to see what I've done.
If I've missed anything in town or if anything has closed or changed, please let me know.

Museums
Aldrich Museum of Contemporary Art
David Scott House
The Discovery Center at Ridgefield
Keeler Tavern Museum
Kouros Sculpture Center
Museum in the Streets
Peter Parley Schoolhouse
Ridgefield Guild of Artists Galleries
Ridgefield Museum of Military Artifacts (Closed)
Town Hall History Exhibits
Weir Farm National Historical Park
Hikes & Bikes
The Ives Trail (Ridgefield Section)
Bennett's Pond State Park
Seth Low Pierrepont State Park Reserve
Weir Farm National Historic Site Trails
Woodcock Nature Center Trails
Ridgefield Conservation Commission and Other Town Trails – Intro
Hemlock Hills & Lake Windwing
Pine Mountain Reserve
Peterson Gorge/Ridgebury Slope
Kiah's Brook Refuge/Titicus Preserve
Sarah Bishop
Levy Park
Barrack Hill Refuge
Bobby's Court/Topstone Preserve
Willow Court/John Soluri Preserve
Mar-Joy Pond/Casey Lane
West Mountain (Reed, McManus, & Wetlands sections)
Blacksmith Ridge
Colonial Heights Refuge
Florida Refuge
Remington Woods
Laurelwood/Great Pond
Old Stagecoach/Ledges
Brewster Farm
Shadow Lake/Albert M. Baker, Jr. Reserve
Old Sib
McKeon Farm
Liebowitz-Knapp Sanctuary
Nod Hill Refuge
Berthier Equestrian Trail
Peaceable Refuge
East Ridge Preserve
The Knolls
Spectacle Swamp/Silvermine Ridge
Whitbeck Preserve
Jill's Trail
Prospect Ridge Recreation Area
Turner Hill/Ridgebury Farms Trail
Aldrich Park
Recreation Center
Richardson Park
Sturges Park
Norwalk River Watershed Association Trails
Norwalk River Environmental Study Area
More TBD
Multi-Use/Rail Trails
Ridgefield Rail Trail
Food & Drink
Homemade Ice Cream: Ridgefield Ice Cream Shop
Homemade Ice Cream: Deborah Ann's Sweet Shoppe
CT Chocolate Trail: Deborah Ann's Sweet Shoppe
Roadfood List: Hotdog at Chez Lenard
Roadfood List: Pancakes at Gail's (Sort of)
Nod Hill Brewery
Looking for your favorite restaurant? Here is an explanation as to why it's not here.
Everything Else
National Historic Landmark: Frederic Remington House
National Historic Site: Weir Farm
Washington-Rochambeau Revolutionary Route National Historic Trail – Intro
WR3 NHT Campsite
CT Art Trail: Weir Farm
CT Art Trail: Aldrich Contemporary Museum of Art
The Great Swamp
One Hump Farm
Garden of Ideas (Closed)
Whipstick to Nod to Whipstick to Nod Hill Roads
Settler's Rock
Prospector Theater
The Lifeguard (2013)
Book: Lost in Place, by Mark Salzman
Completion Celebration Meal & Ridgefield Wrap-Up
TBD