Damian Sat Down Be-Cider and Drank
The Old Cider Mill, Glastonbury
October 18, 2008
I wondered whether this was a CTMQ-worthy site for a day and then hesitantly decided it was. Information on not-so-creatively named The Old Cider Mill is lacking. There's this, from the Glastonbury town website:
The oldest continuously operating Cider Mill in the United States is located right here in Glastonbury. The property, which is leased to local farmers, continues to be used for agriculture. Crops, include apples, peaches, berries, green peppers, tomatoes, asparagus, and many others. The Cider Mill is open seasonally, August-October and serves as a farmers market featuring a bountiful delegation of locally grown organic fruits and vegetables. Hay rides and a petting zoo are generally available after Labor Day.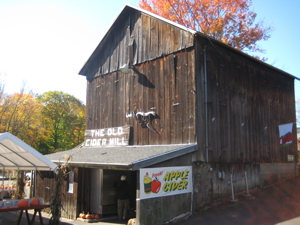 The "oldest continuously operating Cider Mill" in these YU-Nited States? I'm intrigued. A Google search does not do harm to this claim – there are several other old cider mills but always with qualifiers such as "West of the Mississippi" or, "in Michigan."
Also, right here in Connecticut (down in Mystic) is B.F. Clyde's Cider Mill – only the oldest continuous producer of hard cider in America. It's also the only remaining steam-powered cider mill in the United States, and a registered National Historic Landmark. That place is obviously CTMQ-worthy. (CTMQ Visit here – where I learned I don't hate all hard cider.) But what about this place in Glastonbury?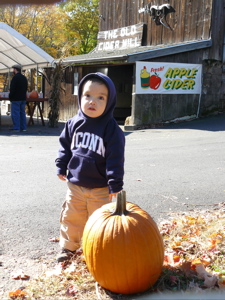 For no particular reason, I enjoyed this blurb from a realtor's site trying to get people interested in buying a home in the town:
Quintessential New England grace distinguishes Glastonbury, situated on the eastern border of the Connecticut River in central Connecticut, just nine miles southeast of Hartford, the state Capitol. For all its near proximity to the urban sophistication, Glastonbury is a
quietly historic haven that was founded in 1693. The broad Main Street's gracious homes and classic Town Green vividly evoke the past; The Old Cider Mill, circa the early 1800's and the most antique mill, is still pressing delicious refreshments; the Glastonbury- Rocky Hill Ferry, the oldest continually operating ferry in the country, has been bringing inhabitants over the water since 1655.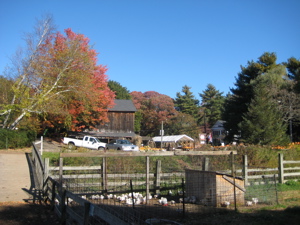 I want to edit the heck out of that paragraph, but the spirit is solid.
It really is a pretty town – full of orchards and old winding country lanes. But I'm stalling – what's the deal with the Old Cider Mill? It's old – really old – and that's about all I could gather. I did talk to one of the proprietors who told me it was no longer operational commercially because it didn't comply with current health codes. But it does, indeed, still work.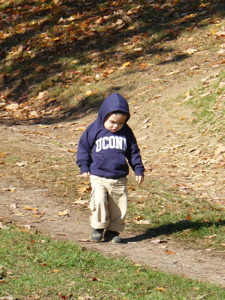 They did sell cider there, with local apples, but it was pressed elsewhere. They also sell delicious apple fritters (at $2.75 for six, the cheapest half dozen of the many places in town that make and sell them. For the record, Damian ate four of them.) There are some very nice cows and goats and chickens and horses to check out as well.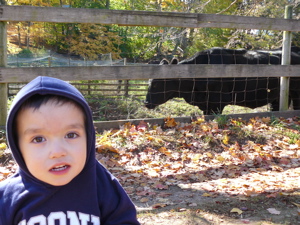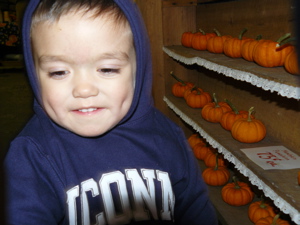 Also, all the animals and food they sell is 100% organic and humane and all that good stuff. Damian had a grand old time wondering about. Do what we did and combine a trip here with one to Riverview Farms a short ways away with your toddler for a great fall day in central Connecticut.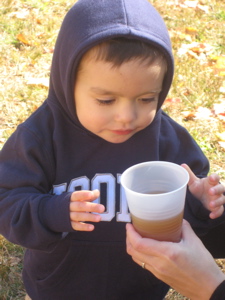 I was given permission to step into the room with the actual old cider mill and take a picture. So here it is friends, the oldest cider mill in the country (that still works but isn't allowed to make commercial cider anymore because it's not entirely sanitary):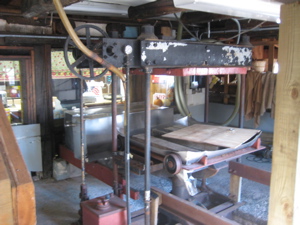 The Old Cider Mill
CTMQ's Firsts, Onlies, Oldests, Largests, Longests, Mosts, Smallests, & Bests