Washington-Rochambeau Revolutionary Route National Historic Trail Sites
Andover
The Washington-Rochambeau Revolutionary Route (W3R) is a National Historic Trail that commemorates the allied French and Continental armies during the American War of Independence, and the hundreds of miles travelled to, and from, the victorious Siege of Yorktown in 1781 and 1782.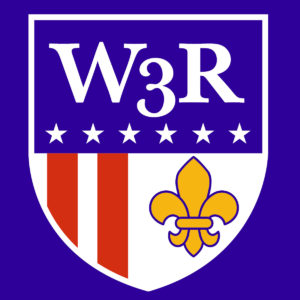 Daniel White Tavern
130 Hutchinson Road (Old State Rte. 6)
For those thousands of you who will be following the WR3 National Historic Trail, just know that the Bolton and Andover stops get a little confusing. I mean, clearly you'll be able to tell one Andover grassy field from the Bolton one, but I'm just giving your fair warning just in case.
And the two old red colonials look very similar too. This here is the Daniel White Tavern and it's in Andover… right on the border with Bolton.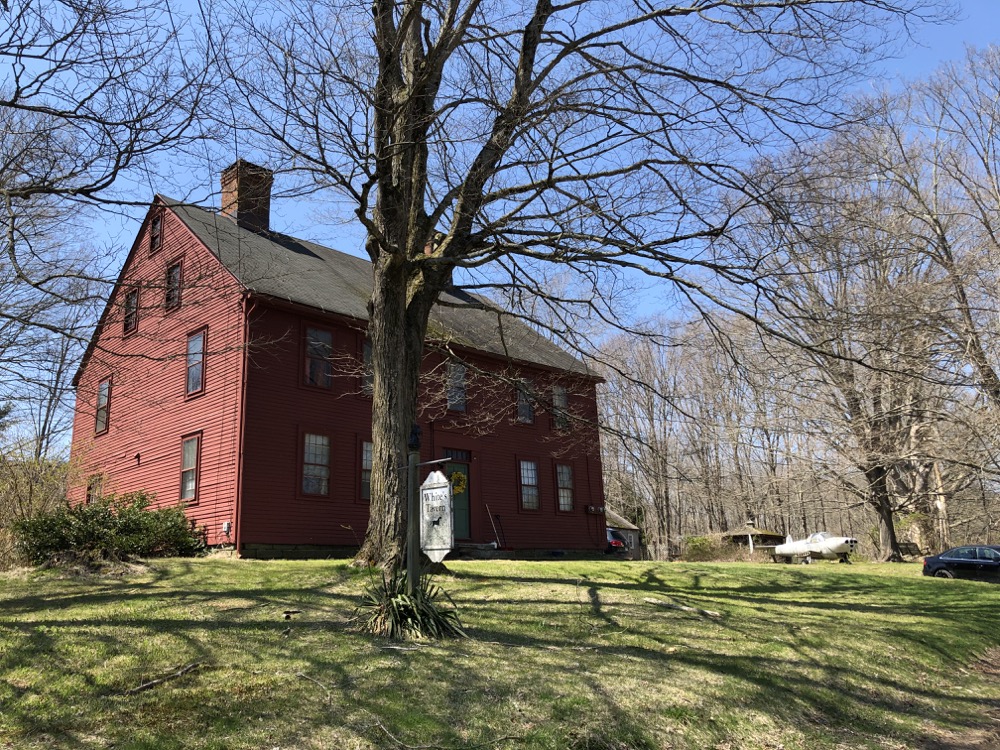 It is now a private residence, but is on the Trail because it was a notable spot for hosting French Army officers during the Revolutionary War – back when it was brand new. (It was built in 1773.) The tavern was built by Daniel White, and was in use as a tavern when the French Army marched through the area in 1781, camping just to its north (campsite below!). The Marquis de Chastellux was among the French officers who stayed here! The Marquis de Chastellux!
Rochambeau himself and Admiral Ternay dined here on September 20, 1780, while on their way to Hartford to meet Washington and again on their way back. He also dined there in May 1781, on his way to and from the Wethersfield meeting with Washington.
And that's very cool, but there's also this: Some of the upstairs rooms have swinging walls mounted on strap hinges that can be moved to create a large ballroom… and that's even cooler.

French Infantry Campsite 46
261 Bolton Center Road, Bolton
As promised… there's an encampment site just up the road from the tavern. There's a marker and even a large sign there, just off route 6 if you know where to look. I knew where to look.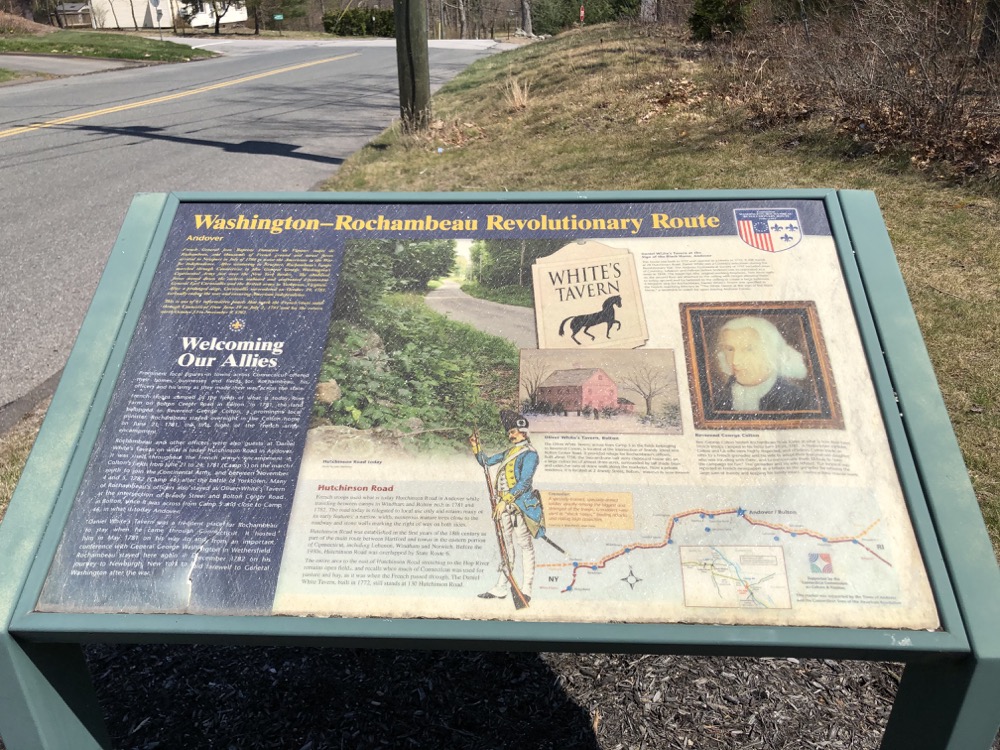 Of course, as I mentioned above, there is some serious confusion over the Andover campsite. In fact, we don't really know if it was ever used… especially since Andover didn't exist as Andover back in the day. And the Rose Farm site in Bolton is so near. For those of you really into this stuff…
French forces under the comte de Rochambeau, camped here in early November 1782 on their way to Boston. The artillery had left East Hartford left for Bolton on 3 November 1782, one day ahead of the first French Brigade, which followed on 4 November 1782. The comte de Lauberdière wrote in his Journal de guerre that "The first division of troops camped 2 miles beyond Bolton at the bottom of a very long hill."
Nevertheless, there is still some debate over the location of this campsite. Historian Philip D. Brass in The History of Andover, Connecticut (Andover, 1991), pp. 56-58, argues that this campsite was used both in June 1781 as well as in November 1782. His claim is supported by Baron Closen, who recorded that "[w]e reached Bolton with the greatest difficulty, since all the roads were terrible. … Part of [Bolton] is half-way up a hill, at the foot of which we camped." In 1781, Closen was marching the first few days with his regiment rather than as an aide to Rochambeau, which explains why he is at Bolton with the Royal Deux-Ponts, a day's march behind the Bourbonnois. This line seems to indicate that only the Bourbonnois and the campaign artillery assigned to the regiment camped on Rev. Colton's, while all other regiments, both on the way to Yorktown as well as on the way back, camped at the foot of the hill close to where the Andover Bicentennial Commission unveiled a plaque on 4 July 1976 with a possibly incorrect inscription. Florence S. Marcy Crofut in her Guide to the History and Historic Sites of Connecticut 2 vols., also locates the fifth camp of 1781, i.e. the camp in Bolton, "about two miles beyond the meeting house." That would follow Closen, since the Meeting House stood right next to the campsite. But then she places the camp for the return march "two miles east of the former camp in the northwest corner of the present Andover County (then Coventry), and just before reaching the Skunkamaug River" along present U.S. Route 6. Rice and Brown in American Campaigns, vol. 2, pp. 133/190, assume that all troops camped on the Rose Farm property in June 1781, but at a different site along the Hop River in November 1782. Andover was incorporated from parts of Coventry and Hebron in 1848.
Concerning the camp, Dr. Ezra Stiles, president of Yale University, recorded in his diary on 4 November 1782: "Lodged at Bolton, where we saw the first Division of the French Army march for Providence. There were counted 170 Waggons of Artillery, filling the Rode fr. The Meeting house to & which is one Mile, besides those we passed yesterday: there were as supposed above 100, so that the Baggage Waggons & Artillery judged 300. Gen. Rochambeau visited us in Eveng at Rev. Mr. Coltons." The next day, November 5, Stiles drove to East Hartford and "Met & passed the 2d Div. of French Army, probably 1500 men. The whole sd. to be 4000, I judge 3000. We stopt our chaise near half an hour in passing the Troops, & afterwards above half an hour in passing 2 Divisions of Wagons, I judge 200. Some of them sd. they had 500 Waggons for whole Army."
Rochambeau was crossing Connecticut in brigades of two regiments of 1,000 men each plus their staffs, servants, wagons and artillery supplements. If we apply a formula of 125 wagons per mile and allow for delays and gaps in the column it is not unreasonable to assume that this column stretched three miles or more along the roads.
Phew. I'm giving Andover the dang campsite.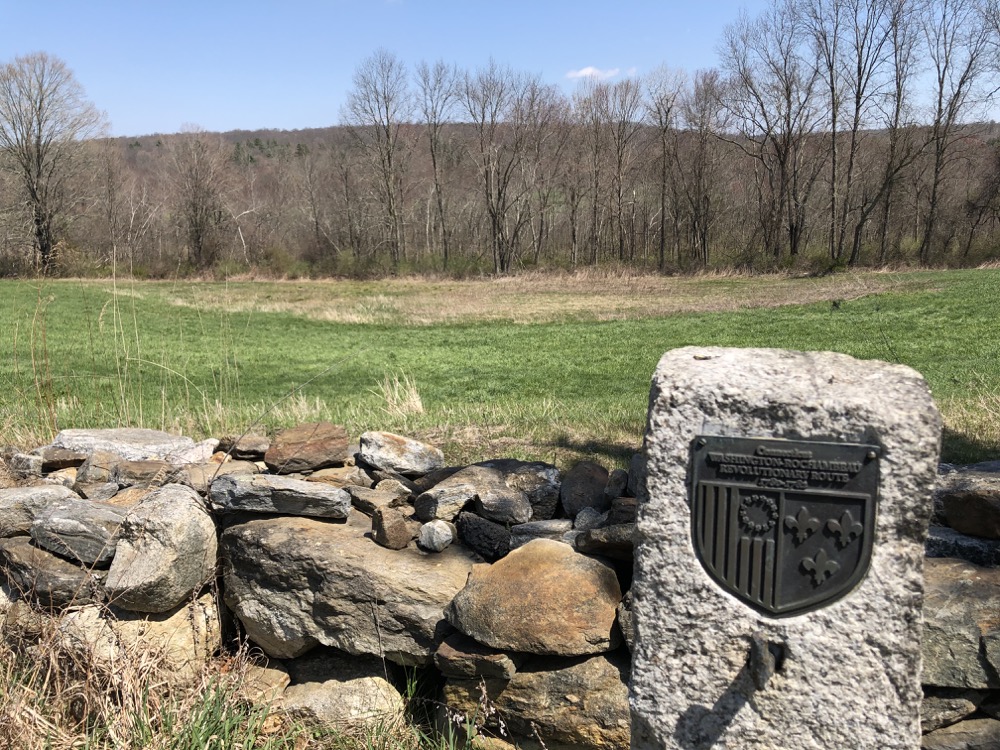 CTMQ's WR3 NHT Intro
The National W3R Association
National Park Service W3R NHT Site
Andover Encampment Info