The Sky's the Limit 2015 Hiking Challenge #6
Soapstone Mountain (Shenipsit State Forest)
Somers, June 20, 2015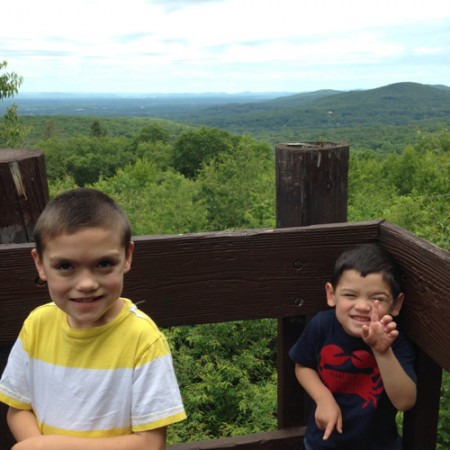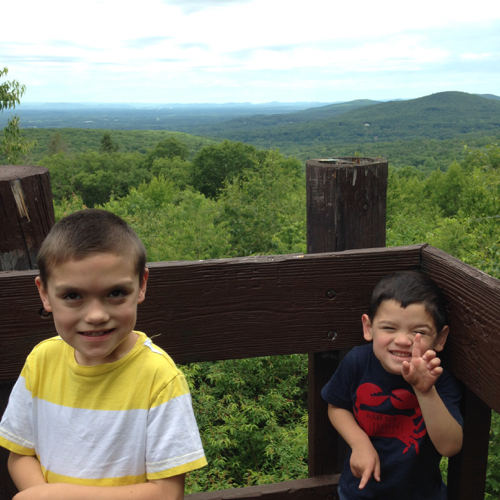 I'm hesitant to hit publish on this page because, well, because this tower has been closed for a year. Granted hundreds, if not thousands of people have climbed the rotted steps to the viewing platform despite the 2×4 across the bottom…
Including me. But I'm an idiot. In fact, I let my two boys up to the top as well. I figured hey, if I'm going to fall and die, I don't want leave my kids without – y'know, those are ghoulish thoughts and I don't want to even think about that. We survived. But I can't condone anyone else breaking the rules and climbing to the top.
The structure is rotted out or something and was deemed unsafe by the state a while ago. No one has done anything to fix it. The state also put the tower on its TSTL challenge list. So who's the idiot here, me or them? How can I expect to explain to my 4-year-old that we drove up to Somers, took a (very short and easy) little hike to a tower, but we can't scale it?
Good luck with that.
The views here in the fall are extraordinary and I highly recommend them… when its officially opened again sometime in 2044 or something.
CTMQ's page on the tower itself
CTMQ's Sky's the Limit Challenge Page
DEEP's Sky's the Limit Challenge Page