The Derty Derb
BAD SONS Beer Company, Derby
January 2018
I don't care if the beer at BAD SONS turns out to be the best beer on the planet at some point, it still won't be better to me than the name BAD SONS.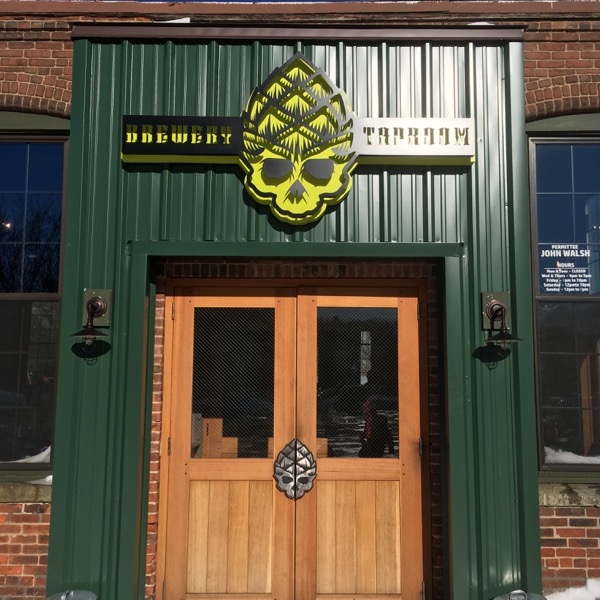 On the surface, BAD SONS sounds dumb. Coupled with the whole George Thorogood "motorcycle rebel" skulls and tough guy branding, it sounds even dumber. But genius lies therein.
BAD SONS, always in all caps not because they're shouting at you, but because it is a true "Valley" brewery. Naugatuck Valley, that is. And the towns that make up the Valley are:
B(eacon Falls), A(nsonia), D(erby), S(eymour), O(xford), N(augatuck), and S(helton).
Brilliant.
When breweries of an unknown quantity open, I try to give them at least three months before descending upon them. In BAD SONS' case, I think this may have been even more wise (and fair) than usual.
The brewery is owned by the guy who owned the SBC brewpub/restaurants and his brother the brewer was brought on board as well. Over the past few years, SBC's have been dropping like flies. Only one remains in 2018; the one in Milford – and has been sold to another party.
SBC beers were resoundingly awful and there was great fear and trembling that the new BAD SONS beers would carry on that tradition. From what I gathered, that was indeed the case for the first month or two of BAD SONS.
Hoo boy.
The brewery space is typical of Connecticut breweries: a cavernous industrial building with lots of brick, high ceilings, and exposed beams. As with many others, they've retained a bit of the building's industrial roots with a giant press from Manger Die Casting, the former occupant of the building.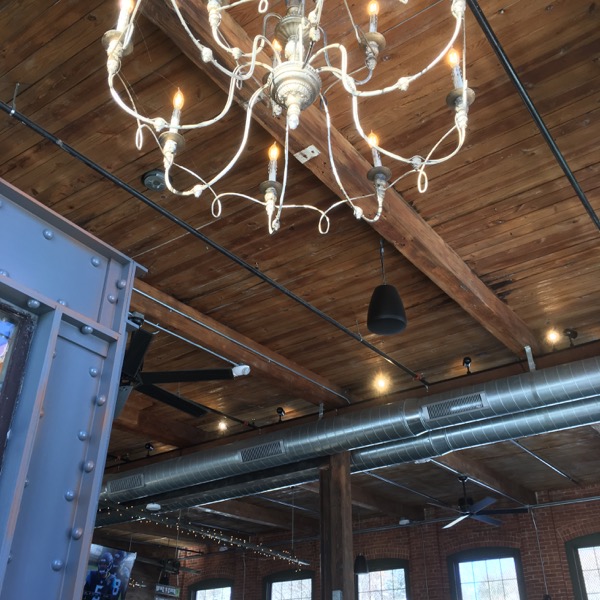 The update and rework was done very well, as the space is as homey and comfortable as it can possibly be. As long as you're not too turned off by all the flaming hop-head skulls and such. The "Bad to the Bone-ness" is counteracted nicely by lots of giant windows.
Families are encouraged to visit, and kids are welcome to play everything from giant UNO to table shuffleboard to some video game with comfy chairs. You can order wings from the locally famous Dew Drop Inn down the street and they even have pizza nights with the locally famous Roseland Apizza.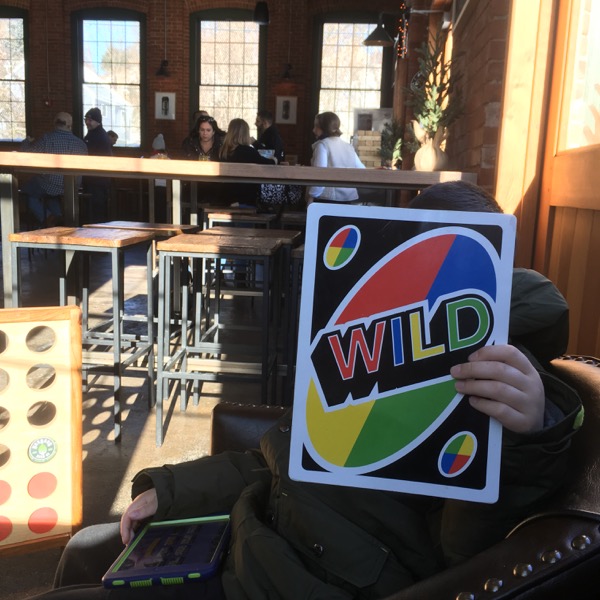 The owners are Valley guys. Valley guys LOVE Valley stuff. I've been trying to grasp what makes the Valley the Valley over the course of writing CTMQ and I'm still not quite sure. Some would say "blue collar! Family values! Hard workers! Factory work!" and all that sort of stuff, but the Valley bleeds over to rather wealthy areas of Shelton and Seymour and Oxford.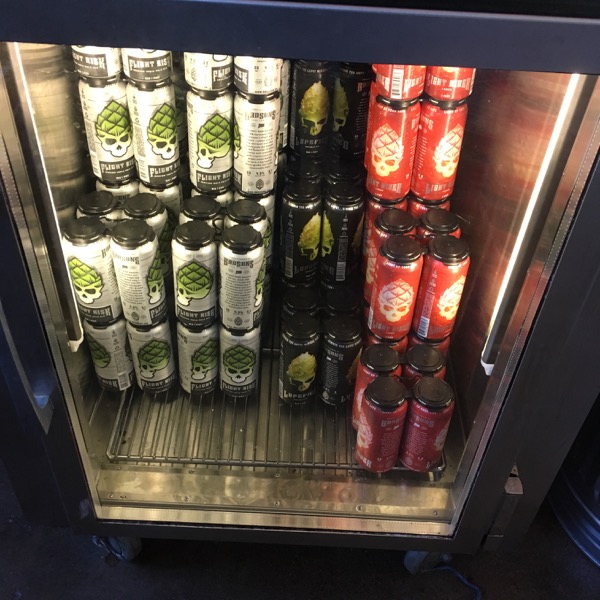 The staff was welcoming and friendly – a trait that expands beyond the Valley. The crowd was happy during my visit and I was impressed with BAD SONS' overall vibe. During warmer months, there's even a little lawn and patio and outdoor games. Sort of incongruous in this industrial part of town, but that's what makes it cool.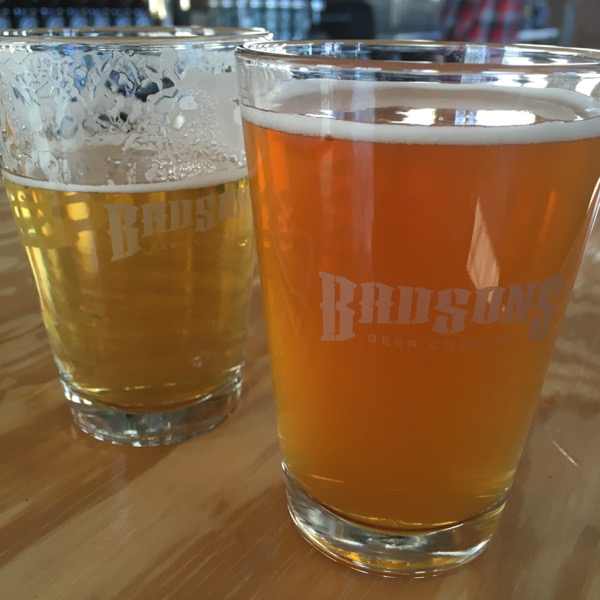 There are always eight or so beers on tap, as well as some guest wines and ciders. A large fridge makes many canned offerings available and I very much appreciate the ability to order "shorties" rather than full pints. This is the way to go; as sampler flights don't offer enough and full pints limit one's ability to try a range of offerings.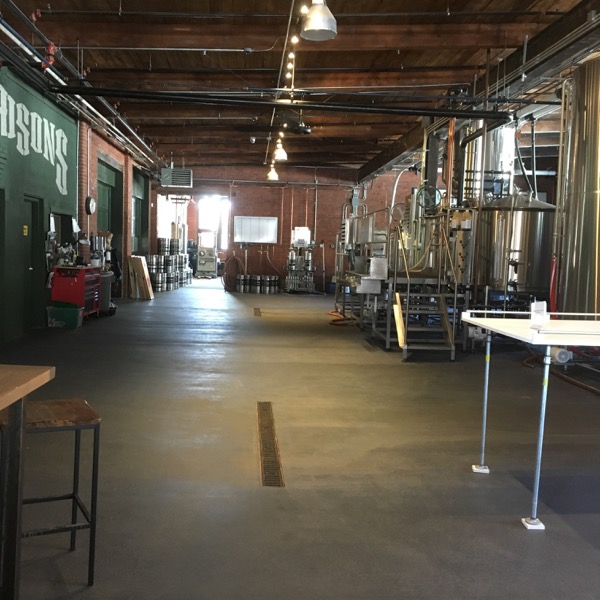 I had three beers during my visit. One was a "white IPA," selected purposely because the "white IPA" from SBC was vile. This one was not vile, though it wasn't very exciting either. It was also BAD SONS' charity line – a dollar from each purchase goes to a local charity – which is the real reason I bought it.
However, the lager and the session IPA were both excellent, and I look forward to trying some of their canned ales in the near future.
Derby now has a few go-to craft beer spots besides BAD SONS – the Dew Drop, THC, and the just-opened Sherman's Taphouse.
I don't know about you, but the Derty Derb is making the Valley look pretty good these days.
BAD SONS Beer Company
CTMQ's page on CT Breweries and Brewpubs