The Circle of Life
Concentric Brewing Company, Portland
August 2021
A financial planner, a firefighter, and a physical therapist walk in a bar. "What's it gonna be?" asked the bartender.
"I'm gonna open a new brewery in Berlin, one of the world's great beer cities!" said the physical therapist.
"I'm gonna open a new brewery in Portland, one of the world's greatest beer cities!" said the financial planner.
"I'm gonna open a new brewery in Portland, one of the world's greatest beer cities!" said the firefighter.
The bartender stared at the three men hard, slightly perplexed, and poured them each a beer.
"Good luck," he said to the physical therapist, "here's an Eschenbräu pilsner, one of the hundreds of great beers you'll be competing with in Berlin."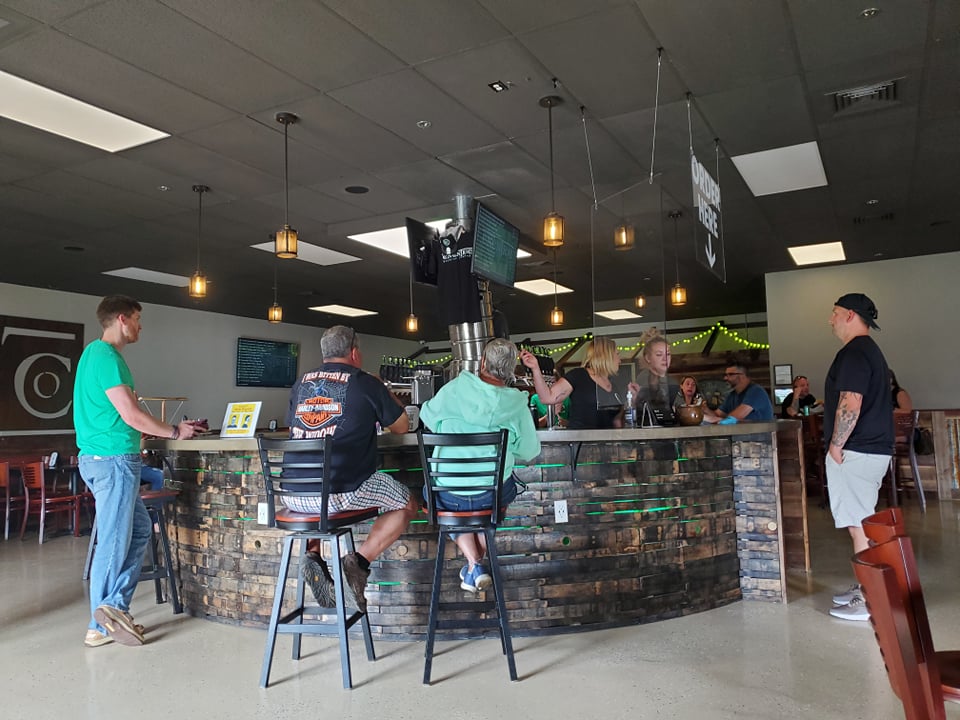 "Good luck," he said to the financial planner, "here's a Widmer Brothers pale ale, one of the hundreds of great beers you'll be competing with in Portland."
"Good luck," he said to the firefighter, "here's an Allagash White, one of the hundreds of great beers you'll be competing with in Portland."
The three men thanked the bartender with confused looks on their faces and found a table. "What's that guy talking about?" said the firefighter.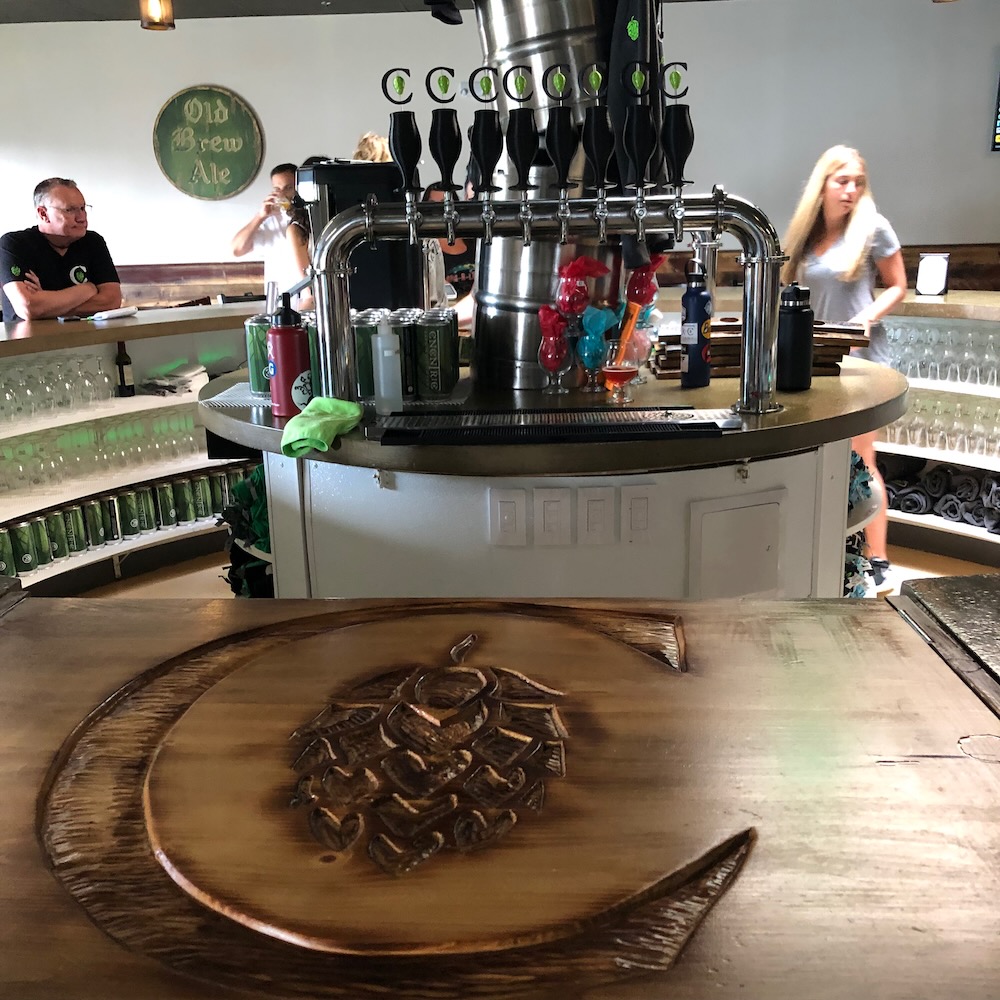 "I have no idea," said the financial planner. The only brewery in Berlin is Coles Road Brewing and there aren't any other breweries in Portland.
Just then the physical therapist checked his phone and told his friends he was no longer opening a brewery in Berlin. Despite investing in a space literally next door to what would become Coles Road Brewing and working with the town, it just wasn't going to happen. (Landlord disagreements.)
Bummer. (You'd think I'd have some hilarious punchline here, but I don't. I mean, I did, but it was journey with the Berlin/Portland/Portland thing, since those are three of the best beer cities in the world. But that's all I've got. I'm losing it, sorry.)
But yeah, back in 2017 or 2018, the three Concentric owners, who really do hold the professions above, went quite far down the path in Berlin… in a building at 819 Farmington Avenue. That whole thing fell through and Coles Road really did open a year or two later at 817 Farmington Avenue in Berlin.
A few years passed and the important thing is that Concentric Brewing finally opened in February of 2021 (another pandemic beer baby!) in Portland and they seem quite happy in the shadow of the Arrigoni Bridge. Concentric Brewing is so-named for the three co-owners' sense of having a "common center." Okay.
I'm sure their friendship was tested in that five year journey from planning to Berlin to Portland to opening during a pandemic.
With such a long run up, at least they had time to nail down a top tier logo, right?

Right.
Perhaps they spent their non-firefighting/PT'ing/financial planning time honing beer recipes, building out a cool taproom, and building out a full service kitchen instead.
I popped in one Saturday afternoon and was immediately taken by the centerpiece circular bar. It's unique and certainly cool. There was a duo playing guitar and saxophone and shout out to those guys! I really enjoyed their sound! (I'm mentioning this because I almost never enjoy live background music at breweries.)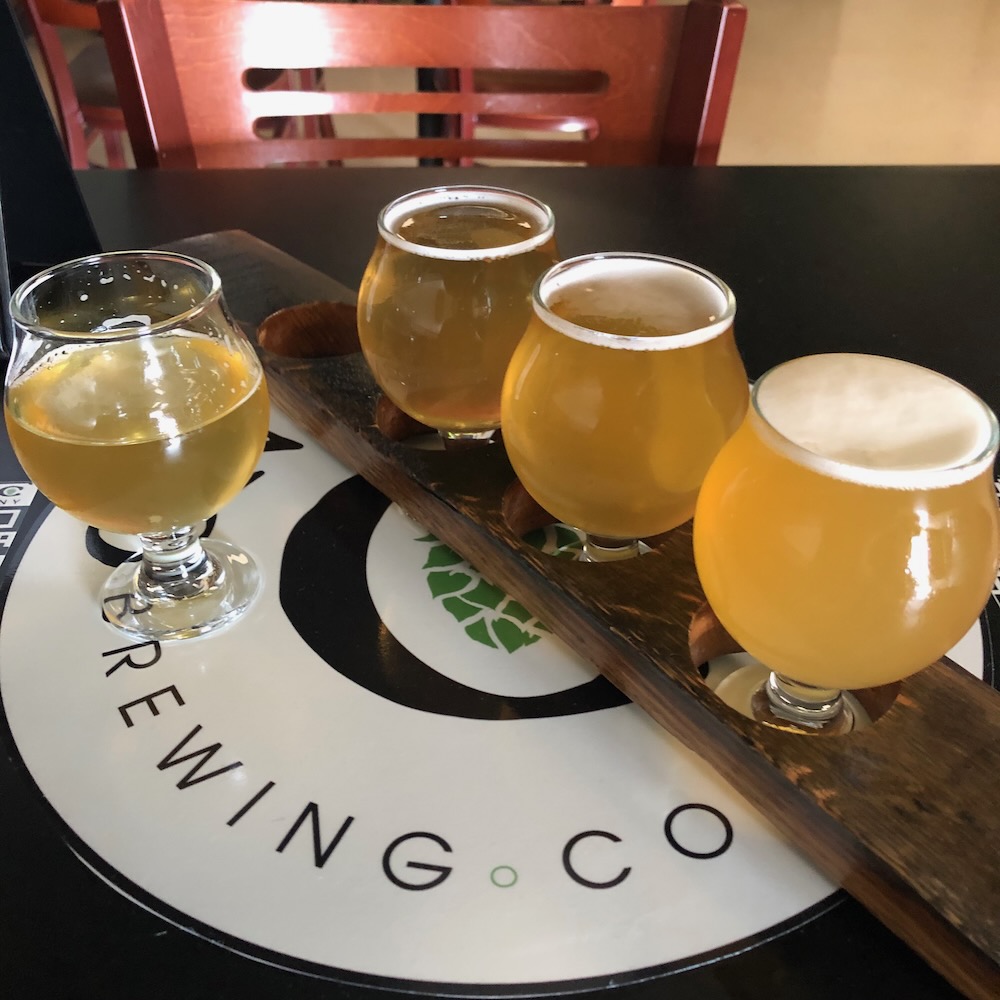 Concentric is similar to 80 other breweries in the state, being in a boxy industrial park building and all, but that centerpiece bar really does make it stand out a bit. And the owners did a good job hiding the fact this space used to be a stark white plastics molding facility. (Much of the wood in the brewery, including that used to make the unique circular bar, is reclaimed from the Thrall Farm in Windsor.)
They've also hung a bunch of fantastic photos from my friend Chris Graham, who lives and shoots relatively locally. I just wanted to shout him out because, well, because I like him.
And I guess the infamous Arrigoni Bridge also adds some flavor when enjoying a beer out on the patio.
The 10-barrel production pumps out a good variety of styles here, and there were 12 on tap when I visited six months after their grand opening. And – get this – Concentric mainly sticks to classic styles. I had a pilsner, a saison a pale ale, a brown ale, and a lime gose. Not only that, their naming conventions are old school. Straight up.
Their Kölsch is named… Kolsch. Without the umlaut.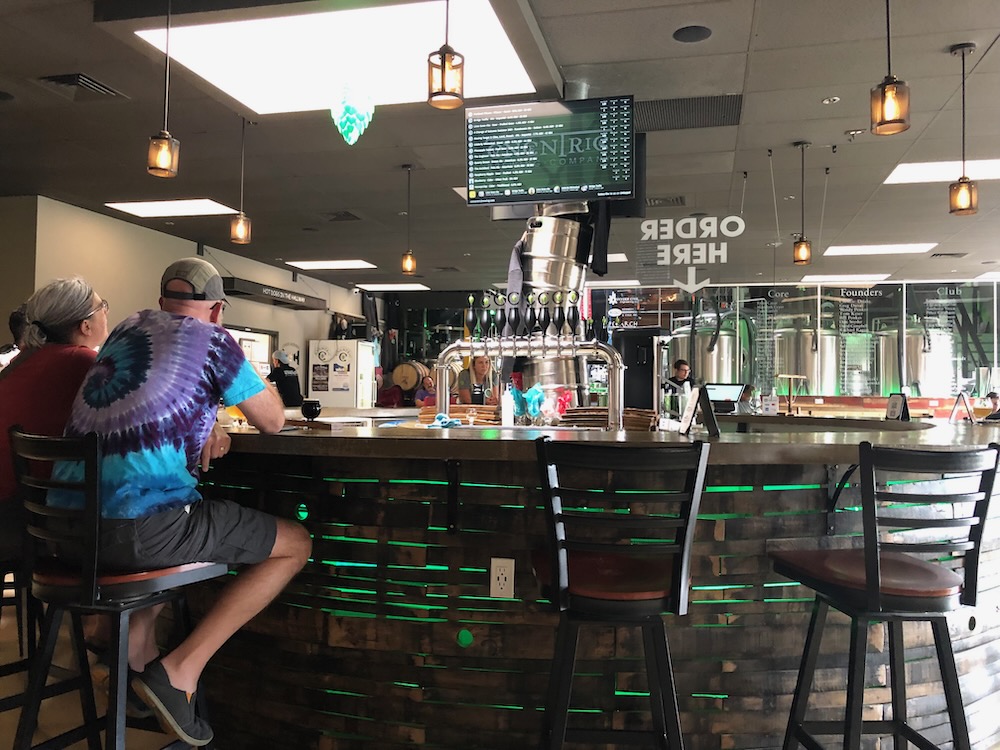 Their Oktoberfest is named… Oktoberfest. They have a red ale named Forever Red. The brown ale is Quarry Brown, a nod to the local Portland Brownstone Quarry. I like these guys.
So there I sat in the spacious yet comfortable enough taproom with my flight. Pils… good. Saison… good. Someone here knows a little bit about brewing, but I was getting hungry too.
Oh look! There's a kitchen here! Let's see… hot dogs. Lots of hot dogs. Five dollar hot dogs with topping like peanut butter and mayo. No thanks. The outfit's name was "Hotdogs in the Hallway."
Financial planner, physical therapist, and firefighter bros gotta be bros I guess. (If you don't know what "hotdog in a hallway" references, I'll leave you up to your own Googling devices.) This was a separate company than the brewery, and they are no longer there – a new operation called Graze has moved in and there is lots of better food than hot dogs. Bottom line, Concentric has a food operation and it looks pretty good.
The lime gose was forgettable; cloying and completely missing the "light and refreshing" mark. But then I enjoyed the pale and the brown ale well enough. Yes, they have IPAs and some NEIPAs, but I was there on a 100-degree day between soccer tournament games. I really wasn't feeling 9% thickness.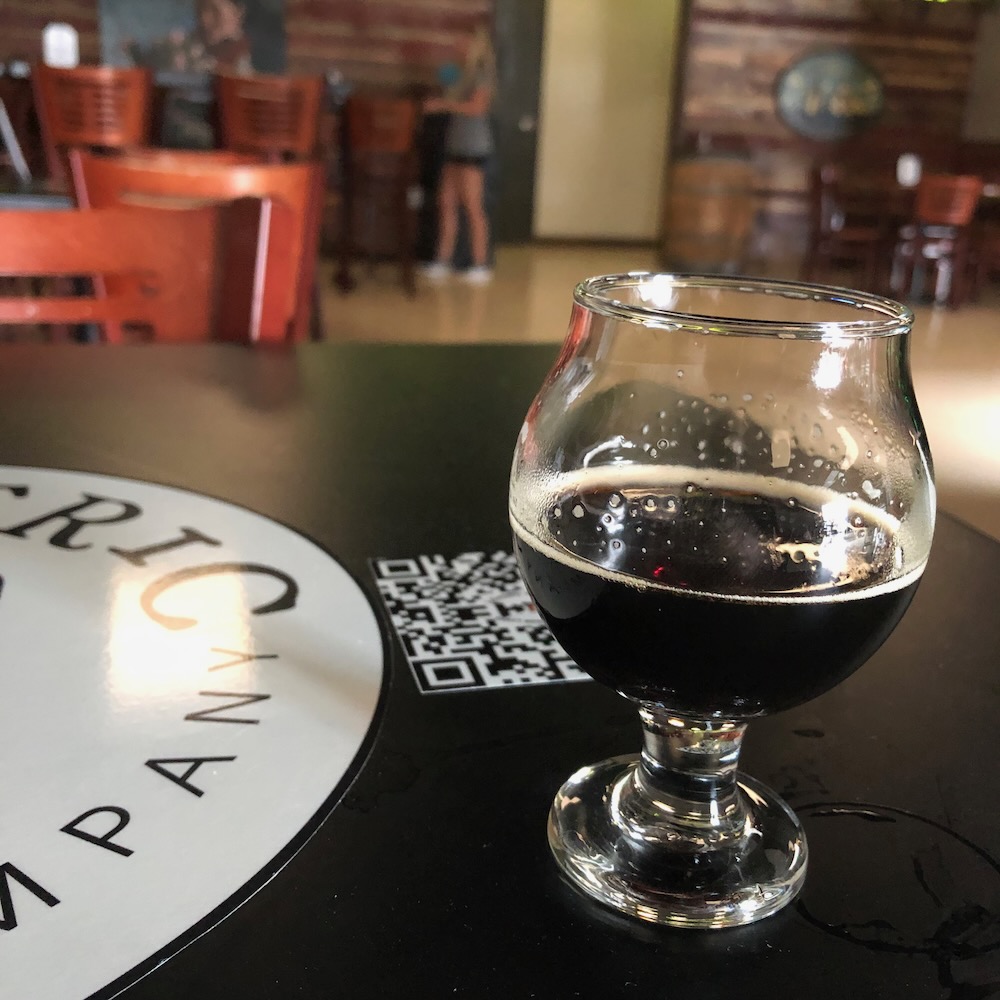 I found myself not really wanting to head back over to the soccer fields though. I was enjoying my time here. The weirdly good musical duo, the throwback classic beers that weren't terrible, like an old school but in a good way throwback. Circling back. The circle of life.
Concentric.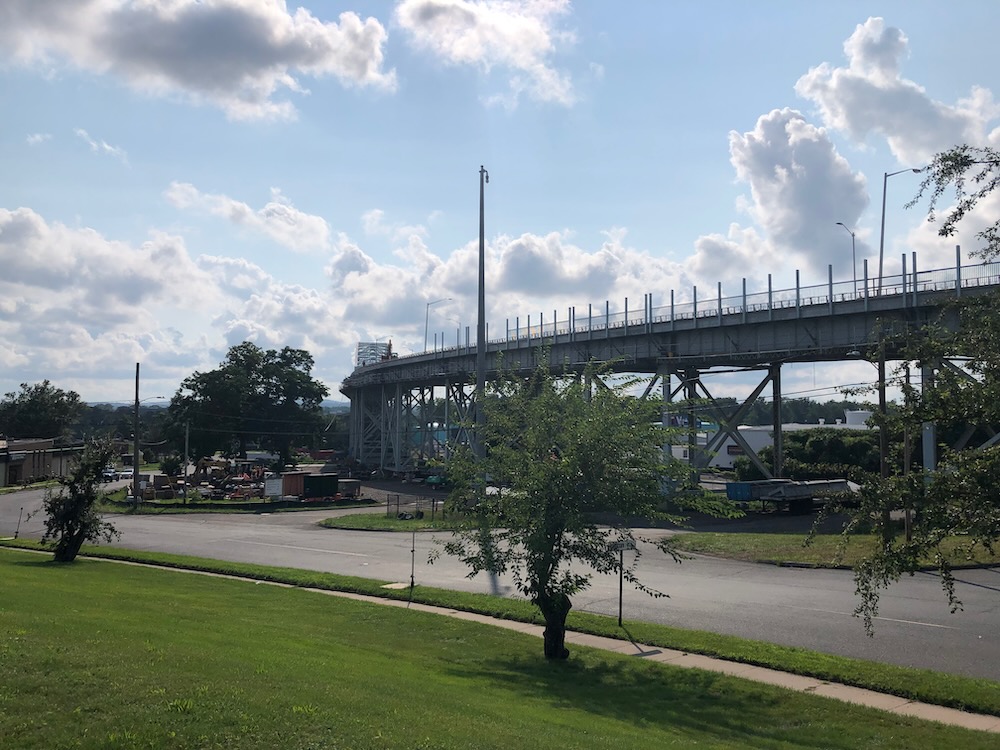 Concentric Brewing Company
CTMQ's Breweries and Brewpubs