Epicurio
Epicure Brewing, Norwich
August 2017
Summer of 2017… approaching that assumed critical mass of 50 Connecticut breweries (Epicure was the 48th to open) and how that was going to be absolute maximum that the state could support? Epicure Brewing is located right next door to These Guys Brewing – both around the corner from the Harp and Dragon Pub and several other bars and restaurants in downtown Norwich.
This was it. The zenith. The apex. The beginning of the end.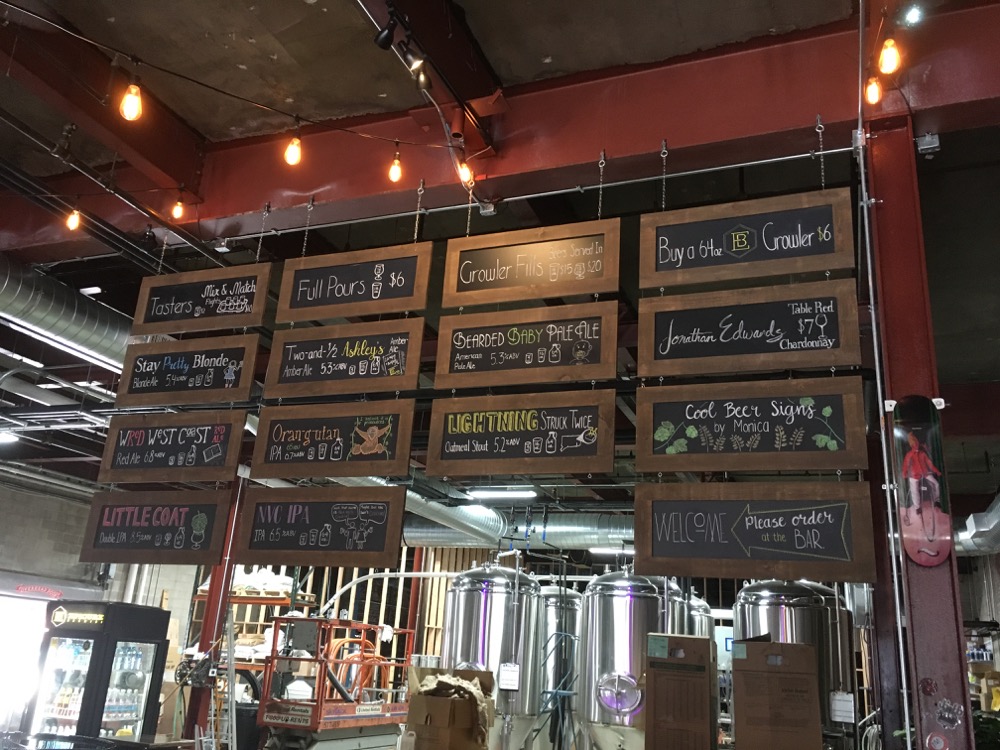 In 2022, we've experienced a pandemic shutdown and an insurrection and both breweries are still open… as are over a hundred others in the state. Double the amount everyone thought was the plateau. And now we have breweries located in the same building as each other.
The brewery industry is not easy and many are surely struggling to keep the lights on. But Epicure is reminded of the fragility of owning a business every day they they turn their lights on. Their unique space occupies the former home of a business that "couldn't lose" for centuries: A newspaper printing press room.
Yes, The Norwich Bulletin's massive printing presses operated here for many decades. There are vestiges if you know where to look. Those pipes above? They are still filled with ink – removing them would likely result in a huge, inky mess. CMYK colors stain the floor over by the jukebox.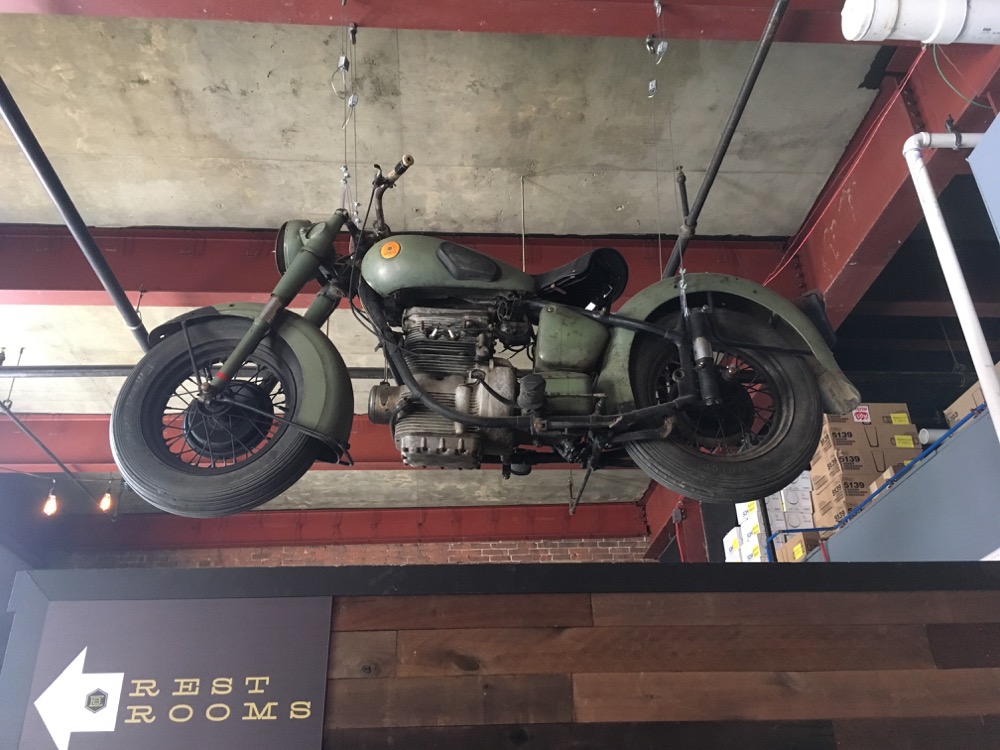 Those presses are gone and now beer drinkers sit in their place under a hanging motorcycle near rows of fermenters and holding tanks. The world moves on.
(Actually, the death of local newspapers – though the Bulletin is still going – will be as much of a story for future generations as the advent of the Internet in my opinion. The explosion of Connecticut breweries in the 2010's, I'm afraid, won't be much of a talking point.)
Epicure is cool. The entrance is almost hidden among the Brutalist façade of the old Bulletin building. Slip in through the skinny entryway and… wow. A large taproom with a very high ceiling and way more space than anyone would think from the street. The stark exterior belies the homey, personal feel of the interior.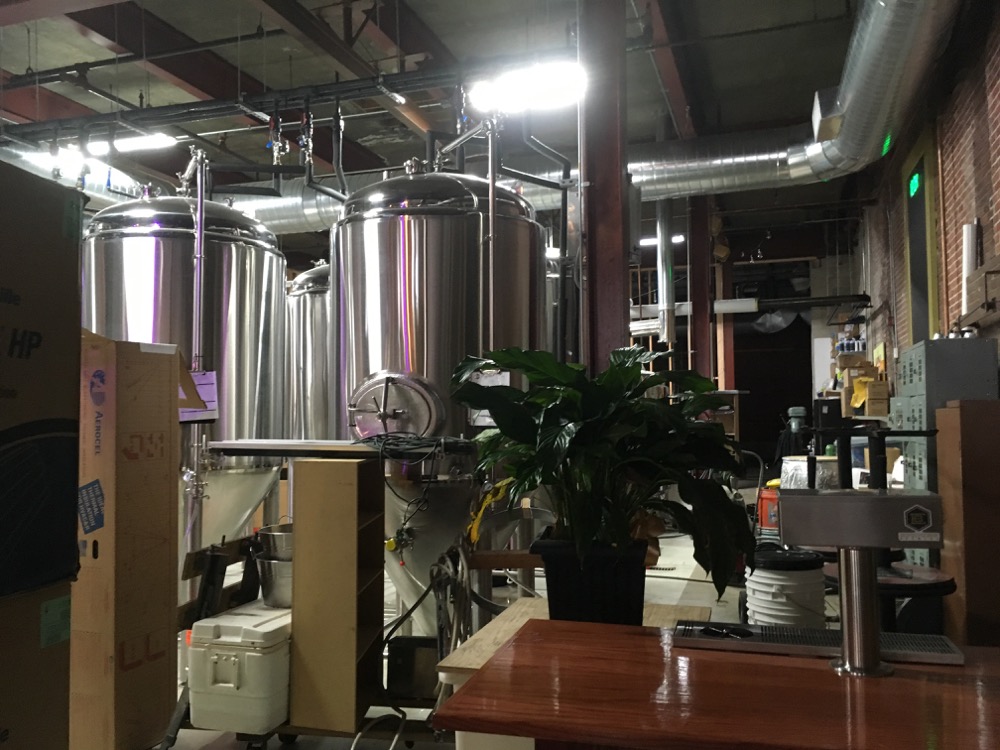 The Epicureans wanted to create an Irish pub feel; promoting socializing by refusing to have televisions and building a long wooden bar reclaimed from a barn that burned down. Dim, warm lighting and friendly servers add to the ambiance. The disconnect from the street to the bar is rather astounding.
Epicure Brewing is proud to be an independent craft brewery & taproom in the heart of the Historic Norwich Harbor district. Our unique destination taproom welcomes you to enjoy our brews with friends new and old over a game or a bite to eat from our fantastic local restaurants.
Epicure probably shouldn't have succeeded as long as they have. They refused to add a kitchen, opting instead to encourage patrons to buy from all the local restaurants instead. They stuck to their more traditional brewing styles for the first several years – years during which every brewery under the sun was more or less forced to pump out NEIPA after NEIPA.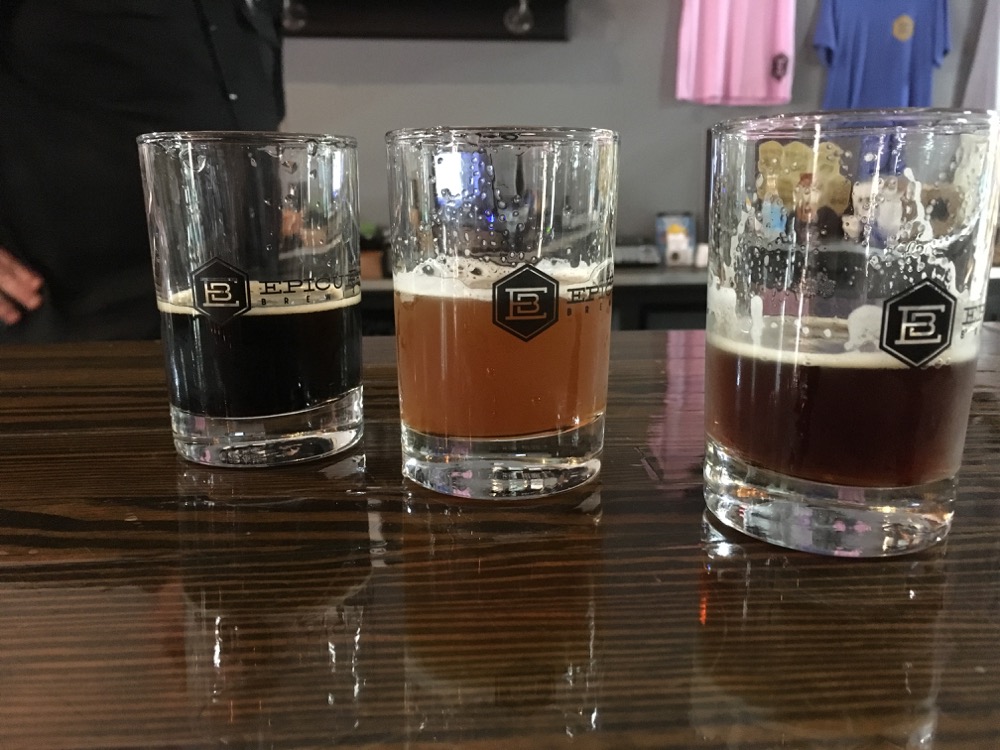 Honestly, I have no idea how they pulled this off. I'd guess being located in a somewhat hardscrabble city probably helped a bit; lots of customers more into beer beer and few 20-somethings chasing fads. But they also put in a ton of work; partnering with local wineries and restaurants and building a loyal fanbase through their mug club and, well, brewing good beer.
Oh, and coming out of the gate supporting the best brewfest that ever was put them on the map of course: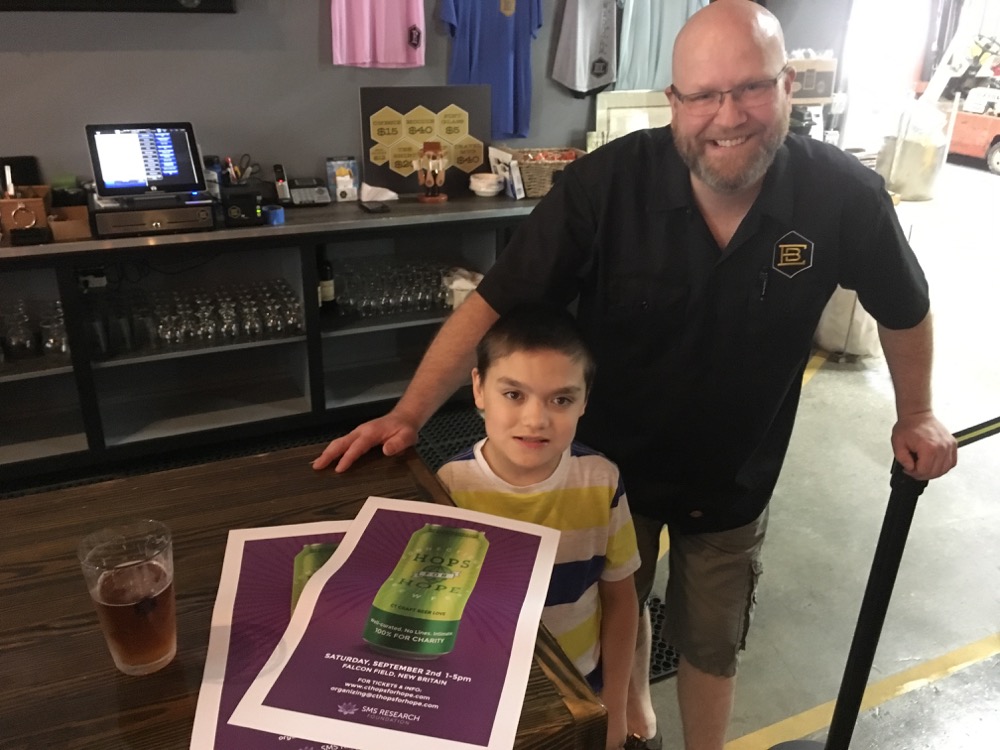 To be fair, every brewery we wanted supported Hops for Hope, but I include this picture for another reason. My son Damian is next to brewery co-owner Jason Vincent. As I wrote the above paragraphs complimenting Epicure on sticking to their guns and still succeeding in a difficult business, I knew that Jason was a big part of Epicure's planning and ultimate success.
Jason was far, far more than a brewery co-owner. He served Stonington's planning commission and was directly responsible for a ton of successes in that town. He brought his tireless passion to serve in a similar capacity in Norwich. In my brief hour with him, he was kind and genuinely interested in my son, his rare syndrome, and the Foundation we were supporting.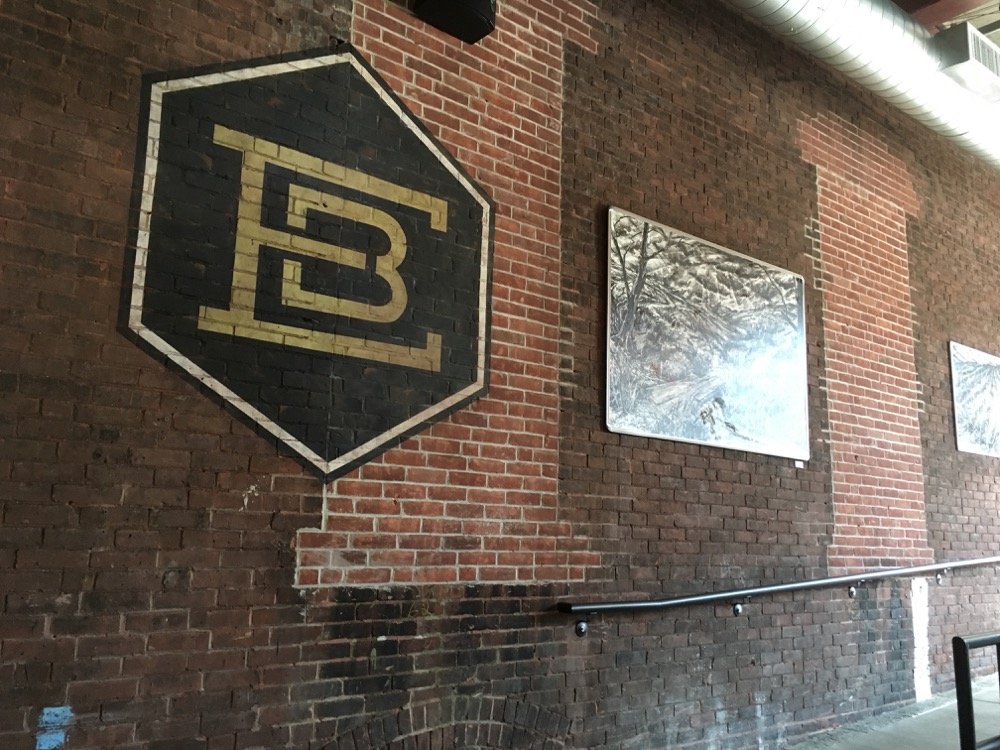 Jason committed suicide in West Virginia at the end of 2020. I only knew him for that hour, but know that his death left a gaping hole across New London County. My heart goes out to his family and all of those who knew and loved him.
Phew. Sorry. I felt that to be important.
Epicure is no stranger to tragedy. I mentioned the bar is reclaimed from a barn that burned down. There's a plaque on it honoring the guy who was going to build it… but he died before he could. Epicure has an outmeal stout named "Lightning Strikes Twice" which refers to head brewer Ken Thiffeault's house which has been struck twice in recent years. Eesh.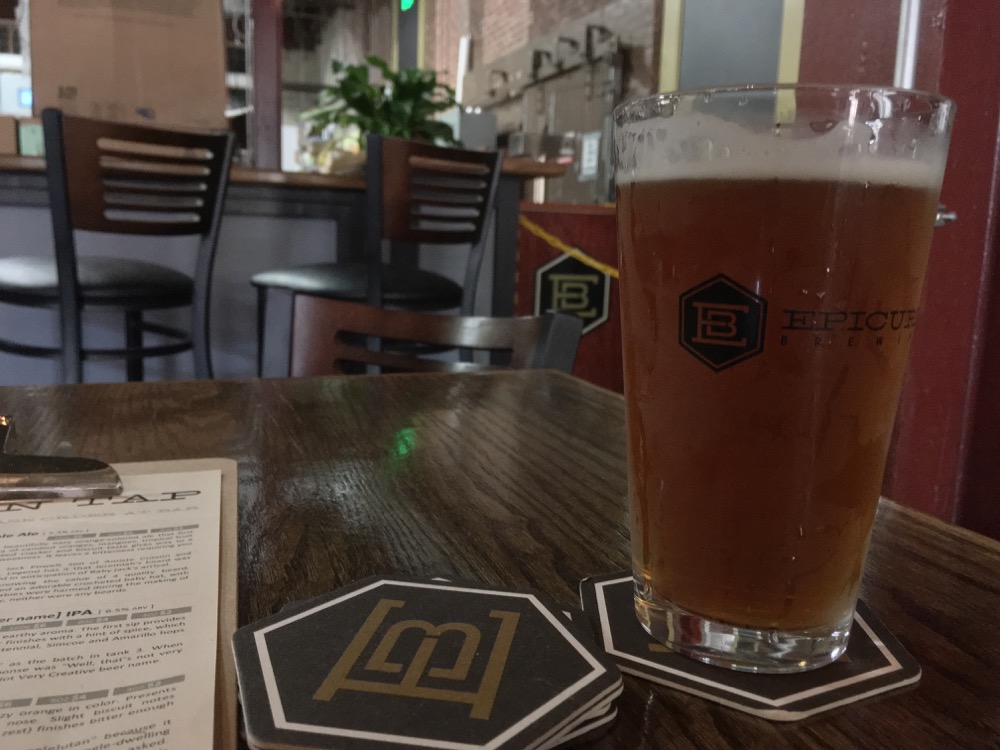 There's the "Lightning Strikes Twice" oatmeal stout in honor of head brewer Ken Thiffeault and his wife, Kerrie, whose house in Canterbury was struck by lightning last August for the second time. Ken Thiffeault's rusted home brewing tank pulled from the resulting fire now hangs over the main entrance.
There are (were) six owners of Epicure which is symbolized in the hexagonal border of their logo, which is one of those cool little thoughtful things that perhaps reveals a little bit more on why Epicure has done pretty well in a tough market: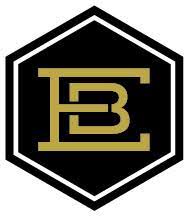 I'd be remiss if I didn't point out that Ericit Brewing's logo, created years after Epicure's, is this: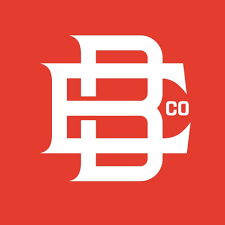 The taproom is large enough to fit 100 people and the high ceilings just make it feel larger. Of all the interesting things I've mentioned, perhaps the most interesting thing is the fact that Epicure has many of the same beers in 2022 that they opened with in 2017. Sure, that's the case for some of the bigger and more well-known places, but for a mostly tap-room only brewery like Epicure, that's pretty crazy.
And the story of their abject refusal to brew a NEIPA in 2017… and 2018… and 2019… and 2020… is even crazier. Every brewer hates them and hates making them, but every brewer loves that people buy them up like the candy they taste like.
Epicure puts effort into their beer names and explanations. I like that. Is their beer top tier? No. Is it terrible? Do the people behind the brewery deserve your patronage because they've worked their butts off to build up their brand and seem to participate in every charitable event and movement in their industry as possible? Absolutely.
Epicure has a full liquor license, but no kitchen. They make and sell alcoholic seltzers now on top of their taplist – a tap list that still sticks to classic styles way more than the typical 2020's brewery. And they make that work.
And for that, I salute Epicure.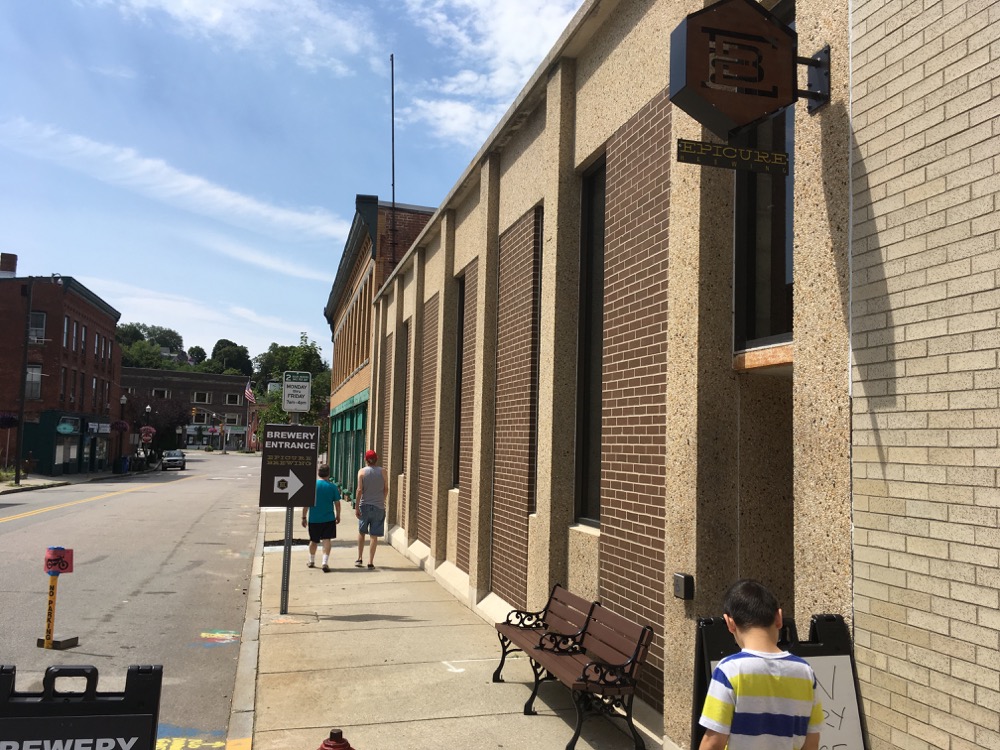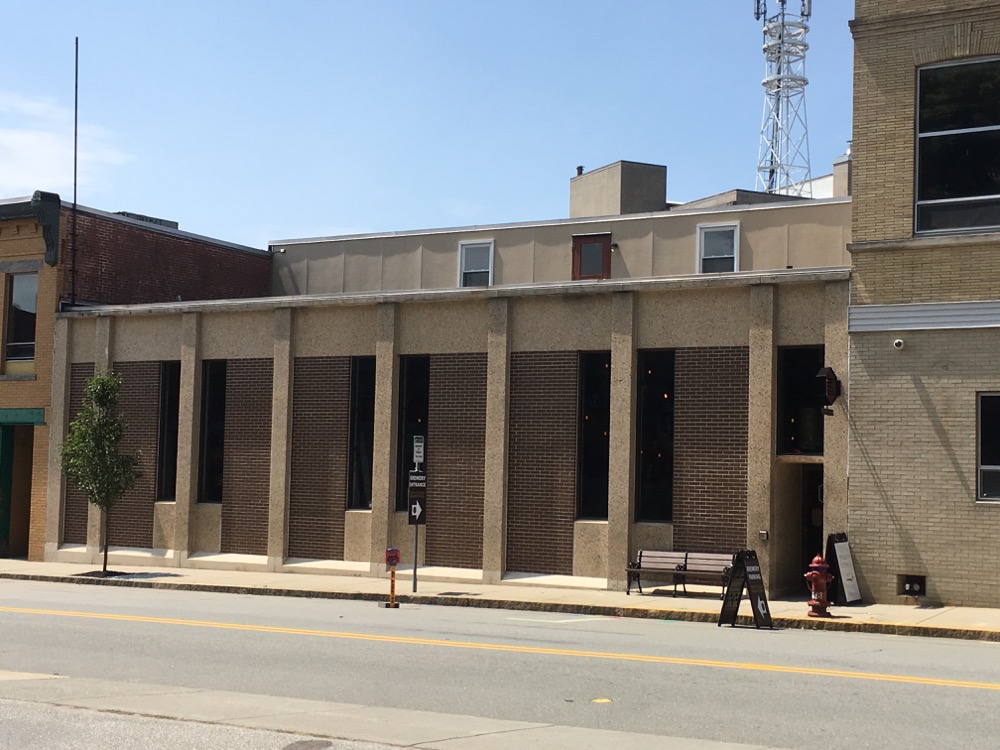 Epicure Brewing
CTMQ's page on CT Breweries and Brewpubs