Take the L
Ericit Brewing Company, Manchester
December 2019
Let's get the important stuff out of the way first. Ericit inhabits the massive space formerly occupied by Adams Mill Restaurant. Everyone in central Connecticut went to Adams Mill at least once – and hopefully on your birthday. For Adams Mill gave you a free meal on your birthday. It was a very successful business, serving pure American comfort food and not trying to be anything more than a simply family restaurant. RIP Adams Mill.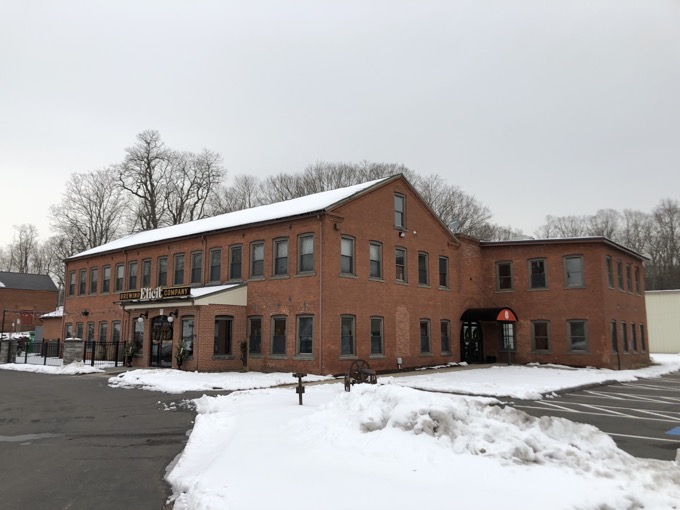 Ericit is not Adams Mill and that's fine. Although, imagine how cool it would have been to have something like "free appetizer on your birthday!" as a nod to the iconic restaurant it replaced? Of course, the owners have been in the restaurant business for a long time and certainly are far smarter than I am when it comes to the service industry. As such, I'm sure this place is a smartly designed and brilliantly executed brewery… errr, nightclub… errr, cocktail lounge… errr, restaurant… errr, retro arcade… Errr, icit!
And speaking of smartly designed and executed things, shout out to Ericit's graphic design team for creating a cool and unique brand mark: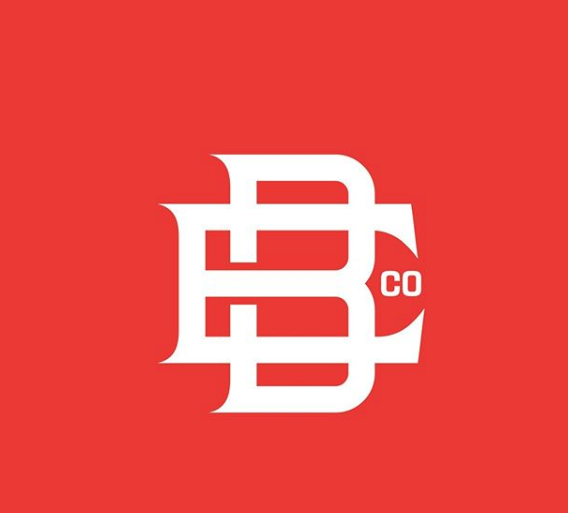 It's good to stand out in the crowded Connecticut brewery marketplace. Too many breweries use a hop cone in their branding and I'm always pleased when new breweries move away from that played out idea. Like, Norwich's Epicure Brewing for one. Around for a couple years longer than Ericit, they too showed that they can have their own unique branding: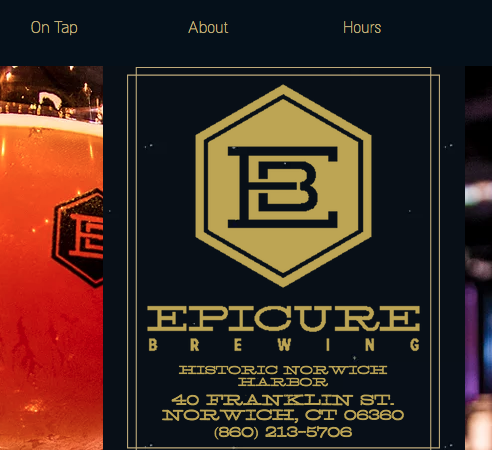 Ericit actually uses two distinct fonts and brand logos. The one above and the more familiar one below. My only issue with the banner below is that the beer in the middle has been terribly poured. Like a red Solo cup warm Natty Light from a keg at a frat party in 1994 pour. They nailed everything else, from the font to the comforting colors to the kerning and overall graphic design that clearly required a lot of thought and effort and market testing… but that pint of foam bothers me. Let's move on…

Eli's Restaurant Group owns and operates Ericit. Eli's Restaurant Group has nothing in the world to do with the highly regarded center of the Connecticut Craft Beer Bar World Eli Cannon's in Middletown. No, Eli's restaurants are in Branford, Milford, and Hamden (as of 2020).
Holy cow, this place is like the fevered dream of someone with limitless space who wants to be all things to all people. And, if the pre-pandemic crowds were any indication, that someone has been successful. I visited several months after its grand opening on a snowy weekday when it was empty and cavernous, but this place gets jammed after dark. Not my scene anymore, but then again I have children and drive a Subaru. Back in the 1990's I used to love crowded clubs and didn't too much mind people all up in my space.
Ericit is bringing back that vibe. Without the coke and ecstasy, presumably.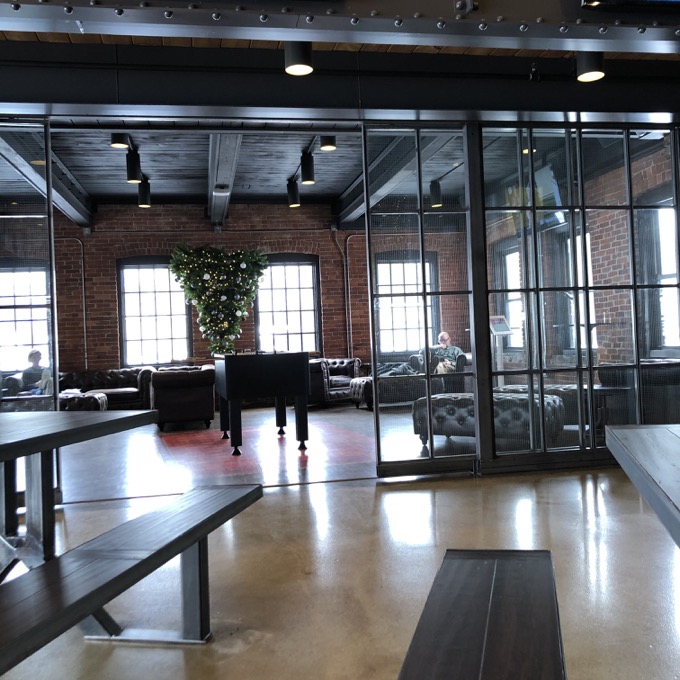 I try to generally keep my brewery reviews just that: brewery reviews. But now that we've entered the next phase of what a brewery is, it's tough to separate the brewery from the experience. Because Ericit clearly focuses on the experience first and foremost. Which, let me be clear, is fine! That's their thing.
The building is compartmentalized. Near the front is the arcade. It's an arcade with beer. This is the Barcade section. Upstairs is the fancy cocktail lounge with $11 drinks. This is the West Hartford section. There's also this entire room of leather furniture: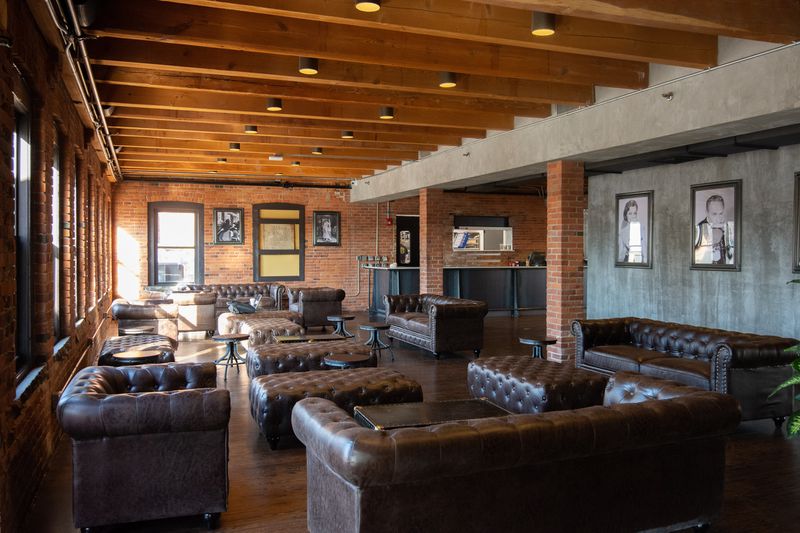 That's the Leisure Suit Larry section. They've opened a massive outdoor patio behind the building. It's incredible, really. This is the beer garden of course. And hey, if you're feeling adventurous and want to wander off into the woods, there's a section of the wondrous Hockanum River Trail back there.
That brings us to the main bar/restaurant area. As for the food operation… I sincerely hope they've got it sorted far better than when I visited. The menu itself is rather sparse – which I'm okay with. It's Ericit Brewing Company, not Ericit Restaurant. It's overpriced – which, whatever. You have captive consumers and they've been working up an appetite in the arcade and the hook-up lounge. Charge what people will pay.
But the system for ordering and procuring is numbingly stupid. (At least it was for a good long while after opening.) There was no waitstaff at all, so customers must wait in line to order. Mind you, that same customer had to wait in line for a beer over at the bar and his friend had to wait upstairs in line for his craft cocktail. So the food line is a third line.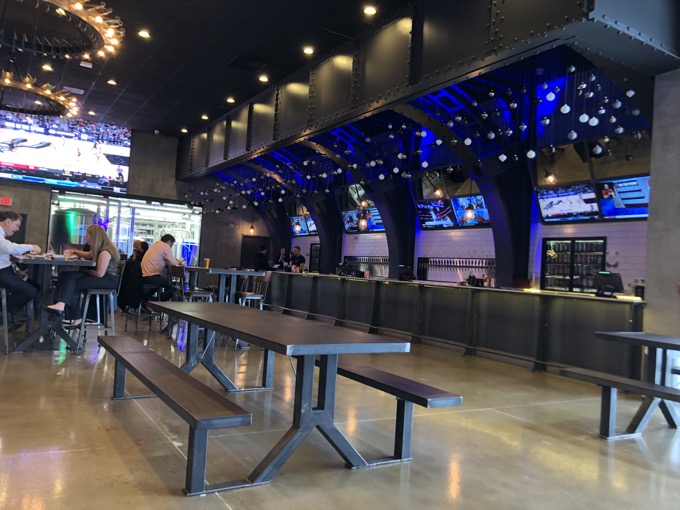 Once ordered, one of those buzzy pucks is given and you wait. Then when it's ready, you go get your own ding-dang food. If you're upstairs enjoying your $10 Koo Koo Cabana drink, you have to go downstairs to order your $9 Tahini Roasted Cauliflower, return to your cocktail bar seat, get alerted on your Olive Garden buzzer, then go back downstairs for your food, only to return back upstairs to eat it.
It's ridiculous. And I imagine if it's crowded – and this place gets crowded – it's a massive pain the butt. I hope staff lends a hand if you order for a table. I ordered a $10 sausage and peppers. Here is what that looked like: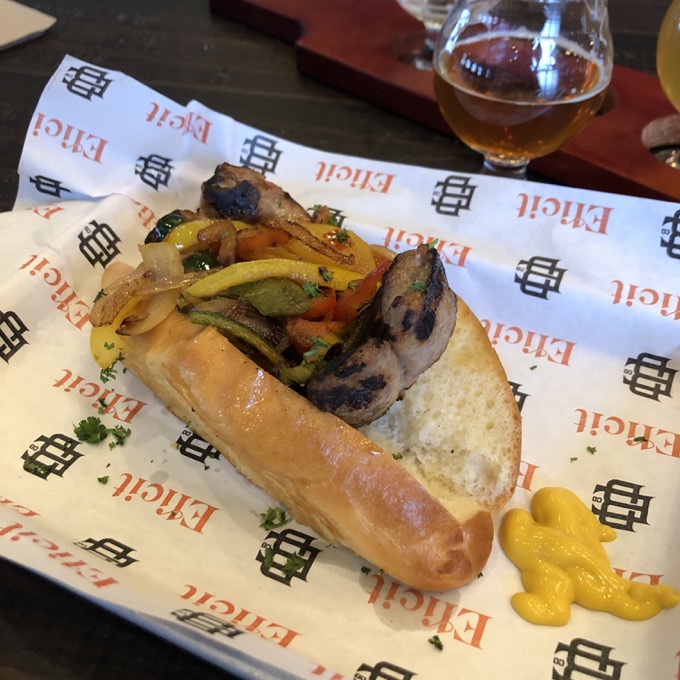 It was very disappointing. But the system to get it was worse. (Meanwhile, bussing staff was positively crawling all over the place like vultures, clearing the torn corner of my napkin that I put my gum in. This is not necessary. Get a real waitstaff, Ericit! And if my man [name redacted] is still there, dude, I hope you've chilled out. You don't need to chat up everybody about everything at all times.)
When I visited, there was only four house beers on tap. This has changed drastically now and the seven-barrel brewing system is fully firing. Not that anyone cares, but I believe the set-up was purchased from, Parable Brewing, one of several failed Manchester breweries.A quick check in October 2020 and they have 11 in-house beers available in a wide range of styles.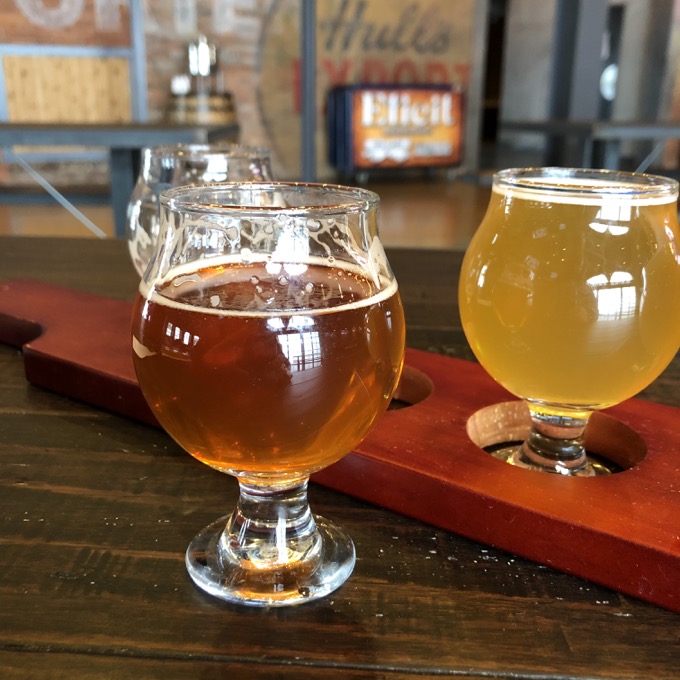 And that's great! But it's also… sort of unnecessary. Ericit has 50 – F-I-F-T-Y taps, although I think only 40 or so are dedicated to beer. (The other 10 are wine taps or maybe seltzer and pre-made mixed drinks.) And the available beers are really, really good. They have one of the best selections of Connecticut beers in the state. Seriously!
Beyond "local," their non-Connecticut options are also very good. Ericit is putting their house beers up "against" some top tier stuff. Is this smart? I'd say yes. They retain the cache of being a brewery, but again, are providing all things to all people. I don't see any Manchester brewery beers on tap though and I wonder if that's a purposeful decision.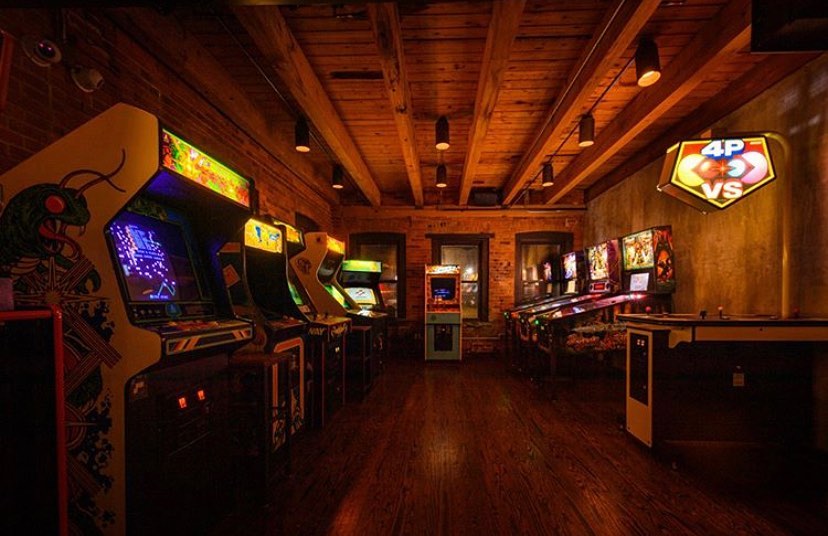 As comfortable as several of the sections of this place are, the bar area features picnic tables, brick walls, and concrete floors. It has a prison feel with mood lighting. No nonsense. Go to the comically huge bar, choose from the endless taplist, and enjoy. I chose a shamelessly overpriced ($14!) all-Ericit flight after learning I had to order my lunch across the mess hall separately and got to tasting.
Here's the thing: It doesn't matter a whit that the beers here were sub-par. I'm the fool for ordering the "Yodeling Cherubs" when I could have had Firefly's Toadstool stout on a winter's day. They describe this confused beer as a "Hefeweizen base with all it's banana and clove goodness, we cold fruit this beer with a blast of pineapple puree to make it a juicy refreshing crusher."
To their credit, this did indeed taste like a Hef with… pineapple? I just don't know why they'd want to do that on purpose. (I know, I know… a bunch of breweries make the same.) The pale ale smelled like a dishrag and I couldn't drink it. The IPA was okay, but the DIPA was awful. I really don't see the point in explaining my opinions. I just don't think Ericit would care at all. My tiny "sausage and peppers" was clearly made with ingredients straight from Price Chopper down the street.
I had to use the restroom and… oh. They've made the doors here "funny" I guess.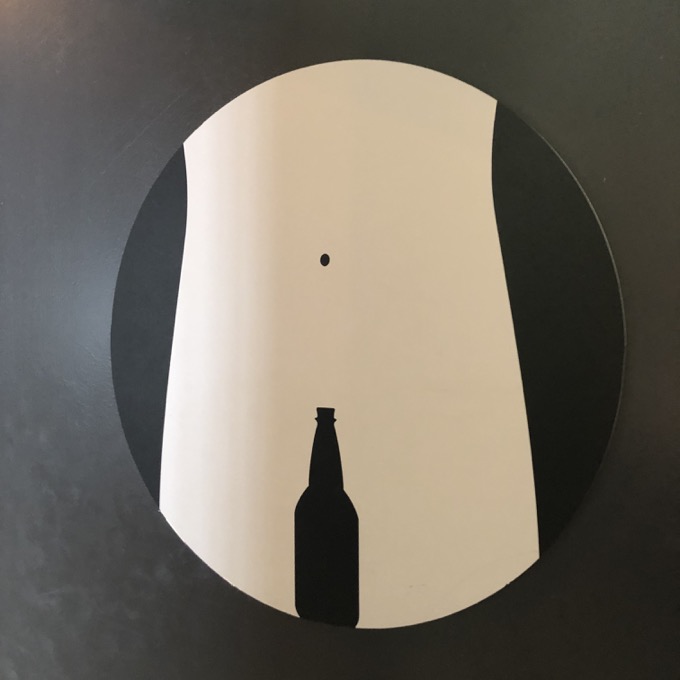 Sigh.
As I plodded through my $25 sips and sausage, I stared out into the huge space and listened to the TV's echoing off the walls. I watched the dead-eyed bus staff mope around, bar towels at the ready, day-dreaming of better days. I really didn't care that the house beers weren't very good – again, the taplist here is really strong otherwise – and bar food is simple bar food.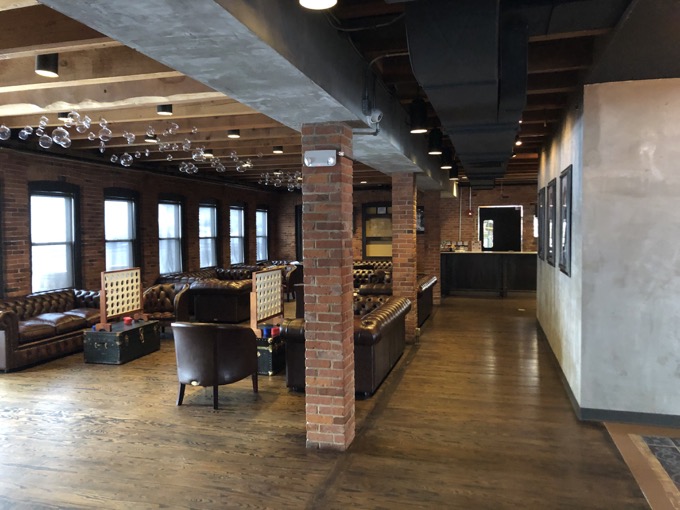 I was just left wondering the whole time what Ericit wants to be. Being a brewery is probably far down their list of priorities. Lower than it is at our state's stalwart brewpubs. The question I have for them is, "why bother with the cost and hassle and licensing of a brewery at all?" If I return, I won't even look at their in-house beer list… not when there are literally 30 better options.
Nah. Ericit is its own beast. A polarizing beast that seems to be successful despite everything you just read. Which goes to show you, I sometimes don't know my L from my R.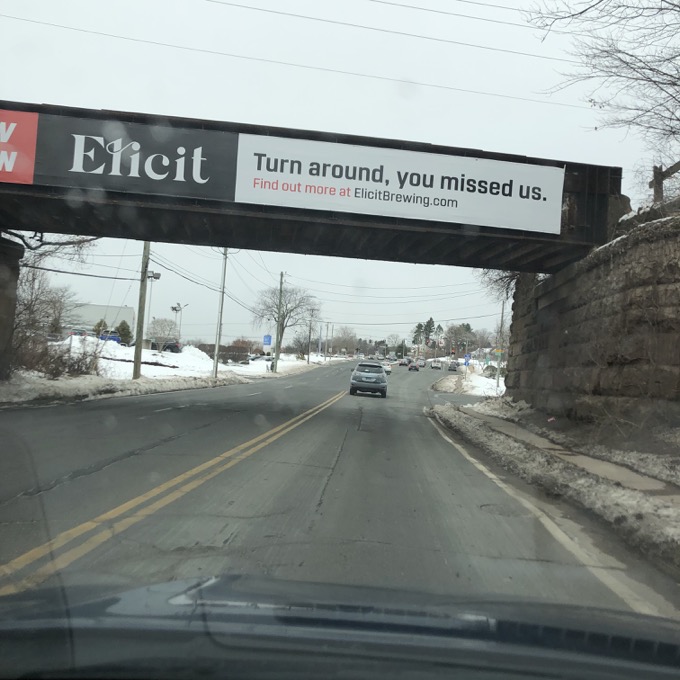 Ericit Brewing Company
CTMQ's Breweries and Brewpubs