Choo on This One
Next Stop, Christmas (2021)
I have whined on this website that it's often a slog watching some of these "Connecticut movies." And it is. And now that Hallmark and others are fixating on our little state for several of their cheesy Christmas movies every year, it's not getting any easier.
But every once in a while, one of these movies is actually pretty good. That's right, I enjoyed "Next Stop, Christmas." At least relative to the other Hallmark and Lifetime Christmas movies I've seen. This one had good actors, relatable dialogue, a few genuinely funny lines, and I'll say it… it is also a "cute" story.
"Next Stop, Christmas" also had the best "Woman in red coat on sidewalk in background," who turned, greeted a friend, and continued walking. More on her in a bit.
The movie stars Lyndsy Fonseca as Angie. It took me a minute to remember where I'd seen her before, but she was Maggie Q's protege assassin in the CW's Nikita a while ago. Christopher Lloyd and Lea Thompson are also in it; reuniting after starring in the Back to the Future Franchise back in the day. (Which is neat, I guess, since this movie involves time travel and changing the past for a better future.)
There are several soap opera actors as well, including Angie's best friend Ben. Nikita Fonseca is a neurosurgeon in New York City, and after some establishing shots there, the whole rest of the movie was filmed in Connecticut. As in "Grand Central Station" is our very own Union Station in New Haven. And I'm quite sure the "New York" hospital our heroine works in is Backus Hospital in Norwich. (Actually, it could be Hartford Hospital too, as the logo is the same for the whole network: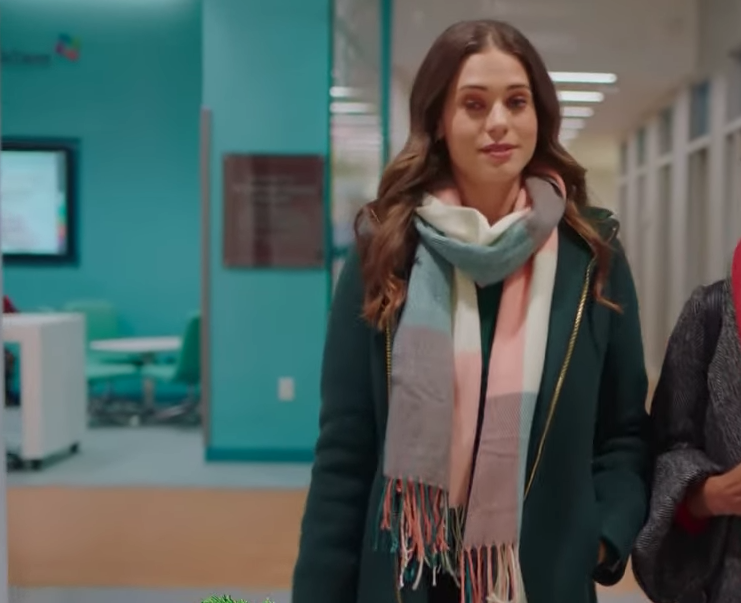 The blurry logo upper left is Hartford Healthcare's logo.
The plot isn't revolutionary. But it's whimsical! And fun! Angie, who can't find time to see her family in Connecticut, finds herself wondering what life would have been like had she accepted handsome famous sportscaster Tyler's marriage proposal 10 years prior. Pretending not to dwell on this, she dwells on it while buying a ticket home to Yonkers from a sentimental old train station ticket seller – Christopher Lloyd.
Uh-oh! He sold her a magic ticket on a magic train to 2011! After falling asleep on the trip to Yonkers, she awakes on the Essex Steam Train heading to Shepherd's Ferry, Connecticut! Her hometown!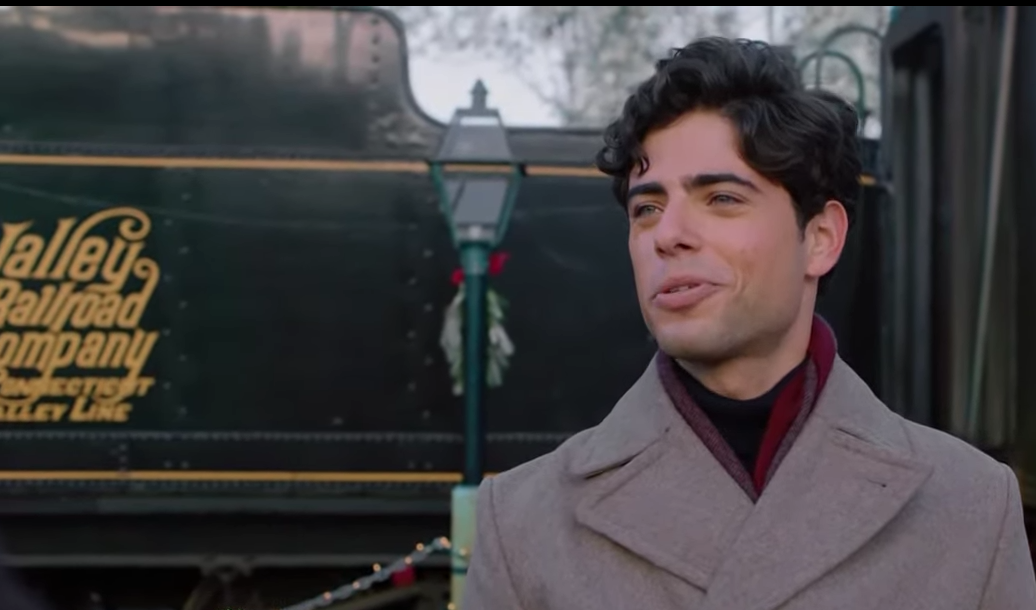 (Was the choice of "Shepherd's Ferry" a cheeky nod to pop artist and provocateur Shepard Fairey? I hope so.)
Angie is rattled and confused at first, but acclimates to the 10 year time warp pretty quickly. Her mom and dad are still married, but their relationship is showing cracks. Her sister is struggling with IVF treatments, and… Angie is dating the sportscaster guy. (In the present, her parents are divorced, her sister is struggling with adoption, and sportscaster guy is married to someone else – and Angie is lonely and single, as all beautiful successful New York City neurosurgeons are, I'm sure.)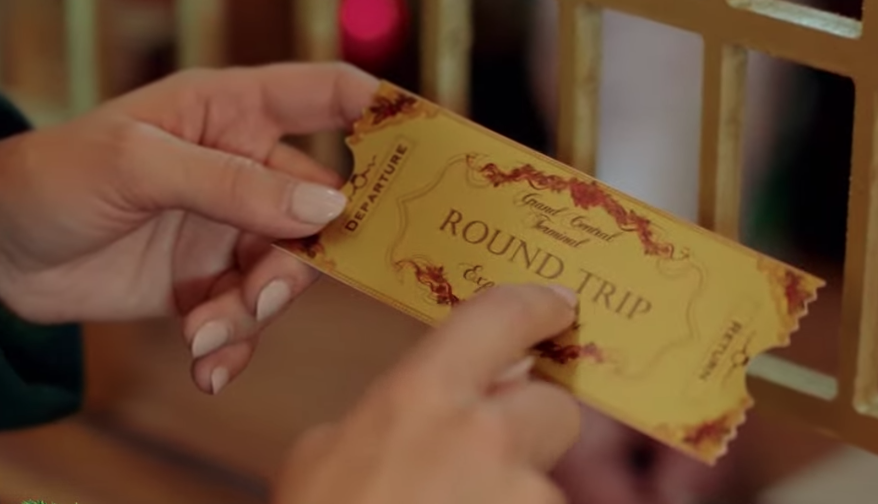 Yes, it's Angie's mission to get… back to the future. For real. And Christopher Lloyd is there to help her navigate this task. She figures her goal here is to accept sportscaster guy's proposal this time and all will be well. But along the way, she repairs her parent's relationship, helps her sister navigate difficult pregnancy decisions, and begins to realize – gasp! – her lifelong friendship with Ben could be… should be? more.
Hey, I just read that in real life Lyndsy Fonseca got married at Saltwater Farm Vineyard in Stonington. That's cool. The Christmas tree farm the movie used was Fir Patch Farm in Salem if you're curious. The movie was shot in the summer, so all the snow is fake of course, but the production did a pretty good job with it.
The massive house Angie's parents own is in Old Lyme somewhere. The bar that Angie has drinks (and later, dinner with Ben at) is the Choo Choo Lounge at the Saybrook Point Resort. The scene where Tyler proposes to Angie is Deep River Landing in Deep River – this is also where the yellow train station is that is frequently featured as well.
But downtown Chester is probably the most recognizable location. They did the thing these movies always do and say, like, "let's have dinner at Donovan's" and then go to the real Grano Arso without hiding the fact the restaurant they just called Donovan's is clearly signed as the very real (and very good) Grano Arso in Chester.
There's a scene at Otto as well. Gather Chester is prominently seen. Everyone loves downtown Chester! Very happy it made it to the big screen.
Unlike Back to the Future, Angie makes no bones about her time-traveling to her friend Ben. In one scene, she keeps yelling at him, "I'm from the future!" and I laughed. For real laughed. It was funny. There's a line about smartphones after Ben assumes they keep getting smaller and Angie says, "no, they actually get bigger" and Ben's disbelief is also pretty funny. Ben seems like a really nice guy.
The gumdrop scene is also funny. I'll leave that a surprise. Lyndsy Fonseca is a good comic actor.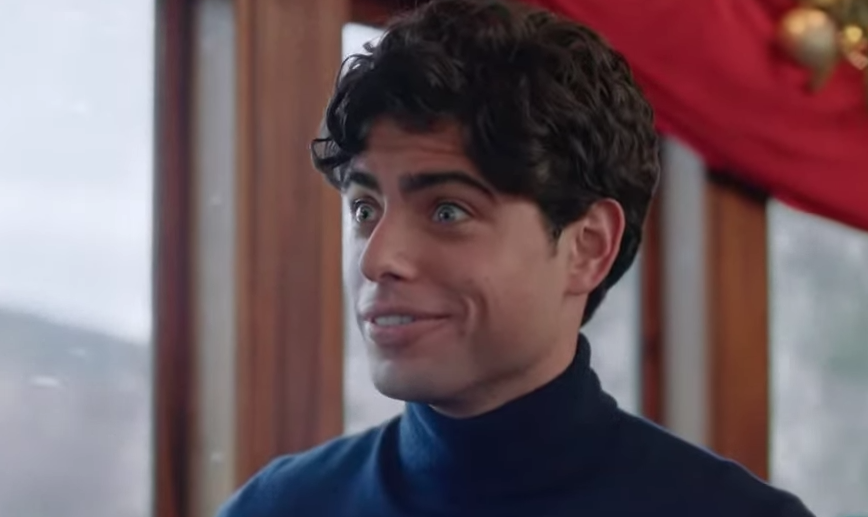 Of course, everyone knows he is and quietly thinks that Angie should dump the sportscaster guy and get together with Ben and live happily ever after… except for her. Angie keeps doing the things she thinks she's supposed to do to get her return ticket to 2021, but nothing works.
She fixes her parent's marriage. She accepts sportscaster's proposal. She helps her sister with the IVF difficulties. But nope, Christopher Lloyd keeps pushing her back "out there" in 2011-world, playing coy.
Through a series of clues Ben sheepishly leaves for Angie, she realizes he's the man for her. So when sportscaster guy gets them tickets to go together (for his work), she tells him to go alone and then she and Ben sort it out. There's some confusion because of the 10-year gap thing, but they agree to meet on Christmas Eve 2021 in New York City, and…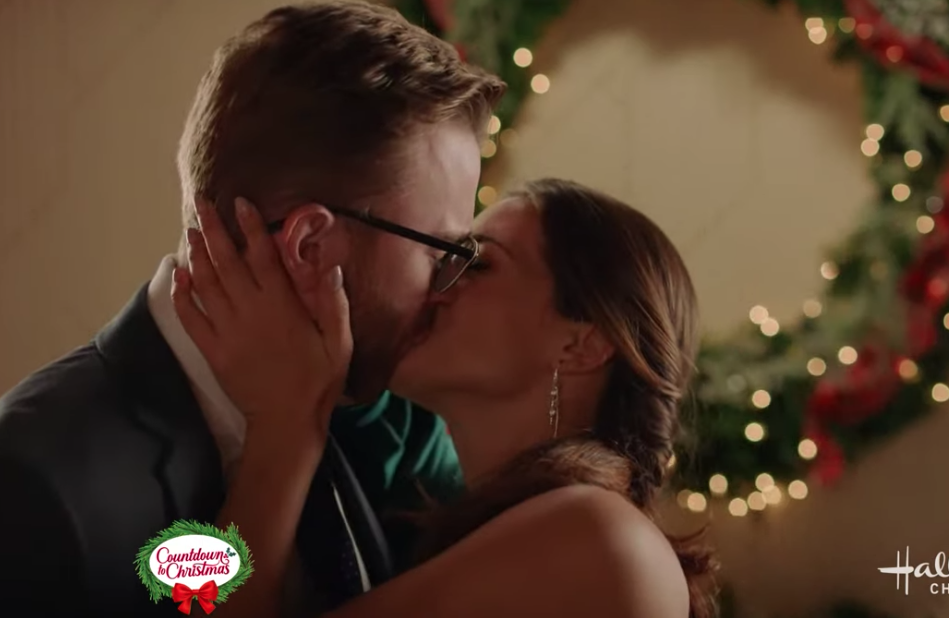 Boom. Hallmark nails it again.
Oh yeah, the woman in the red coat I mentioned earlier? My friend Dan told me his wife Denise "was in" this movie. He offered no further details, but since I know Denise and know she's not an actress, I knew she'd be an extra somewhere. The fact that I found her should tell you how much I study these films.
I'm sure Dan is very proud.
And Hallmark should be proud for making a decent quickie movie. And the lower Connecticut River Valley should be as well. It's a very pretty area and this movie captured a lot of what makes it so.
CTMQ Rating: 4 out of 5 thumbs up
Connecticutness: 136 out of 169 Nutmegs
Filmed in Connecticut? Yes!
Wealthy Caucasian with a Big House? Yes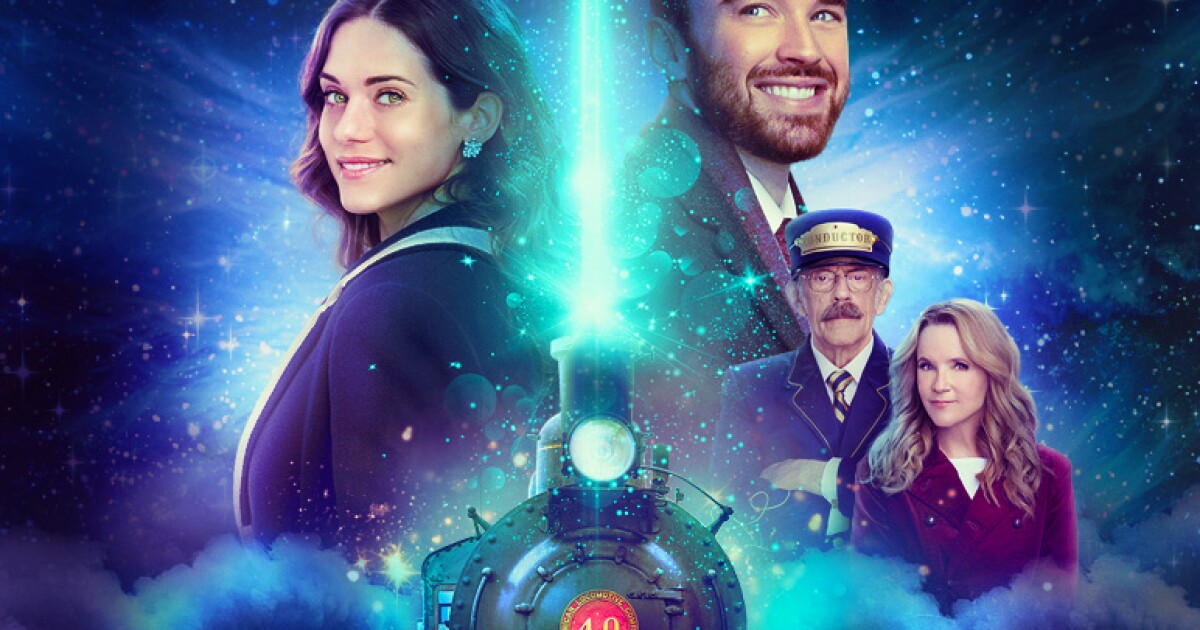 Connecticut Movies
Connecticut Christmas Movies