Al Breakyerneck
Nipmuck State Forest Breakneck Pond Trails, Union & Woodstock
June & October 2022
Finally.
I'm finally finishing up my hikes (and write-ups) at the massive block of undeveloped land along the Massachusetts border in Union. Most people consider this whole area Bigelow Hollow State Park, but in reality, the state park only covers a small fraction of the large trail system up here – the rest being Nipmuck State Forest land. (I'm also guilty of calling the whole thing Bigelow Hollow, but that messes with my need for accuracy and sense of order.)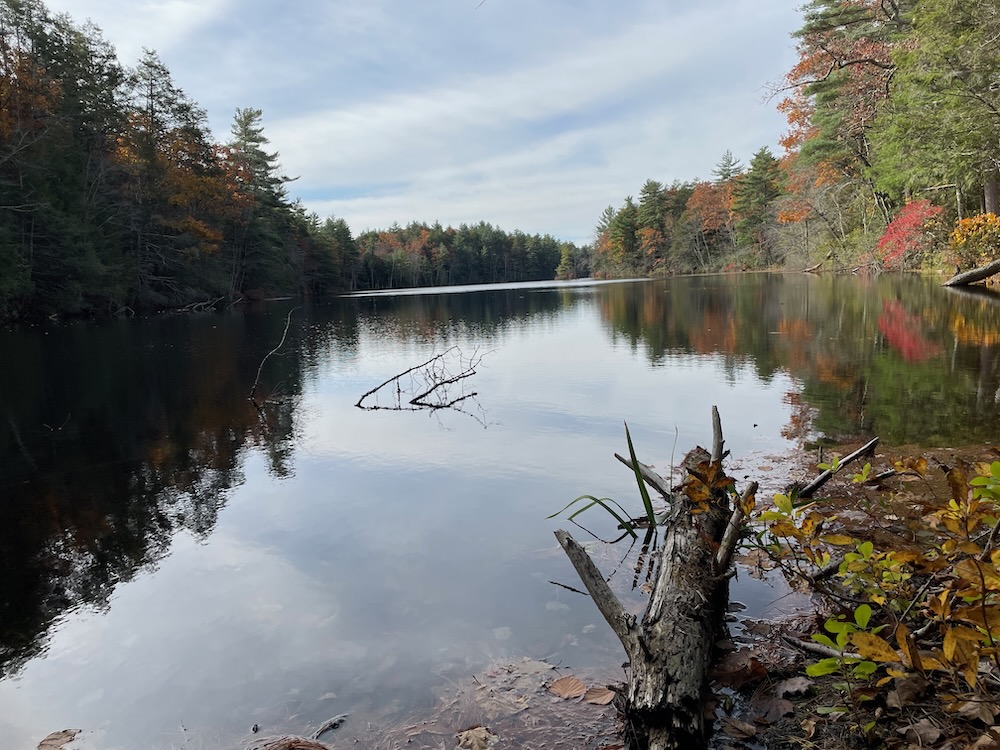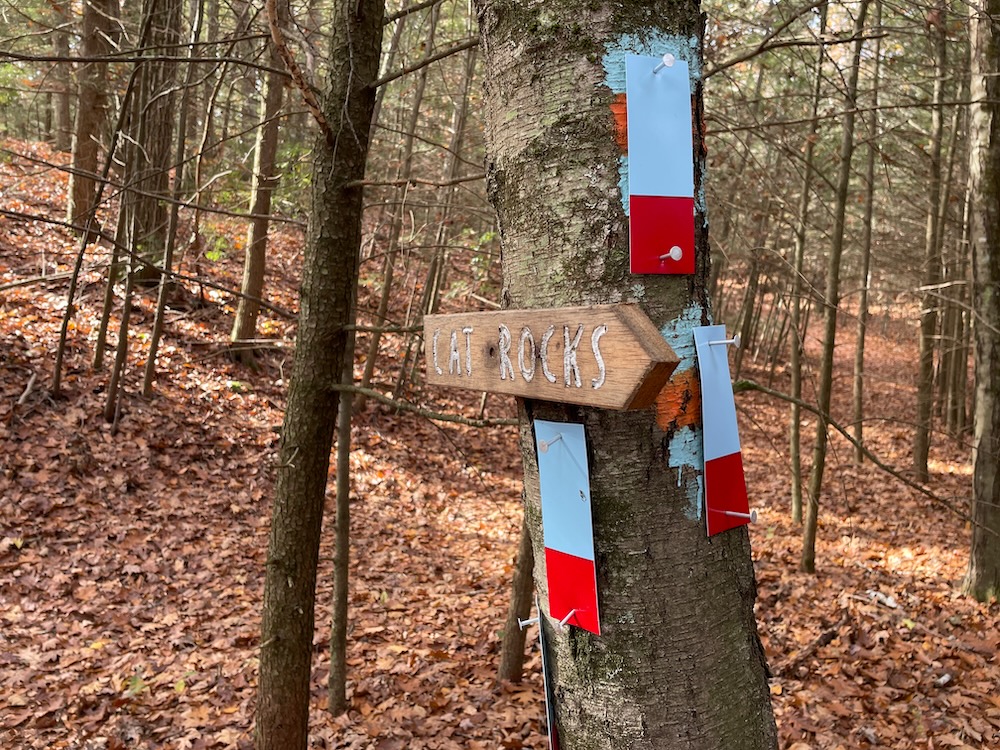 I suggest that if you plan to hike up here, get yourself an updated trail map, sort out a route, and go for it. This area is infamous for people getting lost – sometimes for days! – and I've encountered two hikers up there who had absolutely no idea where they were. One guy was off by two miles and heading in the wrong direction. Cell service is non-existent in half the park/forest, so plan ahead, be smart, and stay safe.
For my purposes, I've written about the Nipmuck Trail's northernmost section separately. That trail skirts the eastern side of Breakneck Pond. I've also written about the southwestern block of trails on another page as well – those are mostly in Bigelow Hollow State Park. I won't apologize of any confusion; this is just how I operate.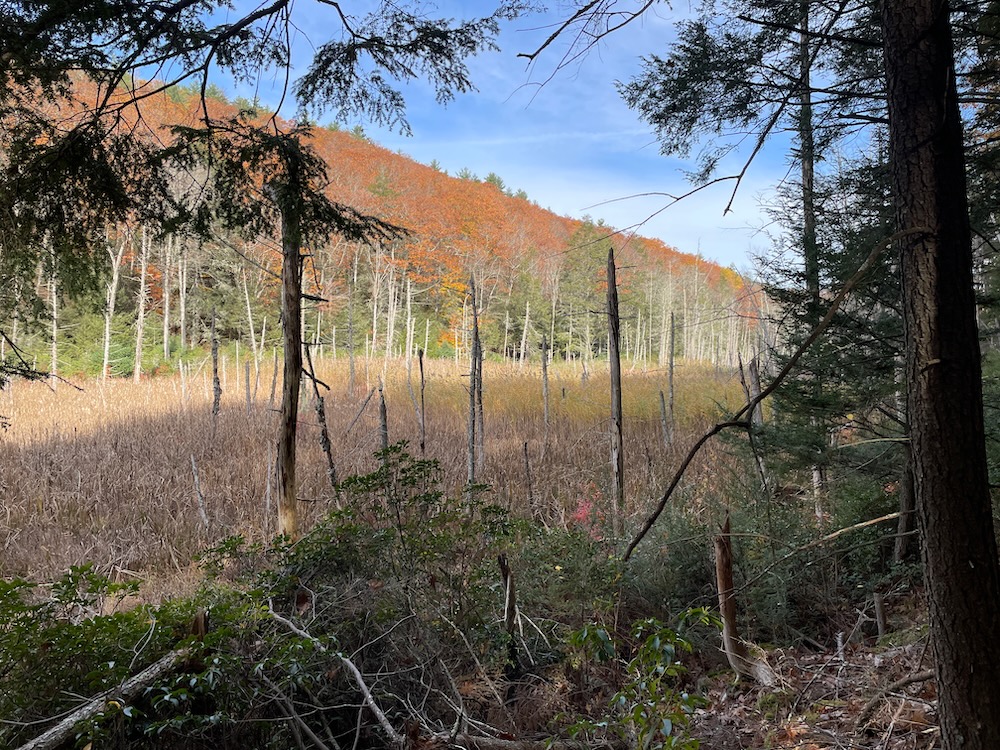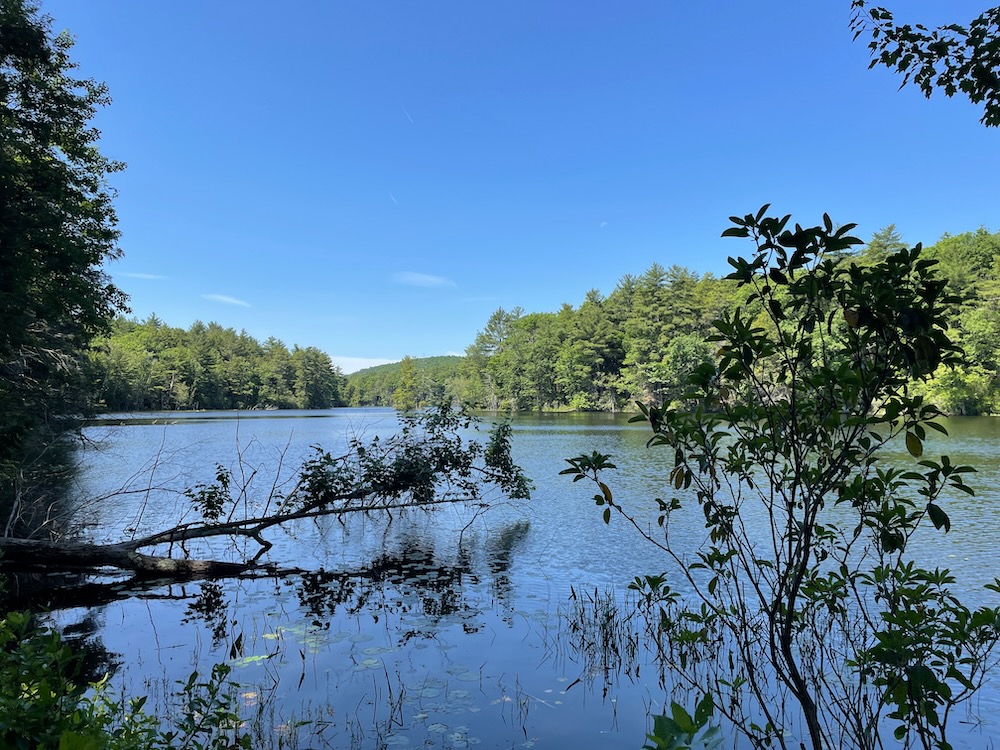 That leaves us with three three main trails, almost exclusively in the state forest, all "around" Breakneck Pond: Ridge Trail (blue/orange), Breakneck Pond View Trail (blue/red), and East Ridge Trail (white). In my opinion, the best loop would be the Ridge Trail north to the Nipmuck south. But everything up here is great. I love it. Let's hike!
Breakneck Pond View Trail
I hiked this blue/red blazed trail heading south after trekking north on the Nipmuck Trail. The trail begins where the Nipmuck ends: at the Massachusetts state line – complete with border marker! – and heads north into the Bay State to round the northernmost reaches of Breakneck Pond. The views across the water are lovely, and there's even a little beach-like area at one point.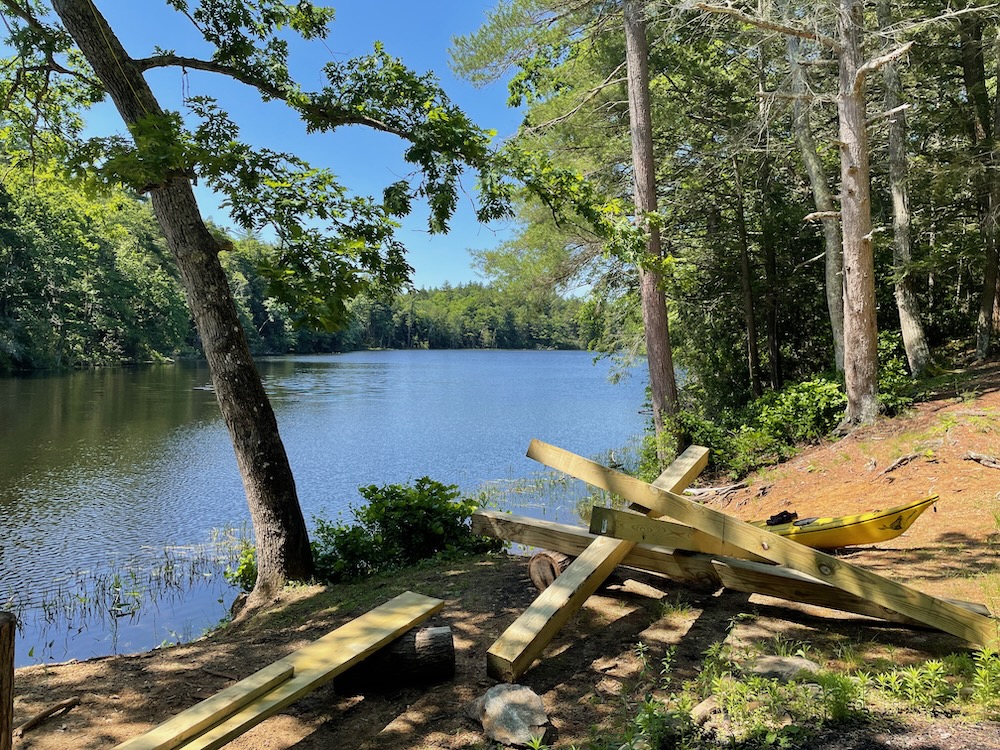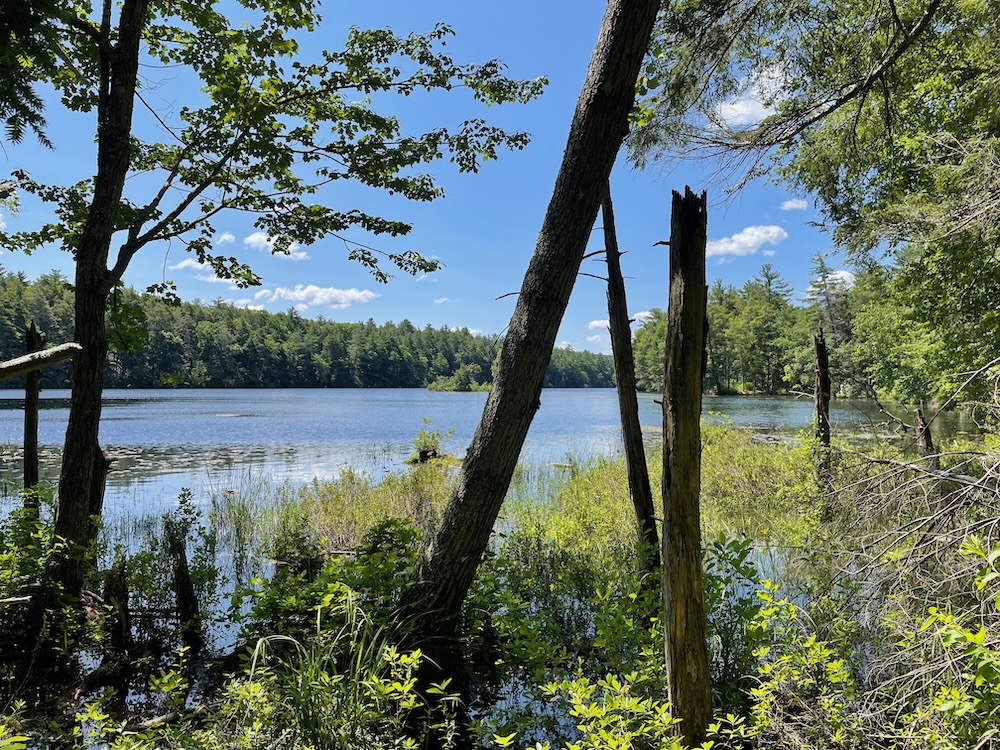 When I first did this stretch in June of 2022, I had to pick my way across a fairly broad inlet stream. A few months later when I came the other way, a guidewire had been installed to assist hikers across a log. Much appreciated, as the water was much higher. Just west of that bit of fun is the junction with the Ridge Trail which heads up to Cat Rocks. (We'll be coming down that later on this page…)
I continued on the Pond View Trail south in the summer. The thing about every pondside trail here is that they aren't your typical pondside trails. They are a bit rugged. They are definitely not your flat, gentle, easy walks along the water. (That's not to say they are going to kill you, but you will be scrambling a bit up and down some rocky outcrops and such.)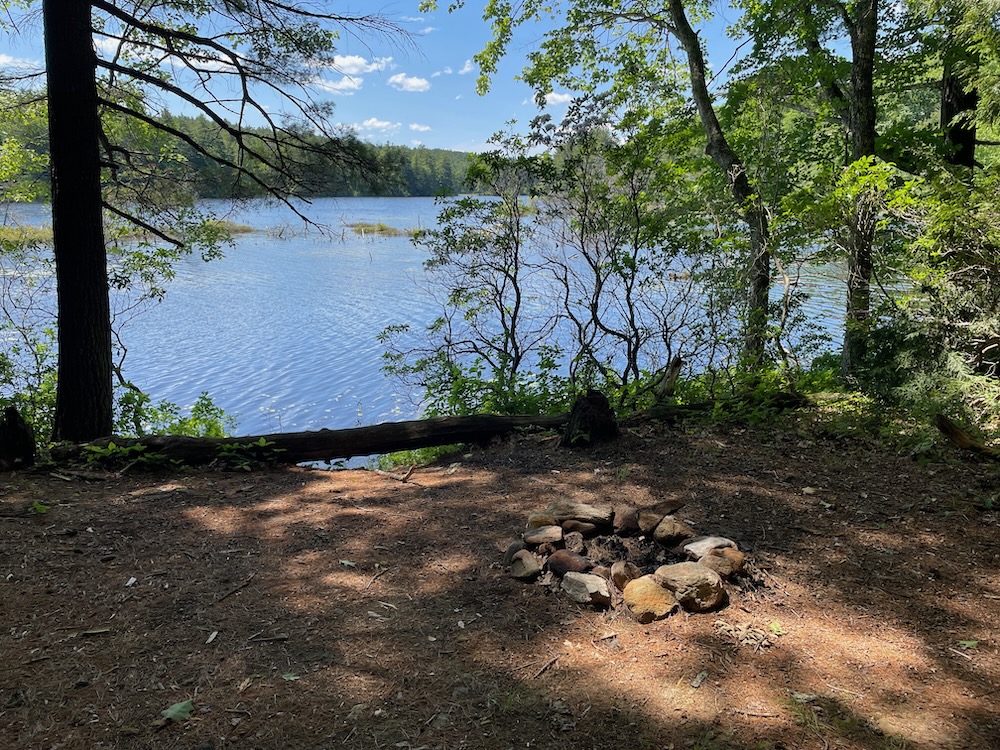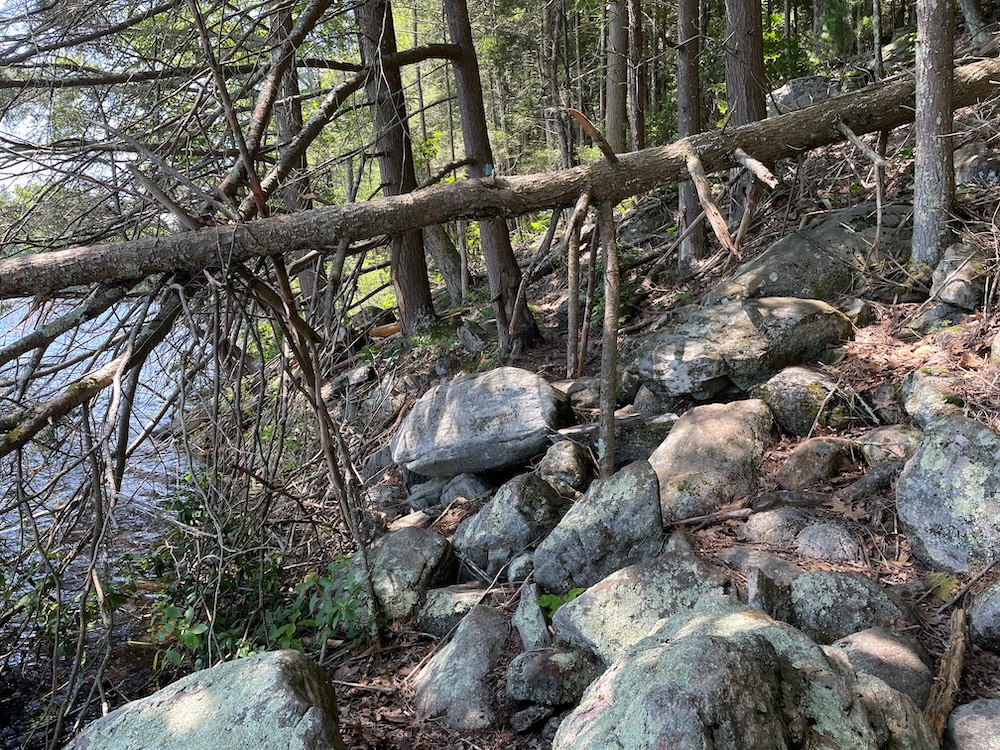 Both the Nipmuck on the other side of the pond and this trail have a few steep and unexpected ups and down, but the rewards are certainly worth it. There's also a camping area on this side as well, which I would again, highly recommend you check out if you're into such things. I imagine a clear night on Breakneck Pond would be one of the best camping spots in the state.
The name Breakneck Pond refers to the steepness of the surrounding terrain. Anecdotal history has it that a man named Laflin owned land near the pond. Returning home one night after dark, he tumbled down a precipice and "injured himself considerably."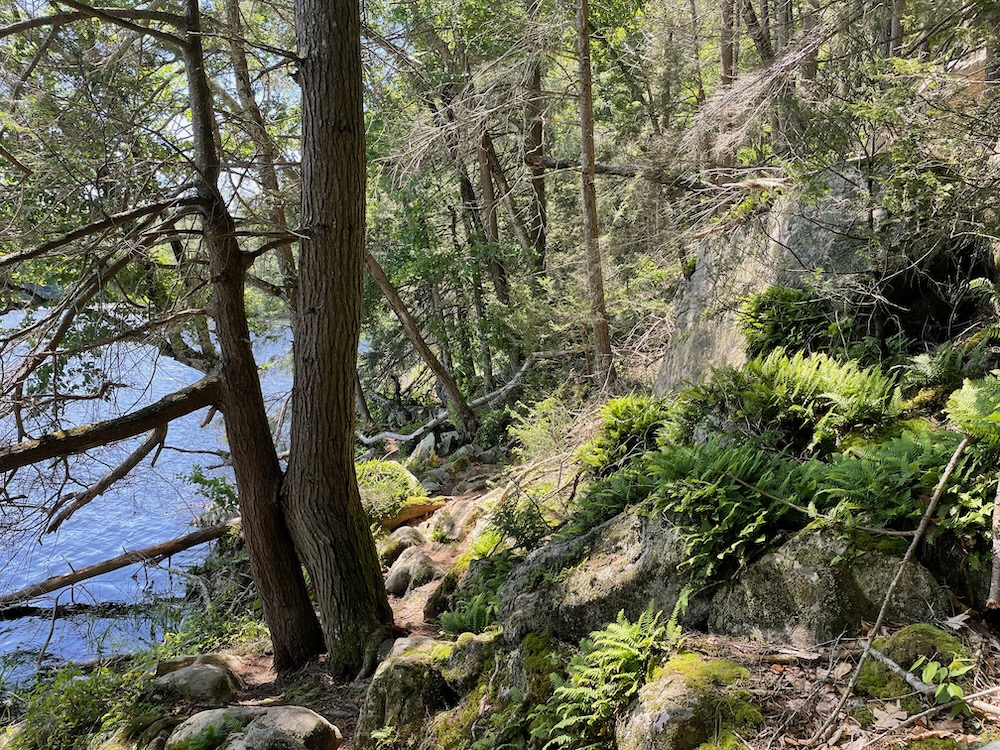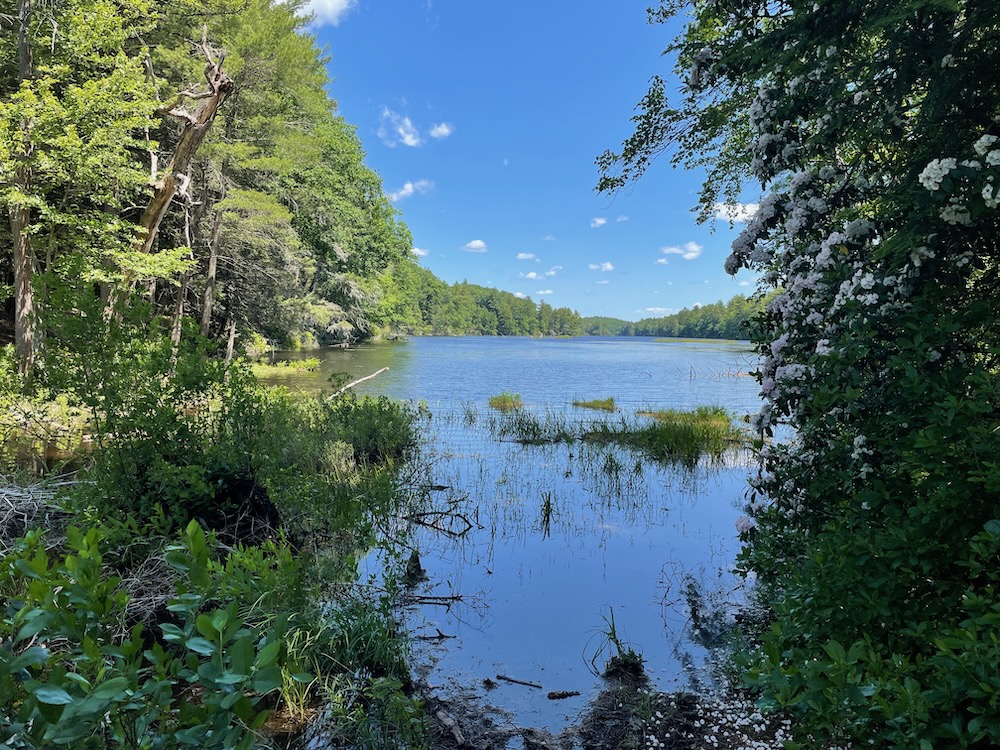 The name Breakneck soon was applied – and stuck – to the pond and its hilly environs. The woods here, despite the many trails, are pretty wild. The boulders are huge, the valleys deep, and the laurel is thick all the way down to the lapping pond.
Once to the southern end of the pond, I startled a resting heron who took flight mere feet from me. While it scared the bejesus out of me, it reminded me that this isn't a very well-traveled trail if that bird felt comfortable hanging out right next to it. Sure, you have to walk a little bit to get here from the nearest parking area, but that walk is flat and easy down an old woods road.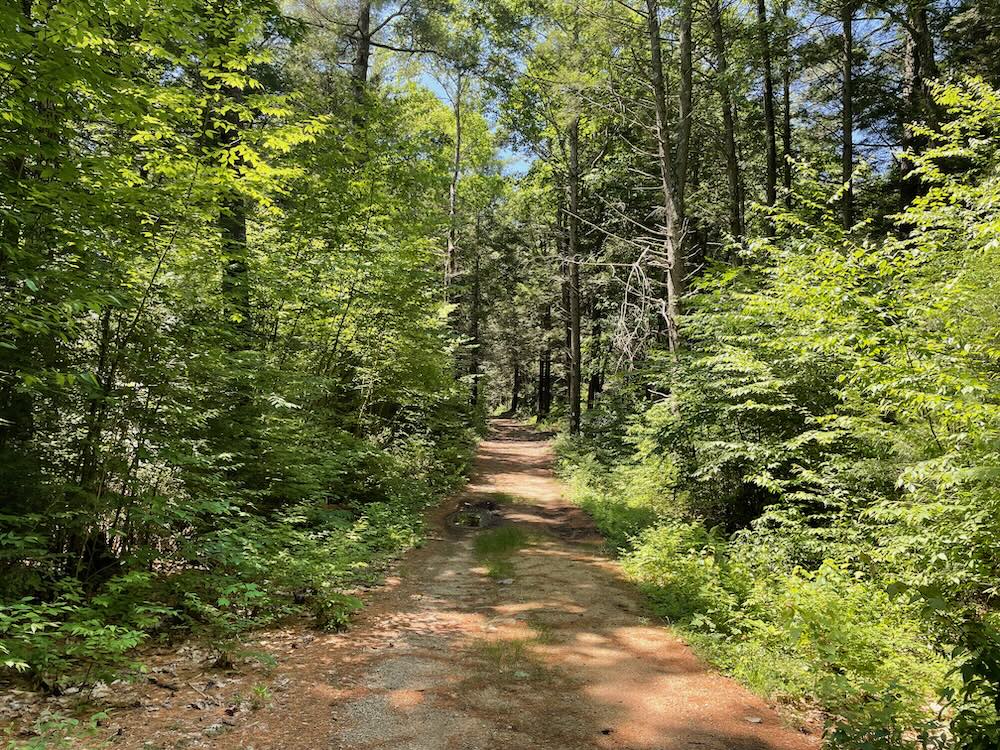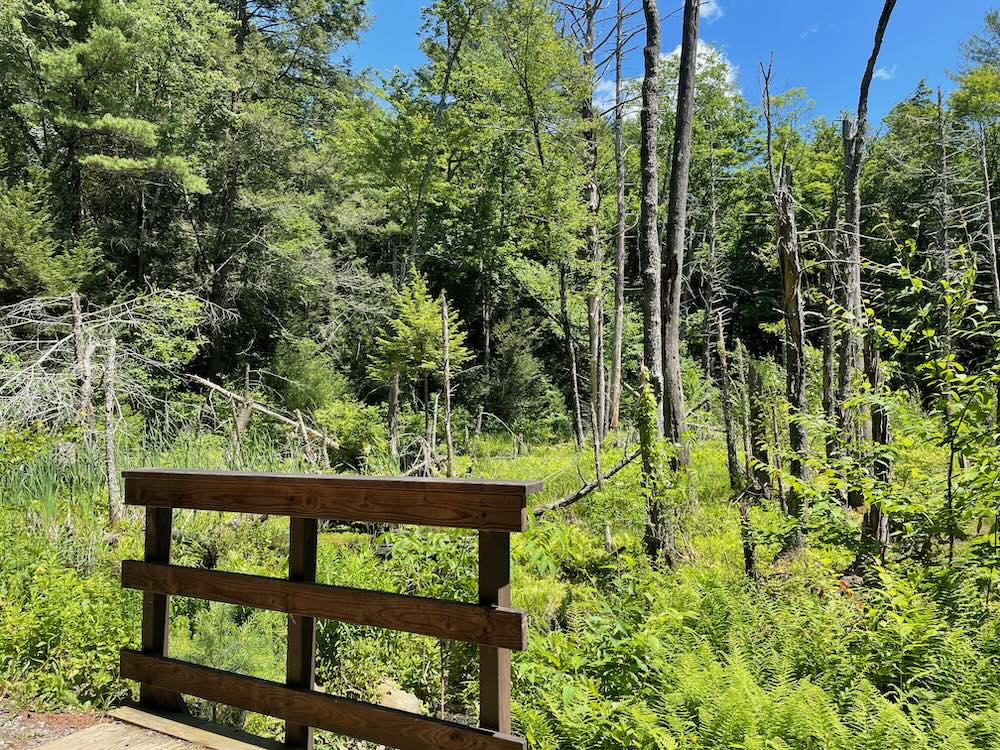 Come here. Hike here. Trust me.
That woods road is blazed white. Near the parking area, off that very same white trail, the Ridge Trail begins…
Ridge Trail
Now we're in October, late October, a week or two past peak foliage. And now we're walking north, more or less paralleling the previous trail, but now above it along the… you guessed it… the ridge.
The Ridge Trail is a very different hike than the Pond View Trail. For the majority of its length, it's actually not any more difficult than any other trail up here. In fact, I was surprised at how gentle it was for the most part.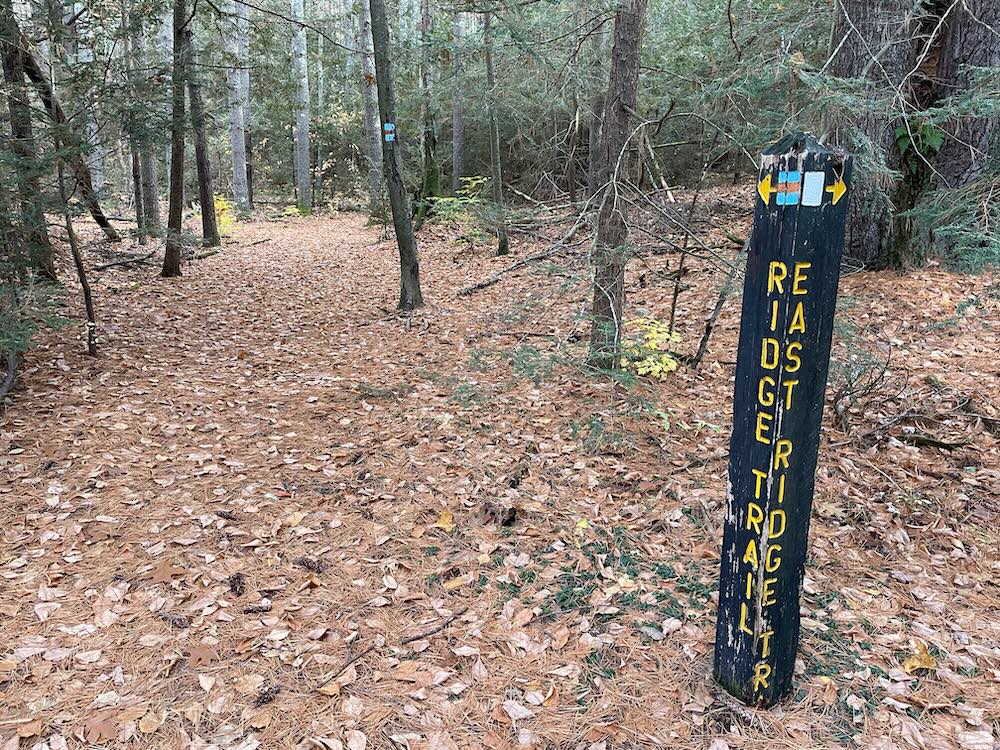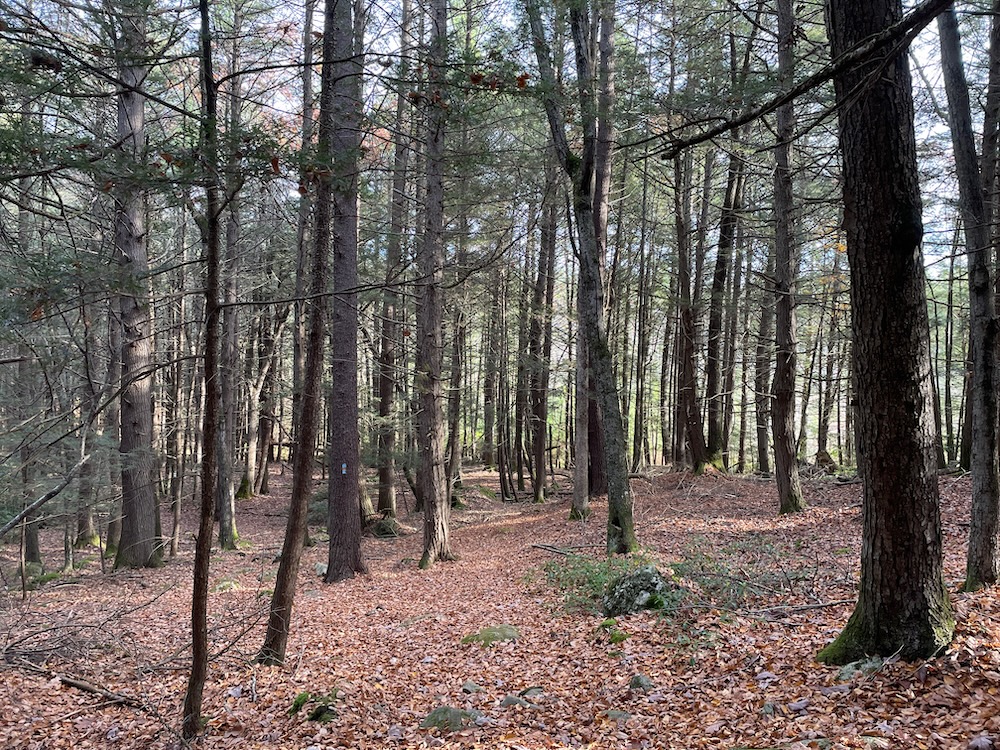 I was far more concerned about slipping on wet leaves, or stepping on a leaf-covered obstacle and turning my ankle than any sort of endurance challenge. Attaining the ridge heading north is quite easy, as the trail almost starts on the ridge already.
That's not to say there aren't some climbs, but I'm telling you, they're no big deal. They're barely noticeable since you're walking through majestic hemlock stands and through thick laurel patches much of the time. This is a well-maintained and fun hike.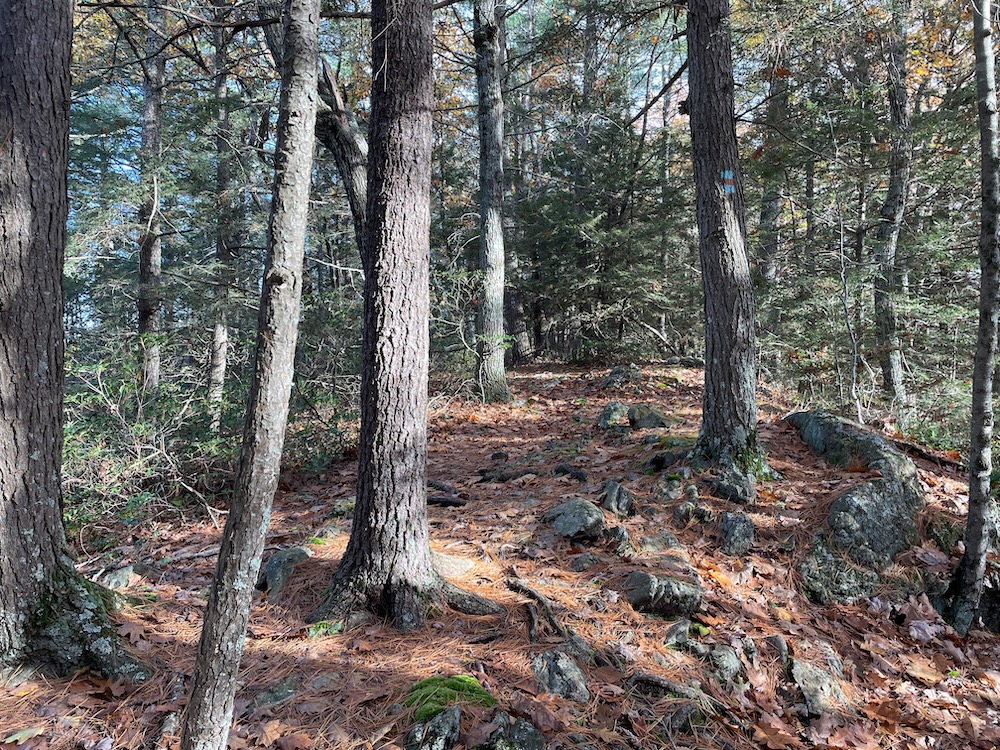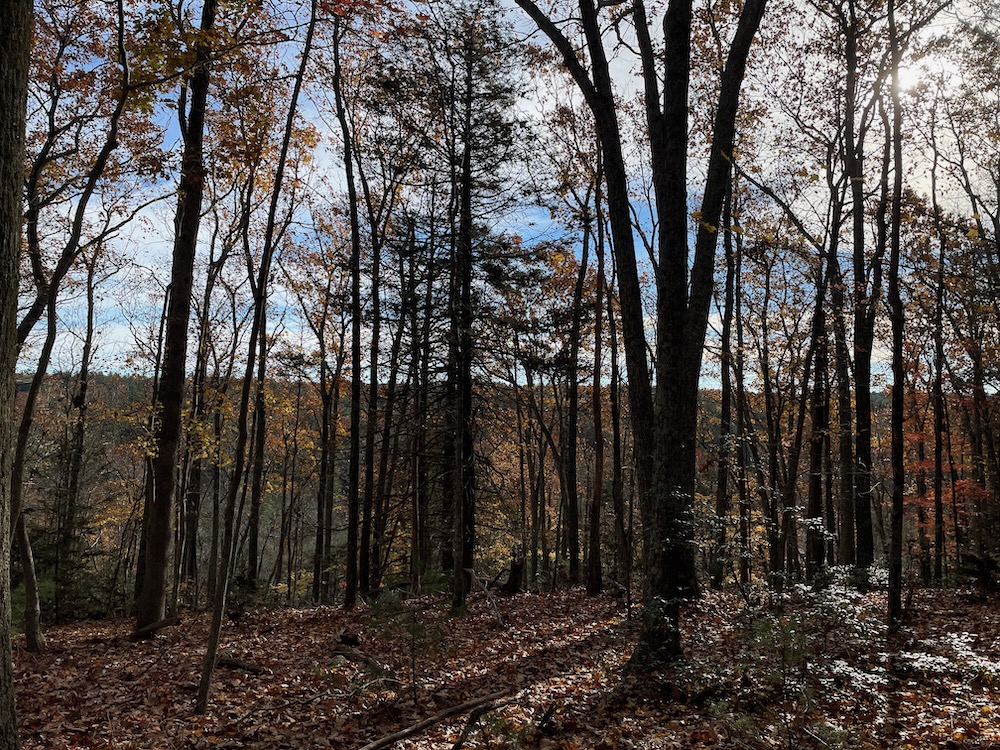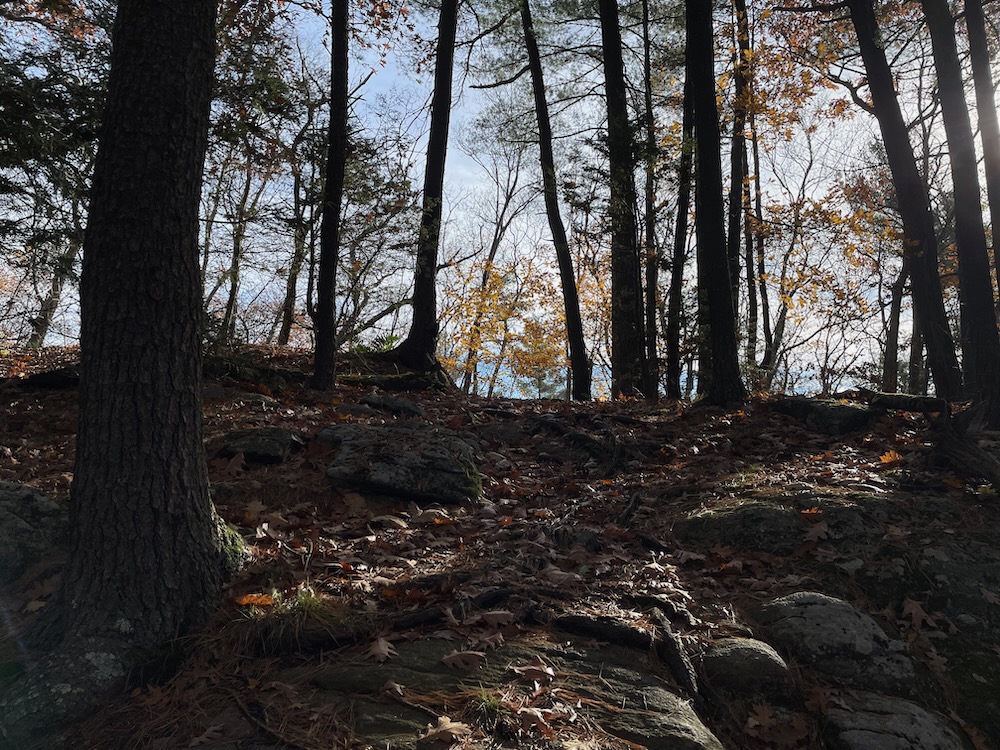 And Breakneck Pond is unseen for the first mile or two – another surprise to me. (I had visions of a daunting ridge walk with views of the pond the whole way.) And when it becomes clear that you are on the true ridge above the pond, still… no real views for quite a while.
I should note that this trail, like most others here, does intersect with forest roads. They all appear on the maps as the same, but they are not all the same. I could drive my Chrysler Pacifica down some, but couldn't mountain bike down others. Just be wary of that.
After crossing one of those "roads," and some ups and downs, the Ridge Trail shares some real estate with a much wider wood road for a bit. And check this first picture out: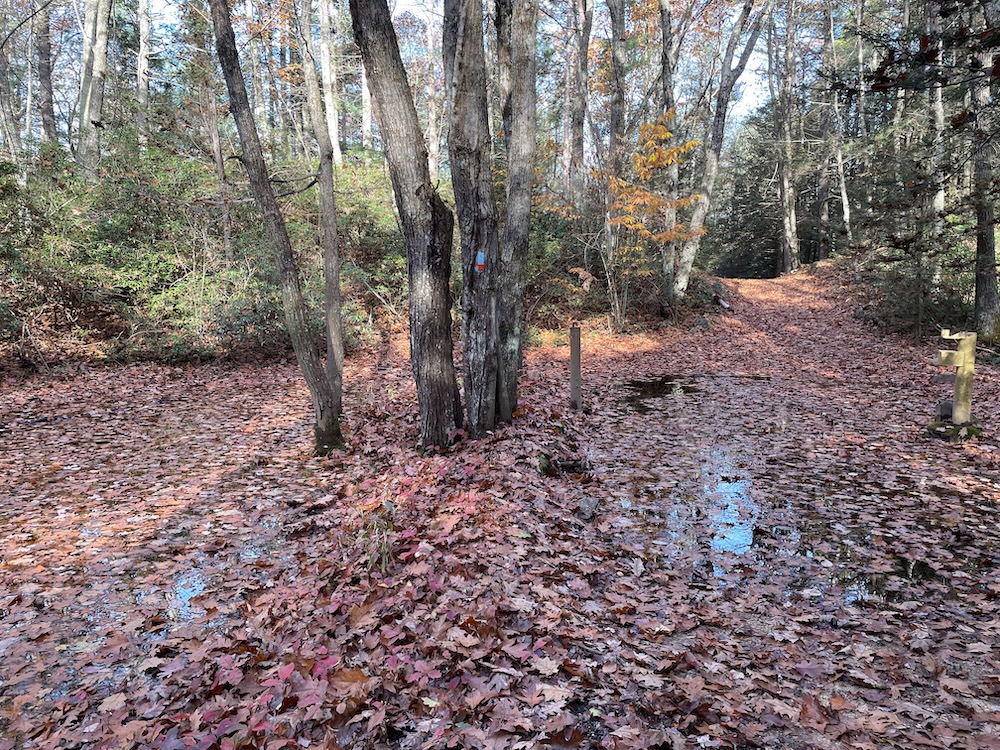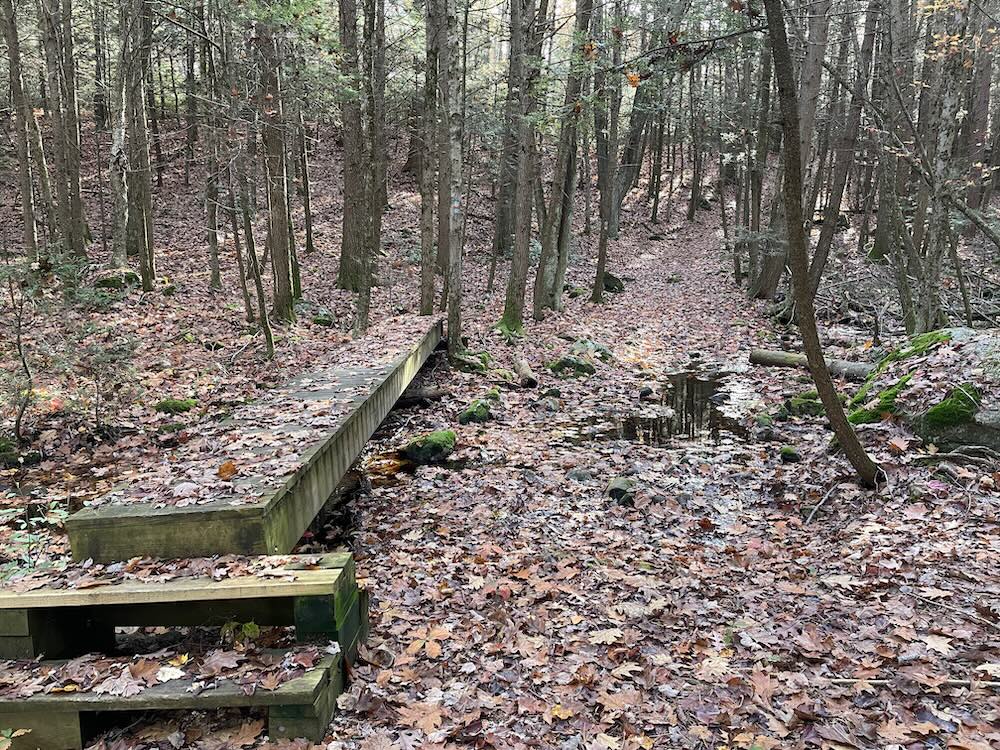 Notice anything interesting? This is essentially a shallow pond hidden under leaves. I swear, if I wasn't paying attention, I would have walked right into it (as the trail marker on the tree there suggests I do.) Fortunately I had my wits about me and was able to keep my feet dry with some nimble hopping around the edge.
Once the Ridge Trail leaves that road and heads easterly, things get more interesting for the next mile and a half. Arguably to coolest mile and a half of trail in this whole state park/forest. This is the Cat Rocks area above the northern reaches of Breakneck Pond, and it's no joke. There are some seasonal views up there atop some sheer cliffs – the Break Yer Neck part of the forest – but once the trail crosses into Massachusetts, it first descends steeply and picks its way through the boulder jumbles. At one point, it goes through a huge cleaved boulder.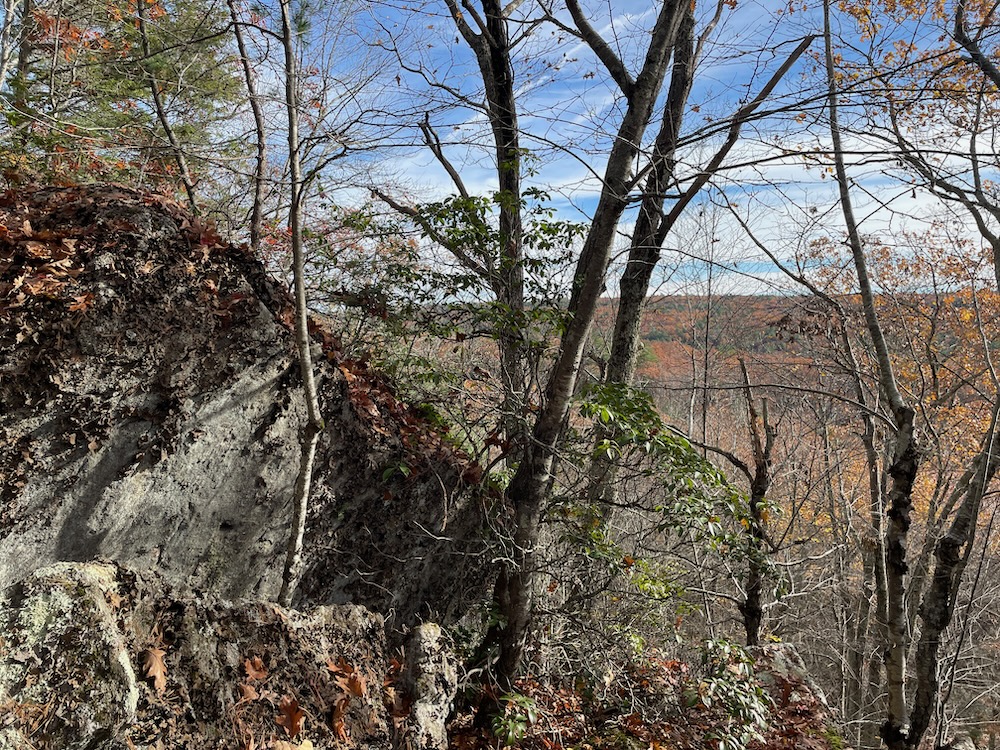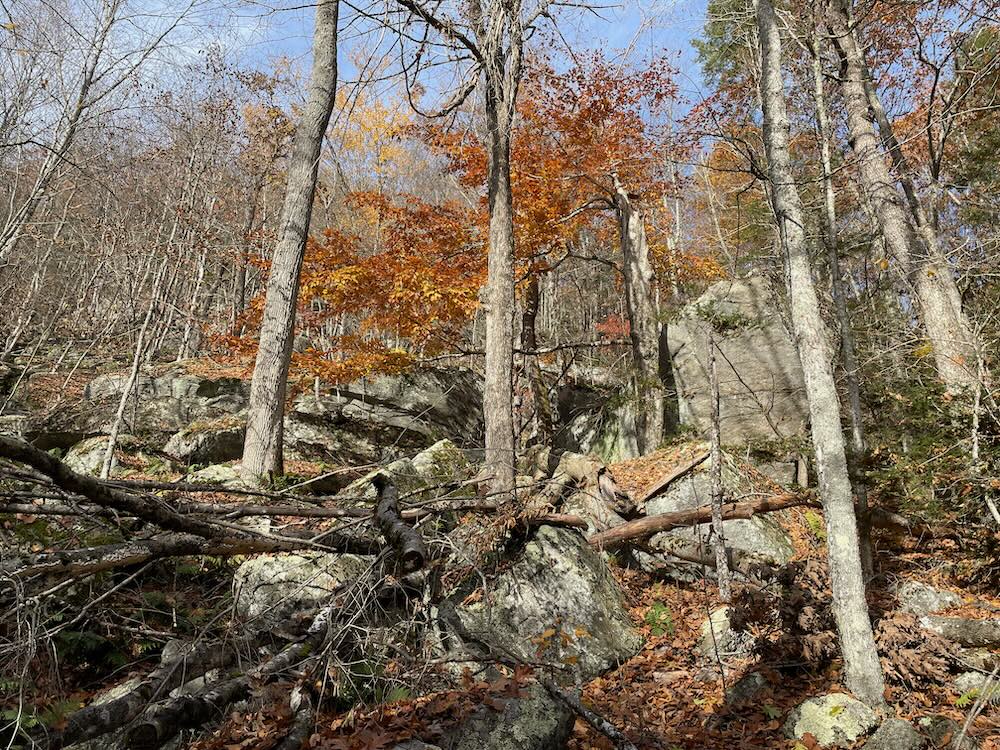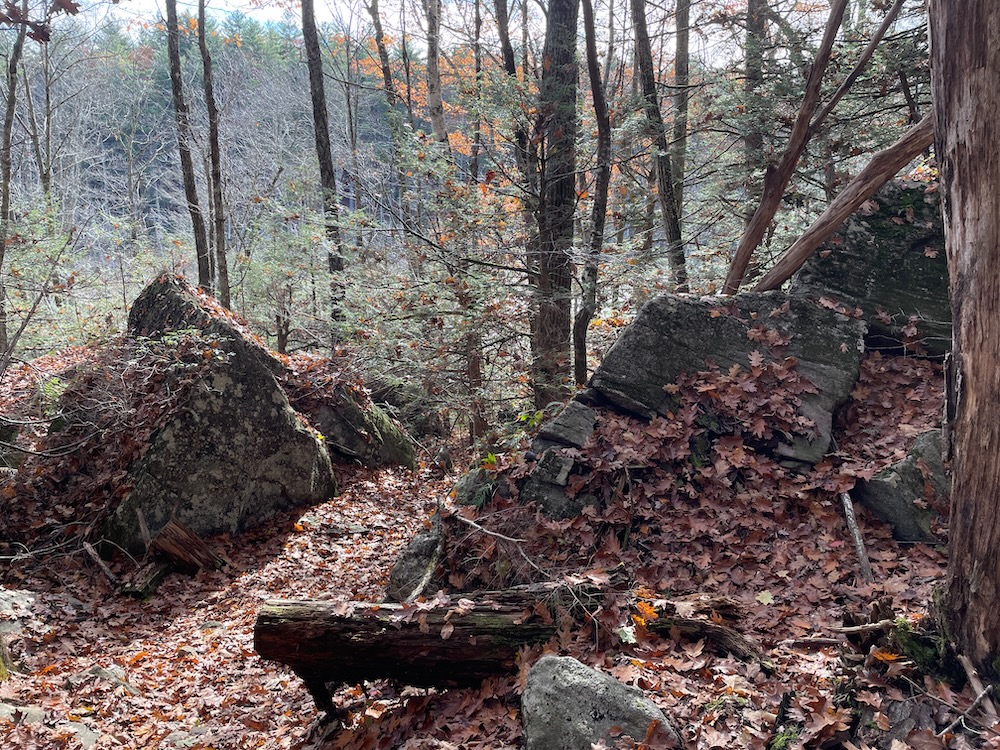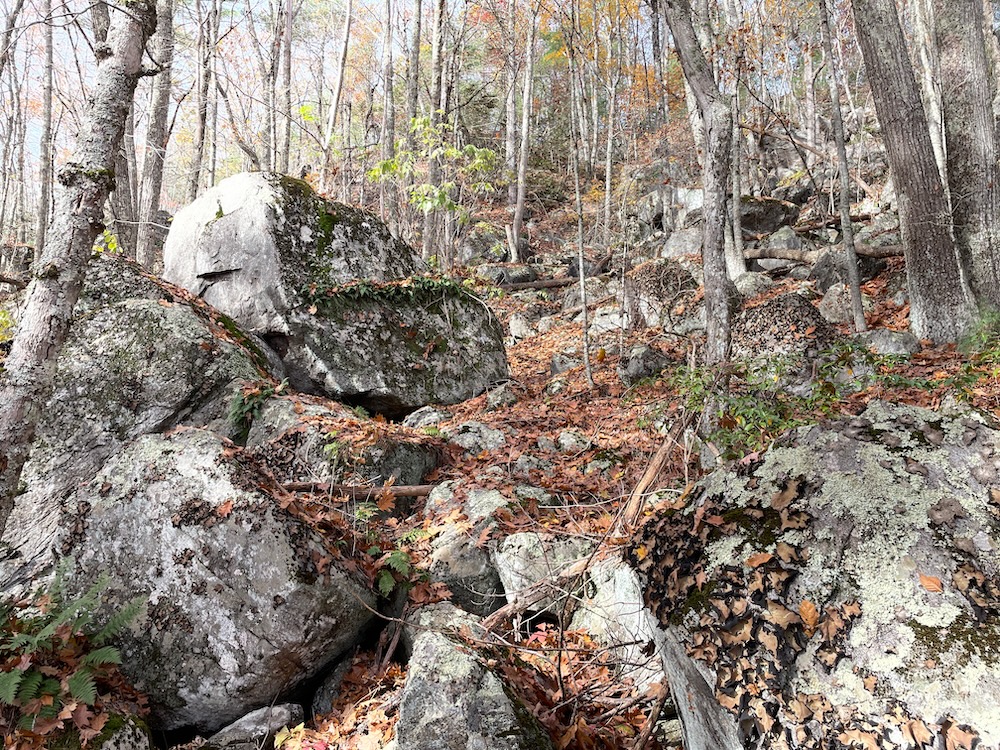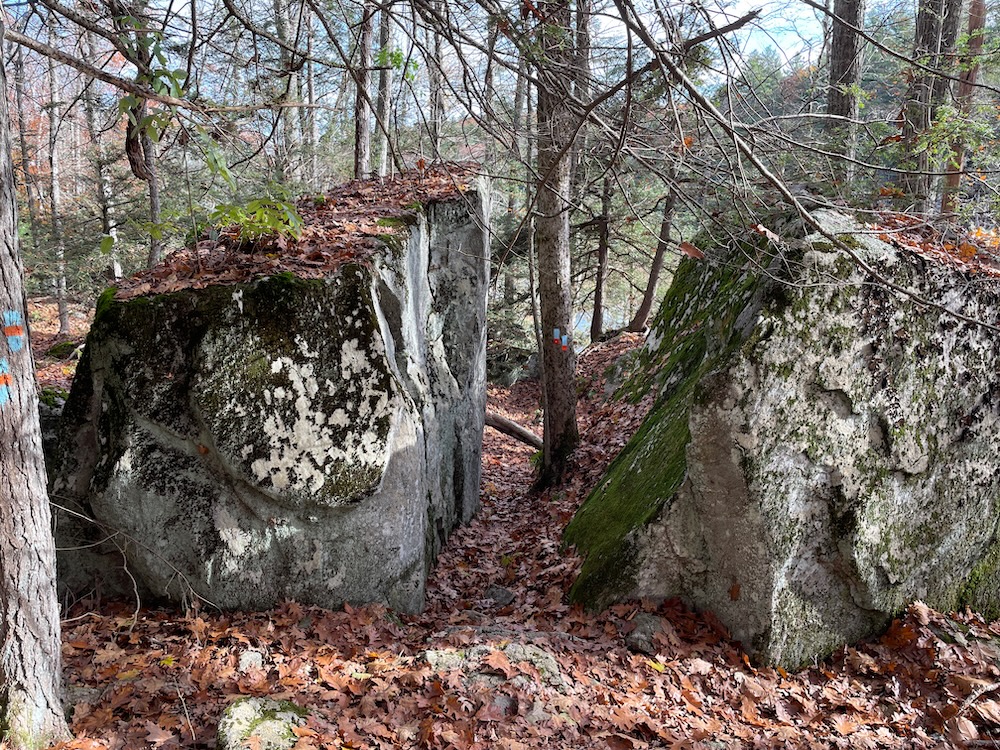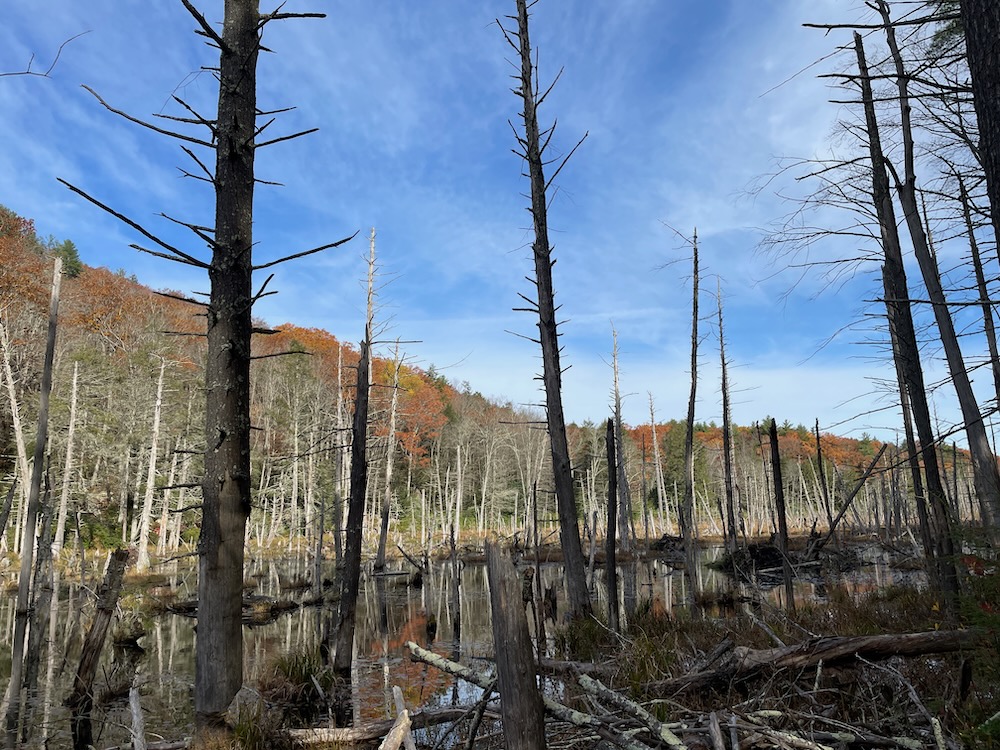 Somewhere on this steep hillside is Cat Rocks Cave. I wrote about it here, admitting that I have no clue which fake cave is the Cat Rocks Cave. There are lots of contenders for that title. If you've not hiked this stretch of trail, you will be surprised at how New Hampshirey it really is. If you have bad knees and do better ascending than descending steep inclines, come the other way.
After that fun, the trail reaches its junction with the Breakneck Pond View Trail, at which point – if you've hiked this way – you have a choice of three trails back to your car: The Pond View trail described above, the Nipmuck Trail along the eastern shore of the pond, or the East Ridge Trail. As I'd already done two of them, I took the East Ridge Trail.
East Ridge Trail
Wow, what a difference a ridge makes.
To reach the trailhead, I used the guidewire across the inlet stream, circled around the top of the pond, hiked south into Connecticut, reached the granite border marker and the northern terminus of the Nipmuck Trail, and headed up the hill on the white-blazed East Ridge Trail.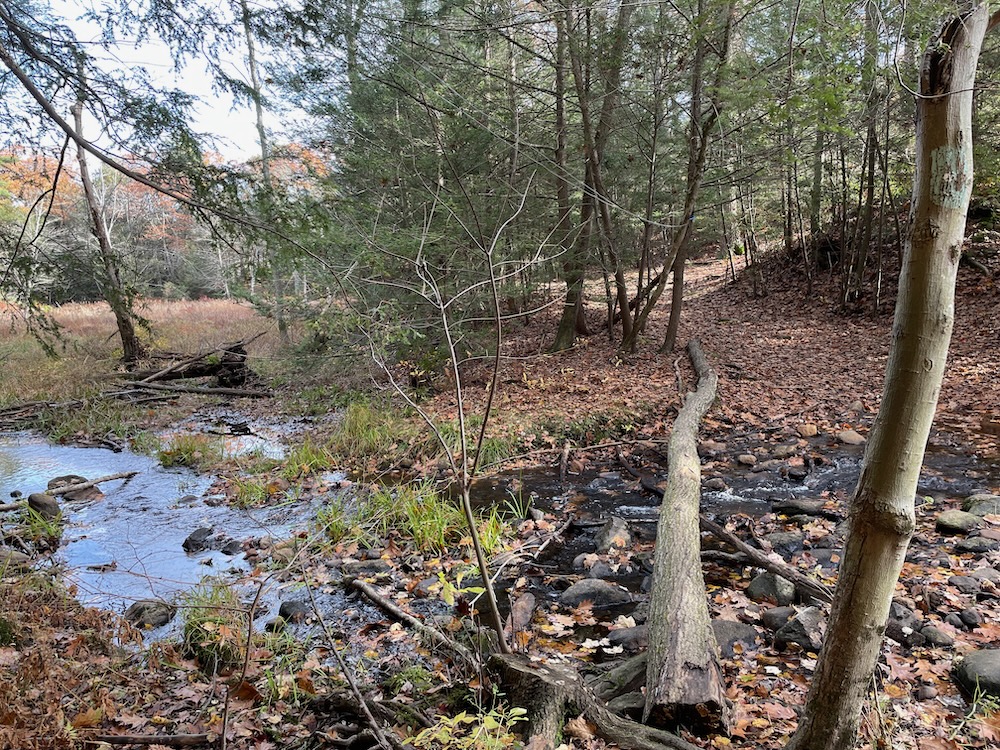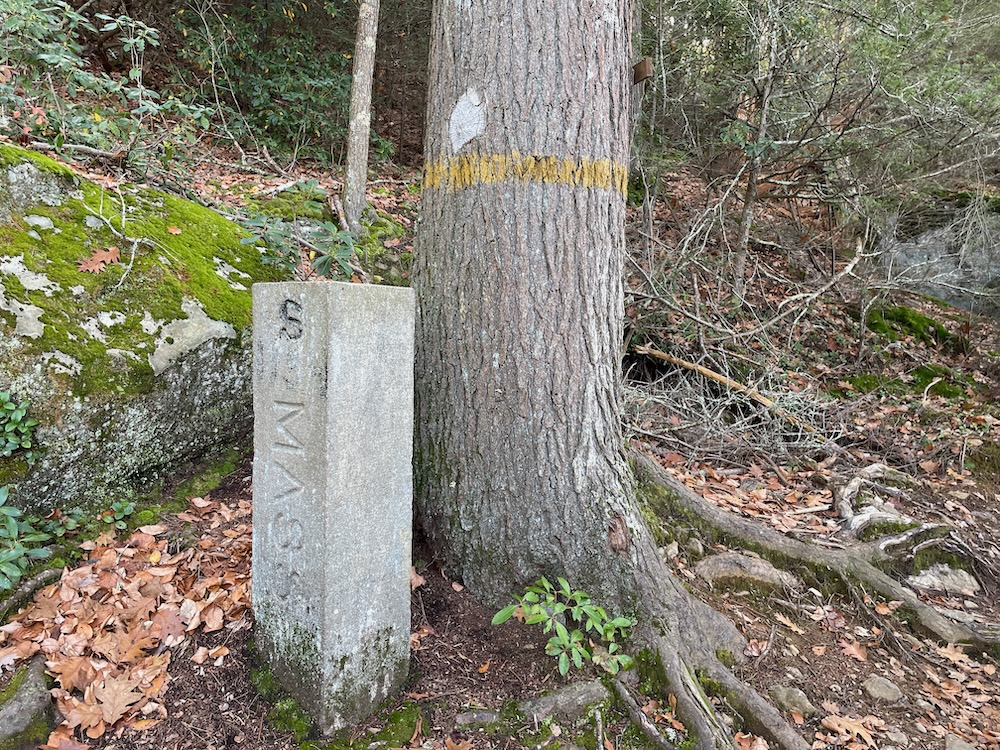 I'll be honest with you… you don't really need to hike this trail if you only plan on coming up here once. It's a fine trail, but it's definitely the least trafficked – and for good reason. There are no views, no massive boulder jumbles, no lovely ponds, no campsites… it's just a trail. And I actually lost it a couple times along the way.
It does cross east into Woodstock for a bit if that's exciting to you.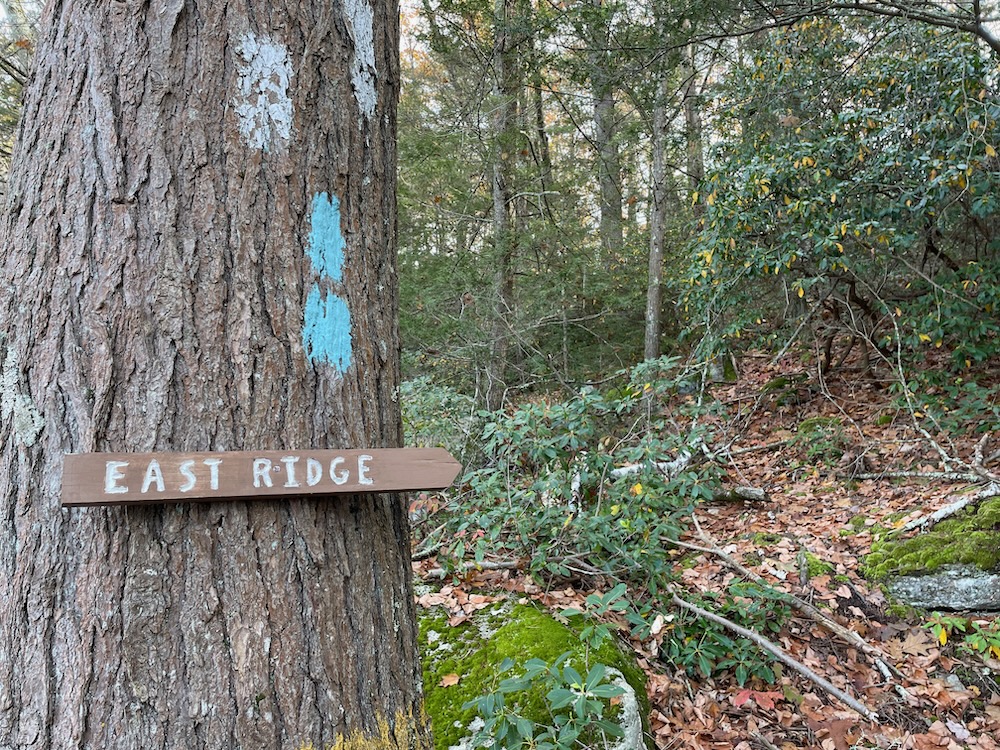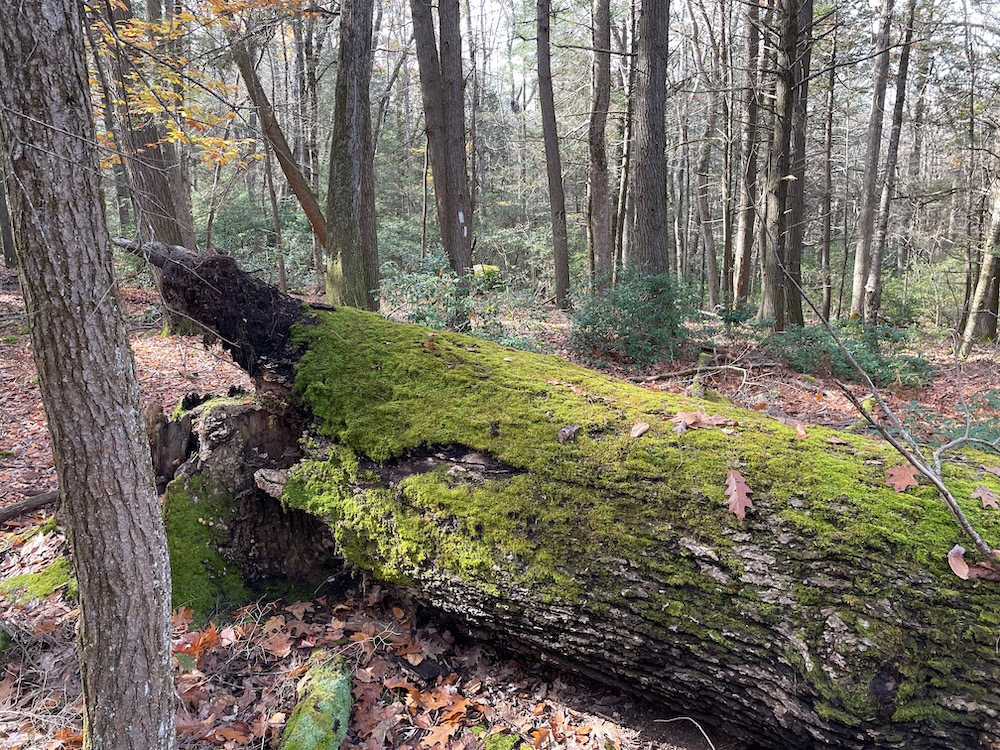 There are some stretches through some seriously thick laurel, but there aren't any real climbs at all aside from the first 100 yards heading south. The "east ridge" is nearly undefinable to be honest. In fact, my favorite stretch along the trail is through a fern-choked lowland in wide, flat, open forest. It's very pretty, and relatively fun hiking, but I can understand why I saw no other footprints and it was overgrown in parts.
I made quick work of it, reached the confusing intersection with the Nipmuck south of Breakneck Pond, through the LifeStar landing clearing, and onto the wide woods road for the last mile or so back to the parking lot. There are a series of signs along this stretch pointing the way to the lot, which is very helpful since it does get a bit confusing.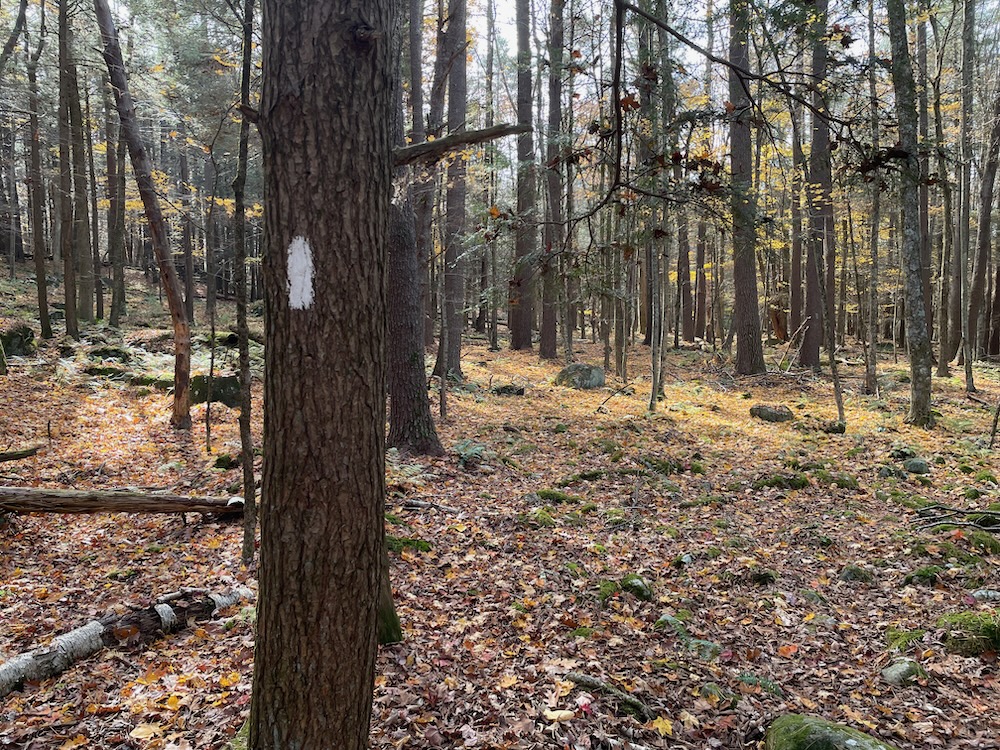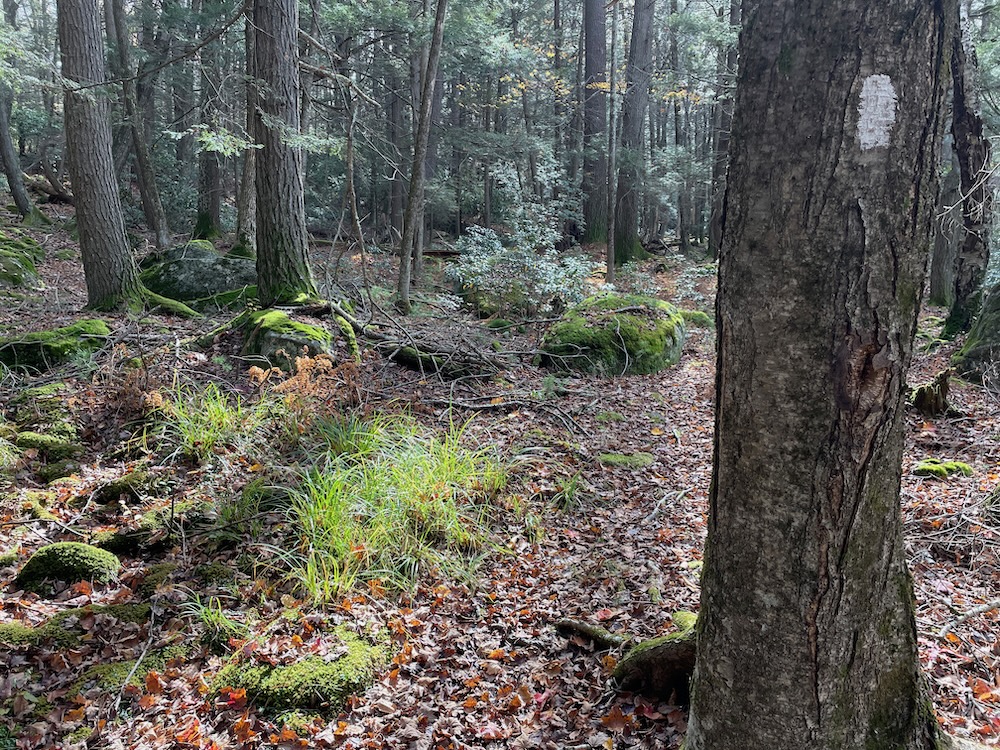 The wide road was a great way to end my several miles of hiking. It allowed me to lose my footfall concentration for a bit and reflect on my many hikes up here at Bigelow Hollow and beyond. Located in northern Union, Connecticut's least populous town, most people really have to make some sort of effort to come here. And to reach the rugged corners of the park, people have to make a fairly significant effort.
But that effort is absolutely worthwhile, I promise. There's no litter here. No graffiti. And, away from the smaller ponds of the State Park, usually no other people. For me, that's great. Hopefully it is for you as well.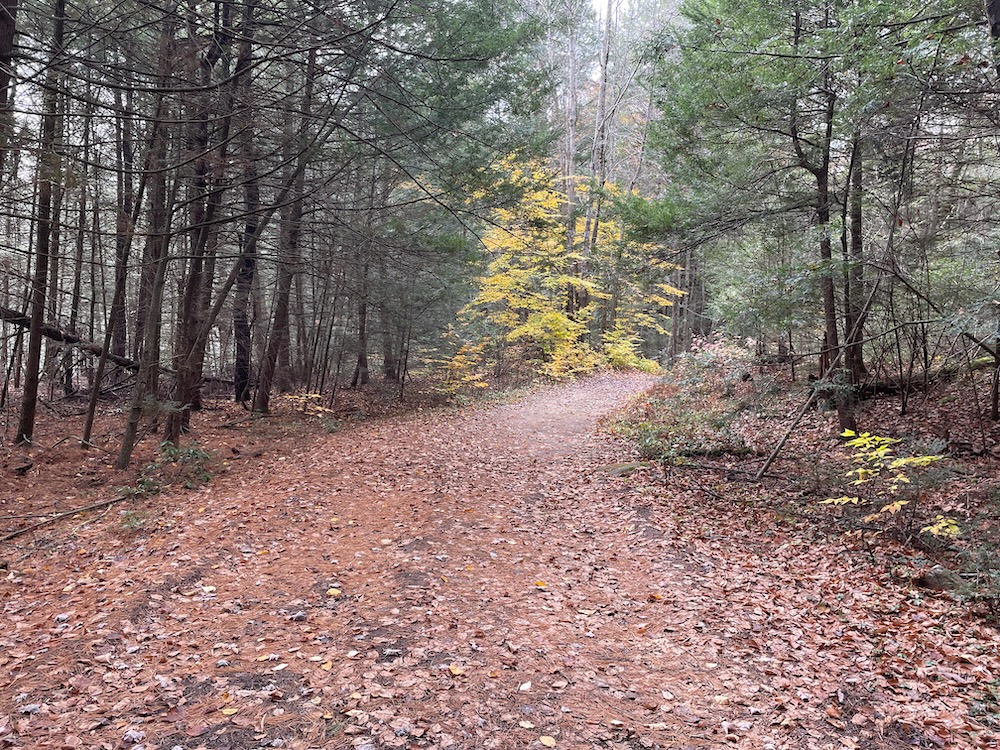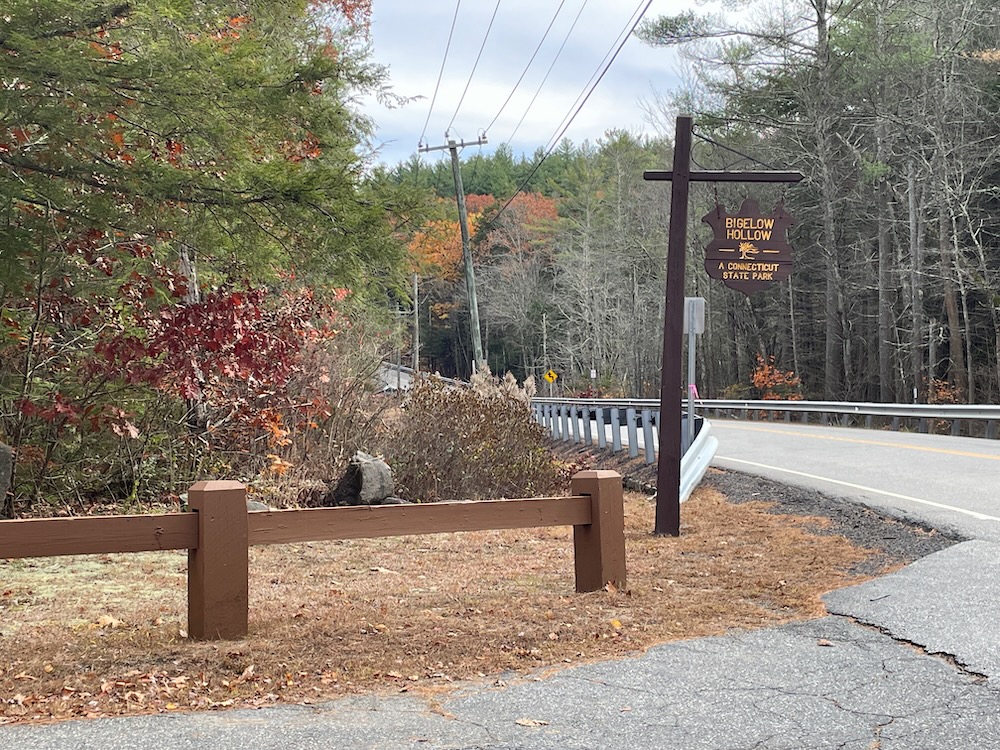 DEEP's Bigelow Hollow State Park Page
CFPA Trails Map
CTMQ's Bigelow Hollow State Park Page
CTMQ's Nipmuck State Forest Page
CTMQ's CFPA Blue Trail Challenge
CTMQ's State Parks, Reserves, Preserves, Forests, NAPs, WMAs, & Campsites