Not Garbage at All
Sonny's Place Carousel, Somers
June 2023
I just spent way too long learning about the Antonacci family that owns Sonny's Place in Somers. I've heard the rumors… rumors that will always chase families with names like "Antonacci" who happen to be very successful in the sanitation and horse racing businesses.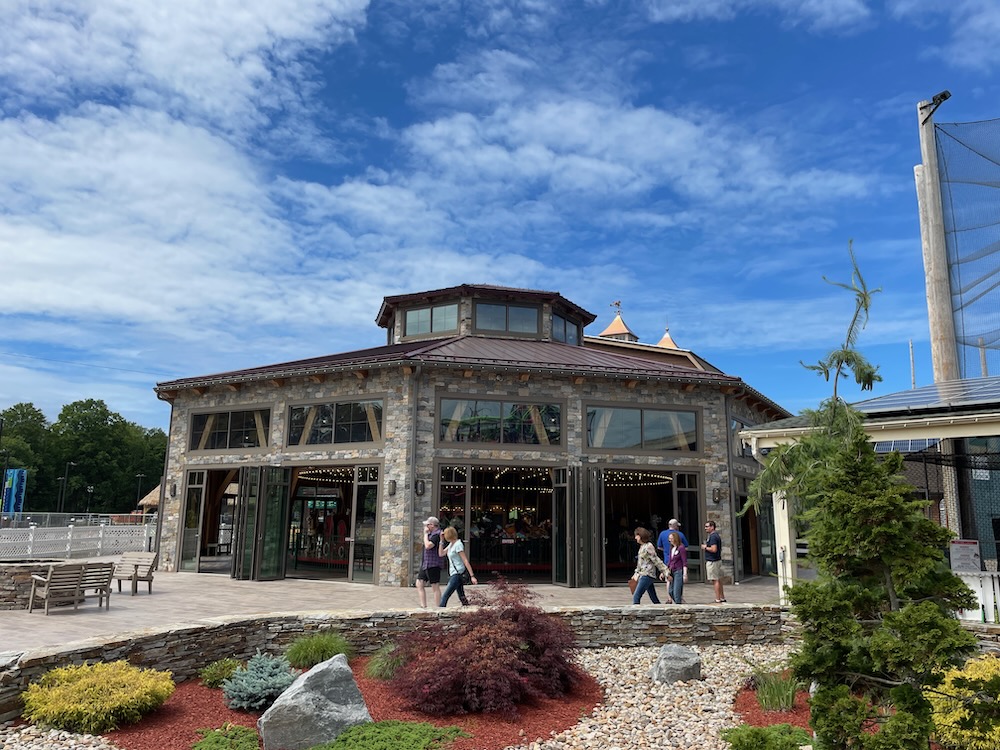 All I could find was that the family patriarch, who started the sanitation efforts, was aquitted in 1991 for, well, a few things:
Guy "Sonny" Antonacci was aquitted of extortion Thursday, ending the federal trial of eight garbage haulers charged with conspiring to monopolize the multimillion-dollar Hartford-area trash market between early 1985 and May 1987. Antonacci, owner of Somers Sanitation Inc., was cleared by a 12-member jury in Hartford of extortion and attempted extortion.

Guy Antonacci was cleared despite the concession by his Hartford defense attorney, F. Timothy McNamara, in final arguments to the jury that Antonacci did in fact threaten to kill another hauler, who, unknown to Antonacci, was an undercover informant for the FBI. McNamara said Antonacci had no intention to harm anyone; he "just lost it."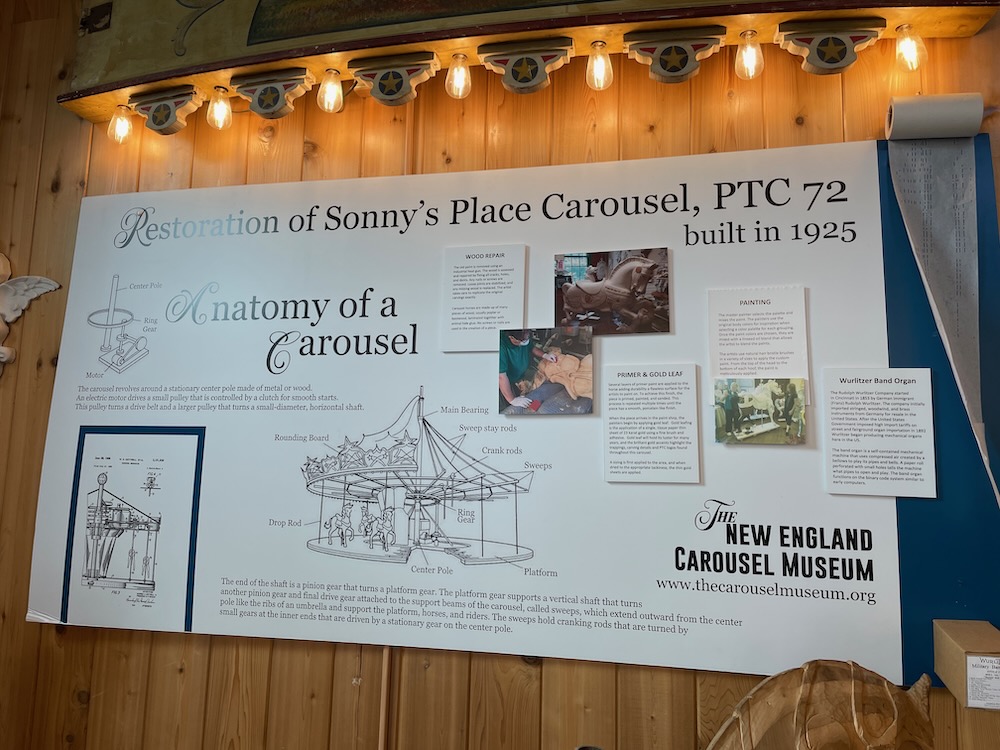 Okay, this really doesn't have anything to do with the antique carousel at Sonny's Place in Somers, but the following paragraph is such a beaut. How many times have we seen this scene play out in movies about the mob in the eastern US?
The informant, Lester Bresnahan, owner of J&B Trucking and Sanitation of Tolland, had been wired by FBI agents with a transmitter and sent out to talk to his competitors. Antonacci threatened to kill Bresnahan July 31, 1986, in a restaurant parking lot in Vernon as FBI agents in a beaten-up brown van took videotapes of the two men inside Bresnahan's car. The authorities charged that Antonacci at least four times threatened to put a bullet through Bresnahan's head in a fight over a garbage account. At one point, the FBI said, Antonacci also threatened to kill Bresnahan's wife and son and to have New York men called in for the killings.
Today, the Antonacci family owns a slew of sanitation concerns in Massachusetts and Connecticut. They just moved into the old LEGO headquarters in Enfield – where I used to work – right up the road from Sonny's Place. Good for them. Whatever the father did 40 years ago is ancient history. Now, they also own and run a country club and thoroughbred horse farm and Sonny's Place, an overpriced kid entertainment center in the middle of nowhere – it used to be the home of a run-down driving range.
Every one of those businesses appears to be very successful.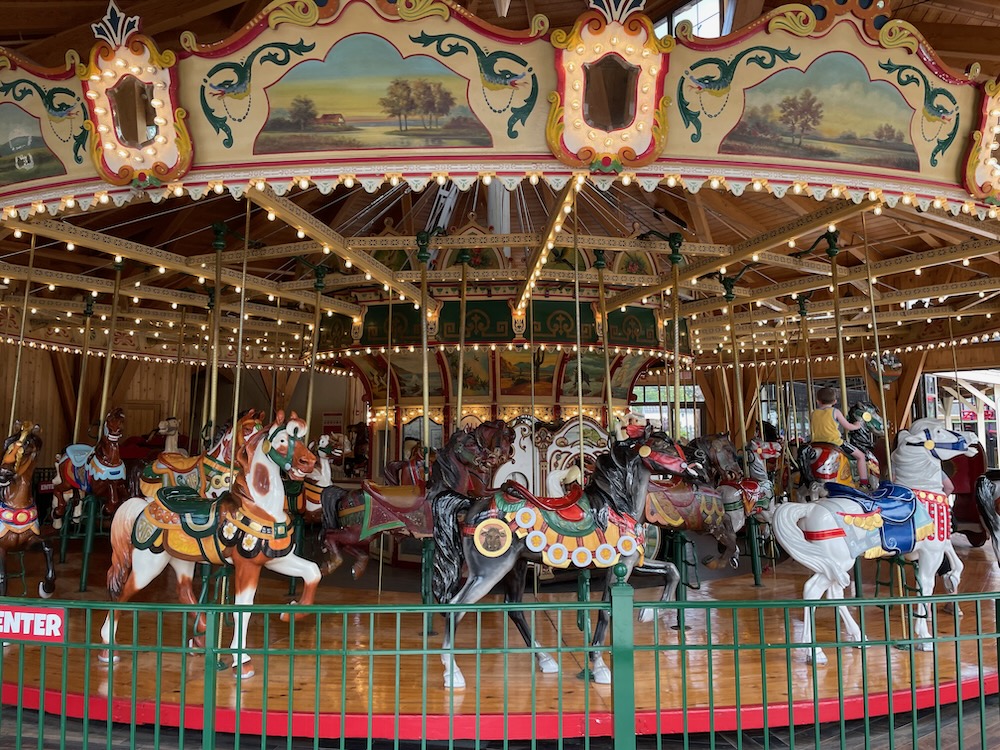 I went to Sonny's place for my employer's Summer Outing on a Thursday afternoon. Sure, our group was the largest there, but there was a decent number of random visitors too. The kids love it. Mini golf, arcade, laser tag, ice cream, a restaurant, the world's slowest go-karts, a zipline, some climbing walls. In 2023 they were building a water park component and what appears to be a new go-kart track as well.
There's plenty of beer and booze available for you adults to deal with the cacophony as well.
And then there's the carousel. An honest-to-goodness restored historic carousel. It is an authentic 1925 Philadelphia Toboggan Company Carousel! That means hand-carved horses and everything.
The all-wood carousel has been all around the country. First at a beach in Delaware, then Lakeview Park in Waterbury until 1943, then at a place called Kiddie Land near Chicago where it stayed until 2009. It was about to be sold off in parts then, but the New England Carousel Museum of Bristol rushed in to save the day.
The 50-foot diameter carousel fits perfectly in the 70-ft. diameter room at the entertainment center, custom built for the joint. Supposedly the housing is one of the largest post-and-beam structures on the East Coast… which sounds absurd to me.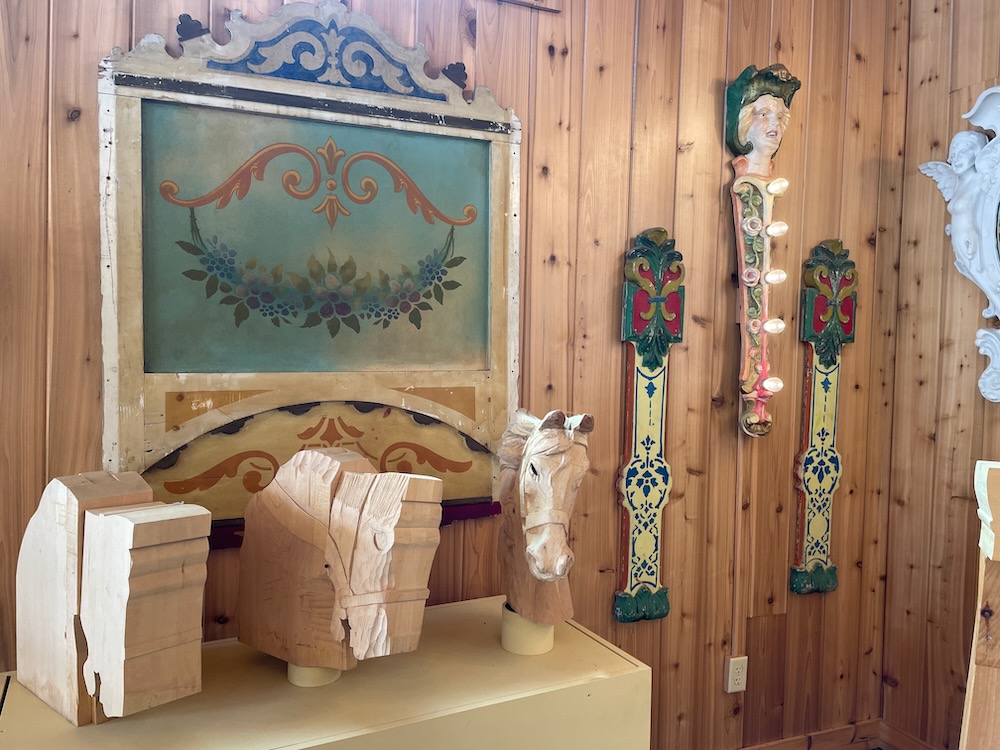 All of the parts of the carousel were shipped from Illinois and assembled at Sonny's place, a process overseen by Carousel and Carvings, a carousel manufacturing and restoration company based in Ohio. Like I said, this is the real deal. The carousel's 48 horses (16 standers, 32 jumpers) took about three years to restore, with the work being done by the museum in Bristol. Hm… I wonder if when I visited the museum in 2016 and watched some restoration happening… I wonder if those horses were Sonny's horses. Hmmm…
I really like that Sonny's has a little corner devoted to signs explaining the history of the carousel and the extensive restoration efforts that have gone into it. The craftmanship of the Philadelphia Toboggan Company is apparent in the design, which cleverly hides the mechanics and joints of the machine with artistic paintings, carvings, and decorations. The artwork on the carousel is all original and has been left intact.
It really is a beautiful carousel, no doubt. It's a little weird that it lives up here at Sonny's Place, certainly largely unappreciated. Antique hand-carved carousels are a dying piece of Americana, so I want to thank the Antonaccis and Sonny's Place for doing their part to keep it alive for a while longer.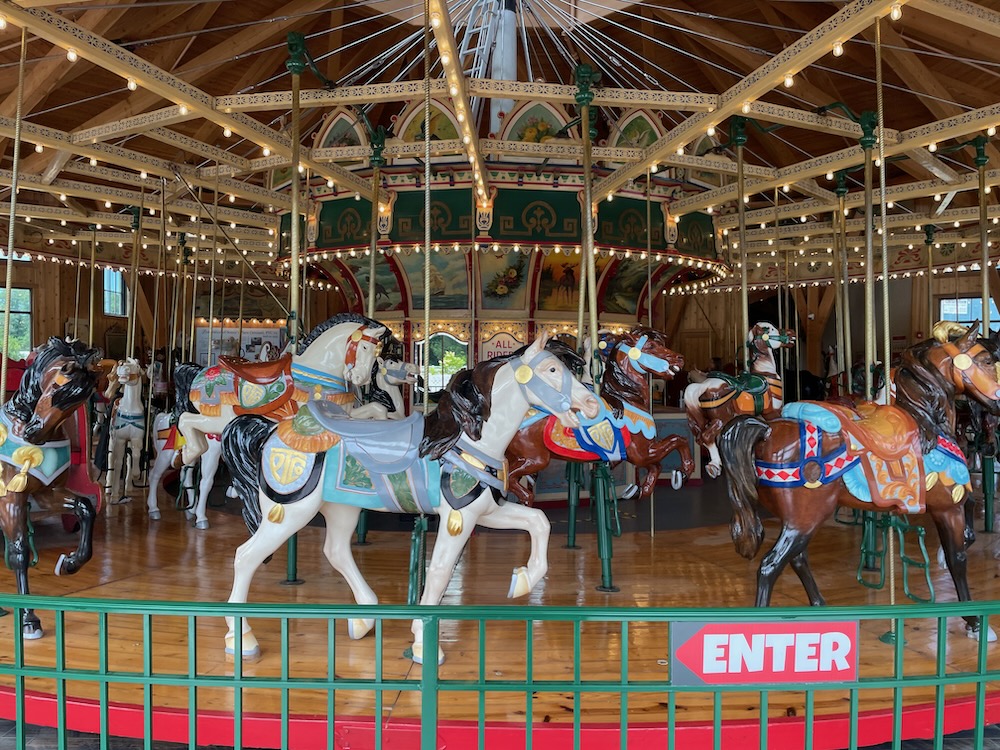 Sonny's Place
CTMQ's Theme Parks, Adventure Parks, and Carousels