Museums Make the World Go 'Round
Bristol (Google Maps location)
June 11, 2016
Over the decades, many "trails" have come and gone in Connecticut. A few are long-lasting like the Wine Trail and the Historic Gardens Trail, but most are fleeting ideas of someone in some marketing or tourism office that last only for a few years. There have been a lot of these trails. One of them was the Connecticut Carousel Trail.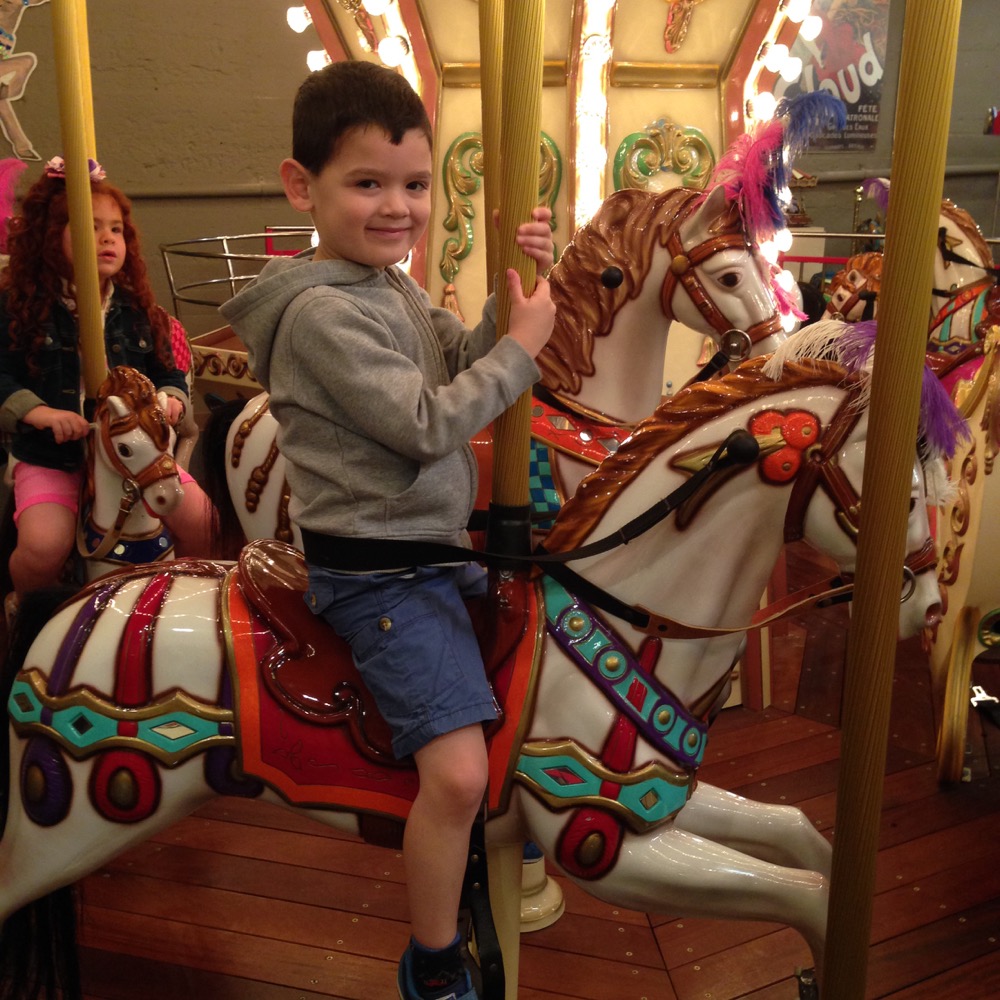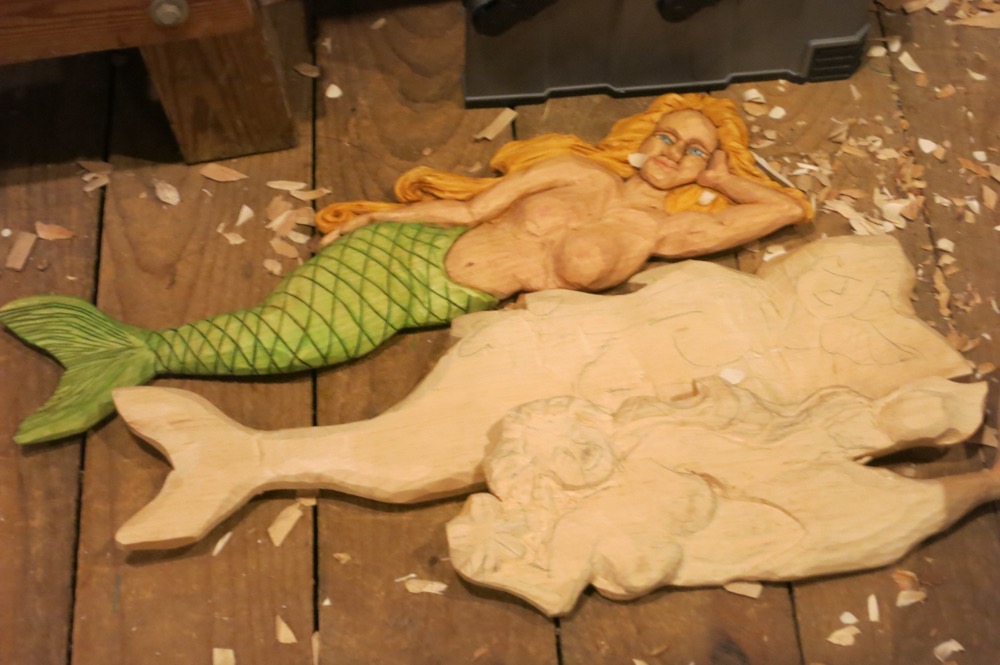 I don't know who put it together in… I'll guess 2011 or so, but I used to have a whole page about it on this website. Then the "trail" as a "thing" disappeared (I still have a brochure!) and I now just maintain a list of carousels in the state. This isn't a list that gets added to; only subtracted from.
I believe that list began here, at the New England Carousel Museum in Bristol. I guess that makes sense. I should note that the Bushnell Park Carousel in Hartford is actually part of – and operated by – this museum.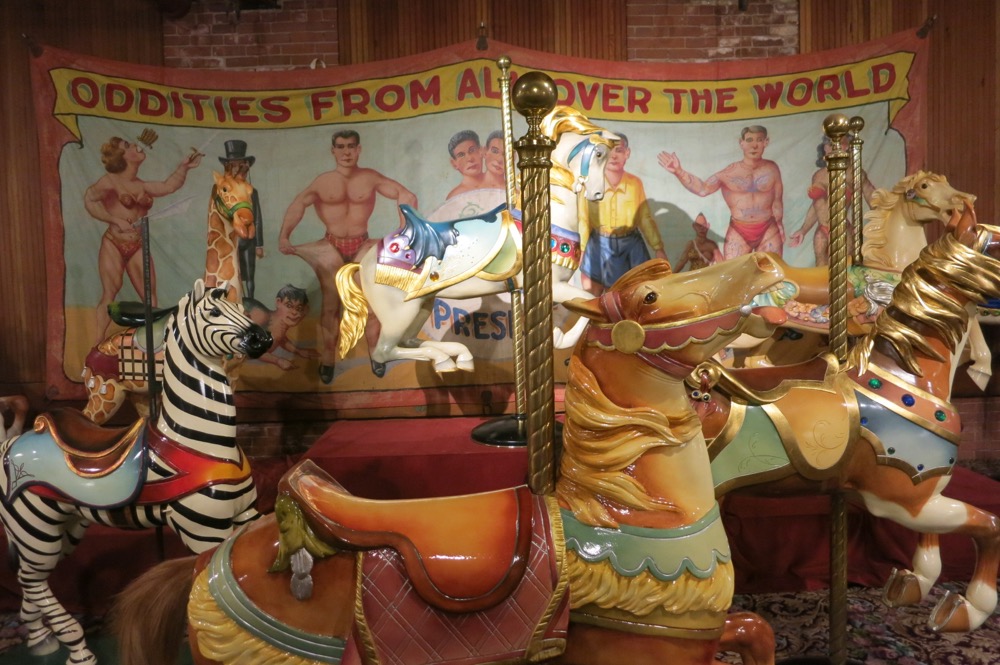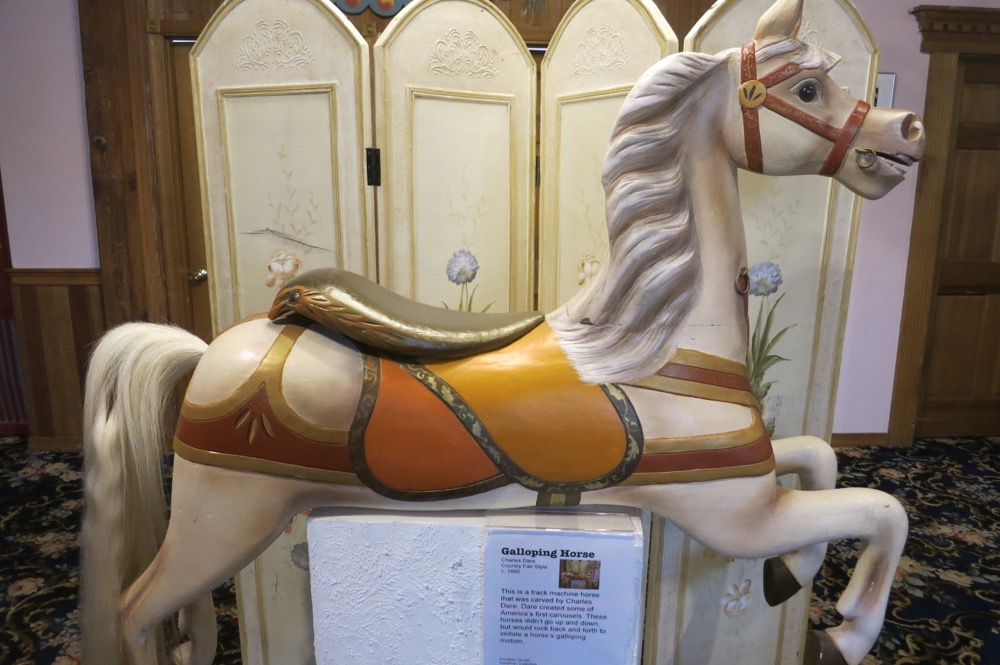 Yes, the New England Carousel Museum received the contract from the City of Hartford in 1999 to manage and run the historic Bushnell Park Carousel. That beauty was created in 1914 by Solomon Stein and Harry Goldstein and has 48 horses, two chariots and an olde timey Wurlitzer Band Organ. The Carousel turned 100 years old in 2014 – and it's still a draw to the capital city.
Travel back in time to when the carousel was the pinnacle of amusement park joy. Now on view, over 100 years of carousel art and history are on view in our Main Gallery and throughout our 33,000 square foot building. See examples from turn of the century carvers like Dentzel, Herschell Spillman and Stein and Goldstein. A sample carving bay, hands on activities for little ones and our Venetian indoor carousel make this the perfect family or group outing.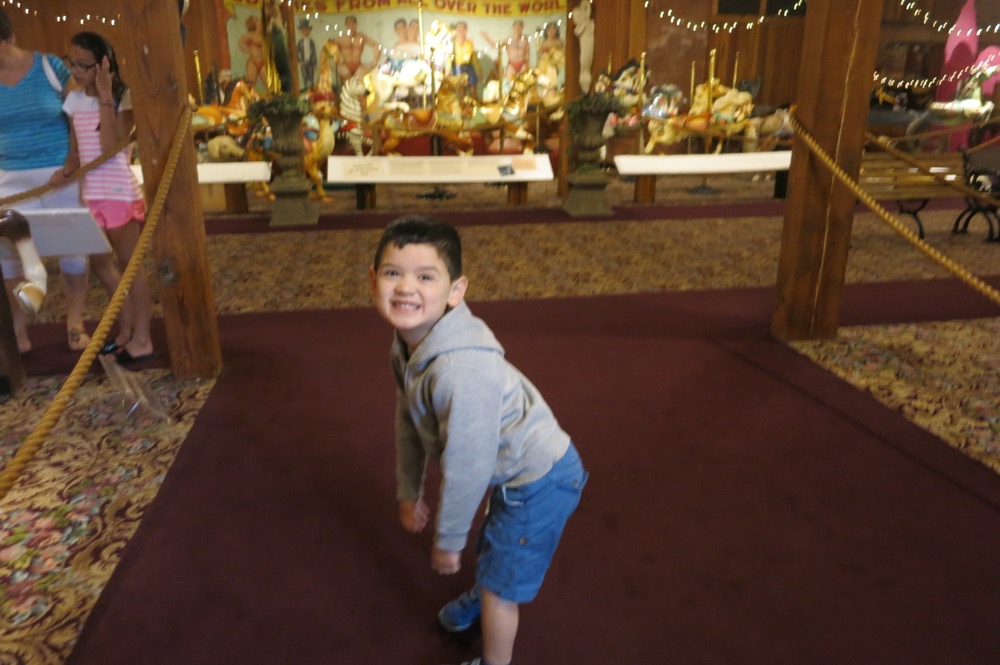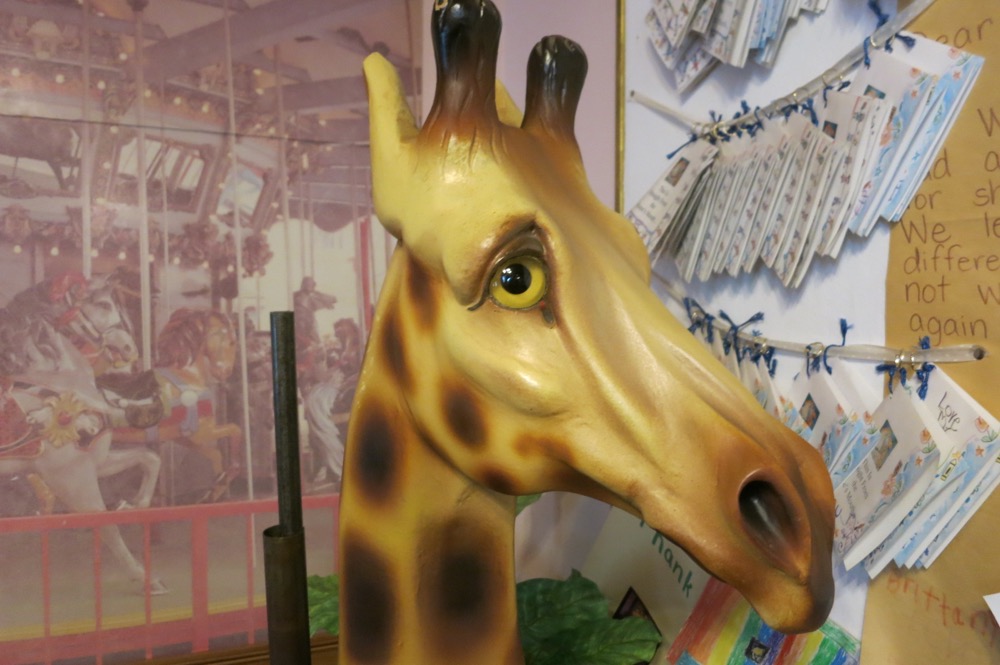 I visited with my son Calvin on Connecticut Open House Day in 2016 and making this place extra fun, there were three other museums within the museum. I can't promise any of them will still exist when you visit, but they were the Museum of Fire History, the Museum of Greek Culture, and The Bristol Center for Arts & Culture.
What a day!
What a lucky child I have!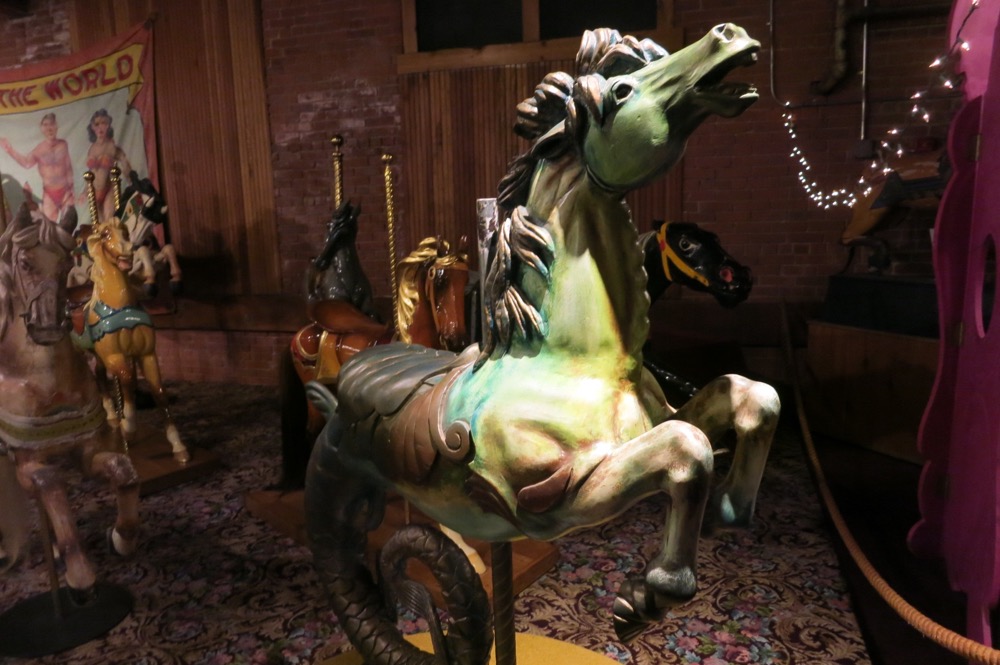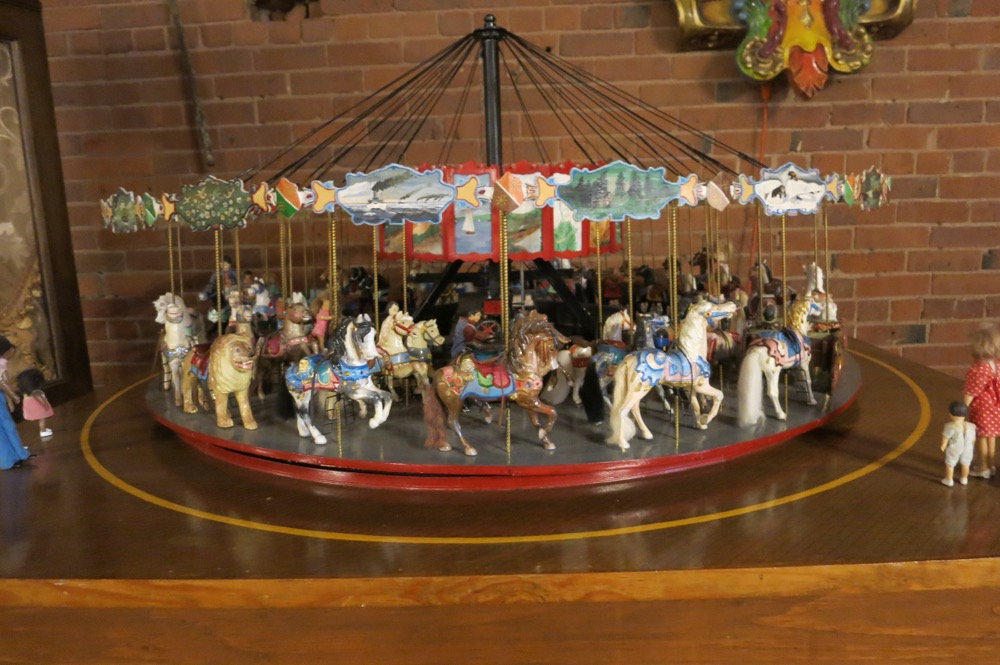 The Carousel Museum was, of course, the main attraction in the massive restored mill. It opened in 1990 with the goal to be a museum which presented the art and history of the carousel. The founders were intent to keep the general public informed about preserving this valuable yet vanishing piece of Americana. They have always likened their place to being an "attraction" and not a museum. I'm not sure why that is, but that's what they say.
Since their beginning, the Carousel "Attraction" has put a lot of time and energy into the educational piece of what they do. Telling the story of the history of the carousel became as important and collecting artifacts. They wrote about themselves in 2016:
?The Museum has matured considerably over the past 26 years, and it continues to grow and evolve. We have been through many growing pains, all of them helping us to achieve independence, maturity, and some of our goals. There have been major improvements in many areas, including the expansion of the Museum collection, the development of our restoration department that provides carvers, painters and restorers the opportunity to work to restore antique pieces, create new carousel pieces and demonstrate the art of the carousel.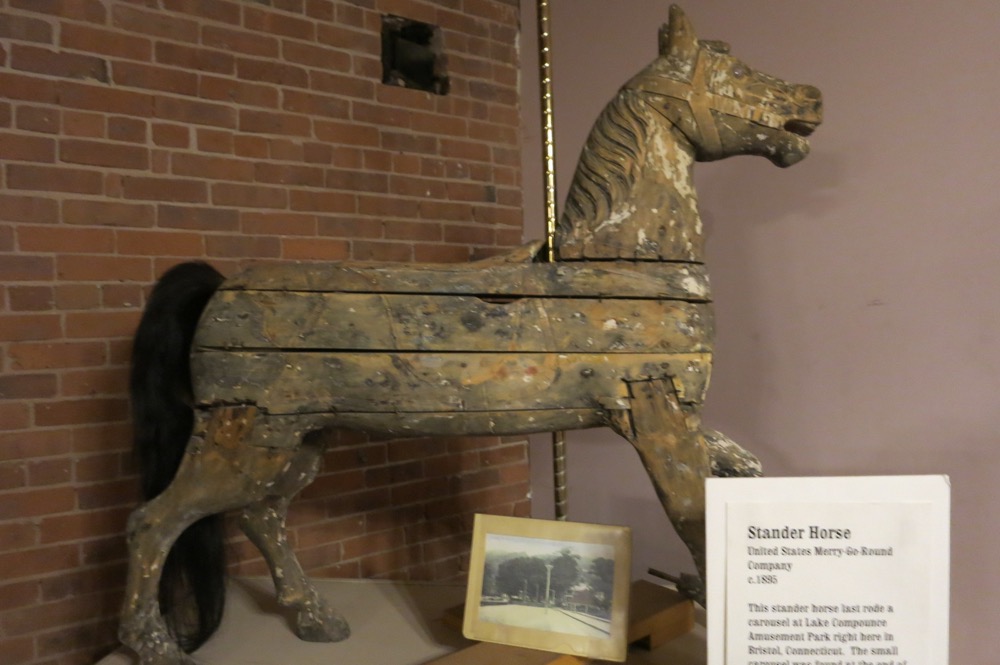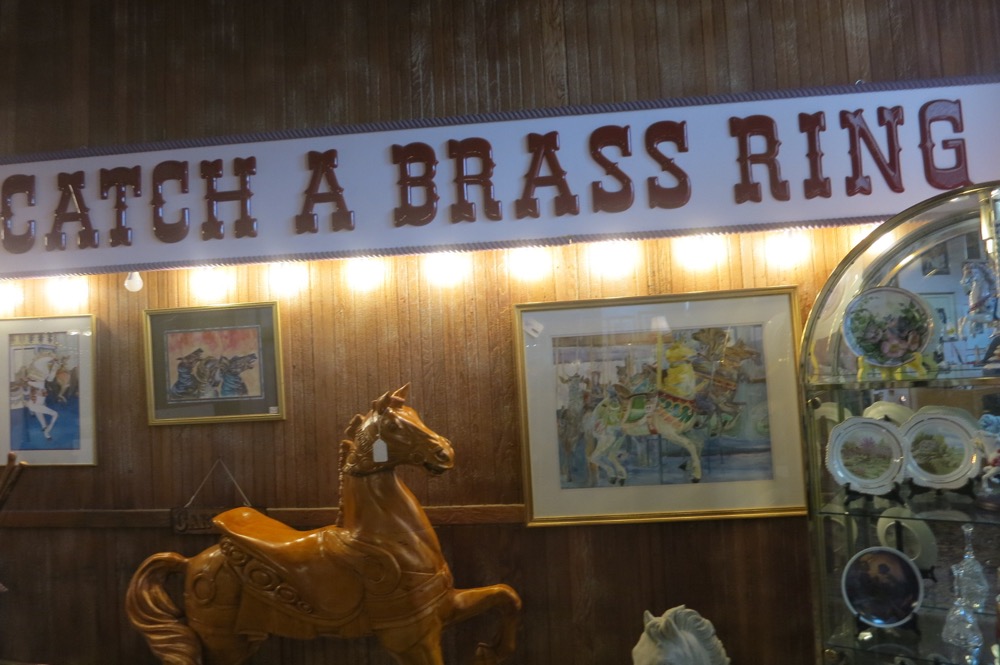 The history of carousels is told here through signs and artifacts. Carousels as we know them apparently began in Philadelphia and then the idea took hold in Atlantic City and Coney Island. Trolley line operators installed them at the ends of their lines in these eastern cities and soon people were paying to ride the trolleys simply to pay to ride the carousels.
They took off from there. But what about before that?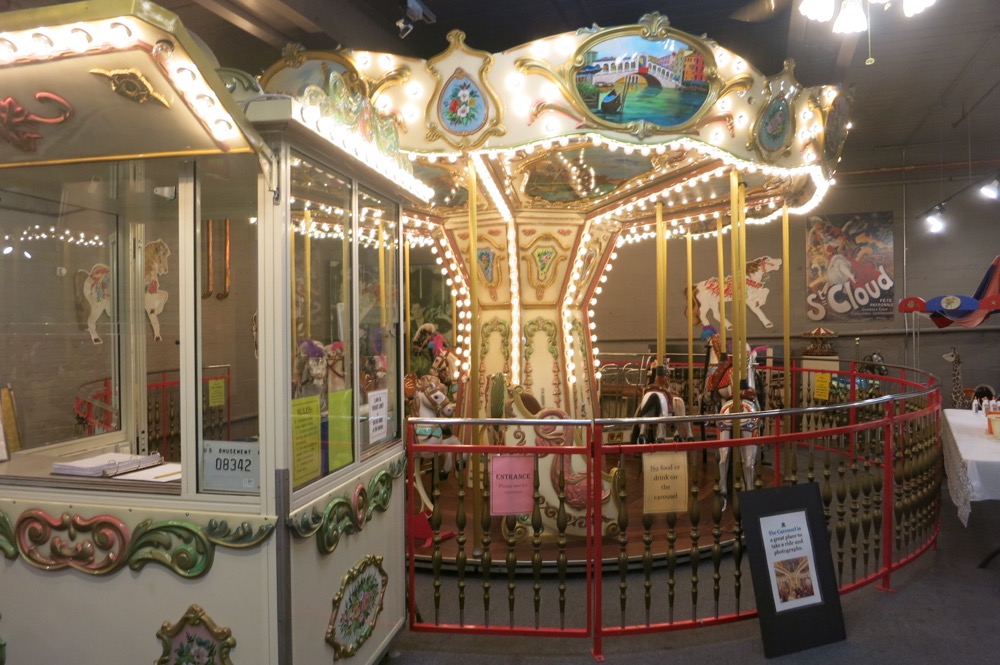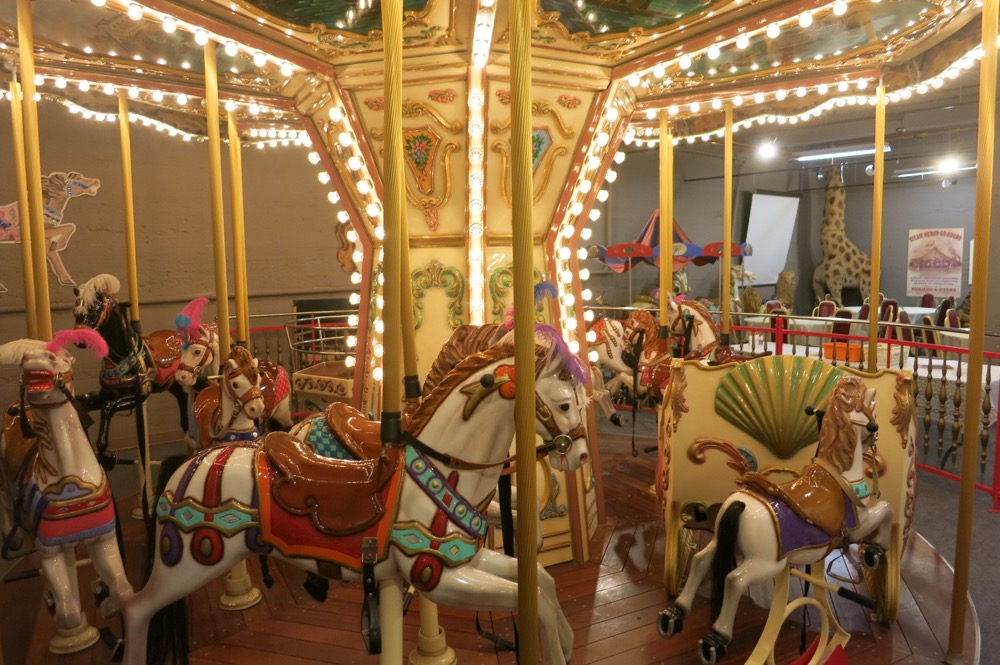 The word carousel originated from the Italian and Spanish carousella/carousello which means "little battle". It was used by crusaders to describe a combat preparation exercise and game played by Turkish and Arabian horsemen in the 12th century. The training was brought north to Europe eventually as this early version was essentially a cavalry training mechanism. It prepared and strengthened the riders for actual combat as they wielded their swords at the mock enemies.
By the 17th century, the riders had to spear small rings that were hanging from poles overhead and rip them off – this is where "grab the brass ring" comes from. Cavalry spectacles that replaced medieval jousting, such as the ring-tilt, were popular in Italy and France. The game began to be played by commoners, and carousels soon sprung up at fairgrounds across Europe. At the Place du Carrousel in Paris, an early make-believe carousel was set up with wooden horses for the children.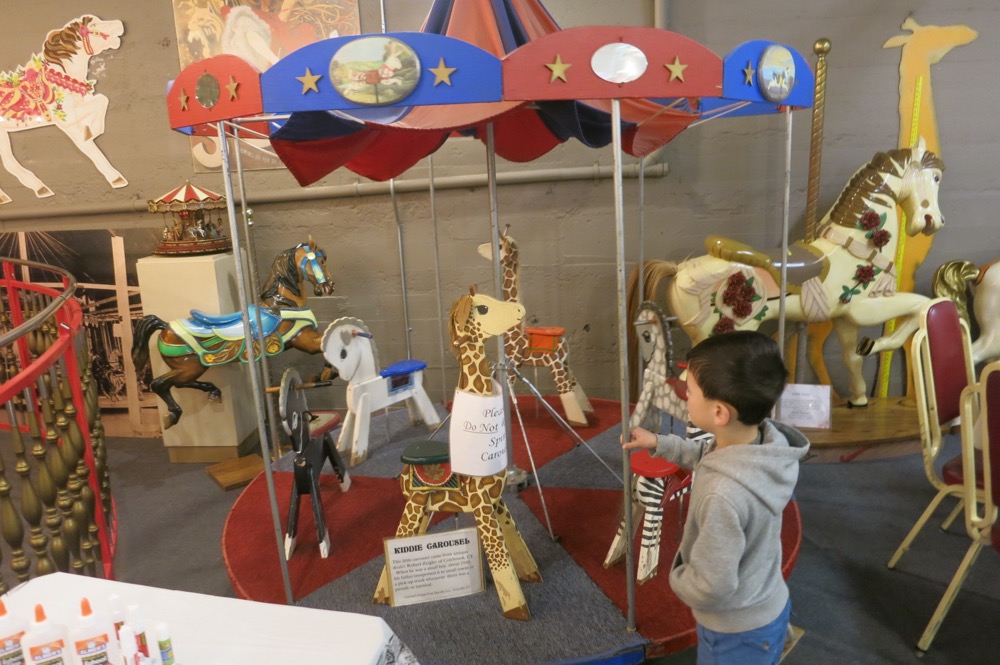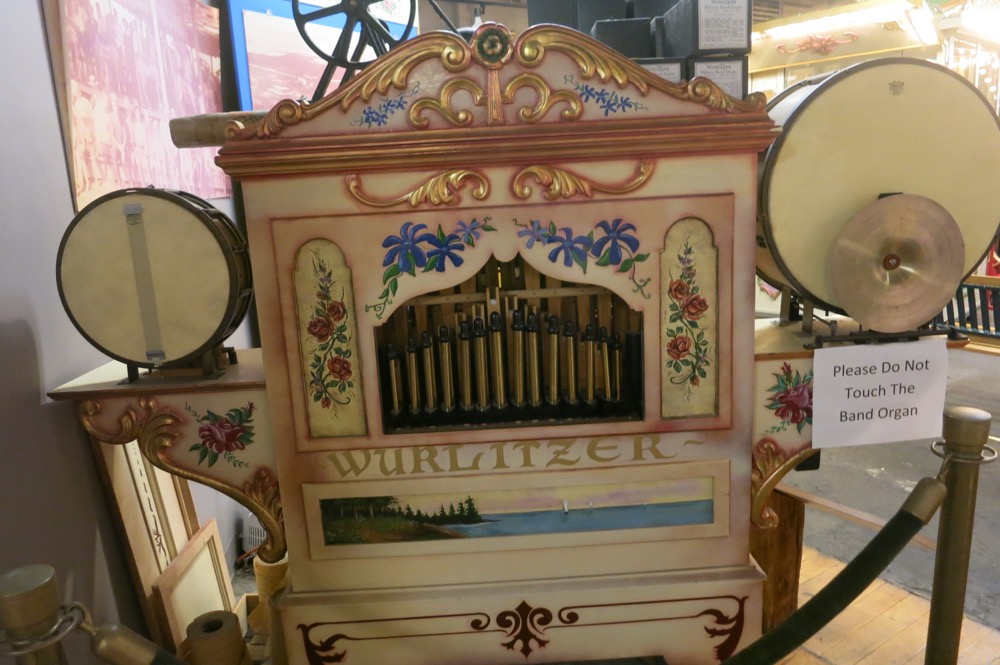 Immigrants to America brought that idea and voila. Hey, want to learn some carousel lingo? Next time you see one, look at the animals. Those with 3 (or more) feet on the ground are standers and they… just stand. 2 hind feet only? Those are prancers and they don't move up and down. And those with no feet on the ground are jumpers; they ones that move up and down.
"Carousel" and "Merry-Go-Round" are synonyms; there's no difference. In England, they usually go clockwise whereas in the US, they go counter-clockwise. No one knows why there's a difference.
Perhaps the most interesting portion of the museum is the restoration area. A team of talented artists convene here to help restore old carousel animals. And they're not just random volunteers either. These are "masters" with decades of sculpting and carousel painting experience.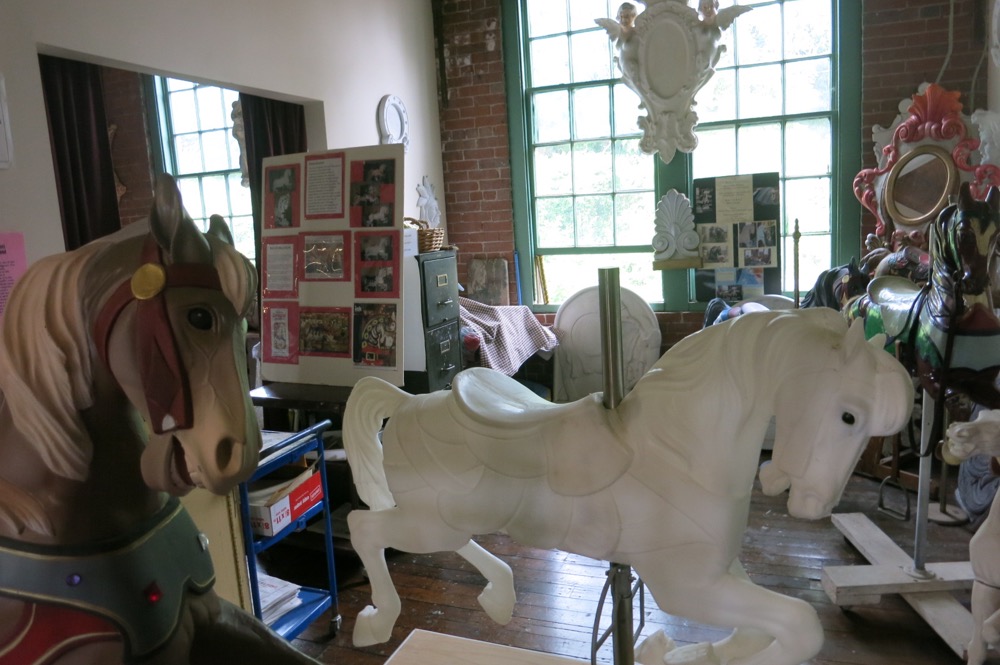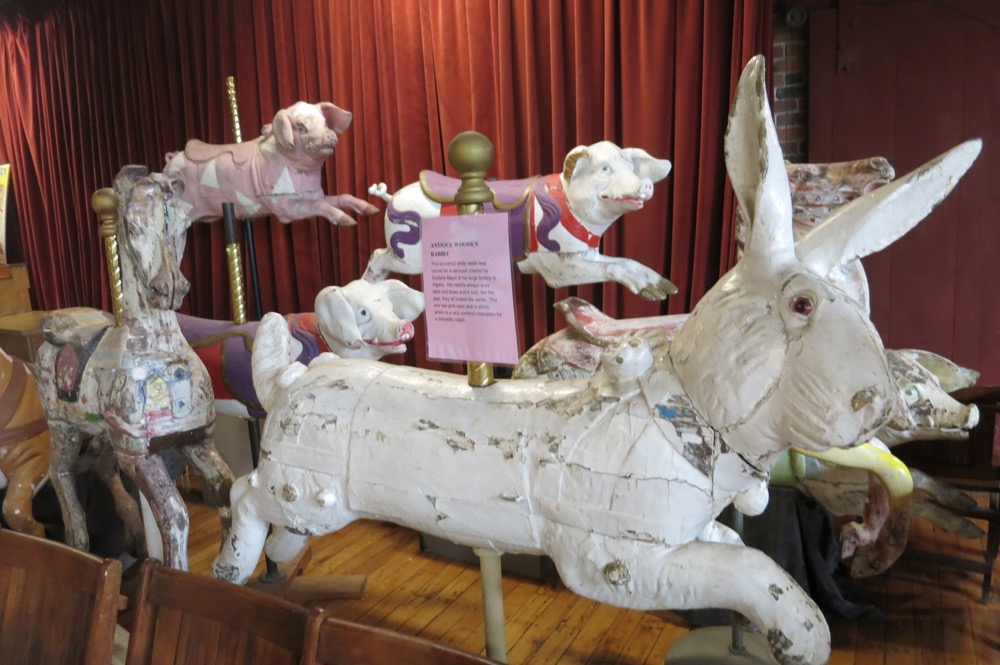 The shop is often open for visitors to view their ongoing efforts and work and on certain days, you can learn about the process of making a carousel animal. I never thought about this stuff before visiting… as you'd assume the pieces are simply pumped out of some factory in China.
But then I thought about it and… there's no market for new carousel animals these days. Certainly not big enough of one to warrant a factory in China. Each animal on each carousel is (usually, right?) different. I don't even know if anyone's making new carousels in the 21st century.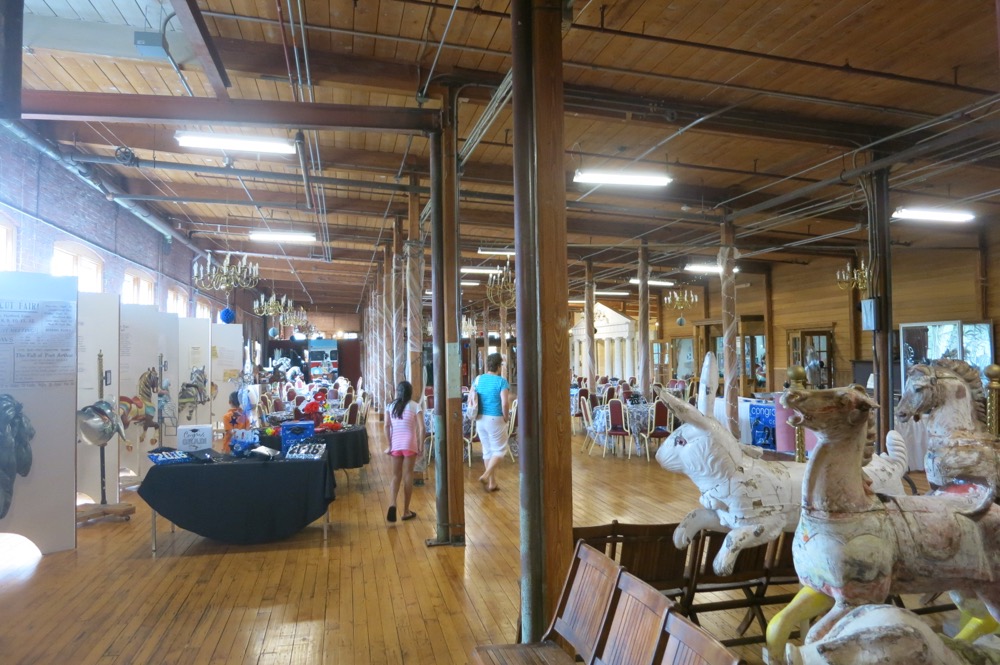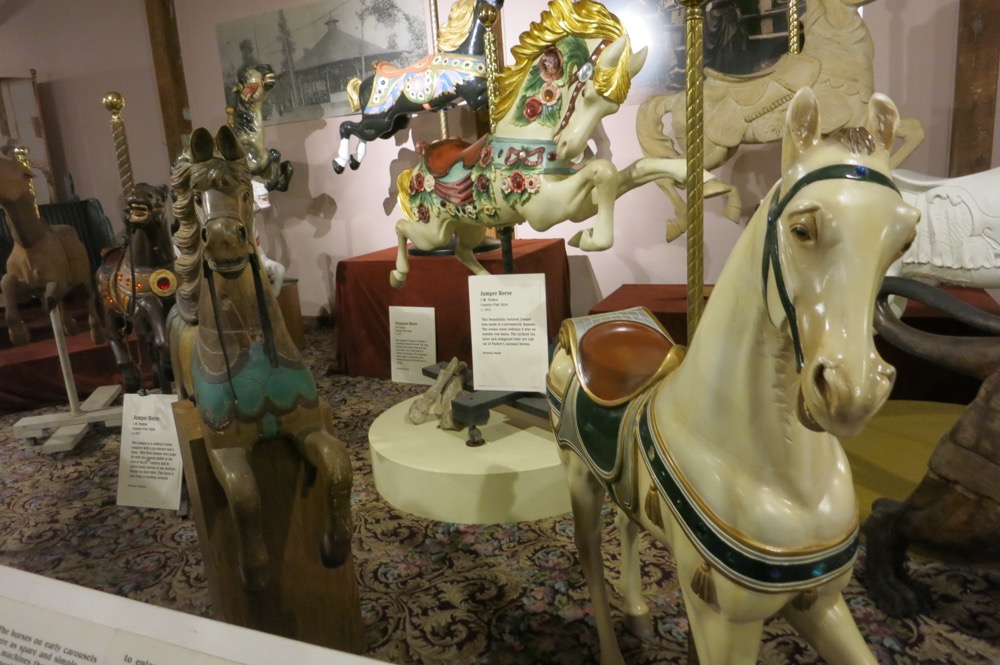 Regardless, restoring the old classic pieces here is notable and really gives visitors a glimpse into the painstaking efforts that must be made to do so. (Calvin's highlight was riding the cool little operational carousel of course.)
The Museum also rents out its large open spaces for weddings or other functions. They host events like an annual Mardi Gras celebration that people seem to love. It's certainly a destination museum in central Connecticut and is one of those rare places that draw visitors from neighboring states. Come and gawk at the ESPN campus from behind the gates, check out the Carousel Museum, and then go spend the day at Lake Compounce! Bristol rocks.
And hey, you get to see a couple other museums in the same building as a bonus! Round and round we go, on this merry-go-round called life.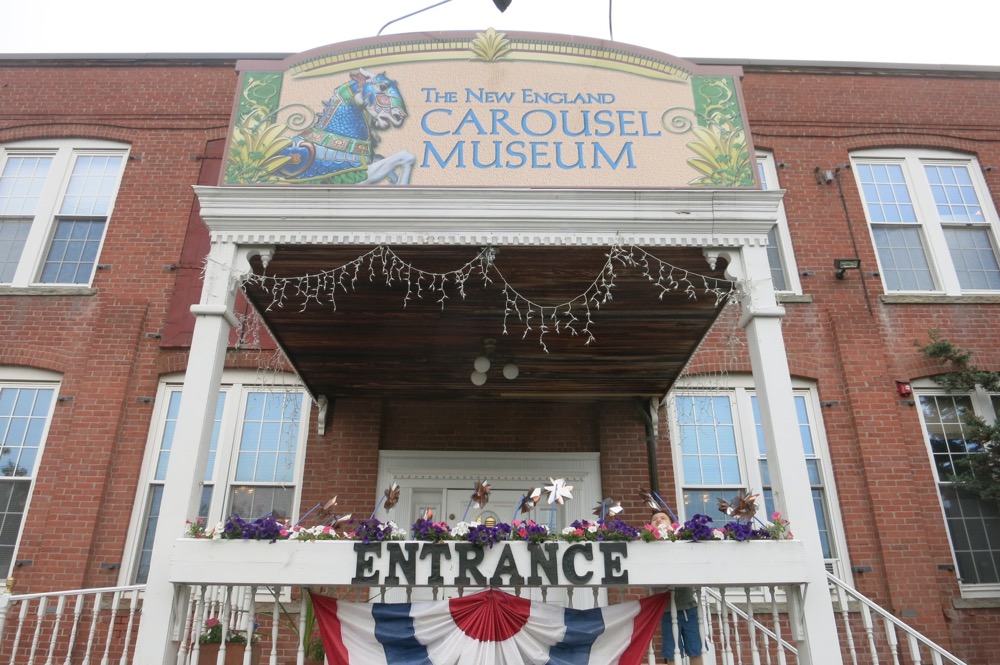 New England Carousel Museum
CTMQ's Theme Parks, Adventure Parks, and Carousels
CTMQ's Museum Visits