Brah
Surfridge Brewing Company East, Essex
September 2022
There are three new-in-'22 breweries in the Lower Connecticut River Valley area, and the three couldn't be more different. Myrcene Ale Company in Old Saybrook is a small, straight-up, no-nonsense brewer's brewery. Coastline Brewing in Westbrook is shiny and bright and new and… has some work to do in its first year to improve.
And then there's Surfridge in Essex. Wow. It's… rather impressive.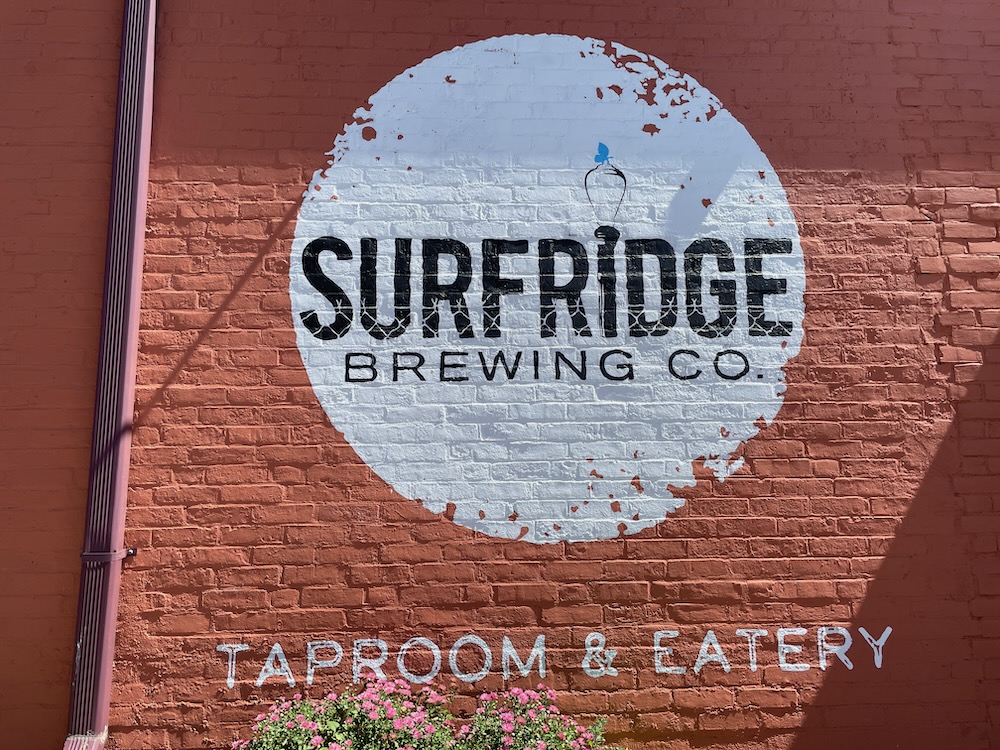 I'd heard about Surfridge from a friend for years before they opened in the old Witch Hazel building near the Essex Steam Train. He's in a position in the town to know, and he assured me it was coming. However, I could find nothing online about it other than the fact that there was a Surfridge Brewing in El Segundo, California.
Then, all of the sudden, Surfridge was open. I visited right at opening one day and can say it's one of the most attractive breweries in the entire state. I guess Surfridge of El Segundo makes some money, because their eastern offshoot is beautiful. Comfortable furniture, attractive art, an open oyster shucking station (!), a full kitchen… a fully matured brewpub brewery in a historic building in one of the state's most attractive towns.
Yeah. This will (probably) work.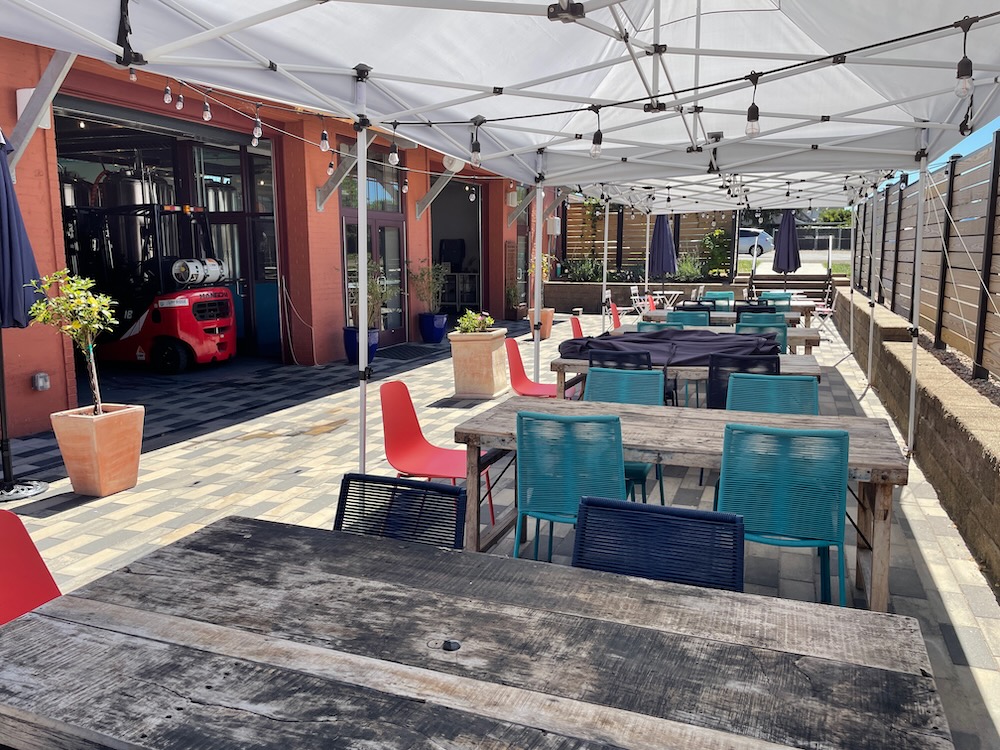 The outside patio area is nicer than many breweries' inside areas.
The brewery's food menu is easily one of the best brewery menus in the state – not a high BAR, but certainly worth mentioning. I was hungry and ordered a simple Margherita pizza.
Spoiler alert, I downed the whole darn thing and didn't quite plan to do that.
Surfridge East is a taproom and eatery nestled in the beautiful Witch Hazel Works property in Centerbrook, Connecticut. With a 10-barrel copper and brass system and a natural, airy vibe, the space reflects the connection between timeless New England sophistication with California roots.

Fresh brews, wood-fired pizzas, and local oysters are just a few of the delicious items offered at the cozy taproom. Our space is family-friendly, great for small or large groups, and our patio in the summer makes for a great place to have a pint with your pup. We also offer hand-crafted cocktails and Jonathan Edwards Winery wine.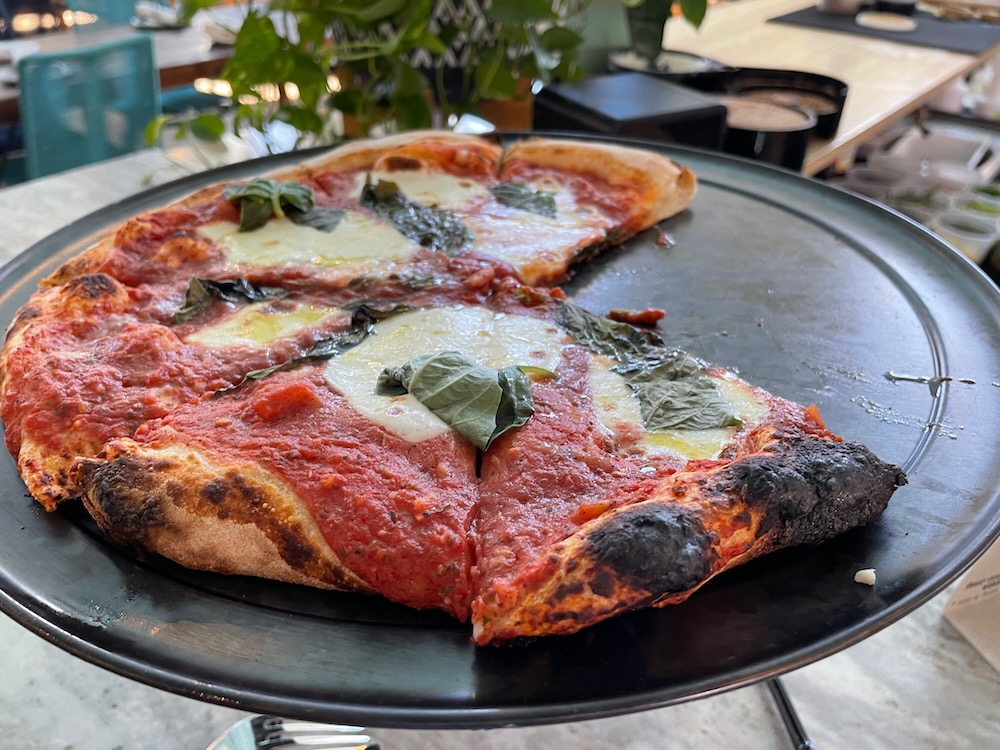 I'm not sure how the beer program here works. Like, they've made a name for themselves in California (I guess?) and can't imagine they'd allow some New Englander to sully that good name. But the beer here is brewed here – or at least the large majority of it.
Oh, they also have a full bar here and seem to concentrate on high-end cocktails as much as beer. There are some old school bars in downtown Essex, and a bunch of restaurants, but this place just a mile or so outside of that district is a completely different vibe.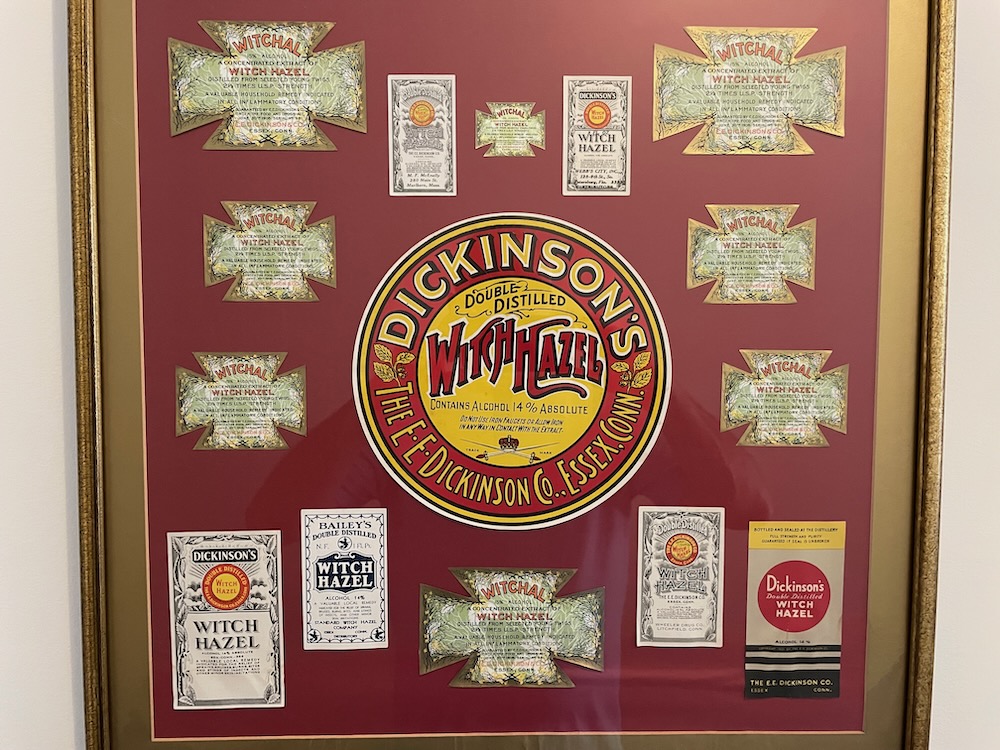 I ordered a flight of five beers: a Kolsch, a wit (called Mr. Pink, with peppercorns and grapefruit), a red ale, a pale ale, and a Nelson IPA. Can't really go wrong with that line-up, right?
Hm.
My pizza was a little too saucy and the sauce was a little too "out of the bottle" for me, but like I said, I tore it up. As my beers were served, the bartender guy, who looked like he'd been a bartender for decades – in a good, professional, "this cat has stories" way – took me for a mark and proceeded to offer me a fairly pretentious description of my choices and strongly suggested the order in which I should partake.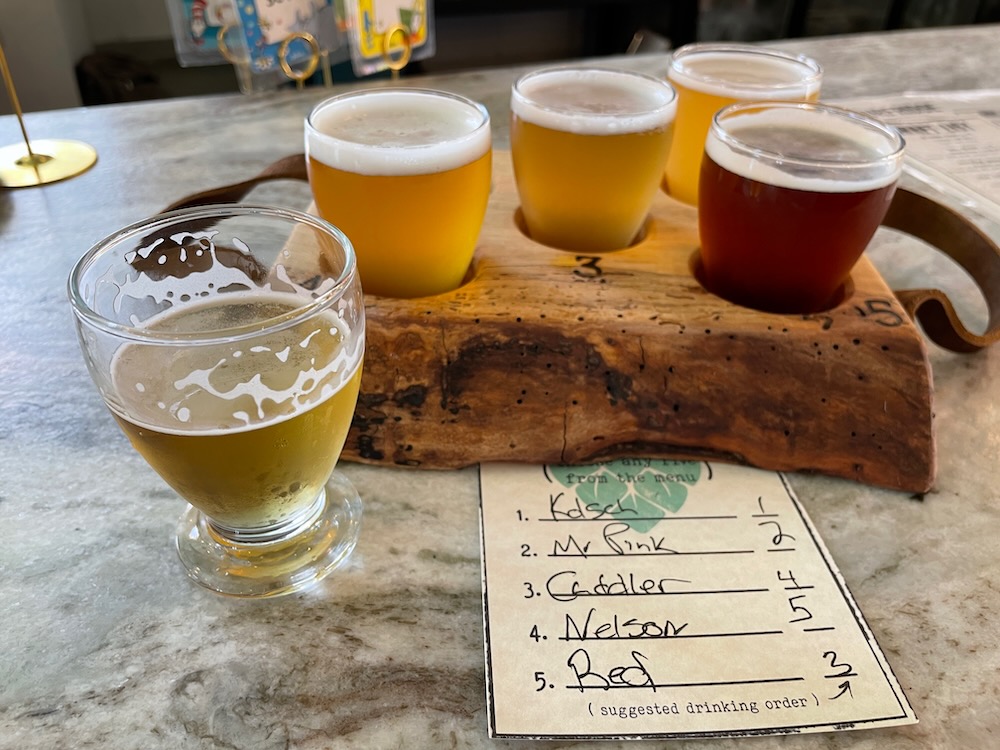 I appreciated the repartee, though, as the clientele here isn't going to be the the usual middle-aged suburban white guys who go to local breweries all the time.
Even if I'm a middle aged suburban white guy who goes to local breweries all the time.
So far, so good. Great spot, good food menu, cool vibe… on to the beer.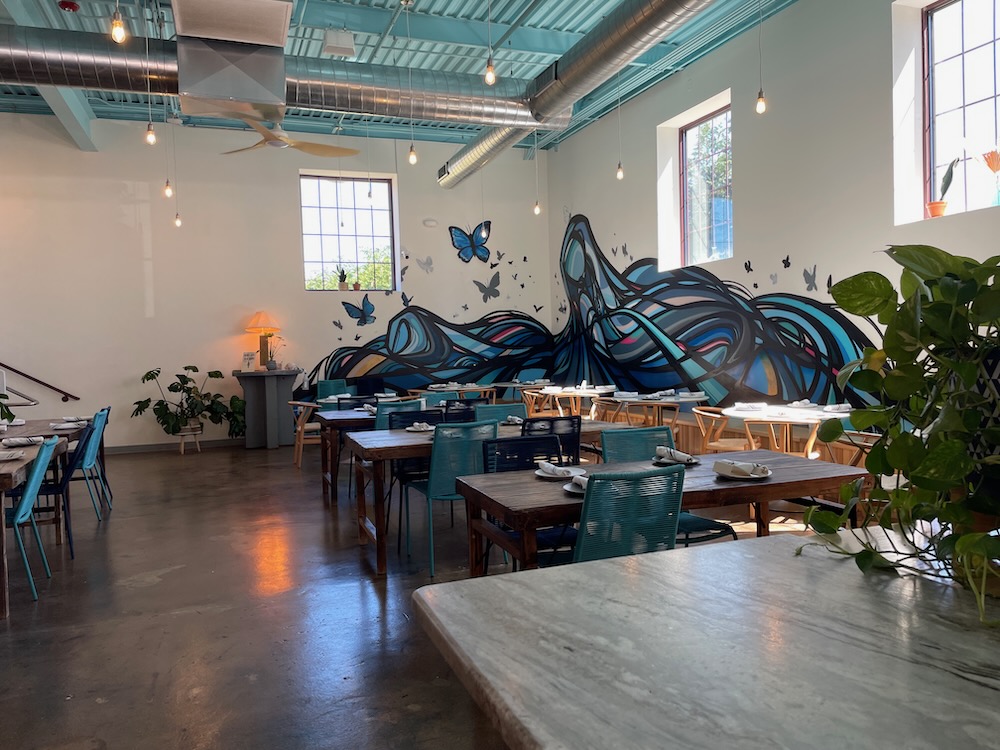 The Kolsch here is properly crackery but had an odd sweetness that just didn't work for me, but I've had worse. Hey, that's a cool and unique mural over there in the corner. It's by an artist that goes by Trek6. He's done some great stuff around the world and you should check him out.
On to the Mr. Pink grapefruit wheat beer. I got no grapefruit at all, and a ton of "wit" character. Like, a mountain of it. It's like, with these first two styles, Surfridge said, "THIS IS A WIT" and "THIS IS A KOLSCH" and they made darn well sure their characteristics bashed you in the face. Just need some subtlety is all. Chill.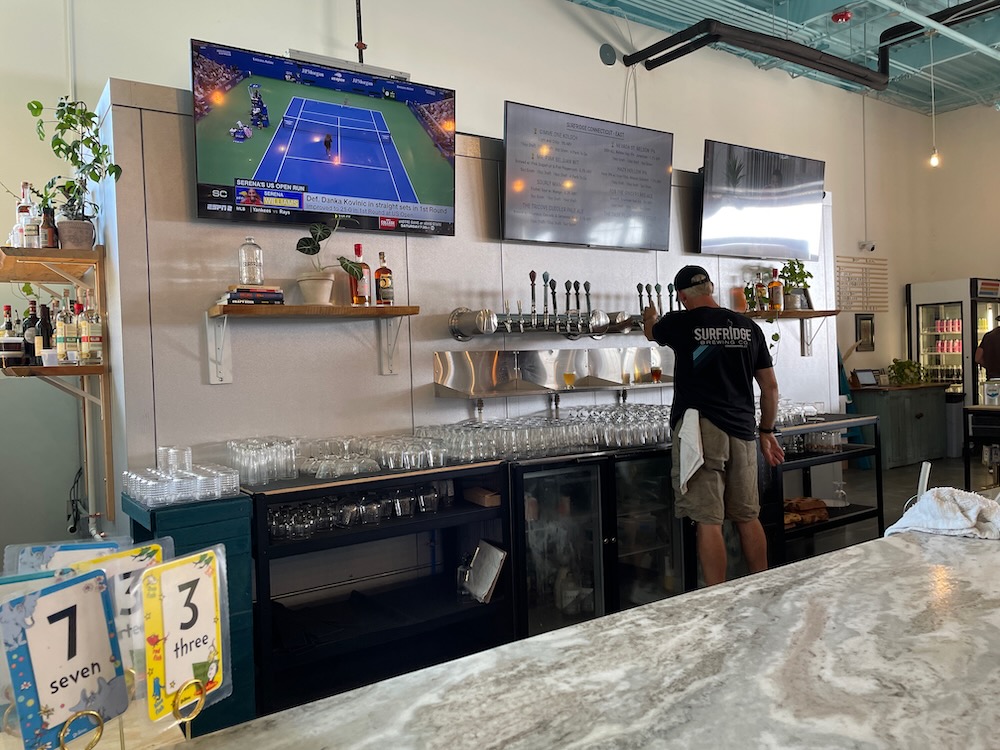 The red ale was a typical red ale. Middle of the road. Not bad. That's all I've got which really, is all one needs for a red ale.
The pale with Columbus, Centennial, and Cascade! Perhaps my disappointment in its lack of flavor and character was that I set my expectations too high. Or that I visited Surfridge too soon after opening. This is a West Coast brewery brewing a West Coast pale ale that… was fairly boring. Bummer.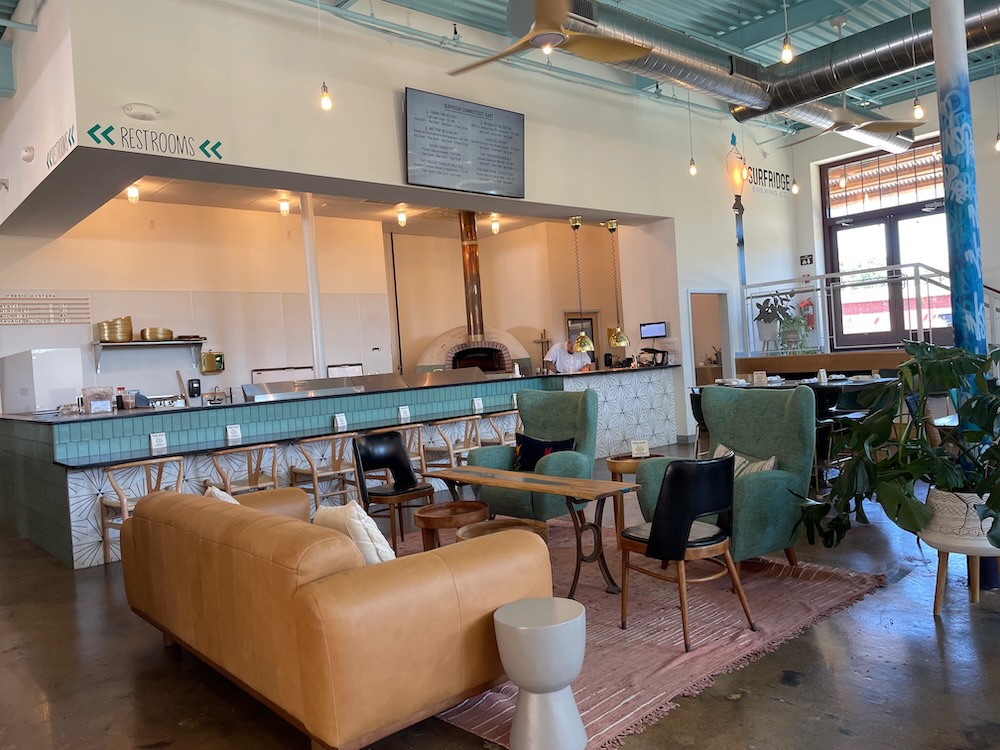 The less that's said about the Nelson IPA, the better. It's named Nevada Street and I can tell you that the original Surfridge is on Nevada Street in El Segundo. I can tell you that Nelson Sauvin hops were all the rage in the mid to late 20-teens. When used properly, it adds to devastatingly good IPA variants. I can also tell you that didn't happen here at Surfridge Brewing in Essex, Connecticut in September 2022. (It was the first phenolic Nelson-hopped IPA I've ever had.)
Surfridge will succeed. It's a fun and hip spot in a highly trafficked and cool town. I'd guess the majority of patrons coming here couldn't care less about the beer they make here, so as long as the beer they make here is "okay," that's really all that matters. And they were close enough to okay when I visited, and improving from there really isn't all that hard.
Sometimes, being pretty really is all you need. I wouldn't know, but I think Surfridge could weigh in… except they can be so much more. Brah.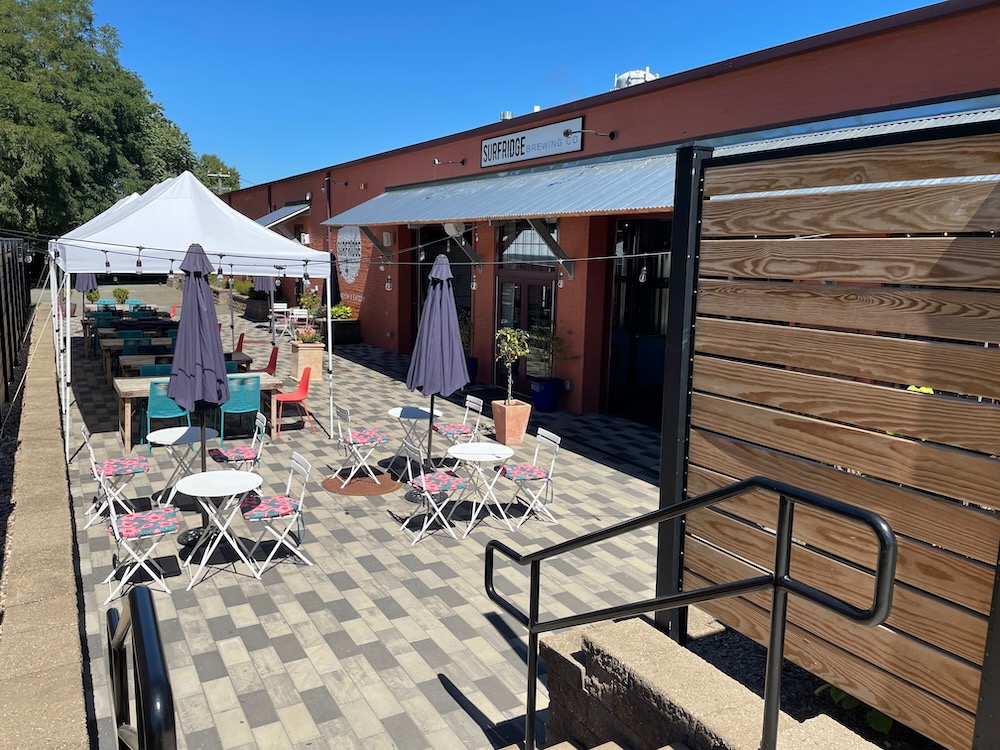 Surfridge Brewing Company
CTMQ's Breweries and Brewpubs