Thimble Island Brewing Company, now Brewpub, Branford
Thimble Island has grown quite a bit since my initial visit in early 2013. They've changed locations and expanded to become a vastly larger brewery. Which… is what a lot of successful businesses do. And so, as is becoming custom here on CTMQ, I'll keep the original visit report intact for the most part with an update from a 2020 visit below.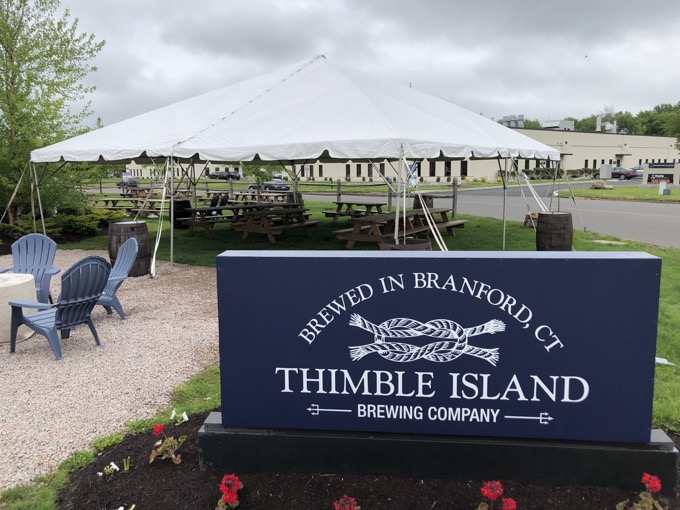 A Thimble of Thingth to Come
March 2013
My wife was sick and our little one was just recovering and still not up for a CTMQ trip. Time for the big boys to go on an adventure. So, Damian, where do you want to go?
"A beer place."
Oh yeah? Cool.
"No. TWO beer places."
Great, we can do that.
"No, two-THOUSAND beer places."
Okay, buddy, now you're being silly. We're going to do a hike too. Will you do a quick hike with me?
"No! No quick HIIIIIIIKE! NO QUICK HIIIIIIIIKE! NO QUUUUIIIIIIIICK! NO QUIIIIIIIIICK!"
Oooookay. Go. Go out to the car. Stop hitting yourself.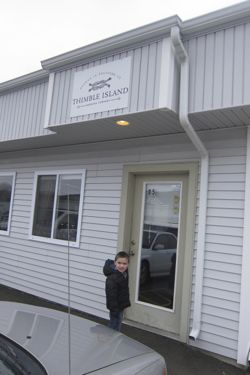 (This is all 100% accurate, other than the fact that I'd planted the "beer place" bug in his head earlier in the morning. This is a typical conversation with my special needs son. Always a pleasure.)
And so, with my wife still in pajamas and holding a box of tissues, I told her we were going to "New Haven and Branford" and she said, "Branford?!" and I said yeah and with that, we were off. Nothing fazes her anymore. Damian and I made a pitstop in Woodbridge at New England Brewing Company because, well, because Damian said we should go to TWO beer places. And because they had their new Coup Beans coffee stout on tap and because I had two empty growlers with me. Don't be silly.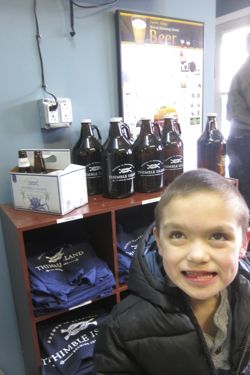 Our NEBCO visit was short and sweet and we were quickly back in the car cutting across New Haven. I noticed a new-to-me Progressive ET sign on Whalley Ave which was very exciting. We reached I-95 and Branford quickly and I exited to go do that quick hike down at Farm River State Park. After marveling a bit at the precariously perched homes in the Stony Brook section of Branford, I found the lot for the state park and began to make the move to explore.
Damian, however, had different plans. Now, I know he hates walking around outside. And hiking is anathema to him. But I try. I will continue to try and try and try. Unfortunately, he will continue to fight me on it and since it was pretty muddy, I didn't really see the point in dragging him out there, having him roll around in the mud and then having to deal with all that.
We didn't hike.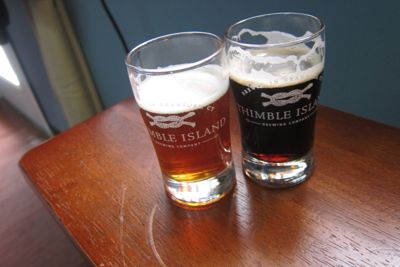 We continued driving one more exit up 95 and through an industrial park and into a weird little collection of drab office buildings that look like they contain second rate insurance salesmen, dead bodies, repo firms and Aspen Dentals. Definitely not a brewery!
But this is where Thimble Island is, and once inside the front door, almost like Dr. Who's TARDIS, we were magically in a small brewery with a cool little tasting room! Well I'll be.
Thimble Island has a good business plan and they are doing things right. They only made one beer for their first 8 months or so (American Ale) and had only recently added a second (a coffee stout). Their branding and graphic design is seriously some of the best you'll ever see – I love it. Classy, classic and certainly tied to the coastal towns of Connecticut like Branford.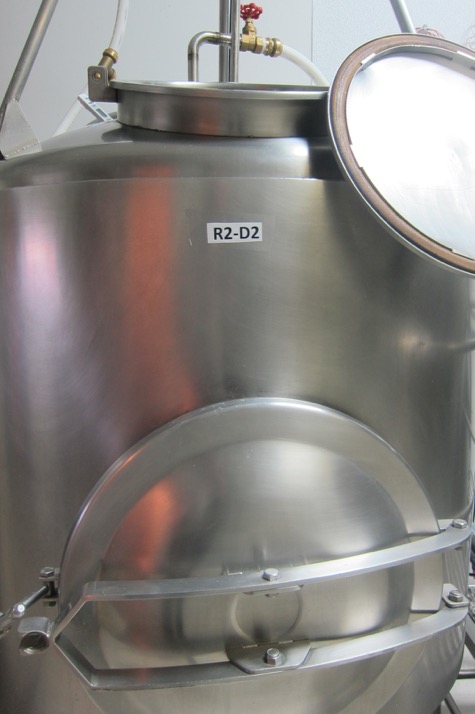 I was surprised at how crowded the little brewery was – and surprised so many people found this place at the very end of a long industrial park road. But then again, finding most breweries in the early 2010's requires sleuthing. Here's what the Thimblers have to say about themselves:
Thimble Island Brewing Company was established in Branford, CT in 2010. Our founders are beer enthusiasts who set out to create well balanced, traditionally crafted beers. Prior to Prohibition, the United States was home to over 2,000 craft breweries; by the 1980s barely 100 breweries remained. Thimble Island Brewery seeks to recreate the American tradition of having a local brewery that the community can enjoy. Thimble Island. Serious beer for serious beer lovers.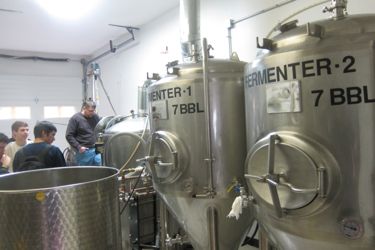 Serious business. The New York Times recently profiled some of the new players in Connecticut. The article started out in Branford, noting, "The brewery's three employees, including Dave Morgan, the general manager, make beer in their spare time, mostly at nights and on Saturdays. It takes them about six hours to brew an eight-barrel batch (31 gallons to a barrel), which is then fermented and aged for up to a month before being packaged in kegs and bottles. Eventually, the brewery intends to expand its line to include a pilsner and a porter, aiming to produce as many as 5,000 barrels a year."
I loved the coffee stout during my visit. It had the perfect amount of coffee flavor without being overwhelming… ahem, Coup Beans, ahem. Damian was great during our visit, quietly playing his game while I chatted with the guy serving me samples. He was clearly proud of his product and proud that the label designer was a local and that they want to start locally sourcing hops and things like that.
Their location is totally weird, but it doesn't matter. (Especially since it's not far off of I-95 either). They've already gotten their kegs into some iconic local restaurants like Lenny and Joe's. I love that they are approaching this whole thing intelligently, cautiously and pragmatically. Stick with some classic styles, develop a niche, and go from there.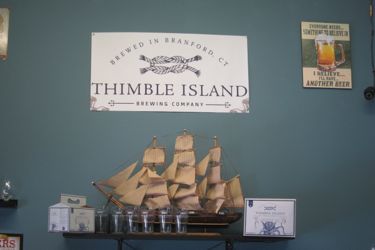 2015-2019
It's pretty cool that my dopey 2013 self mentioned a couple times that owner Justin Gargano was being pragmatic and intelligent with regards to his brewery's roll-out and future. As it turned out, he was.
The original space expanded some six times since my early visit. At that point, Thimble was too big – I note the irony of the name here – and had to find new digs. So they did.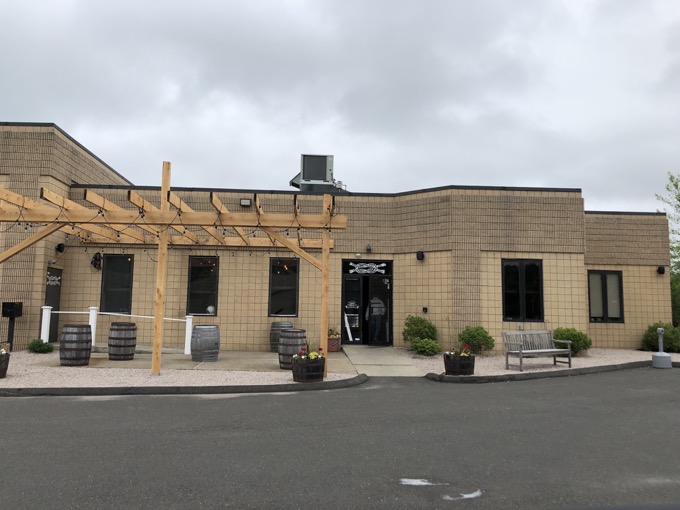 They moved from Industrial Park Road to Business Park Road; obviously a step up in class. They moved into the former Gravy Master building, which has no bearing on Thimble's story, but I like knowing the brewery occupies the former Gravy Master factory. In fact, I like knowing that the company that makes Gravy Master started out making liquid sugar to soothe sore throats and discovered they can make rock candy with that same concoction.
And that same sugar formula? It is used in Gravy Master – which is now made in New York.

2020 Onward
During the pandemic, Thimble expanded their new space. Today, in 2022, it's huge. There are large patios for outdoor seating – just note that you're still in an industrial par- err, business park, so you won't see any of the actual Thimble Islands here – and multiple indoor spaces. It's nothing short of impressive, especially when I look at those old pictures from when Thimble Island was a one-beer, one sample pour option at their beginning.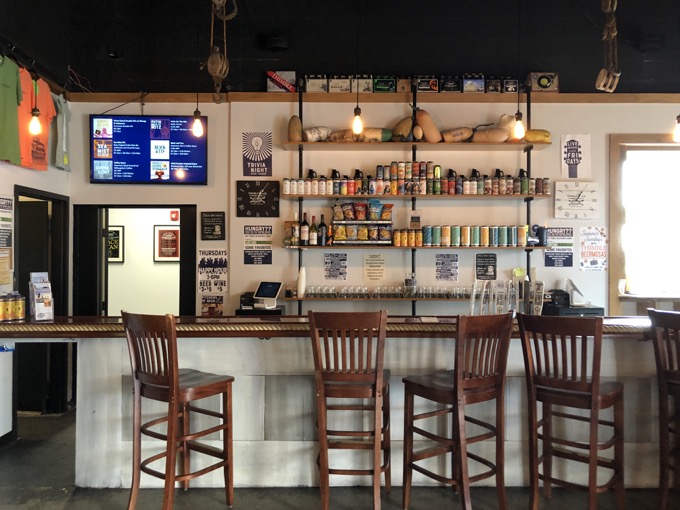 Thimble's beers have never been considered in the upper echelon of Connecticut beer, but they've certainly never been considered on the lower-end either. Thimble Island has quietly built up a respected brand with a large portfolio of beer. I can recall only one awful Thimble beer – a Vanilla Stout that tasted like a candle – but when I had it subsequently, it was much better.
They've also become one of Connecticut's contract brewing stalwarts as well. There have been some grumblings about the quality of contracted beers there (Relic, Hanging Hills), and there was a pricing snafu for one of their potent DIPA offerings once many years ago, but those are mere blips on collective memories.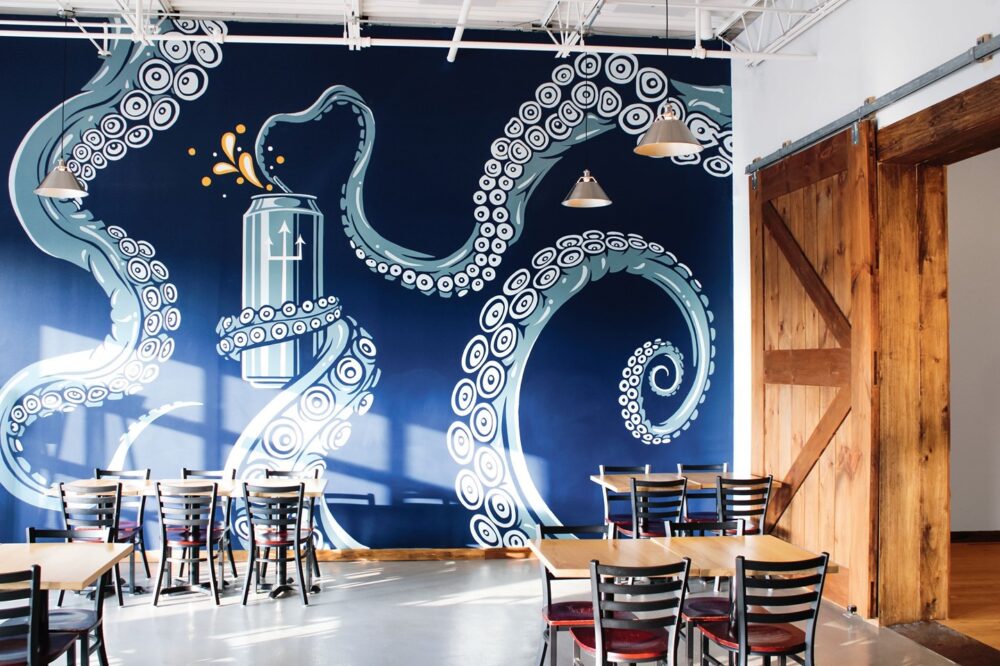 To that point, even though they moved down the road to a larger space, they still weren't done. In the summer of 2020 during the pandemic, they expanded again. There's the massive main taproom and another room with two large screen TVs. The highlight, for me, is the mural wall by Jessica Battista. It's stunning.
In 2022 they added a full service kitchen and now they are officially Thimble Island Brewpub. Heck, they even have a children's menu as a nice thumb in the eye to all of those "no kids in breweries" people.
But as is custom, we're here for the beer. Far beyond the "American Ale" and "stout" full slate I had in 2013, Thimble Island now brews and taps dozens of different styles of beer. They have 30 operational taps if that's any indication. Back when I enjoyed drinking far more than I do now, I was always impressed with their "Island Hopper" line of IPAs and would put their better ones up against any of the big boys'.
Thimble does a line of hard seltzers called Riptied. I know people love (loved?) hard seltzers, but I never had one I could finish, so I can't speak to these line.
Who remembers the "Brut IPA" fad? Thimble was all in on that one. In fact, during my visit in 2020, there were four Brut IPA variations on tap(!) While I liked this fad better than the seltzer fad – and infinitely more than the diabetes IPA fad – it still wasn't for me.
They also do the kettle sour/gose thing with a slew of different offerings, and the few I've had were pretty good.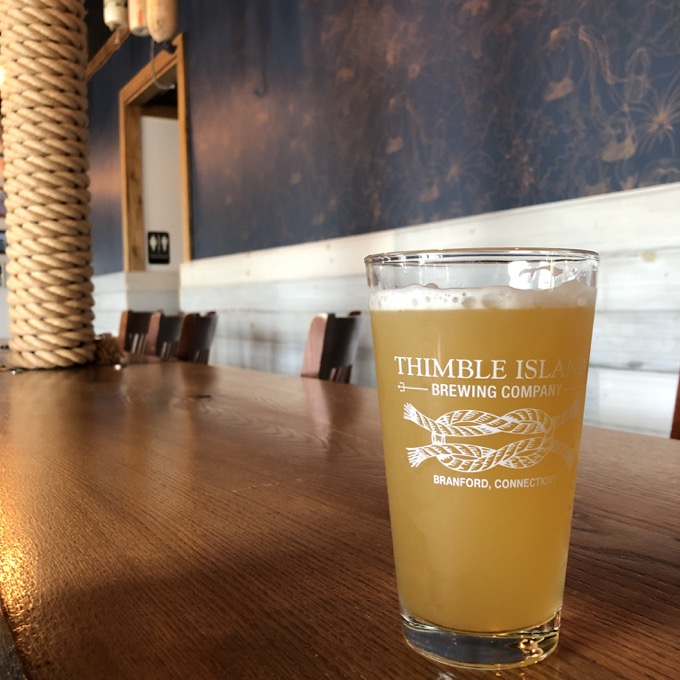 But I usually stick with the classics; harkening back to Thimble's humble beginnings. I'd go for a lager or "boring" old ale, stout, or old school IPA. And Thimble does all of them very well.
From all I gather, Thimble is an inclusive company with a respectable and wide-ranging line-up of beer. As it's now a "brewpub," the brewery itself is more of a destination than it's ever been. Cheers to Thimble Island! Just, please, stop expanding and changing locations. You're very hard to keep up with.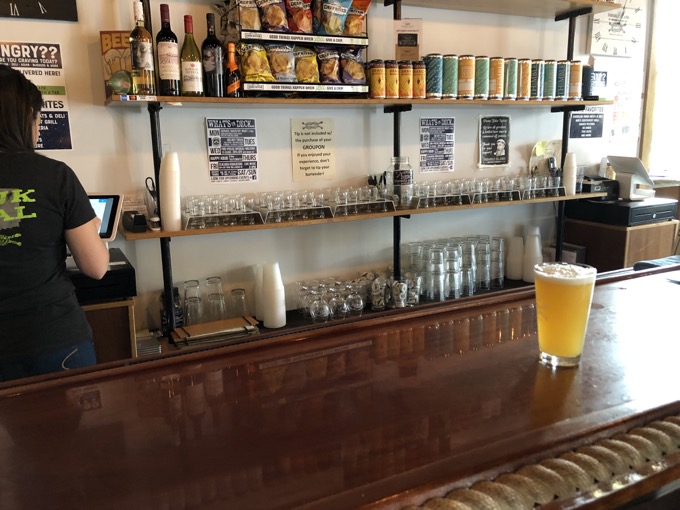 Thimble Island Brewery & Brewpub
CTMQ's page on CT Breweries and Brewpubs