The Sky's the Limit 2016 Hiking Challenge #4
American Legion State Forest, Barkhamsted
March 13, 2016
Level of Difficulty: Difficult
Yeah, yeah, CT DEEP, whatever. "Difficult." Pfffft.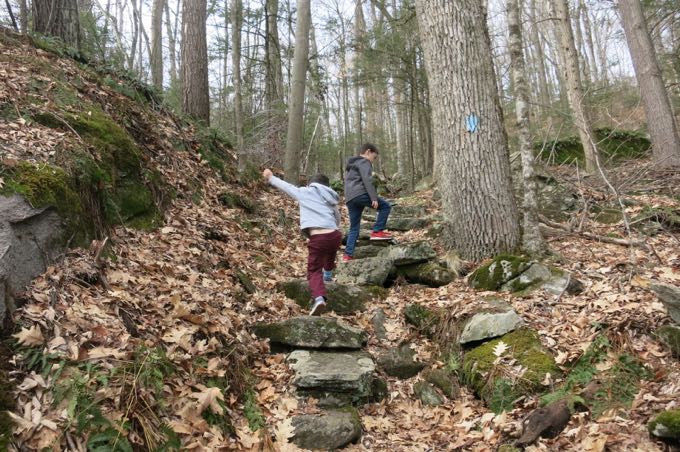 Honestly, there are very few, if any, truly "difficult" hikes in Connecticut. Trust me, I've hiked more than most 'round these parts. In fact, I hiked this very Henry Buck Trail back in 2007.
I didn't really remember it being all that big of a deal. Maybe two miles, including a short little road walk. Honestly, all I remembered was that I saw an eagle – and that I rushed through it in order to be home in time to watch a footaball game. My oldest son was only 18 months old. Now he's 10 and has an almost five-year-old little brother.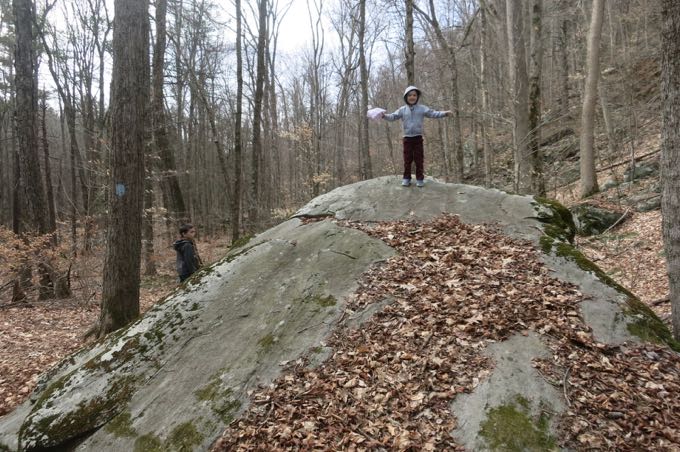 I hadn't planned on hiking this day, but when Calvin whined that he was sad that he missed out on the previous day's hike I did with Damian in Goshen, I figured "why not." I packed up the stuff and we hit the road to one of the closest hikes (to our house) in this year's challenge.
As we were leaving I said to my wife, "the thing says this hike is 'difficult,' but whatever. It's 62-degrees and sunny and dry, so why not? Bye."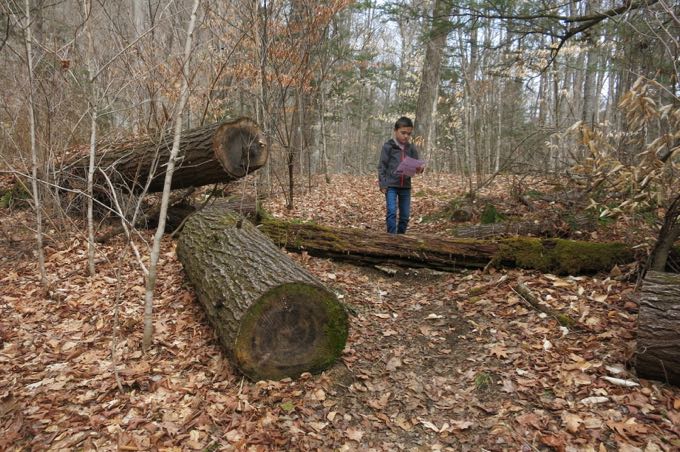 I've always loved the drives up either side of the Farmington River in Barkhamsted; just beautiful stuff. Add in the fly fishermen in the middle of the river and it's the stuff of tourism brochures.
We parked at the southern Henry Buck Trail trailhead and immediately set about our business. Hey, who remembers that picture of the boys at our first 2016 Sky's the Limit hike at Dinosaur State Park – the one with two smiling faces and proper poses? I wrote, "This is so rare."
Well, I wasn't lying.
You could make this hike a bit shorter by doing an up and back from the northern trailhead, but you're really not going to save much time or effort. We did the full loop, because… well, because I wanted to.
(I like to sound like a dad every now and then.)
The first stretch of our hike was straight and only slightly uphill. I love this area. It's so primeval and even Calvin noted that it "was like a jungle!" It wasn't really, but there are lush beds of mosses and some truly old growth trees and jumbles of boulders. It's a really neat spot – one you'll see when YOU hike this hike. You'll see.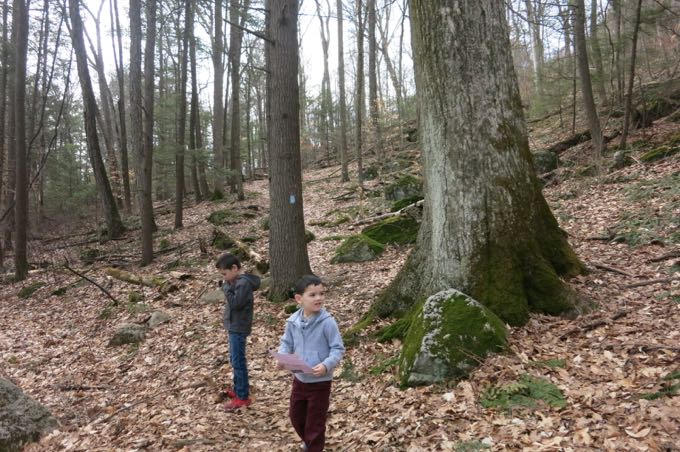 Once the trail hits the first real stream, it heads up the hillside. Actually, it pretty much ascends via a dry streambed at times. For his part, Calvin LOVED this section. To my memory, it was probably his first true taste of New England "mountain" hiking. He was rock-hopping and climbing.
As we began our march up the hill, we climbed the first of what are literally hundreds of stone steps set into the hillside. For his part, Damian thrilled at the idea of stone staircases in the woods. Again, one of the billion quirks to his syndrome is a fascination with anything seemingly "out of place." Sometimes, like on this hike, his reaction is mostly curiosity and humor. Other times, however… well, Damian had a good day, so let's not bring up his syndrome's (much) more difficult side.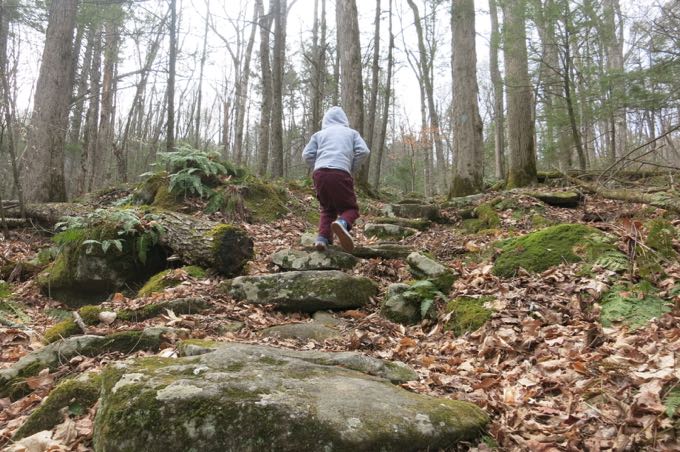 After climbing for a good while, the boys began to tire. We took frequent rests and took time to look at the details of various fungi and mini-waterfalls. I had no problem with any of this.
The history of the Henry Buck Trail certainly adds to its appeal. The Civilian Conservation Corps work here back in the day is simply amazing. Massive boulders were moved to shore up switchbacks. The hundreds and hundreds of feet of stair cases. The walls… heck, even the ruins of the stone bridge across the Farmington River at the trailhead (it was destroyed in the 1938 hurricane and never rebuilt.)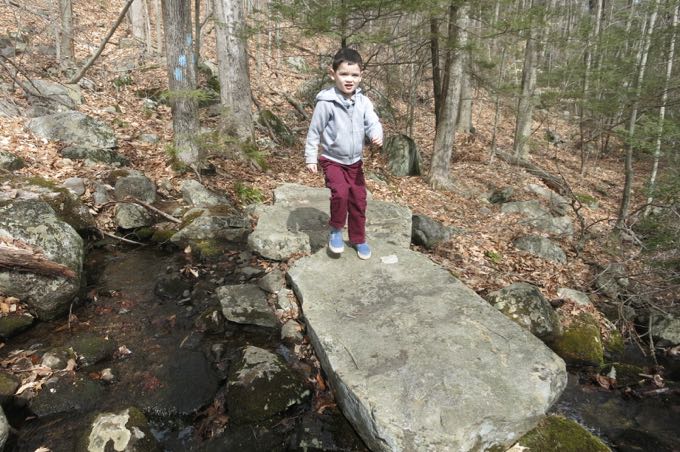 But even before the CCC's work here, some intrepid folks built a whole "factory" halfway up this hill. We passed the remnants of the old cheese box factory that operated in the early 1800's. They made wooden boxes to store and ship locally-produced cheese. It looked like an old stone wall and cellar hole to me.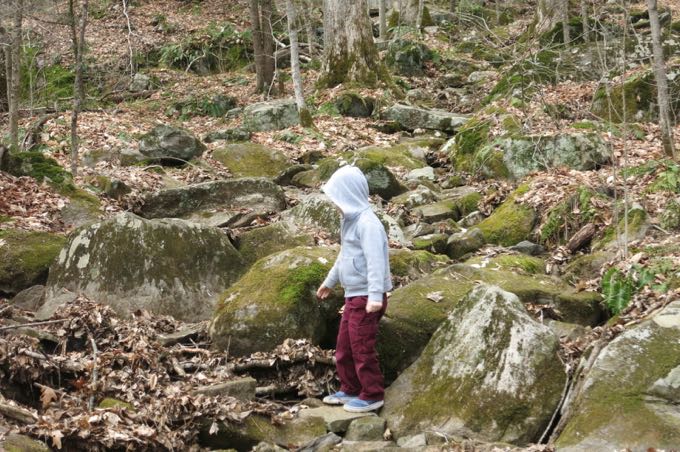 But the stonewall is actually part of the foundation and the factory extended out over the "cellar hole". Water was directed into what looks like a stairway into the cellar hole via a sluiceway. The water turned a paddle that was connected to a gearbox that, in turn, provided power up to the factory! The wooden sluiceway must have been in the area where the trail proceeds to an old, washed out earthen dam. The small reservoir that was created by this dam provided the water necessary to power the cheese box factory.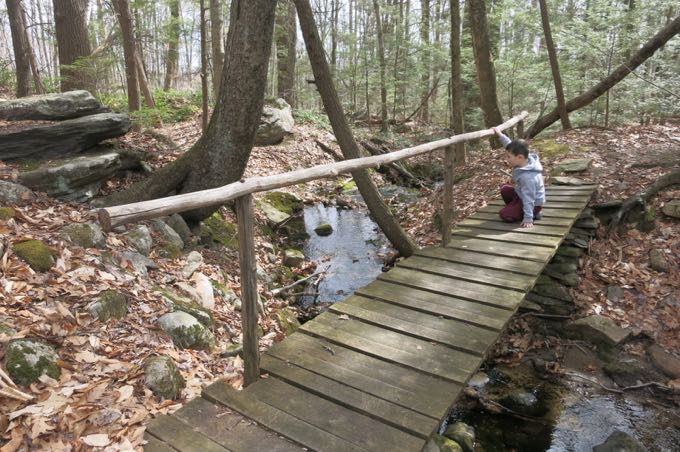 It's crazy to me that these guys figured their ROI was a good one; building a little factory a few hundred feet up a steep hillside in Barkhamsted two-hundred years ago.
We crossed a cool little bridge and enjoyed a nice respite from the climbing as we approached the massive cliffs and the required "bench" for our Sky's the Limit picture.
There, high up in a cliff face is the embedded plaque honoring Mr. Henry Buck. No one can actually read whatever the heck the plaque says, which makes it the second most inaccessible historical marker in the state. The first? That one on the southern end of the Heroes Tunnel in New Haven. Reading that thing may be the very last thing you do on earth, as you'd surely get killed by traffic.
Mr. Buck was vice president of the CFPA from 1928-30. He was a Yale-educated civil engineer who directed the construction of CT's CCC camps and he also happened to have designed and built the trail we were about halfway complete.
After another rest, we continued onward. The trail took us to "The Tremendous Cliffs" and a nice view across the valley.
Shortly after this rest point – funny that the boys are so well "trained" at this point that they both sat away from the edge, checked out the view, and got ready for their picture without me even saying anything – anyway, some guy coming the other way looked at me with two little boys with a mien that said, "Dude. Are you serious?"
Oh, we're serious alright. We turned a corner and stared up at a cliff.
Calvin said, "ARE YOU KIDDIN' ME?! WE HAVE TO CLIMB UP THAT?!"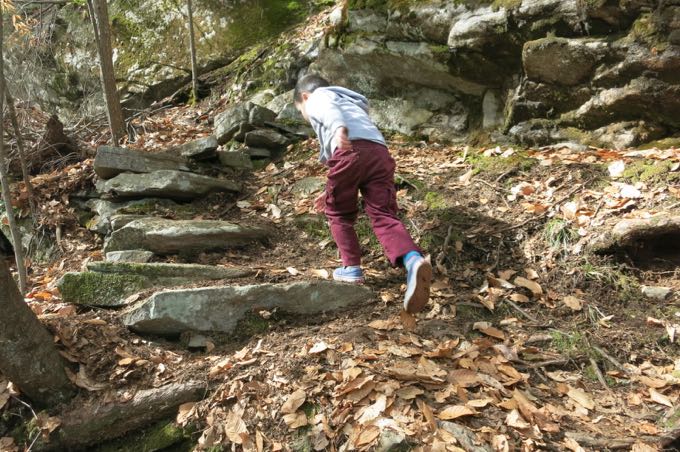 Yes, son, we do. I'd already held/carried them up and through some dicey areas, but this nearly vertical little stint was a different animal. I barely mentioned it in my write-up of nine years ago, but now with my sons, this stuff takes on a whole different feel.
I stopped them and had a serious talk. "Do not move until I say you can move. Do not jump. Do not tantrum. Do what I say when I say it." They seemed to understand and we ascended. Calvin was like a mountain goat, apparently enjoying the challenge. Damian just silently held my hand and did as asked.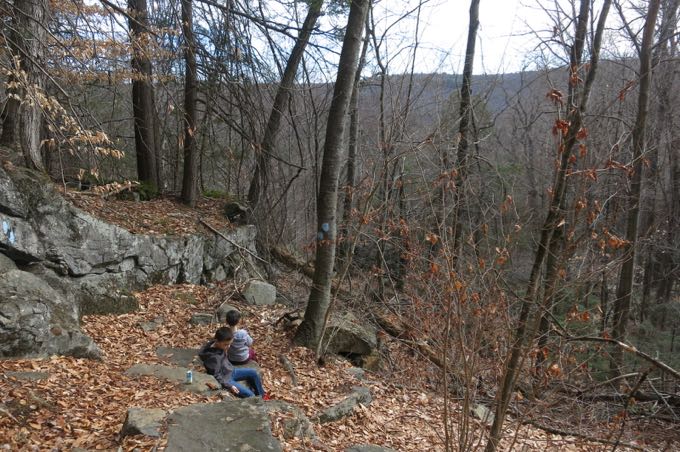 There's a point where the trail crosses some "space," if you will, while hugging the cliff face. Oi. The boys stopped on command and I carried each across to safer ground. So… yeah, that guy with the look five minutes earlier had a valid point.
But we made it with nary a scratch and began the trek down the hill. The rest of the trail was a constant descent through some interesting boulders. Towards the bottom, the skinny trail is cut into a steep hillside high above a creek below. With weary little boy legs, I was again rather cautious with them. Calvin took care (yay) and went slowly through this section as I held onto Damian's hand.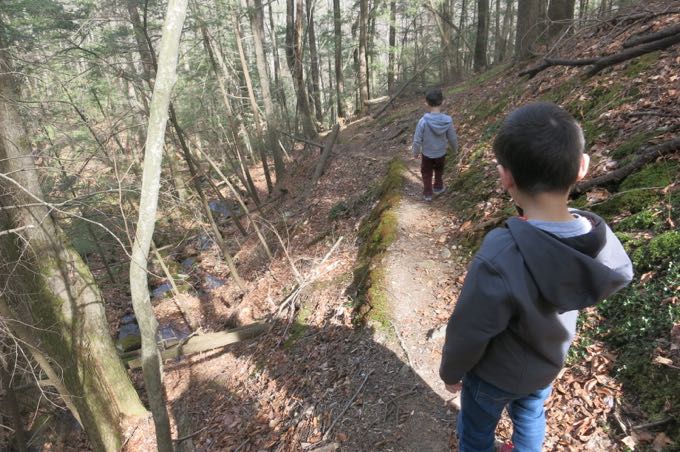 No one fell.
And before we knew it, we were back at the road; four challenge points complete and even a "difficult" one under our collective belt.
I love these boys of mine. They (and my wonderful wife) implicitly trust me to get them up and down mountains safely. They have no concept as to why we're doing these hikes – and that doesn't matter a whit. I'm so proud of them – not only for finishing the trek without too much complaining, but also for listening to me when it was most important to listen, and for following through on my directives.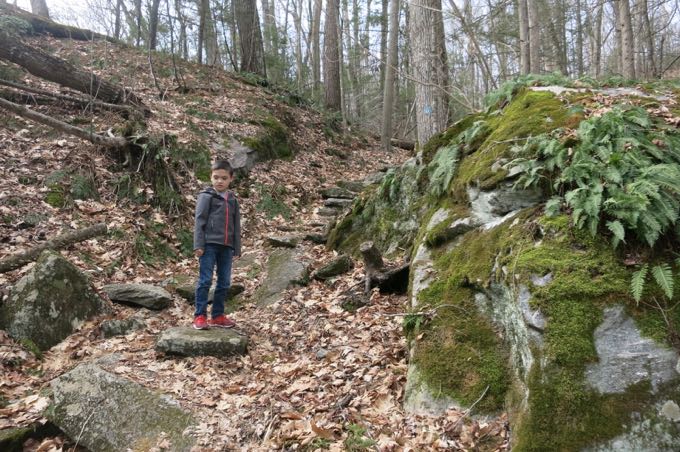 This wasn't Calvin's longest hike, but it was surely his most difficult. And this rivaled Damian's domination of the white trail out at Macedonia Brook last summer. (People say that's a good read, if you have a few minutes.) The Henry Buck Trail may be the most difficult of this year's TSTL challenge hikes – or at least the most dangerous.
But we did it. Last year I questioned whether Damian, with his host of intellectual and emotional special needs felt the "pride" he should have felt after that Macedonia Brook hike. This year, perhaps seeing how his little brother reacts to my praise, I think he's getting it. If Damian can "learn" what it is to be proud of something, and these hikes are vehicle to do that, then that's reason enough to keep doing them.
And so we shall.
CTMQ's 2016 The Sky's the Limit Challenge
CTMQ's Hiking Challenges Main Page
CTMQ's CFPA Blue Trails Challenge
CFPA's online map.