A Hop, Skip, and… Yeah. Skipping This One
20 Miles, Andover, Bolton, Columbia, Coventry, Manchester and Vernon
No Dates
This may come as a shock and disappointment to the 3 of you who care, but I did not bike or walk much of the Hop River Trail. And more importantly, I'm not going to. Even if it's only 20 miles long.
This former railroad line is now a trail that winds 20.2 miles through the towns of Manchester, Vernon, Bolton, Coventry, Andover, and Columbia. Like a pathway through time, this serpentine path passes among modern subdivisions and crosses roads, but mostly takes the trail user along a remote, quiet and long unused path through the eastern Connecticut countryside.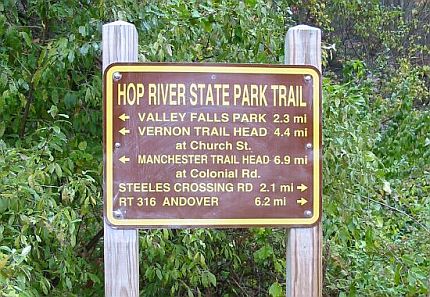 I have to draw a line somewhere. When I first conceived the idea of "completing" towns, I noticed that the Hop River Trail went through two of my first five towns: Vernon and Manchester.
So I put it on the list.
(I also initially included the East Coast Greenway, which is many thousands of miles from Maine to Florida and bisects the entire state. I'll be pretty much ignoring that one completely.)
I won't completely ignore the HRT, if only because other trails that I have (and will!) hike share the path.
Furthermore, The Hartford Courant's Peter Marteka has a great affection for these rails-to-trails trails and writes about them often. He'll take care of your needs.
Don't get me wrong – I think these things are pretty cool. But the problem is, if I were to start chronicling them, there's no end to them. It seems like more are created every year. And, quite frankly, most of the "better" sections are already "other" trails that I WILL be doing.
There are currently four linear state parks like this in Connecticut. Plus the Farmington Canal Heritage Trail, plus the East Coast Greenway, plus others. It pains me, because they are state parks, but I won't be "completing" any of them in the foreseeable future.
I hope you understand. And hey, you HRT fans still got a page on CTMQ, right?
Hop River State Park Trail
State Park Linear Trails