2015 Update: The Tunxis Trail – the mainline trunk and the slew of regional trails – changed up in 2014, but I have made the effort to rework my pages to reflect those changes. This includes a new section of the mainline in Burlington. Barring any major changes after 2015, I won't be revisiting these pages again. Enjoy!
…………………………………………………….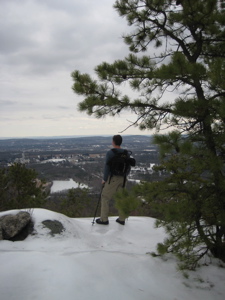 "Hey Rob, wanna join me in completing Connecticut's longest trail? All you have to do – besides hike it – is pose in a few pictures and take a few more. Oh, and get up and meet me before dawn, because that's how I roll."
"Sure, that sounds great!"
And that was that. In 2008, we had originally planned to do it wholly in winter in whatever harsh conditions presented themselves. As it turned out, that winter gave us decent snow but it always seemed to be on Mondays or Tuesdays, meaning by the time Sunday Hikeday rolled around, the snow was too limited or had turned to muddy ice.
That plan was fun to email about, but the realities of life dictated a very different execution of that plan. Like how Rob's family, as well as mine, doubled in size after we began this hike, so he was unable to complete the Tunxis with me. (But he's still a great guy.)
I ended up hiking the northernmost miles with my dad, which was pretty cool to do.
The funny thing about the Tunxis is that it's hardly just "a trail." It includes a rather vexing "trail network" but what makes the Tunxis unique is, all the trails are still called the Tunxis for the most part. It's an odd thing, this Tunxis Trail. Broken up into four sections, there is the straightforward Mainline Trail which travels north-south from the Massachusetts border in Hartland to Southington (near the Bristol border), with two gaps along the way. (One gap, in Burlington, was closed in 2014)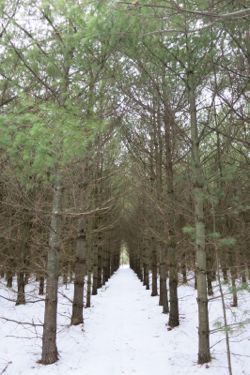 The truly funky thing is that in the southern 3 sections (mostly in Southington and Burlington, but with forays into Harwinton and New Hartford as well), there are 17 other trails that are also called "the Tunxis Trail" even though they often have other names – and just as often don't. And it is these other trails that add up to the 82 (or so) miles of what then can be called the longest trail in Connecticut. (The Mainline Tunxis totals to about 38.5 miles.)
Got all that? It is rather convoluted but I'll sort it out. There are a lot of cool things along the way – Tory's Den, a couple nature centers, a trout hatchery, a sugaring shack, some nice waterfalls, the Indian Council Caves, the "steepest mile of blue-blazed trail in the state" (I doubt that claim), great views, a ski mountain as well as things called Devil's Kitchen and Satan's Kingdom.
The Tunxis is easily one of my favorite trails in the state, for lots of different reasons. I've separated the Mainline pages from the non-Mainline trails, which I'll call the Tunxis Regional Trails. Enjoy!
…………………………………………………….
Go to my Tunxis Regional Trails page(s)
Section 1: ATV's = Absolutely Toxic Vehicles, Southington/Wolcott
Section 2: It's All New!, Plymouth/Burlington
Section 3: Jeepers & VA Creepers, Burlington/New Hartford
Section 4: Hike Sundown, New Hartford/Barkhamsted,
Section 5: Getting Into the Hartland, Barkhamsted/Hartland
Tunxis Trail Postscript