Putting the Quiet in the Corner
Route 97, Pomfret to Hop River State Park Trail, Windham (~14 miles)
August 2021
If you'd like to begin with my Section 1 through Thompson and Pomfret, here you are. (This is just a placeholder for now.)
We'll pick up this section at the Route 97 crossing in Pomfret, although I'd recommend the Route 44 crossing a couple miles north as a better place to spot your car. I'll start right off with a truth bomb: Everyone loves the Air Line State Park Trail and talks it up as one of the best bike paths in the state. I'm not sure I can agree with that opinion.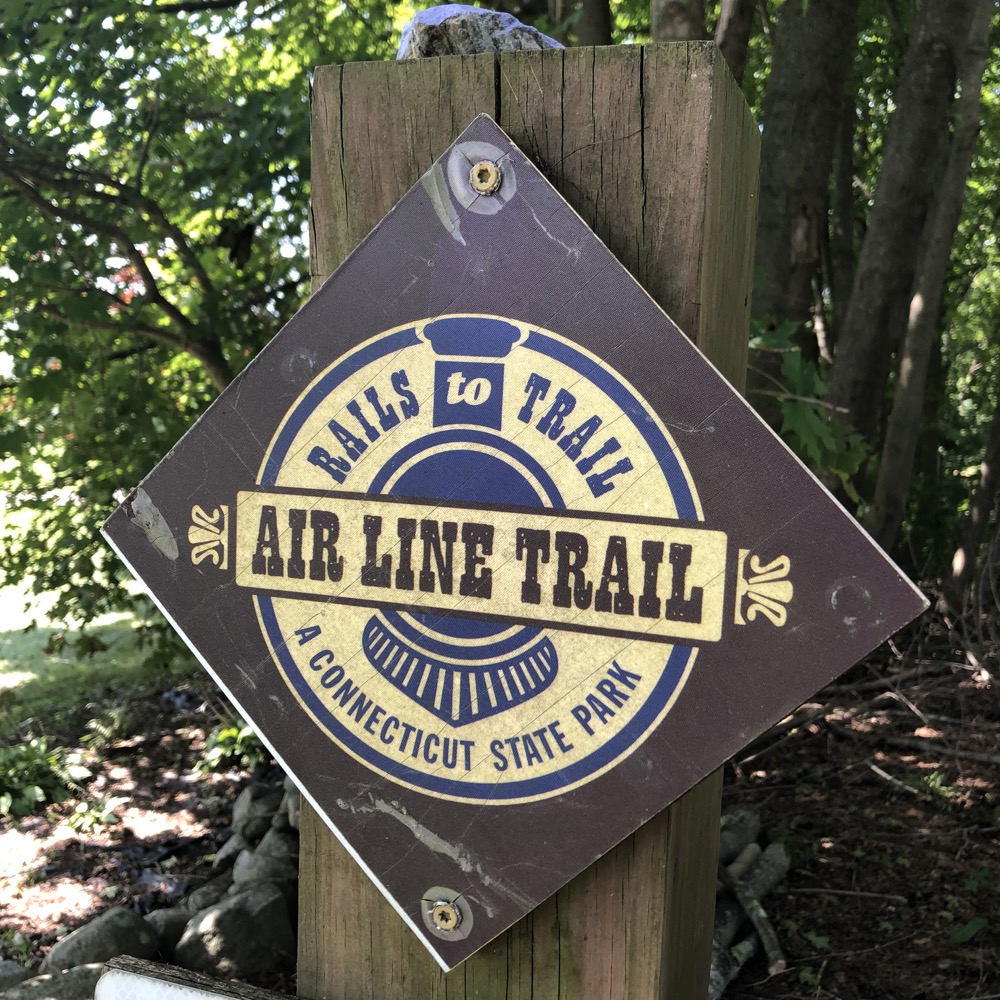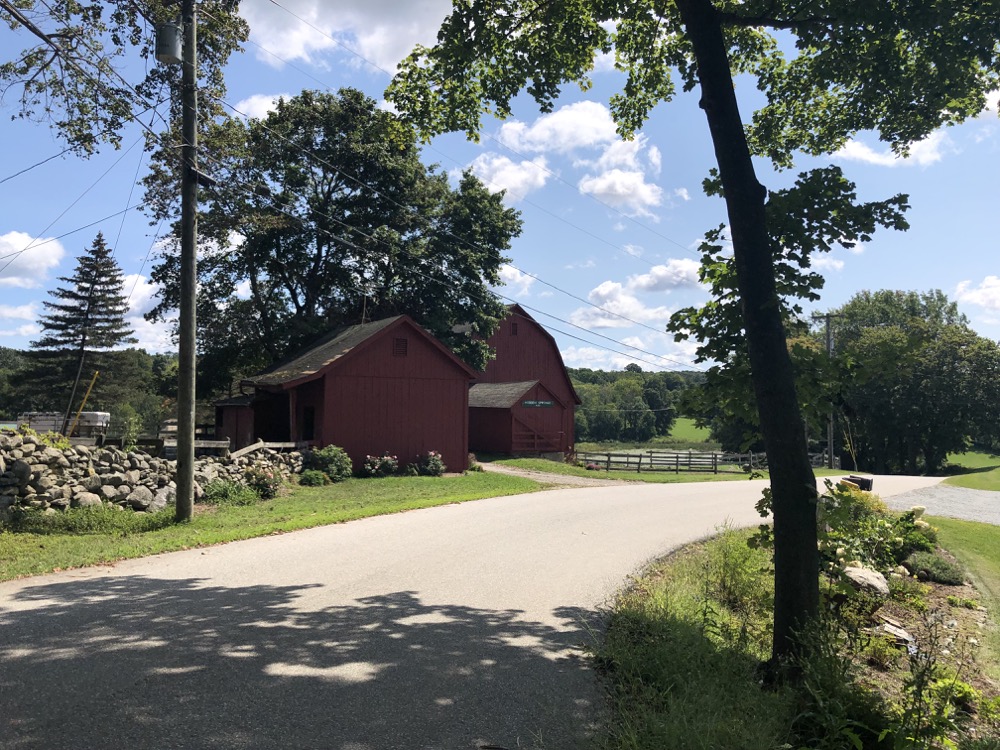 The northern half of it has been incorporated into the East Coast Greenway connecting Maine to the Florida Keys and while there are certainly some interesting features along the way, I just don't find its northern half as exciting as some other Rails-to-Trails paths in the state.
Although, to be fair, it will be moved off of roads in the northeast corner at some point and, one hopes, the surface will be improved in parts of this middle section as well. But I don't want to sound like I'm whining… it's still very enjoyable and this section's remoteness is perhaps its key selling point.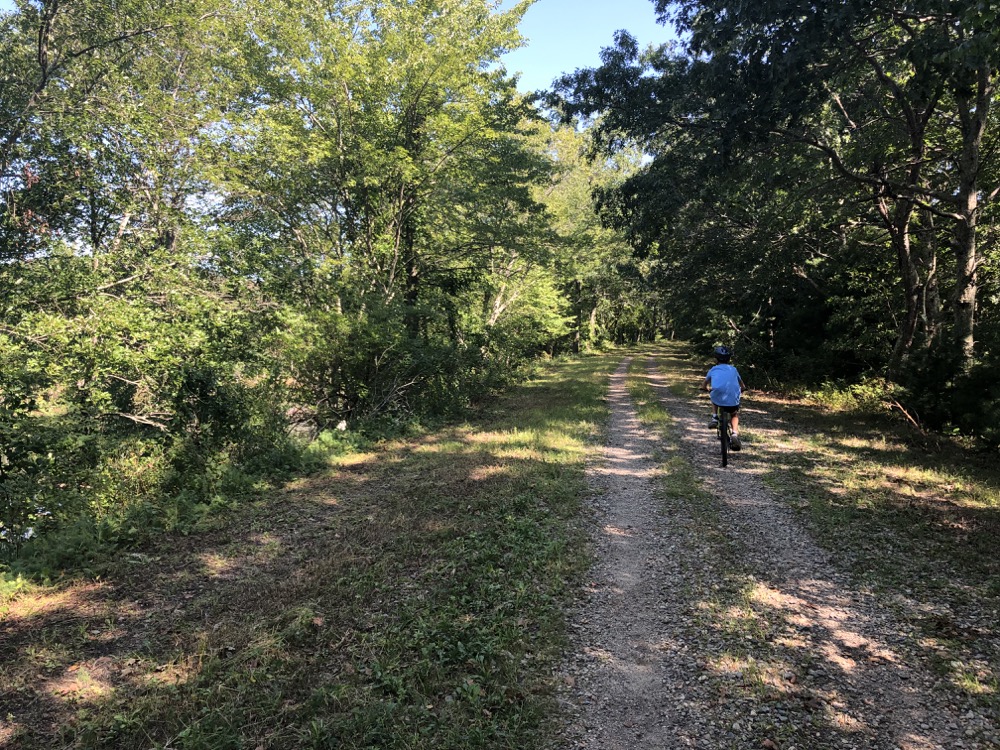 I mean… Pomfret? Hampton? Chaplin? Hello-o-o-o-o?
No, seriously… anyone? We barely saw any fellow travelers on this section on generally beautiful Summer Saturdays. (Yes, Saturdays plural because Calvin and I have to do out and back treks.) Remember at the beginning of the COVID pandemic how bikes were impossible to buy because everyone bought them all up because everyone was going to go cycling every day? Where are all you people?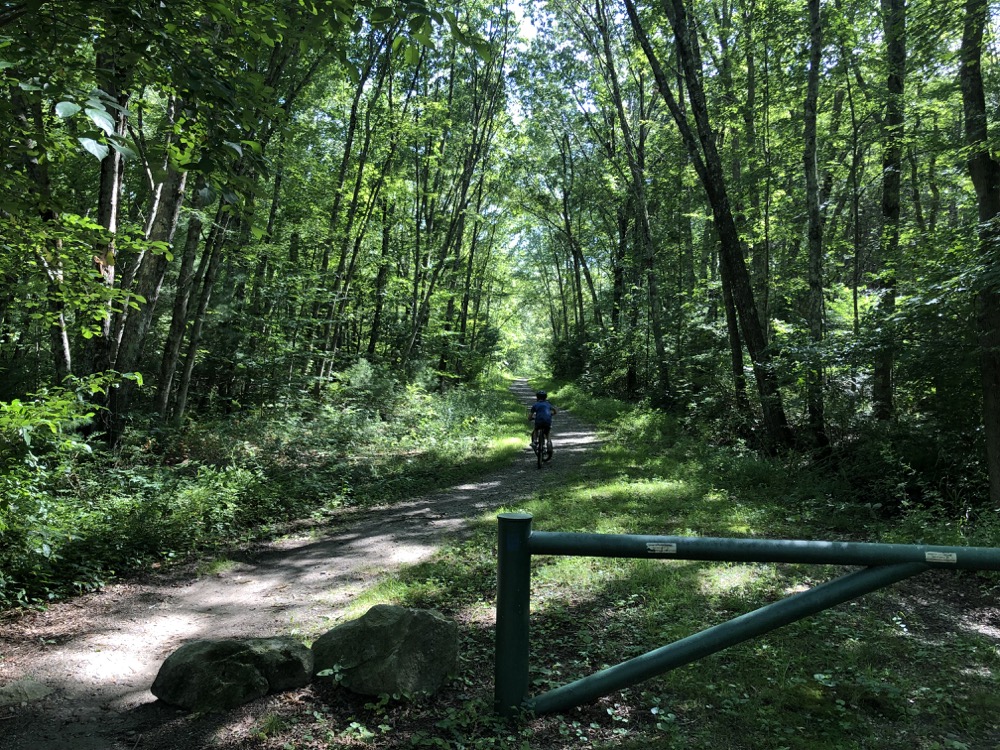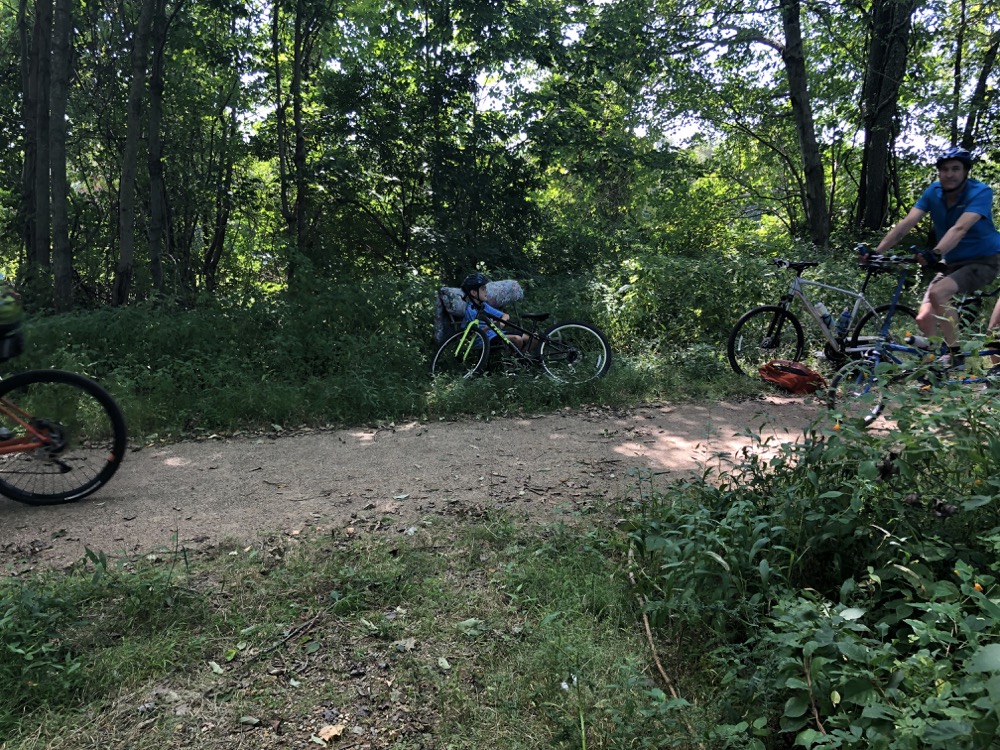 Maybe everyone is home reading this website and learning about the Air Line Trail and finally learning that it's "Air Line" and not "Airline." Since this section isn't super exciting, I guess I'll take a moment to get into some of its creation and history. The trail takes its name from the imaginary line drawn from New York to Boston, through the "air" so to speak, to illustrate the shortest possible route between these two major east coast cities.
Building a completely new rail line however proved economically infeasible so, for practical reasons, the "Air Line" as it came to be called, used existing rails from New York to New Haven and began its journey to the northeast from there.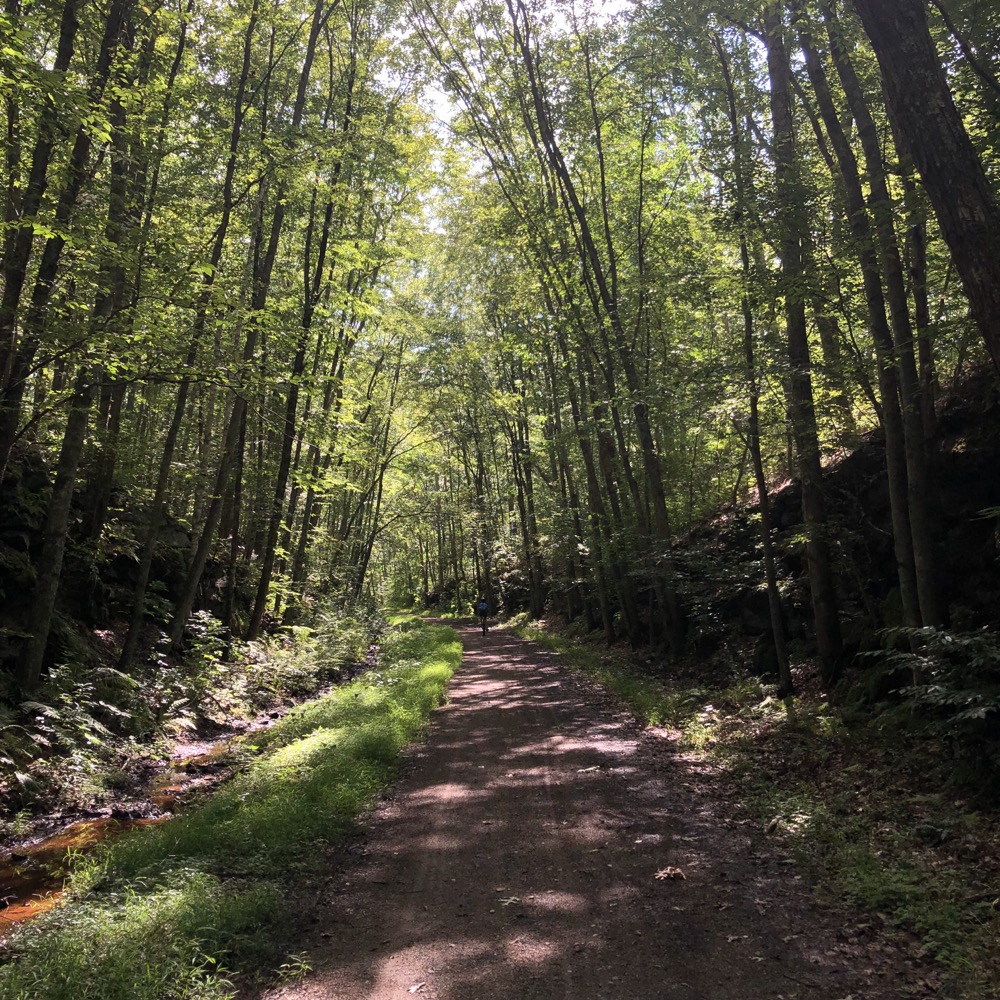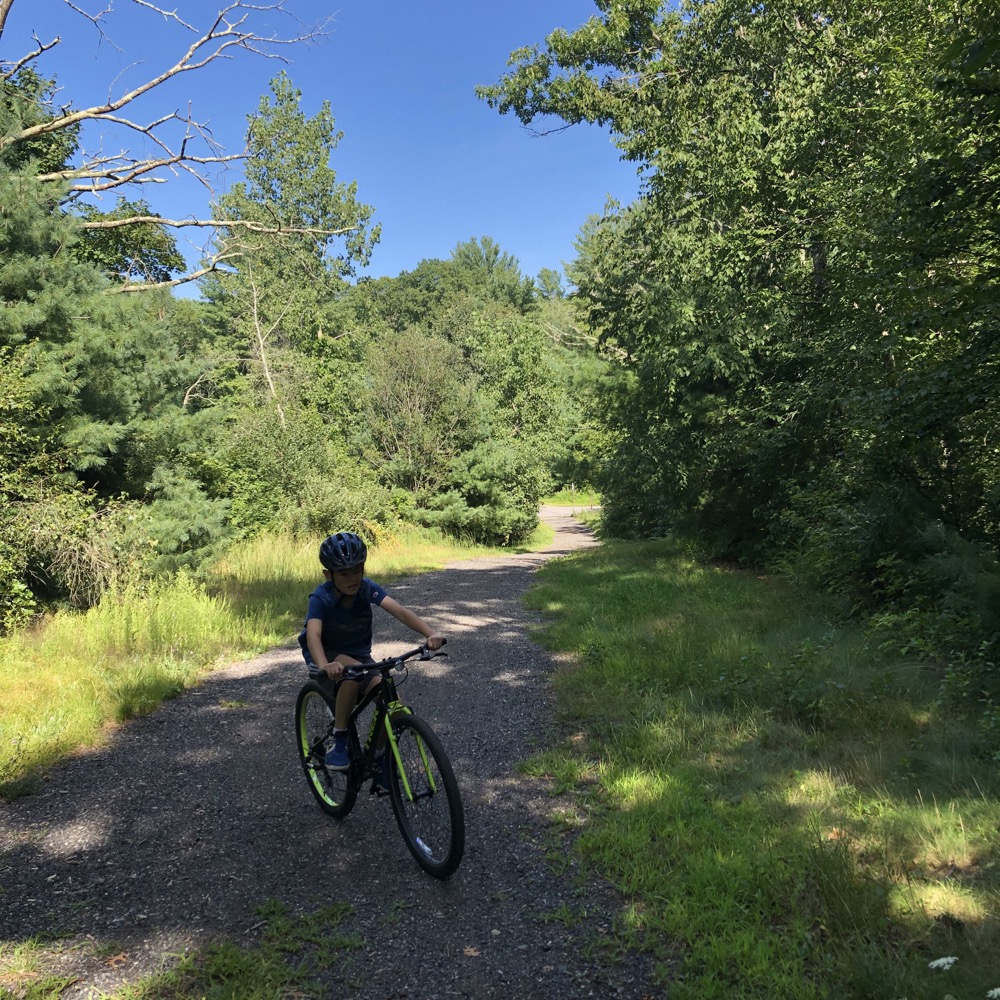 Construction began in the late 1860s and by 1870 the first construction milestone, track from New Haven to Middletown, was celebrated. Three years later, in 1873, the line was completed as far as Windham. That is the section of the current day trail that we'll tackle and it has some exceptionally cool features that were created for the railroad. The rest of the trail was laid through to Thompson by 1875 and the first official passenger run was in 1876.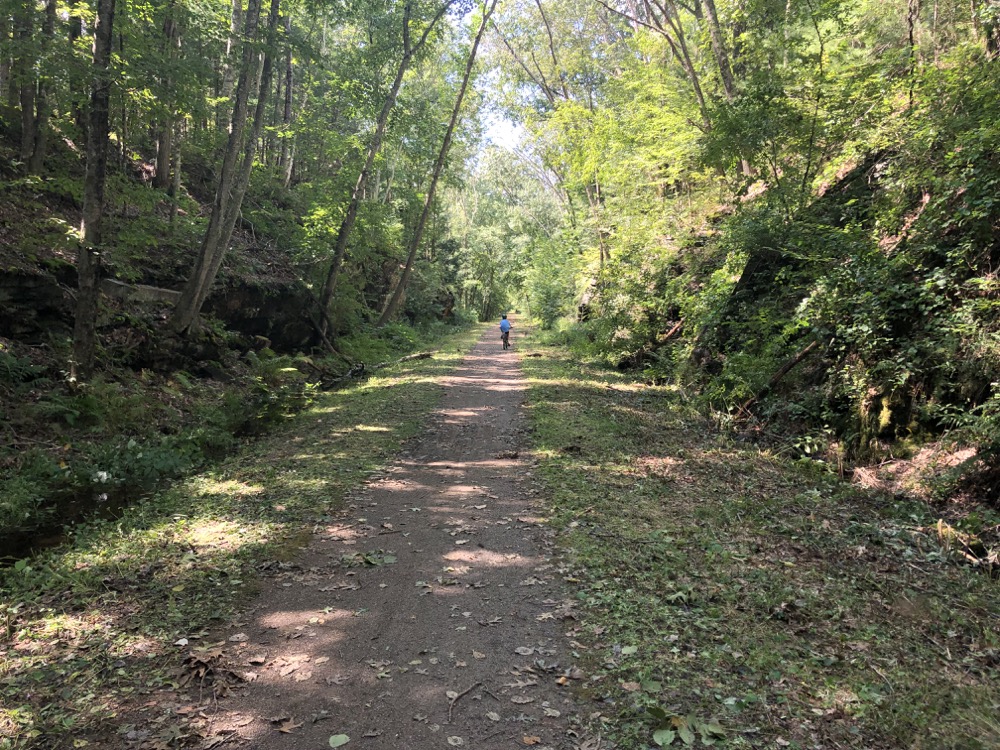 Annnnnnnd passenger service ended on it in 1902. Such a shame. Yes, passenger rail moved to the shoreline and the Air Line served freight for 50 years until the floods of 1955 destroyed a key bridge that no one wanted to bother rebuilding.
And today, as you see, Calvin and I spent a few hours rolling through the quiet eastern Connecticut woods. If you're curious for some reason what it really looks like, here is a short video for your viewing pleasure:
The full Air Line Trail is a work in progress. It has been for many years and will be for many more. There are long road sections in Thompson (being addressed) and Windham (just the way it has to be), but moreover, there are paved sections and there are rocky and rutted single track sections.
And this trek from Pomfret to Windham has it all. (Or did in 2021.) The grades to road crossings are much steeper and rougher than we'd experienced on other Connecticut rail trails. Even for little backwoods roads out here, some are really steep. Most of our ride was on trail like in the video above. As we approached the Goodwin State Forest, it began to deteriorate a little bit, but nothing too terrible.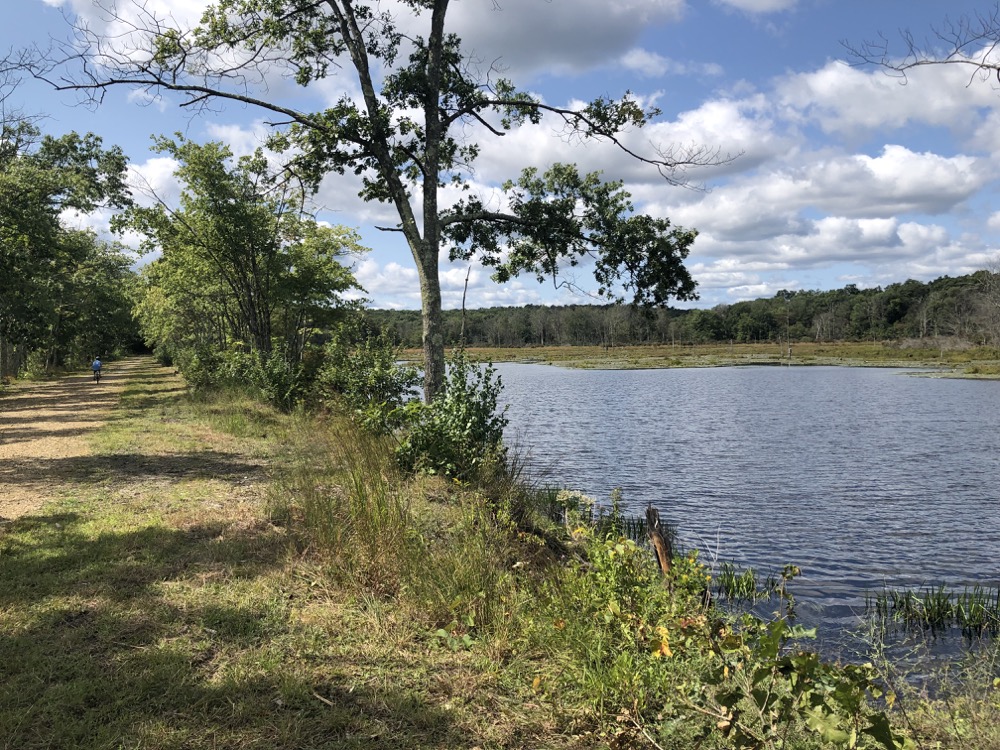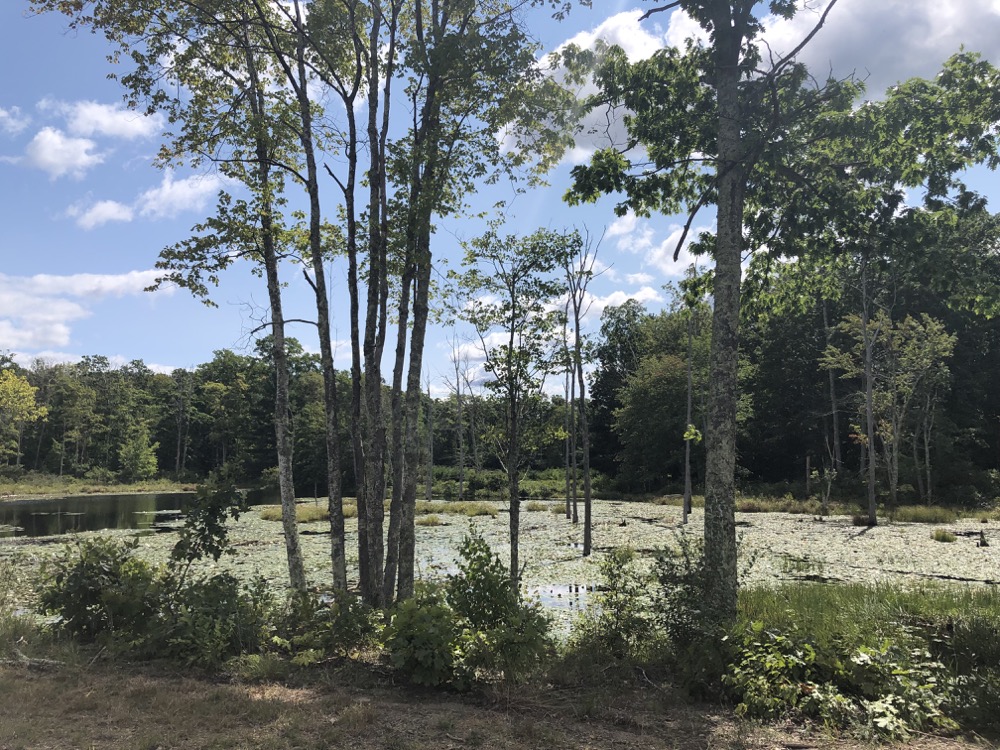 We shared trail with the Natchaug Trail for a bit while rolling along next to the very pretty Pine Acres Lake. Then, seemingly out of nowhere, we crossed a forest road and the trail turned to a mountain bike single track.
Calvin loved it. (This is the half mile between Potter Road and Route 6.) I was riding a hybrid bike, not a mountain bike and wasn't sure how much it could handle. Fortunately the section was short and we were soon back onto smoother surfaces all the way down to Windham and the Hop River State Park Trail junction.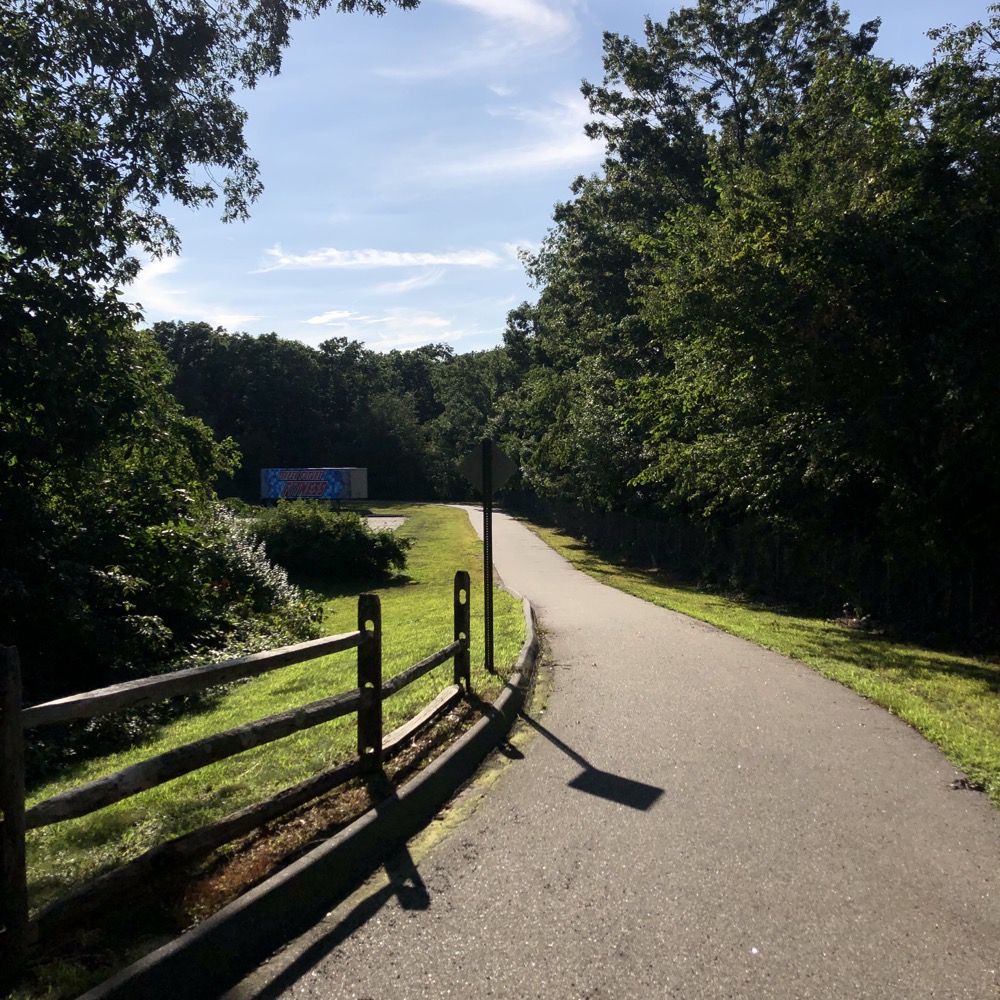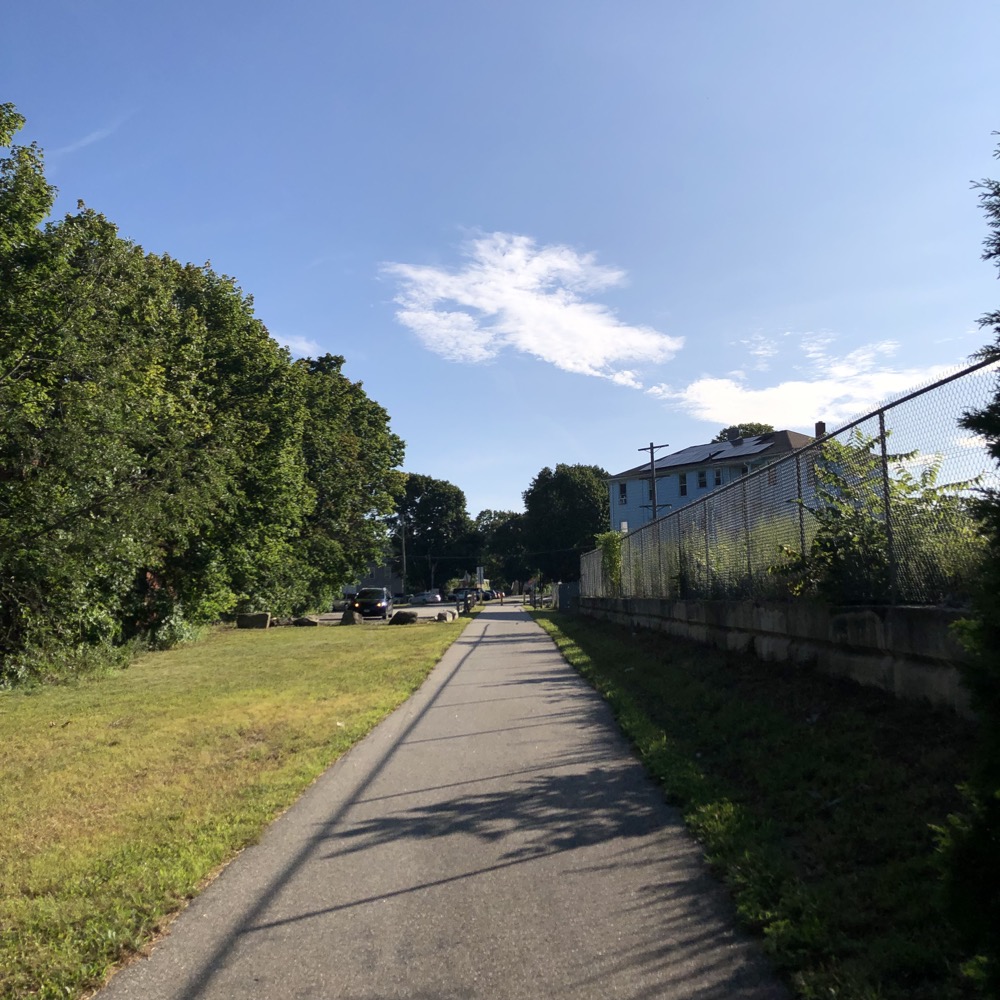 I will say that rolling south through Chaplin is easy going. But as I kept looking back and noticing a definite downslope, I began wondering how much that would affect the return ride to our car. Calvin was absolutely flying through here, aided by the topography. We coursed next to the wholly undeveloped and unknown Beaver Brook State Park before taking a quick break at the trail crossing of Joshua's Trust's Two Sisters Preserve.
Funny, when I just looked at that link of our hike there earlier in 2021, I notice the incline of the trail in my picture of it. I remember thinking then to myself that I should be sure to ride north on the first leg, so the return half is the easier bit. I did not remember that plan obviously.
More steeply graded and washed out road crossings as we approached Windham. A pretty bridge, and then asphalt. Yes, black, smooth, asphalt. What a change. Of course, we were also riding along Route 6, behind industrial buildings, row homes, and as we approached the downtown Willimantic area, all sorts of dwellings and businesses.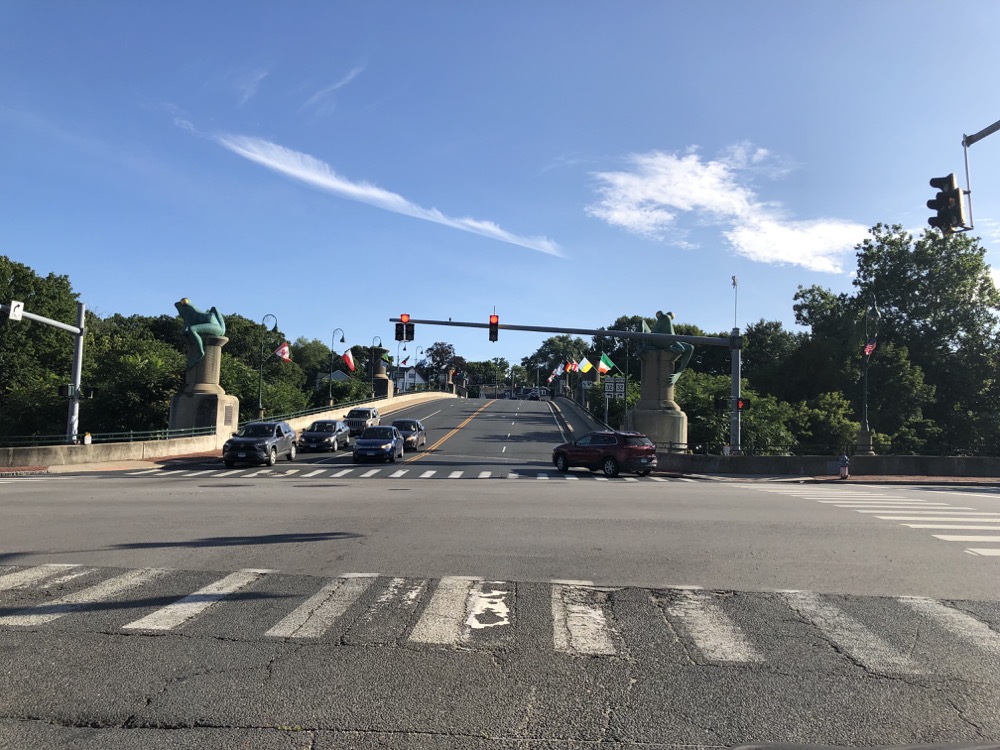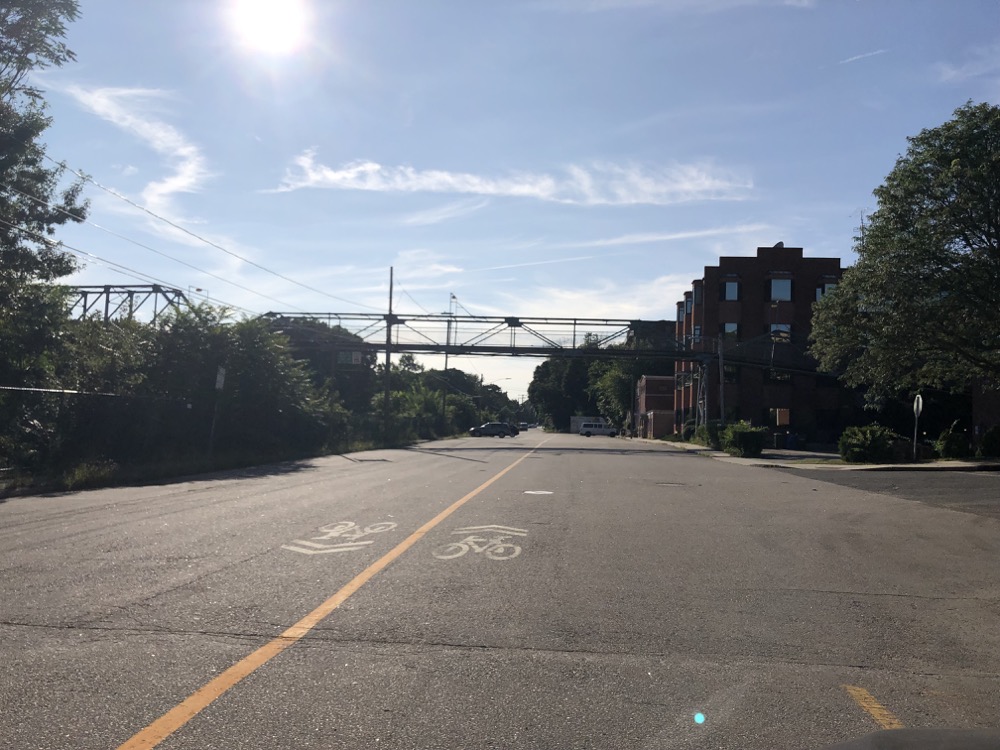 I kind of love how the trail here just sort of goes through parking lots and – hey, the Frog Bridge – and creates it's own road in places. We passed near the Connecticut Eastern Railroad Museum rail yards, road along the Willimantic River, and finally made it to the Hop River Trail connector.
For variety, you can't really beat Hampton to downtown Willimantic. Within a few miles we felt like we were the only people on earth to being hit up by guys begging for money. This isn't the greatest section of rail trail in the state, but it is (mostly) very quiet and offers a unique sort of Quiet Corner solitude you're not going to find in too many places in Connecticut.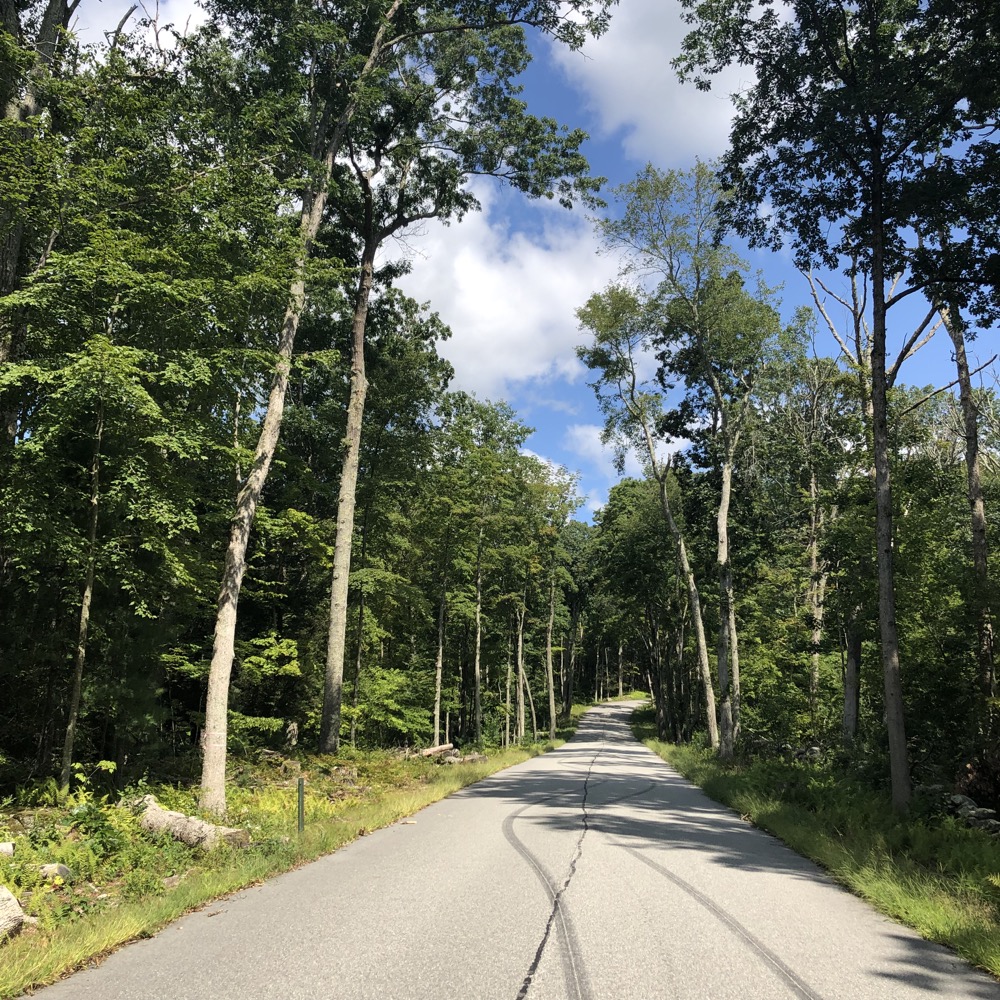 Continue on to ALSPT Section 3: Hop River State Park Trail to the Colchester Spur
Air Line State Park Trail
CTMQ's Air Line State Park Trail Intro
CTMQ's Cycling, Multi-Use, & Rails-to-Trails Paths