Black Swamp (Yankees)
Black Pond Brews, Killingly
July 2015 & July 2022
Black Pond Brews has been around since 2014. I don't know why that surprises me, but it does. I think it has something to do with the fact that they've been doing their thing out in Killingly, one of those black holes of Connecticut. They began in a tiny downtown sort of underground space and after outgrowing that, moved four miles away to a much larger spot away from all that citified hubbub.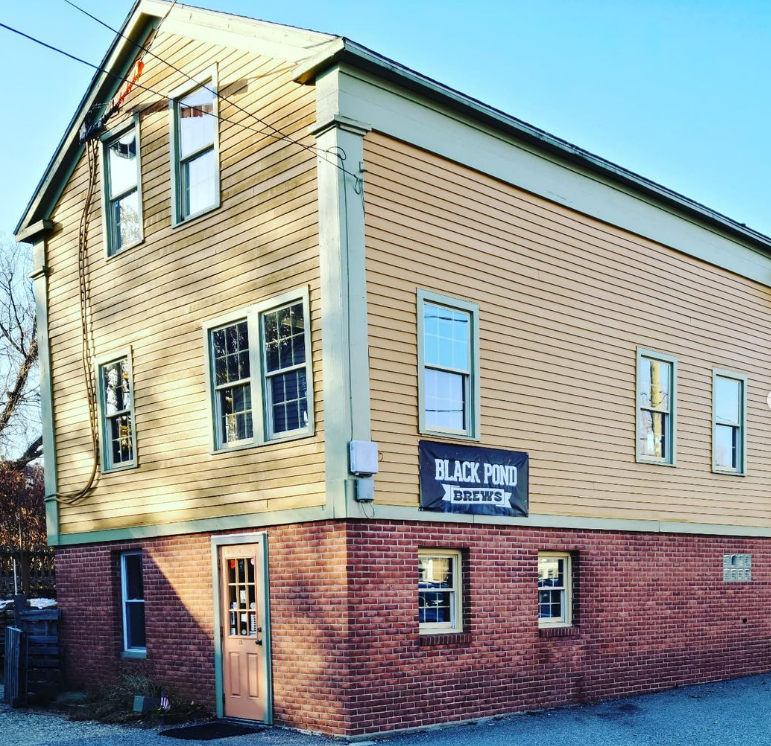 For those of you unsure as to where Killingly is, maybe this will help: Their original brewery was in Danielson and their new place is in Dayville. You know, Swamp Yankee Land. Western Rhode Island. That place you cut through to get to Cape Cod to avoid the Mass Pike. You good now? Good.
And while you might not think that Black Pond deserves the CTMQ Split Space Double Review treatment, I am here to tell you that it does. Not just because their two locations are so markedly different, but because Black Pond has always been better than you assume it is.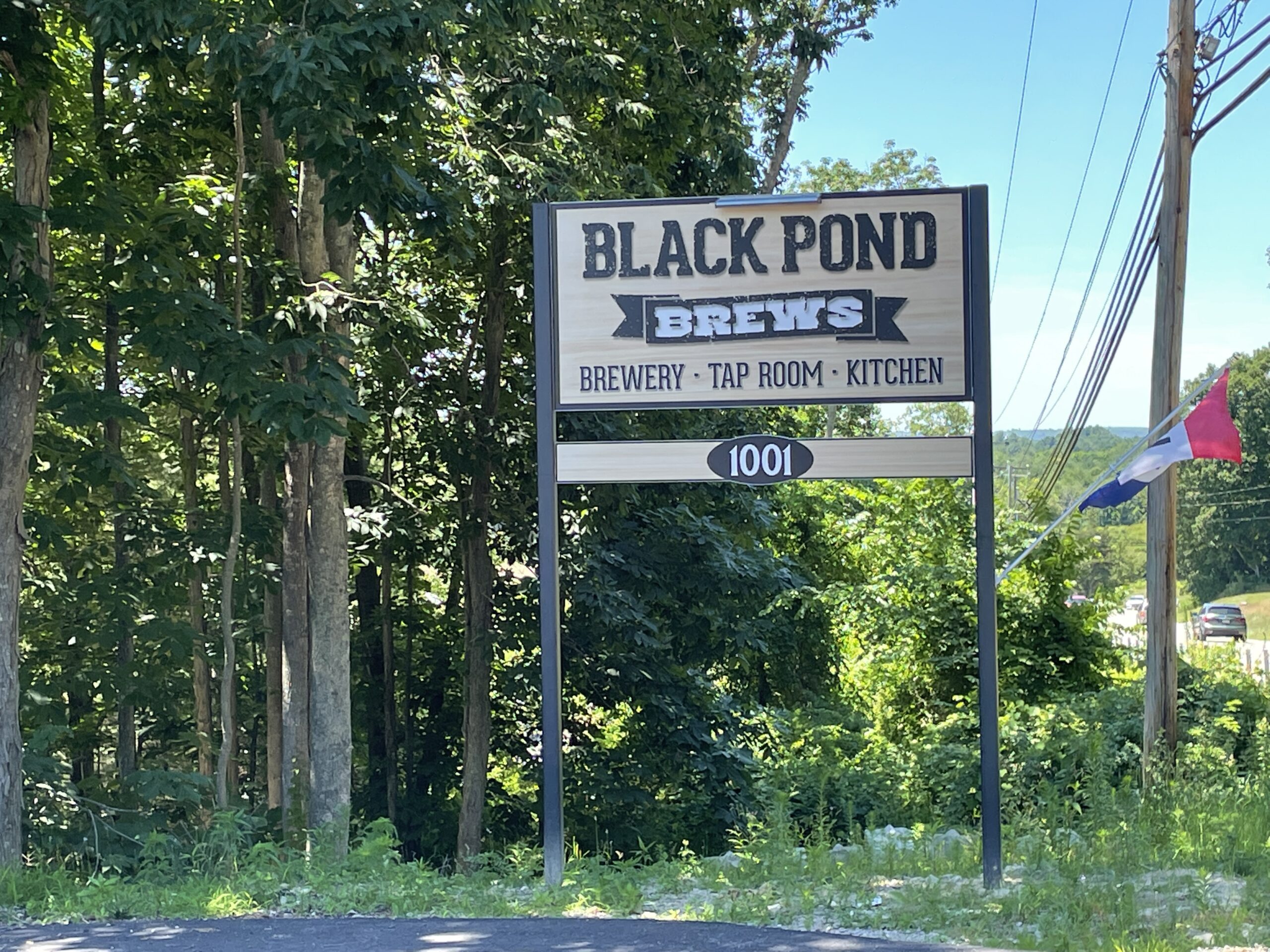 Original Black Pond Brews (2014-2021)
Back in the heady days of the 20-teens, a whole slew of breweries came online in Connecticut. Some with a splash, some with with a whimper, and some with the freedom to do whatever they wanted. Enter Black Pond, the first brewery in the mysterious northeast corner of the state.
Their social media was wacky. Some of their beers were cutting edge for the time. Black Pond was a "professional hobby brewery" for the owners, as it was tiny and more or less a side gig for them. I admired their pluck and resilience. For a large portion of the state, simply getting to Killingly is a nightmare slog up I-95 along the coast… and that's before heading north up into the Quiet Corner.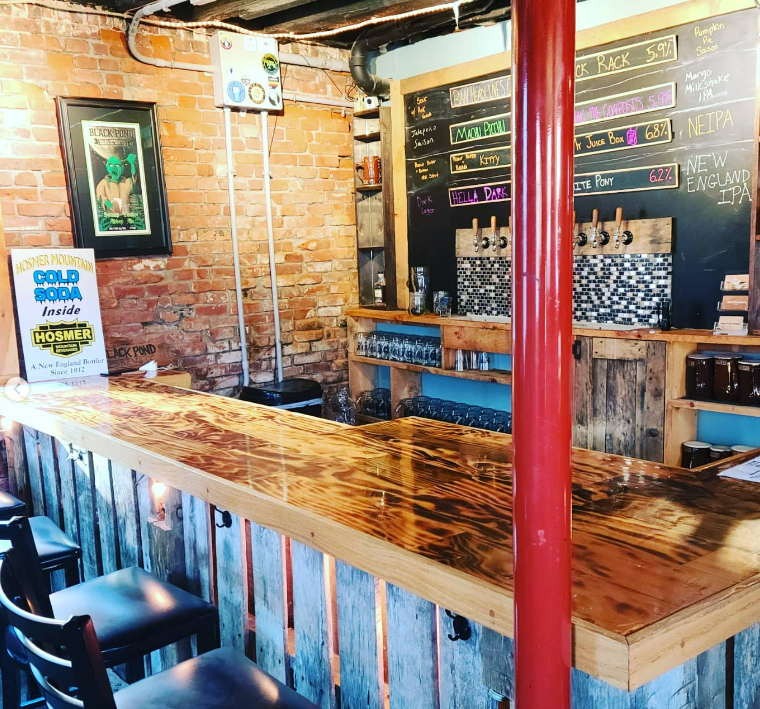 In a way, Black Pond is as much a Rhode Island brewery as a Connecticut one. It was tiny (like Rhode Island), somewhat forgotten (Rhody all day), and a bit of an island but not an actual island (totally).
I visited on a couple forays way out yonder and marveled at the closet-sized taproom. Hey, we all have to start somewhere. Who remembers Relic Brewing's original 2012 space that fit a grand total of 5 standing room only patrons?
But Black Pond made it their space. It had a somewhat cool underground vibe to it, and at least had a few tables for sitting and drinking. At some point, they even added a little bar top and stools. But again, this was mid 20-teens and before consumers expected an "experience" to go along with their beer. A time when the beer mattered as much, if not more, than anything.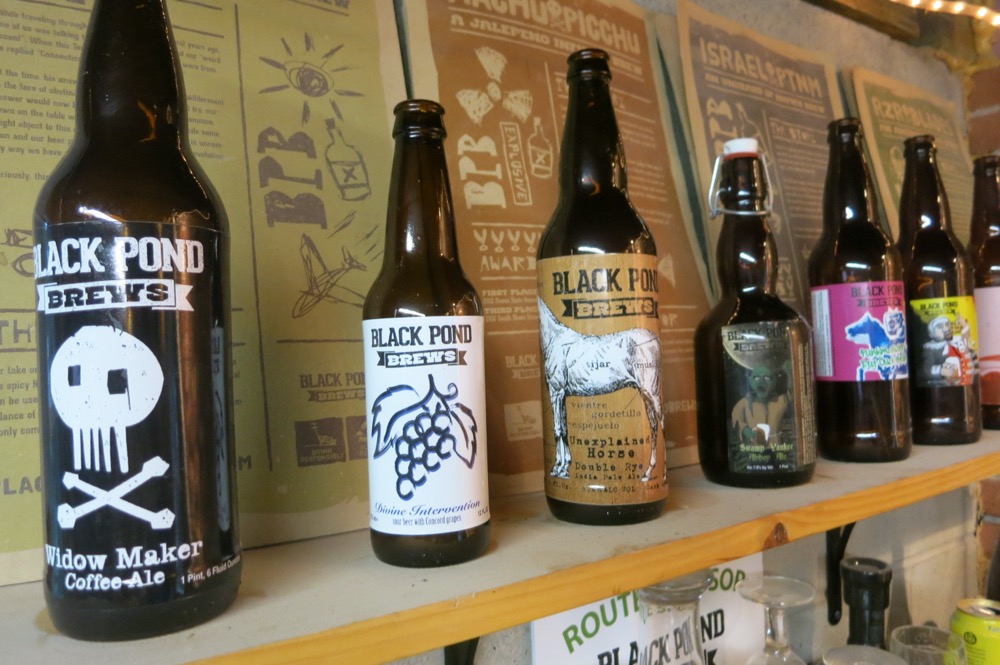 And I liked the beer. In fact, I really liked several of their beers. Black Pond brewed traditional IPAs with bittering hops! (And still do!) They brewed a decent pilsner (And still do!). And their more stunty beers like the Machu Picchu Jalapeno Saison was… pretty awesome? (And still is!).
Black Pond dabbled in some dark arts, like Supay, a Belgian stout with jalapeños, habaneros, chipotles, red chili, Hungarian wax and green finger hots. They no longer brew it, probably because it nearly killed somebody, as it was ridiculously hot… but really quite good. (It didn't really almost kill anybody.)
Randomly, Supay was both the god of death and ruler of the Ukhu Pacha, the Incan underworld. That's cool. Christianity is so boring with its one God who impregnated a virgin with himself for the sole purpose of letting himself be crucified so he could hang out again with himself. There's a Ghost and a bad guy, sure, but the Incans and others did it up proper.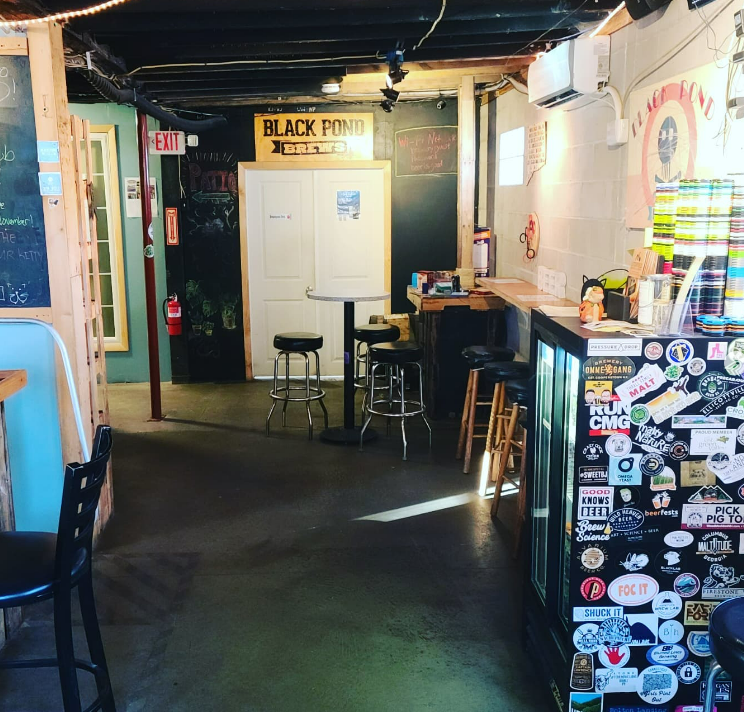 Black Pond had other cool beer names. There were a couple nerdy IT beers (Planned Obsolescence" and "Data Recovery"), a pun beer ("Prescription Pils"), a nod to the mysterious locals ("Swamp Yankee"), and then there was "High and Dry" – a Radiohead reference.
If you like Radiohead, I like you. Fortunately, the beers were all usually good and I didn't have to lie to the Black Pond boys just because we share an affinity for the best band of my life.
After seven years, it was time to move. Despite the tiny little outdoor space and squeezing every inch out of what they had, Black Pond had all grows up. Gone were the spazzy and nonsensical social media posts, there was more focus on core beers and styles, and distribution was getting more successful.
So they moved.
The Boroughs Brewing moved into the old space in 2022.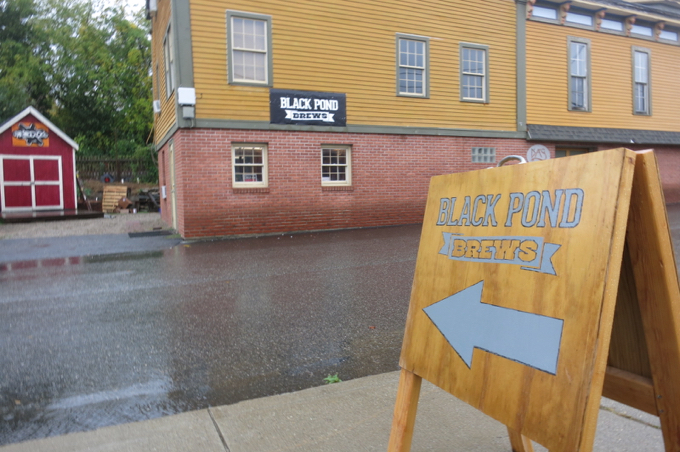 New Black Pond Brews (2021 – )
They just had to get closer to Rhode Island, didn't they? Sure, Cottrell Brewing was mere yards from the Ocean State when they were open, but it didn't feel Rhode Islandy. Black Pond does.
I mean, they sometimes serve NY System Hot Wieners! A Rhode Island staple!
Yes, the new Black Pond a few miles east of downtown has a kitchen. When I visited, some available items were Wienerschnitzel, Poutine, Bratwurst, and various flatbread pizzas. Eclectic to say the least.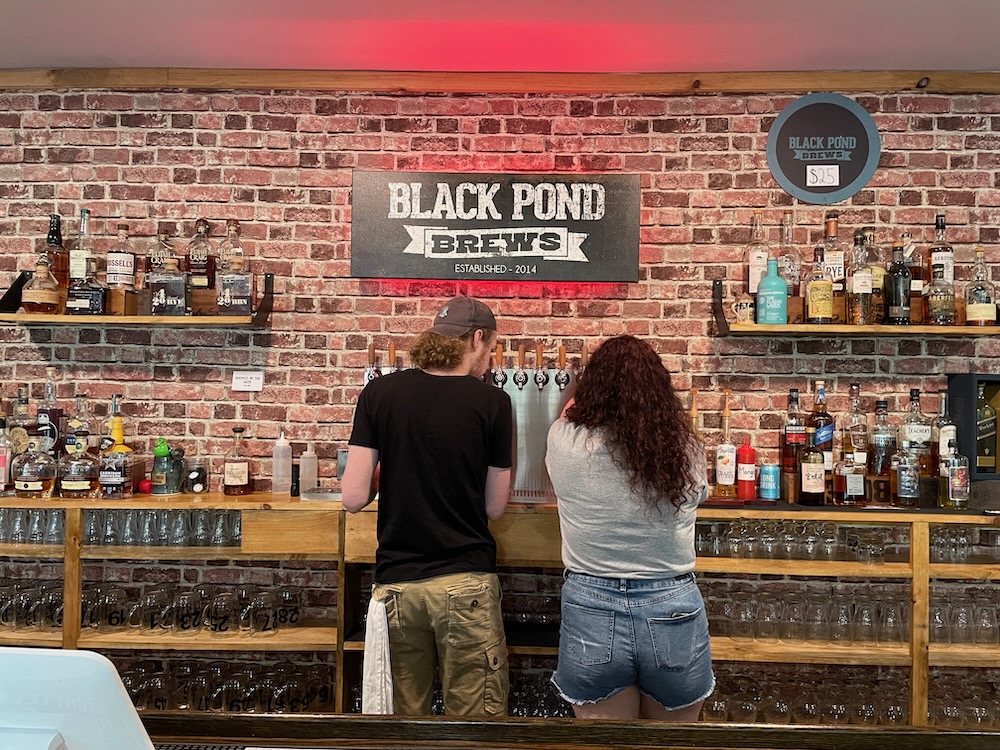 But that is sort of symbolic of the new Black Pond. They now brew all styles of beer, but mostly stick to normal styles. They have a full bar that specializes in various whiskeys. I don't know anything about whiskey or bourbon, but they have a ton available to those of you into that. They've got a really nice outdoor area, a taproom, and an overflow/private game room. They have a city attitude, but hoo boy are they country.
And they had that framed Radiohead poster that I so loved…
Ooooookaaaayyy. I'm sure Candlebox is… okay? I guess? Better than I think they were? Most likely. Just a really weird surprise to find at a brewery that did a Radiohead and a Deftones and a TOOL beer over the years. Are they selling out?
I don't think so. They spent a lot of dough on this new brewery and taproom and need to be as universally accepted as possible. I guess. Enter Candlebox.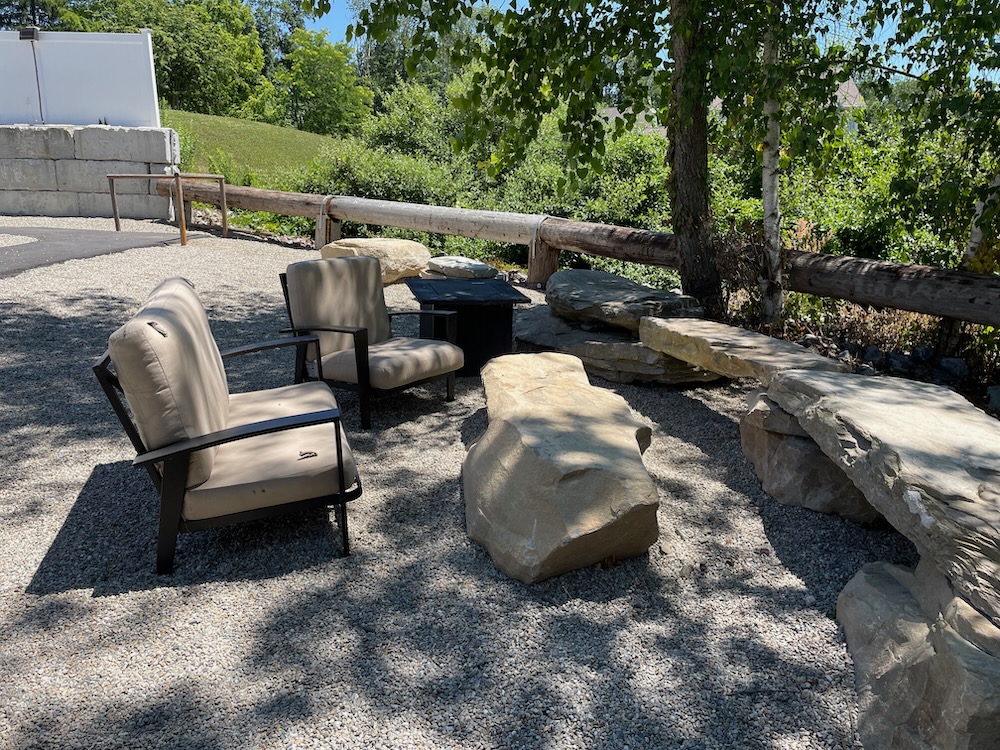 I arrived and I must say the bartender had that amazing ability to be super cheerful and helpful and yet not annoying. Killingly has always been one of Connecticut's Twilight Zones, and the existence of this woman proves it.
I ordered my usual flight. Foam Economics (a pilsner that they now distribute), that dang Machu Picchu Jalapeno Saison, still kickin' after all these years, Flight Boy Summer, their "double dry hopped Pale", and Moves, a NEIPA.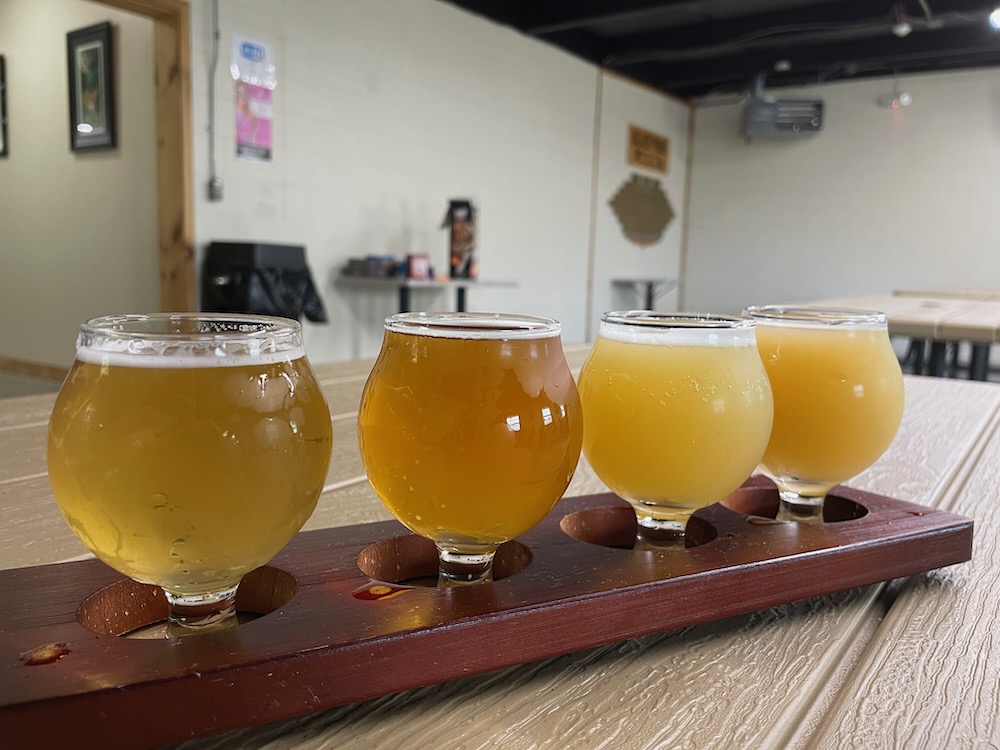 I'm mad now as I write this because I see that they had something called Baby Tears on tap, billed as a West Coast IPA that they say is "piney, citrusy, and pleasantly bitter." How did I miss that?! Oh yeah, I was still in shock at how happy, but apparently genuine, the woman behind the bar was. Darnit, these beers are so rare these days and I drove over an hour out here and… Baby Tears is an apt name. (Back in the day, Black Pond had a beer called D-Burg or something like that and it was a piney, pleasantly bitter IPA and it was really pretty darn good. This is probably that with some tweaks.)
Huh. The Foam Economics is a traditional side-pulled lager that takes a long time to pour. I got no traditional foam in my sample size , but they server explained the whole situation to me while assuring me that it's still "delicious" even though I wouldn't be getting the full traditional effect.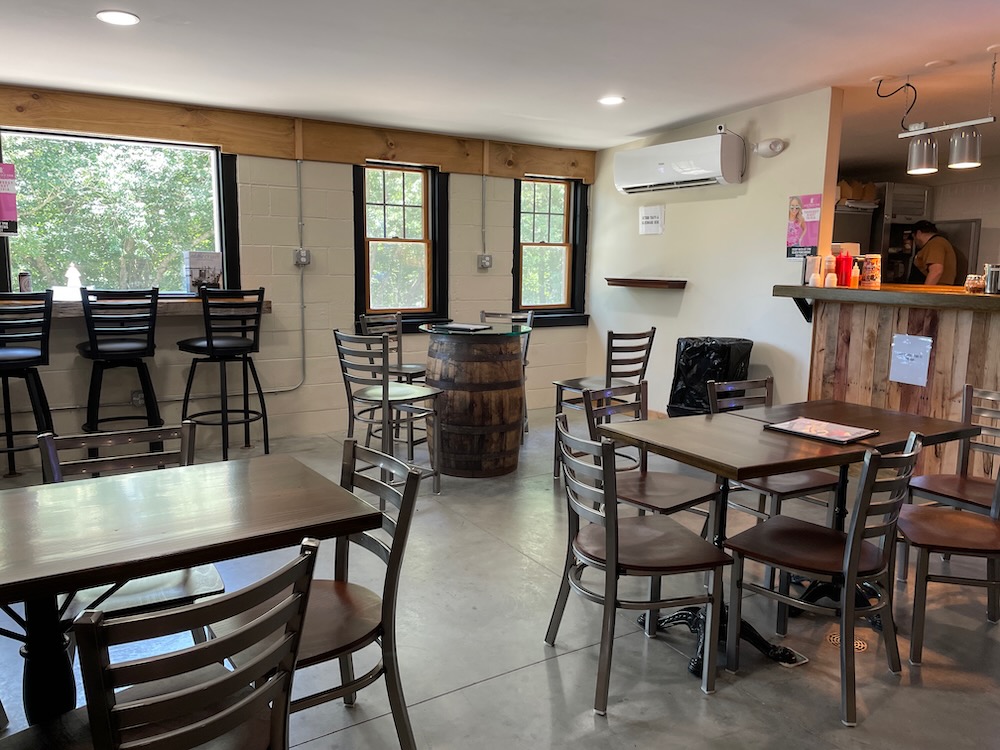 It was good. (My tasting notes are, "good. bready, dry, proper."
I still love the Machu Picchu. There are, of course, a billion beers available these days and half of them are "dumb beers." This is the least dumb "dumb beer". It's just really good; a legit saison with a spicy vegetal punch that works perfectly. I'm very glad it's still being brewed up here.
I realized at this point the sound system was bumping some drum and bass Pandora (or whatever) station and I slowly was able to forget about the Candlebox thing. (I don't know why I'm so hung up on that. They weren't a bad band.)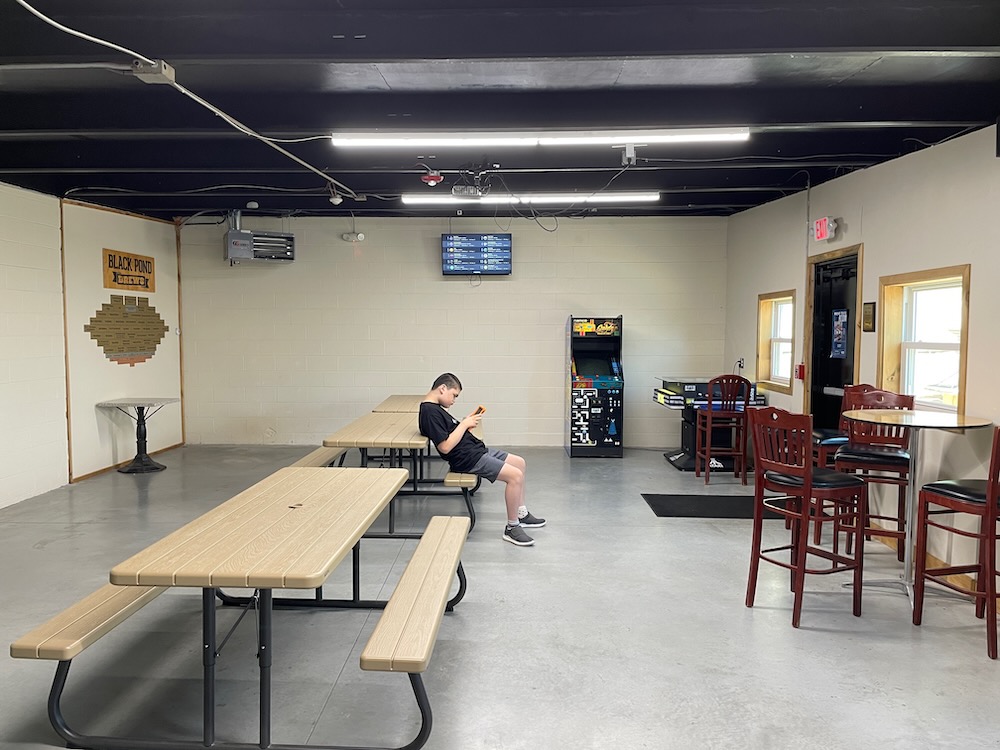 On to the "pale ale" and NEIPA. The latter was the same as all of them everywhere. The "pale ale" that was "double dry hopped" was not a pale ale. Literally, it was opaque, but stylistically, it was a NEIPA to my palate. And now I'm getting mad all over again that I didn't get the proper West Coast IPA instead.
I see that I could have had a "banana and guava Gose" which sounds positively nauseating, but I'm sure someone out there likes it. And to be clear the two IPA variants weren't bad, and I'm sure a lot of people love them. I'm just so tired of that style… but they were surely exactly what Black Pond – and the majority of their clientele – want them to be.
Aside from their beers, the whiskeys, bourbons, and scotches, Black Pond also has hard cider from a local cidery, Hosmer Mountain soda, Athletic's excellent non-alcoholic beer, and wine.
It can't be super easy to be a successful brewery in the quiet corner of the Quiet Corner, but Black Pond has done exactly that. Not bad for a couple of Swamp Yankees with day jobs.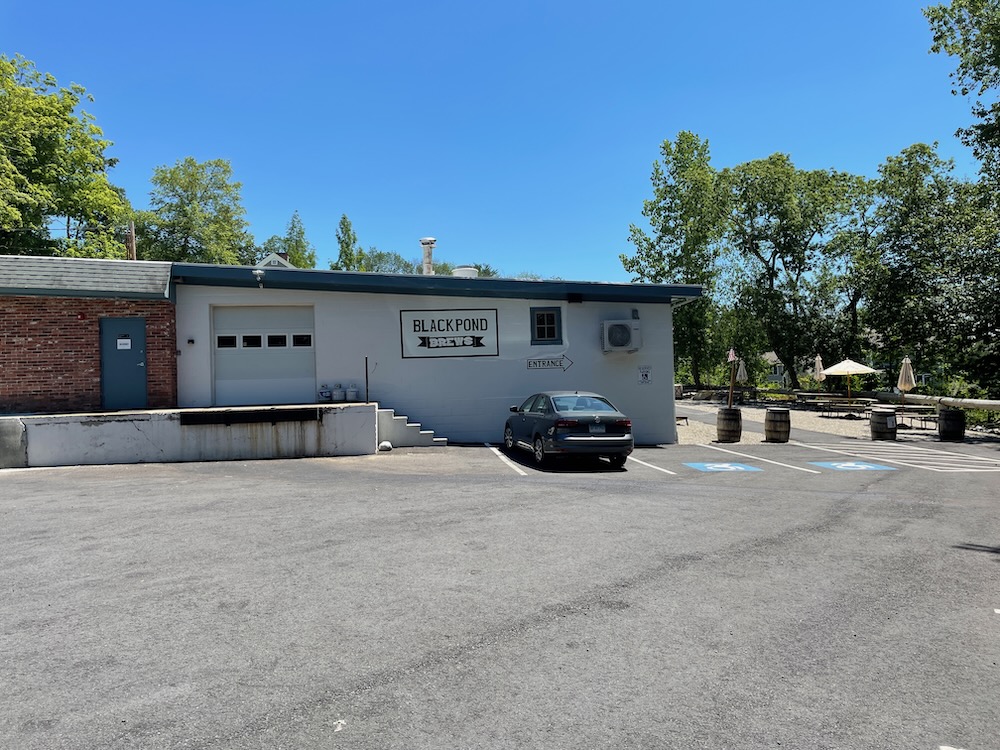 Black Pond Brews
CTMQ's page on CT Breweries and Brewpubs