Digging Out of a Burrow
The Boroughs Brewing Company, Killingly
July 2022
*Peeks around the corner*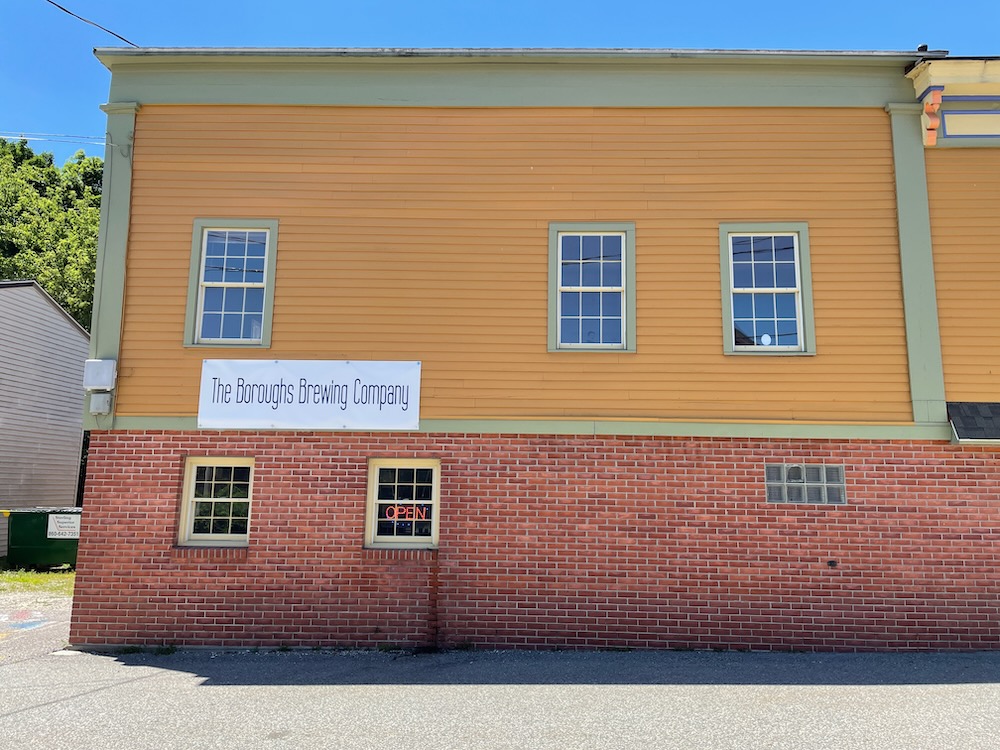 … … …
… … …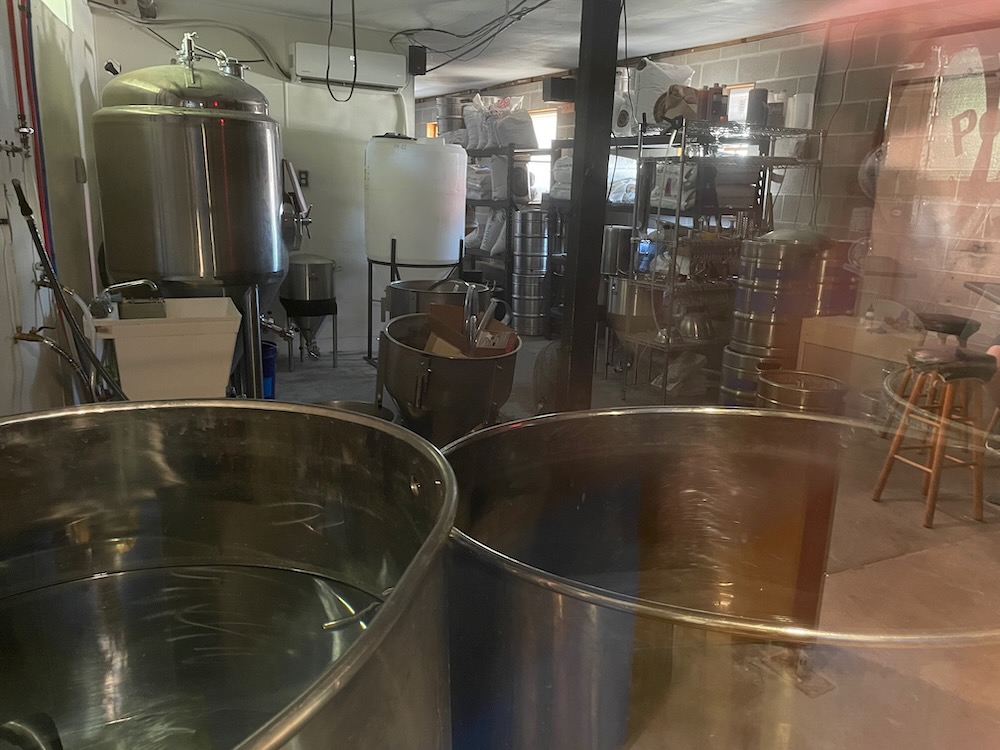 … … …
… … …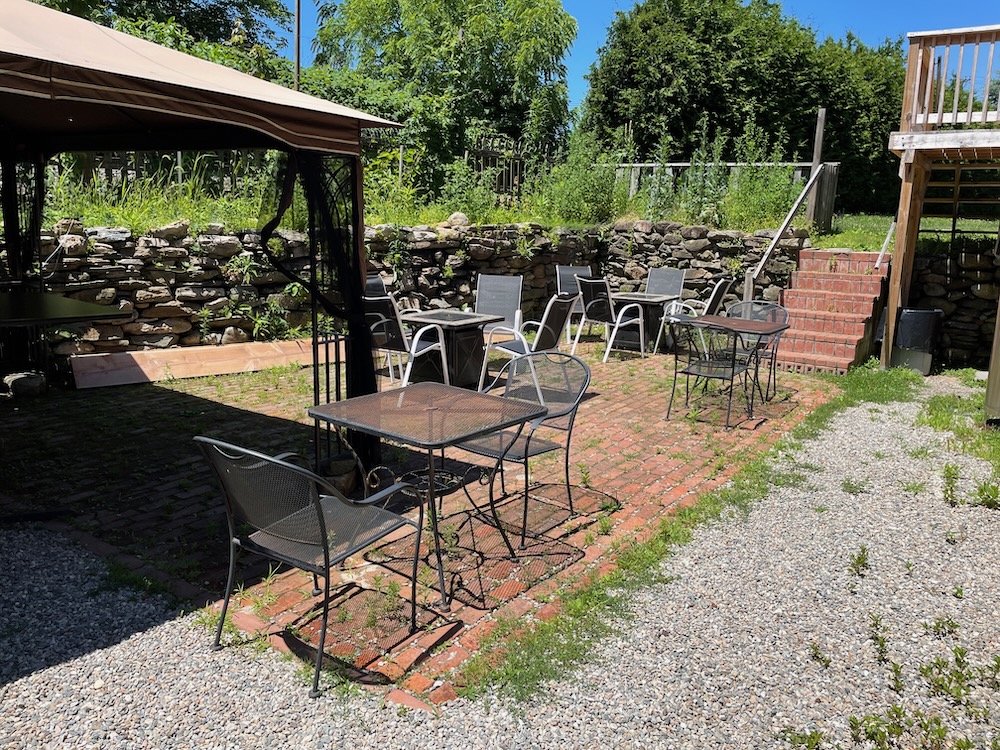 … … …
… … …
I… I can't do it. I was trying to live by the credo of "if you don't have anything nice to say, don't say anything at all." And as much as I'd love to get away with doing that with regards to li'l ol' Boroughs Brewing Company, I can't. You'd all be mad at me.
So here we are. Sampling four rather awful beers from a couple homebrewers who had the insane idea to try their hand at commercial brewing. Welp, they've gone and done it. And here we are.
First things first: "The Boroughs." Why? I have no idea. Connecticut currently has eight boroughs. Quick, who can name them all? No one? I can. Ready? The eight boroughs are the Woodmont Association in Milford, Bantam and Litchfield in Litchfield, Danielson in Killingly, Fenwick in Old Saybrook, Jewett City in Griswold, Newtown in Newtown, and Stonington in Stonington.
(In Connecticut, a borough is an incorporated section of a town. Borough governments are not autonomous and are subordinate to the government of the town to which they belong.)
So, yeah, this tiny brewery is located in the Borough of Danielson within the town of Killingly. But that's only one borough! Why are they plural boroughs?!
Those of us familiar with Black Pond Brew's former digs know what to expect here. The Boroughs took over the old space when Black Pond moved a few miles away to a much larger spot. Black Pond was always a bit of an undergroundish dark horse niche brewery that made some really good stuff. They were (and still are) cool and unique and slightly weird – as you'd expect from anyone up here in the northeast corner.
The Boroughs redecorated and added their own fresh look on the tiny taproom: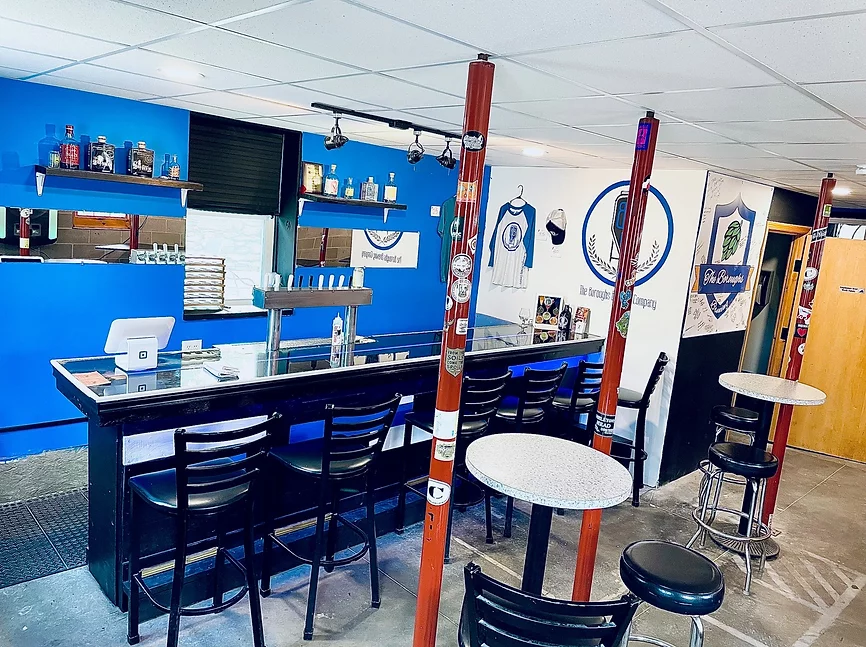 Looks pretty cool! Except… you know how when you look at a realtors site of a house you're familiar with and the kitchen looks ten times bigger and nicer than you know it is in reality? Yeah. The Borough boys had one of the best take that photo above.
Reality is… not like that.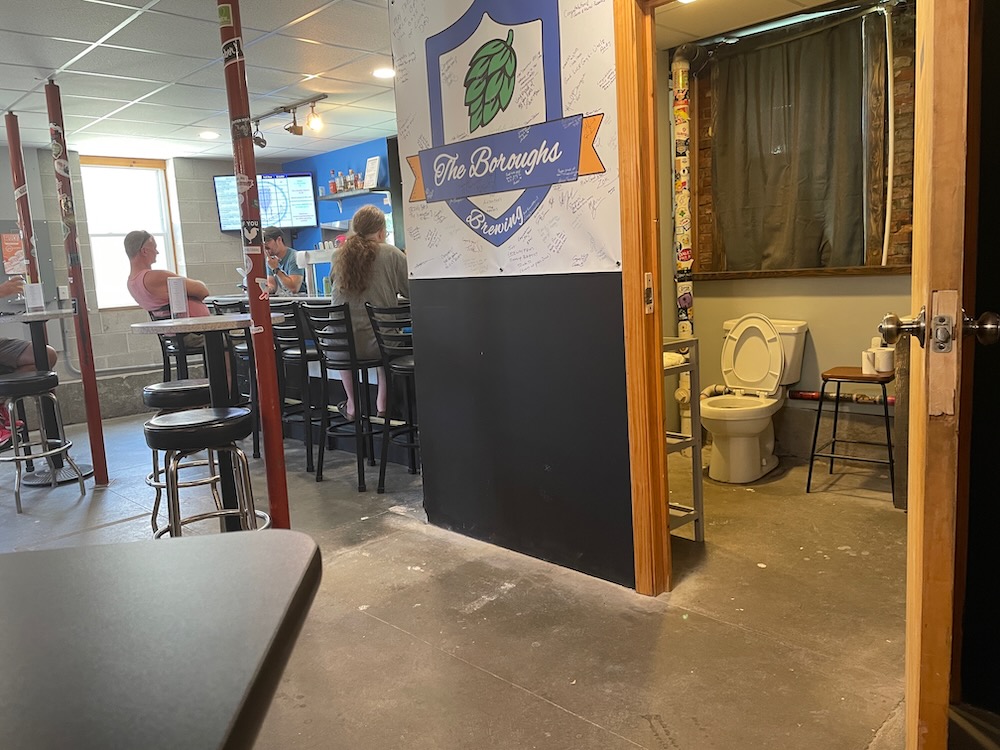 I sent the below picture of the bathroom to a friend who suggested it looked like a place to be kidnapped and chained up. She worried that maybe I had been kidnapped and chained up. I had not. I came here voluntarily.
Let's see… they did an IndieGoGo and got 40% funded. They have "fun" beer names that certainly won't ruffle any feathers in Killingly (because… Killingly), but they just seem a bit dated in 2022: Afternoon Threesum, Cherry Poppins, Sexy Panties… that sort of thing.
While we wait, I should tell you that the server/owner/brewer when I visited, Josh Bourque, was very nice. The guys behind this place know what they have and try to make the best of it. I know good beer can be brewed here, as Black Pond did it for years. It's never going to be a destination brewery, simply because it's so tiny. But sure, it can be – and was – a cool little hangout.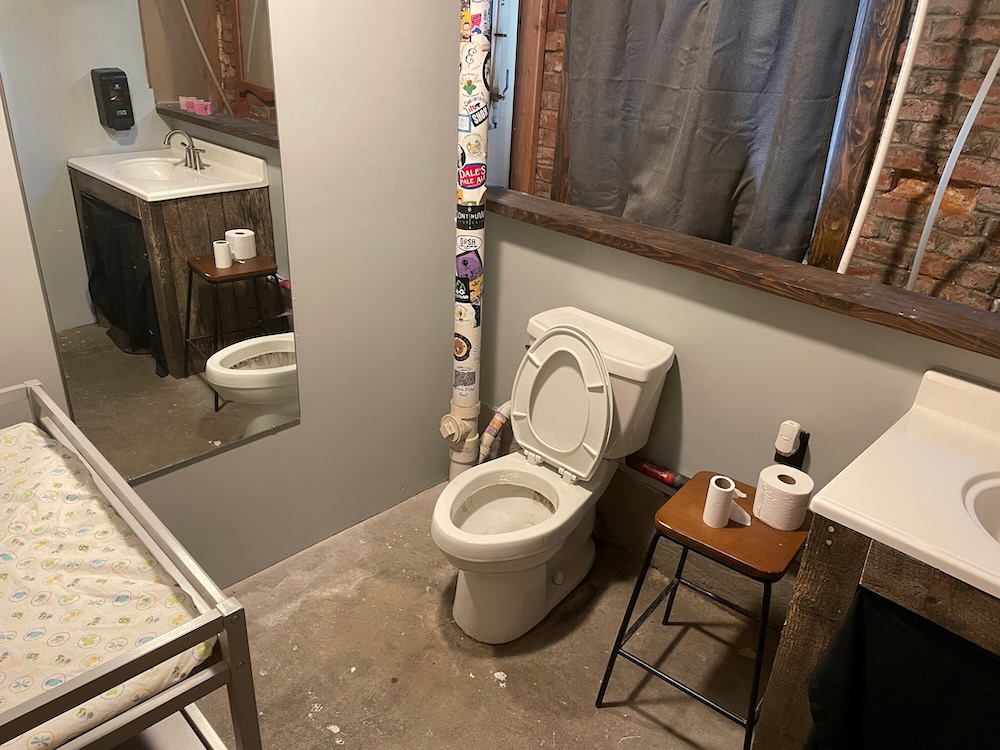 Their story is not unique: Josh and co-owner/brewer Greg Ledogar met in 2009 and wound up becoming roommates at ECSU right down the road from WilliBrew. They grew to love the beer made there and over the next decade kept in touch and became homebrewers.
And they loved homebrewing! As required, their friends and family enjoyed the free beer they got and that gave them the idea to go pro. When Black Pond vacated their little spot, these locals swooped in and snapped it up, named it The Boroughs, and here we are.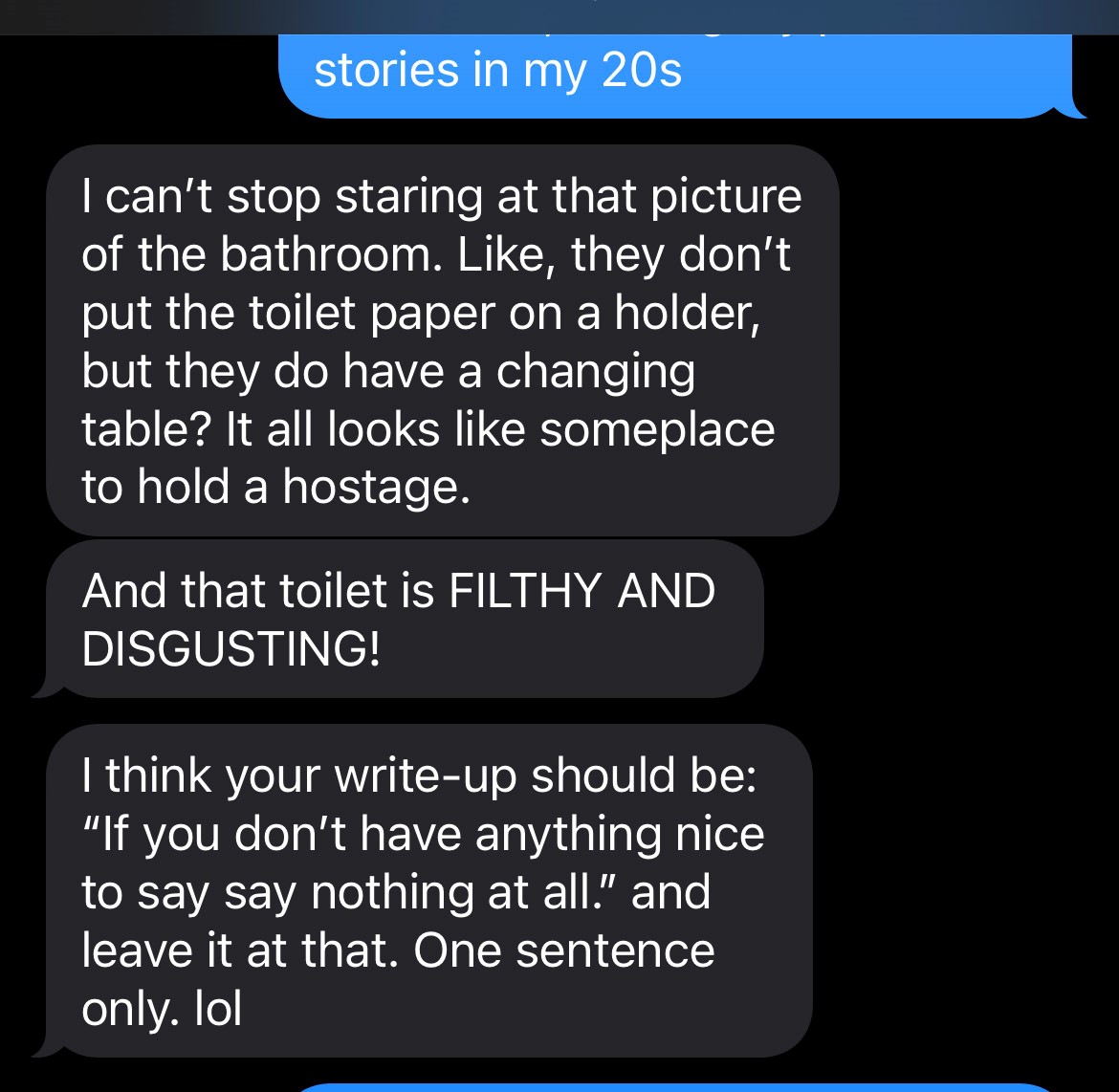 Three other patrons were in The Boroughs when I visited. One guy was nearly passed out at the bar and another random guy was just sitting in the middle of the place. It was silent. No music, no TV, nothing. Just a few guys drinking beers in a basement in Killingly on a sunny Saturday summer afternoon. Nothing wrong with that.
The Boroughses saved money in other ways, like plopping their website on a MySite space (free hosting!) with boilerplate html. Hey, I respect cost-cutting… everyone goes to their Insta or Facebook for up to date information anyway.
I ordered my flight: Monk'n Around "Trappist Style Single", a milk stout, a double dry-hopped IPA I guess, and a NEIPA I think.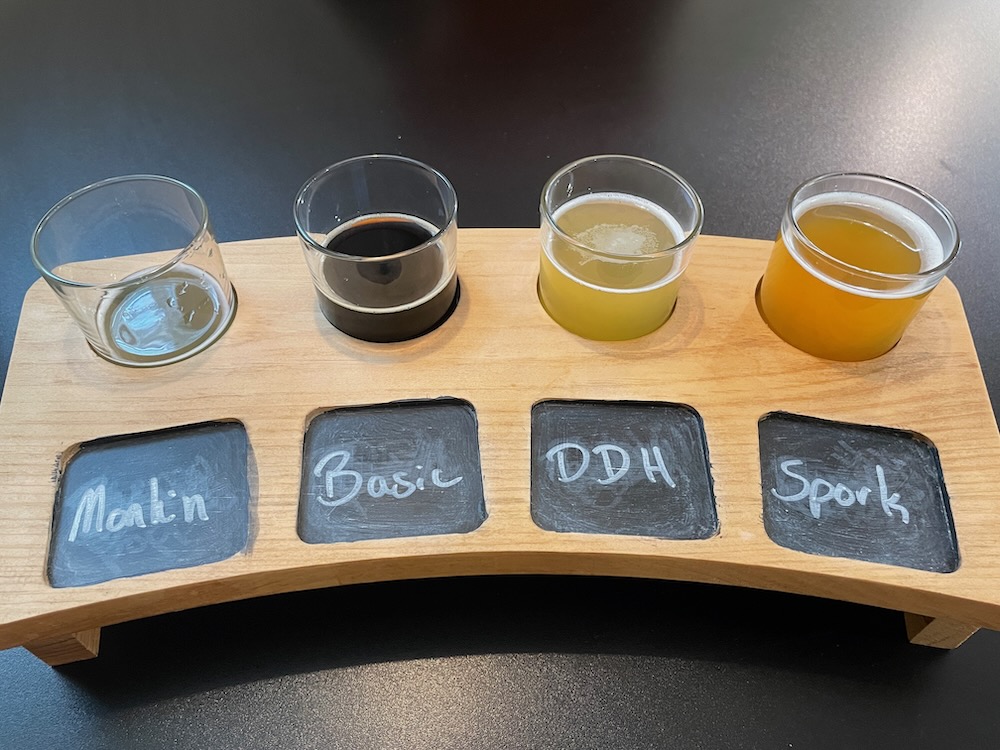 I didn't like any of them very much. They had little to no carbonation. The Monk'n Around, I swear, had a greenish tint to it. The stout was thin, the IPA variants were rushed and unexciting. I won't pretend that I finished them all or that I didn't dump half of a couple into the prison toilet. Sorry.
As I was wrapping things up, I eavesdropped on Greg talking to the one patron who was awake. He was going deep on MLS transfer news and explaining how European soccer money works and how soccer TV rights in the US work and… like I said, he clearly knew what he was talking about, but… the dude he was talking at clearly didn't. I don't know why, but that cracked me up.
Look, more power to the Boroughs Boys. I hope they make this thing work. I hope they finish the bathroom and the ceiling and the walls and the bar and the patio. I hope they get more comfortable and begin to put out better product. We know this space can be successful… but it's not an automatic given. Good luck.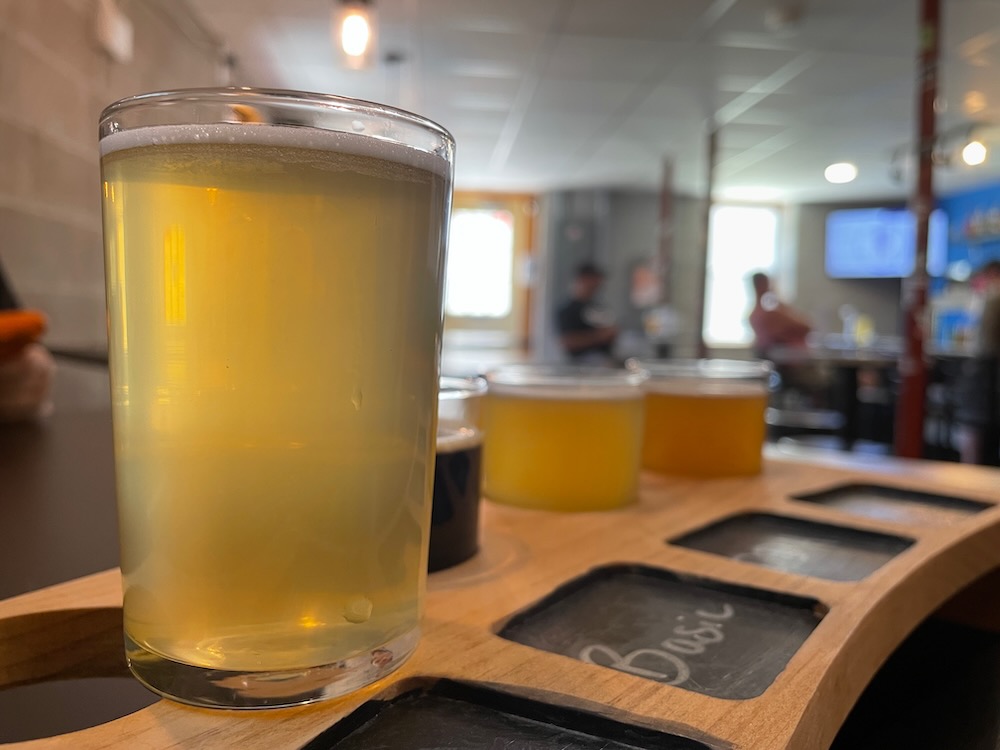 The Boroughs Brewing Company
CTMQ's page on CT Breweries and Brewpubs