Enhance!
Cheshire Craft Brewing Company, Cheshire
March 2022
In the race to be the first to open a brewery in Cheshire, there was a clear winner: Cheshire Craft Brewery.
Now, I don't think anyone viewed it as a race, and I know that these guys set things in motion well before the behemoth Counter Weight Brewing decided to move down the street a year or so later. (And there's a third brewery coming to Cheshire in 2022 or 2023 as well – Malpractice Brewing.) And I used to think this stuff mattered. That is, if you're "the little guys" at Cheshire Craft and you pour your heart and soul and financial well-being into your own little brewery and you hear that Counter Weight is moving from Hamden to a beautiful new joint a mile or so away, you'd probably be a bit bummed out. Right?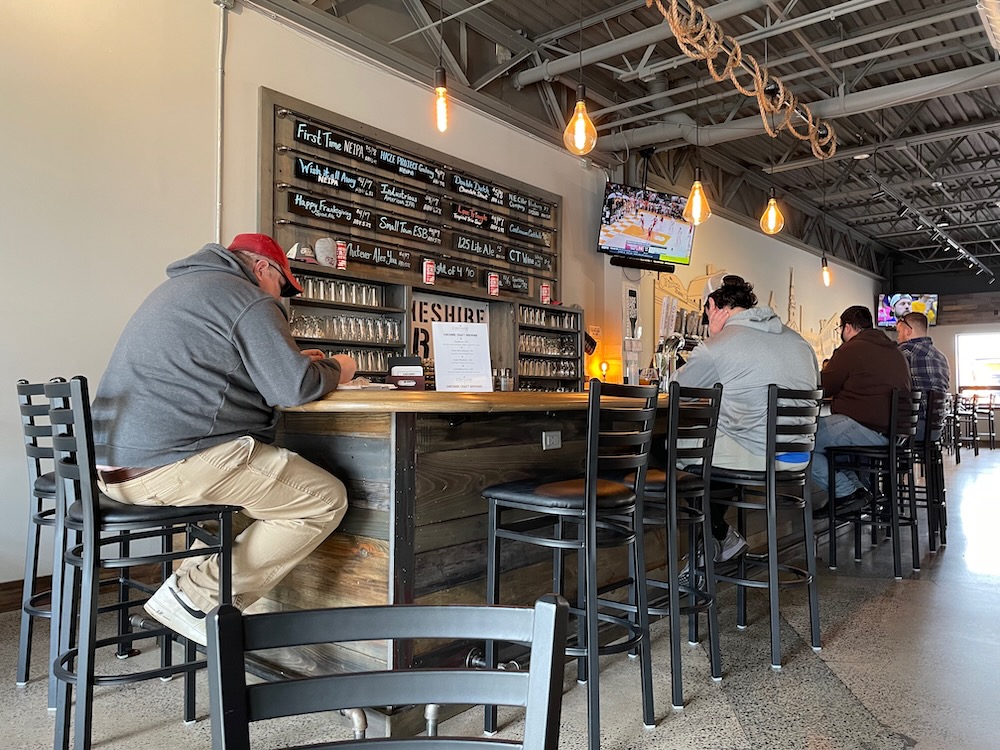 I'm not sure that's right. Yes, Counter Weight is great. It's been around for years and the owner has been part of Connecticut brewing royalty for over for over a decade. It is inarguably one of the state's top two or three breweries. And their space is rather large. But post-brewery boom, where every town now has its own brewery… or two… or three, I just don't think it matters. Breweries like Cheshire Craft are like neighborhood bars now that simply make their own beer.
Now, that beer needs to be passable and probably not prohibitively expensive. And heck, "passable" is a rather subjective measure. So maybe a brewery just needs to exist to succeed? No, that can't be the case. With no distribution and major competition for beer dollars nearby, I'm back to thinking this would be a bummer. And if my visit to a mostly empty taproom on a Saturday afternoon is any indication (It's not, nor should it be), it may indeed be a bummer.
Located is one of those "attractive" business parks with actual grass islands and a few trees here and there – though it is on "Commerce Drive" as so many breweries are – Cheshire Craft is not near a residential area. So it can't be a "neighborhood bar brewery" in that sense. Patrons must make an effort to go here. (It is yet another brewery located a short ways off the Farmington Canal Heritage Trail, which is a nice perk.)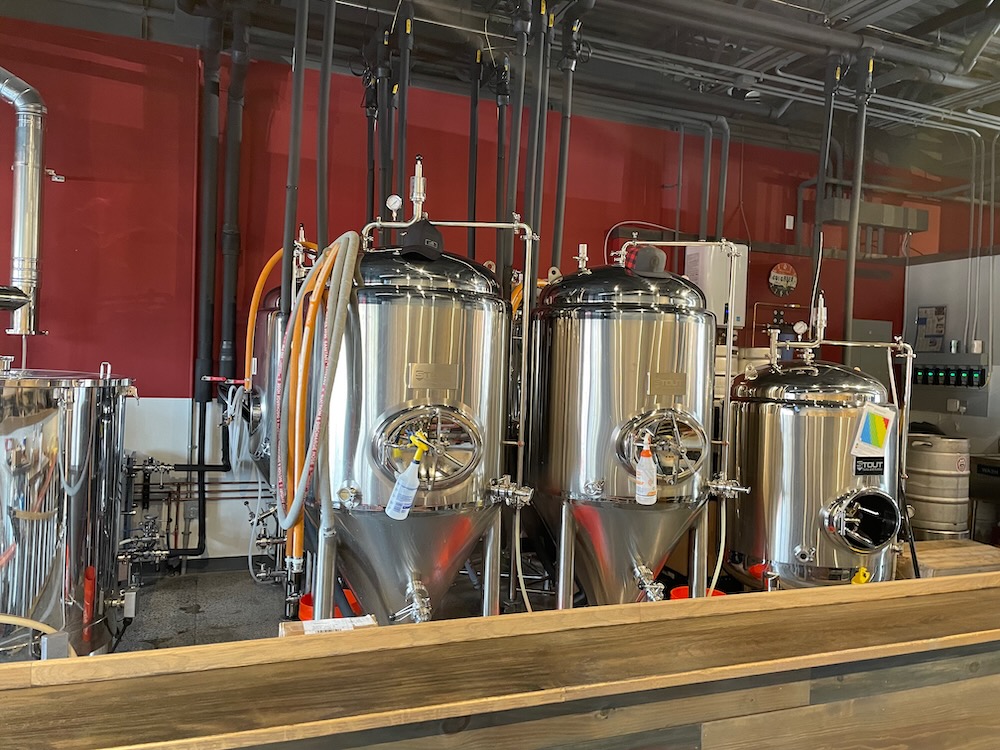 The taproom itself is nice enough. Quite typical for these things, though there was some nice local – and locally inspired – artwork on the walls. There is plenty of seating, and in warmer weather, there is plenty of seating, as there is a very large outdoor patio with tables. And by patio I mean parking lot.
I ordered a flight for 10 bucks: Small Town ESB, 125 Lite Ale, First Time NEIPA, and the Franksgiving spiced ale. I was going for variety here, not necessarily what I'd want to drink if I was trying to enjoy myself. Hey man, that's just how I roll with these things. Of my choices, I'd only actually ever want to drink the ESB, but I'm trying to get as much of a range as I can for you, the reader.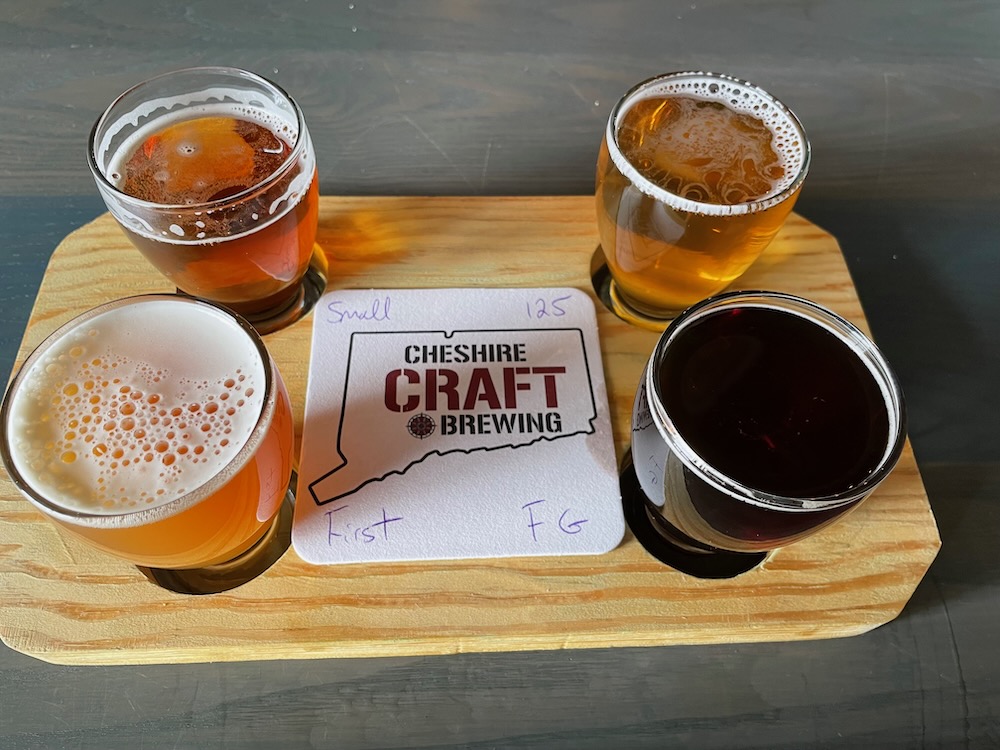 As you can see from the picture, Cheshire Craft fails to carbonate their beers properly. I swear I could start a consultancy for new breweries on proper carbonation. (Note: I have no experience in properly carbonating anything and my consultancy would consist of nothing more than me telling new breweries to properly carb their beer. It would be a huge success for producer and consumer alike.)
I sampled my beers in the "correct" order starting with the 125 Lite. Not a lager, but a "light ale." I found it very sweet for what it was supposed to be and was not a fan. The brewery says it is "named 125 as a nod to our right sized brewery" and I don't know what that means.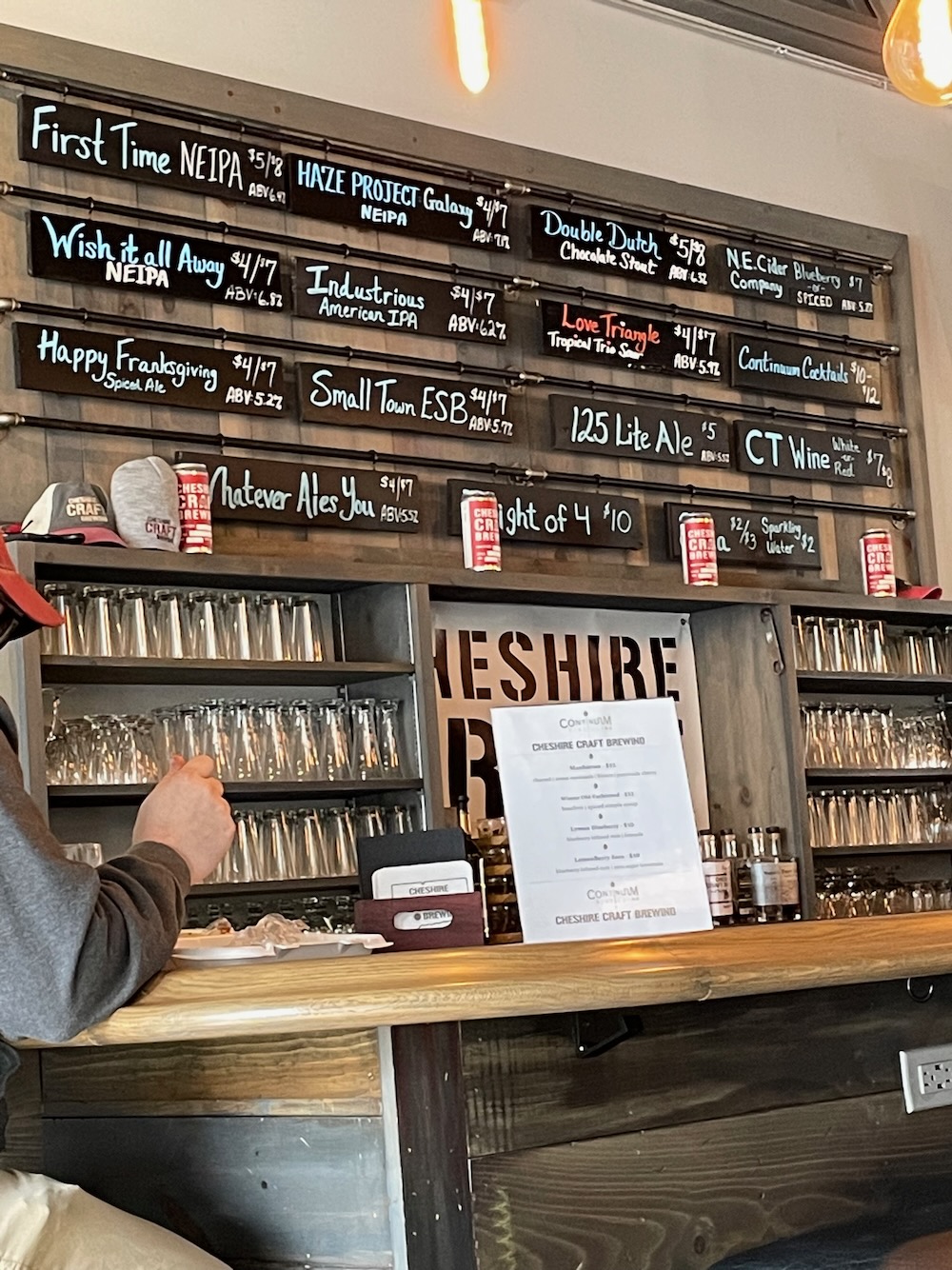 My note on the ESB is, "it's a beer." Okay then, thanks, me. It is brewed with Maris Otter & Crystal malts then balanced with East Kent Golding hops so it's legit as far as ingredients go. The breadiness was there, and it seems like a beer these guys will nail at some point.
On to the NEIPA. I personally cannot stand this style anymore, but I certainly do know what's good and what's not. You can guess the description, but here it is anyway:
Our New England India Pale Ale is smooth, hazy and awash with a citrus fruit aroma. Wheat and oats are mashed with enhanced water, before double-dry hopping with an excessive amount of Citra and Mosaic hops. The yeast brings out a sweet grapefruit flavor. It's so good, your First Time certainly wont be your last.
Hold up. What? Everything there is standard NEIPA boilerplate except "mashed with enhanced water." What the hell is enhanced water?!
Enhanced water is a category of beverages that are marketed as water with added ingredients, such as natural or artificial flavors, sugar, sweeteners, vitamins and minerals.
Are breweries now using sugar water in their NEIPAs? Just to make me hate this style even more? Of course I have no idea if Cheshire Craft is using sugar water, and it actually makes sense in a way to do so, but it just rubs me wrong. This particular beer was fine for the style, and the people who like these cloyingly sweet higher ABV beers will be right at home with it.
The spiced ale had absolutely no carbonation and was flavored with the typical bouquet of fall spices I guess. I didn't hate it, which is a huge compliment to brewer Frank Barretta who had the beer named after him. I guess this is his type of beer. I usually do not like spiced ales, and I really don't like flat beers, so the mere fact that I thought this one tasted good with a good balance of spice and malt tells me Frank Barretta knows how to brew these things.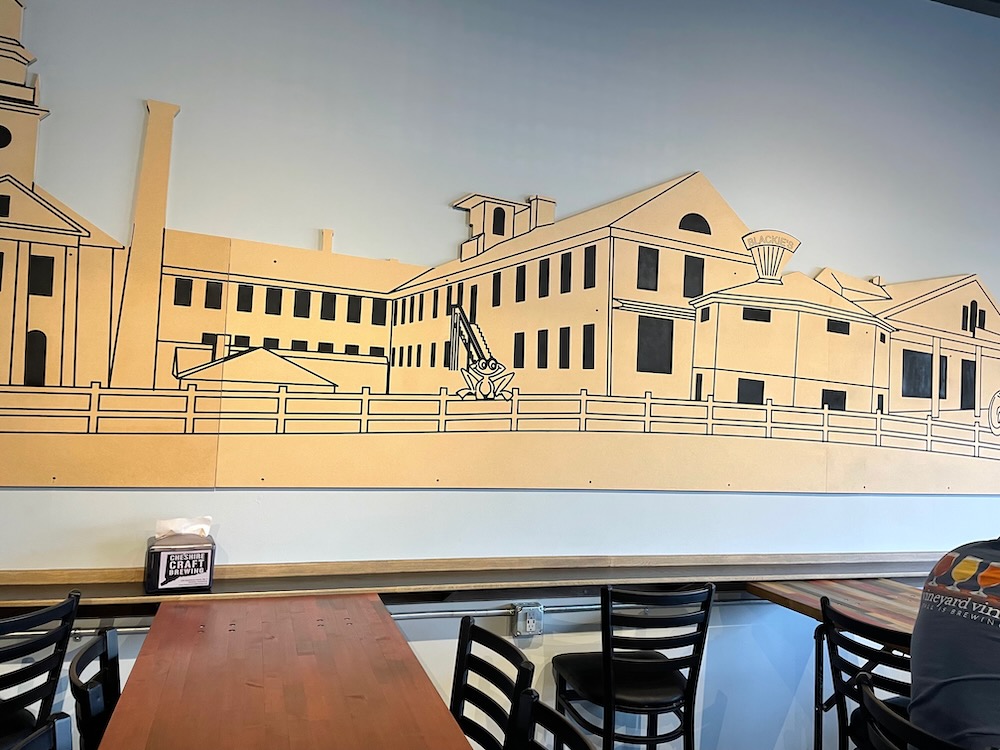 While not unique, Cheshire Craft offers other local options like Continuum spirits from Waterbury, New England Cider from Wallingford, and various distributed Connecticut wines. They also offer free juice boxes for the kids. Food trucks are always present on weekends as well. It's a perfectly fine little brewery that had 10 of its own beers on tap during my visit. Oh, and shout out to them for this:
The entire Cheshire Craft Brewing team has been fully vaccinated. If you have not yet been vaccinated, or you don't think you need it, PLEASE GET THE VACCINE ANYWAY. It will slow the spread and make it more likely we won't have to close our doors.
Now, you'd think this would be the norm. While I believe the large majority of our breweries could say the same vaccination credo, I know that all of them would not. So even though the beers need some work, and even though if I'm ever in want of a beer anywhere within 50 miles of this place I'd probably go to Counter Weight, I hope Cheshire Craft succeeds if only for their vaccine message.
Now if only "get carbonated" was as prevalent a message as "get vaccinated."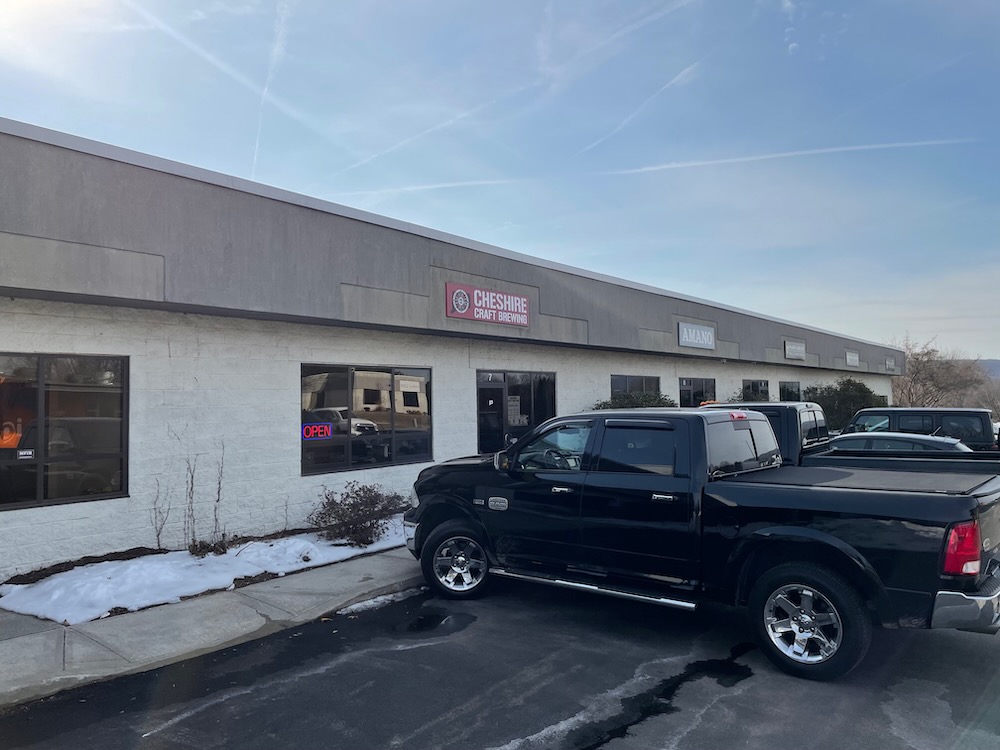 Cheshire Craft Brewing Company
CTMQ's page on CT Breweries and Brewpubs