Another One of My Quirks
Quirk Works Brewing & Blendery, Danbury
August 2022
"They're onto me! Are they onto me? They're not onto me. Maybe they're onto me?"
Sigh. I can be quirky when it comes to my quite public website you're reading and my weirdly private persona. There was a time, when there were far fewer breweries in the state and I was much more involved in "the scene" than I am in 2022, when I knew that the people working in the brewery very likely knew who I was. That made for some uncomfortable introductions and conversations, but by and large, it was fine.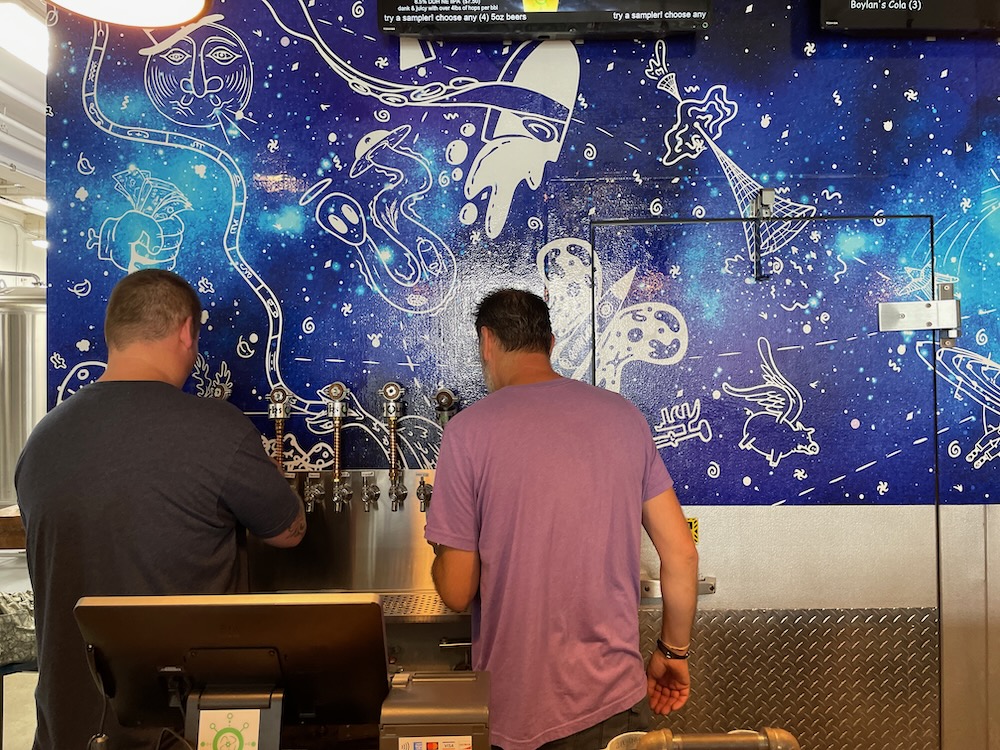 Now? In 2018 and beyond? That's just not the case. I visit new breweries in (I believe) complete anonymity. And I love it. I order my flight, I do my crossword puzzle, I drink my beer, take a few notes and pictures, and go about my day. Perfunctory. Quick. Easy. Another CTMQ box checked.
But every now and then I do wonder… and that was the case at Quick Works in Danbury. Just a tiny bit. It's the extra second look into my eyes, the little bit of recognition… the offer of a free sample perhaps. That all happened here, but there was something else I'll get to in a minute. (And all that stuff that I just said happened here is also called "good customer service," which is very likely all it was.)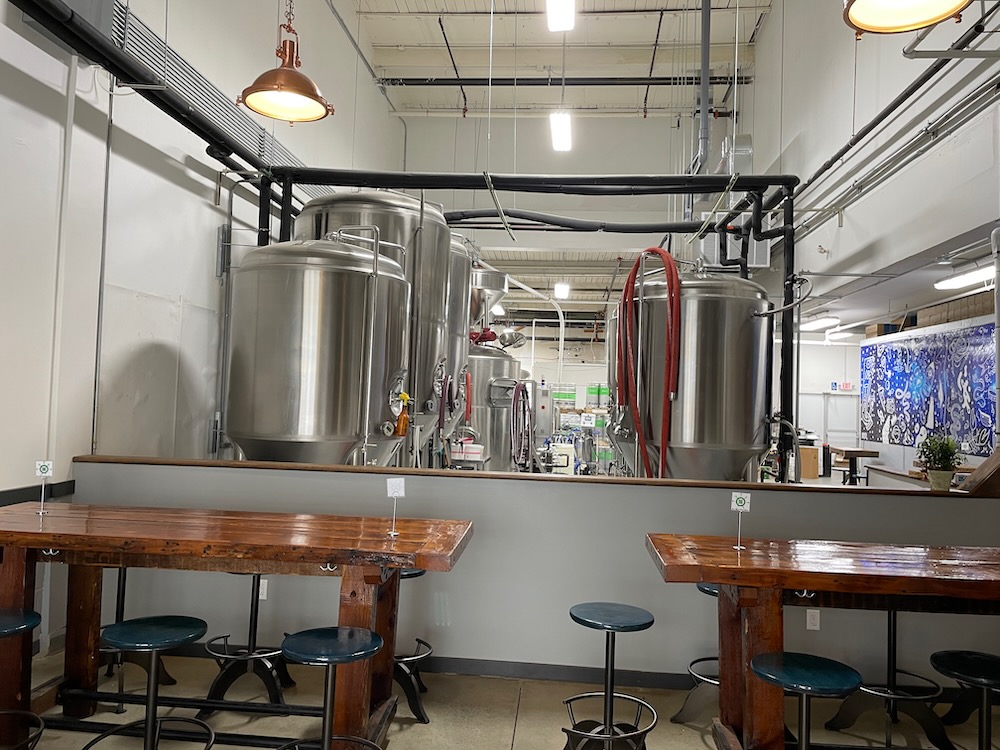 Quirk Works Brewing & Blendery is an odd name. When I first became aware of it, I assumed the business plan was to be a sort of low-end OEC type of place. The first article about them mentioned several times that they planned to rely on "wholesaling" beer. So I figured they would be a "blendery" like OEC and bring in other beers and blend 'em up.
That's not what's happening here.
"The primary business is wholesale, but we will invite people to come in and sample the beer, so that they'll go to their local package stores and ask them to stock these particular beers," the attorney for the owner said a year before opening. And who knows, maybe that's happening. I don't shop western Connecticut package stores, so I have no idea if every end cap is stacked with Quirk Works cans.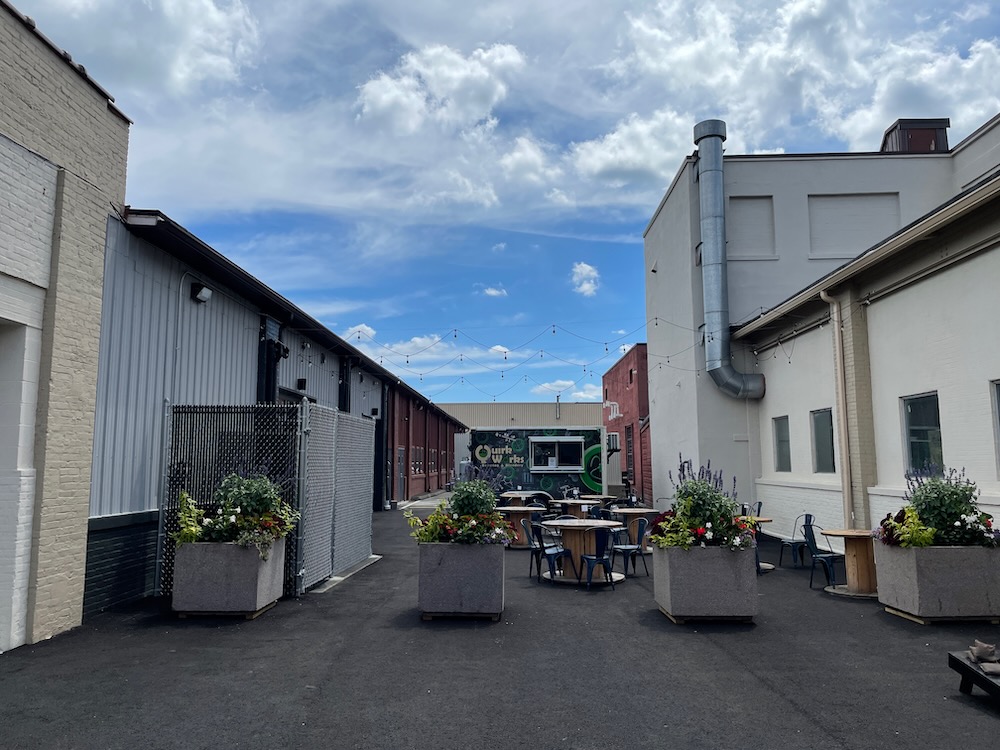 But we all know distribution these days, especially in Connecticut, is very, very, very competitive to say the least. An unknown quantity trying to rely on "wholesale" distribution profits is… optimistic. But that was early 2021, a year before they opened in April 2022.
Oh, you know what else happened in early 2021? The owner of Danbury's other brewery, Twitter Kings Charter Oak Brewing a half mile away said, "I do think it's strange to pick the same town with a brewery when there are so many towns around without a brewery." Bro. Every single town in Connecticut with two or more breweries is smaller than Danbury other than Bridgeport, New Haven, and Hartford. What a bonkers thing to say.
Anyway, back to Quirk Works. Their thing is to be quirky. And truth be told, there really wasn't all that much quirkiness there during my visit. I was able to choose a flight of somewhat normal beers (huzzah) and the taproom was attractive with some nice flourishes. The color scheme was cool, and, well, it's a perfectly normal place.
We believe brewing insanely awesome beer is a balancing act…our beers are simple yet complex, the ingredients are unique but familiar and our brewing techniques are nothing of the ordinary in the traditional sense… Quirky to put it best. Expect the unexpected from us here at Quirk Works Brewing and Blendery. We are always dabbling with new ingredients and tinkering with hybrid styles all with the intent to arouse your senses.

It is our goal to create beers you will remember and love. This experience is what brings us together, beer is for creating traditions and memories, toasting at special occasions and most important of all is to be shared in good company.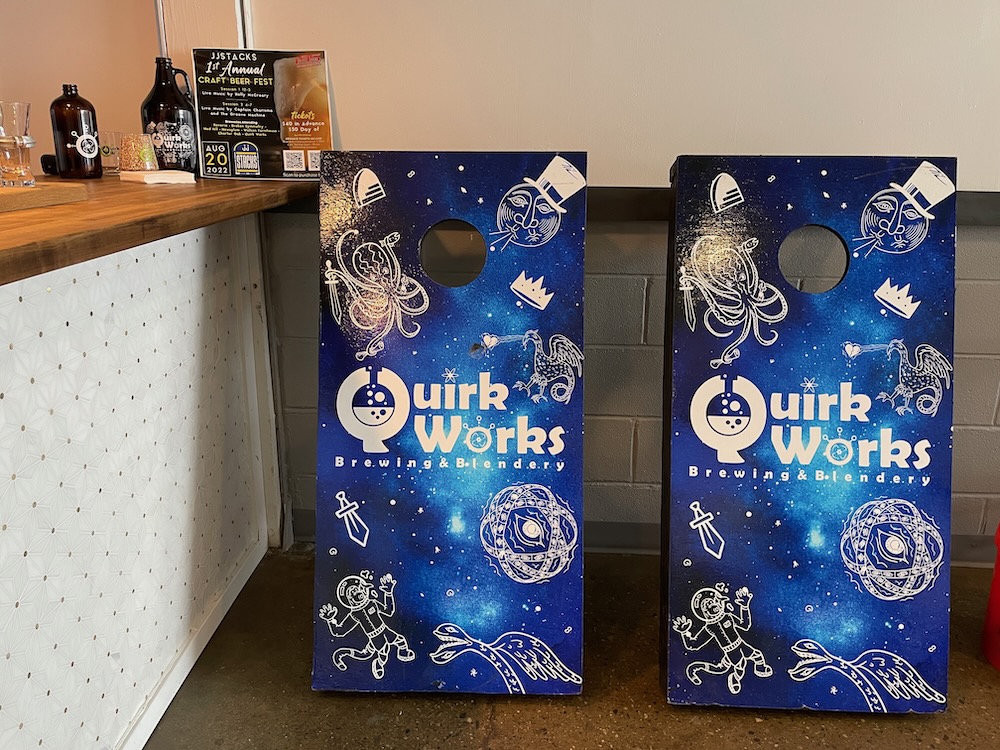 Eesh. That's a lot of pressure to put on beer. I've already said that I was happy enough just to pop in, have a flight, and be on my way. Now I feel a little guilty for not creating any new traditions or memories… though I did continue the tradition of mentioning Charter Oak Brewing's surreal Twitter feed. There is that.
The owner decided to open this place after closing his Bull & Barrel Brewery in Brewster, NY. That place had food, and this place has a brewery-owned food truck on site offering "simple, foodie-type items" such as black truffle and Parmesan polenta fries, beer-battered pickles, and Bavarian-style pretzels. Let's get to the beer.
Ah. Here's where the "quirkiness" comes in. They get creative here and the "blendery" isn't blending beers together, but comes from their idea of blending styles of beers together. Got it.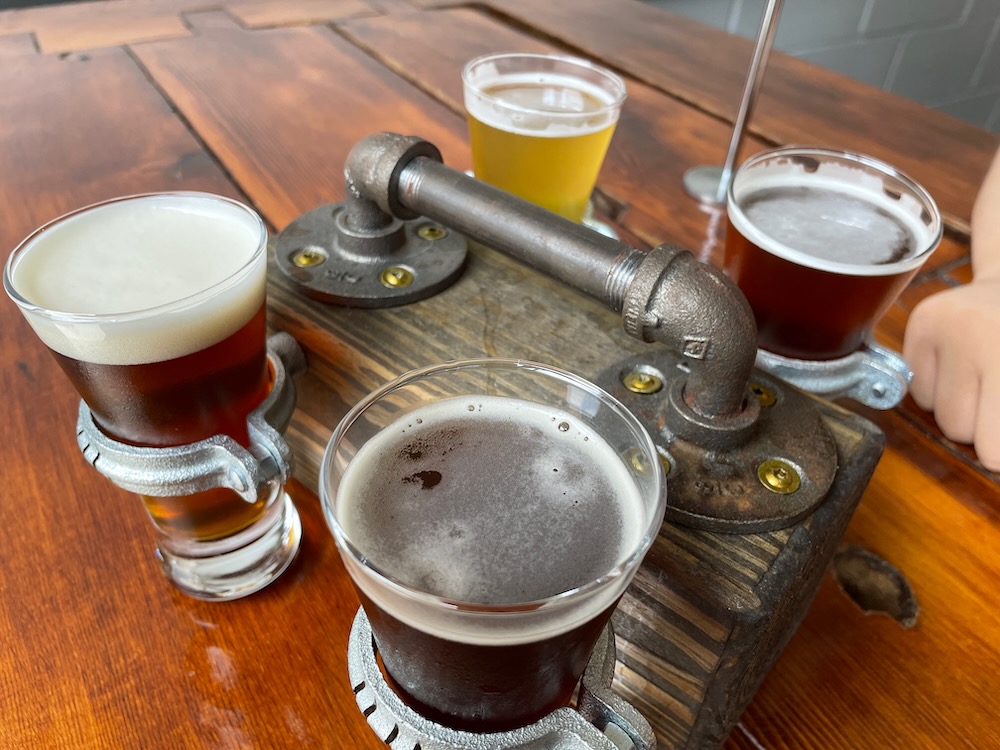 But beyond the blending of styles, they also bring in some "quirky" ingredients like corn flakes and… rainwater. Yes. Rainwater. They are really into rainwater. "We are trying to be creative but not to scare people," said the owner. Corn flakes and water? Goal achieved.
"I don't know of anyone in the United States that is doing this," the owner said of his inspired water source. Maybe because that's a rather dumb idea?
Alright, let's pick some beers. Here's the list: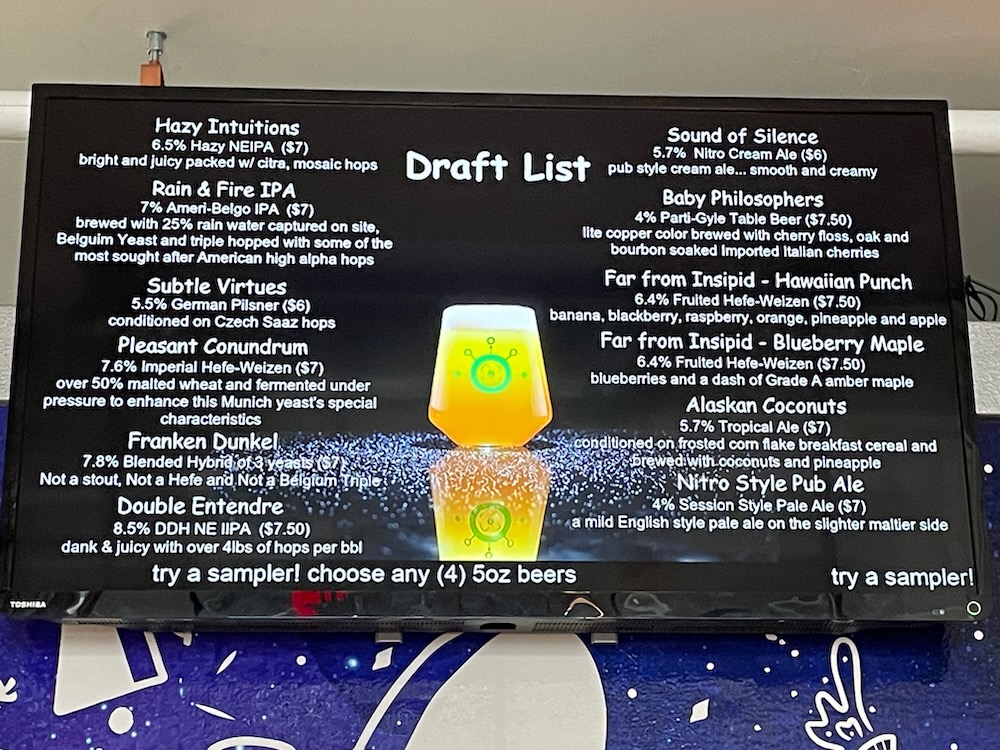 I got my flight of four after some teeth gnashing. Up first, the Rain & Fire IPA. An "Ameri-Belgo" beer with some of that sweet rainwater and "Belguim" yeast. I can forgive the typo, but not the intent. One of my close friend's number one beer pet peeve is when people say "Belgium beers" or "Belgium Yeast." She also hates typos. This is the double whammy of perfection from Quirk Works and I love it. (It's actually a triple whammy because "Belgium triple" appears down the list.)
So the "quirk" here is an American IPA using Belgian yeast. Okay. It worked well enough. The rainwater really shone through though. Perfect minerality. eyeroll emoji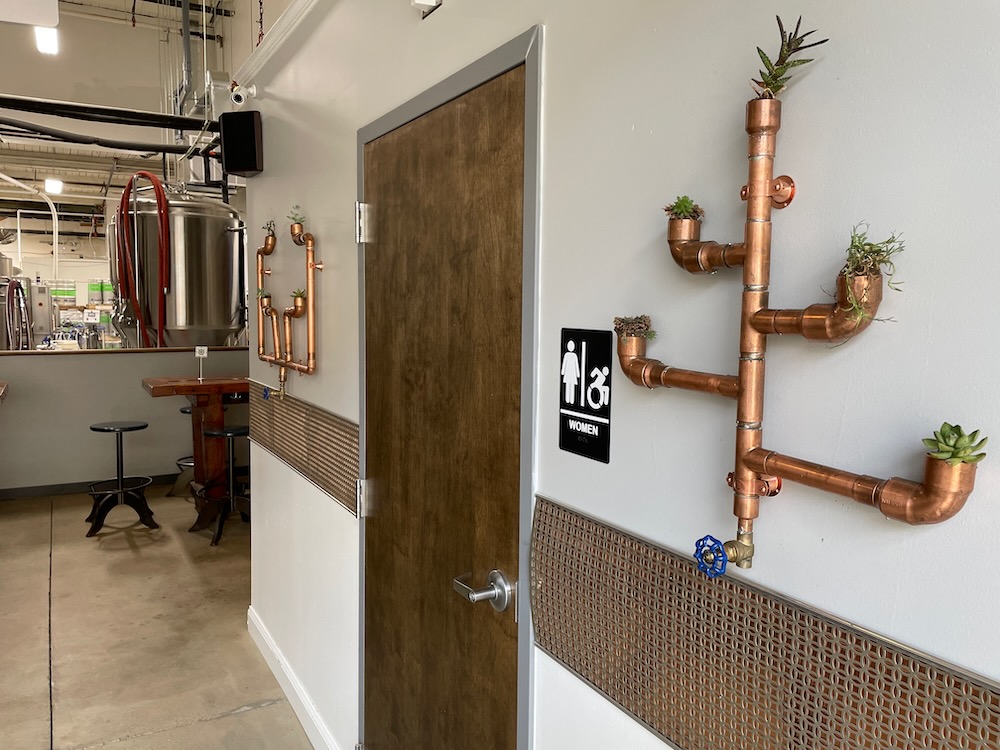 Subtle Virtues was a German-Czech pilsner and it was quite good, actually. It was the winner of the day for me. The Nitro cream ale was fine, but nothing to remember or create a new tradition over. I seem to be avoiding the quirkiest of the beers, but I don't think that will surprise anyone. I mean… a cream ale? You don't get less quirky than that. Although, I guess, putting a cream ale on tap in 2022 is a bit quirky. Well played Rainmen, well played.
I should point out that a quick check of Quirk Works' social media tells me they've gotten decidedly more adventurous since my visit:
Hey, whatever the market supports. Go for it. As for me, I had the Franken Dunkel. "Not a stout, not a hefe, not a Tripel." Soooo… is it a dunkel? Like the name implies? I don't know. "Dunkel" simply means dark but dunkels are lagers which means they are bottom fermented. Stouts, Hefes, and tripels are top fermented. Is this beer the result of a brewer who doesn't know or doesn't care or is it the result of a quirky brewer just being creative?
I do not know. I do know it wasn't a dunkel lager and it had some saisonish yeasts and character and it was fine, I guess. They nailed the "Franken" part, but not the "dunkel" part – at least as far as what "dunkel" means to most beer drinkers. Still, it wasn't bad.
I returned my flight glasses to the counter and this is when I really wondered about their awareness of the mighty CTMQ. After small talk about the beers, the guy asked if I wanted anything else. I muttered something about not wanting anything high ABV or overly sweet or blatantly stupid. I mentioned that I enjoyed the beer name "Far From Insipid" and the guy offered me a glass of one of them.
This is when the guy gave me look that lasted a tiny bit longer than I'm used to. Now, I've often referred to these types of ridiculous overly fruited beers as insipid. On Twitter and on this very website. Did Quirk Works… did Quirk Works actually name this beer because of my public disdain for them? Did the guy here… did the guy here know who I was and made it a point to offer me one just to mess with me? To be funny? To show me these beers can be done differently and well?
My answer to all of that is no, of course not. Probably. Definitely? Assuredly not. I think.
Now these are hefeweizens and not the usual Berliners. I chose the Hawaiian Punch variant with banana, blackberry, raspberry, orange, pineapple, and apple. Ridiculous. I knew I would hate it, so I snuck away to my corner and sipped. Then I sipped again. Hm. I didn't hate it. Was it because if was a hefe and not a kettle sour/Berliner mess? Probably. It wasn't insipid at all.
Inventing new beer styles is as old as beer. Mixing and matching styles isn't really anything new, but making it the focus of your taplist is fairly unique. Quirk Works is a comfortable and decent enough brewery in one of Connecticut's few true cities. If they keep a few standard styles on tap and don't alienate the old boring customers like me, they'll be fine.
Probably. Maybe? Sure. I guess.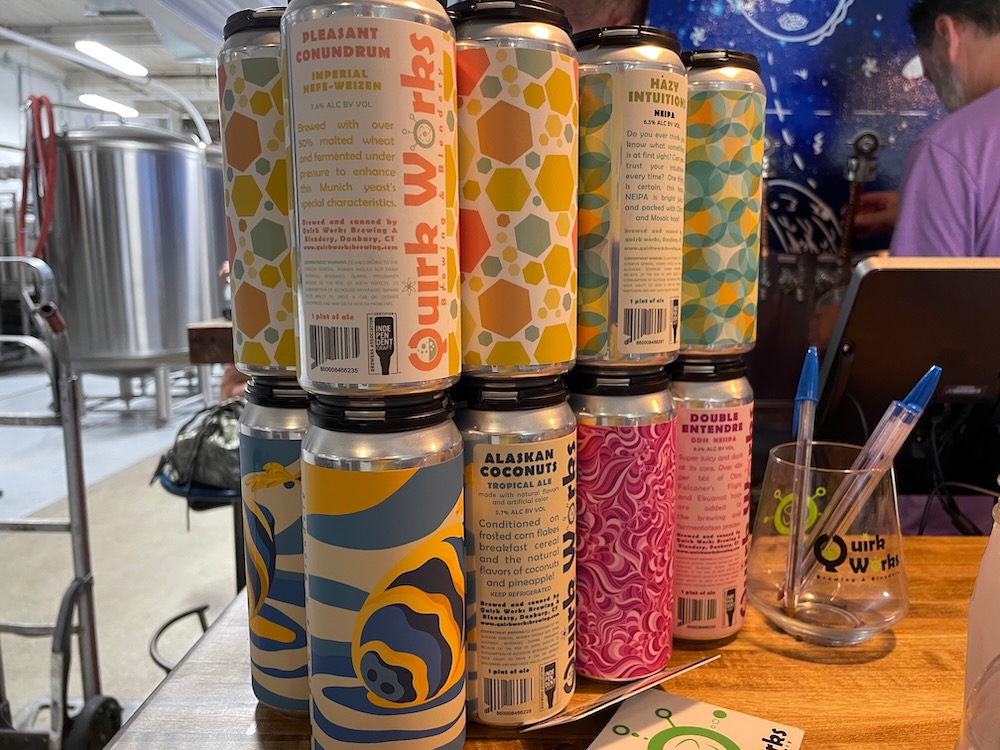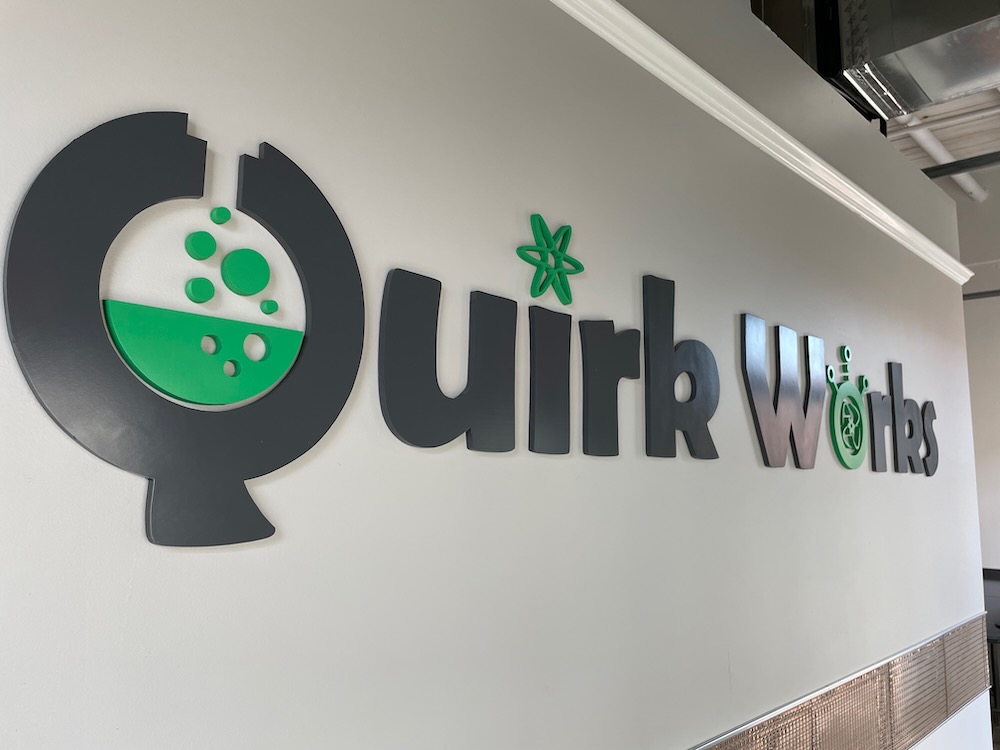 Quirk Works Brewing & Blendery
CTMQ's Breweries and Brewpubs