Everything Winchester
…And Winsted
I've been exploring and writing about Connecticut since 2006. After a decade, I began compiling CTMQ guides for each town in the state. I plan on "completing" Winchester CTMQ-style… as well as the other 168 towns, cities, and boroughs in Connecticut. After all, that is the ultimate goal of CTMQ.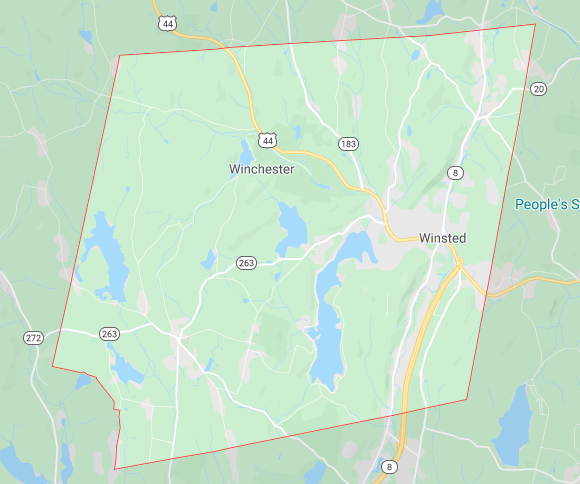 What do you know about the town most famous for… being known as Winsted rather than Winchester? You can scroll down for my list of things to do in town. Or, as always, you can click on the town's tag to see what I've done.
If I've missed anything in town or if anything has closed or changed, please let me know.

All The CTMQ Winchester Stuff
Links take you to my reports
Museums
American Museum of Tort Law
American Mural Project
Art Gallery at Mad
Little Red School House
Northwestern Connecticut Community College Art Gallery
Solomon Rockwell House
Whiting Mills Art Galleries
Winchester Center Kerosene Lamp Museum (Closed)
Winchester Center Old Academy
Winchester Fire Department Museum
Hikes & Bikes
Burr Pond State Park – Intro
Platt Hill State Park
Algonquin State Forest
Paugnut State Forest – Intro
Winchester Land Trust – Intro
Ehrich Woods Trail
Houlihan Woods & the Michael Giordano Tribute Area
Hurlbut Field – Winchester Lake Loop
Old Crossroad Trail
Ruez Trail
US Army Corps of Engineers Trails – Intro
Mad River Flood Control Area/Secret Lake
Winchester's Town Trails – Intro
Multi-Use/Rail Trails
Sue Grossman Still River Greenway
Food & Drink
CT Classic Diner Trail: The Winsted Diner (Closed)
CT Beer Trail: Little Red Barn Brewers
Looking for your favorite restaurant? Here is an explanation as to why it's not here.
Everything Else
Still River Cascades
2 Dogs and a Bear Rock
West Lake Road & Highland Lake
Winchester Soldiers' Monument
Old Waterbury Turnpike sign
Meta post office mural
The Gilson Cafe and Cinema
Getting Off (Closed)
Tyler Green FX Studio
Winchester Wrap-Up
Completion Celebration Meal at TBD