Something's Breuering
Mid-Century Modern House Tour, Litchfield
When asked, everyone familiar with Connecticut knows that Litchfield is home to large old historic homes and the center of town is filled with colonials. And they'd be mostly right. The Oliver Wolcott House and the Tapping Reeve House and Law School to name two. Harriet Beecher Stowe grew up here and one of the most classically beautiful New England churches is near the town green. Heck, even the Litchfield post office is charming.
But a quarter mile south of that post office and Litchfield's center there's a clue that there's more to the architecture of the town. The Oliver Wolcott Library, which features a white colonial facing South Street, has a modern addition designed by none other than Eliot Noyes – one of The Harvard Five.
The Harvard Five was a group of architects that settled in New Canaan in the 1940s: John M. Johansen, Marcel Breuer, Landis Gores, Philip Johnson and Eliot Noyes. This collective of architects and industrial designers were all inspired by the works of Walter Gropius, the famed German architect of the Bauhaus academy who was a pioneer in the movement towards Modernism. Gropius's fundamental vision for good design was that "form follows function." Breuer helped teach and inform the other four at the Harvard Graduate School of Design. These guys started a movement that has endured, to a degree, to this day.
A movement that my wife studied as an architecture student in college. A movement that she convinced me is worth being interested in and drawn to. So much so that I tried to do a little tour of my own around Litchfield's four most impressive MCM houses. My "tour" was terrible because I had no access to these homes, but fortunately the internet can help me out.
And hey, if any of the owners of these houses ever reads this and would like to kindly invite me and my wife for a quick tour, we'll bring wine and cheese. My wife helped Philip Johnson's Glass House attain its National Historic Landmark status y'know… and we've been to Eliot Noyes's home in New Canaan! Let's make it happen.

Stillman House I (1950), Marcel Breuer
All below photos of Stillman House 1 from Ken Sena on Wikicommons
Here's the craziest thing about this, the first modern home in Litchfield: it is situated right next to the second modern home in Litchfield (Huvelle House, below). Why is that crazy? It's crazy because the same dude owns both as of today (2022) and sort of lives in both. Sigh. (Okay, that was true when an Architectural Digest article about the houses was published, so I don't really know if that's still true, but I'm going to assume it is.)
The houses are located at the end of Beecher Lane… because Lyman Beecher's home (and Harriet Beecher-Stowe's birthplace) is just across the North Street from it. The houses are almost completely hidden from the nearest road access, resulting in my one and only picture looking like this: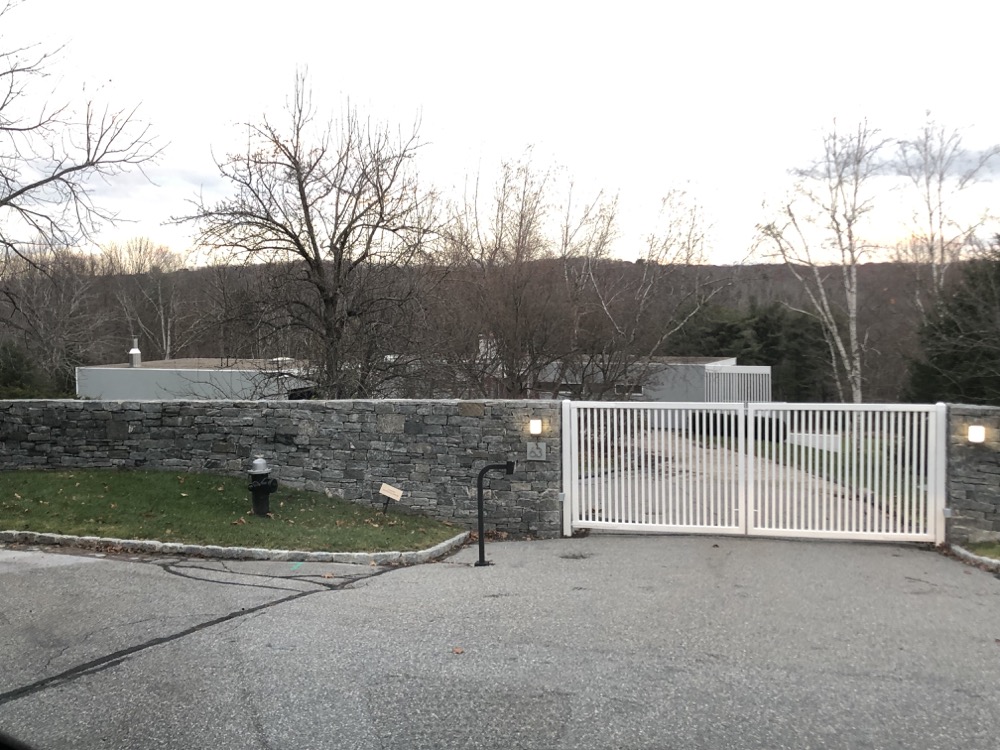 The owner, Ed Tang, is young. He's the son of the late fashion mogul and Shanghai Tang founder Sir David Tang and you know what? Good for him, man. He and his partner live in the two houses, having bought Stillman I first because he "just had to have it" to have space for his art collection.
Ed. Buddy. My man. Seriously. Let's connect. Like you connected the two houses…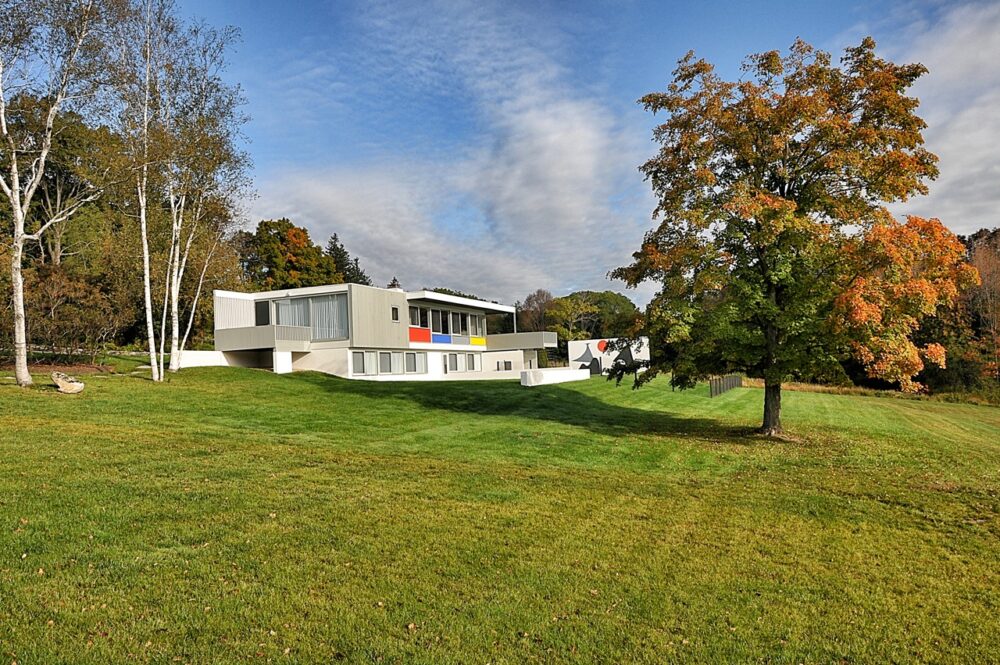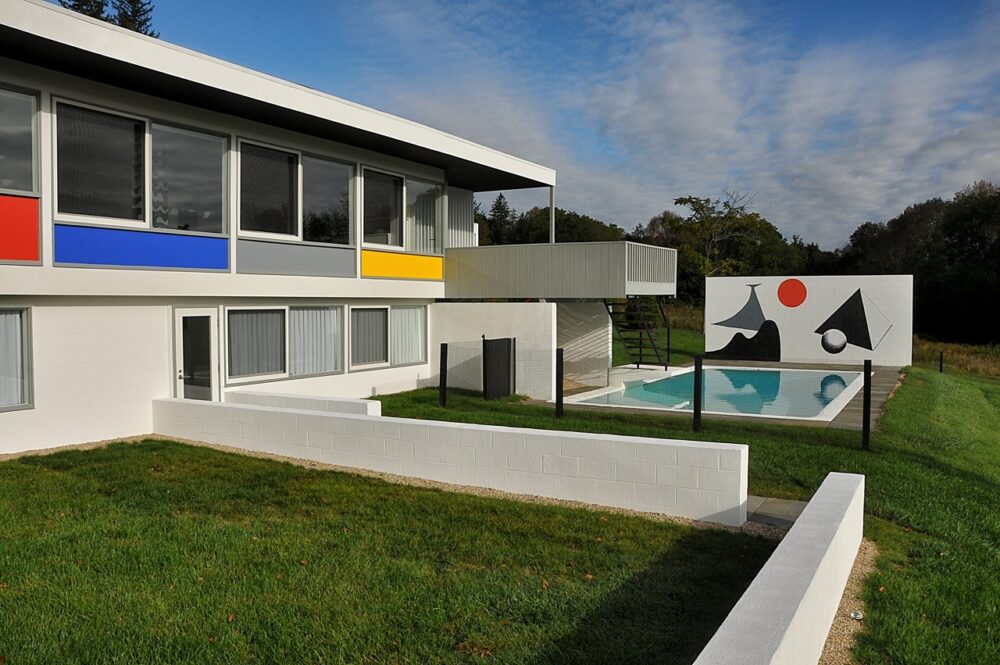 From Architectural Digest.
… when the adjacent property, a pristine 1953 house designed by Breuer's fellow Harvard Five architect and onetime student John M. Johansen, came up for sale, Tang acted quickly to join the sister buildings, creating a low-slung modernist compound. (The homes had previously been renovated by Joseph Mazzaferro and Ken Sena, who won a Docomomo award for their meticulous and faithful restoration.) Tang and his partner keep both houses open, but the second home, built for the Huvelle family, friends of the Stillmans, now essentially functions as a winter residence, while the four-bedroom Stillman house—the more playful of the two—is where the couple often stay and entertain on summer weekends. A short walk from town, the conjoined properties feel remote, a tucked-away idyll with sun-drenched interiors looking out on the rolling hills and nearby nature preserve. One's sense of arrival is heightened by the contrast to Litchfield's broad thoroughfare, lined with imposing white mansions from the mid–19th century, "which look to me, a foreigner, like a complete movie set," says Tang, who was born in Hong Kong and educated in the U.K.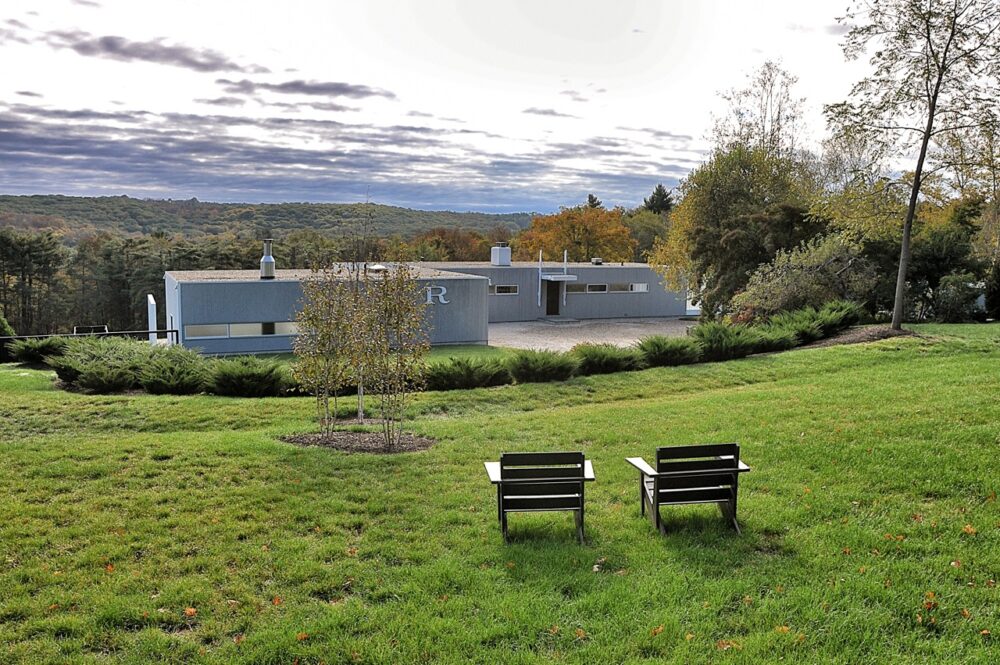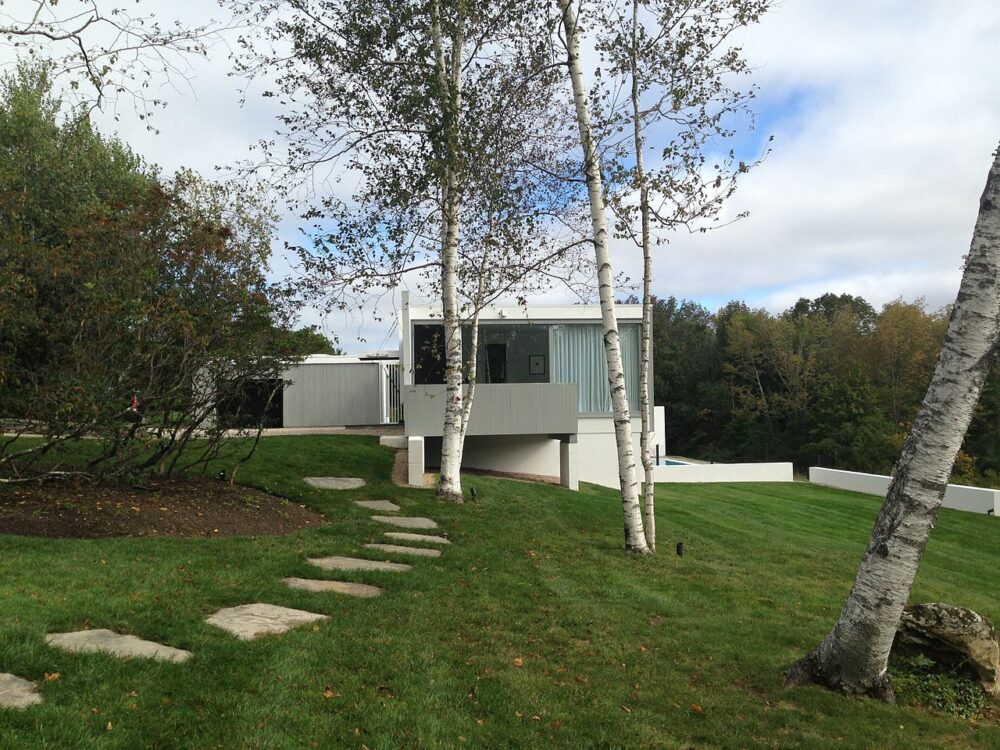 Once they installed forced air, radiant heat, and delicate outdoor lighting, as well as a new stone wall, the houses were a blank canvas for personalization. And personalize they did, though thoughtfully, making sure to keep comfort always the primary consideration. "We don't want to be those precious people where you have to use a coaster or wear a towel to sit down somewhere," Tang says.

The Stillman house—marked by its sliding glass walls, pool, pops of primary colors (the blue paint was sourced from Switzerland), and an iconic ten-by-18-foot Alexander Calder mural—is full of swimsuit-friendly, airy setups, and cheerful artwork.
A giant Calder mural you say? Yes, Mrs. Stillman commissioned her friend Calder (who lived nearby) for $300 to paint it.
Let's walk across the yard to Huvelle House.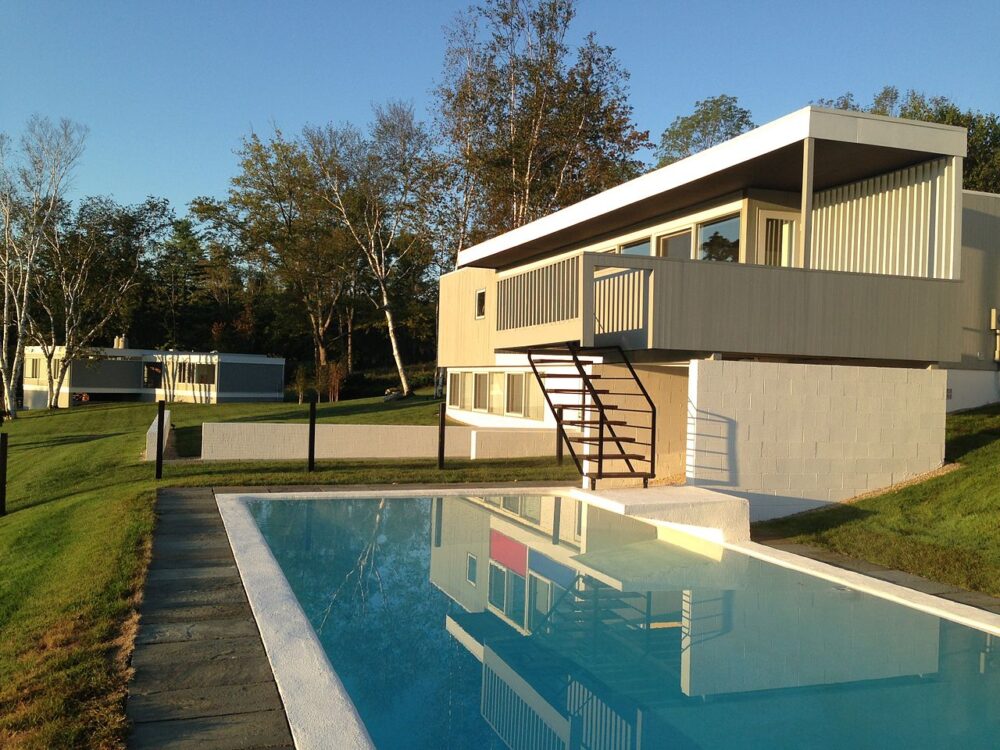 Huvelle House (1953), John Johansen
After the Stillmans lived in their Breuer home for a few years, they decided to split their 6-acre property in two, inviting the Huvelles to join their modern experience on the condition their choice of architect was to remain modern. They agreed and fellow Harvard Five architect and student and associate of Breuer, John Johansen, designed the adjacent home. The house is a study in simple form, natural light, and thoughtful design. It also sits in complementary juxtaposition to the Stillman House in appreciation of its patterned use of glass, primary color panels and pool mural.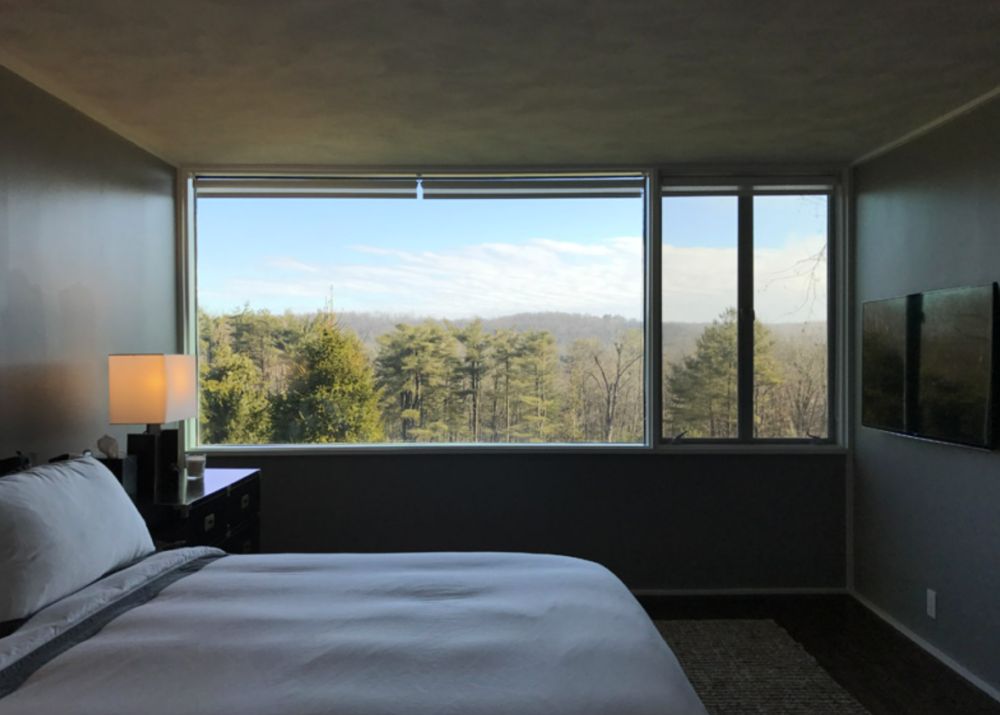 Johansen also designed the Litchfield Intermediate School and here's something crazy – none other than Walter Gropius himself designed Litchfield High School nearby. Both schools have been heavily changed since their original design, however.
Huvelle House appears to be smaller with tighter interior spaces. I guess that's why my future BFF Ed Tang and his partner use it as their "winter" or guest house. For the record, I'd be happy staying here as a guest. Just sayin.
The two houses at the end of Beecher lane are beautiful and it's really cool how complementary they are. But Litchfield apparently didn't like the idea of modern houses so near its downtown National Historic Landmark District. In reaction to these homes, the Borough of Litchfield restricts the further use of modern design within its borough's historic boundaries as protection to its Colonial and Greek Revival heritage. I suppose I understand that, as the center of Litchfield has a certain Litchfieldness to uphold and maintain.
So let's get outta here and check out some other MCMs outside of the historic district.

Stillman House II (1965), Marcel Breuer
I should note that this home recently sold for $3.3 million, and the others I've featured on this page are in that neighborhood. Sure, some of you are shaking your head saying you wouldn't pay $3.3 thousand for these "ugly boxes," but please recognize that the market exists and that there are people who truly enjoy these homes.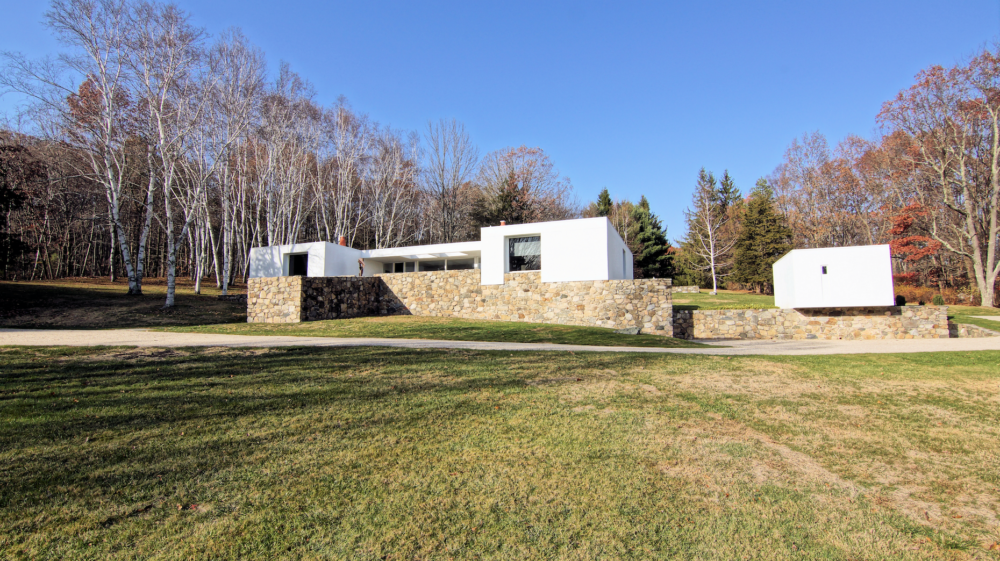 And Breuer originals are a special breed. As the name of the house would suggest, this is the second of three homes Breuer designed for the Stillmans. I got my one bad picture of the house from the woods behind it.
No, I wasn't being (too) stalkery… the Litchfield Land Trust has a property with a trail right behind it: The Stillman-Danaher Preserve. So the Stillmans not only had these houses designed for them, but they donated land to the local land trust. I hope to be 5% as cool as these people.
From the real estate listing:
Stillman II can best be described as a masterpiece of design, which integrates every 21st century comfort. Its floor plan and smart use of space seem timeless and modern. The use of natural materials, including local stone in the massive walls that form the foundation and which extend into the interior, brick floors with a magnificent Breuer patina and white stucco walls; in combination with the thoughtful positioning of the house and its many walls of glass, all create a seamless connection between the interior and the surrounding landscape. Not only is this residence a true work of art to marvel at but also one to marvel from.

It is located in a serene, very private and natural 9.5 acre setting abutting an additional 37 acres protected by the land trust in the beautiful Litchfield County Hills within minutes to the quintessential Litchfield Green and about an hour and three quarters from midtown Manhattan. The nearest airports are (private plane) less than one half hour and (international) about an hour.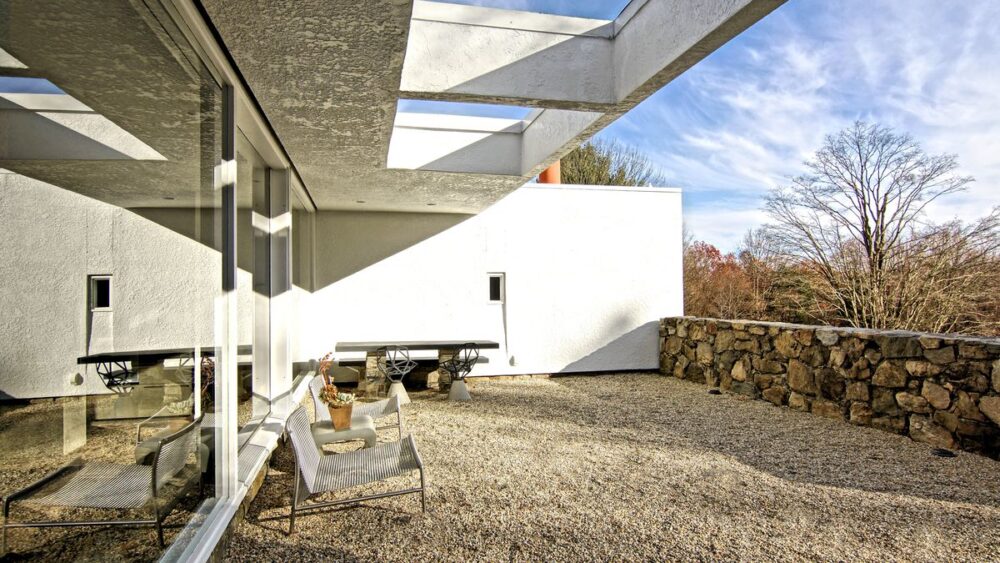 My house's listing did not include the distance to the nearest small airport for your private plane. I feel like that was an oversight.
Located on Clark Road, Stillman II is far more remote than Stillman I. And for me, I like the fact that it's set off in the woods, but it's not my favorite on this tour. That would be the next one.

Gagarin House I (1954), Marcel Breuer
All photos from Dwell Magazine which were from the $3.8 million dollar real estate listing.
This house makes me cry. I love it so much. Not only is the house itself beautiful, but it offers expansive views to the west from the patio… the pool deck… through the massive windows. Swoon.
It can be seen from Gallows Lane just off of South Street, just south of the center of town. (So, yes, Gagarin I – and Gagarin II next door – is about a mile from Stillman I and Huvelle House. No, Litchfield isn't New Canaan, but I hope you have gained an appreciation for its status as, let's say, New Canaan-lite.)
Andrew Gagarin was an executive at The Torin Corporation. Formerly the Torrington Manufacturing Company, they produced air-moving equipment and had its headquarters in Torrington. Several of the company's buildings were designed by Breuer. Oh, and Rufus Stillman was the CEO of Torin. Nice club these guys had going.
Gagarin I was designed for entertaining. It is a three-bedroom, four-and-a-half-bath midcentury modern masterpiece integrated elegantly into the gently sloping hillside by way of its bluestone terraces and original stone walls. Swoon.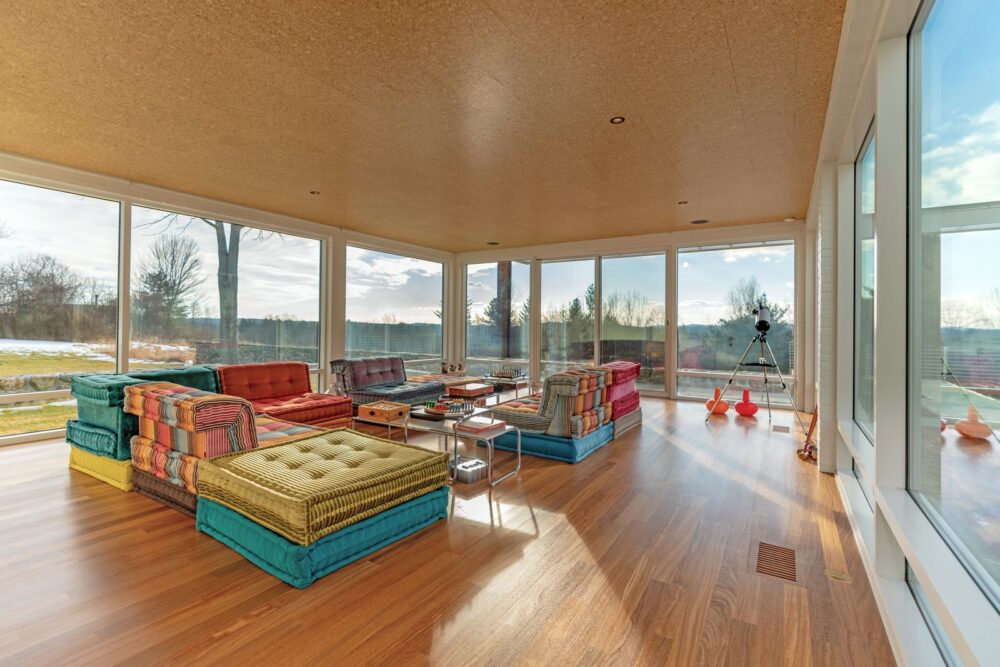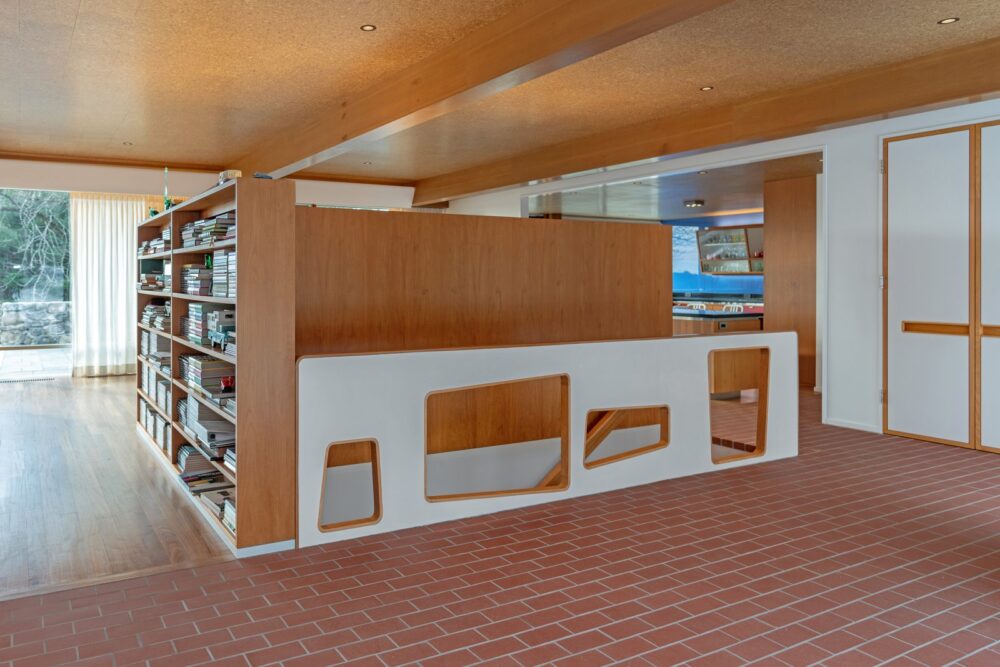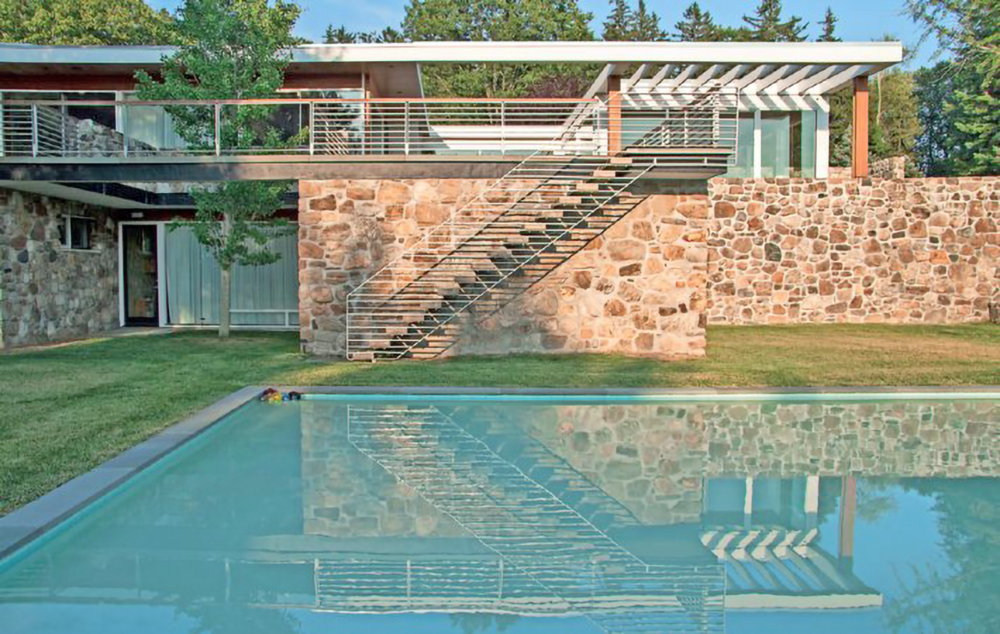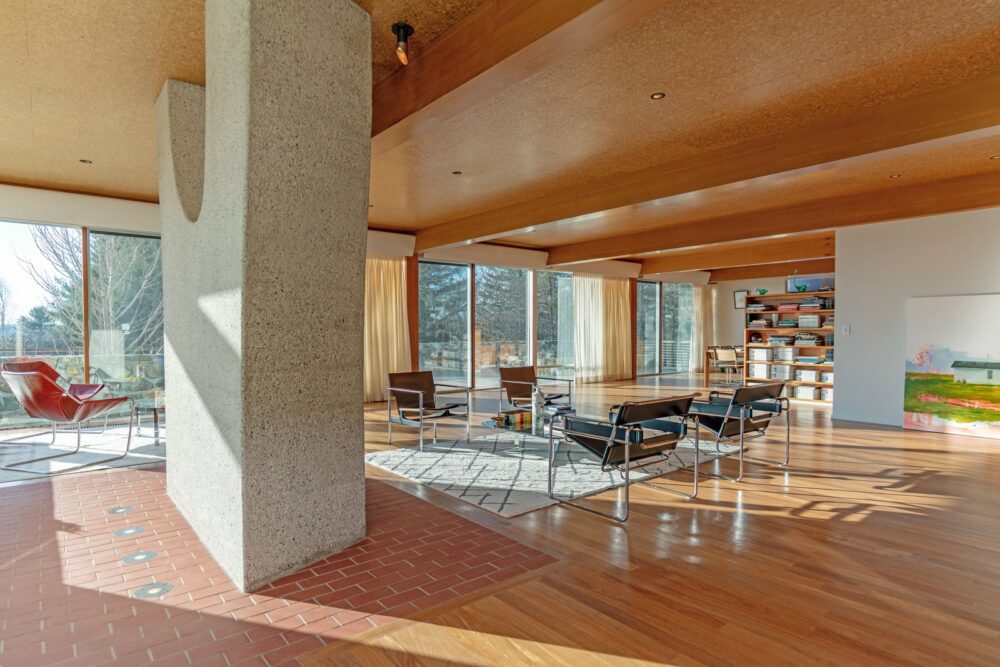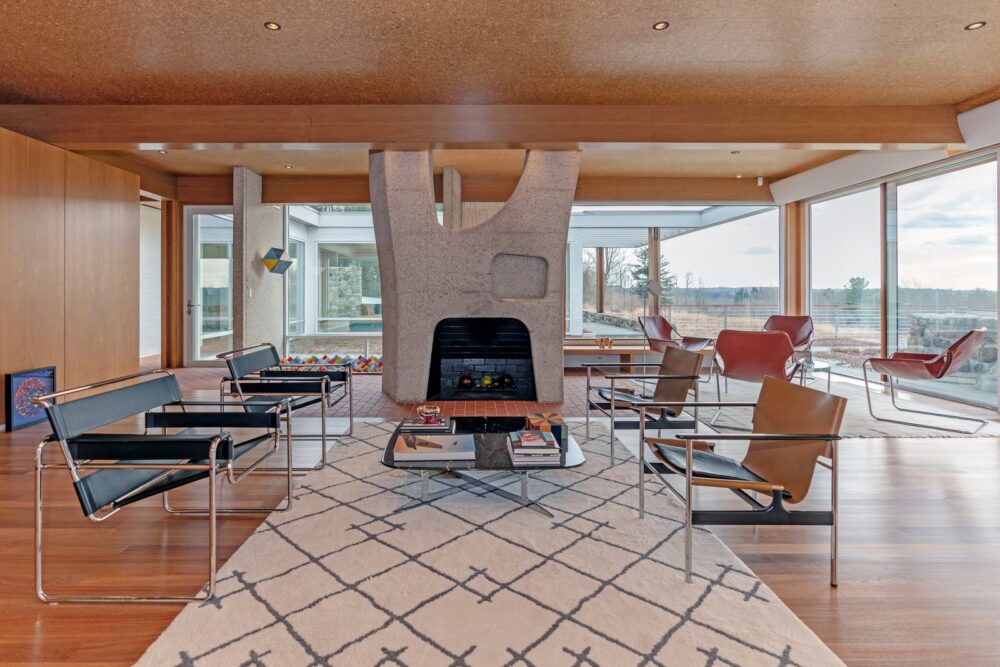 Gagarin II next door is smaller and more intimate. It's like a guest cottage compared to the open and loud Gagarin I. I don't really know what more I can say about these houses since I only saw them from through my car window from the road. But I've spent far too much time scrolling through dozens of pictures of the interiors and they are wonderful.
I should mention the Darren Bradley Photography website. Bradley is a photographer who specializes in MCM architecture and has produced several books. He has an extensive page on Litchfield's Harvard Five (etc.) buildings and it's just beautiful. I didn't steal any of his pictures, but you'd be well-served to spend some time there, as he has many interior shots, especially of Gagarin I.

CTMQ's Houses, Ruins, Communities & Urban Legends