Damn!
Nepaug Dam & Reservoir Trails, Burlington, Canton, & New Hartford
December 2020
My favorite fact about this property is that the main paved path here used to be a road open to vehicular traffic. I don't know when this was changed, but I'm pretty sure it was in my lifetime. Yes, Torrington Avenue used to veer off of Route 202 in New Hartford and take cars over Nepaug Dam and on into the Collinsville section of Canton.
Walking this path today, it seems a little crazy to me, but it was certainly a fun and pretty drive back in the day. Today it's a fun and pretty walk. Let's start in Canton and New Hartford…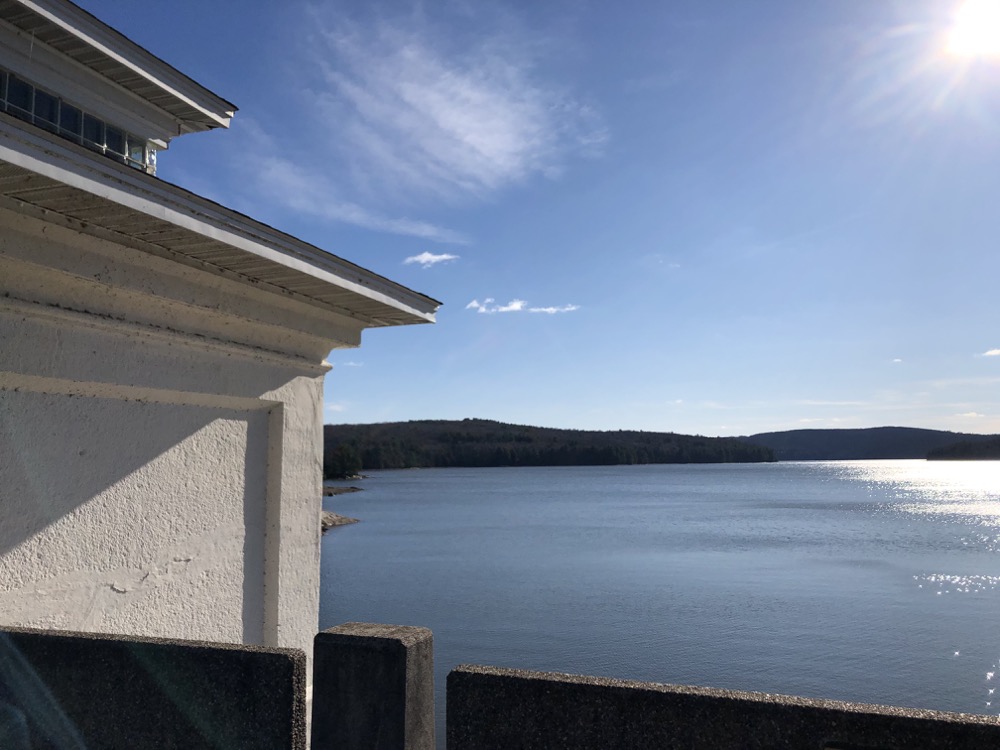 Canton & New Hartford
The Nepaug Reservoir was created by two dams in the early 20th century and is owned by the MDC. There is an "official" paved path at the northern end across the top of the Nepaug Dam and you can drive past the southern Phelps Dam near the access to the "official" southern trail.
There are other trails in, to, and from the Nepaug Reservoir property, but many are off limits or unmapped. It is possible to circumnavigate the whole thing, but much of your walk or mountain bike will be on roads. It is also possible to access the Nepaug State Forest trail system which includes a section of the Tunxis Trail.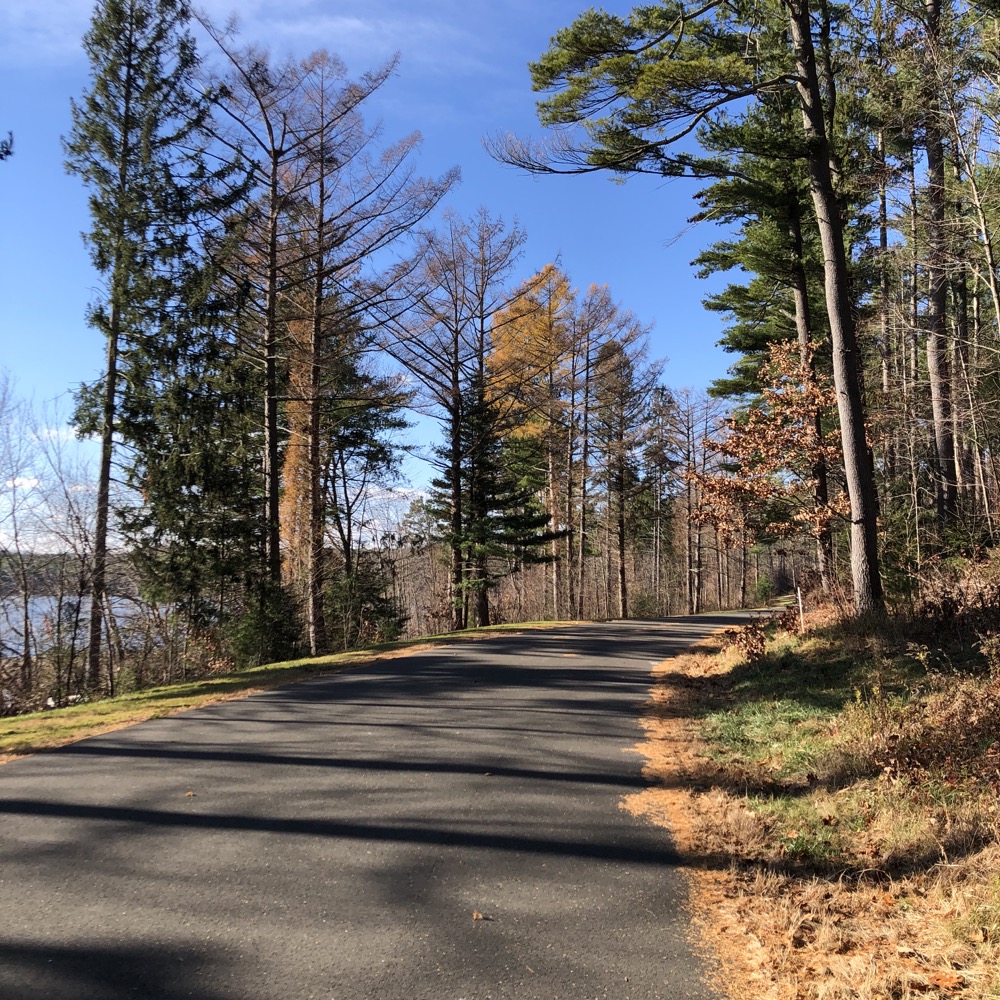 Yes, from the parking area on 202 and through the yellow gate heading north, the world of Satan's Kingdom in the Nepaug Forest beckons, all the way through to Route 44. But we're not talking about that today.
There is another parking area in Canton at the end of Torrington Avenue. This is where I began my journey north. The flat and paved path is about a mile up to the Route 202 end and makes for a very nice out-and-back walk any time of the year.
The initial walk through the woods is very nice. Several stands of huge white pines surround the reservoir, but signs warn against traipsing down to the water's edge. (I still traipsed. For research. Sorry.) As with most reservoirs in Connecticut, there's a somewhat interesting history here. In the case of the Nepaug, Hartford needed water.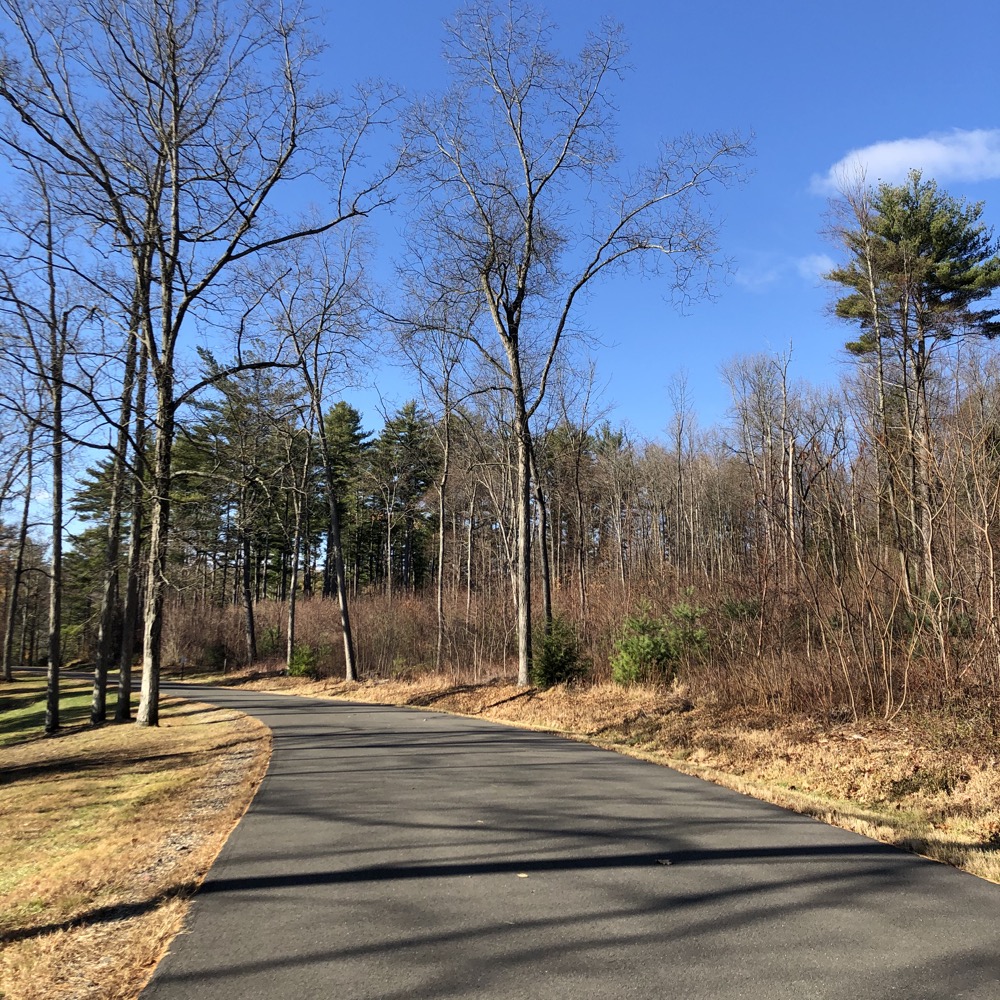 In the early 1900's, the Board of Water Commissioners in Hartford began scouting different locations where they could build a Reservoir to serve the needs of the city. Their goal was to increase the water pressure and daily water supply for the City of Hartford from 7 million gallons to 33 million gallons.
After considering the Salmon Brook in Granby, they turned their attention to New Hartford, Canton, Burlington and the Nepaug River. In 1909, BWC came before the Connecticut Legislature with a plan to build what would become Nepaug Reservoir. After several years of wrangling, lawsuits, and haggling, the state granted the rights and construction began.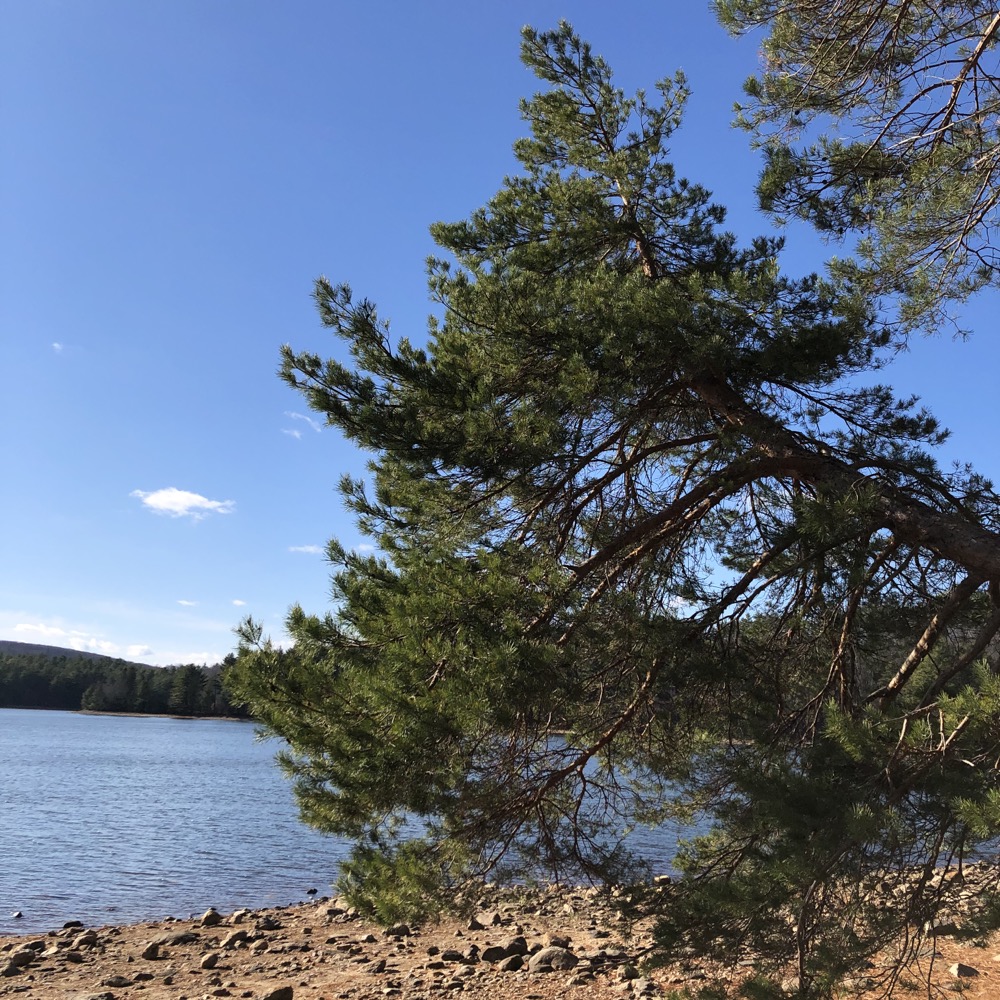 Good ol' Caleb M. Saville was assigned the lead role of Chief Engineer – Saville had worked on the Panama Canal, and yes, the Saville Dam in Barkhamsted is named in his honor.
Surveyors began their work on the Nepaug property in 1911. Construction at the site started the following year. Work on the actual dam commenced in 1914, water began to fill in 1916, and reached capacity in 1918. As always, the reservoir displaced a bunch of people and cemeteries and such – here it was the village of Nepaug.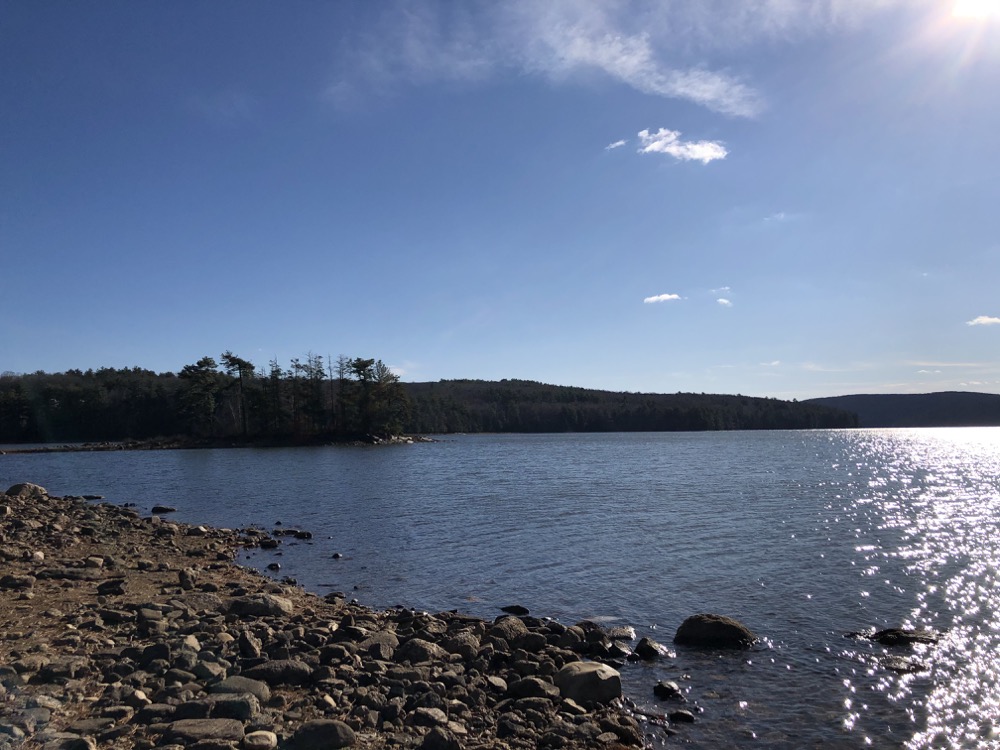 Some family names are still around – Zwick Point, a rock outcropping that can be seen along the walk, is a reminder of Andrew Zwick's drowned 120+ acre farm, which extended up Sweetheart Mountain.
(And speaking of Sweetheart Mountain, which you can't really see too well from most of the trails here, it's been a purported UFO sighting site. If you're into that.)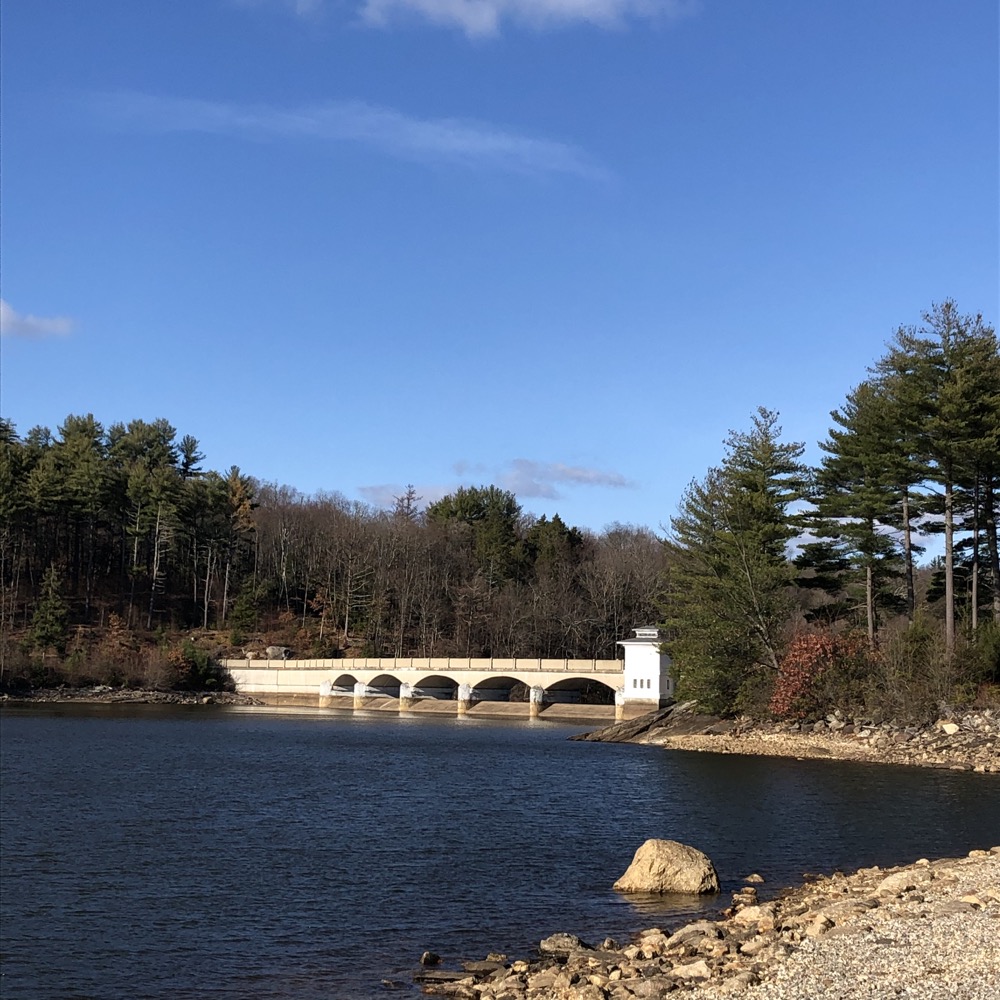 Walking across the dam itself is pretty rad. It is 110 feet tall and 650 feet across; built of cyclopean masonry, meaning large rocks are embedded in the 81,000 cubic yards of poured concrete. It's cool that you can peer over its edge down the stepped spillway. It's a popular spot, as several families did their out and back walks even on a quite chilly day. These were dam veterans, as I was the only one looking down the spillway.
The dam and parts north are in New Hartford. Just throwing that out there for you town border sticklers. Once across the dam, I followed a trail straight up the hill, away from the paved road. There are old stone stairs and evidence that this trail has been here for a long, long time. I was curious where it would lead, even knowing it ultimately had to hit Route 202.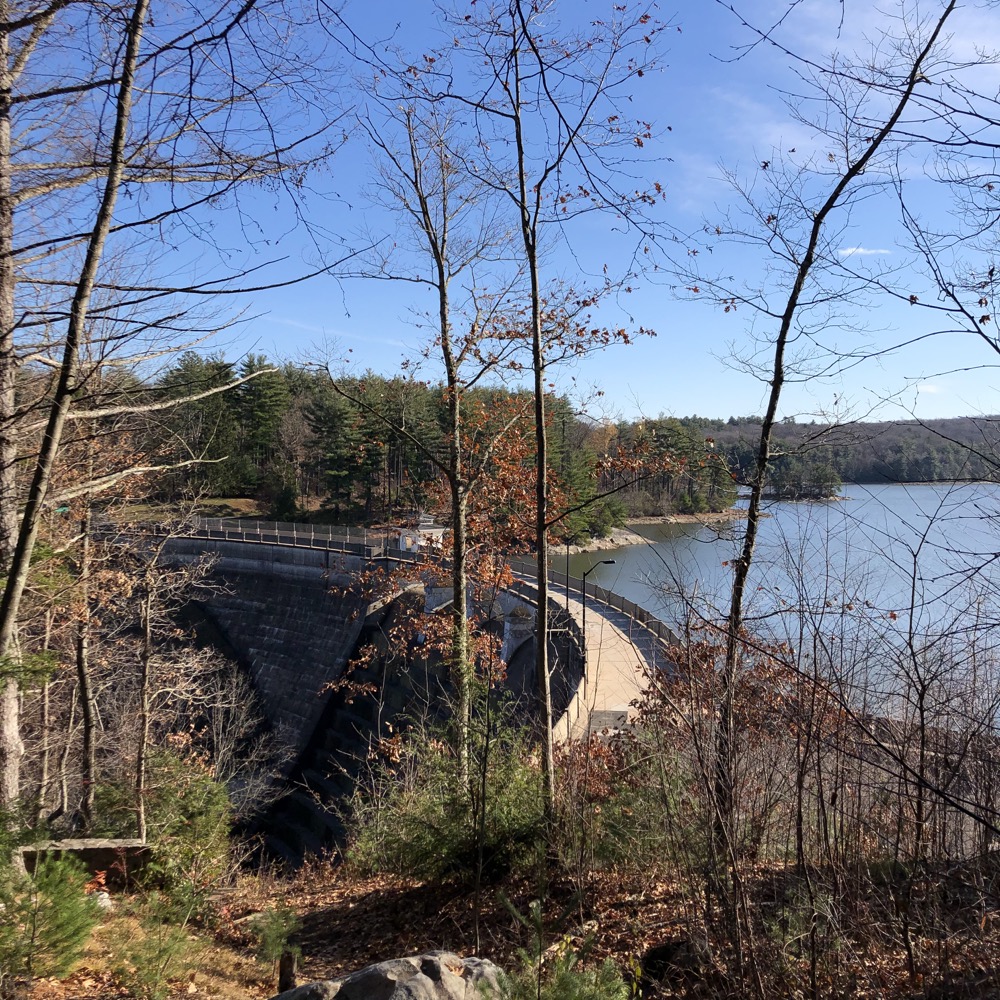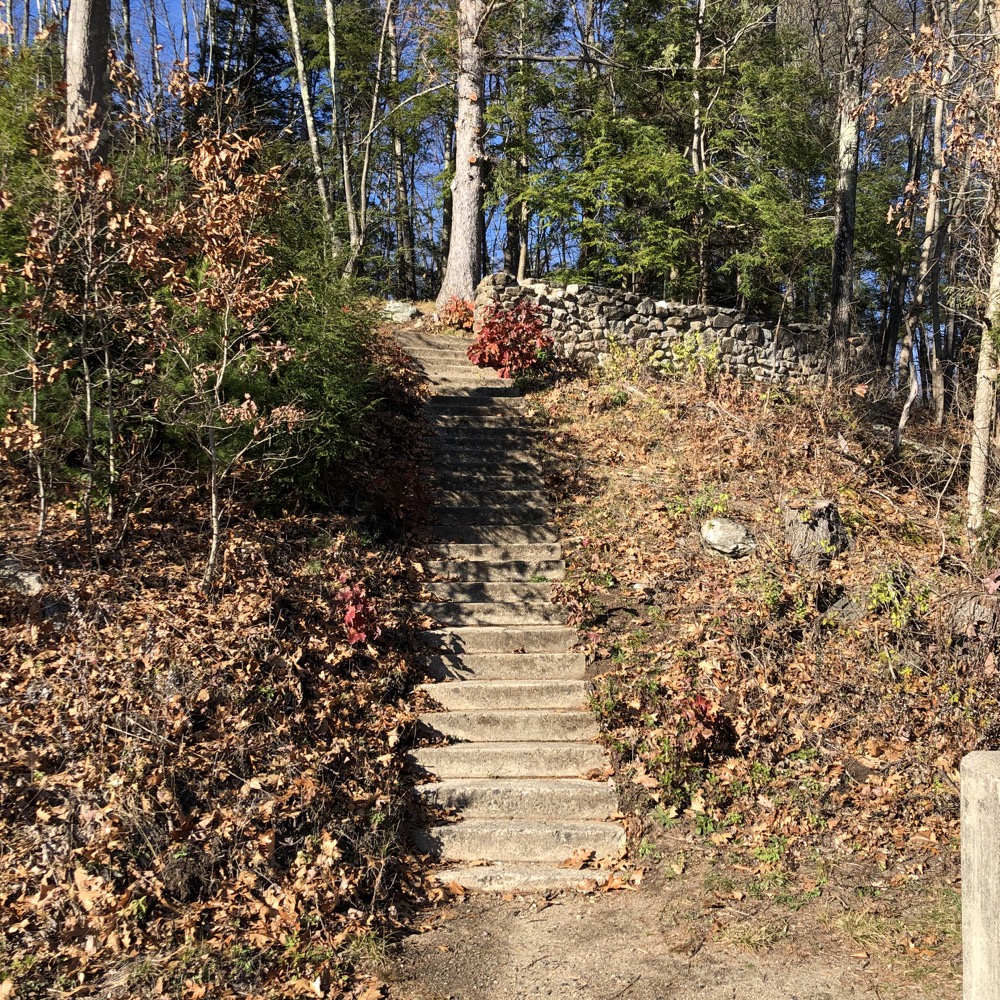 There seems to be a bit of a lookout and some pretty cool spots for teens to sort of hide out and drink and fool around contemplate their upcoming midterm exams. As for me, I bumbled back down the stone steps while people on the main path stared up at me like I'd just been hiding out drinking and fooling around in the woods.
I ambled back across the dam to my car and headed south, over to Burlington.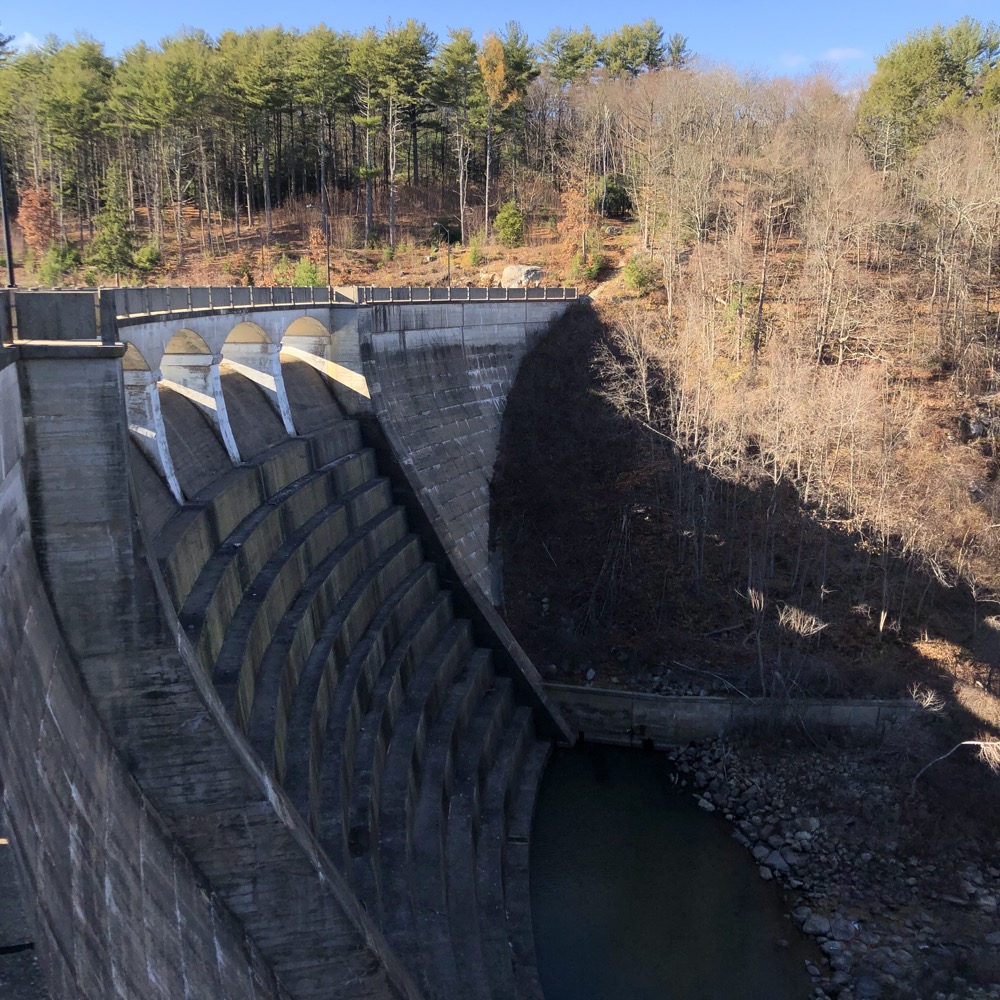 Burlington
You don't need to do this. I mean, if you're a dam fan, I guess the Phelps Dam down here is a little cool? You're not allowed to scale it or anything though, so it's merely a drive-by. If you want to walk, find Clear Brook Road and park at the yellow gate near the reservoir.
Then walk along the MDC forest road for nearly two miles. There's nothing very interesting about this walk however. Some side trails head towards the reservoir, but the MDC is very clear in its signage that you aren't supposed to ever leave the road.
The road leaves the reservoir and follows along Clear Brook for a while before running into another yellow gate at Mill Dam Road. It's at that point you must turn around and walk back to your car.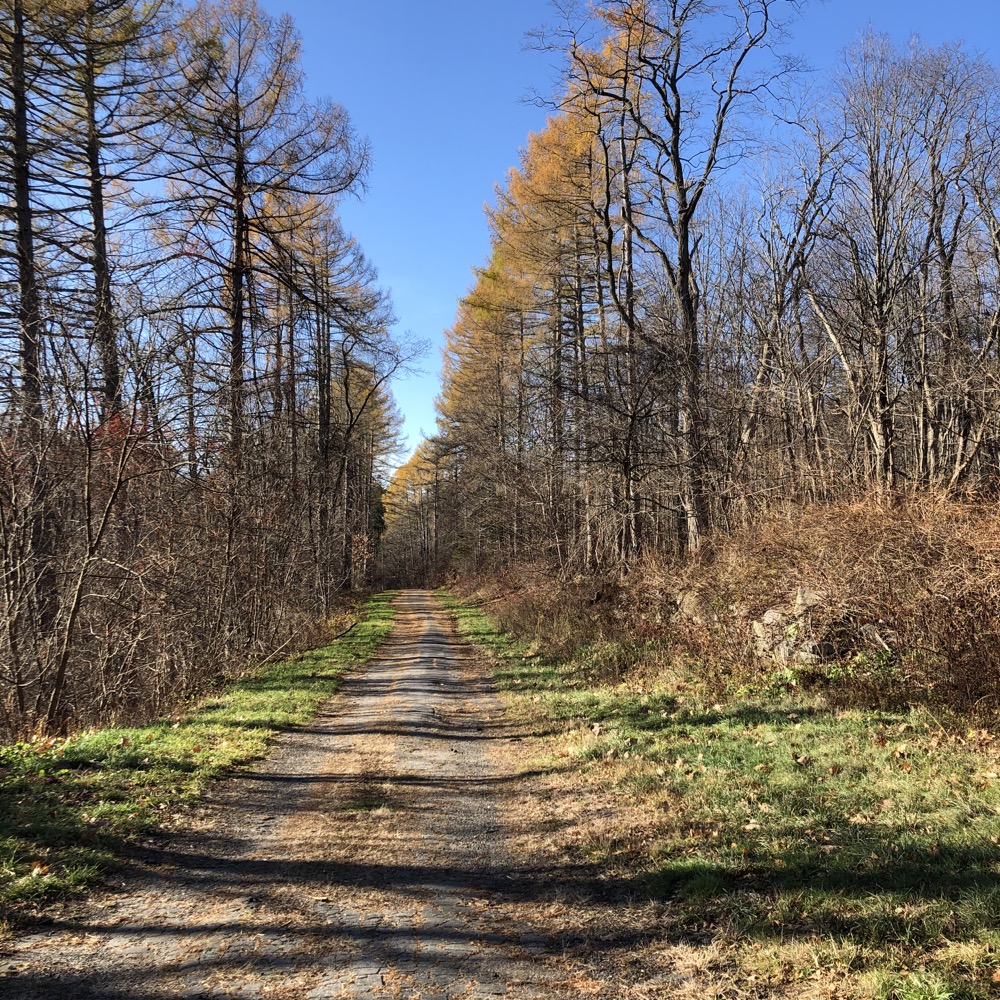 As you do this, you'll be wondering why you made this walk. Especially if you've done so after reading this paragraph explicitly telling you it's not worth it to do so. But hey, if you're like me and determined to walk every trail in every town, you simply must make this trek in Burlington.
Note: if that last sentence appeals to you, seek help.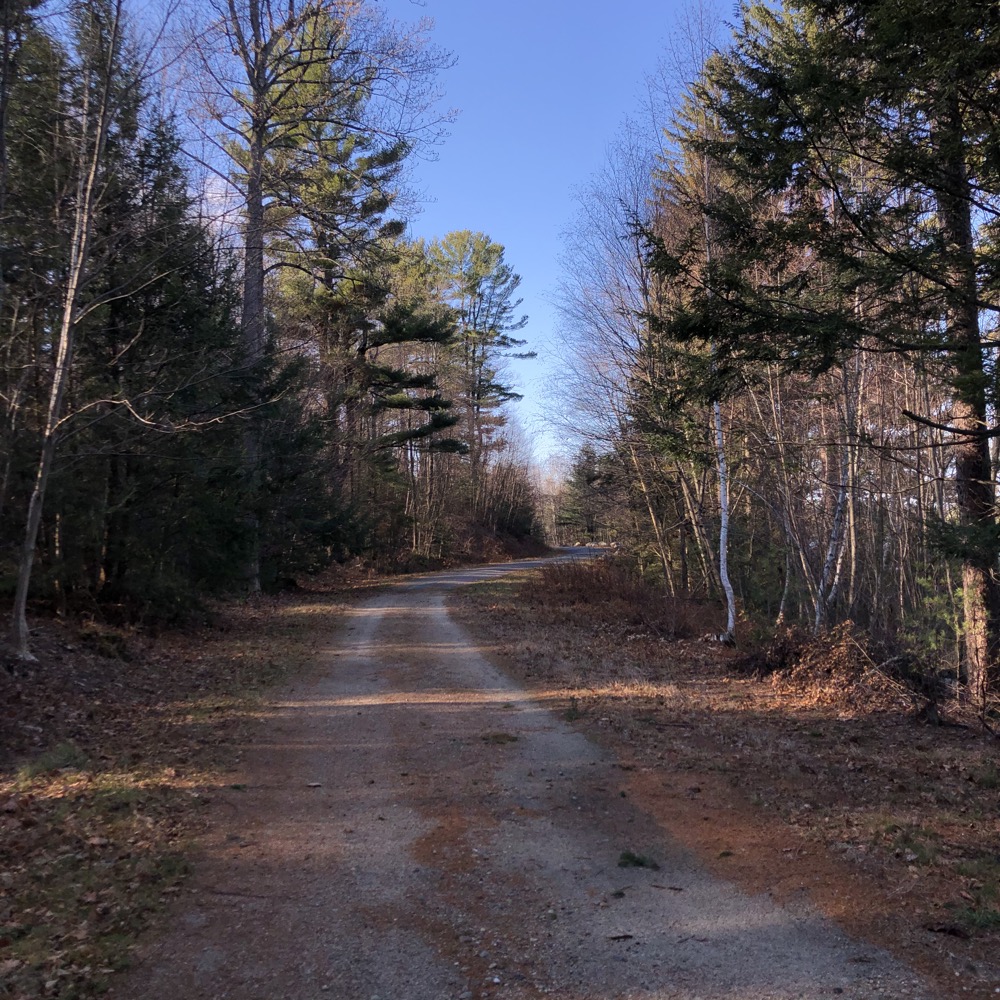 Nepaug Reservoir Map
CTMQ's Forts, Canals, Dams, & Fishways/Lifts/Ladders
Burlington's Town Trails
Canton's Town Trails
New Hartford's Town Trails