I had mentioned on my now defunct old blog once that I was planning on hiking the entire length of Connecticut's Metacomet Trail; from Berlin in the center of the state north through Granby to the Massachusetts state line. After much time, I have finally decided to get going in 2007. During the planning stages, an amazing thing happened. I was casually mentioning this idea to Hoang hoping that she'd provide transport once in a while, and nothing more. But then she showed me (again) why I'm one lucky dude – "I wanna do it with you!"
I was shocked. Shocked I tell you. "But baby, the trail isn't exactly beautiful and it's pretty strange and…"
"Shut it. I want to do it too. We just have to figure out what to do with Damian when we do it." Seriously, I was pretty surprised. I was ecstatic too, as this opens up a heck of a lot more photo opportunities and goofiness. I think she's as interested as I am in a trail that goes through New Britain – the town in which she was raised. For those of you not from these parts, New Britain is pretty much the last place you'd think of when thinking of hiking a trail. We will be sure to wear thick-soled boots lest we step on any used needles there, I promise. And I'm not talkin' pine needles.
The trail itself is about 62 miles long and generally follows the traprock ridge that traverses the state South to North. Of course, this being Connecticut and not Montana, traversing the state means the trail wends its way through plenty of towns and suburbs. As lame as that sounds, it actually interests me a great deal. The trail hits such notable nature preserves as New Britain, Meriden, and Bloomfield. Much of the trail is on roads and other portions follow powerlines or jeep trails. Not exactly pretty, to say the least. But it's here – and it's very, very accessible. Its southern terminus is right down the road from where Hoang and I work; right on the infamous Berlin Turnpike next to a motel with hourly rates and a rather shady clientele. Awesome. Heck, with all the road crossings, we could feasibly chunk this thing up in 2 mile increments for a good portion of it.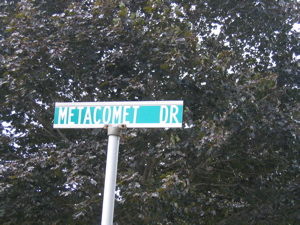 In fact, I already know there will be some sections that contain more or less nothing of interest and will only be mere half-hour jaunts. But there are some really cool historical and anecdotal tales that will crop up along the way. Trust me, this will be fun. (To be sure, there are plenty of great views and cool outcroppings and things like that too.)
Is it challenging? Nope. Well, unless you take into account that I plan to photograph and document the entire thing – you see, nowhere on the Internets is the whole Connecticut portion documented – yet. (There are some sites that hit on the highlights of the trail, but that's too easy.) The trail continues North up through Massachusetts all the way to New Hampshire's Mount Manodnock. Who knows, I may just do that state too. And at the rate I'm going, Damian may be walking it right along with me – or even driving to the trailheads too.
Enjoy our groundbreaking hike along with us! Go to Section One
[Note: The "Sections" are entirely my convention and will often be much shorter and stupider than any hiker with half a brain would ever do. I fully recognize this.]