Metacomet Trail (New England National Scenic Trail)
Berlin – Suffield, 63 Miles
Began: April 2007
Completed:
I had mentioned on my now defunct old blog once that I was planning on hiking the entire length of Connecticut's Metacomet Trail; from Berlin in the center of the state north through Hartford County to the Massachusetts state line in Suffield. After much time, I finally decided to get going in 2007. During the planning stages, an amazing thing happened. I was casually mentioning this idea to my wife Hoang hoping that she'd provide transport once in a while, and nothing more. But then she showed me (again) why I'm one lucky dude – "I wanna do it with you!"
I was shocked. Shocked I tell you.
Seriously, I was pretty surprised – especially since our first son was an infant at the time. I was ecstatic too, as this would certainly make the trail more fun for me. I think she's as interested as I am in a trail that spends some time in New Britain – the town in which she was raised, and West Hartford – the town in which we live.
The trail itself is about 63 miles long and generally follows the traprock ridge that forms a spine bisecting Connecticut. Of course, this being Connecticut and not Montana, traversing the state means the trail wends its way through some cities and suburbs. And I think that's pretty cool.
The Metacomet Trail connects to the Mattabesett Trail at the Berlin Turnpike in Berlin. That trail connects to the Menunkatuck Trail which continues south to the Long Island Sound in Guilford. Furthermore, the Metacomet doesn't end at the Massachusetts border. Rather, it continues (still as the Metacomet) all the way north to the New Hampshire border.
From there, hikers can continue to Mount Monadnock if they so choose. The collection of the Metacomet, Mattabessett, and Menunkatuck now comprise the New England National Scenic Trail – one of only 13 in the entire country!
CFPA Trails Map
CTMQ's CFPA Blue Trails Challenge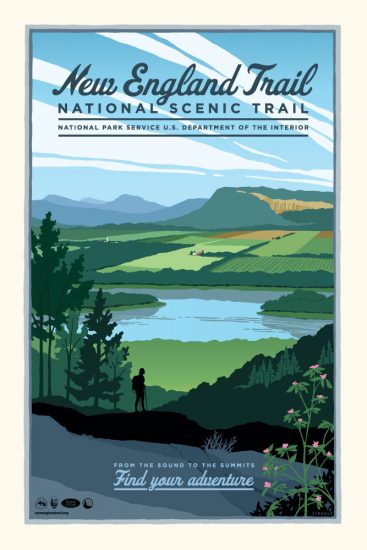 Notes: My trail sections are entirely my convention and are sometimes ridiculously short for various reasons. Also, these hikes through section 11 below were done a long time ago and therefore the pictures, when viewing on a desktop, are often tiny and bad.
Hikes are numbered beginning from the southern terminus at the Berlin Turnpike in Berlin to the Massachusetts border at Suffield/Southwick, MA.
Section 1: Berlin Tpke to Orchard Road Turnoff, Berlin
Section 2: Orchard Road to Summit Wood Drive, Berlin
Section 3: Summit Wood to Chamberlain Highway (Rte 71), Berlin
Section 4: Chamberlain Highway to Edgewood Road, Berlin, Meriden, Southington
Section 5: Edgewood Road Roadwalk, Berlin
Section 6: Southington Road to Andrews Street, Berlin & Southington
Section 7: Andrews Street to Rte 372 Trailhead, Southington, New Britain, Plainville
Section 8: Rte 372 to Prattling Pond Road, Plainville & Farmington
Section 9: Prattling Pond Rd to Rte 44, Farmington & West Hartford
Section 10: Rte 44 to Penwood State Park, West Hartford, Bloomfield, Avon & Simsbury
Section 11: Penwood State Park to Farmington River, Bloomfield & Simsbury
Section 12: Farmington River to Hatchett Hill Rd, Simsbury & East Granby
Section 13: Hatchett Hill Rd to Route 20, East Granby
Section 14: Route 20 to Rising Corner Rd, E. Granby & Suffield