Everything Kent
I've been exploring and writing about Connecticut since 2006. After a decade, I began compiling CTMQ guides for each town in the state. I plan on "completing" Kent CTMQ-style… as well as the other 168 towns, cities, and boroughs in Connecticut. That is the ultimate goal of CTMQ.
If I've missed anything in town or if anything has closed or changed, please let me know.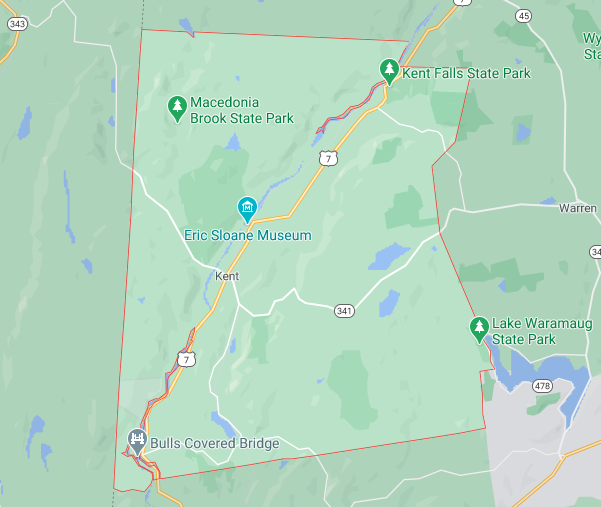 Museums
Connecticut Antique Machinery Association Museum
Connecticut Museum of Mining and Mineral Science
Cream Hill Agricultural School
Eric Sloane Museum and Kent Iron Furnace Site
The Gallery at Kent Art Association
Sculpturedale
Seven Hearths
Skiff Mountain Schoolhouse
Kent Commercial Art Gallery Tour – Intro
eckert fine art gallery
The Morrison Gallery
James Barron Art Gallery
Ober Art Gallery
Steve Tobin Workspace
Hikes
Appalachian Trail – Intro
Kent Falls State Park – Intro
Macedonia Brook State Park – Intro
Wyantenock State Forest
Bull's Bridge Recreation Area
Kent Land Trust Trails – Intro
Audrey & Robert Tobin Preserve
Bull Mountain Preserve
Claire Murphy Riverwalk
Currie Sanctuary
East Kent Hamlet Nature Preserve
Kent Mountain Preserve
Skiff Mountain South Preserve
Robert Avian Preserve
West Aspetuck Scenic Wetlands Preserve
The Nature Conservancy Trails – Intro
Pond Mountain Trust Trails – Intro
Pond Mountain Natural Area Trails
Northwest Connecticut Land Conservancy Trails – Intro
Alice McCallister Memorial Sanctuary
Cobble Brook Vista Preserve
Cobble Mountain
Kent's Town Trails – Intro
Food & Drink
CT Cheese Trail: Rock Cobble Creamery
CT Chocolate Trail: Belgique Chocolatier (Closed)
CT Beer Trail: Kent Falls Brewing Company
Looking for your favorite restaurant? Here is an explanation as to why it's not here.
Everything Else
US Only: Section of Appalachian Trail on a Tribal Reservation
Lake Waramaug State Park
Iron Heritage Trail: Stop # 6
CT Art Trail Viewpoint: Kent Falls
Bull's Bridge Cascades
Housatonic River Gorge & Cascades
Kent Falls
Thayer Brook Cascades
Macedonia Gorge Falls
Shaghticoke Road Falls
Bull's Bridge
Kent Falls Covered Bridge
Mystery Chimney & Mystery Door
Club Getaway
Molly Fisher Rock
ET Progressive sign!
Kent Wrap-Up
Completion Celebration TBD