Everything Wethersfield
I've been exploring and writing about Connecticut since 2006. After a decade, I began compiling CTMQ guides for each town in the state. I plan on "completing" Wethersfield CTMQ-style… as well as the other 168 towns, cities, and boroughs in Connecticut. After all, that is the ultimate goal of CTMQ.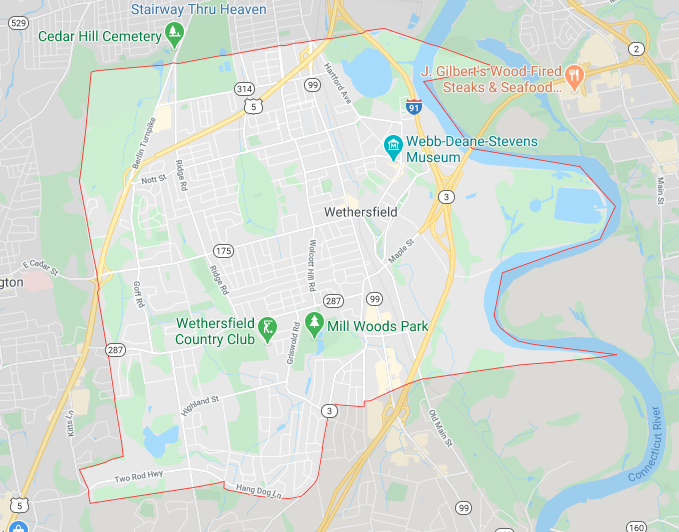 What do you know about the town most famous for arguing with Windsor endlessly about which town is oldest? You can scroll down for my list of things to do in town. Or, as always, you can click on the town's tag to see what I've done.
If I've missed anything in town or if anything has closed or changed, please let me know.

All The CTMQ Wethersfield Stuff
Links take you to my reports.
Museums
Buttolph-Williams House
Captain James Francis House (RIP)
Cove Warehouse Maritime Museum (WHS)
Eleanor Buck Wolf Nature Center
Hurlbut-Dunham House (WHS)
Webb-Deane-Stevens Museum
Wethersfield Academy for the Arts Gallery
Wethersfield Museum at Keeney Memorial (WHS)
Hikes & Bikes
Great Meadows Conservation Trust – Intro
Eleanor Buck Wolf Parcel
Wood Parcel
Wethersfield's Town Trails – Intro
Keeney Point/Hockanum Meadow
Mill Woods Park
Wintergreen Woods
Multi-Use Trails
Heritage Way
South Meadows River Trail
Food & Drink
Roadfood List: Wethersfield Pizza House
Makris Diner
Main Street Creamery & Cafe
Looking for your favorite restaurant? Here is an explanation as to why it's not here.
Everything Else
NHL: Buttolph-Williams House
NHL: Silas Deane House
NHL: Joseph Webb House
W3R NHT: Joseph Webb House & Plaque
US Oldest: Seed Company
CT Freedom Trail: Ancient Burying Ground
CT Historic Gardens Trail: Webb-Deane-Stevens Museum Garden
CT Women's Heritage Trail: Webb-Dean-Stevens Museum
The Wethersfield Triangle
Frank S. Brown House
Silas W. Robbins House
Cedar Hill Cemetery
Old State Prison Site & Cemetery
Progressive ET Sign
The Berlin Turnpike, Raymond Bechard
Parrot and Olivier in America, Peter Carey
The Witch of Blackbird Pond, Elizabeth George Speare
The Other, Tom Tryon
In the Fire of Spring, Tom Tryon
Lady, Tom Tryon
The Wings of the Morning, Tom Tryon
The Other (1972)
Town Essay: Windsor vs. Wethersfield
Completion Celebration Meal & Wethersfield Wrap-Up
TBD