Positive I've Read Them All? Positive
The Diane Smith Canon
Diane Smith is one of those ever-present Connecticut people. I've lived in this state since 1991 and she's always been somewhere on television or radio – or on the book racks. She is a consummate media professional and champion for Connecticut. She's a New York Times bestselling author (with a book she wrote with Mika Brzezinski) and has done it all in this state. (Well, I guess I'm the only person "doing it all," but I'm a quiet faceless person.)
The Globe Pequot Press has published six books based on Diane's "Positively Connecticut" TV series, the longest running local TV series in state history – I'm not sure how true that last bit it, but I only care about the first part. She's won a ton of awards and honorary degrees and was inducted into the CT Journalism Hall of Fame and the National Academy of Television Arts and Sciences Silver Circle for 25 years of distinguished service to broadcasting and the community.
Phew. Hats off to Diane Smith! Now lets see if her "Positively" books are any good.

Positively Connecticut
1998
TV Diane Smith is always happy. Way back in 1985 she was made unhappy with some criticism of local news; it was all negative all the time. So she convinced the producers at WTNH Channel 8 that a weekly segment on "good stuff" would be worthwhile, and Positively Connecticut was born. People liked the series and hassled her enough to convince her to turn the series into a book. This is that book.
And it's a good book. It could be said that it served as an inspiration for this website… if I had read it in 1998. Or even 2006 when I got going on this thing. Alas, I didn't read it until 2023. But Smith's choice of people and places to feature are right in line with the core of what I do here. Positively Connecticut is a good amuse bouche for all things Connecticut. Susan Campbell's 2002 Connecticut Curiosities is perhaps the best appetizer I can think of. Then the main course, of course, is this ridiculous website.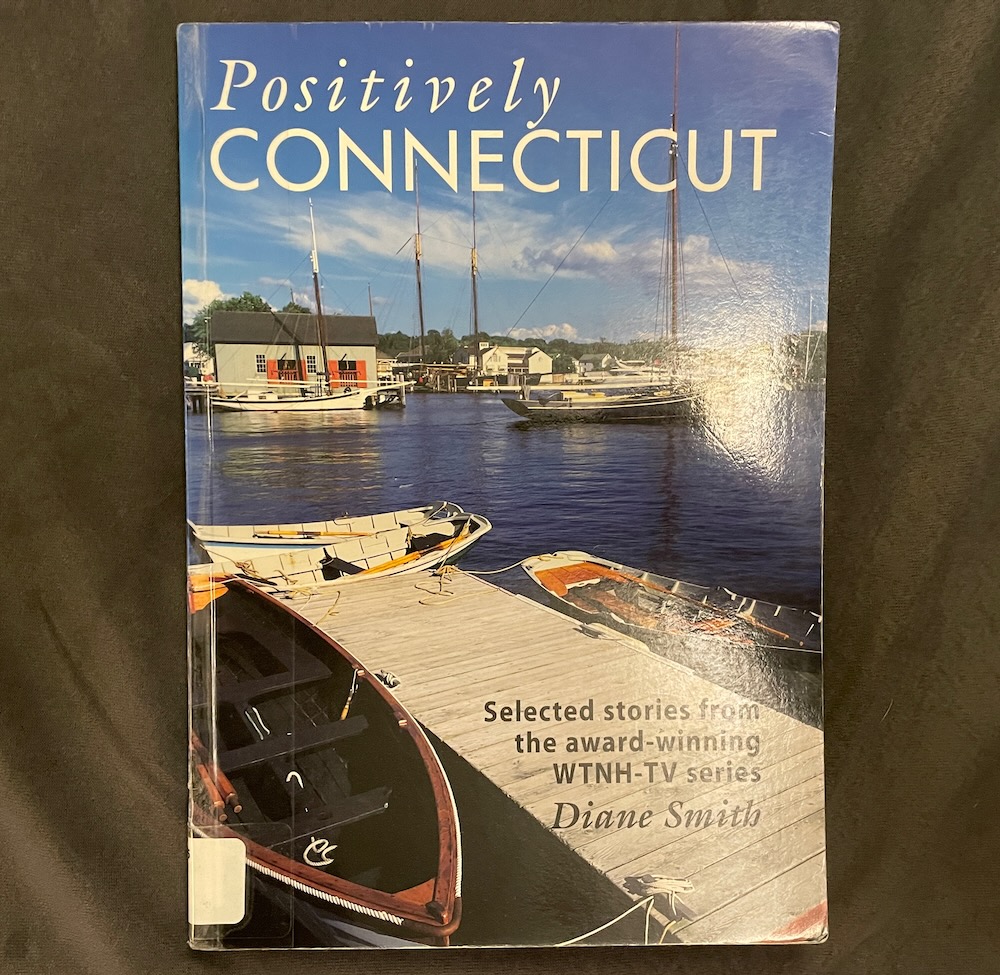 The book features about 65 people, places, and things in the state. Almost half of them rate enough to be featured on CTMQ – and a good chunk of those that don't don't simply because they no longer exist. That's an incredibly high rate. Well done, Diane!
She also was sure to get all around the state and didn't just focus on the trove of subjects in the New Haven or Stonington areas. Heck, she even met up with the singular Neil Sakow and experienced what became his American Dream Museum. (Neil has passed away since we both visited with him.) She visited Cortlandt Hull at his Witch's Dungeon Classic Movie Museum back when it was in a little trailer, just as I did. She visited Elizabeth Tashjian's Nut Museum back when it still existed. (I had to settle for a tribute exhibit many years later.)
Each subject is approached with wonderment and, well, positivity. (Although, even Diane kind of goofed on the original Witch's Dungeon which I was pleased to see.) In addition to the above Connecticut characters, Smith featured several others: Skitch Henderson, the horse shoe throwers in Deep River, the Book Barn guy in Bethany, and randomly, Jonathan Slifka. You don't know him, but when Smith did the TV feature on the Easter Seals' Camp Hemlocks in Hebron, Jonathan was a young boy in a wheel chair there. He's grown up to work in the Connecticut Department of Aging and Disability Services. He's the former West Hartford mayor's brother and is one of the nicest and coolest guys I've met.
I was aware of almost everything in the book. A couple things that were new to me were Calloway Corvette in Old Lyme – For thirty-five years, the most powerful and distinctive Corvettes in the world have been created by a team of dedicated engineers located in Old Lyme, CT. (The engineers there basically make Corvettes faster and more powerful. Engineers there also designed the Calloway Big Bertha golf driver, among other things.)
The other place was a visit to Kendall Crolius's house in Fairfield. She weaves and knits garments from dog hair. I was not aware of her or her Knitting with Dog Hair book. She was even featured on Vice in 2013 and I very much enjoy her attitude.
I could go on and on, but I already do that enough on this site about all these people and places. I didn't know what to expect from Positively Connecticut, but I was positively impressed. This genre of books is almost always filled with the mundane and the expected. This book had neither, and now I'm eager to continue through Smith's books.

Absolutely Positively Connecticut
2000
Boy, Diane really set herself up with the title of this second book. Where could she go from here if the masses clamored for more? "Totally Absolutely Positively?" I guess there's no limit on how many adverbs you can string in a row, but there is a limit on book cover real estate. I suppose we shall see as we explore the entire Diane Smith oevre.
Smith's second book, released hot on the heels of her first, is more of the same. It is structured and presented the exact same way, with only one repeated place in the state – Fidelco Guide Dogs in Bloomfield.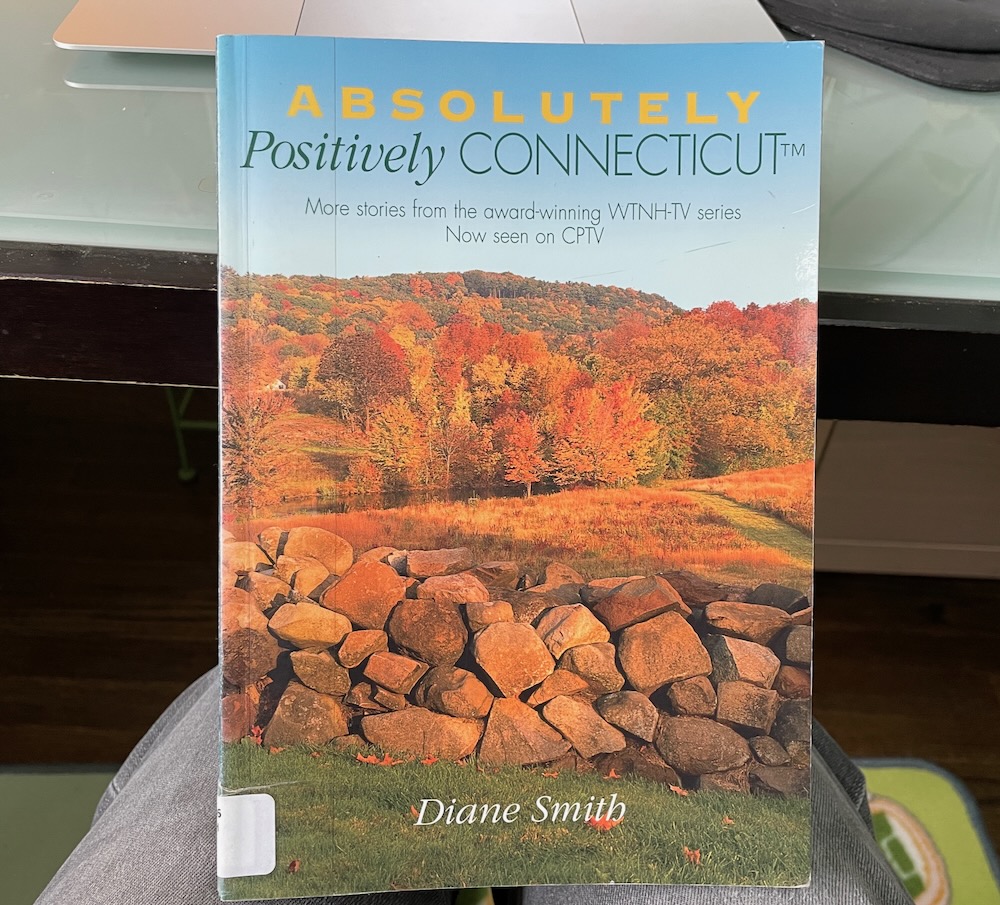 I guess Diane loves dogs. In fact, I know she must love dogs. You've got the dog sweater lady in the first book, and she introduced us to the Connecticut Valley Siberian Husky Club who used to train dog sled mushing back when Connecticut used to get snow.
Once again, the number of people, places, and things in Absolutely that are also on CTMQ is extremely high; the mark of a well-researched book. And there are even a couple entries that I've now added to my site; the mark of a most excellent book.
Zuckermann Harpsichords in Stonington, for one. There's a company there that makes antique instruments in a very real way? I did not know that. I must visit.
The book also introduced me to Robert Conrad Ledoux. He passed away in 2009, but had spent his retirement painting scenes from each of Connecticut's towns. But not just any scenes. Bob apparently focused on historic buildings that had uncertain futures.
Saving Connecticut's landmarks, at least on paper, is what Bob's artwork is all about. He's just finished a six-year project to paint or draw at least one image from each of the 169 towns in Connecticut.

"I think I burned out like five vehicles in that time. When you're starting and stopping the vehicles a lot, you tend to burn the engines out."

But it was worth it. He couldn't stop the wrecking ball or the ravages of time, but Bob saved for us some of what Connecticut was, and will never be again.
When I read that, I nodded along. I'm sad I didn't get to meet Bob myself, but his artwork is available online if you're curious. And again, thank you Diane Smith for focusing your books on people like Bob Ledoux and the dog sweater lady. These are the people that make a place interesting… and, I suppose, "Absolutely Positively!"

Christmas in Connecticut
2002
I'll admit it. I have Diane Smith Positivity Fatigue. It's low-grade, but it's definitely there. I'm glad I decided to split the Smith Library into two for purposes of review. Yes, the guy who writes about some place in this small state has become mildly exhausted at this author's tireless exploration of the same small state.
That's not to say that Christmas in Connecticut – her first of two Christmas books – isn't good. It is! It absolutely positively is!
Celebrate the spirit of Christmas with Positively Connecticut television journalist Diane Smith, who takes you on an unforgettable tour of the holiday season in the quintessentially New England state.
Gah. Of the six New England state, which one isn't "quintessentially New England?" Rhode Island? No. By virtue of being in New England, a state is automatically quintessential to it. And besides, Connecticut is certainly the least New Englandy of the New England states, since half our population thinks they're New Yorkers.
That was a book jacket blurb. No way our Diane wrote that.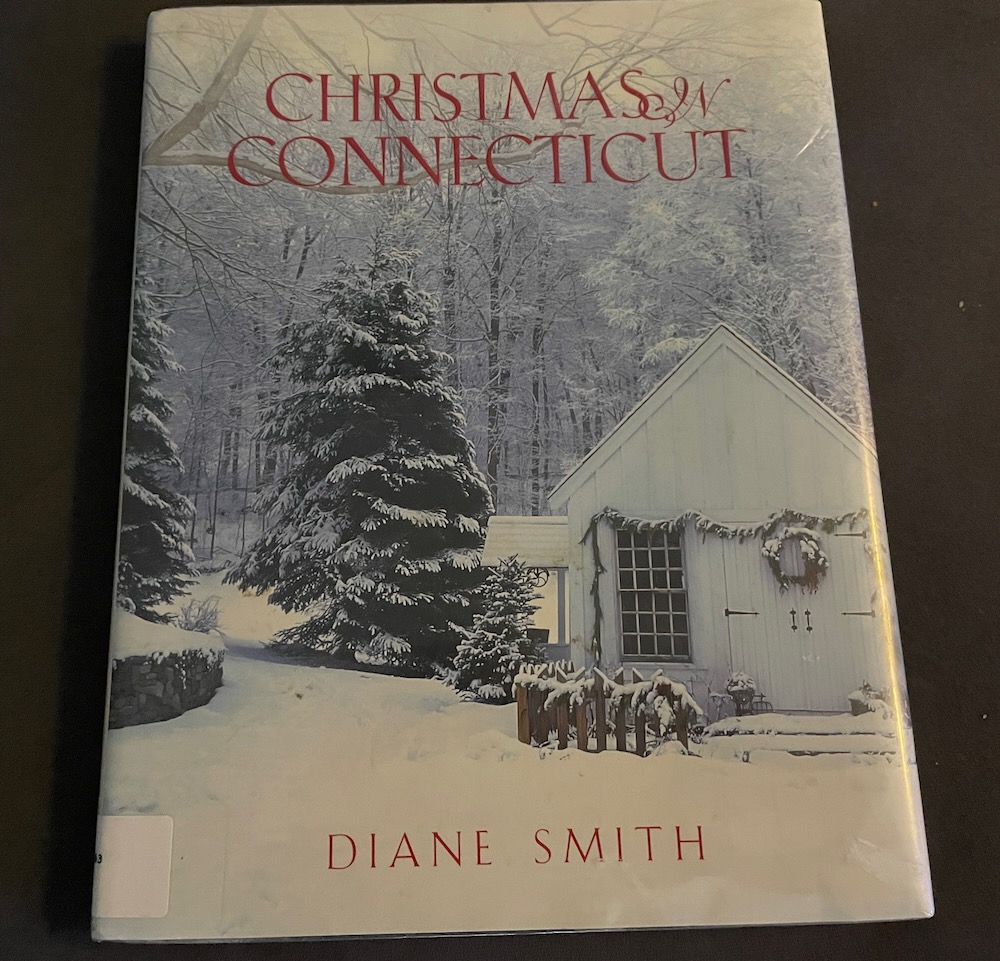 This series is as comprehensive as any travel book series on Connecticut there is. Impressively so. Once again, a large percentage of what Smith highlights here is or will be featured on this very website. She nails pretty much every Chrismassy thing in our state.
She notes that the "first Christmas Tree" in Windsor Locks is a "legend" and was "the first in Connecticut" rather than the whole country. Major points. Smith highlights several town specific events like the whole thing in Bethlehem, aka Christmas Town. Festivals like the amazing Boar's Head and Yule Log Festival at Asylum Hill Congregational Church in Hartford gets a deserved three pages. Whipple's Wonderland in Killingly is appropriately featured.
On and on… The Governor's Mansion Holiday Open Houses, Essex Steam Train (and others) Santa trains, St. Lucia festivals at Lutheran Churches. Heck, she's even got the Gingerbread Village at St. George's Church in Middlebury! Diane Smith goes deep, y'all, and I love it.
There are hundreds of large format pictures as you'd expect. However, there are several really bad pictures for some reason. Now yes, I know that I have no right to call pictures "bad" after publishing 1000's of bad photos on this website, but I'm not a professional I wonder if this bothered Diane. I'm guessing it did.
But that's a minor quibble. All three of Smith's first "Connecticut" books were as good as these things get. And you know why? Because for the first two books at least, Diane Smith actually experienced all the stuff herself. She went to the places and met the people and got to know them and what it was that they did. Am I equating that to what I do? You bet I am. I think I've earned that.
Well done, Diane Smith. Just let me take a few months off before tackling the latter three books of your canon… The Diane Canon, if you will.

CTMQ's List and Reviews of Connecticut Books