CTMQ is Going National!
(Not Really.)
People don't think Connecticut has any national "stuff." But we do. Heck, we finally have a (sort of) national park now with Coltsville National Historical Park in Hartford.
But there's a lot more. The most important of these are probably the 60+ National Historic Landmarks that dot the state. But we also have a National Historic Trail and two National Scenic Trails (okay, parts of all three, but we'll take it.) There are 8 National Natural Landmarks (more like 7.5), 2 National Scenic Byways and 2 National Heritage Areas (which is actually 2 halves of 2 areas). We also have 1 National Historic Site as well.
Note: I will not, not ever, attempt to do anything with the National Register of Historic Places places in Connecticut. Daniel Sterner handles them way better than anyone else in the world.
National Historic Landmarks (63)
National Historical Park (1)
National Historic Site (1)
National Natural Landmarks (8)
National Scenic Byways (2)
National Heritage Corridor/Area (2)
National Scenic Trails (2)
National Historic Trails (2)
ASME & ASCE National Landmarks (8)


National Historic Landmarks (63)
A National Historic Landmark (NHL) is a building, site, structure, object, or district, that is officially recognized by the United States government for its historical significance. All NHLs are listed in the National Register of Historic Places. Out of more than 80,000 places on the National Register, however, only about 2,500 are NHLs. About half of ours in Connecticut are museums or at museums.
Prudence Crandall House, Canterbury
The Steward's House, Foreign Mission School, Cornwall
Stephen Tyng Mather Home, Darien
Old Newgate Prison, East Granby
Ida Tarbell House, Easton
Birdcraft Museum & Sanctuary, Fairfield
Jonathan Sturges House, Fairfield
Austin F. Williams House, Farmington
Hill-Stead, Farmington
First Church, Farmington
Stanley-Whitman House, Farmington
Kimberly Mansion, Glastonbury
Bush-Holley House, Greenwich
Nautilus, Groton
Henry Whitfield House, Guilford
Coltsville Historic District, Hartford
Harriet Beecher Stowe House, Hartford
Henry Barnard House, Hartford
State Capitol Building, Hartford
Old State House, Hartford
Mark Twain House, Hartford
A. Everett Austin House, Hartford
William Williams House, Lebanon
John Trumbull birthplace, Lebanon
Mashantucket Pequot Reservation Archeological District, Ledyard
Tapping Reeve House and Law School, Litchfield
Oliver Wolcott House, Litchfield
Litchfield Historic District, Litchfield
Cheney Brothers Historic District, Manchester
Richard Alsop IV House, Middletown
Samuel Wadsworth Russell House, Middletown
Fort Shantok Archeological District, Montville
Emma C. Berry, Mystic
L.A. Dunton, Mystic
Sabino, Mystic
Charles W. Morgan, Mystic
Philip Johnson Glass House, New Canaan
John Rogers Studio, New Canaan
Grove Street Cemetery, New Haven
Connecticut Hall, New Haven
New Haven Green Historic District, New Haven
Lafayette B. Mendel House, New Haven
Yale Bowl, New Haven
Russell Henry Chittenden House, New Haven
James Dwight Dana House, New Haven
Othniel C. Marsh House, New Haven
CT Agricultural Experimental Station, New Haven
Monte Christo Cottage, New London
Lockwood-Mathews Mansion, Norwalk
Florence Griswold House, Old Lyme
Charles H. Norton House, Plainville
Brownstone Quarries, Portland
Frederick Remington House, Ridgefield
Samuel Huntington Birthplace, Scotland
Captain Nathaniel Palmer House, Stonington
James Merrill House, Stonington
Noah Webster Birthplace, West Hartford
Edward W. Morley House, West Hartford
Buttolph Williams House, Wethersfield
Silas Deane House, Wethersfield
Joseph Webb House, Wethersfield
Oliver Ellsworth Homestead, Windsor
Henry C. Bowen House, Woodstock

National Historic Site (1)
This one also throws some Nutmeggers for a loop. Before Coltsville got its designation in 2016, this was the closest thing Connecticut had to a National Park. As of 2015, there are 90 national historic sites in the National Park System and they are managed by the National Park Service.
Weir Farm National Historic Site, Wilton/Ridgefield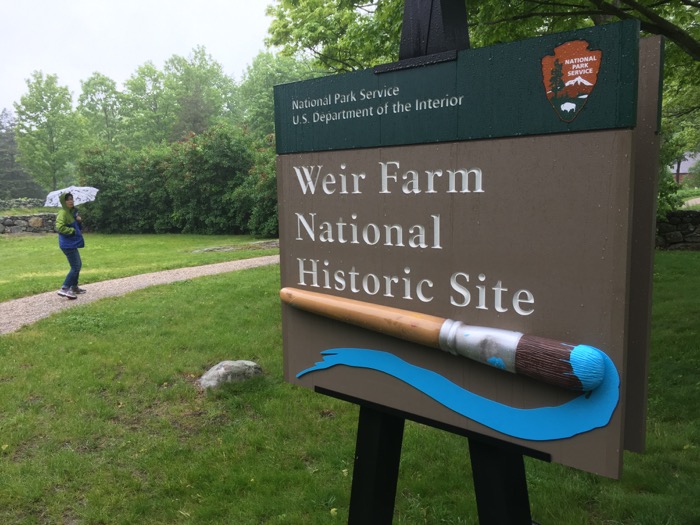 National Historical Park (1)
Finally! I can officially add this to my list as yes, Coltsville National Historical Park is officially official. Who knows how long it will take them to make this place a true destination, however.
Coltsville National Historical Park, Hartford

National Natural Landmarks (8)
I really dig this category. For starters, I had never heard of such a designation. Also, I've been to or been very near 5 of the 8 landmarks already and had no idea. Most of these aren't exactly vacation destinations as they seem to be in other states, especially out west. But they're ours and that's all I need. And while one is mostly in Massachusetts (Bartholemew's Cobble), I am drawn to it anyway because it has North America's greatest diversity of ferns. I find that rather awesome.
The National Natural Landmark (NNL) program recognizes and encourages the conservation of outstanding examples of the United States' natural history. It is the only natural areas program of national scope that identifies and recognizes the best examples of biological and geological features in both public and private ownership. NNLs are not National Parks and many sites are not open for visitation – though Connecticut's 8 are, for the most part.
Bartholemew's Cobble, Canaan
Chester Cedar Swamp, Chester
Cathedral Pines, Cornwall
Beckley Bog, Norfolk
Bingham Pond Bog, Salisbury
McLean Game Refuge, Simsbury/Granby
Dinosaur Trackway, Rocky Hill
Pachaug-Great Meadow Swamp, Voluntown

National Scenic Byways (2)
Get yer motor runnin'…. Head out on the National Scenic Byways… Looking for CTMQ Adventure…
Y'know, I kind of hate that song. I don't really "get" this one as it seems to be commercially sponsored and not wholly a federal program. It seems to pretty much just be a national version of the state scenic road designation, but it certainly does have some federal backing and they've certainly chosen two good "byways" here in Connecticut.
The National Scenic Byways (NSB) Program was established under the Intermodal Surface Transportation Efficiency Act of 1991, and reauthorized in 1998 under the Transportation Equity Act for the 21st Century.
As you can imagine, I've driven these things plenty of times – the Merritt too many to count. There are a ton of CTMQ stops along Route 169 and heck, the Merritt even has a museum dedicated to it.
1. Connecticut State Route 169, Lisbon to Woodstock, 32 Miles
2. Merritt Parkway, Greenwich to Stratford, 37 Miles

National Heritage Corridor/Area (2)
By far the most ill-defined of these national things. They are vast, both cross into Massachusetts and there's no real way to "visit" Connecticut's National Heritage Areas. I'm also fairly certain that almost everyone who reads this sentence has never even heard of our two Heritage Areas either. That's not to say there isn't cool stuff within them, or that I can't try to "define" them for CTMQ purposes.
National Heritage Areas are not National Park Service units nor any type of federally-owned or managed land. National Heritage Areas are administered by state governments or non-profit organizations or other private corporations. The National Park Service provides an advisory role and limited technical, planning and financial assistance.
Both contain many CMTQ-worthy stops within them. But before you check ours out, just look at some of these kooky places that have been federally designated Silos and Smokestacks National Heritage Area anyone? Seriously.
1. Quinebaug and Shetucket Rivers Valley National Heritage Corridor aka The Last Green Valley – Northeast corner of the state just go to the Windham County tag.
2. Upper Housatonic Valley National Heritage Area, just go to the Litchfield County tag



National Scenic Trails (2)
Ahh, my favorite. It's pretty darn cool that the Appalachian Trail enjoys such a lofty status – as it should. But even cooler, in 2009 the feds recognized the New England Scenic Trail (The Mattabesett-Metacomet-Menunkatuck trails in Connecticut) as a National Scenic trail. Okay yeah, both the AT and the MMM trails continue on into other states, but that makes no difference to me. I've hiked the AT before (but will do the CT section again for CTMQ) and most of the MM trail (as of this writing), but the Mattabesett is being extended down to the Long Island Sound as a result of the recent designation – yay, more hiking for me.
The National Historic Trail designation is for a protected area in the United States containing historic trails and surrounding areas. National Historic Trails were authorized under the National Trails System Act of 1968.
1. Connecticut Section of the Appalachian Trail
2. Connecticut Section of the New England Scenic Trail

National Recreation Trails (5)
National Recreation Trais are just trails that mean something enough to someone, somewhere to petition the folks in charge to get the designation. Here's more on the program.
Trail Trails
1 Sleeping Giant State Park Trails, Hamden (Intro)
2. Airline State Park Trail East Hampton, Colchester, Hebron, Lebanon

Water Trails
3. Quinebaug River Water Trail Thompson, Pomfret, Putnam, Killingly, Brooklyn, Plainfield, Canterbury
4. Shetucket River Water Trail: Windham, Scotland, Lisbon, Sprague, Norwich
5. Willimantic River Water Trail: Stafford, Ellington, Coventry, Willington, Tolland, Mansfield, Windham

National Historic Trails (2)
This one has caused me a bit of confusion. First – and this isn't confusing – these "trails" aren't hiking trails whereas the Scenic Trails above are. These are historic trails where some, um, important history took place at some point in our county's history. One of ours traverses the entire state from east to west and has a very important, very concrete story behind it. It's also very new so aside from a few signs alongside roads, there's not much to it yet.
The other, the Shaker Historic Trail, isn't listed on Wikipedia but does have a website clearly run by the National Park Service. Our little piece of that trail is a little (no longer) Shaker Village area up in Enfield. I believe I'm correct in including it here.
1. Washington-Rochambeau Revolutionary Route National Historic Trail
2. Shaker Historic Trail, Enfield – CTMQ Visit

ASkME About ASME (8)
American Society of Mechanical Engineers National Landmarks
Actually, you know what? Don't ask me about ASME because I don't know much about it. But I do know they have an interesting Landmarks program that has the sound of being an important federal program, but really isn't.
[Note: if you somehow are here for the CSME – the American Society of Civil Engineers Landmark, Scroll to bottom.]

ASME helps the global engineering community develop solutions to real world challenges. Founded in 1880 as the American Society of Mechanical Engineers, ASME is a not-for-profit professional organization that enables collaboration, knowledge sharing and skill development across all engineering disciplines, while promoting the vital role of the engineer in society. ASME codes and standards, publications, conferences, continuing education and professional development programs provide a foundation for advancing technical knowledge and a safer world.
Well there you go.
Historic Mechanical Engineering Landmarks are existing artifacts or systems representing a significant mechanical engineering technology. They generally are the oldest extant, last surviving examples typical of a period, or they are machines with some unusual distinction.
Nearly 250 landmarks have been designated since the program began in 1971.
Connecticut's 8 ASME Landmarks
1. Jacob Engine Brake Retarder, Bloomfield
2. AC Electification, Greenwich
3. Paige Compositor, Hartford
4. BF Clyde's Cider Mill, Stonington/Mystic
5. Rocky River Hydroelectric Plant, New Milford
6. Pitney-Bowes Postage Meter, Danbury
7. Roosa Master Diesel Fuel-Injection Pump, Windsor
8. Hydromatic Propeller, Windsor Locks

Historic Civil Engineering Landmarks
Oh those civil engineers! They came up with their own list too but their one pick from Connecticut, the Rocky River Pumped Storage Hydroelectric Plant in New Milford, is also a mechanic engineering landmark. C'mon civil engineers! There must be more than just this one in the state! Weak effort… Then again, they design our crappy highways too.
1. Rocky River Pumped Storage Hydroelectric Plant, New Milford (Written up as an ASME Landmark.)
And… that's it! Aside from our National Champion UConn Huskies and pizza of course. I can't believe you read this page all the way down to here. I owe you a beer.